| | |
| --- | --- |
| | September 2016 |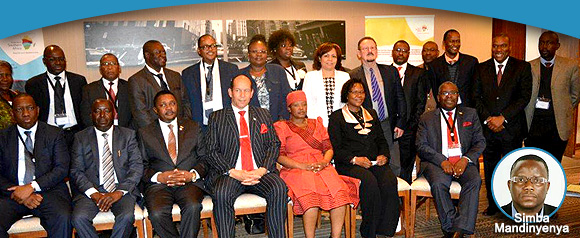 From the acting executive directors desk:
SADC Ministers responsible for Tourism approve RETOSA's Transformation Plan

In 2012, the SADC Committee of ministers responsible for tourism requested the RETOSA board members to start working on transforming the organisation.

"The ministers have finally approved the transformation. Essentially, the transformation entails bringing in the private sector to participate fully in the organisations' programmes. The feeling was that we were lacking something by not involving it," said Mr Mandinyenya, Acting Executive Director of RETOSA. "For the organisation to achieve its mandate fully, there has always been a need for transformation and it has taken longer for the ministers responsible for tourism to approve the changes. The expectation is that public sector members or representatives from member countries will now assist and engage the private sector and make sure that each country will be represented fully on the RETOSA board.



Train-the-Trainer Master Class
RETOSA first held workshops to develop and agree upon a Regional Tourism Quality Standards Framework as well as the Tourism Quality Standards for the accommodation sector.

One of the objectives of the SADC Protocol on the Development of Tourism is to improve the quality, competitiveness and standards of service in the tourism industry in the region.

RETOSA Revamps Website to make it more user-friendly
The increasing competitiveness in the global tourism market encourages tourism operators to invest more in promotion, resources, knowledge and quality in order to achieve satisfactory growth. It is therefore very important for them to be in touch with the latest technological trends and have the knowledge required to effectively respond to the challenges of global competition.
RETOSA to showcase Southern Africa in North America.


In its endeavour to promote the region, RETOSA attends events that attract tour operators and agents who will in turn promote the region as a destination of choice. RETOSA will be attending the Africa Showcase in North America from 26 to 30 September. Africa Showcase highlights exceptional travel products and experiences from the southern African tour operators and travel agents from across America. The event is designed to create strong business connections between Souhern African specialists and the suppliers participating in the roadshows. RETOSA will have meetings to present southern Africa to wholesalers, tour operators and travel agents. RETOSA is scheduled to attend 35 meetings in Fort Lauderdale and Denver where the roadshow will be held with VIP buyers. "We are really looking forward to this opportunity as we know that our region offers so much," said Mr Kwakye Donkor, RETOSA'S Director of marketing and communications.


Stakeholders invited to join RETOSA Certified Expert Programme
Southern Africa is rich in natural wonders and beauty. In order to introduce would-be travel trade and industry stakeholders to all the region has to offer, RETOSA put together and launched an e-learning programme in May 2016 at INDABA Travel Fair.

Tourism Satellite Account Workshop a Resounding Success
RETOSA held a Tourism Satellite Account workshop on the 4th -8th of July at Hotel de Convencoes de Talatona Convention Hotel. There were 9 countries present, Angola the host, Botswana, DR Congo, Mozambique, Namibia, Seychelles, South Africa, Zambia and Zimbabwe.

Coyote Magazine Familiriasation Trip to southern Africa
RETOSA and the Japanese International Cooperation Agency (JICA) entered into a technical co-operation in 2011 with the aim of developing and growing tourism in southern Africa while focusing exclusively on promoting community-based tourism. A decision was taken to target Asian countries with Japan being the focus country.
JATA Tourism Expo, Japan Award
The Japanese tourism awards recognise those who contribute to the development and growth of the tourism industry, both through their efforts at the Japanese Tourism Expo and promotions to domestic and international groups, organisations and corporations. RETOSA has been working closely with the Japan International Cooperation Agency (JICA) to promote the southern African region to the people of Japan and Asia.

Digital & Social Media Training For Malawi Tourism & Hospitality Industry
Wherever travellers go nowadays, they use social media to discover the best spots, plan their itinerary and share their memories with friends and family. Social media platforms might inspire visitors to learn more about a destination and its attractions and it also is the place where they might learn about a local hike or decide to visit your wine region while touring.
RETOSA News: News from RETOSA Unit C39, Lone Creek Waterfall Park Midrand
Phone: (27 11) 315 2420/1
info
GET SOCIAL WITH US