ITB PRESENCE BY REUNION A HUGE SUCCESS
(Posted 16th March 2015)


Vanilla Islands founder member Reunion recorded a big success at the recently concluded ITB2015 in Berlin when over 1.500 trade visitors thronged the stand to learn about the island and sign deals with hotels, resorts, DMC's and Air Austral. Besides the team from IRT, Ile de la Reunion Tourisme, led by the president of the tourism office Patrick Serveaux, were some 19 exhibitors from the island in Berlin to showcase the unique range of attractions.
Reunion, a French region in the deep of the Indian Ocean, located between Madagascar and Mauritius, offers not just sandy beaches but an outright spectacular interior where rugged canyons and deep valleys offer a paradise for hikers and mountain bikers.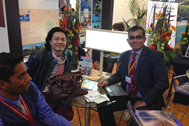 (Patrick Serveaux seen here with trade visitors)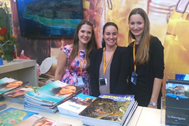 (Marie-Christin Strecker, responsible for marketing and promotion of the German-speaking markets, the head of the German-speaking markets Nicole Anthony and Annika Heckler, assistant to the head of the German speaking markets, the antenna of the IRT in Germany)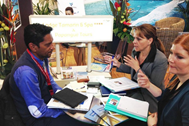 (Christian Loga of the incoming agency Papangue Tours seen here during an appointment at the show)
On Thursday 05th of March was a cocktail organized on the stand of La Réunion. On this occasion, a raffle draw was held with many fabulous prizes, offered by Réunion's tourism businesses..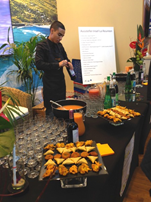 For the IRT, the presence of the destination at ITB Berlin was organized around several objectives:
• The promotion of the destination and the development of its notoriety;
• Strengthening relationships with professionals in the German and international market and the opening of new players in the sector;
• The presentation of new products and new offers of local partners;
• Support for the programming of international professionals.
Eight students in BTS Tourism from Réunion helped on the last day, which was for the general public to distribute tourist information and a performed a demonstration Maloya in traditional costumes from the island.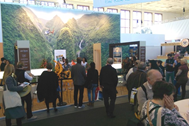 'It was an incredible experience, contact with a potential German customers has enabled us to master the language better and d'avoir a real vision of what Reunion to sell abroad. Our participation at the reception booth was appreciated by visitors because of our age, our exotic and our traditional dress " , Elodie Quran
"A great room that allowed us to explore different destinations and has also allowed us to know the destination Reunion" , Emeline Myrtho
The 2015 edition of the ITB Berlin has helped to highlight the current potential of tourism development in the world and particularly across the German market. This can be explained due to higher wages, stable employment and lower cost of living that offer good prospects in terms of tourist demand and higher arrival numbers.