MARKETING REUNION ABROAD GOES HAND IN HAND WITH QUALITY ASSURANCE AT HOME
(Posted 14th February 2015)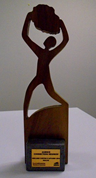 (IRT's quality trophy created by local artist Amelie Corre)
Local tourism stakeholders and partners from across the island in promoting Reunion Island abroad met with IRT recently to review the performance of 2014 and map out the way forward for 2015 by finding answers and solutions to market challenges.
Welcomed by the director of Ile de la Reunion Tourisme, Ms. Ariane Loupy, did the partners of the regional platform of the IRT meet for a full day workshop. The aim of it was to take stock of the past year 2014, but also to hear about the calendar of events and foreign marketing trips expected for 2015 . The President of Gîtes de France in Reunion, Mr. François Boyer opened the day, accompanied by the head of the information center and marketing IRT Ms. Nativel Isabelle, who presented the agenda for the workshop participants.
The morning was devoted to discussions between accommodation providers and incoming agency partners to assess the level of cooperation last year.
The afternoon was then dedicated to give key DMC's a platform, among them Connections Meeting, Counter Reef, Alizoa Travel, Horizon Meeting Mille Tours, Yes We Can Travel and Tours Papangue. Local tourism professionals were able to meet Alain Boyer of the Association of Managers Holiday House (AGGM) and the head of engineering and development center of the IRT Mr. Willy Ethève for a presentation of the marketed products and new products in 2015. The also heard from the Head of the IRT Ms. Eliane Conruyt design service for Club RN2D Group , and the person responsible for the European markets Ms. Karine Cadet markets for a discussion of the various partnerships with tour operators based in those countries.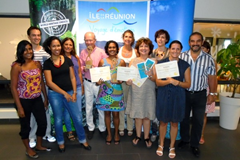 During the lunch break did IRT then present four winners with a trophy, recognizing the quality of their operations and their attention to detail and Ariane Loupy presented the respective trophies to:
· Trophy for best turnover achieved in 2014 : Connections Meeting
· Trophy for the best progress achieved in 2014: Alizoa Travel
· Award for Best Sales Claudine Melot agency Mille Tours
· Award for best progress Sales Karine Virin agency Mille Tours
Congratulations to the winners who will no doubt make sure throughout 2015 that their clients who come to Reunion island get the best attention and go home as friends and new ambassadors.
For added details on Destination Reunion click on www.reunion.fr