'GRAND RAID 2018' NOW JUST A WEEK AWAY

(Posted 11th October 2018)
IRT, short for Isle de la Reunion Tourisme, is a partner of the Grand Raid of Reunion which will be held between October 18th and 21st. This 26th edition welcomes more than 6,025 participants from all over the world. The most experienced athletes will cross the splendid landscapes of the island by traversing the 165 km of the Diagonale des Fous, the legendary race of the event.
The Grand Raid of Reunion, arguably the highest profile sporting event of the island, has become an international reference in the world of ultra-trails. It offers this year a little more adrenaline to the trail runners through four races:
The Diagonale des Fous 165 km,
The Trail of Bourbon 111 km,
The Mascarene 65 km and
The Zembrocal a relay of 3 participants who will travel respectively 55 km, 64 km and 65 km respectively.
As part of the promotion of Réunion as an adventure destination in foreign markets, has Reunion Island Tourism organized a press trip composed of French media: France TV, France 2, Blue France, Trek HD and The Team will highlight in the space of a few days, the island of Reunion and its landscapes, the Grand Raid and its thousands of runners.
At the start of these races, more than 6,000 runners from around 40 countries will take to the mountains and the interior of the island. They will have flown a very long distance for the ultimate sports trip at the end of their flights from France, Switzerland, Belgium, Luxembourg, Spain, Andorra, Germany, England, Ireland, Argentina, Scotland, Japan, Hong Kong, China, Malaysia, Singapore, Australia, Taiwan, the United Arab Emirates, Italy, Canada, the United States, Sweden, Morocco, Iceland, Slovenia, Norway, Russia, Romania, Croatia, Israel, Slovakia, the Netherlands, Martinique, Guadeloupe, New Caledonia, Guyana, French Polynesia, South Africa, Mauritius, Madagascar, India and the other French Indian Ocean island, Mayotte.
Among the athletes are international champions of ultra-trails who have responded to this challenge including François D'Haene, Antoine Guillon, Andrea Huser, Emilie Lecomte, Javier Dominguez, Maxime Cazajous, Sylvain and Sebastien Camus, to name but a few, who will cross the island by taking the prestigious Grand Raid trails.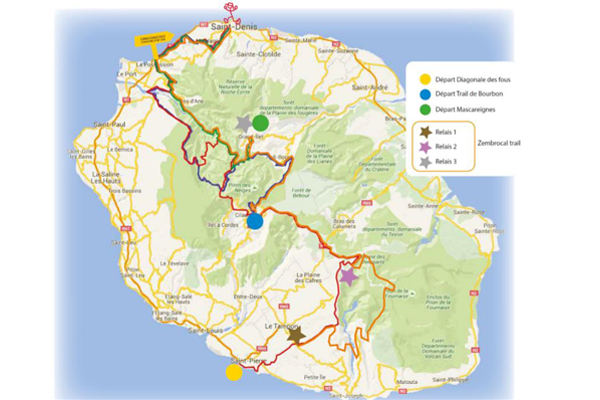 To learn more about the Grand Raid and to get information about the course, weather, state of the trails, traffic regulations on roads and forest tracks, consult the official website of the race: www.grandraid-reunion.com
Added information about Destination Reunion can be found via www.reunion.fr