STOP LYING RIFT VALLEY RAILWAYS TELLS ILL MEANING LOCAL 'JOURNALISTS'
(Posted 15th July 2016)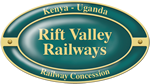 Rift Valley Railways, the rail operator tasked by Uganda and Kenya and presently running the narrow gauge railway system in both countries, from the port of Mombasa via Nairobi to the Ugandan border and on to Kampala, besides a refurbished side route to the Northern Ugandan town of Gulu, has made substantial progress in recent years.
A period of intense shareholder troubles, initially spurred by South Africa's Sheltam which started the company, eventually led to a near complete takeover by Egypt's Qalaa Holdings, previously known as Citadel, which now holds 85 percent of the shares after Kenya's TransCentury sold their shares to them.
Ugandan business tycoon Charles Mbiire holds the remaining 15 percent of shares and notably is former Kenya Airways CEO Dr. Titus Naikuni the Chairman of the Board of Directors.
The company, after overcoming the challenges of the early years vis a vis performance parameters, upon the acquisition of the TransCentury shares by Qalaa, then invested nearly 300 million US Dollars in the company dedicated to various projects.
Line improvements in Uganda and Kenya, covering some 140 kilometres, eliminated problem areas which contributed to some 80 percent of line and train downtimes. Two mechanized maintenance units replaced the manual line maintenance and has the capacity to maintain the line a hundred fold.
A computerized cargo tracking system now allows rail users, and the company, to monitor containers and cargos all the way from the port to Uganda. The launch of a simulator training station, similar to airline simulators, now permits new train drivers to be trained off line but seeing the entire route on their monitors.
New rolling stock, the refurbishment of existing rolling stock and the importation of 20 GE railway locomotives from the United States further expanded the capacity to haul more cargo at faster speeds, with the average train time from Mombasa to Kampala now reduced to just 21 hours.
The company expressed their consternation about the attack on its integrity, when a rainbow publication rained accusations on them some three weeks ago and has now responded by putting the facts out:
Start quote
Statement Concerning Recent False Reports Regarding Qalaa Holdings
The misleading reporting that has recently appeared in the press regarding Qalaa Holdings and its investment in Rift Valley Railways (RVR) has compelled us to respond to the blatant inaccuracies and to clarify any misunderstanding that may have occurred as a result of these false accusations.
We clearly and unequivocally state that Qalaa Holdings is committed to adhering to the highest international business standards and to ensuring the success of the project in question. Furthermore, the company has repeatedly demonstrated that it is a staunch advocate of investing in the region as a whole. Qalaa Holdings was therefore deeply dismayed by the story that was reported online by Finance Uncovered and published on June 22nd in the Observer. Given the serious allegations made in the piece, its numerous inaccuracies and its sensationalist and disparaging tone, Qalaa Holdings was left with no choice but to respond.
Since 2011, Qalaa Holdings has proudly overseen the renaissance of a strategic infrastructure asset in East Africa which was previously in a state of disrepair. For the past five years, despite significant challenges, Qalaa Holdings has supported RVR's management and its local partners to implement a comprehensive and complex turnaround program. By assembling and leading a consortium of experienced infrastructure financiers, including the IFC, AfDB, KfW, FMO and BIO, Qalaa Holdings has enabled RVR to achieve the following:-
1- Reduce incidents (calculated by million train kilometers) by 40%
2- Increase its haulage capacity through the acquisition of 20 locomotives and up to 240 high capacity wagons
3- Reduce transit time between Mombasa and Kampala (one way) by 29.8%
4- Introduce the most advanced train operating technologies
5- Pay US$ 66 million in concession fees to both Kenya and Uganda
The article contains so many false statements and sensationalist allegations that it would be impossible to address them all in this response, however we feel obligated to point out some examples that clearly illustrate the authors' lack of professional and objective reporting.
For example, the article alleges that RVR and Qalaa Holdings made misleading claims that RVR was investing in brand new locomotives, although neither RVR nor Qalaa Holdings has claimed the locomotives were newly manufactured. Rather, within the spirit and rationale of refurbishing a 100-year old railway – RVR sought a cost-effective, sustainable infrastructure solution relative to the construction of completely new infrastructure – and thus took the decision to purchase top quality, reconditioned locomotives. Furthermore, contrary to what was suggested by the article, Qalaa Holdings and RVR have been transparent about the purchasing of these reconditioned locomotives with investment partners and key stakeholders from the outset.
Further proof of the inaccuracy of the reporting is the author's skepticism about claims that RVR is investing US$ 40 million every year on maintaining and improving the line. In fact, as public records make clear, RVR has surpassed its minimum investment obligations under the Concession Agreement.
The article also exaggerates the transit time between Mombasa and Nairobi. Audited figures show that the average time for this journey, based on hundreds of trips, is now down to 21 hours after RVR replaced and repaired 140 km of old tracks, thus reducing transit times by 7 hours.
Since Qalaa Holdings invested in RVR, the railway's 2,000-strong workforce in Uganda and Kenya has received training to upgrade their skills to world-class standards. In recognition of these efforts RVR was the winner of the 2015 IOSH Railway Group's International Safety Award, a testament to the company's excellent record for workplace safety. Furthermore, the Nalukolongo workshops have been ISO certified.
The claim that Qalaa Holdings has unjustifiably extracted fees for its work on RVR is also unfounded and misleading. As is the norm for GPs (general partners) in any private equity transaction, Qalaa Holdings did charge a nominal – even below industry benchmarks – management fee. These fees have been primarily used to cover expenses associated with managing the investment, based on contractual arrangements with the existing shareholders of the Rail Holding Company and not RVR. However, unlike the norm with GPs in private equity investing, Qalaa Holdings remains the largest single investor in terms of both debt and equity in RVR.
Concerning the stated 4.8 million tonnes of cargo that the railway once carried annually, this figure comes from the early 1970s. It concerns East African Railways and Harbours, which also operated in Tanzania, pushing the gross figure upwards. Additionally, governments during this period did not invest in developing road networks in the same manner they do now, and most businesses as well as the railways were state-owned. Decisions to use rail to transport cargo were directives and decrees. In other words, rail enjoyed a near monopoly on cargo in the region and thus comparing today's performance like-for-like is misleading at best.
Any suggestion that Qalaa Holdings or its subsidiaries made use of lower tax jurisdictions for illicit financial gain is simply not true. Following standard practice with large-scale investments which pool funds from various countries, investees and lenders, Qalaa Holdings has made use of certain jurisdictions for the benefit of neutrality and the strength, stability and openness of the legal systems in these countries. It has been transparent about this from the outset, and did so with the approval of all international partners.
In light of all these facts, it is inconceivable how a group of investigative journalists failed to mention the size of Qalaa Holdings' investment in RVR. Their allegations about extracted management fees are completely unfounded and can be easily disproven given the fact that Qalaa Holdings' financial statements are in the public domain.
Completely contrary to statements made in the article that appeared in the Observer on June 22nd, Qalaa Holdings has chosen to accept an exceptionally high level of risk on this investment. Although the railway is not expected to be profitable for several years while ongoing investments and upgrades are in progress, we are proud to say that RVR is well on its way to generating a transformative effect on trade in East Africa. Qalaa Holdings remains dedicated to investments that will continue to improve the safety, reliability, and affordability of the Kenya-Uganda railway.
By Ghada Hammouda, Chief Marketing Officer & Head of Marketing Communications, Qalaa Holdings
It is now a question of intense speculation here in Uganda as well as in Kenya what prompted the journalists in question to launch their attack on the company, whether there is a deep rooted antipathy against an Egyptian company, whether they were perhaps induced by elements jealous of the company's success or if perhaps competitors helped to spread rumours taken as truth for repeating allegations repeatedly.
With the counter statement now in the public domain it remains to be seen if the newspaper will retract their allegations or if these attacks are going to continue over the next week. Given the gross inaccuracies there is now also speculation that the railway company may take the journalists to court for publishing patently wrong information with the motive of damaging the company's reputation and good standing.