(Posted 10th February 2023)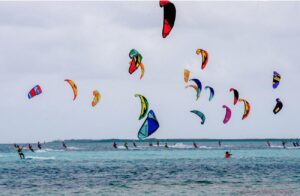 Organized by the Rodrigues Kite Association and created in 2013, this festival, open to pros and amateurs of all levels, finally takes place again on Rodrigues Island after a three year hiatus due to the global COVID19 pandemic. The event is set to run from the 26th of July to the 30th of July.
The event has been listed as an ecological responsible undertaking, ensuring sustainability and best green practices.
The location is at Anse Mourouk, ranked among the best spots in the world for this sport.
Added information can be sourced via a WhatsApp call to +23057685757 or else email rikf@rodriguesdirectory.com
Types of competitions available are the Mini Raid, Long Raid, Down Wind and Free Style.
www.ATCNews.org will give updates from the organizers as and when available.