(RwandAirs new bird performing a fly past over the runway of the airport)
A second brand new B737-800 landed this afternoon at Kanombe International Airport in Kigali, bringing the fleet of RwandAir to now 7 aircraft, both leased and owned. The aircraft, fitted with Boeings latest cabin layout Boeing Sky Interior is the second on the African continent with such features and will join her sister ship on the routes to Johannesburg, Dubai and soon to Lagos, which has been announced as the airlines next destination in West Africa after Brazzaville and Libreville. Flights to Nigeria are due to commence before the end of the year.
Two months ago the delivery of these owned aircraft started and at the time it was revealed that a further fleet and network expansion was in the pipeline, to equip Rwandas national airline with the aircraft needed to comprehensively connect the land locked country across the East African region, across the continent and beyond with intercontinental destinations.
Two B787 are being eyed by WB and letters of intent appear to have been signed to that effect, with the Dreamliners due for delivery from 2015 onwards.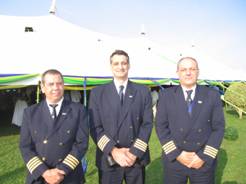 (The smiling ferry crew which flew the new bird from Seattle via Keflavik and Istanbul to Kigali)
With this delivery has RwandAir also claimed fourth spot in terms of airline size (jets) behind regional giants Ethiopian Airlines, Kenya Airways and Precision Air, underscoring the countrys intention to make the airline a major player in the skies over East Africa. Word from usually well informed sources close to the airline have in fact let it be known that RwandAir is eyeing ATR aircraft to eventually replace the Bombardier Dash 8-100, as demand on domestic routes has risen beyond initial hopes and expectations, fueled by more and more Congolese travelers who cross the border from Goma into Gisenyi by road to then fly via Kigali to their final destination. More imminent though is the likely exchange of RwandAirs two owned CRJ200 aircraft against two larger CRJ700s, a stretched version adding depending on configuration at least 20 more seats per flight. John Mirenge, RwandAirs CEO, openly spoke in his welcome address that you will be invited back here in 5 or 6 months, as he narrated WBs achievements, adding that we can no longer be wished away in reference to the airline having made a decisive impact in the East African skies.
The planned construction of the new Bugesera International Airport will further enhance RwandAirs operations with a longer runway able to more easily accommodate long range nonstop flights and allow for future expansion of both passenger and cargo operations well into the century and it is expected that the new airport will be ready in time when RwandAir is due to take delivery of two long range B787 Dreamliner jets between 2015 and 2016.
Watch this space for regular aviation news updates and breaking news from across Eastern Africa and the Indian Ocean region.