RWANDAIRS SECOND B737-800 GOES ON THE PRODUCTION LINE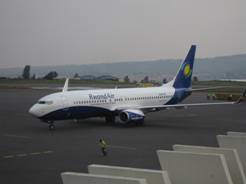 The second brand new B737-800, featuring once again Boeings Sky Interior, has recently been put on the production line in Everett and is now being assembled, ready for an expected delivery to Rwandas national airline on the 25th of October. RwandAirs fleet will then grow to a total of 7 aircraft, one Bombardier Dash 8 serving domestic routes as well as doing regular flights to Bujumbura, two Bombardier CRJ200, two Boeing B737-500 on lease from GECAS and now two B737-800, which will be deployed on the current routes to Johannesburg and Dubai but also to new destinations, of which Lagos may be the next to be launched.
In an earlier article it was also confirmed that RwandAir has two B787 Dreamliner aircraft on order with Boeing, due to join the fleet in 2015 or 2016, at which time WB intends to launch its own long haul flights.
Presently the airline has code shared flights with Ethiopian Airlines to Addis Ababa, with Brussels Airlines to Europes capital city, with KLM to Amsterdam and upcoming a major extended codeshare agreement with Turkish Airlines, which is set to commence flights to Kigali in 2012.
In view of the growing volumes of traffic on routes served with the Bombardier Dash 8 there is also intense speculation over the introduction of a larger turboprop and indications are that it will rather be the ATR than the slightly larger Bombardier Q400 which may get the nod from the airlines board and owners.
For now however the clock is ticking down for another NG B737-800 to come to The Land of a Thousand Hills in a weeks time and be sure to read all about it right here, where the most up to date news from the Eastern African and Indian Ocean aviation markets are told.