RWANDAIR SIGNS OPTION DEAL FOR 2 B787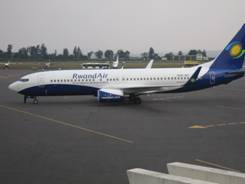 Following the announcement by the airlines CEO John Mirenge on the occasion of the delivery in Kigali of RwandAirs first B737-800 Sky Interior about the vision for Rwandas national airline, it was established that an option agreement for 2 Dreamliners has been signed. Deliveries are likely to fall into the 2015/16 period, at which time additional aircraft are also due to have come on line for the airline. The 2020 strategic plan speaks of a total of 18 aircraft WB intends to fly from its hub in Kigali, very likely then from the new international airport at Bugesera.
There is intense speculation amongst aviation analysts and observers in the region over the exact plans for the airlines growth, starting from the almost certain new destinations when the second B737-800 is delivered in the last week of October this year, but even more so about the intermediate future fleet development of the airline ahead of the intended B787 delivery. Considering the complex structure of the Rwanda Incorporated decision making, it is thought that a number of key decisions are pending before cabinet until pen is put to paper and firm commitments can be made for the purchase of additional new single aisle aircraft.
While the airline is reluctant to discuss these details, clearly not wanting to give the game away by alerting their competitors in the region too early to their plans, it is clear that sooner or later larger turboprops than the presently used Bombardier Dash 8 will be required to support growing demand from the domestic network, and it is anybodys guess where they may be sourced from. They could either be the larger Bombardier models like the Q400 or else for instance turboprops from French manufacturer ATR, which several other airlines in the region like Precision and Fly540 already operate successfully.
As to additional jets, the guess equally is anyones right now. It is known that Embraer has a keen eye on the East African region following their overwhelming success in selling their 170s and 190s to Kenya Airways, but even Bombardiers new C-series, with their superior economics may be a contender, besides of course Boeing itself, though they might not have the right-sized smaller jet available for RwandAirs needs in that segment. Time will tell the story in greater detail but the aggressive plans by RwandAir, for making Rwanda a regional aviation hub and claiming their place amongst the major airlines in East Africa will undoubtedly be material for more speculation in coming months. Watch this space for the most current aviation updates from Eastern Africa and the Indian Ocean region.