RWANDAIRS DASH 8 NOW FLIES WB COLOURS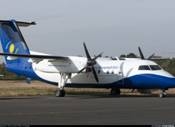 (Picture courtesy of RwandAir)
Already on the RwandAir fleet since early 2010 on a long term wet lease from Kenyas leasing specialist firm ALS, the WB Bombardier Dash 8 100 was during the last maintenance also repainted and is now proudly flying the RwandAir colours across the East African skies.
The aircraft makes periodic calls on Entebbe in Uganda or Bujumbura in Burundi but is now mostly deployed on scheduled domestic services within Rwanda, from Kigali to the border towns of Gisenyi and Kamembe, both located on Lake Kivu and right at the frontiers with the Congo DR.
Gisenyi is presently served 6 times a week while the demand for flights from Kamembe has resulted in operations last year moving from a few times a week to now 11 frequencies. It is from there that a large number of passengers, originating from the Congo, cross the border by land and then fly safely with RwandAir to Kigali and beyond.
It is understood from usually well informed sources close to RwandAir that the airline is studying the acquisition of a second larger turboprop plane to have capacity match the growing demand for seats from in particular Kamembe and a decision on this is expected later this year.
Visit www.rwandair.com for more details on Rwandas national airline, the network now reaching Dubai, West Africa, South Africa and across Eastern Africa, but also for schedules and special offers. Joining RwandAirs frequent flyer programme is also possible on line. Watch this space.