KIGALI IS THE HOST CITY FOR THE 10TH EAST AFRICAN MILITARY GAMES

(Posted 09th August 2016)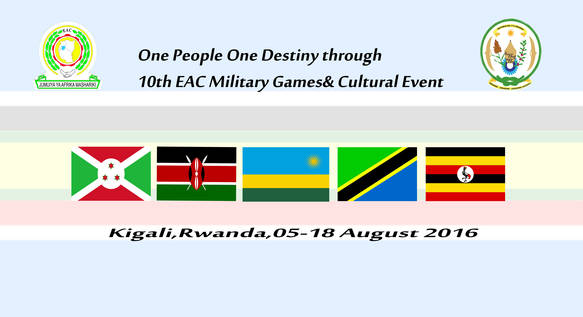 While the eyes of the world right now are glued on the Olympic Games in Rio de Janeiro / Brazil is closer to home another key annual sporting event taking place. Here, those athletes feature who did not make the qualification to #Rio2016 but are keen sportsmen and women by any standards. The five armies, navies and air forces of the East African countries of Rwanda – host of the event – but also Uganda, Kenya, Tanzania and Burundi have sent their best to Kigali to compete for honours and medals.
This comes in the wake of Rwanda hosting a number of high profile events in recent months, including earlier this year the African Football Championship and more recently the World Economic Forum on Africa and the African Union Summit.
After the opening ceremony yesterday at the national 'Amahoro' stadium will the games in Kigali continue until the 18th of August with some of the events also taking place at the stadia in Kicukiro and Nyamirambo.
Notably is South Sudan, on paper a member of the East African Community, not part of the sporting event, a clear sign that the turmoil in Africa's youngest nation is taking its toll on many fronts, not just the battlegrounds.
Meanwhile is the Rwandan International Trade Show also nearing its end at the Gikondo Showground, with large numbers of attendees over the last weekend streaming into the fair and crowding the exhibition stands.
The next high profile event in Rwanda will be the annual Gorilla naming festival, known as Kwita Izina, when again travelers from across the region will descend on Kigali and Kinigi where the naming will take place on the 02nd of September against the backdrop of the magnificent volcanoes dominating the sights of this part of Rwanda.