FIRST TESTFLIGHT FOR 'UBUMWE' IS A SUCCESS
(Posted 06th August 2016)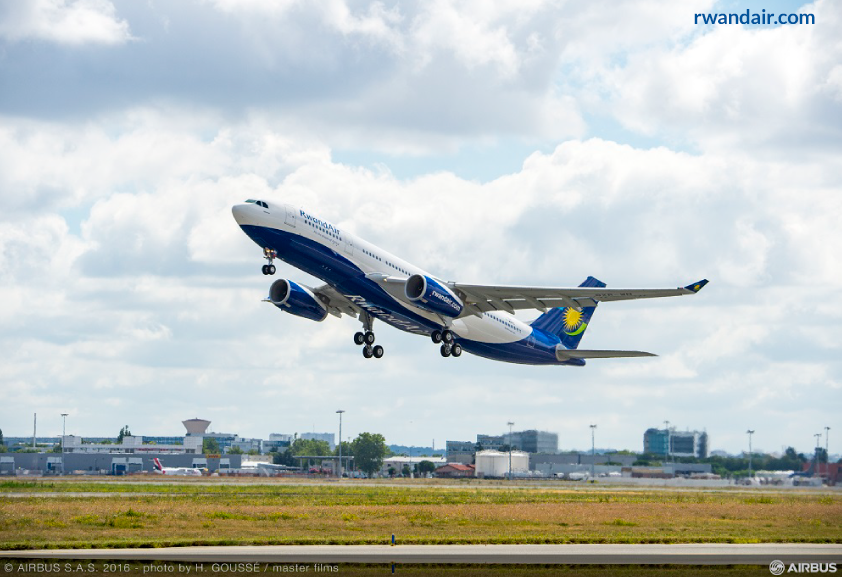 RwandAir's first Airbus A330-200, due for delivery in September this year, has yesterday taken to the skies for its maiden flights following successful ground tests at the Airbus assembly facility in Toulouse.
The aircraft, which has already been named 'Ubumwe', holds the production number MSN 1741 and is presently registered as F-WWKS but will on delivery be put on the Rwandan CAA registry as 9XR-WN.
Following this first ever flight will additional aerial testing be carried out to ensure that all systems are go when on the 29th of September she will commence her journey to the airline's hub in Kigali.
A second, but larger Airbus A330-300 is then due for delivery in late November, named as 'Murage' and assembly will begin in due course also in Toulouse as MSN 1759.
It is understood that the first Airbus A330-200 will initially be deployed by RwandAir four times a week from Kigali to Dubai before, when the sistership has been delivered, then launching long haul flights to India and China, very likely Mumbai combined with Guangzhou.
Notably will a third Boeing B737-800NG then join RwandAir's fleet in October this year, taking the number of aircraft owned and operated to double digit numbers for the first time in the airline's history.
The next aircraft, a second Airbus A330 will bring the number then in November to 11 before a fourth Boeing B737-800NG will complete the current set of orders in May 2017.
At that stage will the airline have added several more destinations in Africa, which include, as per CEO John Mirenge, such cities as Harare (recently confirmed to launch in January 2017 via Lusaka) but also Lilongwe, Abidjan, Cotonou, Bamako and Khartoum.
RwandAir is one of Africa's fastest growing airlines with the youngest fleet on the continent and considered the key to positioning the 'Land of a Thousand Hills' as one of Africa's leading tourism and MICE destinations.