RWANDA TAKES KWITA IZINA INTERNATIONAL CYCLING TOUR EVENT FOR THE FIRST TIME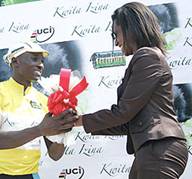 (Picture courtesy of RDB media release)
The Festival of the Gorillas also known as Kwita Izina, commenced its countdown towards the actual naming ceremony this Saturday, 16th of June outside the national park head quarters in Ruhengeri / Musanze with the annual cycling tour, which was held over the weekend.
Notably did a Rwandan for the first time ever beat other international riders to the finishing line and took the yellow jersey when Ruhumuriza Abraham took the honours to the tumultuous applaus of his Rwandan country men and women lining the final kilometres of the race.
Abraham, a repeat winner of the Tour de Rwanda in the past, had on a previous occasion won the same race but in the absence then of the more fancied Eritrean or Ethiopian riders, giving him a sweet victory as he saw off Algerias Azzedine in a sprint finish by a mere 3 seconds. Another 5 Rwandans also classified amongst the top ten riders in the field, evidence how the sport is catching on in the Land of a Thousand Hills and how it is befitting to be the opener for the Kwita Izina week. The Algerian though won the honours for best climber in the various stages while Ethiopias Gebrehans claimed the honours for best young rider in the competition.
The Karisimbi national cycling team, named after one of the early habituated gorilla groups in the Virunga range, has this year already participated in several international competitions and gained strength and tactical experience, which now paid off handsomely.
The tour was organized by the Rwanda Development Board Tourism and Conservation, which sponsored the event to the tune of over 70 million Rwanda Francs and the head of department, Miss Rica Rwigamba, was at hand to hand over the trophies and price money to the winners.
Kwita Izina is formally going underway tomorrow with a range of events, including an exhibition on sustainable energy uses, thought crucial to reduce green house gases in the future, and will culminate on Saturday with the formal naming of the new born gorilla babies, with live reporting by this correspondent from on site. Watch this space.