10 FLIGHTS TO REUNION UP FOR GRABS COURTESY OF XL AIRLINES
(Posted 26th March 2015)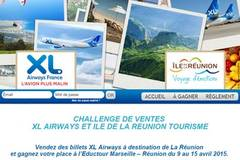 In order to expand sales to the island of Reunion have the tourism board (IRT) and XL Airways set up a sales challenge to the French travel agents. Held from February 17th to March 30th will the challenge result in the selection of ten travel professionals who will go on famtrip to Reunion Island in the month of April.
Until 30th of March can French travel agents participate in the sales challenge which was organized in partnership between the IRT and XL Airways. The objective for participants is to sell the maximum number of airline tickets airline to Reunion on XL Airways' flights and the reward: a five day famtrip to Reunion Island !
A dedicated website has been set up especially for the competition, so that travel agents can report their confirmed sales that will count to determine the winners. The eight best sellers get their automatic place for this journey of discovery and the other two will be drawn among all registered professionals who have sold at least five return tickets. In total will ten professionals be nominated to go on famtrip to the island of Reunion, flying out from Marseille on XL Airways from 9th to 14th of April.
When on site, an exciting program awaits the winners, which will be accommodated at the Lux Resort Reunion Island ***** which is one of the partners of the competition.The professionals will discover the open market of Saint Paul and the colorful alleys, the road to Cilaos with its 400 turns and the island's Creole culinary specialties besides discovering the wild south coast and the lava tunnels of the Piton de la Fournaise The lagoon of the island and its biodiverse coral reefs and the typical Creole houses of the Hell-Bourg village high up in the mountains. You want to participate in the sales challenge IRT / XL Airways and win your seat for the famtrip to Reunion Island? Visit the dedicated website, you have until March 30 to register.
For added information about Destination Reunion click on www.reunion.fr