(Posted 10th March 2022)
Serena Hotels, East Africa's leading hotel group, is now offering, in conjunction with Air Kenya and their Ugandan counterpart Aerolink, visits to the world famous Masai Mara without having to first fly to Nairobi and change airports along the way.
Air Kenya is offering daily departures – subject to terms and conditions – for tourists, Ugandans and expatriates living in Uganda alike, to fly out of Entebbe, clear health formalities, customs and immigration in the lakeside city of Kisumu and then fly on directly with the same aircraft to the Mara Serena airfield.
Fully tarmacked is it only minutes away from the 5 star Mara Serena Safari Lodge, the base for the visit to Kenya's best known game reserve, set in a location second to none.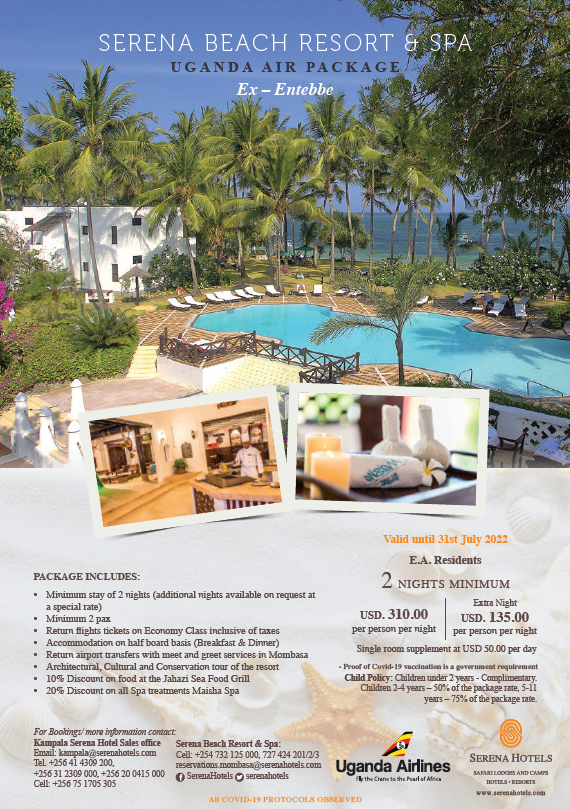 At the same time has Serena Hotels also launched a package with Uganda Airlines, to fly visitors from Uganda non stop to Mombasa and enjoy a fabulous stay at the Serena Beach Hotel & Spa, an architectural marvel build along the lines of an ancient Swahili settlement.
With prices valid until the end of July this year is this unbeatable price a great incentive to experience the Kenya coast for a few days, either alone, with a partner of the entire family.
Safe Travels and Happy Landings!