AIR SEYCHELLES THE CREOLE SPIRIT DISPLAYS NEW LIVERY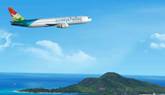 The first of three B767-300 aircraft has now come back from the paint shop and is for the first time flying in its new livery, a change recently announced with much fanfare and as part of rebranding the Seychelles national airline.
The plane, christened The Creole Spirit on arrival home made several low altitude flybys over Victoria and the island of Mahe, to show off the new logo to the Seychellois people and appropriately so as the archipelago held its Creole Festival, a key cornerstone in the calendar of events of major cultural showcases celebrated in the country.
Air Seychelles, with a new CEO at the helm since early October, is in a period of intense strategizing to map out its future, and this week the second older B767-200 is being returned to ILFC after prematurely ending a lease which was due to last till 2013. It is understood that plans to wait for the eventual delivery of the long ordered B787 Dreamliner may be scrapped as the airline decides in coming weeks which way to go for the replacement of the B767 fleet. Greater attention will also be paid to the domestic network it was learned, no wonder as CEO Bram Stellar was one of the key architects at Kenya Airways to return with a bang into the domestic market last year by re-introducing the shuttle to Mombasa and returning to Malindi and Kisumu after both airports were upgraded and the runway in Kisumu repaired and expanded.
Watch this space for upcoming news about Air Seychelles plans for the future as and when available to this correspondent.