(Posted 29th November 2022)
Given the sharp fall in Covid19 cases in the Seychelles, presently only 193 persons are counted as infected but all without hospitalisation, has the Seychelles government, effective 01st of December, lifted all related travel requirements such as a negative PCR test and/or C19 vaccination certificates.
HOWEVER, anyone arriving from Africa and other designated areas/regions must show a valid Yellow Fever vaccination certificate.
All travelers arriving in Seychelles, whether by air or by sea, must however fill in, ahead of travel, the electronic passenger authorization in order to be processed for entry.
The e-form can be accessed via https://seychelles.govtas.com/ and timely submission is mandatory for anyone intending to visit the islands.
Tourism to the Seychelles has seen a significant rise over the past months, closing in on the 2019 levels prior to the pandemic which will be a relief to tourism and hospitality businesses as well as government, as tourism is the number one foreign exchange earner.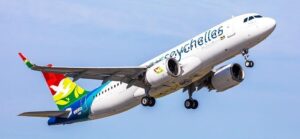 Meanwhile has Air Seychelles announced that they will in December launch twice weekly flights to Almaty Kazakhstan.
The seasonal service begins on the 26th of December and will operate until the 27th of March, 2023.
The inaugural flight will depart Almaty on 26th of December, arriving into Mahe on 27th of December at 07:00. The new service, a first ever between the two countries, will be operated on a two-class Airbus A320 neo with 12 seats in Business Class and 156 in Economy Class, providing a total of 672 seats to and from Kazakhstan each week.
Air Seychelles Chief Commercial Officer, Charles Johnson explains: "We're extremely proud to announce our first new destination after the Covid pandemic. With the recent signing of a new bilateral agreement between the two countries, this route will open the door to Kazakhs wanting to explore Seychelles and other islands in the Indian Ocean. It also marks the first time Air Seychelles will be flying to Central Asia, which offers a growing leisure tourism market that will surely love the award winning beaches and rare animals such as giant Aldabra tortoises that Seychelles has to offer."