SEYCHELLES TOURISM ACADEMY SENDS 14 STUDENTS TO SHANNON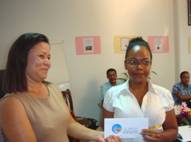 (Mrs. Margaret Pillay, CEO of the Seychelles National Human Resource Development Council hands over an airticket to Dublin to one of the 14 students selected to study for a hospitality graduate degree)
The Seychelles Tourism Academy, in conjunction with NHRDC, has yesterday held a ceremony in Victoria, to hand over 14 Air Seychelles / Etihad airtickets from Mahe via Abu Dhabi to Dublin, where the selected students, all of whom went through a vigorous selection process, will proceed in a few days to begin a 10 months intensive course towards attaining a Bachelor Degree in hospitality management. This will be followed by an 18 months long industrial attachment, either at home in the Seychelles, or else in Ireland, the UK, mainland Europe or in Dubai, where participating private sector partners have already offered such opportunities.
Costly by any standards, the initiative is a result of the Seychelles government drive to develop indigenous human resource capacity and create an upcoming pool of well trained young individuals out to make a career in the hospitality industry, entering at managerial level.
STA has in recent years, as regularly reported here, stepped up their cooperation with Shannon University through lecturer exchange programmes, training of trainers and in particular the opportunity for students to complete their degree programme in Ireland.
STA was represented at the function by Mr. Moncherry, who had prior to the event conducted a guided tour for this correspondent to show the progress made on site at La Misere, where several building have gone up since the last site visit in March. Completion of phase one of the modernization of STA is due to be completed by March next year, at which stage phase two will commence, before by 2014/15 the entire remodeling of STA will have been completed.
The students during the 2 hour function were given extensive briefings, including by a former student, before signing the respective Bonding Agreements in the presence of their guarantors, who equally committed themselves to the Seychelles government towards the cost of nearly 380.000 Seychelles Rupees.
Tourism is one of the Seychelles key economic pillars and in recent years the government of President Michel has embarked on a deliberate cause of action to bring more Seychellois into the game with a range of incentives to start businesses but also with offers of training, at STA and abroad, for those with the brightest prospects, a move fully supported by the countrys hospitality private sector which is represented at the board level of STA but also greatly involved in providing placements for practicals and industrial attachment.
In a related development it was also learned that the recently reported effort by the University of Seychelles, to enter into a well near competitive offering of hospitality courses, has hit a dead end when the University of Shannon reportedly declined to join hands, preferring to stick to proven partner STA, in which by opinion of a half dozen experts consulted yesterday the hospitality and tourism training should remain vested in, as they are the only tertiary institution in the Seychelles with the facilities for demonstration kitchen, an application hotel and those key links to the private sector. Watch this space as STA emerges in coming months as the leading institution of hospitality training in the Indian Ocean island region.