Emirates and Seychelles Tourism ink new partnership deal(Posted 05th May 2015)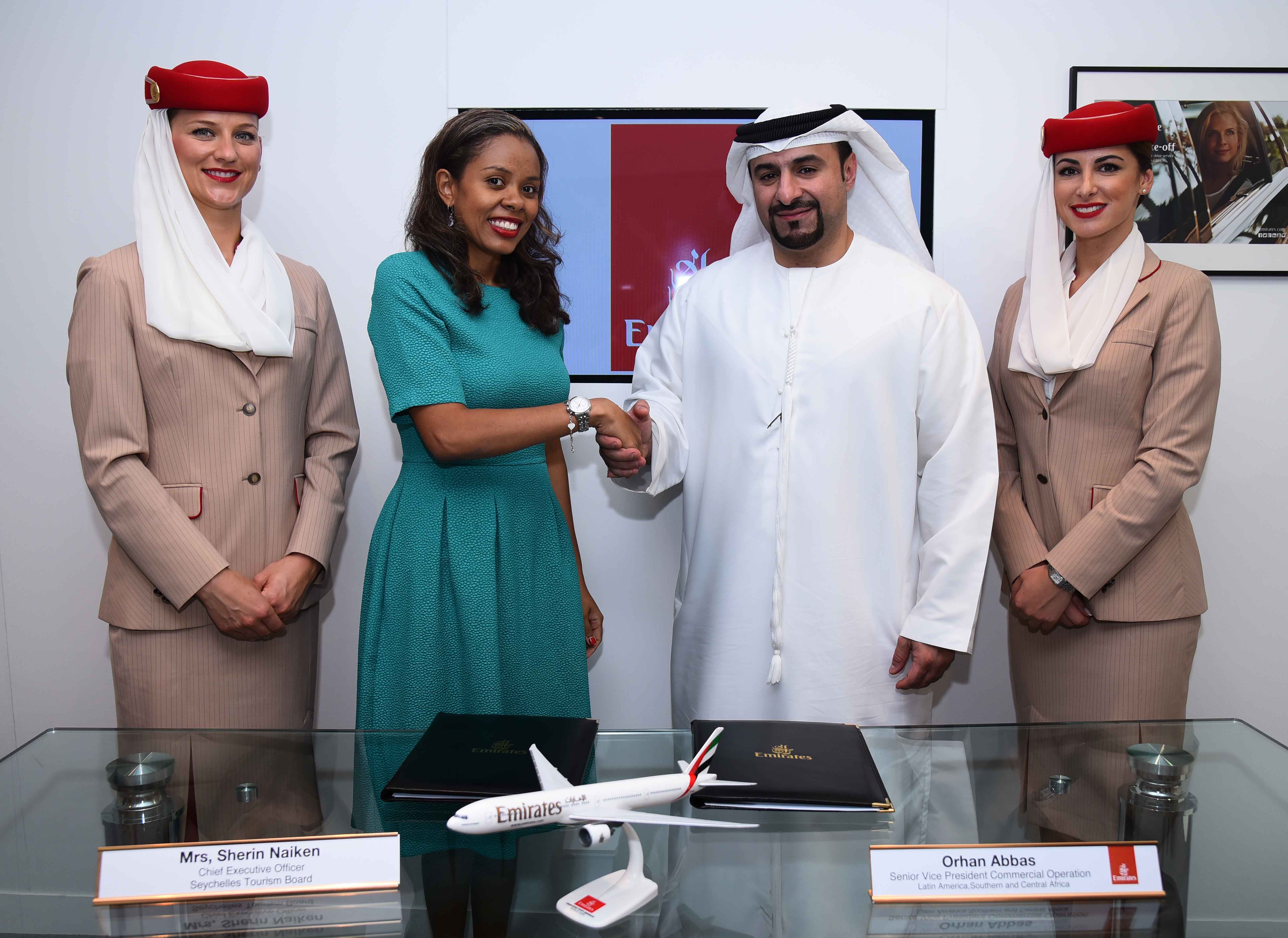 Under the extended Memorandum of Agreement (MoA), Emirates and Seychelles Tourism will put into effect a range of joint marketing activities focusing on promoting Seychelles in its various source markets.
The agreement was signed today by Orhan Abbas, Emirates' Senior Vice President, Commercial Operations, Latin America, Central and Southern Africa and Sherin Naiken, Chief Executive Officer of the Seychelles Tourism Board, at the Arabian Travel Market in Dubai (ATM).
"When we started our first flight to archipelago in 2005, we expressed our belief in the Seychelles as a global leisure destination. Today, we reiterate the trust we have in the country and are pleased to engage in further activities to support the tourism industry. I am confident that our partnership with Seychelles Tourism will further grow tourism to the Indian Ocean Island of Seychelles in the coming years," said Mr. Abbas.
"The partnership between the Seychelles Tourism Board and Emirates Airline is an excellent example of a successful partnership at work. I would like to thank the airline for its unwavering support over many years and for a business relationship which continues to evolve and go from strength to strength," said Ms. Naiken. "It is not the signature of an agreement which makes a relationship grows, it is the individual commitment of the two parties" she continued " For this i have to extend my thank you and most sincere appreciation towards Mr Abbas and his team for growing this relationship in the right direction."
The Agreement extends for one calendar year and will see marketing activities such as attendance of tourism trade shows and fairs, trade familiarisation trips, product presentations and workshops, amongst others, be undertaken to achieve the parties' objectives.

As from the 01st of June is Emirates set to increase its capacity to the popular Indian Ocean Island of Seychelles once again, when it switches from the current Airbus 330-200 used on one of the two daily services to a larger Boeing 777-300ER. The introduction of the Emirates Boeing 777-300ER, which operates as flight EK 705 from Dubai and as EK 706 on the return flight, will increase overall capacity on the route by 1722 seats per week and will make the route an all-Boeing 777 operation.

Emirates currently operate double-daily flights between Dubai and the Seychelles, connecting the archipelago to more than 140 destinations across the airline's network with just one stop enroute.