ALL ROADS LEAD TO THE VICTORIA CARNIVAL FESTIVAL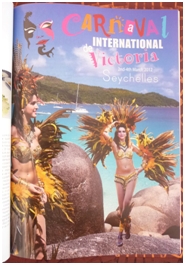 Some may see this as a classic misnomer, as of course it is the air lanes which connect the Seychelles with the outside world, but nevertheless, like when in ancient times all roads led to Rome, the attention of the global carnival communities will focus on the upcoming second edition of the Carnaval International de Victoria.
Hosted this year jointly between La Reunion and the Seychelles, the two tourist boards are busy putting final touches to the PR campaign which is due to unfold as the countdown continues towards the March 02 04 event, and with over 40 traditional carnival nations participating in the festival, the show is going to be bigger and better than last year according to a regular source from Mahe. Emirates, emerging as THE global airline, is the main sponsor and Festival Airline once again and will promote the event across their growing network, from where travelers are but one stop away from getting to the tropical island paradise of the Seychelles.
This is only our second edition of this festival but it has taken the media by storm. In fact many tourists are coming in March to see the festival and parade. We now have a calendar of major activities across the entire year and it supports our aim to bring in more tourists by offering more attractions beyond our paradise location. We see ourselves as blessed with a unique natural setting in the middle of the Indian Ocean but also want to establish the islands as a place where things happen. The Carnaval Festival is one such event and we look forward to host the world again in March said a regular source. Watch this space as the programme for the three day festival will be released very soon and for anyone wanting to see floats, dance groups and bands perform, the time to book is now. Visit www.seychelles.travel for more information on the archipelagos tourism industry.