CERF ISLAND RESORT COMMISSIONS 12 NEW LUXURY VILLAS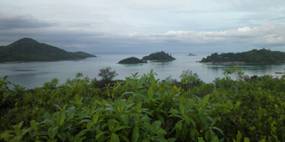 Located inside the Sainte Anne Marine National Park, Cerf Island is home to the Cerf Island Resort, a luxurious hideaway of the kind which keeps away prying eyes and offers the level of privacy combined with comfort and service levels for which the Seychelles have become well known.
Cerf Island Resort, where sweeping vistas of some of the other inner islands are dominating the horizon, now has a total of 24 private villas, generously placed far apart from each other to ensure the Do Not Disturb sign is truly respected. The investment, notably by Seychellois owners, does according to information passed on by the Seychelles Tourism Boards CEO Alain St. Ange show the confidence the tourism industry has in the future of the archipelago and the policies now in place to promote the country abroad and that Brand Seychelles has made a real impact on the global scene.
The island now also has expanded Spa and other recreational facilities, now offers guests two restaurants and has the all important helipad, where visitors can arrive directly from the international airport, giving them a grand view from above of their resort island.
Also present at the opening ceremony were the Minister for Investments, Natural Resources and Industry, the Hon. Peter Sinon and Minister designate Vincent Meriton, underscoring the importance the Seychelles government attaches to the tourism industry, in particular when driven by their own nationals.
Visit www.cerf-resort.com for more information on this very special resort on its own island.