(Posted 31st January 2023)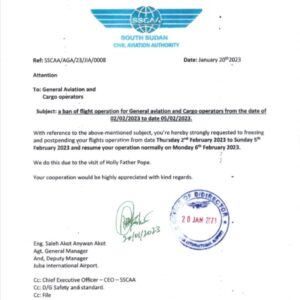 According to a notice issued by the South Sudan Civil Aviation Authority will airlines operating cargo and general aviation flights have to halt operations from Juba International Airport while Pope Francis visits the country in February.
From Thursday 02nd February to Sunday 05th of February will all such flights have to be halted, both for domestic and international operations into and out of Juba.
Flight are due to resume again on Monday 06th February 2023.
Aviation operators in South Sudan, left with little choice but to comply and anxious not to be quoted, have voiced their anger to ATCNews over the prolonged downtime, accusing the SSCAA of incompetence to manage airport operations during such a high profile visit. One of them has pointed to other countries where flight operations have for instance been halted ahead and immediately after the arrival and departure of Airforce One – the American Presidential plane – but not shut down operations for several days. 'This shows the total lack of capacity of our CAA and other organs working at the airport, a shame after many years of independence and much technical assistance given by the international community' ranted one in a WhatsApp message to ATCNews.