THE FALLOUT OF THE CIVIL WAR – AFFECTING PEOPLE, ECONOMY AND ENVIRONMENT
(Posted 03rd May 2015)

As the South Sudan civil strife enters its 17th month with no peaceful resolution in sight – all previous agreements were broken more or less immediately by the regime in Juba which has only remained in power courtesy of Ugandan protection forces – has the fallout began to spread.
Tens of thousands of people killed, hundreds of thousands of people displaced from their homes, poaching reaching alarming levels as the troops kill for meat and trophies to sell has now the environment too taken a huge hit, according to information received from Juba.
The Sudd Institute, an independent research and scientific institution, has last week released a report all but accusing the regime of covering up oil spills and leaks from pipelines hit by gunfire, mortars, artillery round and sabotage. The Juba regime, instead of following legislative and regulatory requirements to report and contain such spills, appears to keep the damage to the environment under wraps or else blames the rebels, a convenient scapegoat of course for their own failures.
Companies still active in pumping oil have come under scrutiny by the report and the following information was taken from the report for the benefit of readers:
Start quote
'Companies get away with pollution because of lack of transparency in disclosing it to the government and the communities so that necessary actions can be taken'.
Based on a answers received from key officials at the Ministry of Petroleum, Mining and Industry, Ministry of Environment, and Nile Petroleum Corporation, the research organization concluded that 'there is a zero level enforcement for environmental management transparency practices'.
The report then continues in stating that 'For example oil spills, incidents and leakages have not been disclosed to the public and the communities as required by the Petroleum Act of 2012. No measures have been taken against non-compliance in disclosing the above to the communities and the public'.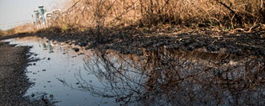 (Picture found in the web attributed and credited to Radio Tamazuj in South Sudan)
It was in fact one Nhial Tiitmamer, the principal research officer at the Sudd Institute who compiled the report and then recommended that the government should open up access to information 'by making it easy for civil society, community members and researchers to have access to the oilfields to help the government monitor and document environmental conditions and provide mitigation measures accordingly'.
None of this however is expected to happen while the conflict rages on and the stubborn refusal by regime leader Salva Kiir to accept a power sharing deal as formulated by the mediators from IGAD and other international groups can only mean that he will try to hang on to power by any means with no regard for people, economy, wildlife or the environment. Watch this space for breaking and regular news from the wider Eastern African region about environmental problems and challenges.