Much has been said here over time about the Seychelles and few topics are as relevant as this one, the empowerment of indigenous Seychellois, keen to invest in the tourism industry since the economy broadly opened up under the present government of President James Alix Michel. What some saw as empty phrases and polititalk turned out to become reality for many who invested their life savings in B&B's, holiday lets and self catering establishments, and few have to vehemently defended and promoted the concept that Minister St. Ange.
Read on to find out his latest comments after continuing his visits to these establishments to get first hand feedback from owners and managers: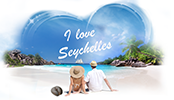 Alain St. Ange, the Seychelles Minister responsible for Tourism and Culture told the small-home grown tourism establishments that they need to continue to work together to defend their industry. "You have invested in the industry that is the pillar of our economy. You heard the Government's Appeal for your to join in and claim back our tourism industry. Now it is important that we all rally to defend our industry that remains vital for the Seychelles economy" said Minister St.Ange.
Minister St.Ange, Anne Lafortune Principal Secretary for Tourism and Sherin Naiken Chief Executive of the Seychelles Tourism Board were in the west side of Mahe last Friday for what their Ministry calls their door-to-door of licensed hotels in Seychelles.
Since 2014, Minister St.Ange has been visiting small and large hotel establishments. Seychelles has a total of 481 properties.The visit started on Praslin Island covering so far 117 out of 124 small and large properties. Early this year, Minister St.Ange started visiting small and large hotels on Mahe and he has to date visited 14 out of 251 properties on Mahe.
The target is to tour all properties on Mahe before the end of the year. He will also visit the 85 licensed properties on La Digue.
Minister St.Ange and his delegation has also already visited hotels on outer islands such as Fregate Island Private and Hilton Seychelles Labriz Resort & Spa. "Speaking about the hotel door-to-door visits Minister St.Ange said that staying connected is a commitment made by the President. For tourism staying connected means getting out and about and seeing the tourism establishments, meeting the Management and Owners and discussing with as many staff members as possible. Managing Tourism needs passion, for us at the Ministry and at the Tourism Board the most important thing is just sheer passion" said Minister Alain St.Ange as he reiterated that the door-to-door hotel visits is but one way to enhance the cooperation between the Ministry of Tourism and Culture and the island's private sector.
During the visit at the different small hotels on Friday, Minister St.Ange was informed of the challenges faced by the small hotel owners as he was informed of the positive occupancy they were currently enjoying. The small hotel owners expressed their appreciation for being today able to be part and parcel of the island's tourism industry. "We today work for ourselves and earn more than we were doing when we were employed in hotels" said a small hotel owner who appreciated that Government was keeping licenses for small hotels with under 15 rooms reserved only for Seychellois. "Today we feel part of the industry and this is opening new opportunities for Seychellois" said another small hotel owner.
The moratorium on large hotel construction as announced by President James Michel on the 29 June National Day Celebrations was also a point discussed and appreciated by the small hotel owners. "We support this move by Government because the country needs time to further increase the visitor arrival numbers. Today we have the non-stop direct flights to Paris and this will help. But as a country we need hotel occupancy level to increase before more large hotels are built" said a small hotel owner. On the question of occupancy of hotels two of the call hotel owners said that today they were following the global tourism trend and as the new drive of marketing hotel establishments, here in Seychelles last minute canceling and clients not showing up after confirmation of bookings by online bookings agents are hindering smooth running of home grown establishments.
Licensed home grown establishments such as self caterings, studios and apartments owned by Seychellois, they depended heavily on online booking agents to market their establishments and to fill up their rooms.
But they also said that on two occasions, the Ministry of Tourism and Culture have filed reports of last minute cancellations and clients not showing up after confirmations of agent's online bookings.
The small hotel establishments on north western coast of Mahe that were visited last Friday by Minister St.Ange were Armony Residence, Chrisent Residence, Lydie's Self Catering and Jamalac Apartments.
The owner of Lydie's Self Catering at Beoliere, Lydie Mathurin said that although their four-room apartment is today fully booked from August – December 2015, clients not showing up sometimes after confirmations of online bookings are hindering her business. "We have no idea where our clients go. Even if we go to the airport to collect them, they simply don't show up'' said Lydie Mathurin
Minister St.Ange said that this was not acceptable and reassured the owner, the Ministry of Tourism and Culture will be looking in the matter and discussing this with the On-line Booking Businesses. The Minister also encouraged the small home-grown properties to diversify their bookings pattern by marketing with more than one of these booking agents.
"Today we say we are happy with the hotel visit we did. It is very clear that we need to keep promoting community base tourism such as is being provided by the small Seychellois owned establishments. We shall continue to work with you and ensure you are well guided in the marketing your products'' Minister St. Ange said to the owners of these small hotels he visited.