THE GORILLA HIGHLANDS ARE PEOPLE – SCENERY – ADVENTURE – MOUNTAINS – FORESTS – HOSPITALITY – FOOD
… AND NOT TO FORGET THE MOUNTAIN GORILLAS WHO LIVED HERE WAY BEFORE US …
(Posted 01st May 2018)
By Miha Logar and ATCNews.org
Chef Rama, First Rwandan to Win at Gorilla Highlands Silverchef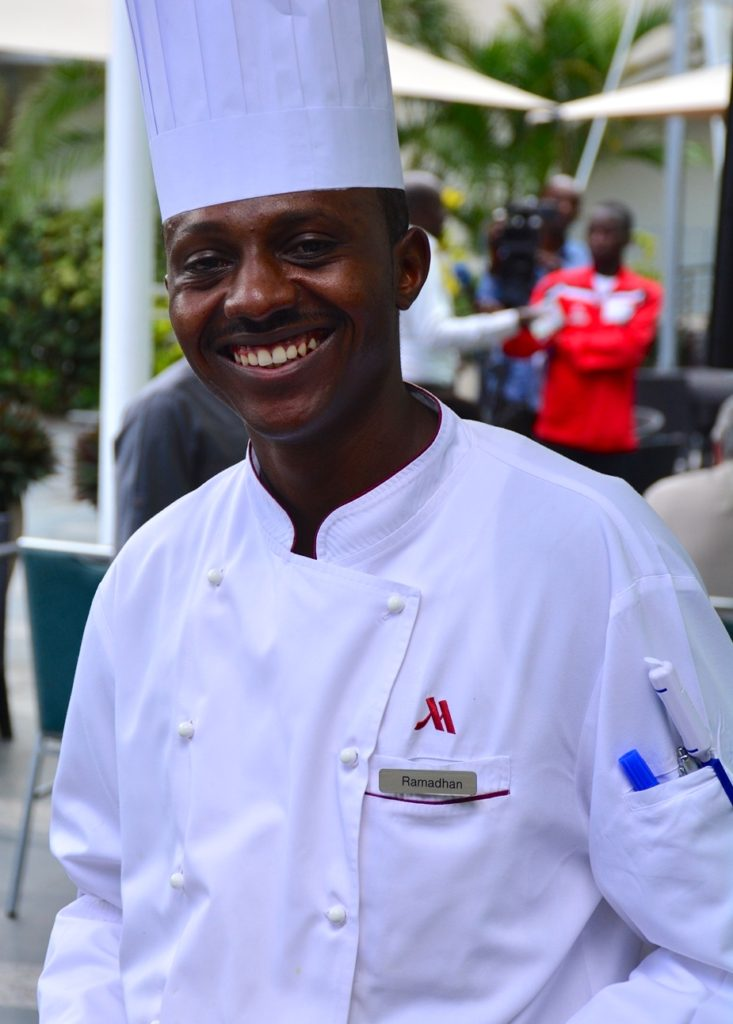 Chef Ramadhan Sindayigaya first competed at Gorilla Highlands Silverchef in 2017 at BirdNest Resort – Lake Bunyonyi (Uganda). Not only did Chef Rama take a top-five position, he contributed an unforgettable testimonial from the contestants' adventure park experience.
When he applied for the 2018 edition of Silverchef he wasn't an employee of Akagera Game Lodge anymore; he now worked at the Kigali Marriott (Rwanda). The hotel leadership had spotted him at BirdNest and given him an offer he couldn't decline.
But when you work at such a big place, that comes with complications… Rama wasn't the only Marriott chef who wanted to compete; four of his colleagues wanted the same! Rama's bosses first wanted to prepare an internal competition to determine who would represent the Marriott but eventually decided to simply send Ramadhan.
They made the right choice.
While Rama normally works at the Marriott's Italian restaurant, Cucina, at Gorilla Highlands Silverchef 2018 he was allocated another kitchen to compete, Iriba. This is how he remembers it: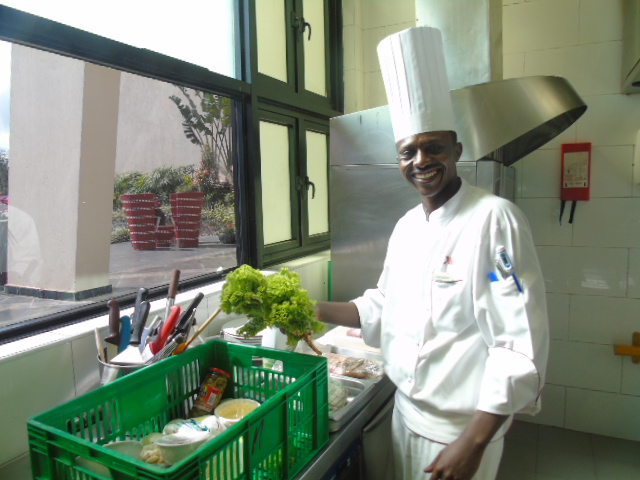 After reaching Iriba I got my basket of ingredients. I was surprised by what was in the basket – the ingredients were very limiting. Only 4 cherry tomatoes , 4 Irish potatoes, 1 carrot… 'Hhhhh,' I shook my head. I took a few minutes to think of the ingredients, remembering my 9 years in professional kitchens. What to do? … Fusion dishes!
For the starter, a mixed salad, I put together an onion, carrot, mango, beetroot, cherry tomato, olive oil and parsley sauce as dressing. All of these ingredients are purely European. But it was garnished Japanese style, with basil and onion tempura (onion fried in frying butter).
My main course was a chicken and beef roulade. This was a combination of beef and chicken stuffed with vegetable mousse. I served my dish with Parisian potatoes and zucchinis, garnished with baby spinach. The sauce was a combination of Hollandaise and brown sauce.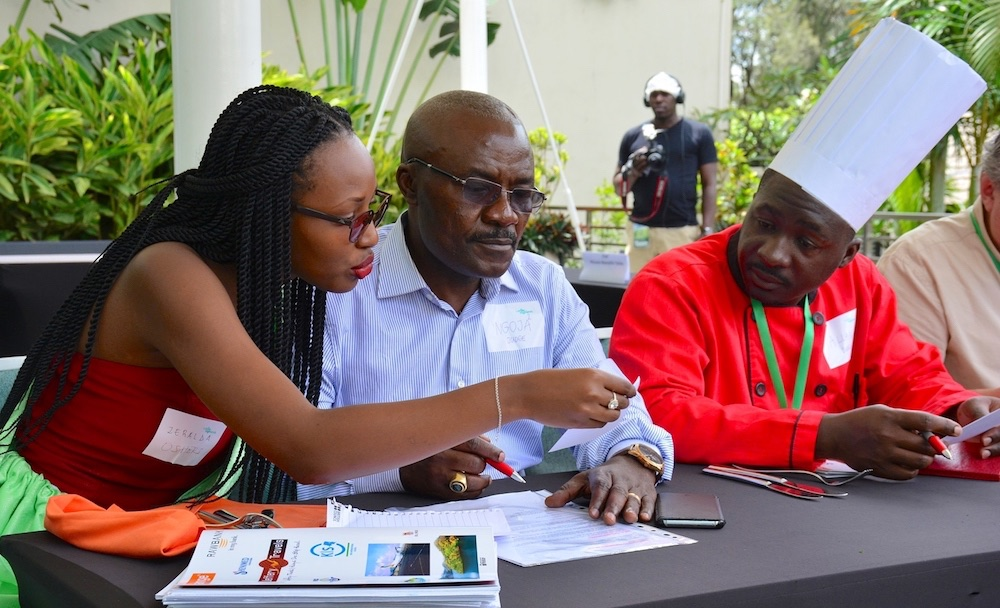 Rama presented his competition entry to the international panel of judges: Prof Dr Wolfgang Thome (head judge), Chef Allan Mukasa, (Gorilla Highlands Silverchef 2017 winner), Yves Ngenzi (Rwanda Development Board), Sylvia Kalembe (Uganda Tourism Board) and André Ngoja-Ngoja (Chairman North Kivu Hotel Association, DRC). He ended at the very top of their list of quality cooking certificates receivers:
Ramadhan Sindayigaya, Marriott, Kigali (Rwanda) – Gorilla Highlands Silverchef 2018
Mukungu Akimu, Grand Legacy Hotel, Kigali (Rwanda) – best Ugandan chef
Manishimwe Jean Bosco, Lake Kivu Serena Hotel, Gisenyi (Rwanda)
Musasa Marcellin Tshite, Virunga Lodge, Volcanoes National Park (Rwanda)
Odeke Silver, Cephas Inn, Kabale (Uganda)
Jean Bosco Birindwa, Ihusi Hotel, Goma (DR Congo) – best Congolese chef
Otim Amos, Protea Hotel, Kampala (Uganda)
Emmanuel Murwanashyaka, ParkInn by Radisson, Kigali (Rwanda)
Sam Mbabazi, Bunyonyi Overland Resort, Kabale (Uganda)
Paul Mulyampiti, BirdNest Resort – Lake Bunyonyi (Uganda)
After the results were announced, Chef Allan took the time to personally explain to some of the contestants why they weren't successful. Concerning Rama, on the other hand, he said there was never any dilemma: once the judges tasted his dishes they knew who would win!
Where does Chef Rama get such skills at only 31 years of age? He studied at Utali College (Kenya), gained professional experience at the Kigali Serena Hotel (Rwanda) then ran his own restaurant in Arusha (Tanzania), before returning to his motherland for a job at Manor Hotel in Kigali, followed by the one at Akagera Game Lodge. He is one of the few chefs who are comfortable both with pastries and hot kitchen cooking.
In September Chef Rama will travel to Lagos (Nigeria) to showcase his knowledge at the African Young Chef Competition. We are sure he will make the Gorilla Highlands region proud!
In addition, here are the links to two video clips, giving a further insight into
how the competition ended up in Kigali – incidentally the first of a series of clips which will in coming months make their way to the Ugandan and regional television screens to promote the Gorilla Highlands to us locals, at least to those who do not know. This will therefore be a global launch and a global premiere and please tune into the local stations or keep checking out www.gorillahighlands com where eventually all the additional segments will also be uploaded.
And finally, here comes the announcement of the 2018 Gorilla Silverchef Winner, Chef Ramadhan of the Marriott Hotel in Kigali and how delighted he was to have won this year after reaching the first runner up position a year earlier.
Now from the competition to the main fabric of the Gorilla Highlands.
I recall like it was yesterday when Miha Logar approached me seven or eight years ago to brainstorm and tap into my tourism and hospitality network not just in Uganda but in the wider region.
I was, truth told, over the moon that someone, and someone who was back then not a citizen of Uganda – now Miha is one of us – would come up with such am ambitious plan to put the South West of Uganda, and eventually the entire Virunga region – branded as Gorilla Highlands – on the world map.
Today, 8 years or so later, and through sheer persistence in the face of often great adversity, has Miha succeeded with his plans. The first edition of the Silverchef competition which has gone international, across the border to the Rwandan capital of Kigali, has made huge waves not just in Rwanda but across the region and no doubt are copy cat events already being schemed up – not that the Gorilla Highlands Silverchef Competition is in the least worried given the pioneer role we played and the standing we have now attained, professionally, across the tourism industry local, regional and international and of course in the media.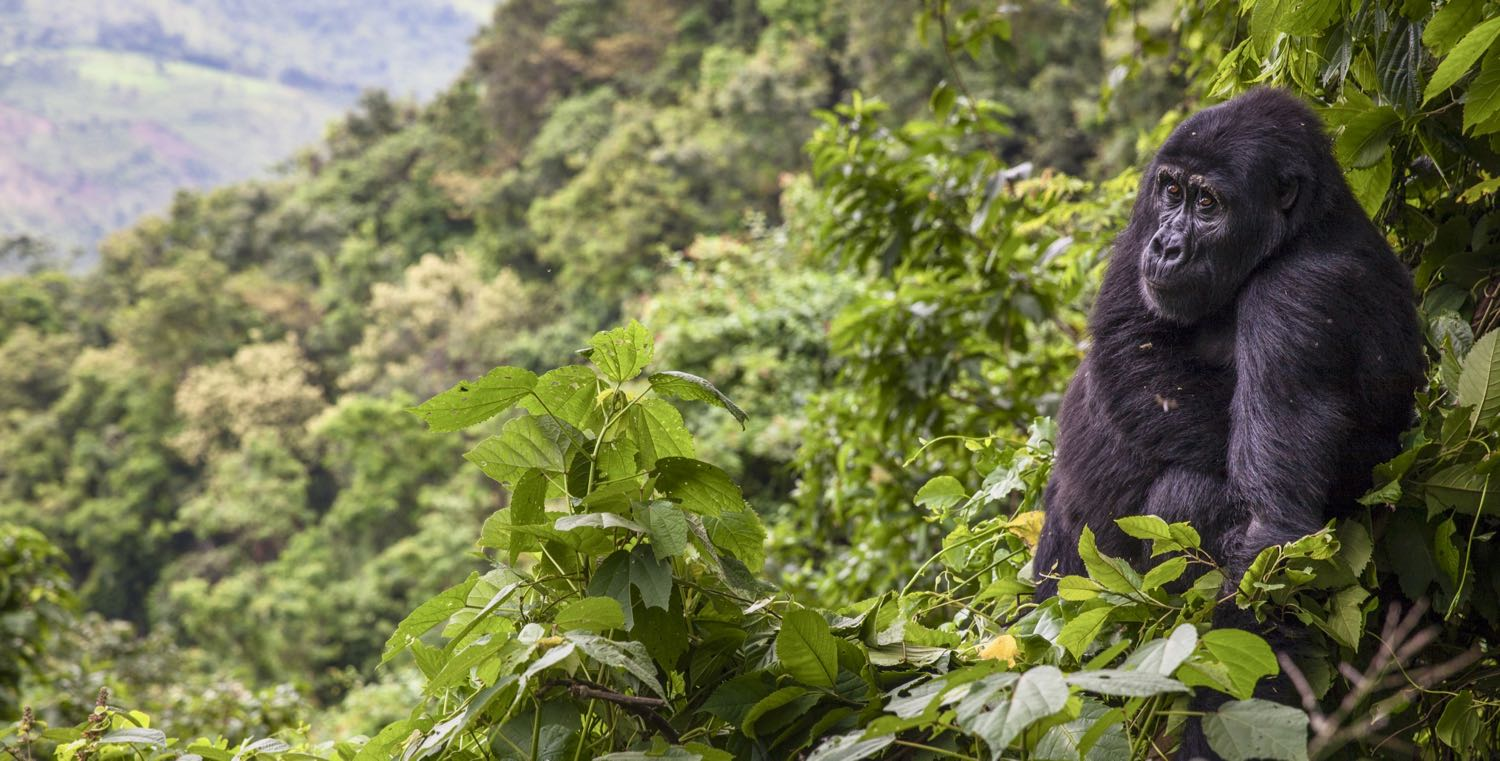 Mountain Gorilla in Bwindi Impenetrable National Park; photo by Marcus Westberg
The Gorilla Highlands (GH) initiative is an informal private-sector collaboration, open to anyone passionate about Rwanda, Uganda and Congo. It was initiated by Edirisa, a social enterprise from Lake Bunyonyi, in 2011. Since then numerous private and government partners have supported us by advertising in our media, sending participants to our events, providing complimentary services/discounts for fam trips, funding our activities, and more.
The central annual event of the initiative is the GH Silverchef, a senior-level gathering devoted to networking and tasting food prepared by chefs from the region, normally taking place in April-May and always at a different place. Every November the GH Bootcamp takes place at Lake Bunyonyi, meant to introduce junior staff of partners to the initiative.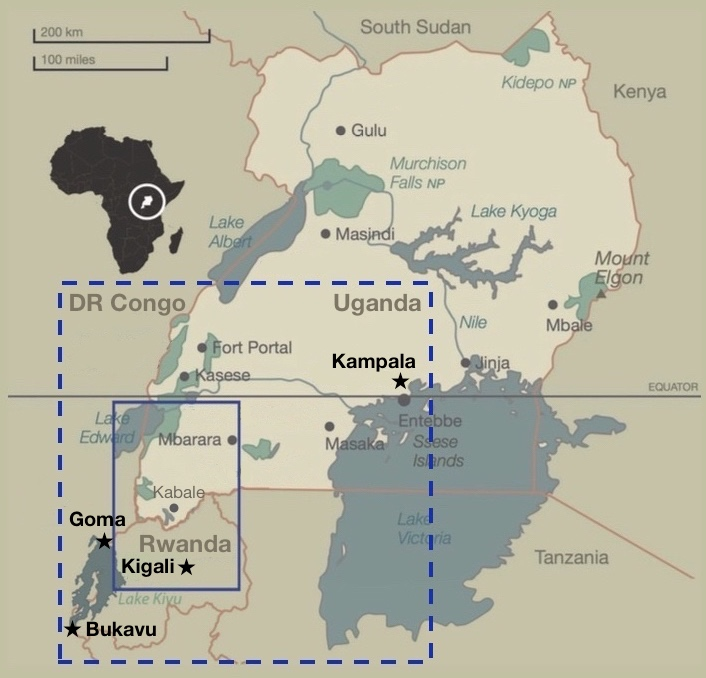 Mission
They are marketing a transboundary region consisting of Uganda, Rwanda and Congo (the map shows the area covered; the dotted line marks the expansion planned for 2018).
Their mission is to successfully brand and promote the region in a manner that brings an increase in responsible, sustainable and culturally sensitive tourism. They put particular stress on tourism helping the bottom-of-the-pyramid inhabitants of the region, in terms of both income and self-respect.
Strategy
Their objectives are:
• to position the term "Gorilla Highlands" as a universally accepted name for the region
• to establish the region as a destination by itself (instead of a short gorilla stop-over during an East African safari)
• to expand the perception of the region beyond gorillas
• to promote the region as an essential bucket list item
• to protect the culture and wellbeing of the region's disadvantaged people (especially the Batwa)
Working towards these objectives they focus on the following regional attractions: hiking and dugout canoeing, unique Rift Valley landscapes (volcanoes, lakes, rainforests), rich history and cultural variety. And, yeah, they don't shy away from the fact that this region offers both mountain and Eastern lowland gorillas!
They have identified these target groups:
• people planning their first visit to Africa (we think we have a fantastic destination for that)
• hikers/trekkers/adventure travellers (this is a dream land for them)
• gorilla/wildlife enthusiasts (the savannah in close proximity offers the Big 5)
• expat communities in Eastern and Central Africa (always on the lookout for new things to do)
• domestic tourists (a reality TV Gorilla Highlands show about tourism, culture and history to begin in 2018)
• families (yes, this indeed is a great place for children!)
• volunteers (to help the initiative in many different ways)
In terms of target countries, they intend to raise awareness of the region in leading international sources of tourists (primary: USA, UK, South Africa, Germany; secondary: Canada, Holland, Italy, Australia, Sweden, France, Japan) and position the Gorilla Highlands as a preferred first African destination in emerging markets (especially China and the Middle East).
However, no matter where you are from and what your preferences are, you can benefit from the following…
As a traveller:
• In addition to the carefully researched travel information, they will offer you tour packages and self-made trips. The Lake Bunyonyi page is an example of what they are preparing for the whole region: a convenient online booking system to reserve and pay for the best of Congo, Rwanda and Uganda — especially activities!
• The 1-2 minute highlight videos available on the Video Map and showcasing what is possible in the region will soon include Congo (see our drafts here). They presently deepen their coverage of Rwanda too.
• Their popular Pocket Guide, a free paper A6 booklet, will first include Bukavu, Goma and Gisenyi and then smaller places from the expanded region; yes, even the magnificent Rwenzori mountains are on the list! They will add a variety of articles to the handy travel information and publish at least two editions in 2018. (The booklet's print run of 10,000 copies is supported by advertisers, so the total number of editions will depend on their support.)
• Their award-winning Interactive eBook on 400 pages that has so far only covered southwestern Uganda but will see both Congo and Rwanda added this year. Currently unavailable, it will relaunch on completion with a free version and on a number of new platforms.
• The Gorilla Highlands blog will get updated once or twice a week, offering longform, media-rich stories about all aspects of this region.
• Among the Gorilla Highlands social media they focus on Facebook and Instagram; the 2018-2019 plan is to create unique content for each social media channel and emphasise video. Their Twitter account is used for special projects while Pinterest serves as a periodically updated regional photo library. They will increasingly follow and curate posts from the region and from organisations with similar missions.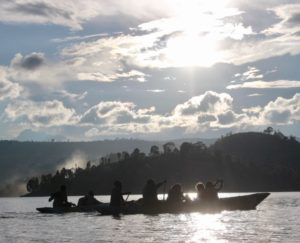 Bootcamp 2016; photo by Enock Luyonza
As a journalist/blogger/vlogger/photographer/videographer:
• Get in touch.They are interested in helping you out in any way they can.
• You might consider participating in the Gorilla Highlands Bootcamp on 17-21 November 2018.
As a travel agency/tour operator:
• They will continue to offer information and support on the ground, making sure your clients get the best out of their visit to region. They can be your one-stop shop, and quality assurance.
• Definitely try your best to attend the Bootcamp.
Finally, more material can be found via www.ATCNews.org which has been giving coverage to the Gorilla Highlands organization, to the Gorilla Highlands Silverchef Competition and to Edirisa by clicking on the link and browsing the content of the last few years.