SERVICE MAGAZINE HAS READERS VOTE ON THEIR FAVOURITES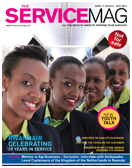 Rwanda's leading business magazine, The ServiceMag has just revealed the results of a customer satisfaction survey, where readers of the magazine had the opportunity to cast their own votes in a range of categories, expressing themselves and giving a fair insight into the level of service one can now expect when visiting the Land of a Thousand Hills. Launched yesterday evening at a reception in Kigali at the Gorilla Golf Hotel, the results revealed some stunning upsets for more fancied places but are generally considered unbiased, other than for being the personal opinion of the 'voters'. The annual service survey is a barometer how far Rwanda has come in recent years, but also a glowing tribute for The ServiceMag to have established itself as THE magazine of record for the business community and society at large in the country.
And the winners are – not exactly Hollywood style but as good as it gets in our part of the world:

Restaurants – Camellia Tea House
Supermarkets – Nakumatt
Health providers – CHUK
Government Departments – Immigration and Emigration
Districts – Nyarugenge / Kigali
ISP – Broadband Systems Corporation
Telecom – Airtel
Pay TV – CANAL+
Hotels – Nyungwe Forest Lodge
Road Transport – Volcano Express
Airlines – Qatar Airways
Insurance – Military Medical Insurance
Banking – Equity Bank
Overall Best Service Provider – Immigration and Emigration
Congratulations to in particular the Nyungwe Forest Lodge, springboard to the 'Enchanted Forest of Nyungwe' and of course to the world's five star airline Qatar Airways. The overall winner, the Department of Immigration and Emigration, must be especially applauded as their service at the Kanombe International Airport in Kigali is, in the humble opinion of this correspondent, considered exemplary in the entire region, on arrival and on departure, services rendered with a smile. Way to go Rwanda, way to go.