TOUR DU RWANDA 2012 STARTS TODAY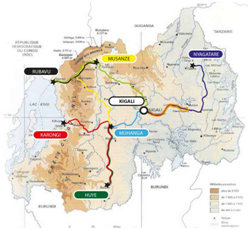 Rwanda's annual cycling tour is going underway this morning at the national Amahoro Stadium with the first of the 8 stages this year taking riders across the capital Kigali.
15 Teams from 8 African countries and beyond are competing for the honours, a tough test though as the route takes the riders across many of the proverbial thousand hills Rwanda comprises of.
This year it is Algeria, Cameroon, Eritrea, Ethiopia, Gabon, Kenya, Morocco and South Africa who join hosts Rwanda in the race while other teams come from Belgium, Canada, France and the USA, all given in alphabetical order to avoid raised eyebrows.
The president of the African Cycling Confederation is in Kigali to officiate at the opening of the race, which expects the streets of Kigali and later on the roads across the country lined with fans to cheer on the individuals and teams from the start to the finishing line on the 25th November back in Kigali. The stages are between 44.1 and 156.5 kilometres long and all lead across challenging terrain with lots of climbs and as many downhill sections.
Tourism is one of Rwanda's key economic activities and sports tourism, as seen with the annual Tour du Rwanda has become a growing niche, as even international cyclists often come to Rwanda to train at high altitude while finding the routes suitable to build stamina and strength. All the best to the cyclists and teams today as the race across The Land of a Thousand Hills goes underway later this morning.