News from IIPT …

August 2016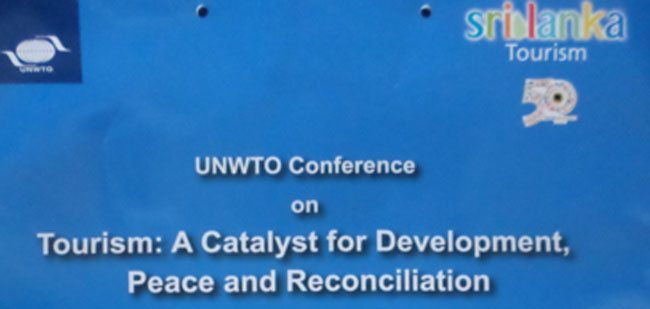 IIPT President Speaker at UNWTO Conference: Tourism, a Catalyst for Peace and Development
IIPT Founder and President, Louis D'Amore was a speaker at the UNWTO Conference: Tourism a Catalyst for Development, Peace and Reconciliation held in Sri Lanka last month. The conference was held in Passikudah, which for most of the last thirty years had been a war zone.
The Minister of Tourism Development and Christian Religious Affairs and Lands of Sri Lanka, John Amaratunga set the tone of the conference stating, "Today, Passikudah is an example of how people affected by conflict have picked up the pieces and rebuilt their lives. We would not be meeting here if it were not for peace. We will work to provide an example to the world on how to rise from the ashes of conflict to become a leading tourism destination."
UNWTO Secretary General, Dr. Taleb Rifai opened the Conference stating, "We face a deficit of tolerance. Tourism brings people together; it opens our minds and hearts. Yet to gain peace we need to give people opportunities for a better future; we need to create jobs and bring them hope."
HRH Princess Dana Firas, Chair of the Petra National Trust, Jordan gave the keynote address which highlighted the experience of Petra and the importance of tourism in contributing to societal harmony, heritage preservation, local culture and values.
| | | |
| --- | --- | --- |
| Minister John Amaratunga | Dr.Taleb Rifai | HRH Princess Dana Firas |
| | |
| --- | --- |
| Paddy Whitana | Dr.Louis D'Amore |
Dr. D'Amore addressed the key role of local communities in facilitating peace and reconciliation. He emphasized the importance of community empowerment; that community tourism be socially and environmentally responsible; and that it serve to enhance local culture and values. He also provided models of best practice from Colombia, Rwanda, Nepal and Jamaica.
The Conference concluded that Tourism can play a key role in building peace and supporting reconciliation processes. Community engagement and empowerment, capacity building and training, and public/private sector partnerships are all key factors in advancing a culture of peace through tourism in post-conflict societies.
With an annual rate of growth in arrivals of +20%, and steady employment generation, Sri Lanka represents a global example of how the tourism sector can be utilized as a means of rebuilding not just national economy, but also identity, society and psyche.
| | |
| --- | --- |
| HRH Princess Dana Faras and Dr.Louis D'Amore | From Left to Right: Dr. Taleb Rifai,Dr.Louis D'Amore, Mrs. Rifai, HRH Princes Dana, and Peter Wong, Chairman, China Chamber of Tourism |
"This was an historical event in an area once torn apart by war. We trust that tourism development in Sri Lanka will bring more opportunities to the people and particularly the youth of the country," said Paddy Withana, Chairman of Sri Lanka Tourism, in closing the conference.

IIPT Announces "Travel for Peace" Tour to Jordan with Opportunities to Assist Syrian Refugees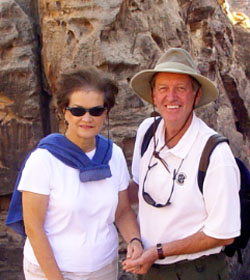 Donald King, Ambassador at Large for the International Institute for Peace through Tourism (IIPT), and his wife Lynne will be leading a special "Travel for Peace" tour to Jordan 14-23 March, 2017.
Collaborating with IIPT will be Airline Ambassadors International (AAI) with the intent of visiting Syrian refugee camps during the tour and providing medical and other supplies. AAI helps orphans and vulnerable children worldwide by leveraging connections with the airline industry towards humanitarian service. www.airlineamb.org.
AAI will be represented by Sandy Dhuyvetter, a member of the AAI Board of Directors who will manage AAI's commitment to IIPT. Sandy is also a trainer on Human Trafficking Awareness in the travel industry and an award winning creator, executive producer and host of Travel Talk Radio and Travel Talk Media.
Also planning to join the tour is Bea Broda, who produces Travel TV shows and web clips, including Timeless Places, Passport to Adventure and Outta Town Adventures. She plans to create a documentary of the tour to include in TV & web broadcasts.
Near Eastern Tours, an IIPT Coalition Partner, Hani Abu Dayyeh, President will provide in-country services for the tour.
| | |
| --- | --- |
| Bea Broda | Sandy Dhuyvetter |
The Kings have been residents of Jordan and have extensive experience leading tours in Jordan. They also have recently been involved in several humanitarian efforts assisting Syrian refugees while developing relationships with local organizations that provide services to these refugees.
Jordan is one of the world's spectacular destinations and home to some of the world's friendliest and most hospitable people. The itinerary will provide the opportunity to see this fascinating land, meet its people and experience its welcoming spirit. The tour itinerary will include Jerash, Petra, Wadi Rum, Mt. Nebo, Azraq Wetlands, Shumari Reserve, the Dead Sea and other sites.
Participants in this special tour will have the opportunity to assist some of the Syrian refugees who have fled the war in their homeland. We will visit refugee families and provide food parcels, hygiene packets and medical supplies to some of the neediest families.
Participation in this tour will make a difference in the lives of a few Syrian families and participants will gain an appreciation for one of the most interesting countries in the world. A detailed itinerary is available.
Travel agents are invited to request more information. Please send an email request to: travelking47

Olympic Truce Campaign Gains Awareness with
Lord Bates Walk and Rocky Peter Performance

The 2016 Rio Olympic Truce has been the most successful to date. Lord Michael Bates completed a 113 day 3,000km walk for peace from Buenos Aires to Rio de Janeiro, coinciding his arrival with the first day of the Truce on 29 July.(Picture below).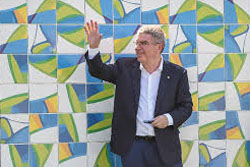 He was welcomed by IOC president Thomas Bach, who went on to highlight the Olympic Truce at the Olympic Truce Wall in the Athlete's village the next day. Lord Bates' Olympic effort matches his London 2012 walk from Athens to London.
Also significant has been the contribution of Rocky Peter's Rio Truce awareness raising efforts. Rocky, who was an abandoned child and indentured servant in Nigeria and a recent American Idol finalist was invited to play on the Olympic boulevard where he performed his song 'Carry on' in support of all those who need the Truce and an end to violence most. His own story from childhood slavery to American idol success is itself a statement on how individual effort and persistence can end suffering in one's lifetime. The following statement accompanied his performance: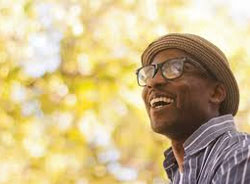 'Rocky went to Rio 2016 to promote the Olympic Truce as a means to end conflict violence and oppression across the globe. To achieve global peace in this lifetime we all need to make an Olympic effort, and if you need a model as a politician or administrator on implementing the Truce, or if you are one of the poor and powerless who need an Olympic champion for peace, then please know of the UKs Lord Michael Bates, who just walked 3000 km from Buenos Aires to Rio to call attention to the fact that the Olympics is not just the worlds' biggest sporting event, but also the worlds' best opportunity for everyone to enjoy a summer of freedom from violence, as it used to be in the original traditional Greek Olympics. 180 countries have signed up to this modern UN backed Olympic Truce, but not enough people hear about the Truce.'
A UN resolution supporting the Olympic Truce was signed by 186 governments this past year. Rocky is one of many Rio 2016 Olympic Truce Peace Ambassadors raising awareness and reporting on the Truce this summer.
IIPT has been proud to again be a partner in the 2016 Olympic Truce

Manchester Peace Coalition Formed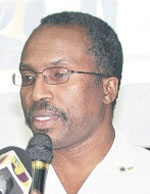 The Manchester Peace Coalition led by its Chairman, Dr. Clifton Reid has been formed in Mandeville, Manchester the first IIPT/SKAL Peace Town in the Caribbean, with a group of public and private sector organizations and businesses. These groups comprise of over twenty-five regional and national peace groups with ranging mandates. The coalition is guided by the vision: Manchester, a place for peaceful and holistic living. Its mission is to advocate for and nurture peace in the parish of Manchester through collaborative initiatives aimed at creating a healthy and safe environment, the preservation of heritage, poverty reduction and human resource development, making it the most desired place to live, work, do business and raise families.
The Town of Mandeville in Central Jamaica was dedicated as the first IIPT/Skal Peace Town in the Caribbean in 2013 as Brooks Park Sports and Recreational Complex was dedicated as a "Peace Park" as a symbol of Mandeville's commitment to peace. The ten Ortanique seedlings planted on that occasion have born fruit in the form of the Manchester Peace Coalition, a group of public and private sector organisations and businesses led by its Chairman, Dr. Clifton Reid.
This year, the coalition has three upcoming events, including a Civic Ceremony scheduled for World Peace Day September 21 and a Gospel Peace concert September 24. Leading up to those two events will be a series of Community Peace Games including sporting events between community teams and the police which commenced on Sunday, August 21.
The Community Peace Games in Greenvale at the Greenvale Community Centre included football, netball and dominoes tournaments as well as a Song/Poetry/Dub competition depicting peace and the Peace Coalition team wore blue and white which is the internationally recognized peace colours and started the process of encouraging community persons to join the Peace Coalition to become peace ambassadors for Manchester.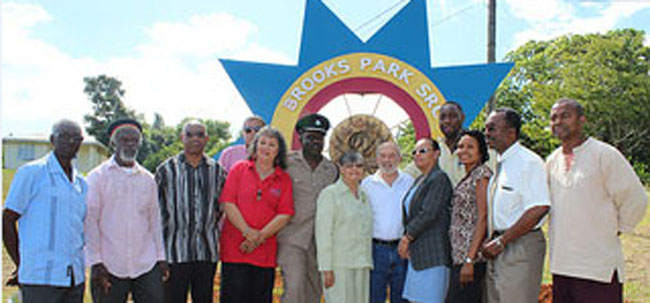 The IIPT Caribbean through its President, Diana McIntyre-Pike is a member of the Manchester Peace Coalition and sees it as an opportunity to lead the way forward to create peaceful communities in Manchester and Jamaica and to get more support for the IIPT/SKAL Peace Villages/Towns programme in collaboration with the Countrystyle Villages as Businesses programme.
For further information, please contact: Dr. Clifton Reid, Chairman, Manchester Peace Coalition, tel: reidcliff
About IIPT
The International Institute for Peace through Tourism (IIPT) is a not for profit organization dedicated to fostering travel and tourism initiatives that contribute to international understanding, cooperation among nations, an improved quality of environment, cultural enhancement and the preservation of heritage, poverty reduction, reconciliation and healing wounds of conflicts; and through these initiatives, helping to bring about a peaceful and sustainable world. It is founded on a vision of the world's largest industry, travel and tourism – becoming the world's first global peace industry; and the belief that every traveler is potentially an "Ambassador for Peace."

For more information:
IIPT Website: www.iipt.org
Tel: +1 802 253-8671
Email: ljd
eTurboNews is proud to be the sponsor for this IIPT Newsletter

Circulation
Contact
Partners
Team