NEPTUNE RESORT IN DIANI BURNS TO THE GROUND

(Posted 29th June 2016)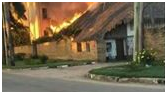 Sad news come in from Kenya's famous Diani beaches where yesterday the Neptune Resort burned down, flames consuming the Makuti covered roofs (Makuti is a roofing material made from palm tree leaves) in a matter of minutes while being spread and driven by strong winds.
The inferno took place in the late afternoon just before sunset and while no cause of the fire is yet established, can it be noted that the efforts of management and staff helped to safely evacuate several dozen guests from the hotel.
They were reportedly rebooked in a nearby resort of similar standards at no added cost.
Sources from Diani say the fire may have started at Neptune Village before the winds blew burning debris on to the neighbouring Neptune Paradise where the roofs almost instantly also caught fire.
Residential properties in the neighbourhood were as a precaution also evacuated until the Ukunda fire brigade later that evening managed to get the blaze under control.
The smoke and reflection of the fire against the sky after nightfall attracted hundreds of locals who from a safe distance watched the fire as if it were a movie night.
No time frame has been given as yet on the possible period of rebuilding but given the time needed to assess the cause of the fire and complete the insurance formalities first, this may take until well in 2017 to complete.
The Neptune properties in Diani are sister resorts to the Neptune Beach Hotel at Mombasa's Bamburi beach along the north coast.