TRAINING LOCAL TOURISM PERSONNEL KEY TO COMPETENCE AND SUCCESS
(Posted 06th June 2015)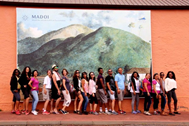 Most of the time it is foreign travel agents who come to Reunion to familiarize themselves with the island's many attractions and discover the culture, cuisine and biodiversity for which Reunion is now known the world over.
This time however it was 18 local tourism operators brought together by IRT, Ile de la Reunion Tourisme, who were taken across the island to learn more about the many tourism offerings, accommodation types, hikes and other adventure options, all aimed to give them greater product competence and become better ambassadors when dealing with tourists.
The two day meeting saw them do a variety of activities, including driving the eco friendly Segway, something tourists too can do.
After lunch at Floralys the group visited the Museum of Decorative Arts of the Indian Ocean (Madoi) in St. Louis. On the program for the rest of the day were also visits of cultural establishments, tasting coffee as part of a coffee plantation tour and last but not least a visit at Domaine de Maison Rouge. In the process did the participants discover an exhibition on calligraphy, heard about the art of beautiful writing, perception of harmony and sense of ornament in Islamic art forms. After a day of nature and culture, professionals shouldered their bags for a night in the cottage Pavilion at Cilaos, an overnight hosted by the Association of Holiday House Managers (AGGM).
On the second and final day did the group hike to the Piton Cabri and Allon A Bat Pat Rando .After that major effort came the comfort again when the group enjoyed a delicious lunch at Mrs. D'Makes Heurveiller before returning to Saint-Denis.
On this 'gourmet' note did the two day training session end and it was clearly mission accomplished for this journey of discovery that allowed the local tourism professionals to gain a better understanding of the tourism products of the island.
For added details about Destination Reunion click on www.reunion.fr