#MAURITIUS AND #REUNION AFFECTED BY TROPICAL STORM FAKIR

(Posted 24th April 2018)
South African Airways but also Air Mauritius and Air Austral, and other carriers flying to the Indian Ocean islands, have been affected by tropical storm Fakir, which has squarely hit Mauritius, Rodrigues and Reunion on Tuesday.
South African cancelled their daily flights for today and will tomorrow, Wednesday use a larger aircraft to accommodate stranded passengers. Air Austral, home carrier of the French Indian Ocean region of Reunion, called the weather situation 'disruptive' on their website and urged passengers headed to the island or planning to fly out to contact the airline's booking offices for updates.
Scenes shown were taken on Reunion's Salazie district and in St. Pierre earlier today:
https://www.youtube.com/watch?time_continue=6&v=dJC2fPpuKcM
https://www.youtube.com/watch?v=ZfMXh5uD7Lo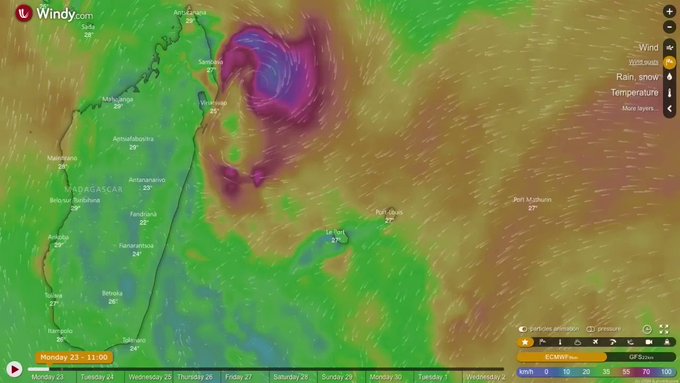 This is the second major storm in the space of three months with cyclone Berguitta in January causing major damage to the infrastructure of the affected islands. It is anticipated, given the path of Fakir, that parts of Madagascar may also be affected later today and in particular tomorrow and the day after.
It has also transpired that an Emirates Airbus A380 enroute to Mauritius was diverted to Dar es Salaam as a result of the adverse weather conditions and passengers on that flight, and also on others diverted while already en route, will have to wait it out at their diversion airport until the the storm clears and they can reach their final destination.
(Picture courtesy of Julian Edmunds)