HIGHLY ENDANGERED WESTERN BONGO CAPTURED ON CAMERA TRAP IN SEMLIKI

(Posted 03rd October 2018)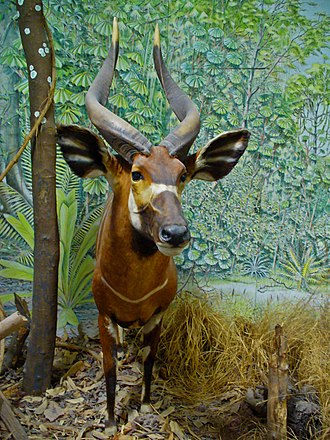 (Image by Wikipedia)
Uganda's wildlife based tourism industry has a reason to celebrate as for the first time a Western Bongo, aka Lowland Bongo, was spotted in the Semliki National Park, a transboundary conservation area with Congo on the other side of the border.
The species, not seen before in Uganda, was captured by a camera trap set up by the Chester Zoo.
More than 18.000 images have reportedly been captured already by cameras placed in the park, including documented sightings of forest elephants, chimpanzees, leopard, Cape bushbuck and buffalos.
Ugandan conservation sources have indicated that they will continue to work hand in hand with the Chester Zoo's Africa Field Project while at the same time expressing delight over the sighting of a new species on Ugandan soil.
For added information about Destination Uganda click on www.visituganda.com or www.ugandawildlife.org