BRUSSELS AIRLINES UGANDA SUPPORTS THE UGANDA SPORTS JOURNALISTS ASSOCIATION
(Posted 15th April 2015)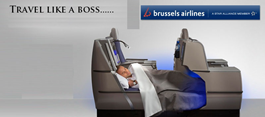 AIPS President Gianni Merlo will travel like a boss, courtesy of Brussels Airlines' Uganda office, after country manager Sebastiaan Spijkers signed a Memorandum of Understanding with the President of the Uganda chapter of the international sports press association, Mr. Sabiiti Muwanga. Gianni Merlo will attend the 2015 Nile Special USPA Gala Dinner, which is THE annual event for the sport journalists in the country and draws in the who is who from the business community and society at large.
'What we are doing with USPA is unique and sponsoring the travel of Gianny Merlo to Uganda with a US$3,000 business class ticket is the start of a long work relationship with USPA' did Sebastian Spijkers say after signing a long term deal which makes Brussels Airlines the official carrier for USAP activities.
The airline has long standing ties with Uganda with predecessor SABENA already setting the standards of uninterrupted flights even during Uganda's dark history, and presently serves, besides Entebbe, also Kigali, Bujumbura and Nairobi.