SENIOR COMMISSIONER OF POLICE WILSON OMODING INTRODUCES HIS SUCCESSOR TO KEY PARTNERS

(Posted 10th May 2018)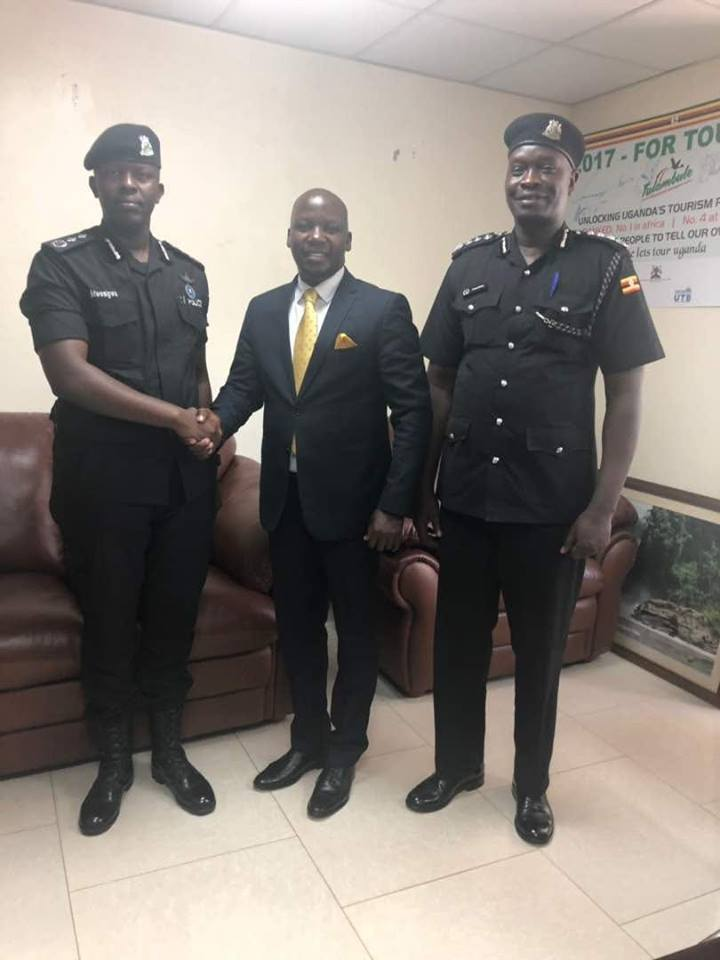 (From right to left: Senior Commissioner of Police Wilson Omoding, Minister of State for Tourism, Wildlife and Antiquities Kiwanda Suubi Salongo and Commissioner of Police and new Commander of the Tourism Police Frank Mwesigwa)
The transfer of command of the Uganda Tourism Police, the strongest such unit in the entire Eastern African region, neared completion yesterday when outgoing Senior Commissioner of Police Wilson Omoding – under whose command the specialised unit was formed and developed several years ago – introduced his successor Commissioner Frank Mwesigwa to key partners. Besides the Ministry of Tourism where State Minister Kiwanda stood in for his Cabinet Minister Prof. Ephraim Kamuntu who is in Durban for the ongoing INDABA Tourism Fair, did the two senior police officers also meet the Executive Directors or their representatives of the Uganda Wildlife Authority, the Uganda Tourism Board and the Uganda Museum.
Senior Commissioner Omoding has transferred into a new and more elevated role in the Ugandan police force as Deputy Director of the Counter Terrorism Directorate, under which the Tourism Police force also falls, the structural set up itself evidence how seriously the Ugandan government the safety and security of tourist visitors to the country takes.
Said 'Afande' Omoding to ATC News when the transfer was announced on the 24th of April:
Good evening Tourism Fraternity I have officially today the 24th April 2018 handed over the command of the Tourism Police to Commissioner of Police Mwesigwa Frank. Today marks 5 years and 7 months since I took over the command of the Tourism Police Department as a Commandant. We started in humble way to what it is today. What remarkable achievement. Bravo Tourism Police and Tourism fraternity! I will remain indebted to you and will continue serving you in the new appointment. I further want to thank all the Tourism stakeholders and the Tourism personnel for the support you rendered to me during my tour of duty. Am really humbled for immense amount of cooperation, teamwork and resilience. May God bless you all. For God and my Country! Amen.
WilsonOmoding throughout his term of office remained an approachable and engaging individual who earned the respect of tourism stakeholders across the country, where Tourism Police officers are now based in hotels, national parks, safari lodges and other attractions – like the Equator view points – on the ready for any eventuality. Wilson Omoding started off the force with a few dozen men under his command who then received specialised training but numbers grew in leaps and bounds to now over 2.000 women and men attached to the unit.
From ATC News it is sincere thanks to Senior Commissioner of Police Wilson for his open and friendly disposition throughout his term of office at the Tourism Police and to Commissioner of Police Frank Mwesigwa it is a warm welcome and the assurance of continued engagement with this important department of the Uganda Police Force during his time at the helm.