UNWTO SECRETARY GENERAL DR. TALEB RIFAI VISITS KENYA TO SHOW SOLIDARITY
(Posted 26th April 2015)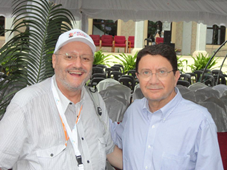 (Dr. Taleb Rifai seen here at an earlier edition of the Seychelles Carnival with this correspondent)
The head of the United Nations World Tourism Organization, in short UNWTO, Dr. Taleb Rifai, yesterday visited Kenya to express his solidarity with the country following the recent terror attack on a university college in the Northern Kenyan town of Garissa.
Dr. Rifai called upon the Kenyan government to exploit the country's tourism opportunities to a greater extend while also encouraging the growth of domestic tourism. He also pledged UNWTO's support for Kenya to expand the sector and contribute to Kenya's economic growth.
Kenya has seen its once almighty tourism industry, for long the number one contributor to foreign exchange earnings, go into a downwards spin, largely blamed by senior stakeholders by the ambivalent attitude of this and previous governments towards the sector when immediate interventions were needed but all warnings were ignored at the time. The challenges have piled up for government bodies dealing with the industry and many private sector stakeholders have closed resorts and downsized their safari operations hoping for financial survival, as repeatedly reported here over the past weeks and months.
The recent appointment of a UK based global PR company is in the view of many just a first step which needs to be followed by a complete overhaul in the way the public sector administration is structured, from a stand alone ministry headed by a competent individual to the creation of a tourism authority to end the perennial fragmentation of functions and bring them under one roof. Additionally has the private sector formulated a number of solutions and demands, compiled by the Tourism Recovery Task Force but action is yet to be seen as the sector and the public at large still await for the report to be made public.
Dr. Rifai is known around the world to speak up for destinations hit by such circumstances and has in the past equally supported Egypt and other destinations which suffered a similar fate of downturn in fortunes. Dr. Rifai was accompanied by the UNWTO Director overseeing Africa, Elsia Grandcourt while on the Kenya side was KTB's Chief Executive Muriithi Ndegwa on the team.