UGANDA WILDLIFE AUTHORITY INTRODUCES CASHLESS SMART CARD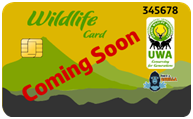 Visits to any of Uganda's ten national parks will soon be easier as the Uganda Wildlife Authority is putting final touches to the introduction of a cashless smart card based on chip technology, aimed at maximizing revenue collection and improving cash flow as a result of prepaid 'loading' of funds on it.
As a first step will gorilla and chimpanzee tracking permit details be loaded on the available cards, and then used at Bwindi, Murchisons Falls and Kibale national parks, in addition to which they will be accepted at Lake Mburo and Queen Elizabeth national parks. The remaining five other parks like Rwenzori, Mt. Elgon, Mgahinga, Kidepo Valley and Semliki will be added in due course once the technology has been installed at the various park entrance gates and offices of those parks.
Unlike in other neighbouring countries, where the point of sale is centralized and often inconveniences potential visitors for having to set aside extra time to get an electronic card, UWA intends to have several points of sale beyond the national park headquarters in Kampala, namely at park entrance gates where re-usable temporary cards can be purchased while from the headquarters in Kampala personalized permanent cards can be obtained for regular visitors to the parks, be it Ugandans or foreign residents.
In a related development to an earlier article filed, covering the Murchisons Falls Invitational Fishing Tournament, it was also learned that UWA benefitted from two donated motorcycles, to be used for mobile patrols by game wardens across the park. One of the winners of the motor bike, one Piet de Jong, spontaneously donated the motorbike to UWA when he was given the surprise prize from Toyota Uganda, the agents of Yamaha in the country, while the second bike was as a result of this gesture donated by the SAB Miller which had a team participate in the event.
For information on all of Uganda's ten national parks and additional game or community reserves, visit www.ugandawildlife.org or else click on www.visituganda.com, the site of the Uganda Tourism Board.