(Posted 29th February 2023)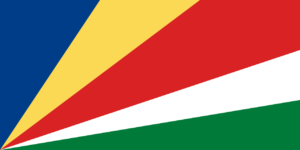 Gabriel (Gaby) Hoarau, a much-loved veteran politician who played an important part in the path to return of democracy in Seychelles after years of totalitarian rule passed away on Saturday the 27th of January at his home in Ma Constance in the Seychelles.
Gaby Hoarau studied the priesthood and initially returned to Seychelles as a young Roman Catholic Priest before becoming the benevolent patriotic personality who took care on the less fortunate. The Rev Fr Hoarau sought and brought to the islands bales of used clothes from as far as the United States of America and Europe which he distributed to the less fortunate right across the main islands of the Seychelles. Donation of used clothes was even coined as 'Linge Per Hoarau' (Fr Hoarau Clothes) for many years.
After the priest hood, though he kept a direct involvement with the Church and even became the Editor of the Roman Catholic Newspaper 'L'Echo Des Iles', Gaby Hoareau published a 'Guide Touristique Des Seychelles' under the Edition Delroisse collection.
At the height of the Seychelles One-Party Government of President Albert Rene when political arrests and disappearance were common Gaby Hoareau moved to Europe and was one of the key personalities behind the London based Seychellois National Movement (S.N.M.) working alongside the brutally murdered Opposition Leader Gerard Hoareau. He participated and was elected as a Member of the Concerned Citizens Committee at the United Democratic Movement's (UDM) Munich Conference of 1991 that was called and organized by Dr. Maxime Ferrari. Gaby Hoarau was one of the resolution signatories at this Seychelles Munich Conference.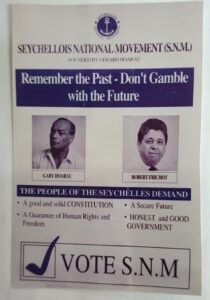 At the return to multi-party democracy in Seychelles in 1991 Gaby Hoarau returned to the islands and contested the first election alongside Robert Frichot as Heads of the Seychelles National Movement (S.N.M.). He was then a The United Opposition Candidate for the 1993 National Assembly for the electoral district of Anse Etoile and the United Opposition (UO) Candidate for the 1998 National Assembly for the electoral district of Anse Boileau before retiring and offering advice to all who worked to bring real positive chance for the country and for every Seychellois.
Gabriel (Gaby) Hoareau leaves behind his partner of many years Jeanne Hoareau.
ATCNews extends condolences to the late Gabriel's family and friends.