AVIATION, TOURISM AND CONSERVATION NEWS from Eastern Africa and the Indian Ocean islands.
A weekly roundup of breaking news, reports, travel stories and opinions by Prof. Dr. Wolfgang H. Thome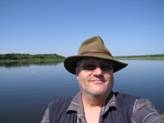 Get daily breaking news updates instantly via Twitter by following @whthome, join me on Facebook where the articles also cross load or read the daily postings on my blog via: www.wolfganghthome.wordpress.com which you can also follow to get immediate notification when a new article is posted.
Second edition March 2012
East Africa News
OF LOUNGES AND LOUNGES
As a frequent traveler I use airport lounges where available and hotel lounges where on offer for guests staying on Executive or Club Floors or using suites.
For those in the know, the lounges in the Gulf region are legend, in particular of course the First Class and Business Class lounges of such carriers as Emirates, Qatar Airways, Etihad or Gulf Air in their home airports, and much else then is a bit of a letdown, being both spoiled and able to compare quality and how PR talk matches up to reality.
In Kigali the Pearl Lounge is a recent addition, spacious enough for most times except when Brussels Airlines, KLM, Kenya Airways and RwandAir all have outgoing flights at once. Still, the atmosphere there is calmer and with snacks and drinks on offer, free internet and reading material, plus a direct view on to the apron from the window seats, it is well worth even paying a nominal fee if not travelling in the front cabin with the accompanying entitlement for a lounge pass.
Entebbe, well is Entebbe, functional, probably three times the size of the Pearl Lounge in Kigali, also offering free internet access, hot and cold drinks and even toasted sandwiches, made to order, a relief for those who dread the wrapped species kept in fridges or in transparent containers.
The Kenya Airways lounges at JKIA are bursting at the seams, again, as a result of more flights, more premium class passengers and more SkyTeam partners now coming to Nairobi, but an extension of the upstairs lounge is soon to be opened, again doubling the available space to give some peace and quiet even during peak connection times. During my last transit enroute to the Seychelles, I found the available spread of snacks at 7 a.m. a little frugal, and certainly of lesser variety than I recall from previous visits, perhaps something which needs looking into, especially considering the rather appealing menus available when flying with Kenya Airways in business class.
Seychelles another world, even at their airport lounge which as during previous visits presented itself as smart, clean and calm, the double glazing of the windows overlooking the runway and apron keeping all the noises out.
A centre piece business centre offers 4 desktop screens for internet access, which for users of laptops or handheld devices also comes via wireless connection, and a little buffet set up has a variety of snacks, sandwiches, finger food and even a cheese board available, plus a decent wine selection, savoir vivre on the ground before taking to the skies. Compliments to them for keeping that little gem in good shape and their friendly staff ever ready to rush to ones side the moment a head turns more than once or twice .
Hotel lounges are quite different in their function and for access. Some of Nairobis leading hotels have residents lounges where all residents can enter, read papers, have a cup of tea in some cases chargeable and move away from the public areas which tend to become busy in particular if the hotel restaurants and bars are popular with the locals. From experience I know that few hotels have a better set up than the InterContinental Hotel, where on the 6th floor, also the hotels Executive Floor a separate lounge is accessible for guests staying on the 06th, have the hotels loyalty card or else occupy one of the suites.
Wireless internet, coffee, tea and soft drinks plus juices all day and snacks, both hot and cold during meal times, i.e. breakfast, lunch and dinner are available and a happy hour from 6 to 8 p.m. goes a step further and rewards guest loyalty with free beers, wine and a selection of spirits. The Executive Club Lounge also features a meeting room which can be booked through the staff at the lounge, who also do check ins, check outs, sort out airport transfers and generally act like a personal concierge.
Such facilities definitely contribute to making a business visit to Nairobi a success and many chance meetings with fellow travelers have subsequently yielded results, simply by having opted for the right hotel with the right facilities.
Time to end this story, happy hour time coming up and next time, see you right here, on the 6th floor of the Nairobi InterContinental Hotel.

CASSOA UNDER FIRE OVER EXTORTIONATE FEE DEMANDS
The East African Communitys Civil Aviation Safety and Security Oversight Agency has come under severe criticism by a broad section of aviation and tourism stakeholders for their demand to load already mountainous surcharges and fees with a further 0.70 US Dollars to finance their operations. The agency, swift in applauding itself to even being there, has drawn fire from air operators for failing to implement a single system across Eastern Africa for regulatory approvals and licenses, which still remain in the domain of national civil aviation regulators, keen to protect their turf but in the process forcing costly duplications for airlines wishing to operate from other member states than the one initially registered. We are disappointed with this state of affairs. The East African airspace is still a closed shop from country to country and the freedom of operations the regulators dangled in front of our noses has never taken place. Besides going to our own CAA we now also need to go to CASSOA and yet if we want to set up shop in a neighbouring country we have to start from scratch again with an ASL and an AOC instead of recognizing our licenses and permits from our home countries. They are telling us that they have their own due diligence to carry out, but in effect they are saying that they do not trust their colleagues who work under the same regulations, or otherwise it is simply a money making machine. We oppose the demand for even more fees on air tickets. Fees and charges often double the air fare an airline charges and they wonder why not more people travel by air. It is the cost of regulatory charges and fees and taxes which hamper growth for aviation, nothing else a regular contributor from Nairobi told this correspondent when meeting in Kenyas capital over the weekend, vowing to mobilize the industry across the region and lobby the national parliaments and EAC legislative assembly to halt the fees which according to a CASSOA source is due to raise nearly 15 million US Dollars. Added the source: They launch new bodies all the time, purporting to make doing business easier, but it becomes just more red tape and they fail to financially facilitate those new chaps. Now they come begging. If the member states fail to pay up their committed dues, they look at businesses to dig for funds.
CASSOA is located in Entebbe and there to serve the region though it was hoped that the national regulators would progressively be integrated in a single East African Civil Aviation Authority with national branches, something which met cunning resistance over fear of losing juicy jobs as synergy effects would cut down on the wide spread duplication and multiplication of functions from country to country. Watch this space.

TURKISH BREAKS NEW GROUND WITH MOGADISHU FLIGHTS



A Turkish Airlines Airbus A340 landed yesterday in Mogadishu to a warm welcome by members of the Transitional Federal Government and representatives of AMISOM, the United Nations / African Union forces providing protection to the airport and the capital at large, after driving the Al Shabab terrorists out of the city a few months ago.
In what airline sources in Nairobi described a gutsy move Turkish Airlines, on the prowl across Africa with a major route expansion underway as more aircraft are joining their fleet, has taken the proverbial bull by the horns and decided to add Mogadishu as the first major international airline to their network.
The destination will be served twice a week from Istanbul via Khartoum to Mogadishu, providing seats for passengers both ways and hugely important here, the added air cargo capacity to bring much needed goods and supplies into the Somali capital without having to rely on the sea routes.
The new destination is also a coup of sorts for the global market leaders Star Alliance, which is now able to boast the return of one of their own members to Mogadishu after years of isolation with few airlines daring to fly there other than military supply aircraft supporting the troops on the ground.
It is also understood that at least one airline from Nairobi it was specifically requested not to name the carrier to avoid tipping off the competition too early is considering flights to Mogadishu in response to Turkishs new service, and as and when news can be broken, be sure you read it first here.

Kenya News
KENYA AIRWAYS SHARE RIGHTS ISSUE ANNOUNCEMENTS IMMINENT



Kenya Airways and the Capital Market Authority will hold a joint press conference on Monday morning at the Nairobi Serena Hotel, to provide information on the way forward for the long awaited share issue, which is aiming to raise some 250 million US Dollars for the financing of the airlines expansion and acquisition of new aircraft. It is expected that the time frame will be spelled out on Monday morning as to when exactly the formal launch will take place, but going by experience, when such press conferences are held it normally means that regulatory approvals are in place and the exercise is about to kick off within the next two to three weeks.
The airline is set to double the present fleet over the next few years with the arrival of yet more Embraer E190 jets for regional operations, while the lastest date for the first delivery of the B787 Dreamliner showcased by Boeing Commercial Airplanes in December last year at the Jomo Kenyatta International Airport has now been pushed to the first quarter of 2014, until which time the current fleet of B767 will have to continue flying, before relief in the form of more economical flight performance and larger capacities finally kicks in.
Sources close to the airline have been saying that for 2012 a number a new destinations is planned to come on line, though that will also depend on delivery of additional aircraft as the present fleet does not seem to have much spare capacity left to cater for more frequencies or destinations.
The same sources have also reiterated that by the end of next year, i.e. 2013, Kenya Airways intends to have connections in place to all African commercial and political capitals, offering the arguably largest cross continent network via their hub in Nairobi. Skyteam partners Air France and KLM are said to be particularly keen on this additional rollout considering the entry late last year of rival Ethiopian Airlines into the larger Star Alliance, as air travel to and across Africa is turning into aviations last great frontier.
Kenya Airways in 2011 carried over 3 million passengers, twice as many compared to a decade ago, a sign that their strategy of African expansion is paying off handsomely with more and more travelers opting to connect via Nairobi to their final destination in the Gulf, India or the Far and South East, the latter two also eyed for more flights to more destinations as and when new aircraft arrive from the manufacturers.
Inspite of the economic uncertainties in the Eurozone and the political brinkmanship in global hotspots which could drive oil prices to new record highs, the market confidence in Nairobi seems firm and with both major shareholders in KQ, the Kenyan government and KLM / Air France already committed to take up their full allocation of newly issued shares when the formal offers go out, other institutional and private investors too seem keen to take advantage of this opportunity as a medium to long term blue chip investment.
Expect an update on timelines and expectations following the news conference on Monday, so watch this space.

AL SHABAB SYMPATHIZERS SUSPECTED TO HAVE CAUSED CARNAGE
Kenyas determination to pursue Al Shabab terrorists deep into Somalia and joining AMISOM, the United Nations and African Union peace keeping mission in that war torn country, has, inspite of visibly increased vigilance across Nairobis public places, office buildings, shopping centres and hotels, cost the country dearly again, when yesterday evening an explosion ripped through an upcountry bus terminal along Landies Road.
Like at the very early stage of the invasion by the Kenyan military in hot pursuit of the known Al Qaida affiliate group, several explosives were thrown from a fast moving vehicle into the crowds, before it sped off into the night just after 8 p.m. last night.
At the time of filing this report at least four dead had been taken to the city mortuary while over 40 were injured and are receiving treatment in the main Nairobi hospitals, with several of them in critical condition.
Emergency services, already on a state of high alert, responded instantly when the news broke, incidentally only hours after a joint army and police press conference in Nairobi had called on the public to be extra vigilant as the threat of retaliatory attacks of this nature was considered still high, an accurate description as it came to pass the same evening.
This is the third such attack since Kenya, on the 16th of October last year, entered Somalia with the permission of the Transitional Federal Government to pursue militants and terrorists which had turned the southern part of Somalia into an Al Qaida training ground and staging area for attacks on neighbouring Kenya, also used by pirates in league with the Islamic militants to attack international shipping from their safe havens, but the pincer movement by Kenyan, AMISOM and Ethiopian troops against militant strongholds has increasingly driven them back and confined their area of operation. Al Shababs normal tactic then appears to attempt retaliatory terror attacks abroad, and it is understood, after extensive calls with Kampala, that vigilance there has been stepped up too once again in the wake of the Nairobi incident last night with the same in Burundi, which also has troops in Somali and has been threatened before.
From usually well informed sources in Nairobi it was learned that the Kenyan security forces are following leads with apparently descriptions of the vehicle being used to track the attackers down and that known potential hideouts were being combed by a dragnet of regular police and special anti terrorism units to flush out Al Shabab sympathizers. Some of them, according to local media reports, went on line soon after the blasts promising more of the same. Specialized security personell are pursuing these leads too by tracking down IP addresses and locations of possible internet cafes or else triangulate the signal location of USB modems to give clues to teams now deployed across the city in pursuit of the perpetrators of this latest crime against humanity. Condolences are expressed to the families and friends of the victims of this latest cowardly attack, which however, going by past experience, will only strengthen the resolve of the Kenya government and people to continue fighting and hopefully defeating the terrorists during ongoing operations inside Somalia.
Report filed from Nairobi / Kenya at 01.32 local time.
KENYA AIRWAYS RESPONDS TO ETHIOPIAN COMMENCING SEYCHELLES FLIGHTS



Kenya Airways has seemingly responded quickly to the news that Ethiopian Airlines will effective beginning of April begin to fly four times a week between Addis Ababa and Mahe / Seychelles, with the announcement that by mid April a third weekly flight will be introduced between Nairobi and Mahe.
Both airlines will use a B737-800 aircraft for their flights and both airlines are expected to attract connecting traffic from across their network in Africa and beyond, but also from their alliance partners, to take them to a dream holiday at the beaches of the Seychelles.
The Seychelles Civil Aviation Authority has granted Kenya Airways the traffic rights for the third flight and feedback from the tourism industry on the archipelago has been enthusiastic that from April a total of 5 new flights will come to the Seychelles, adding much needed seats but also helping in promoting the islands as a holiday destination. The 4 new flights on Ethiopian and the added frequency on Kenya Airways will be supported by added cooperative measures between the Seychelles Tourism Board and the respective airlines, promoting in targeted markets across Africa, Europe, the Middle East, Asia and even the Americas where ET already flies to.
Great news for a great destination and happy landings for the added flight by The Pride of Africa.

CHELI & PEACOCK MAKES WAVES WITH INNOVATIONS



(Cheli & Peacock Impressions from Kenya | Pictures courtesy of P & C)
One of Kenya foremost collections of fine safari camps and beach resorts, award winning Cheli & Peacock, has just released updates on developments in several of their properties.
New additions and changes to tent sizes were reported from several locations, notably from Tortilis Camp in Amboseli, one of the earliest C&P camps, where the new oversized tents are now a metre wider, giving even more comfort and the feeling of space to visitors when indoors.
At the Elephant Pepper Camp, one of the award winners in 2011, a 9th tent was added to meet growing demand while two of the existing tents were raised on platforms to give guests an even more spectacular view across the sprawling plains and undulating hills of the Mara Game Reserve.
At Saruni Samburu a new family villa was added which can also serve as a larger VIP accommodation while at Elsas Kopie one cottage will be enlarged, one cottage will get a new outdoor bath and all roofs will be rethatched during the low season when some of the properties will in fact be closed for general upgrading and improvements to shine afresh after the rainy season is over.
Visit www.chelipeackock.com for more information on the amazing collection of some of Kenyas finest safari and beach properties available.

INTERCONTINENTAL HOTEL HOSTS NAIROBIS WOMEN WHO IS WHO FOR THEIR DAY


The International Womens Day was celebrated at the InterContinental Hotel Nairobi in great style, when the Who is Who of Kenyas professional women came together, not just to celebrate but also to raise funds for the Mbagathi Girls Primary School which put portraits of Kenyas Women Leaders up for sale ahead of the evening function.
IHGs Director of Operations for Africa, Karl Hala, opened the evening by making some interesting data available from the InterContinental Hotels he oversees in Africa, of how many positions are now filled by capable women and how they progressively claim career advances and promotions, through sheer determination and hard work, competing with their male counterparts in the workplace on merit, not quotas.
Speakers included such eminent career women as Dr. Susan Mboya, Coca Colas Regional Director, Caroline Mutuku, one of Kenyas leading radio personalities with her own show on KISS 100 FM and Pastor Linda Ochola.
Amongst those present was one of Nairobis leading travel agents, Mrs. Judy Dabaly Scott of Bunsons Travel, adding the tourism sector to the wide array of professions, which ranged from the media over law to insurance and manufacturing, where Kenyas women have made an impact in recent years. The entertainment for the evening was provided by the Kayamba Africa Group.
When the final count on funds raised will be concluded and audited, it is expected to reach some 155.000 Kenya Shillings which will buy at least 100 desks and chairs for the Mbagathi Girls Primary School. Well done to the InterContinental Hotel and well done to the Women Leaders of Kenya.
KENYA AIRWAYS SHARE RIGHTS ISSUE LAUNCHES ON 12 MARCH



Next Monday will be the long awaited start of Kenya Airways share rights issue, which has been in the making for several months now and received all company internal approvals via board resolutions and AGM votes, before securing the required regulatory approvals from the financial market watchdog.
Major shareholders KLM / Air France and the Kenyan government have already indicated that they intend to maintain their shareholding percentage by taking up the offer and other shareholders too are expected to subscribe to the offer, helping The Pride of Africa to raise the capital required to begin financing the current expansion drive, which has seen KQ commit to 9 B787 Dreamliners with a further 4 options and a sizeable additional order for Embraers E190 regional jets.
The financial markets have been keenly anticipating this event and it is generally seen as a testing ground to establish how the Kenyan and regional economies have been holding up to the pressures of the Eurozone crisis and other negative global economic data.
Kenya Airways is cross listed at the three main stock exchanges in Nairobi, Kampala and Dar es Salaam, on of the first major companies from Kenya to do so and spread ownership into the wider region.
Other airlines in Kenya and across East Africa will also be watching how the share right issue is being taken up as it is an additional indicator how the public and inparticular investors view the aviation industry in the region, with Kenya Airways of course being THE predominant force across the East African Community. Expect live reporting from the launch ceremony on Monday in Nairobi, so watch this space.

Tanzania News
WWF SACKS A DOZEN STAFF OVER FRAUD ALLEGATIONS
The Tanzanian branch of the respected World Wide Fund for Nature has reportedly dismissed a dozen of their staff including to senior managers over allegations of misuse of funds and installed a caretaker management team to oversee the process of investigations and of a forensic audit.
Information received while out of country to cover the Seychelles Carnival Festival speaks of as much as US Dollars 200.000 which might have gone missing from the kitty. It appears that allegations over misappropriation of project funds emerged sometime late last year at which stage WWF commissioned Ernest & Young to carry out the audit, before notifying donors and partners of their suspicion and subsequent action in the spirit of full disclosure. It also appears that WWF has committed to cover the missing funds should it prove impossible to retrieve the money and those sacked now will face, depending on the outcome of the full audit report, the full force of the law.
WWF support a wide range of programmes and projects across Eastern Africa and has in the past been proud of an exemplary record of performance vis a vis delivery and as a globally leading conservation NGO for long lived by a zero tolerance policy over corrupt practices, embezzlement and misappropriation or misuse of funds.
Conservation sources in Nairobi expressed surprise at the development, with one regular contributor saying that: WWF has such good controls and checks and balances in place, if this is true those accused now must have been very cunning and conniving to get away with it, but in the end the procedures and cross checks worked against them anyway and they got fingered. It could not be established on which projects of WWF in Tanzania these incidents occurred but it is understood that none of those will be affected by delays or temporary suspension of the implementation time tables as WWF moved fast to keep things on track.

Rwanda News
NEW WILDLIFE LAWS PERMIT COMPENSATION AT LAST
Sources at the Rwanda Development Board Tourism and Conservation, have confirmed that they can now start to process claims for loss of property, damages and injuries by people living near national parks, should they suffer from marauding wildlife. The Rwandan government has last week set up a special trust fund which will be used by RDB to deal with legitimate and verified claims, of which several hundred are said to be pending already awaiting decisions as to the level of compensation now due to affected individuals and communities.
17 such cases are from the Parc de Volcanoes which is partly secured by a metre high perimeter wall separating the park from the neighbouring farms, twice as many 34 in total from the Nyungwe Forest National Park neighbourhood but a staggering 306 from Akagera National Park, although a future reduction is anticipated there when the electric fence is fully installed.
Said Rica Rwigamba, Head of the Tourism and Conservation Department at RDB: This was really a worrying issue for us. In Rwanda we look at conservation in a holistic approach, hence we put coexistence between communities and wildlife at the core of our activities. We are confident that this [latest development of creating the fund] will further enhance the fruitful cooperation that we have built over the years with communities around the protected areas.
Existing laws and regulations also require that 5 percent of the gate revenues are to be channeled back into the communities and every year, when the naming ceremony of the gorillas is taking place this year Kwita Izina will be celebrated on the 16th of June are new projects inaugurated by RDB Tourism and Conservation, bringing water to communities and supporting health, education and community centres benefitting all instead of a few.
Rwanda once again taking the lead in the wider region where human wildlife conflict is on the increase and where only sensible common sense solutions can mitigate the effects of protecting wildlife vis a vis protecting human populations.
Ethiopia News
ETHIOPIAN AIRLINES SET TO COMMENCE SEYCHELLES FLIGHTS IN 3 WEEKS





While recently in the Seychelles it was confirmed that Ethiopian Airlines will be commencing 4 weekly flights between Addis Ababa and Mahe from the beginning of April, adding a second connection through a key African mainland hub after Kenya Airways flights via Nairobi.
The fact that ET will start with 4 flights a week is in fact seen as notice of intent to neighbouring KQ, presently only flying twice a week via Nairobi, to connect their global network to the Creole island paradise, and in particular offering their Star Alliance and codeshare partners from key source markets convenient onward flights to the Seychelles, outshining their nearest and fiercest rivals.
The new connection is also important for travelers from Africa to the Seychelles with connectivity until now depending largely on the flights from Johannesburg to Mahe on Air Seychelles and by Kenya Airways via Nairobi, where growing demand for visits to Affordable Seychelles has been aided by the archipelagos NO VISA policy, which admits tourists as long as they have a return ticket, a confirmed hotel reservation and enough spending money for the duration of their stay, and in the case of African visitors a yellow fever inoculation certificate.
It was also confirmed by a source from the Seychelles Tourism Board that the Ministry of Tourism and Culture, now headed by Alain St. Ange, and STB held discussions with Ethiopian Airlines ahead of the flight launch to explore closer ties and cooperation to bring more journalists and travel agents to the island on fam trips, using Ethiopian Airlines extensive African and global network.
It could not be established if a twin centre holiday option has been on the meeting agenda, as Ethiopia has a number of excellent tourism attractions and national parks, which are largely underexplored and underutilized at present and which might in turn receive a publicity boost from a joint initiative with the Seychelles, combining the traditional African mainland safaris with the fabulous beach holidays on the archipelago.
Watch this space for coverage about the inaugural flight in three weeks time.

South Sudan News
BOMA NATIONAL PARK GETS NEW HEADQUARTERS
Last weekend saw the inauguration of the long in the making national park headquarters of Boma, catapulted to fame by the inclusion in the National Geographic series Great Migrations. Over 800.000 animals follow an annual migration pattern in and out of the park, with these figures for long dismissed as fabled or myths but by the few who actually have witnessed the spectacle, second only to the great migration of the wildebeest and zebras between Tanzanias Serengeti and Kenyas Masai Mara.
Speakers, including Jonglei Governor Kuol Manyang, called on the occasion for a stronger protection of wildlife as a natural resource, claiming it had greater long term value than oil as it could be sustained if using the correct measures. Also present was the Minister for Wildlife Conservation and Tourism Gabriel Chang, who reportedly reiterated the need to put Southern Sudans attractions on the tourism map.
The recent decision by the government in Juba to halt all oil production has led to a loss of over 95 percent of the revenues generated for the country and there is now a desperate drive towards an austerity programme, reducing government expenditures while seeking alternate sources of revenue like from tourism, a sector however neglected during the 5 years of the run up to independence and since then by being marginalized with minimalist budget allocations and lack of top level priority to develop the industry which elsewhere in Eastern Africa has become a major driver of the local economies of Kenya, Tanzania, Rwanda and Uganda.
Tourism to Southern Sudan remains hampered by many factors and is of late in particular hard hit by constant reports of extensive cattle rustling and open intertribal conflicts, often fueled by a hostile regime in Khartoum which seeks to unsettle and throw off balance all efforts by the new country to establish the rule of law. As some of these conflicts are taking place in the wider vicinity of national parks, the taste for adventure at this stage naturally has to be seen in the context of the reality on the ground having the safety of tourists as the highest priority.
When speaking with an adventure safari and expedition operator in Nairobi yesterday on this subject and the possibility of adding Southern Sudan as an extension destination he had this to say: Sure, one day when there is peace and calm in Southern Sudan, we would like to send safari and expedition clients to such places like Boma or the Sudd. But for now the reports are unsettling about constant outbreaks of violence, banditry and even open aggression by Khartoum in areas of their common border. We also have a number of other concerns and issues like tourists should get Visa on arrival, there is still some police registration process needed which wastes a lot of time, so we would like to see better processing of tourists in Juba and then have good reliable safe airlines to fly visitors to the parks. The long distances to the parks over often poor roads are both a waste of time and a risk factor but are there airstrips where one can land, are there vehicles for game drives in those parks, are there camps clients can stay in. Maybe Southern Sudan can permit our Kenyan safari airlines to fly tourists directly to the parks after clearing in Juba first, but you can see there are logistical issues which need sorting out. They should come to Nairobi and show what they have to offer, come with incentives and assure us of preferential handling of visitors flown in from Kenya for safari extensions. We need to know what is available to do for tourists on the Nile, is there rafting or are there ships or cruisers which can be used? We know too little and all the Southern Sudanese ever talk about when their delegations are here in Nairobi, is their oil, about roads and rails and pipelines. What about investment incentives. What about their legal system if we have a dispute with someone there over service delivery? What about currency restrictions? Have they now got a tourism law or regulations we can rely on. Have they started to use EAC rules for hotels and lodges? Have they got a tourist board in place? It is good you write about it once in a while but we here in Nairobi just have not enough information.
Such sentiments were then equally voiced by two other senior staff of different adventure companies, so clearly there is a great need to showcase Southern Sudans natural attractions and alleviate the concerns perhaps through a tourism road show with the added question now raised if there are licensed safari operations in Southern Sudan, licensed safari lodges or safari camps who can be approached to get quotations and information. Fodder for thought, so watch this space.

Mauritius News
MAURITIUS TALKS TO AIRLINES AT ITB
A regular source from Mauritius has send impressions from the just concluded ITB, the worlds largest global tourism trade show, to share some news about what the islands large delegation has accomplished.
Our official met with airlines flying regularly from Germany to Mauritius and to explore how in the current environment they can increase seats during peak demand times. We were told they also talked to other airlines like Air Berlin [now in the Etihad stable after Abu Dhabi?s
national airline acquired a strategic 30 percent stake in the second
largest German airline]. I personally thought that was interesting because Air Berlins partner Etihad has bought 40 percent of Air Seychelles, effectively rescuing that airline and our own, Air Mauritius, has been making losses and is undergoing a cost cutting programme. Generally though some of us felt while in Berlin that Mauritius should have joined with La Reunion and Seychelles for the Carnival festival because those two countries got a lot more attention from the media and the public. Maybe it is true we had the chance to join the hosting of that festival and dont know why Mauritius was absent from such a big media event. We have watched what happened in Seychelles over the past few years and how they got into the spotlight and our own tourism promotion authority must now also be restructured if we want to make up for lost time and lost ground. Civil servants have no longer a place in running our sector, it is time the private sector asserts itself and then steps up and offers a new vision for Mauritius tourism. And our government has to make a hard choice on our airline too, perhaps best to bring in a partner before things go worse.
Harsh words, perhaps harsher thoughts even? What if any lessons will be learned on Mauritius, time will tell so watch this space for breaking news, as and when things get moving there.

La Reunion News
LA REUNION CAPITALISES ON VANILLA ISLAND CARNIVAL FESTIVAL EXPOSURE



The Tourism Board of La Reunion, represented in full force at the ITB in Berlin with a number of private sector stakeholders, is making the most of the recent exposure gained from being co-host of the Carnival International de Victoria on the Seychelles, where the island participated in a major way and brought the largest foreign delegation.
Already united under the Vanilla Island concept, La Reunion threw their weight behind the Seychelles Tourism Boards initiative and subsequently received significant coverage from the almost 80 media representatives who had come to Victoria to cover the event.
La Reunion has unique features such as dormant volcanoes, unlike the Seychelles, and can offer different attractions to tourist visitors such as treks up the mountains to the rim of the craters, which are very popular.
Asked how the cooperation would work a staff from the Seychelles Tourism Board preferring anonymity said: Right now tourists visiting both islands can fly with Air Seychelles to Mauritius and then with Air Austral to La Reunion, but we are hoping for direct flights between the two islands to make it easier to offer packages. In this regard it is hoped that Air Seychelles and Air Austral will be able to put a joint flight option on the market in due course, when in particular Air Seychelles is getting, what is widely expected to happen before the middle of the year, an A 320 to operate their regional flights to Mauritius and Johannesburg and the new mainland and Indian Ocean island destinations they are presently evaluating.
Visit www.reunion.fr for more information on the tourism attractions of the island and available hotels, resorts and activities for tourist visitors.

Seychelles News
TRIP ADVISOR BEST BEACHES 2012 CLUELESS AS SEYCHELLES OMITTED FROM TOP 25




Not being a mass tourism destination is to our disadvantage here for us said a regular source close to the Seychelles Tourism Board, saying it is hard to get the required numbers in a global contest where bigger destinations like Florida or Turkey have a simple numerical advantage as more TripAdvisor contributors visit there as opposed to the Seychelles which last year had a new arrival record with over 194.000 visitors for the entire 2011. When it comes to travel publications, and looking at informed votes on the best beaches, the Seychelles have always featured in the top 25 or even the top 10 for a long time. Our visitors know that and appreciate it. For this year 2012 we are hoping for a modest increase in visitor numbers to about 200.000 and the winners shown in TripAdvisors announcement for votes received on best beaches for 2011 has been based on numerical considerations rather on weighing that some destinations have tens of millions of visitors and others not even 200.000. We would like to be named everywhere in accordance with quality considerations but that is not always possible. Still, those who know our islands also know how spectacular the beaches are and you only a few days ago witnessed that again for yourself.
Only last weekend were the Seychelles Islands again in the big news, when the stricken Costa Allegra was towed into Victoria harbour after an extraordinary rescue operation put together at no notice by the Seychelles authorities to ensure the safe return of the passengers and ship, and of course through the archipelagos annual Carnival International de Victoria, this year co-hosted with La Reunion.
Best international floats prizes were awarded to the UKs Notting Hill Carnival, followed by the floats of La Reunion and of Indonesia. Nearly 90 journalists from around the world had come to the Seychelles to cover the carnival event, with a similar number having flown to Mahe to see the Costa Allegra come into port, and all of them saw how spectacular the beaches and the crystal clear turquoise waters of the Indian Ocean were.
In conclusion, while the votes by TripAdvisor contributors were surely correctly counted and presented, the essence of the matter is that smaller destinations are literally pre-destined not to make it to the top, simply because they are visited by substantially less people overall in this one person one vote contest. For this correspondent therefore it remains Seychelles, Truly Another World.

SEYCHELLES HEAD TO MIAMI FOR SEA TRADE CONVENTION
Encouraged by the gradual return of cruise ships to the classic Indian Ocean circuits, which has traditionally included the Seychelles, will a delegation from Victoria head to Miami next week to participate in the Sea Trade Convention which takes place between March 12th and 15th. Glynn Burridge from the tourism board will be joined by Lenny Alvis of Masons Travel and Eric Renard of Creole Travel, the archipelagos leading destination management companies and experienced in the handling of cruise ships on port calls.
Only last week did the Seychelles bring the global spotlight to the question of cruises, when making all resources available to bring the Costa Allegra into port after the ship had suffered engine failures due to a fire which broke out on board. The Seychelles dispatched surveillance aircraft immediately the distress call was received and sent coast guard units and two tugs to rendezvous with the drifting ship off one of the archipelagos outer islands before bringing the Costa Allegra safely into port. The exemplary response by the Seychelles government, the port authority and the tourism board was last week hailed as a major achievement for a small country and stands benefit the delegation going to Miami next week through the added publicity the event generated and the ability to come to a ships rescue at a moments notice in the vast waters owned by the Seychelles.
This correspondent also had the opportunity to speak with several passengers of the ill fated cruise on the Costa Allegra who stayed on the island of Praslin at the Black Parrot Suites / Coco de Mer Resort, and while they all preferred anonymity and insisted that no pictures were taken, they did willingly, though off the record, answer questions. They all enjoyed their island holiday, courtesy of the Costa Cruises, on the Seychelles calling it a blessing in disguise after the harrowing experience when the engines of the ship cut and could not be restarted. They said that the crew were competent and helpful throughout the ordeal and that great relief swept the passengers on board when the first Seychellois surveillance aircraft overflew the Costa Allegra, and more so when the ship was then under tow towards first Desroches Island before it was found necessary to move on to Port Victoria. Said one lady with the few words of English she mastered: I will go on a cruise again. This was not something the crew was able to avoid but we followed the emergency procedures how they instructed us to do.
The lack of electricity and water was the most difficult part of it but we got enough food and water the entire time. We had hoped to get off the ship in the other island but then were told they would have to tow us to the main island and so we had to wait another two days. The Seychelles people were the nicest under the situation, they helped to get us to safety. We decided to take the two week vacation here on the Seychelles because at least we can make up for the loss of the rest of the cruise to Egypt and home to Italy. I thank everybody from Seychelles for rescuing us and making us so welcome here. The other passengers shared these sentiments and appeared to be genuinely happy with their stay, although they had to leave the Black Parrot Suites / Coco de Mer Resort as previously booked tourists were arriving leaving the hotel full to the brim and without a single room to spare. The Costa Allegra passengers who decided to remain on the island at the expense of Costa Cruises will be flying home at the end of their holiday on scheduled flights while those who opted to return home immediately missed out on the Carnival International de Victoria last Sunday and having a holiday of a lifetime on the Seychelles. Watch this space.
CHANGES AT STB AS ALAIN ST. ANGE IS APPOINTED MINISTER FOR TOURISM AND CULTURE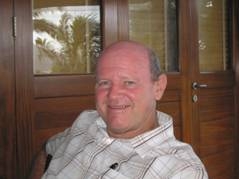 (Alain St. Ange, seen here during an interview last year)
Elsia Grandcourt, hitherto Deputy Chief Executive at the Seychelles Tourism Board, has been appointed to the position of Chief Executive Officer, following the elevation of Alain St. Ange to the position of Minister for Tourism and Culture.
Alain St. Ange, appointed as Director of Tourism Marketing at the Seychelles Tourist Board before being elevated to the CEO position in a second major restructuring of STB within the space of 3 years, is credited to have put the team together which turned the fortunes of the Seychelles as a top of the pops tourism destination around and injected his vision into the tourism board, running it like a private sector enterprise to ensure the survival of the countrys tourism sector when the global economic and financial crisis struck in 2008.
Since then, with a new marketing strategy firmly in place, which was jointly developed and agreed upon with the private sector led by the Seychelles Hospitality and Tourism Association, the country has topped new arrival and revenue records in the years 2010 and 2011 and although renewed challenges emerged for 2012, the sectoral leadership is confident that the target of 200.000 visitors can be reached for the first time this year.
The new stand alone ministry moves the portfolio from the direct oversight of President James Michel, who took tourism under his own control, after it was previously held by his former Vice President, since retired, Joseph Belmont, which was a clear sign how important the tourism sector is for the archipelago besides fishing and trading.
Alain St. Ange, incidentally not a member of the ruling Party Lepep but to the contrary a former member of parliament for the opposition, has been tipped since the State of the Nation address by President Michel last Thursday, as the new man and his appointment came as no surprise to keen observers of the Seychellois political scene, which has significantly changed since President Michel took charge at the helm of the country and initiated a series of structural reforms benefitting ordinary Seychellois while taking on board a series of measures aimed to making the countrys political scene more open and more inclusive.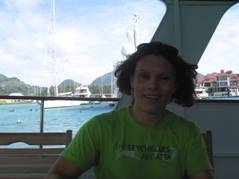 (Elsia Grandcourt, speaking to this correspondent on board of the Kir Royale
also during an interview on occasion of the Seychelles Regatta in 2011)
Elsia Grandcourt, appointed only a year and a half ago to the position of Deputy CEO of STB, has also been tipped to take over from Alain St. Ange, and while she has a large pair of shoes to fill it is expected that she will not only do so but put high heels on them as she goes along.
First feedback from staff of the Seychelles Tourism Board was overwhelmingly positive and enthusiastic, as they can count on the fullest support of their new minister while working with a CEO who has in past months excelled in her duties and functions at the board, including bringing the Routes Conference Africa to Victoria in July.
Congratulations are extended to both Minister Alain St. Ange and CEO Elsia Grandcourt and a full profile review for both will be published here in due course.

AIR SEYCHELLES LAUNCHES ABU DHABI FLIGHTS



This Sunday is a big day for friends, staff, management and board of directors of Air Seychelles, when the airline is commencing operations to Abu Dhabi. Initially the airlines B767-300 will serve the route twice a week in conjunction with Etihad, which in turn is operating four flights a week on an A320 aircraft.
It is anticipated that by summer there will be a third Air Seychelles flight to Abu Dhabi, all in code share with Etihad, which has earlier in the year bought 40 percent of the shares in the Seychellois national airline.
The close cooperation between the two airlines is now offering more flights from more European and international gateways for Air Seychelles than ever before, way beyond their erstwhile ports of call in London, Paris, Milan and Rome, as EVERY Etihad destination is now open for taking tourists to the Creole island paradise of the Seychelles. When Singapore was cut, the first long haul route to go, things looked grim for Air Seychelles but with the new management in place, sufficient working capital injected and codeshared flights to all corners of the world now, only the sky seems the limit to bring ever more visitors to the islands.
A large contingent of onlookers is expected at Mahes international airport on Sunday 10th of March, when the first flight is launched and a traditional aviation welcome is guaranteed at the other end in Abu Dhabi when the aircraft taxies to the parking position and gets the water arc greeting as all inaugural flights do receive.
Congratulations to Air Seychelles for getting back into the game and for flying the Creole Spirit once again into the wider world.

LA DIGUE IT IS A WAY OF LIFE
If the Seychelles truly are Another World as one of their tag lines reads, the island of La Digue deserves its own for sure. I asked my guide from the Seychelles Tourism Board, born and raised on La Digue, what made her home island so special, what would be the most important issue shed like to see highlighted by the media writing about La Digue, and her instant response was La Digue is just a way of life.
Well, let the story start at the beginning and by the end of it one should be certain if the fourth largest island of the Seychelles is a way of life or maybe not.
Travel to La Digue traditionally is by boat via Praslin, sailing vessels in the old days, then conventional ferries and now a high speed catamaran, the Cat Cocos Ile de Praslin operated by Inter Island Boats, which crosses from Mahe to Praslin in under an hour. From Praslin harbour it is a direct connection then to La Digue, by a smaller catamaran ferry, which completes the journey to La Digue in about 15 minutes.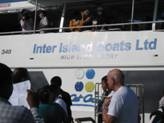 (The famous high speed inter island ferry at Port Victoria, ready to sail)
Alternatively, for those with money to spare, Helicopter Seychelles and Zil Air both offer a helicopter option, straight from the helipad of ones resort for instance from the Kempinski Seychelles Resort which was my main base for this trip or the international airport to the helipad on La Digue. Such a trip is taking little over 20 minutes as opposed to an overall travelling time of say 3 hours, transfer in Mahe to Port Victoria included. On a sunny day though, what better way to soak in the experience of travel than smelling the salty air of the ocean, having the wind blow into ones face when standing on the upper deck of the Cat Cocos and sensing the excitement of each and every other passenger on board as one sets sail from Mahe to Praslin, and then again from Praslin to La Digue. Travelling is after all about meeting fellow travelers, making acquaintances and friends even if only for the short time of a ferry trip, as opposed to the splendid isolation of sitting in the heli and flying high above the action. The heli option though is in demand, regularly ferrying a couple or two to La Digue, evidence that the Seychelles continues to attract the rich and famous with its tropical Creole charm.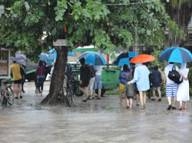 (It never rains but pours yet much more acceptable at 28 degrees C)
It rained cats and dogs from low hanging clouds when I arrived on La Digue, but I did not let it rain on my parade nor cloud over my mood rain in the tropics at 28 or 30 degrees is different, almost worth the experience to get soaked unlike in the cold climes of Europe and when just around lunch time the sun came out again, the island felt refreshed, seemed greener and more lively even. So off I went with my guide for the day, Dania Morel of the Seychelles Tourism Boards office in La Digue, at times closely attached to each other as we huddled under the umbrella when another wave of rain swept across us, and at other times walking the paths through forests and along the beaches, with heavy drops still falling from the foliage above.
The beaches are all divided by giant rock outcrops La Digue is one of the granite islands within the archipelago and the highest point of elevation is an impressive 333 metres high, enough to make it a mountain under British definition of the 1.000 feet threshold. Hence, those seeking solitude and privacy can find little coves, nooks and crannies where to spread the beach towels out and spend the day as a Robinson, or Robinsons when travelling in pairs, taking a picnic along and a coldbox with drinks, in which the wrappings and serviettes and bottle tops or empty cans can be taken back, leaving nothing but foot prints, washed away when the tide comes back in.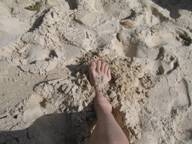 (Leaving a few footprints on the beach)
Equally are the wide beaches of Grand Anse, Petit Anse and Anse Coco attractive, and easy to reach by bicycle, or using one of the dozen or so taxis now available on the island, where the driver will deliver you to the nearest spot accessible by vehicle and then come back at an agreed time again. At some of the beaches small restaurants have been set up which offer both a la carte as well as a buffet lunch, should the sandwiches run out or simply to be able to sit down on some roughly hewn benches, under a palm thatched roof to enjoy some Creole cooking in the company of others before retreating again to one of the private spots hidden from prying eyes between the granite boulders.

(A local beach eatery at Grand Anse, La Digue)
Places to visit on La Digue are many, almost too many to see in the half or at best three quarter of a day most visitors come to the island for, and while they might leave happy, having ticked off another destination and another to do while in the Seychelles, I would rather opt for an overnight stay, if not a longer visit to experience the laid back lifestyle so evident everywhere. When men meet on bicycles, women too for that matter, going in opposite directions, I often observed that they started greeting each other from some distance, then slowed down and stood by the roadside for an extended chat before moving on again, a sign that people still take time for each other and are not slaves of schedules and mobile devices but masters of their own way of life.
These locals, about 2.500 Seychellois are actually living on La Digue, are friendly to visitors, probably knowing that the tourists bring the cash the island needs to survive, so directions are gladly given and with a smile, and one even offered to walk some way with me to make sure I reached my destination safely. A map of La Digue is available for free from the tourist office at the little port and gives a broad overview of tracks and roads, locations of a few of the many beaches and the approximate location of guest houses, hotels and resorts. Also prominently shown is the LUnion Estate, where for a modest entrance fee the old cemetery of the colonial times is kept intact, as is the old plantation house. The supposedly largest granite boulder is found on the estate too, as are giant tortoises but a special attraction there is the option to do some horseback riding, a leisurely way to explore the island from the saddle. Interesting for visitors maybe how coconuts are turned into palm oil and how copra is being processed from it, making the LUnion Estate a little gem and journey into the islands distant past, when first the French and then the English were colonial masters before the Seychelles attained independence from Britain.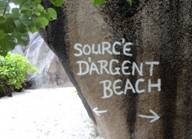 A little further, following the same track, is a vanilla plantation before reaching the famous Anse Source DArgent where many little beaches are separated by huge granite rocks, shielding beach combers from the paparazzi. For bird lovers and those interested in conservation, La Digue is also home to the endemic Paradise Flycatcher, which is found in the Veuve Reserve, for sure not as extensive as the Valle de Mai on the larger island of Praslin but nevertheless worth a visit. All of this is a tall order for day visitors, who often have to choose what they want to see and clearly lose out on one or the other attraction the island has to offer.
For overnight visitors smaller hotels, perfectly adequate with self contained rooms, air conditioning and often an attached restaurant where the meals can be taken, offer the best deal, making a longer stay an affordable reality and permitting a deeper insight in the very traditional way of life, where many people live in traditional Seychellois houses as they were generations ago, with the addition of electricity and running water though.
La Digue is also jump off point for diving expeditions, or visits to other islands like Coco, Felicite, Cousine, Curieuse, St. Pierre or Aride, the latter a bird sanctuary which at certain times of the year make landing difficult during the south east monsoon season when the rough tides and high waves are in season. All licensed destination management companies offer such trips, which open up a wider range of attractions and showcase the natural wonders the archipelago is so proud to have more than 50 percent of the Seychelles is now protected by law as national parks and marine parks or nature reserves.
In August every year does La Digue hold a major religious festival, the Feast of Assumption which Seychellois from the other islands attend but also visitors from abroad, wanting to see the processions and partake in the open air mass at La Grotto before heading to St. Marys Church.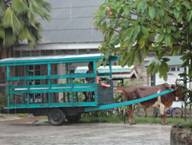 (Rain or shine, the oxcarts await the tourists for a tour of the island)
Traditional mode of transport on La Digue was for long the oxcart, and it is still being used for tourists and at times to transport goods, but the most exciting way to get around is still by bicycle, which are on hire right at the jetty, from shops and offered by the resorts and guest houses to their guests at a nominal fee. There are two major resorts on the island, the well known original La Digue Island Lodge and the more recent addition of Domaine De LOrangeraie, seven smaller hotels, 17 licensed guest houses and an astonishing 39 licensed self catering establishments plus some apartments for short term lets, options galore for travelers on both generous as well as tighter budgets. During the off season simple self contained rooms with a ceiling fan can go for as little as 20 Euros a night the main foreign currency in the Seychelles is the Euro, not the US Dollar and when using local take away restaurants one can spend as little as 150 rupees a day for breakfast, lunch and dinner or a multiple thereof when choosing to eat in one of the restaurants or little locally owned hotels. Creole food is served everywhere, spicey, colourful and freshly made with ingredients in season and whatever the fishermen deliver daily.
Asked and answered you might think, coming back to the initial question if La Digue and the Diguois do have a special way of life, but from the little I saw and witnessed, it is quite so.
Nowhere in the Seychelles is life lived in the fast lane, not by London or even Nairobi standards, but the pace is admittedly faster on Mahe, slower on Praslin and very laid back on La Digue, a perfect place for a holiday when solitude and the absence of links to the outside world after the last ferry sailed back to Praslin, is what the intrepid traveler seeks and pursues. A stay there, even for the day, is truly calming and putting the pace of life into perspective, making one wonder how the Diguois can live like that and be happy and content while us folks need vacations, muses, life counselors and shrinks. Not on La Digue, so yes, it is a way of life and perhaps one we should all embrace every once so often, to live and let live and to return to be in tune with nature and the cycles of day and night and the eternal flow of ebb and high tide. Seychelles, truly ANOTHER WORLD but also AFFORDABLE SEYCHELLES where visitors on a budget can get excellent value out of the money they spend. See you in the Seychelles next
For more information visit www.seychelles.travel and follow the links to La Digue island and the available self catering establishments, guest houses, small hotels or big resorts or be adventurous and book with www.self-catering-seychelles.kaz.com, www.benjaminsladigue.com or try www.chezmarston.com, all of them licensed and all of them ready to welcome you with open arms.
AND in closing today more material from Gills The Livingstone Weekly including some gruesome statistics on rhino poaching in South Africa:

Rhino Poaching Stats for 2012
(92) 02 – 3 Knp – Ngwanetsi
(89) 02 March 2012 : 2 white rhino carcasses found 1 week old Vryburg North West
(87) 01 March 2012 : 2 rhino's Malalane at John Hume's game reserve
(85) 29 February 2012 : 1 Rhino Kariega, (2 dehorned but still alive)
(84) 28 February 2012 : 2 Rhino found Mopani area near Letaba KNP
(82) 28 FEbruary 2012 : 3 Rhino found near Pretoriuskop, KNP
(79) 28 February 2012 : 2 Rhino found near Pretoriuskop, KNP
(77) 25 February 2012 : 1 Rhino carcas found near Crocodile Bridge area, KNP
(76) 23 February 2012 : 1 White Rhino, Assen, NW
(75) 22 February 2012 : 5 Rhino carcasses – KNP (some of the carcasses are at least 1 month)
(70) 20 February 2012 : 1 Rhino Thanda Game Reserve, KZN
(69) 19 February 2012 : 2 Rhino Mpofini lodge Vryheid
(67) 17 February 2012 : 1 Rhino KNP – awaiting confirmation of location
(66) 17 Feburary 2012 : 1 White Rhino Borakolalo Game Reserve (had to be put down)
(65) 15 February 2012 : 1 White rhino (1 month old carcass), Pilanesberg,NP
(64) 15 February 2012 : 1 carcass found Manyeleti, KNP
(63) 14 February 2012 : 8 carcasses found KNP
(55) 13 February 2012 : 2 Rhino Chicks Game Lodge Hluhluwe
(53) 13 February 2012 : 2 Madikwe White Rhino Bull both horns taken
(51) 11 February 2012 : 1 Madikwe white bull
(50) 09 February 2012 : 3 Letsitele, Limpopo – Pregnant mother and calf + unborn baby added
(47) 08 Februrary 2012: 1 Ndumo
(46) 08 February 2012 : 2 iMfolozi
(44) 07 February 2012 : 1 White Rhino Bull – Hoedspruit – private reserve
(43) 06 February 2012 : 1 Rhino bull Thabazimbi-Rooiberg area
(42) 06 February 2012 : 1 Carcass found KNP (poached Sat probably) – North of Letaba
(41) 06 February 2012 : 1 Madikwe – Black Rhino
(40) 26 January 2012 : 2 Limpopo Province – Waterberg area
(38) 26 January 2012 : 2 North West Province (to be confirmed)
(36) 19 January 2012 : 1 Hluhluwe iMfolozi found recently date unknown
(35) 16 January 2912 : 3 White Rhino Rooiberg area
(32) 16 January 2012 : 1 Mossel Bay, Kobus Crous – Farm Bergsig
(31) 15 January 2012 : 2 Madikwe 1 carcass found, Ndumo 2 month old carcass
(29) 13 January 2012 : 4 KNP – Pretoriuskop area
(25) 11 January 2012 : 5 Rhino Private Reserve near Stofberg
(20) 11 January 2012 : 3 Rhino – KNP
(17) 09 January 2012 : 2 White Rhino at Ndumo and 1 Black Rhino at Mkhusi
(14) 09/10 January 2012 : 9 KNP (4 near Pretoriuskop, 2 near Lower-Sabie and 2 near Crocodile Bridge + 1 other area to be confirmed)
(5) 04 January 2012 : 4 KNP Satara area
(1) 04 January 2012 : 1 Rhino Gravellotte area, Limpopo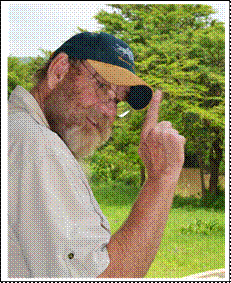 Lawrence Anthony (1950 – 2012)

… The Zululand community and the conservation world at large are in mourning following the sudden death of acclaimed conservationist and lauded elephant whisperer Lawrence Anthony. Anthony, the son of Zululand Observer founder and current Managing Director Reg Anthony, died in his sleep in Johannesburg on Friday morning. He was 61 years old. Founder of The Earth Organisation, Anthony was due to hold a conservation gala dinner in Durban later this month to raise international awareness of the rhino-poaching crisis, and to launch his new book, The Last of the Rhinos (The Powerful Story of One Mans Battle to Save a Species). He was born in 1950 in Johannesburg, and matriculated at Empangeni High School in 1968. But before that, his childhood in Malawi, Zimbabwe and Zambia had imbued him with a deep love for the African bush. He lived on his beloved game reserve and animal rehabilitation centre, Thula Thula Private Game Reserve near Heatonville.
A life well lived
Anthony was internationally acclaimed for his conservation projects. He was also an international explorer, sought-after public speaker and best-selling author. Anthonys rescue of the Baghdad Zoo animals during the coalition invasion of Iraq in April 2003 received international acclaim. After the invasion he was appointed administrator of the zoo by the US Army, being responsible for the stabilisation and rehabilitation of wildlife and overseeing veterinarian care. His subsequent book Babylons Ark won critical acclaim, and may be made into a film with the working title Good Luck Mr Anthony that has been commissioned by Beacon Pictures in Los Angeles.
His second book, The Elephant Whisperer, was an international bestseller and was translated into French, German, Italian and Chinese. In 2007, Lawrence submitted the Wildlife in Warzones draft resolution to the United Nations in New York. The draft obliges member states to protect wildlife and the environment in war zones and to treat zoos, game reserves, marine parks, veterinary facilities and game rangers as illegitimate targets of war. In the same year, Anthony conducted an expedition deep into the jungles of the Democratic Republic of Congo to meet with leaders of the notorious Lords Resistance Army (LRA), a Ugandan rebel group involved in a 20-year war with the Ugandan government.
He addressed the entire military high command on the need for peace, and reinforced an agreement reached with the political wing in Southern Sudan, to protect the critically endangered Northern White Rhino and the Congo pygmy giraffe. This period is the subject of his latest book. Feted all over the world, Anthonys principle focus throughout his life was his work with Zululand rural communities, and his belief that they should see the benefits of conservation. Anthony created two African reserves, the Royal Zulu biosphere situated south of the Umfolozi Game Reserve in KZN, and the Mayibuye Community Game Reserve at Camperdown, KZN.