AVIATION, TOURISM AND CONSERVATION NEWS from Eastern Africa and the Indian Ocean islands.
A weekly roundup of breaking news, reports, travel stories and opinions by Prof. Dr. Wolfgang H. Thome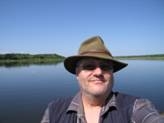 Get daily breaking news updates instantly via Twitter by following @whthome, join me on Facebook where the articles also cross load or read the daily postings on my blog via: www.wolfganghthome.wordpress.com which you can also follow to get immediate notification when a new article is posted.
Fifth edition January 2012
GULF AIR GETS CABINET SUPPORT PASSENGER SURVEY CONFIRMS EXCELLENT RATING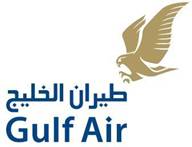 Following the resounding success of the Bahrain International Air Show, which ended last weekend, has the Bahrain cabinet thrown their full weight behind Gulf Air, which was not just the official carrier but also a key sponsor of the event. It was reported in the local media in Bahrain earlier in the week that the government is set to ensure the long term viability of their national airline which is going through period of reorganization and focusing afresh on their inherent strengths, based on the most extensive network in the Middle East, through well planned expansion and improved service levels, on the ground and in the air.
It is here that Gulf Air during a recent trip with them has excelled, first when checking in at Entebbe en route to Bahrain, and then again when travelling back home.
Constrained, like any other airline, in Entebbe by available check in spaces, the airline is checking in passengers via their handling agent ENHAS under the keen and watchful eyes of the GF station manager, making sure that passengers are checked in swiftly and get the seat they prefer, with premium passengers then able to pass the time till boarding in the First / Business Class lounge. Their baggage is priority labeled and it did arrive first off the plane in Bahrain, where however I was met airside, ushered through immigration and customs and my baggage delivered as I had a cup of tea, before enjoying the limo service to the Gulf Hotel where I was booked.
While on board, outbound from Entebbe the flight had a trained Sous Chef in attendance in the front cabin, chefs uniform included, and she proved to be competent to discuss menus, recipes and the finer aspect of Arabic cuisine, of which a starter and main course was available.
Gulf Air has expanded in recent times their concept of inflight services, has Sky Chefs flying on their long haul flights and started to deploy them now also on selected routes in the medium haul network, like the routes to East Africa. Premium class passengers will appreciate the effort, as being looked after by the Purser on the flight AND another crewmember / chef is sure to provide service levels superior to those of other airlines.
A carefully chosen wine selection provides the added component of fine dining in the sky, and while I opted on my outbound flight, in view of the early hours, for water and tea, the wines were all presented to me and their characteristics expertly explained by my chef mine indeed as on that sector I was the only passenger in the front cabin. And as to my choice of drink, my chef asked how I like my tea and brewed to perfection I had a fresh steaming hot cuppa next to me throughout, while I worked the night away on my netbook, until breakfast was served eventually, perfectly timed to end just as the aircraft was leaving the cruising altitude of 39.000 feet to start the descend into Bahrain.
Let me turn to the menus now, showing what awaits a passenger in Gulfs premium class on medium haul flights from say Africa to Bahrain, before connecting on to ones final destination, or for that matter staying over in Bahrain for a few days, which while admittedly not as glitzy as Dubai, nevertheless convinces visitors with a unique charm and a citys personality where the ancient does meet with the present and the future. Small clearly is beautiful in this case and it was an eye opener indeed, being my first ever visit to the Kingdom of Bahrain.
In one of the menus I met our regions own David Mutonga, a young chef from Kenya, who joined Gulf Air as part of the airlines culinary offensive aimed to please the palate of their passengers and who introduces his Basil Lamb recipe, probably having trained on preparing lamb from the Kenyan highlands during his apprentice years back home in East Africa, where the sheep flocks from around Molo still rank amongst the finest lamb in the world. The menus for passengers offer a recipe each from one of the acclaimed chefs the airline now employs and also shows the ingredients used, colourful, spicy and exotic, treating ones palate to a symphony of taste revelations and impressions just as intense as listening to an opera, for those with an exquisite taste that is.
For both meals I opted for the Arabic dishes and in particular the breakfast dish Foul Medames proved the right choice, tasty and setting the tone for the meals to come in Bahrain, and also keeping me sustained as work was on the agenda from the moment I had checked in at The Gulf Hotel (see my TripAdvisor review as Safariafficionado).
It is no wonder that the latest surveys by IATA on the quality of member airlines showed a marked increase in satisfaction levels by Gulf Air travelers surveyed, with Gold Falcon passengers giving a 4 out of a possible 5, up significantly since previous surveys and bound to rise further, considering the experience I had myself, on the ground and in the air. In fact, the cabin crew ranking reached a 4.16 out of a possible 5, again confirming that they indeed went out of their way to please and serve passengers with not just dedication but a smile, and not just for me.
The addition of new services, like web based check in including seat selection too has found high approval ratings, though I must admit that being dropped off by the hotel limo at a dedicated Gold Falcon premium passenger terminal at Bahrains international airport was an experience by itself. Fast track from the red carpet into the lounge like facility to the ONE POINT security check, where all hand baggage is screened as are passengers, and then one is within a few metres in the main departure level where all the restaurants and duty free shops are located. Yet, premium passengers have of course access to an upstairs lounge, where a wide window front allows perfect views across the runway with planes constantly landing and taking off, many of them of course from Gulf Air as this is their home base.
Added information collected while in Bahrain also confirmed that Gulf Air, first to be introduced on their long haul fleet, has started to introduce live TV and wireless broad band connectivity, something which according to airline sources is to be expanded across all their aircraft in coming months. Gulf Air CEO Mr. Samer Majali, whom I met at the Bahrain Air Show 2012 said about these developments: Customers have become more discerning and their travel preferences keep changing in tune with their business, social and lifestyle developments. It is imperative, therefore that we proactively and periodically assess the quality of service and products we offer them at every customer touch point in their journey. The opinions of our passengers provide a valuable insight allowing us to identify where we excel as well as areas for improvement. An indication of this is the high ratings for the regional jets, indicating the strategy to introduce regional jets into our fleet has been embraced by customers. The survey results clearly show that we are customer-focused. We will continue to work to improve every point of contact with our customers from the first interaction with Gulf Air, whether it's our Worldwide Contact Centre, www.gulfair.com, or airport, boarding, on-board services and baggage claim.
Having a dedicated Chief Services Officer, serving alongside his colleagues in operations, ground handling, finance and other conventional main stream company departments, has brought recognition to this crucial element in service delivery to the level of top management, and Marcus Bernhardt is quite honestly doing a sterling job, considering the rising ratings by passengers in times of a once again harsher economic environment in which even Gulf based airlines have to operate. Going by his small is beautiful he mentioned when officiating at the airlines inaugural flight celebration in Kampala in early December, the beautiful part can be fully believed though the small it is not going to be forever as Gulf Air is growing their network and fleet to become the force they once were, when they were THE pan-Gulf airline back in the 50s, 60s and 70s before national pride across the region saw each Emirate and country set up their own airline, turning Gulf Air into the sole national airline of the Kingdom of Bahrain today.
Watch this space for regular updates from the aviation scene in Eastern Africa and from the Indian Ocean island, including my personal experiences when flying on one of the airlines coming to Entebbe.

Uganda News
AIR UGANDA TERMINATES CODE SHARE AGREEMENT WITH RWANDAIR

While Ugandan President Yoweri Kaguta Museveni honoured his Rwandan counterpart Paul Kagame in a ceremony at Liberation Day in Kapchorwa / North Eastern Uganda on Thursday, the day when 26 years ago his then National Resistance Army captured the capital Kampala and threw the old dictatorships out for good, the two national airlines Air Uganda and RwandAir reportedly broke off relations when notice was served by Air Uganda to terminate the existing code share arrangement between the two carriers effective March 2012.
As in many such commercial break ups there are two sides to the story, previously referred to here in related articles, and both sides were understandably shy to go on record other than confirming the development at this time.
Both airlines it was however learned from reliable sources, did not see their expectations and hopes fulfilled from the code share deal, which was initially aimed at providing an early morning and late evening connection between Entebbe and Kigali, allowing for one day trips on business, something many travelers took advantage of in the past. Complaints learned about in the past ranged from unilateral fare changes to changes in departure times.
While RwandAir since signing the agreement embarked on an aggressive growth strategy, which saw their fleet grow to 7 aircraft, and more in the order pipeline it is understood, Air Uganda struggled to reverse flagging fortunes caused by the business choices made by several rather inept managers from Italys Meridiana, a sister airline under the same ownership. After burning money galore they left in shame and only when immediate past CEO Hugh Fraser arrived did a turnaround take shape, now continued under Kayle Haywood who joined U7 from Air Arabia in October last year.
However, across the border were a new Board of Directors chairman and members of the board unveiled last week too, with aviation veteran Wake, formerly a long serving Ethiopian Airlines CEO, now at the helm. The move is injecting some serious African aviation expertise into RwandAir and will undoubtedly help shape the airlines ambitions towards turning them into reality, given the support the airline enjoys from the highest levels of government in Kigali.
It is understood that Air Uganda is now more actively looking at expansion again, already flying twice a day between Entebbe and Juba / South Sudan, while RwandAir is also working on new destinations, in the region and beyond, where they already fly to Johannesburg, three West African destinations Brazzaville, Libreville, Lagos and to Dubai.
A regular source from Kigali recently said: New destinations for RwandAir are being evaluated but the airline needs to have additional aircraft to accomplish that and sustain a growing network. It will go step by step and as new planes arrive new destinations will be unveiled.
Flights between Entebbe and Kigali though, once the code share partnership officially ends, will probably see added services as permitted under the bilateral air services agreement between the two countries, which will as a result keep fares low for travelers but will equally pose a financial challenge for the two airlines to make commercial sense out of the route and sustain long term the number of daily flights they both intend to offer. Air Uganda, with their three times a week routing via Bujumbura / Burundi has the added advantage of combining a second destination with their daily flight to Kigali, and is offering travelers from there onward flights to the South Sudanese capital Juba, a destination still missing from the RwandAir network. Watch this space for the next round of the Battle of the skies over East Africa.

TURKISH GOES WIRELESS ON BOARD THEIR WIDE BODY FLEET
Information was received overnight that Turkish Airlines will introduce wireless internet access to their wide body fleet, starting with a B777, following their ground breaking introduction in November last year of live TV on board of flights across the Atlantic. The internet service will first be available on transatlantic flights too before being expanded to the rest of the network.
The initial roll out will cover progressively all their B777s before moving on to the A330s in the fleet. It is understood that the service will initially be offered for free and cover hand held devices like phones, tablets and I-Pads but also netbooks and laptops computers.
There is no indication at this stage what the service will eventually cost, although airlines, as have hotels learned at their expense, may also eventually be compelled to give the service for free at least to their premium class passengers in First and Business classes.
Turkish Airlines presently fly 3 times a week between Istanbul and Entebbe using a two class B737 aircraft.
Kenya News
KENYA AIRWAYS PROFIT WARNING EXPECTED TO SHAKE MARKETS THIS WEEK
The Pride of Africa has over the weekend issued a profit warning that full year results will likely see a reduction of profits by as much as 25 percent compared to the last financial year, inspite of only days ago issuing vastly improved passenger numbers and demand rises. When the Nairobi Stock Exchanged opens this Monday morning a share price reduction is the likely result when sell offs begin to take hold, down from the 20.25 Kenya Shillings per share of last Fridays close. The causes of the profit warning were given as the problems in the key European markets as a result of the Eurozone crisis and rising fuel cost, likely to affect the bottom line, although analysts are also pointing to rising wage bills as the airline seeks to recruit more pilots to fly the additional aircraft on order, giving the unions representing pilots a near unprecedented leverage in negotiations with the company for improved pay and greater benefits.
Kenya Airways is set to go for a major share issue this year aimed to raise the capital required to finance the ongoing expansion drive, which in coming years will see the fleet double and the number of destinations and frequencies to existing destinations substantially increase. There is also speculation over the delivery dates of the first of the 9 ordered B787 Dreamliners as a result of additional delivery problems at Boeing, and the option of retrofitting the ageing B767 fleet with integrated winglets, a choice made by rivals Ethiopian Airlines. Should further delivery delays be announced, this would be one option to reduce the fuel burn of the B767 fleet and keep rising cost in check, and Boeing could be a major contributor to the expense in a compensation deal covering added time needed to have the first Dreamliner fly in Kenya Airways livery. Watch this space.

SAVE LAMU SUES KENYA GOVERNMENT OVER PORT AND RAILWAY PLANS
No sooner had Kenya and Southern Sudan put pen to paper during the week, signing a deal to construct a pipeline from the oil fields in Southern Sudan to the planned new port in Lamu, did a civic group Save Lamu emerge and file legal action against the government seeking to prevent any construction from going ahead. The group, an umbrella body of about a dozen or so civic organizations and NGOs representing communities and interest in keeping the UNESCO World Heritage Site Lamu as it is. A number of allegations were made against the processes put in place, with claims that local communities were not only not consulted but faced large scale evictions from their ancestral lands in the absence of ever having been given title deeds to their land. Land speculation and tricked or forced sales also featured in the complaints with Save Lamu representatives claiming that plans are in place to drive off residents and evacuate entire villages in the name of progress and development. Said a regular conservation source from Nairobi yesterday: They have a right to be consulted and heard when it comes to their ancestral land. They have a right to know what government is planning. No environmental impact studies have been submitted for public scrutiny, it is all done under a cloud of secrecy aimed to keep the truth from everyone but the main beneficiaries of the project, land speculators, deal brokers and collectors of brief cases and brown envelopes. The new constitution gives Kenyans rights and those rights will be claimed in court now. Government has started to resort to intimidation and we expect them to use covert methods to get their way. There is even suspicion they may use the Somali question to pretend clearing Lamu from Al Shabab elements and yet it will be innocent villagers driven off their land to make way for forced acquisition of large tracts of land needed for the port, railway head, roads and infrastructure. The only good thing is that our judiciary is now more independent and might just put an end to this all before it starts.
Local members of parliament too voiced their concern that their constituents were not granted participation or representation at the various stages of planning the project so far raising the prospect of having the matter raised in parliament with the option of forming a special committee to investigate community claims alongside the court case, derailing the ambitious time frame announced during the week for the ground breaking and for construction to commence. Watch this space.

TRIPADVISOR PUTS PORINI MARA CAMP INTO THEIR TOP TEN FOR AFRICA

Gamewatcher Safaris and Porini Safari Camps are no strangers to receiving awards, but being elevated by global review giant TripAdvisor into their Top Ten African Properties still got the buzz going.
The hotel review site has just published their recommendations for 2012 and Mara Porini Camp, one of four outstanding properties in Kenya, is amongst the places recommended for a visit. Mr. Mohanjeet Brar, one of the Directors of Porini / Gamewatchers, expressed his delight with the TripAdvisor findings and the recommendations made through the TripAdvisor Travelers Choice Hotel Awards and said: We really appreciate your support at the Porini Camps as your stay goes directly to supporting the community with over 140 Maasai employed at our camps and over 500 families benefiting directly, in addition to over 115,000 acres of wilderness area and wildlife being protected for future generations!
This correspondent has firsthand experience with Gamewatchers / Porini and has in the past rated all four of their properties, the Amboseli Porini Camp on their Selenkay Conservancy, the Porini Rhino Camp on Ol Pejeta, the Porini Lion Camp and the Porini Mara Camp, both of these located on their adjoining conservancies outside the Masai Mara Game Reserve. See the latest comments on any of the Porini Camps by visiting TripAdvisor and to see this correspondents ratings, check out Safariafficionados comments on these fine examples of the best tradition in tented safari camps and other properties visited.
Congratulations to the Porini / Gamewatchers staff on once again making it into the top rankings.
KENYA AIRWAYS Q4 RESULTS SHOW SIGNIFICANT GROWTH
Information received overnight from Nairobi indicates that Kenya Airways recorded a traffic growth of over 15 percent in Quarter 4 of 2011, substantially better than feared when the stories of the Somalia conflict began to emerge and tourism braced itself for some tough weeks ahead.
Not so according to the statistics now released, which show a 15.4 percent growth in international passengers during the last quarter of last year while on the domestic front passenger numbers grew by an astonishing 26 percent margin in the period under review.
Cargo uplifts too rose by over 6 percent, showing a sound demand growth for shipments of cargo by air, both North- and South bound.
The positive data will boost Kenya Airways intended major new shares issue as financial analysts were somewhat jittery since the dismal IPO by Tanzanias Precision Air, where only just over 42 percent of the shares were snapped up, which however needs to be seen in the context of a number of actions by the Tanzanian government perceived as lukewarm if not outright unhelpful, while at the same time market favourite Tanzania Breweries was also in the same narrow financial market aimed at institutional and key private investors.
Watch this space as the dates for the issue of new shares is now thought to be announced very shortly, and the financial market reactions to it in terms of share price and prospects.

CHELI & PEACOCK MAKE IT TO TOURISM FOR TOMORROW FINALISTS
The prestigious WTTC Tourism for Tomorrow awards for 2012 have one of Kenyas leading tourism companies, Cheli & Peacock, on this years finalist lists, raising hopes that C&Ps trophy cabinet will soon see another shining recognition of their companys philosophy, their chosen locations and their outstanding services to clients from around the world. Cheli & Peacock has been named in the conservation category of the awards which will see the winners announced on the 17th of April in Tokyo / Japan during WTTCs annual global summit. The UK based World Travel and Tourism Council uses these annual recognitions to promote a greener and more sustainable tourism industry and to highlight best practice wherever found around the world.
Making it into the top three finalists alone is already a major recognition of C&Ps work ethics and commitment to conservation, but should the company win the global award it would be on in a growing list of awards given to them in recent years. Visit www.chelipeacock.com for more details on the exotic locations of their camps and see what to expect when coming for a big game safari with them across Kenya. Well done to the Cheli & Peacock team and watch this space for the announcements on 18th of April.

SOCIAL MEDIA EXPOSE RACIST ATTITUDES
The tourism industry in Kenya, both private and public sector, are investigating claims made over the Christmas and New Year period, when African Kenyans went public on Twitter and Facebook, narrating experiences of being denied access to hotels and resorts and in one case being asked to leave from Flavio Briatores Billionaire Resort in Malindi. At the time did Mohamed Hersi, General Manager of the Sarova Whitesands Resort, make a few visits to the places mentioned in his capacity as an elected representative of the tourism industry, and found to his disdain that he too was denied access to some resorts for not being booked or having come without making prior arrangements with management.
While most resorts, hotels and safari lodges and camps in Kenya, and East Africa as a whole, treat ANY guest as a valued guest, there seem to be exceptions to this rule, and the now closed African Safari Club was most notorious for discriminating against local Kenyan visitors attempting to come into their maximum security facilities as one stakeholder from Mombasa put it at the time trying to spend their money on drinks and food.
It is Kenyas declared policy to achieve a 50 : 50 ratio in a few years between domestic and foreign tourists, something which will hopefully compel a few errant hotels and resorts to open their doors to any and all visitors coming in, as incidentally mandated by their terms and conditions of business, licensed by government, unless they are operating as a private members club, which was not the case in any of the incidents reported.
Most disturbing at the time when the tweets and FB posts were flying around en masse, were reports that African kids had been ushered to other pools leaving the main pools for the wagenis or foreign tourists, which if found correct investigations are still ongoing would amount to a clear case of racism, based on the colour of ones skin and not the colour of the money in their wallets. Such management has no place in todays East Africa and should be told to pack and go, while the owners ought to be taken to court to face charges for violating license conditions and for racism. Watch this space.

KENYAS MARCH TOWARDS RENEWABLE ENERGY SOURCES CONTINUES
Kenyas policy decision to have half of the electricity produced by 2018 come from geothermal sources has been boosted when ground was broken yesterday to begin construction of another 280 MW geothermal power plant to be known as Olkaria III, neighbouring the existing plants of Olkaria I and Olkaria II. Multinational funding was put in place as early as two years ago and when the plant goes on line, expected to be in the second quarter of 2014, Kenyas carbon footprint will be greatly improved by the use of the earths own underground heat. Another geothermal plant is being constructed near the Menengai Crater outside Nakuru where progressively more units are being installed and made operational.
At the same time is work going on to prepare the site for Kenyas first major wind power plant in the Turkana area, which is due to delivery over 300 MW when complete, also of renewable sources. A smaller wind power station at Ngong Hills is also due to be enlarged to still the growing hunger for electricity, presently unsatisfied and leading to regular power outages necessitating the use of costly diesel generators.

Tanzania News
PLANS FOR SELF MAINTENANCE RAISE SERIOUS SAFETY CONCERNS
An announcement earlier in the week by financially crippled Air Tanzania, that they were intending to maintain their presently single aircraft, a Bombardier Q300, at their home base in Dar es Salaam, has raised immediate concerns over compliance with Airworthiness Directives. The Tanzania Civil Aviation Authority has to grant a license to anyone wanting to maintain aircraft as a MRO, a maintenance and repair organization. There are globally very stringent requirements in place and TCAA must comply with ICAO regulations or risk sanctions. No airline company can just wake up one day and say we have to save money here and there and therefore we now do our own maintenance. It requires qualified personnel approved and licensed to work on that particular aircraft type, the right tools, all the required manuals and files from manufacturers. All I am saying is that this is not an easy process and even Precision Air still send their planes for big maintenance works to other facilities which are better equipped. Cost cutting as a reason for shifting repairs inhouse is the wrong reason to say, saying we buy spares now and fix them ourselves, well, opens the door to so many questions. Just recall that Air Tanzania lost their AOC over allegation of variances in record keeping, so make up your own mind where this is leading to said a regular aviation source in Dar es Salaam when discussing the matter yesterday.
It could not be ascertained what, if any maintenance license TCAA may have granted Air Tanzania and to what level of repairs and maintenance such a license would extend, though there is speculation that if any it may only cover line maintenance including work scopes up to A-checks but not heavy maintenance or more complex work which would require technicians, tools and facilities the airline has clearly not been able to invest in due to lack of funds overall. Travelers will be wary of reading such stories considering the thankfully non fatal accident Air Tanzania had in Mwanza with their last remaining B737-200 aircraft some time ago. Watch this space.

SERENGETI HIGHWAY DECISION SET FOR 15TH MARCH
The East African Court of Justice has ruled that a decision will be handed down on the 15th of March, if the Tanzanian government will be permanently restrained to build a highway across the Serengeti, as was and is declared intent inspite of a misleading letter to the contrary sent early last year to UNESCO.
Tanzanias Attorney General had yesterday argued before the appellate court that the injunction granted by the courts first instance should be set aside, claiming the East African Court of Justice lacked the capacity to impose a permanent injunction on the Government of Tanzania. The plaintiff, the Africa Network for Animal Welfare, which took the case to the Arusha based regional court after local courts proved incapable or unwilling to deal with the matter to the satisfaction of the conservation fraternity, however argued that the court indeed had the right and the jurisdiction to decide on the matter as it saw fit according to the facts presented.
Should the Tanzanian government lose the case, when the ruling is delivered in mid March, it remains to be seen if they will respect a permanent injunction or as already vowed by government sycophants and hotheads will ignore it and go ahead anyway and create facts on the ground which might be irreversible. Watch this space as the Serengeti Highway fate now rests with the appellate bench of the East African Court of Justice.

AIRLINE UNION DOES U-TURNS AND SOMERSAULTS
Information was received from Dar es Salaam, that the Communication and Transport Workers Union, representing the employees of Air Tanzania, is up to its old tricks and mischief again. The reports tell a story of details leaked to the media of growing discontent by workers with their present management, a situation which has in the past caused the airline serious problems and was thought to be a major reason why potential investors shied away from getting involved in a company where the unions, by the look of it, hold too many cards.
It is not surprising that they union now tries to put distance between the mess in the public domain and their own role they might have played. They are known socialists and speak with forked tongues, but they are the biggest problem that airline has, not money or lack of aircraft but a workforce agitated by shopstewards ready to bring down any management not dancing to their tune. The problem here is that government said they would give money and with such public spats they might think again, seeing that nothing really has changed at ATCL said a regular aviation source from Dar es Salaam, who however admitted that he might be somewhat biased as he worked for a competitor of ATCL, before adding they have the biggest problems because of the history of the airline being state owned whereas private airlines have established a different sort of rapport with unions which those have come to respect.
Senior union officials held a meeting earlier in the week to discuss the damaging allegations made in a local news publication last week and hastened to assure the public that all was well in ATCL, not a view shared by too many in the aviation industry it seems nor by regular aviation analysts and observers in Tanzania.
ATCL only returned to the skies with their single Q300 aircraft in late 2011 after receiving their air operators certificate back from the TCAA but have found it hard to compete on the few routes they fly with private competitors offering generally better services and market fares, have newer aircraft and a motivated staff, something which is clearly lacking with ATCL, a company still pretending to be a national airline it once was but no longer really is. Watch this space as the Air Tanzania saga continues.

TRAIN SERVICES RESUME AFTER REPAIR TO FLOOD DAMAGES
Information was received from Arusha that Tanzania Railways will resume passenger train operations today, with the first service running from Dodoma, the countrys political capital, to Kigoma.
Earlier in January were all train services suspended following torrential rains and flooding along key railway lines, which threatened to derail trains where rails were under water.
Other routes, including from Dar es Salaam to Dodoma, will be monitored for some more time to establish how safe it is to resume train services, or to where necessary repair the lines first and ascertain that the bridges were not damaged by raging floods and rivers which broke their banks.
Wananchi as well as budget tourists suffered setbacks in their travel plans when they had to use either busses or else cancel their trips, while cargo trains could also not operate leading to a backlog in shipments and substantial financial losses for Tanzania Railways.
Ethiopia News
ETHIOPIAN TOURIST ABDUCTIONS AND ATTACKS BLAMED ON ERITREA
Eritreas dictatorial and radical regime has been fingered by Eritrean opposition groups, Ethiopian and other international sources for alleged complicity in the recent spate of attacks on foreign tourists and abductions as Ethiopian rebels granted safe havens inside Eritrea are suspected to have carried out the attacks.
A source in Addis Ababa, insisting on anonymity not a strange demand considering the zipped up attitude of the entire country vis a vis even friendly media suggested that the rebels were aiming to disrupt the growing tourism business in Ethiopia to harm the country economy before adding that the countrys return to Somalia was in part to eliminate Eritrean sponsored terrorist groups constantly inflicting hit and run attacks on Ethiopia. Eritrea thinks they are safe inside their territory but the time will come when terrorists can no longer hide or be hidden as someone will come for them. The rescue of Americans from Somali terrorists should be the last reminder that it can happen anywhere, and there is now even the option of aerial survey and missions, showing the growing anger and frustration in Ethiopia with neighbour Eritrea.
The two hostile neighbours have fought a bitter war a decade ago over disputed border lines, which even a United Nations effort to map out the exact boundary lines could not defuse. Eritrea is widely suspected to be playing a major supportive role for the Somali Al Shabab and other Islamic radical groups, offering training grounds and supplies, as most recently seen when Kenya entered the conflict in hot pursuit of terrorist groups. Kenya went on to witness air supplies being delivered from Eritrea to the radicals and deployed Kenya air force units which now control the skies over that part of Somalia making renewed air supplies all but impossible to achieve. Isolated in the region Eritrea has been shunned from participating in IGAD and other regional bodies and affairs attempting unsuccessfully so far to bring about a change in behaviour, which many observers feel must either come swiftly, voluntarily and comprehensively or else might the Asmara regime be targeted directly to bring about the change that country needs to fully develop.
Meanwhile and predictably has Asmara denied any involvement in the abductions but notably also done nothing to evict the terrorists from Eritrean soil, leaving relatives and friends of those missing deeply worried about the safety of their loved ones. Watch this space.
Rwanda News
RWANDA RAISES GORILLA PERMIT FEES BY 50 PERCENT
An announcement was just received that the Rwanda Development Board will, effective 01st of June 2012, raise gorilla permit fees for new permits, though not permits already pre-booked until the time of the announcement, from the present US Dollars 500 per person to US Dollars 750 per person.
The additional income will be used to further strengthen protective measures for the prized animals, fund conservation efforts, research and community outreach programmes, all of which depend on income generated by tourists coming to see the gorillas.
John Gara, CEO of the Rwanda Development Board under which Tourism and Conservation fall, had this to say in response to questions: This increase comes at a time when there is significant growth of the gorilla population as well as an increasing demand for gorilla tourism. We are very committed to sustain our efforts in conservation in order to protect their environment as well as the rich biodiversity that exist in our national parks.
Rwandas gorilla conservation efforts have shown significant success. Today, there are ten gorilla families which accommodate a maximum of eight tourists per day each, a number that has almost doubled over the last five years.
Miss Rica Rwigamba, Head of the Tourism and Conservation Department, added: We have seen a sustained increase in interest for gorilla trek as well as recognition that good conservation can truly contribute to growth of these species. Mountain Gorillas are the only increasing gorilla species population, which is evidence that responsible tourism and conservation go hand in hand.
The move has prompted an immediate flurry of activities in the tourism sector across the tri nation area of Rwanda, Uganda and Congo DR, in particular as Uganda had renaged last year from a uniform approach to fees and substantially lowered permit costs to attract more tourists, which however only in part worked while foregoing substantial revenue at the time for Uganda Wildlife Authority.
No comments could be obtained this late on Friday from UWA or the Congolese wildlife managers as offices were closed and not feedback is expected before early next week, when these organization had time and opportunity to digest Rwandas bold announcement.
At least however did two safari operators in Kigali respond, on condition of strict anonymity, one of them calling the increases way over the top and endangering Rwandas standing as a tourism destination, still largely depending on gorilla tourism, pointing to the potential downfall should Congo DR and Uganda not follow the move, keeping their tariffs at present levels. The other companys owner was cautiously optimistic, claiming that Rwandas superior visiting experience and the range of other attractions will make the added charge of 250 US Dollars per person disappear in the package cost, also because airfares to Rwanda are getting more affordable with more airlines coming to Kigali and the competition bringing the fares down by more than that amount even.
Watch this space, and do send in your reactions to this Friday afternoon bombshell announcement. Also visit www.rdb.co.rw or www.rwandatourism.com for more information on tourism in The Land of a Thousand Hills.
AIR TRAFFIC FOR KIGALI TO GROW BY 50 PERCENT IN 2012
The Rwanda Civil Aviation Authority has projected a growth in flight movements in and out of Kigalis Kanombe International Airport by 50 percent in 2012, suggesting that the present level of around 200 flights per week might rise to 300 flights per week.
The positive announcement is based on the number of new airlines who will be flying scheduled services to Kigali, like Qatar Airways, South African Airways and Turkish Airlines while carriers already coming to Rwanda are expected to add more frequencies during the cause of the year.
National airline RwandAir is also set on an expansion path and expects to take delivery of more state of the art jets by mid 2012, allowing the airline to further roll out new destinations and add frequencies in the region and across the continent.
Frequent travelers through Kigali have however been cautious over the projections, saying that during peak hours the terminal is now getting very crowded, like when for instance Brussels Airlines and KLM arrive almost at the same time and queues to enter the terminal and get through entry security control at times extends queues to the parking area, not a pleasant experience in particular when it rains.
A new airport at Bugesera is now in the tendering stage, but unlikely to be ready before 2016, making more investments in the existing airport terminal building an absolute necessity, unless congestion will become the order of the day. Watch this space for regular news and updates from Eastern Africa aviation scene.

South Sudan News
KHARTOUM AIRFORCE TARGETS UN COMPOUND AND REFUGEE CAMP WITH BOMBINGS
Alarming news emerged from South Sudan when it became known that the regime in Khartoum had targeted a UN compound and refugee camp housing people forcefully displaced in acts of ethnic cleansing from disputed territories, in this case Blue Nile, by the regimes army and associated killer militias. The Elfoj refugee camp in Upper Nile State was reportedly hit by bombs and initial reports from Juba tell the story of a number of people missing and injured from the attack on what was clearly marked as a UN humanitarian facility. The camp serves as a reception centre and transit facility from where refugees are moved further into South Sudan to avoid them being subjected to cross border raids by militias and one such transport convoy was underway as the bombs hit. Last year several such bombing raids were recorded and witnessed in other UN refugee reception centres but denied by Khartoum in the face of hard evidence like photographs of their bombers overhead and the UN has issued a strong statement condemning such acts of indiscriminate violence against civilian populations.
The escalation comes a day after South Sudans cabinet decided to halt oil exports, accusing Khartoum openly of stealing their oil by diverting significant quantities for their own use in a growing dispute over the fees due for using the pipelines and oil export installations at Port Sudan. Plans for a new pipeline across Kenya to Mombasa are being openly discussed now between South Sudan, Kenya and Uganda and the meeting of the East African Legislative Assembly in Kampala today is thought to have the EAC leadership pay special attention to the plight of their neighbours, more so as President Museveni threw his own weight behind a fast tracked joining by the South Sudan to the East African trading and political block. In turn was Khartoums application to join the EAC thrown out at the last summit, citing fundamental variances between the EAC and the political, legal and economic systems in Khartoum Sudan, but generally perceived as a slap in the regimes face for being openly racist by targeting African populations to a policy of extermination and displacement.
This latest development confirms fears in the wider region and across the world that Khartoum is now actively seeking to return to open war after being forced to let South Sudan, with 75 percent of the oil riches previously controlled by Khartoum, go into independence and trying to reverse the loss with battlefield advances.
Tourism stakeholders asked on their continued interest to invest in the Southern Sudanese national parks expressed their deep concerns, citing a range of measures missing to reassure investors in addition to worries over renewed conflict, which is bound to halt any tourism developments until full peace is guaranteed. Watch this space.
Mauritius News
AIR MAURITIUS SET TO ADD FREQUENCIES TO MUMBAI
It was learned late yesterday that Air Mauritius will offer additional flights between the island and Mumbai / India from April this year, bringing the total number of flights to four per week. Increased investment and trade between India and Mauritius but also the appeal of the island as a holiday destination are the main factors seen in taking this decision. Aviation analysts also point to the fact of increased frequencies by Emirates to Mauritius, offering daily convenient flights from all their Indian gateways via Dubai and that Air Mauritius really had no choice but to either increase their presence with nonstop flights between Mumbai and the island or else leave the market altogether. The four flights, a source from Port Louis said, were a step in the right direction but ultimately our airline has to fly daily nonstop or Emirates, with 12 flights a week from Dubai and multiple destinations in India, will simply sweep our national carrier aside.
Lessons learned from neighbouring Vanilla Island Seychelles perhaps where flights from Frankfurt had to be dropped when Emirates started to increase frequencies in earnest, eventually followed by all the airlines mainstream European ports of call like London, Paris, Milan and Rome, unable to compete with the frequencies, the extensive network from other airports in these countries and ultimately on fares.
Air Seychelles has according to news reports now seen Etihad of Abu Dhabi invest and take over 40 percent of the shares, perhaps the writing on the wall for Air Mauritius too, if cooperation partners are not found to work with and add strategic, financial and operational strength through synergy, cost cutting and resource sharing, before the onslaught by the mega carriers becomes too much to defend against. Watch this space for regular updates from the Indian Ocean islands aviation market.

AIR MAURITIUS AND AIR FRANCE EXPAND CODE SHARE ARRANGEMENTS
Information was received overnight from a source in Port Louis / Mauritius that national airline Air Mauritius and Air France have expanded a code share arrangement, covering flights between Mauritius to the French Indian Ocean territory of La Reunion. Effective on February 01st this year will Air Mauritius add an AF flight number to their up to seven daily scheduled services to the two main airports on La Reunion while in turn benefitting from code shared flights out of CDG / Paris to a number of French and European cities. Air France and Air Mauritius presently offer up to 18 flights a week between the island and Paris all of which are codeshared already, which dates back to 2008.
The new arrangement will make it easier for passengers from Europe to travel to both Mauritius and La Reunion, earning miles under the KLM / Air France frequent flier programme and being assured of equitable service levels on the ground and in the air.
The Mauritius tourism fraternity welcomed the development but a regular source at the same time also reiterated the hospitality industrys stand that the Mauritius government needed to open up the skies some more to allow more flights to the island, needed to fill empty beds. Watch this space.

Seychelles News
AIRBUS FOR AIR SEYCHELLES?
A source from Mahe, close to the airline, has suggested that plans to acquire a new B737-800 single aisle aircraft for the planned services to the other Vanilla Islands, to South Africa and perhaps new destinations on the African mainland are being reviewed since the tie up with Etihad, the national airline of Abu Dhabi was announced and becomes effective on February 01st.
Under serious consideration is now the Airbus A320 for the same purpose, a sign if found correct that the new partnership and management input by Etihad will seek to introduce an aircraft type compatible with their own fleet back home in Abu Dhabi, where the airline operates the A320 family including two A319 and 14 A320s but notably no single aisle Boeing aircraft, although operating 8 B777-300ER besides the 11 A340s and 22 A330s.
Maintenance and training will be standardized of course should the dice fall in favour of Airbus, something now widely favoured by aviation analysts predictions.
The return of the presently used B767-300 is also going ahead as planned and as and when the projected new services to the Far East become effective, they too will be operated by using a new Airbus wide bodied aircraft.
Watch this space as Etihad comes fully on board on Wednesday this week and what changes are in the offing, short, medium and long term.

PUTTING SEYCHELLES ON THE MAP AND KEEPING IT THERE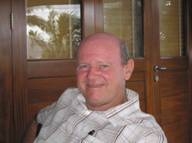 (A relaxed looking Alain St. Ange during an interview with this correspondent in May 2011)
The outlook in 2008 was grim for the Seychelles, hit by the global financial and economic crisis and staring at a projected loss of tourist arrivals and related income of over 30 percent, a potential disaster for the country depending, besides fishing and trading, overwhelmingly on the tourism industry.
The old Seychelles Tourist Board had run out of steam and ideas and with the private sector getting increasingly vocal about the need for changes, those changes did come fast and furious.
Along came Alain St. Ange, and one might wonder, who is he his name now on the lips of the who is who in African and global tourism circles, his interviews featured in the top travel magazines and seemingly popping up in several places at once, either cloned or by subjecting himself to a punishing itinerary of appearances in places where it matters and where he then leaves again with all and sundry having but Seychelles on their mind, infected by his enthusiasm about the Creole Island Paradise deep in the Indian Ocean, a thousand miles from anywhere else.
Having known him now for a number of years, let me share what I have found out about Alain St. Ange. Born 57 years ago on the island of La Digue, he did his schooling on the island and then went on to study in Germany and France to attain his degrees. Upon his return home he entered the hospitality industry before also moving abroad to advance his career and gain valuable experience. Over the years, one wonders how in fact, he found the time to author 6 books, first in his clearly political phase which saw him enter the Seychelles parliament, when he wrote Seychelles, What Next, Seychelles in Search of Democracy and Seychelles, the Cry of a People. These books were followed by his tourism phase when he published in rapid succession Seychelles 2010 Regatta and Seychelles enters the World of Carnivals before honouring his late father in his most recent publication Seychelles remembers Karl St. Ange.
From the benches of the opposition where he served first as elected member for the La Digue constituency in the Peoples Assembly in 1979, incidentally as opposite number to the now President James Michel, who according to a private source recalling those days dreaded the exchanges on the parliamentary floor with a fiery Alain St. Ange back then, he then however put country before political alignments and accepted his call up to serve in public office after serving a second spell as an opposition member of parliament for Bel Air / Greater Victoria in 2002.
Alain St. Ange was appointed Director of Tourism Marketing under a restructured board set up which saw the private sector literally take control of the board, inject a new vision and started new initiatives to promote the archipelago abroad and at the end of that crucial year 2009, arrivals had literally drawn at level par with the previous year, albeit at the cost of discounting rates and tariffs. The new tag line Affordable Seychelles was born as another way to promote the archipelago to travelers on a budget, without however neglecting the Seychelles, Another World alongside it. The move paid off, more visitors came to the islands, many of them for the first time, and in particular tourists from mainland Africa saw the new campaign opening the archipelago to them as a new get away.
A major new marketing strategy was drawn up by the board in late 2009, working hand in hand with the all important private sector and the Seychelles Hospitality and Tourism Association, and when the way forward was mutually agreed the outcome was presented in early 2010 to the who is who in the Seychelles, led by none other than President Michel at the time. Subsequent changes at the board were swift and Alain St. Ange was made Chief Executive with Mr. Faure, Secretary of State in the Presidents Office appointed as new board chairman. New Tourism Ambassadors were appointed from amongst the Seychellois expatriate community living abroad, and the tourist offices in key destinations were revamped and Directors appointed looking after the four corners of the world in an effort to not just keep the flow of tourists from the traditional markets coming but to open up new and emerging markets too. Tourism attaches were placed in key embassies and High Commissions to promote tourism to the islands, using their diplomatic status to be able to get on to all platforms, tourism associations, trade fairs and individuals at a phone calls notice. Air access was liberalized by the Seychelles government and there are now 25 weekly frequencies between the Gulf and Mahe by the worlds leading airlines Qatar, Emirates and Etihad, the latter now in fact holding a 40 percent shareholding in Air Seychelles and opening up the European markets through code share arrangements, giving Air Seychelles a substantially wider reach than it ever had before, when operating flights to only a handful of European gateways. Does it need mention that Alain St. Ange is a member of the Board of Directors of Air Seychelles? Probably not!
Since Alains arrival at STB has the tourism industry in the Seychelles been running on full throttle ahead, which saw the crucially important Seychelles Tourism Academy being restructured and funded to create a new purpose built campus to provide training and skills to Seychellois aspiring to enter the industry in a life time career. This, according to Alain, is one of the greatest investments in the future of the country, as it guarantees young Seychellois people the education needed without having to go abroad, and puts their qualifications at level par with expatriates, who while needed still for many years to come will see more and more citizens work alongside them and do their jobs just as well, but with the added enthusiasm of national pride and Creole hospitality and smiles.
I interviewed Alain twice last year, and while in his office at the Bel Ombre headquarters of STB was amazed to see his grown collection of pictures, taken with the likes of the Chinese Premier, President Zuma of South Africa as well as his most prized picture yet, with the Duke and Duchess of Cambridge at the end of their dream honeymoon to North Island. Tourism is our biggest industry on the islands, the most important economic pillar for us. It is my vision to see every Seychellois have an interest in the sector, have ownership one way or another, be our ambassadors when they meet tourists, stand behind tourism as one he said during one of the many conversation I had with him over the years. His enthusiasm, which in some of his African counterparts I found restricted to the time from 8 5 in the office, was genuine, passionate and seemed in his blood stream, 24 /7 and 365 days a year and one more in leap years. It explains why he could not resist the call up by President Michel and why he managed to take the Seychelles Tourism Board out of the regular box of thinking and doing things, assemble a team of professionals around him in Bel Ombre and in the tourism offices abroad who hold their own against the worlds major tourism destinations and have put small but very beautiful Seychelles on the map way beyond their significance in world tourism in regard to numbers or size. It is not the size which matters but what you do with it were the words of one of his staff at the tourism board and the answer still rings in my ears. The outcome of their dedicated work is of course now the envy and pride of many tourism promotion agencies across Africa, where Alain has become a hero, a trade mark and a beacon of hope that one can put a country on the map, and keep it there in the spotlight, without having super resources available, but just by using all tools at hand, all minds combined and standing together as one.
Alains added advantage is that President James Michel now holds the tourism portfolio directly, which in his past government was held by the Vice President, signaling to all and sundry how government values tourism and that in his capacity as Head of State he is also the countrys main tourism promoter, wherever he goes on official duty or in private visits. President Michels Secretary of State in the Presidents office is also the Chairman of the Seychelles Tourism Board and the creation of Brand Seychelles lends credibility that Seychelles Incorporated has effectively taken roots at the highest level of government and private sector to promote the country as THE tourism destination of the 21st century. Having dedicated more than 50 percent of the Seychelles territory to conservation as protected areas and having two UNESCO World Heritage Sites to her name, with applications for more pending before the Paris based UN organization, only adds to the appeal and underscores the honesty of the Seychelles commitment to conservation and to keeping biodiversity hotspots intact and not under any circumstances tamper with them.
Said Alain in this regard to questions asked: It is a huge advantage to have access to the President, to have him hold the tourism portfolio and to have his Secretary of State in the Presidents Office as Chairman of STB. Tourism is now linked to all important elements in our society, in our public institutions. STB is represented on the Seychelles Civil Aviation Authority, on the Board of Directors of Air Seychelles, represented in the national planning bodies and consulted on all matters of environmental protection. Our President understands tourism like few presidents would do and he has a keen personal interest. Whenever he travels, wherever he goes, he sees opportunities to promote travel to the Seychelles, invites investors in the hospitality industry and other economic sectors, but tourism is always at the forefront. STB is regular part of the state visits of our President and it pays off immensely. Today it is no longer a question where you politically stand but that you do your duty to the nation and work with everyone, EVERYONE to promote the islands abroad and deliver a first rate product. And our staff at Bel Ombre, our staff serving abroad as Marketing Directors, our Tourism Ambassadors, they are a phantastic team. Alain St. Ange has become the Alain St. Ange he is today because of the support of his team, the work they do day in and day out and the support of the hospitality industry on our islands, the DMCs, the conservation societies and NGOs we work with. We are where we are today because we stand together and work together. We believe in open discussions, exchange of views with our key stakeholders, with all stakeholders, to map out a common and broadly agreed way forward and it is for that reason, that wherever a Seychelles delegation now goes to promote, we are so sought after. It is the product we have to sell but also the unity we demonstrate as a people.
This correspondents conclusion is that while Alain St. Ange is no miracle worker he has nevertheless achieved miracles during his time at the helm of STB and there is no indication he is done yet as more ideas are bubbling up in every sentence he starts, inspite of the known challenges the world economy is once again facing in 2012. The creation of a festival calendar, incorporating such traditional events as SUBIOS, the Creole Festival or the Seychelles Regatta have been complemented and taken to another level with the launch of the annual Carnaval de Carnivals in Victoria, which next edition, co-sponsored by fellow Vanilla Island La Reunion this year, is taking place in early March.
If anyone can, it is Alain St. Ange and his team, and I have no doubts they will succeed where others will once again falter.
Seychelles, truly Another World in every way I look at that Creole Paradise.

ALDABRA EXPEDITION RETURNS TO VICTORIA
The Clipper Odyssey has returned to Victoria harbour over the weekend after a successful journey to Aldabra and the Amirantes islands. With 75 intrepid adventure travelers on board the trip covered visits to 11 of the outlying islands of the Seychelles, visited two reefs and most importantly paid a visit to the Aldabra atoll this correspondent wrote about in detail a few months ago the Seychelles Garden of Eden.
Staff from the Seychelles Tourism Board, led by CEO Alain St. Ange who was accompanied by Elsia Grandcourt and Glenn Burridge, welcomed the ship, crew and passengers back to Mahe and expressed their delight when learning that more such trips were now being planned in coming weeks and months, at last opening up the outer islands again for seaborne visits.
The Aldabra Atoll in particular is considered one of Seychelles foremost treasures, and is protected as a UNESCO World Heritage Site, managed by the Seychelles Island Foundation and supported by a variety of research programmes, hugely important to study the impact of global warming and climate change.
Captain Peter Fielding was according to a source in Victoria positive about future trips and expedition leader Jack Grove, a marine biologist and co-founder of Zegrahm Expeditions too was confident about more trips being organized and put together by Masons Travel, the local handling agent for the cruise.
Meanwhile was it confirmed that another cruiseliner will be calling on Victoria harbour today, raising hope that the added safety and security precautions put in place by the Seychelles government for visiting cruiseliners and cargo ships will pay off in 2012 with a regular return of the big ships to the archipelago.

AIR SEYCHELLES LOOKS TO THE FUTURE


Added information was received since breaking the news that Abu Dhabis national airline Etihad had acquired a 40 percent stake in Air Seychelles, which will lead to a new board of directors to be appointed in early February. Talks between the two airlines management has also mapped out a way forward for Air Seychelles, which has undergone some radical restructuring in recent weeks, with all European routes being phased out and handed over to Etihad under an extensive code share arrangement.
News from usually well informed sources are that Air Seychelles will later this year open new routes from Mahe to Abu Dhabi, code shared with Etihad, but also and more importantly to Bangkok, Hong Kong and Beijing, tapping into the growing Far Eastern market where China alone last year doubled their arrival numbers to the archipelago.
It is understood that the B767-300 fleet will still be returned to the lessors but that plans are being finalized to in turn acquire one or more long range Airbus models which would be used on the proposed new routes.
This development comes alongside plans to acquire a B737-800 covering the present destinations Mauritius and Johannesburg but also new African mainland destinations presently being evaluated at the Air Seychelles head quarters in Mahe to which Etihad will have the added access via further code share agreements.
Etihad will according to information now confirmed invest 20 million US Dollars in Air Seychelles, a capital injection matched by the Government of Seychelles, and in addition provide at least 25 million US Dollars in working capital to allow the airline meet current obligations and embark on a solidly financed new route expansion.
As earlier predicted Etihad has also announced that the present four flights a week between Abu Dhabi and the Seychelles will be increased to daily flights in the very near future, vastly improving connectivity to the archipelago from key European markets where flights will be code shared with Air Seychelles and carry an HM flight number alongside the main Etihad flight number. It is also expected that Etihads recent investment of buying a near 30 percent shareholding in Germanys second largest airline Air Berlin will benefit the Seychelles too as it will offer additional synergy effects in attracting more traffic from not just Germany but the Air Berlin network via Abu Dhabi to Mahe.
The announcements were made this afternoon in Victoria by the Seychelles Minister for Transport, the Hon. Joel Morgan and Mr. James Hogan, President and CEO of Etihad Airways.
Watch this space for breaking news and regular updates from the aviation industry across the Indian Ocean islands and from Eastern Africa.

ETIHAD BUYS INTO AIR SEYCHELLES WITH A 40 PERCENT STAKE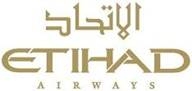 Relations between the Seychelles and Abu Dhabi have always been friendly, if not outright tight, and when Air Seychelles announced before Christmas that they would cease their entire European operation by 10th January, and at the same time talked of a major code share arrangement with Etihad, Abu Dhabis national airline presently flying 4 times a week to Mahe, insiders knew something was
cooking
.
While in Bahrain for the Air Show opportunity arose to talk with Gulf aviation analysts and dissect the various strategies employed by Emirates, Qatar Airways and Etihad, the latter of course known to seek substantial share holdings in airline companies it sees as complementing their own operations and strategic outlook.
It is therefore no surprise that news are now breaking that Etihad, following high level talks between the Seychelles and Abu Dhabi governments and the two airlines, has agreed to purchase 40 percent of Air Seychelles.
The deal, while still awaiting official confirmation, will have a far reaching impact for the Seychellois national airline which is undergoing major restructuring at present.
Etihad, presently flying 4 times a week due to increase it is understood to daily frequencies very soon will be carrying the HM flight numbers from a number of European destinations Air Seychelles has previously served, such as London, Paris, Milan and Rome plus a number of other gateways from where traffic to the archipelago can be uplifted, and will be uniquely places to make up for the sudden cessation of flights by Air Seychelles, already much missed by their faithful passengers.
There is intense speculation that Air Seychelles may in fact fly some of the services between Mahe and Abu Dhabi themselves, if agreements can be reached on logistical issues, but in any case will the investment by Etihad in Air Seychelles be hugely beneficial for the airline in terms of financial and operational support.
Watch this space as more information comes to light during today and tomorrow and expect updates as and when available.

STORE FIRE PROMPTS EVACUATION AT BERJAYA BEACH RESORT

A fire in a storage room at the back of the Berjaya Beach Resort and Casino in Beau Vallon prompted a full scale evacuation of guests around 11 pm at night on Sunday. The fire brigade, which arrived only minutes after the emergency call was received, managed to extinguish the fire and contain it to the immediate area around the storage room, leaving the kitchen and in particular the public areas and guest rooms without damages.
Earlier that day had a group of Chinese tourists checked into the resort after arrival on a special charter flight operated by Ethiopian Airlines. No injuries to guests were reported nor was any of their property lost and the tourists were later on allowed back into their rooms, able to continue with their holiday as planned.
The prompt reaction by the fire brigade was widely hailed as were hotel workers assisting the fire fighter after they had only recently undergone safety and fire drills, under the guidance of the fire brigade, an investment which clearly paid off. The suspected cause of the fire seems electrical in nature and foul play was ruled out already.
BERJAYA BEACH RESORT AND CASINO RESPONDS TO FIRE WITH PUBLIC STATEMENT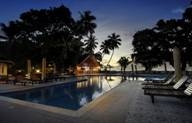 (Picture courtesy of Berjaya Hotels)
In a forthcoming development has Mr. Ken Choo, General Manager of the Berjaya Beau Vallon Bay Resort and Casino responded publicly to the fire incident at his hotel earlier in the week, providing information in a commendable fashion and explaining why full restoration of electricity supplies took a wee bit.
His statement is reproduced herebelow, also as a message to other hotels which in such times go into hiding or become incommunicado, so full compliments for the hotel and Mr. Choo in particular:
On Sunday January 22, 2012 approximately 10pm, an electrical cable breakdown triggered a short circuit in the Power Supply Control Room at our Resort.
One of our engineering staff saw smoke coming out of the Power Supply Control Room. Our Maintenance Engineer and Fire Department was informed immediately. Our engineering staff utilised 12 cylinders of dry powder to suppress the fire which was contained in the Power Supply Room.
Within a short time, the Fire Department rescue team arrived at our Resort and they managed to control and suppress the fire completely. We thank the Fire & Rescue department for taking swift action to contain the fire within the Power Supply Room within approximately 30 minutes and also help management staff to evacuate our guests to the respective fire assembly points.
A fire door helped contain the fire within the Power Supply Room. Because of the fire door and application of dry powder, the fire was contained within a small area. As such only dark smoke escaped from the Power Supply Room from the burned power cables.
The management of the hotel did not want to kick start the back-up generator as it was in close proximately to the power supply room. This is a precautionary step. As such the hotel was in darkness that night except for emergency lighting.
No staff and no hotel guests were injured or burned.
Only smoke from the power supply room came up to the 1st Floor and 2nd Floor main building corridors and as such, hotel staff went to each and every room to help evacuate guests to assembly points. All Berjaya hotel staff has been trained by the Seychelles Fire Department on fire safety for the last three months.
On Monday January 23, 2012, we restored all lights to all categories of rooms with power generators. We also restored lights in our Pizzeria kitchen and Main Kitchen with power generators. We also removed all perishable items from our chiller and our freezers to an off-site freeze container for food safety purposes.
On Tuesday January 24, 2012, we restored (with the help of power generators) water boiler and pump room power so all rooms has hot water.
On Wednesday January 25, 2012, we restored (with the help of power generators) power to air cons and power sockets in majority of our rooms. We also installed generator to power Main Kitchen and Pizzeria kitchen chiller and freezers and start full operations in our kitchens.
In the subsequent days, we shall in stages remove generator power supply and connect new power cables directly to the main PUC power supply in our panel. We shall then subsequently restore power to other public areas such as Casino, Silhouette Bar and Chinese restaurant.
Safety is our first priority and as such we are moving slowly to ensure power is restored in stages after full review of the cables, wires and fuses.
We have also hired electrical consultants to help us redesign a brand new main electrical main switchboard within the next 6 months. The electrical consultants have started work in drawings and planning already.
We wish to inform all our partners and patrons that our hotel is still operational, we still have guests staying at the resort and our food & beverage outlets are also open.
We thank the Fire Department, PUC, our many electrical contractors and consultants, DMCs, Tour Operators, Hotels and friends who helped us during this period. We also thank the authorities such as Fire Safety, STB, Health inspectors.
Ken Choo (Mr)
General Manager
Berjaya Beau Vallon Bay Resort & Casino
And in closing today once again some interesting reads taken from The Livingstone Weekly courtesy of Gill Staden and with her kind permission to reproduce here:

Batoka Dam Project ZAMBIA
Speaking to the press Energy Minister, Christopher Yaluma commented on the sale of the Central African Power Corporation (CAPCO) at the end of the Federation in 1963 where Zambia did not receive its due and is now requesting that Zimbabwe pay.
Christopher Yaluma: We have not received the money but the Zimbabwean counterparts have expressed willingness to pay and thats when we can go into the (Batoka) venture.
The Batoka Dam issue is coming to the fore again. I have seen it mentioned in several articles. When it was first mooted many years ago, there was a furore from within and outside Zambia and Zimbabwe. Now that there are so many alternatives to big dams, it seems to me that the governments are not considering alternatives which may be more cost-effective and efficient.
Admittedly, from the outside the gorges below the Victoria Falls look fairly uninviting and ignored. There may be arguments that few people will be affected by the dam. My arguments lie in the realm of the environment. According to the geologists who did the original feasibility study the dam will be a dead dam. Because the sides of the gorges are so steep it will not support much vegetation and therefore the dam will not support much fish life. So the only reason for damming the Zambezi River at this point will be for power generation.
Not much research has been done on the environment in the gorges. What bird and animal life will be eliminated by the dam? We do not know.
What we do know is that the water will fill the gorges back to, I think, rapid 4, sounding the death knell for water sports of rafting and jet-boating in the gorges. And what about Gorges Lodge near Victoria Falls Town and Taita Falcon Lodge near Livingstone? Both of the lodges overlook the gorges after the dam they will overlook a lake
From www.zambiatourism.com:
The Zambezi has been harnessed at various points along the way including the massive Kariba Dam between Zambia and Zimbabwe and Cabora Bassa Dam in Mozambique. Plans for another dam at the Batoka Gorge have fortunately been shelved.

From International Rivers ( www.internationalrivers.org)
By the end of the 20th century, the dam industry had choked more than half of the earth's major rivers with more than 50,000 large dams. The consequences of this massive engineering program have been devastating. The world's large dams have wiped out species; flooded huge areas of wetlands, forests and farmlands; and displaced tens of millions of people.
I realise that Zimbabwe is desperately short of electricity. But I wonder if the dam at Batoka is the answer. Surely we can find alternatives

ZIMBABWE
Victoria Falls Safari Lodge Extension

During the week I went over to Victoria Falls Safari Lodge to go on a tour of the new site for the extension to the Victoria Falls Safari Lodge. The extension, which is to be called the Induna Club House, will be an up-market stand-alone accommodation complex where guests can have that extra special experience with larger rooms, their own dining and bar facilities as well as a superior service.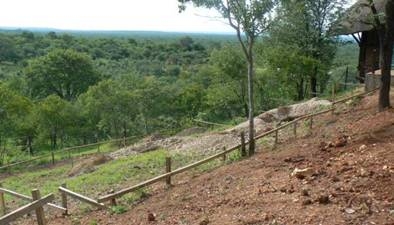 This site was chosen between the Victoria Falls Safari Lodge and the Lokhutula Lodges. High up on the ridge, the Induna Club House will overlook the forested valley with the Zambezi River in the distance. Although you can just see the famous waterhole below the main buildings of existing lodge, it is hoped to add another one with the expectation that it will attract even more animals.
The architect of the Induna Club House is Josh Ward who designed Victoria Falls Safari Lodge, Lokhutula Lodges and the David Livingstone Safari Lodge in Livingstone. The design is one of Joshs favourites – pole and thatch and will blend with the original structures. The builders are the Kiggen family who also built the original lodge.
The completion date is August 10th, and, we were told that bookings had already been taken for that date! Good luck


UNWTO Preparations

The Zimbabwe Government is to embark on a multi-million dollar rehabilitation of infrastructure which will include roads and airport facilities in Harare, Victoria Falls and Hwange. The roads in Hwange National Park will also be included.
Mr Patson Mbiriri, PS for Ministry of Transport, Communication and Infrastructure Development:
We want to transform Victoria Falls International Airport completely. It will take a year to complete the new runway that will accommodate bigger airplanes largely because we are getting the gravel and stones from other places. The terminal will also be renovated and this is all very possible considering that the Chinese have agreed to finance the project to the tune of $150 million. Roads, especially trunk roads in Hwange RDC and National Park, need attention as some delegates might want to travel there to see the wild animals.
On Victoria Falls Town, he said: We need solid waste management and we want to revamp the supply and distribution of water. There is also need to upgrade the electricity supply network by putting in place dedicated lines so that the assembly is not affected by load- shedding.
We held a meeting with all the hoteliers having in mind the general assembly. They expressed no interest in construction of a new hotel in Victoria Falls. They said they were still cognisant of massive infrastructure development in South Africa ahead of the 2010 World Cup, which they said failed to attract much business. As a result no-one was willing to take up the venture.

Africa Travel Association (ATA)
The ATA annual congress will be held in Victoria Falls Town May 18-22.
From the ATA Website: ATA's signature event in Africa provides a networking, learning and agenda-shaping platform for 300-500 travel professionals from around the world. The event addresses timely industry topics and offers professional development opportunities. Delegates also participate in roundtables for tourism ministers, an African Bazaar for buyers and sellers, networking events, host country day(s), gala dinners and pre- and post- country tours.

Vision: To bring the world to Africa and Africa to the world.
Mission: The Africa Travel Association (ATA) was established as an international travel industry trade association in 1975 to promote travel, tourism and transport to and within Africa, and to strengthen intra-Africa partnerships. ATA partners with the African Union Commission (AUC) to promote the sustainable development of tourism to and across Africa. ATA's annual events in Africa and the United States bring together industry and government leaders to shape Africa's tourism agenda.
Members: As the worlds premier travel industry trade association promoting tourism to Africa, ATA provides services to a broad range of members including: African governments, their tourism ministers, tourism bureaus and boards, airlines, hoteliers, travel agents, cruise lines, hotels, resorts, front-line travel sellers and providers, tour operators, travel trade media, public relations firms, consulting companies, non-profit organizations, businesses, small and medium-sized enterprises, and other organizations engaged in tourism promotion.
ATA Executive Director, Edward Bergman: ATA was last in Zimbabwe in 1988, when the congress was held in Harare and, after 23 years, were proud to be heading back. We are positive that the 2012 congress will attract leading tourism experts from across the globe. It will surpass all expectations and is an event not to be missed.