TOURISM, AVIATION AND CONSERVATION NEWS from Eastern Africa and the Indian Ocean islands
A weekly roundup of reports, travel stories and opinions by Prof. Dr. Wolfgang H. Thome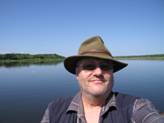 Get daily breaking news updates instantly via Twitter by following @whthome or read the daily postings on my blog via: www.wolfganghthome.wordpress.com Many of these articles then also appear on the Africa Travel Association web magazine and of course via the global industry leaders for travel. Tourism, aviation and hospitality news, eTurboNews, on www.eturbonews.com and on www.eturbonews.com/africa. Subscription for their daily mailings are FREE and cover the entire globe.
Fifth edition November 2011

East Africa News
SPATS AHEAD OF EAC SUMMIT IN BUJUMBURA
Old and new rifts emerged in the meetings preparing for the council of ministers and the head of state summit later this week in Bujumbura, when news emerged from there that new battle lines were being drawn up. The application by the Bashir regime in Khartoum, to join the exclusive club of East African nations, generally thought to be deliberately mischievous and ill intended to disturb the joining process of the newly independent Republic of South Sudan, has divided the member countries and Uganda and Tanzania have made it plain, ahead of the summit, that they stand radically opposed to entertaining the application, for any number of reasons but the given one being that North Sudan has no borders with any EAC member state, which makes joining under present rules impossible. Uganda of course has been a victim of Bashir when he had the LRA fight a proxy war in retaliation of the Ugandan support for the then liberation movement SPLM which is now in power, having gotten a near 100 percent yes vote for independence during the January referendum which led to a break away in July this year.
In contrast to the North does South Sudan have borders with Kenya and Uganda, which makes their application to join meeting key criteria, adding the fact that English is widely spoken in the South and many South Sudanese lived for long in exile across Eastern Africa, while Bashir made war on their homes region. Kenya is thought to be pondering, having maintained cordial relations with Bashir who is a wanted man by the ICC over massive allegations of war crimes and crimes against humanity, as manifested in his latest round of ethnic cleansing in Abyei, South Kordofan and Blue Nile states, where he is again standing in the way of freedom and liberty for the predominantly African populations.
However, other issues with a longer history also keep emerging as Tanzania defied the four other members who had put pen to paper for a road map on political integration and the creation of the long envisaged Federation. When the delegations assembled Tanzania had notably gone AWOL, a clear indication that serious disagreements were not bridged and slapping the other member state delegations literally in the face through absenteeism. Officials were weary to comment on the record and tried to play down the significance of the lastest Tanzanian objection, with one expressing his hope that their signature will follow later, for sure, when only one thing has ever been certain that one can count on Tanzanian huffing and puffing, being dragged screaming and kicking into East Africa like Margret Thatchers UK back in her days when it came to European integration. With the fast tracking of a single currency also on the agenda, as well as dealing, jointly or individually with the present economic problems caused by wide spread electricity shortages, devaluation of the respective currencies and run away inflation, sparks are sure to fly behind closed doors when the smiles of the photo sessions are likely to turn into something quite different.
Meanwhile are tourism sources still hoping that a common East African visitors Visa will be sanctioned at last to spur travel across the entire region, something which might hugely benefit the regions tourism industry, but again, turf protection may once more override this long hoped for innovation. Watch this space.
Uganda News
GULF AIR GEARS UP TO ENTEBBE LAUNCH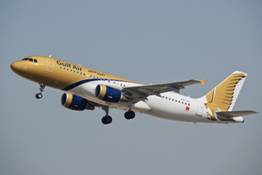 (Soon in the skies over Uganda, a Gulf Air A320)
Just over a week away from the launch of its return to Uganda has the Gulf Air team now gotten into gear and is working the market with launch fares. While travel to the GCC region, mainly thought to be Dubai of course, and some key destinations in India, is pegged at 200 US Dollars return, PLUS taxes, it is double of the recent launch fares by Qatar Airways which for the launch week were on offer at 99 US Dollars for Gulf destinations, and while this particular offer has since expired, market fares will surely reflect the entry of the latest airline into the Uganda market and the subsequently sharply increased competition.
Gulf Air will re-enter the Ugandan market with 4 flights a week on the 05th December and their choice of GSA, Lets Go Travel Uganda / UniGlobe ensures that they will leave no stone unturned to work the market hard. Happy landings, as and when, and watch this space for the inaugural flight report.
Kenya News
LAMU FESTIVAL A SUCCESS AND FREE OF ANY SCARES OR INCIDENTS
The annual Lamu Cultural Festival came to a close yesterday with every available bed booked up by locals, said to comprise over 75 percent of the hotel bookings but also by overseas tourists, who had defied the blanket anti travel advisories and flown, boated and drove to this ancient Swahili township. The Kenya Tourist Board and the Ministry of Tourism had gone flat out to promote the event and this was thought decisive of making the event a full house, with first feedback from a group of Tweeps, who were invited to cover the event under the hash tag line #TembeaKenya, also confirming the widespread presence, on shore and off shore, of security to ensure an incident free festival. #TembeaKenya is a social media campaign which evolved in recent weeks on Twitter, to promote increased travel by Kenyans across Kenya Tembea in Kiswahili stands for walk or travel and this correspondent has widened the scheme into #TembeaEastAfrica to have every country across the East African region embrace travel at home to enjoy the sights which attract so many visitors from abroad and yet are rarely appreciated by those living here.
Music, dance and poetry performances went alongside art exhibitions and of course the traditional donkey races, flagged off by tourism minister Najib Balala but the most spectacular event, as always, turned out to be the dhow races, which were increased from previously two to three categories, and turned out to be the largest assembly of the classic sailing dhows seen for ages, with participants coming from as far South as Mozambique.
The Lamu Tourism Association pegged attendance for the festival to nearly 70.000 visitors over the four day festival period, the highest ever seen so far and local tourism stakeholders expressed their gratitude to the Ministry of Tourism for standing by them and supporting the festival this year with an extraordinary promotional effort, at home, in the region and overseas.
See you next year in Lamu then, while in the meantime all eyes will be turning to the next major Swahili culture and arts festival Sauti Za Busara, staged in Zanzibar early next year.
VIGILANT OFFICIALS SEIZE 87 ELEPHANT TUSKS
A Hong Kong bound container with 87 elephant tusks was seized over the weekend in Nairobi, when alert customs and security officials opened the container for a physical spot check, after various inconsistencies rang the alarm bells and raised suspicion of illicit contraband being hidden amongst the consignment of handicraft for importers in China. The entire container was subsequently scanned before being opened, at which stage the blood ivory was discovered hidden amongst other export items in the various crates.
Chinas reluctance in joining Africa to combat poaching with more draconian measures has been largely blamed for the rocketing rise in poaching across the continent, with rhino horn and ivory the main targets of poachers, costing South Africa alone over 300 rhinos this year, with one reportedly being killed ever 21 hours for the prized, but otherwise useless horn. Importers attribute healing properties to the ground horn, but experts say it would just be as good if the beneficiaries of such concoctions would bit off and eat their own finger nails, which is made of the very same substance as rhino horn.
African wildlife managers, conservationists and globally active NGOs have sharply critizised African governments too of dragging their feet in significantly raising the stakes in terms of fines and sentences for poachers and smugglers, and while making every effort within the resources available, seem to be fighting a losing battle against organized commercial poaching and smuggling operations.
Meanwhile though full kudos to the Kenyan officials who intercepted this latest shipment of blood ivory, while mourning the loss of at least another 44 elephant.
Tanzania News
MASSIVE LANDSLIDES BLOCK KEY SAFARI ROUTE
It was learned yesterday that a massive landslide cut off the main route between the Serengeti and the Ngorongoro Crater to Arusha at Mto Wa Mbu, the escarpment where the Lake Manyara National Park is located. Torrential rains, which currently lash parts of Eastern Africa, caused a major rock and soil slide, tearing the main road at sections while covering it at others, and in the process apparently also killing several people and injuring others.
As per the latest reports hundreds of vehicles are already piling up at both sides of the landslide, with tourists stuck returning to Arusha at the end of their safari while others are not able to reach the northern parks under the circumstances.
The deceased person was reportedly working for Serenas Lake Manyara Safari Lodge and was on duty at the companys water pumping station, when the landslide hit, with another colleague reportedly still missing.
The single grader / earth mover sent from Arusha proved unable to deal with the scale of the slide and local government officials are now scrambling to deploy more machinery to clear the road. Affected are not only tourists but thousands of Tanzanians using the road to travel while supplies to the lodges and tented camps and villages are also unable to get through.
Weather permitting tourists are now trying to fly out from the Manyara airfield to avoid missing their departure flights from Kilimanjaro International while others have opted to arrange for flights to the parks, instantly filling up available seats on the scheduled flights from Arusha.
It was learned from the same source that other bridges and parts of this key road have also suffered extensive damage as a result of the massive rains, leaving the tourism industry in particular worried for the upcoming peak season over Christmas and New Year, immediately appealing to the government to ensure road maintenance teams to be deployed to repair poor sections to prevent further traffic disruptions.
Condolences are expressed to the families, friends and colleagues at Lake Manyara Serena, over the death of their workmate.
FORMER ATCL CHIEF IN COURT AS SUCCESSOR TALKS BIG
The former Air Tanzania CEO has ended up in court yesterday with two erstwhile colleagues, charged with abuse of office over an alleged 1.4 billion Tanzania Shillings procurement deal of vehicles. The cause of the charges dates back to 2007, when Air Tanzania, allegedly in violation of the relevant procurement regulations, signed a deal for 26 cars, while at the same time ignoring their many other obligations to pay outstanding debts, including to travel agents who had paid for tickets and are todate still waiting to get their refunds. Those in particular will be happy to see the former airline chiefs dragged to court on criminal charges, while some apparently are also preparing to sue them and the airline jointly to recover their money.
David Mattaka is joined in the dock by former chief financial officer E. Ikomba and former chief internal auditor William Hajji. The accused were released on a 10 million Tanzania Shillings bond and two sureties each of the same amount, and will have to attend court for upcoming mentions of the case before the main trial begins. Ironically, it was such actions which contributed to the decline of Air Tanzania, a development current management is seeking to reverse with an ambitious development plan but this correspondents advice is be careful with your deals as apparently ignorance of the law is no defense as seen right here.
AIR TANZANIA PLANS BOMBARDIER PURCHASES
Within hours of the announcement that Precision Airs IPO had attracted less than 43 percent of a share take up, did Air Tanzania make waves with an announcement that they would hold more talks with Canadian manufacturer Bombardier for the purchase of up to 8 aircraft.
Presently ATCL operates a single Bombardier Q300 turboprop aircraft but has stated the intention of purchasing a range of jets with the CRJ200 and the larger CRJ700 series at the forefront of the plans. Several airlines in the wider region are already flying these city jets successfully and the size of 50 seats for the CRJ200 is considered to be just right for an airline in a market already strongly competed over by private sector rivals and regional carriers.
ATCL would require guarantees though from the Tanzanian government, if a major deal is to be struck, though the Canadian export agency has already indicated they would be keen to support a package, as long as a government guarantee from Dar es Salaam would be given for the purchase of both pre-owned as well as brand new planes.
Bombardier notably also manufactures turbo props, the type of aircraft needed to restart domestic operations in earnest and their Q300 and Q400 series would compete with mainly Precision Airs ATR fleet, and a range of other turboprops operated by rival Coastal Aviation. ATR 42 and ATR 72 are the proven workhorses and fleet backbone for Precision and are considered very suitable in the climatic and geographical conditions across East Africas largest country. Manufacturer rivals Embraer from Brazil however are also reported to be pushing their own models, as they also offer both turboprop as well as smaller jet aircraft like the E170 and E190 series.
Considering the current economic climate though, in Eastern Africa and the world at large, reviving ATCL will take more than just a new strategic plan printed on glossy paper but the ability to secure government funding, something which often lacked in the past and led to the decline of the national airline in the first place. Watch this space to follow breaking news as and when deals are announced.
PRECISION AIR IPO ALL BUT FLOPS
The signs were ominous from day one of the airlines IPO when several banks had to postpone the launch over lack of relevant documents and an ill timed announcement by the Tanzanian government about a planned revival of Air Tanzania did not help much either as it rattled investor confidence. Bounced earlier in the year, the IPO then was postponed over a frivolous winding up petition related to an alleged outstanding of around 100.000 US Dollars the airline then looked at later in the year but the IPO coincided with worsening economic date across Eastern Africa, with inflation and devaluation at the time hitting regular new records. Therefore, and when after the initially scheduled period an extension was announced heads rose up and took notice that not all was well and that the added time was to generate buyers interest across the border in Kenya too, following the eventual approval by the financial market regulators.
According to regulatory and other sources, nearly 6.700 offers for shares were received but only covered some 42.3 percent of the overall shares put on sale, missing the target to raise nearly 28 billion Tanzania Shillings by a very substantial margin, as the airline bagged just under 12 billion Tanzania Shillings.
This raises immediate questions over the financing of Precision Airs ambitious fleet and destination development plans, as a funding gap of 16 billion Tanzania Shillings now has to be addressed.
Airline officials put a brave face to the announcement and were swift to point to the subsequent IPO by Tanzania Breweries which is running from November 04 till November 25 and in contrast appears to be taken up with a gusto. Other mitigating factors were given such as the relatively late approval by the Kenyan financial regulators, a reason however rejected by financial analysts and industry observers, one of whom quipped: If they wanted to sell their shares in Kenya too, they should have sought a more timely approval and not extend the IPO, which sent all the wrong signals to the market.
Watch this space how the fallout of this disappointing IPO will affect the forthcoming issue of new shares of major shareholder Kenya Airways and generally influence the aviation market where the deck of cards appears to be in a shuffling stage right now.
KILIMANJARO INTERNATIONAL NEXT IN LINE FOR UPGRADE TOO
Information has been coming in fast and furious in recent weeks, with news chasing news of yet another major international gateway, and even secondary airports being upgraded, expanded and renovated to finally give aviation the state of the art facilities air operators have been demanding in past years as traffic grew and terminals and aircraft parking stands congested more and more.
The operator of JRO, the Kilimanjaro Airport Development Company or in short KADCO, is finally living up to its name and is now set to invest up to 39 million US Dollars in giving the airport a long overdue development via a facelift and an initially modest expansion.
The airport, now about 40 years old, still has the same aged terminal and facilities and little else to attract casual visitors other than passengers who arrive or depart from JRO, and while passenger numbers now top the half million mark per annum, a threefold increase over the past decade and a half in comparison to Nairobi or Entebbe where numbers were rising much more swiftly, is in urgent need to get a new look. To be able to attract airlines flying to JRO it is however also the cost structure which has often been critizised by air operators, claiming JRO is too expensive in comparison with its main competitors in the region, so KADCO has its work cut out for sure to find a more balanced approach.
The company reportedly sourced a 30 million US Dollars loan, making up the balance of capital need to accomplish the project over the next three year from other sources.
Arusha and Moshi, the nearest municipalities to the airport, are the gateways to the so called northern safari circuit of Arusha National Park, Lake Manyara, Tarangire, Ngorongoro Crater and the Serengeti while Moshi serves as a base for climbing Mt. Kilimanjaro, Africas tallest mountain.
Watch this space for regular updates from the Eastern African and Indian Ocean islands aviation scene.
Rwanda News
BUGESERA AIRPORT PLANS ADVANCE WITH SHORTLISTING OF 9 CONTRACTORS
The start of construction of the new international airport at Bugesera has taken another step forward, when it was announced that 9 international companies have been shortlisted by a selection committee within the Rwanda Development Board. Over 30 companies had submitted initial bids and less than a third made it through the first hurdles and into the second stage of the bidding.
The new airport, to be located south east of the city of Kigali some 25 KM distant, is to be designed, financed, constructed, maintained and managed by the winning team under a 25 year concession agreement, freeing the government of the immediate burden to find the funds for this major infrastructure project thought to cost anywhere between 300 and 700 million US Dollars. Construction start is hoped for early 2013 after the process to select the winning bid has been completed in 2012 and the new airport is then due to begin operations in 2015 or 2016, in time for the expected delivery of the ordered B787 Dreamliners for RwandAir. Initially it will have one runway and parallel taxiway but a second runway is to be provided for in the planning for additional phases of add on construction and expansion as traffic growth demands. Presently, and besides the national airline, are Kenya Airways, Air Uganda, Ethiopian Airlines, Brussels Airlines and KLM coming on scheduled flights to Kigali, soon to be joined by South African Airways and then in April 2012 by Turkish Airlines. Qatar Airways too has expressed their desire to add Kigali to their growing list of destinations in Africa.
The present Kanombe International Airport, while well maintained and compact, is straining at the seams when both Brussels Airlines and KLM come within half an hour of each other to Kigali and neither the check in areas nor the departure lounges are then offering sufficient space, with passengers often queuing to the parking area outside the terminal building in front of the security check point.
Said a regular aviation source from Kigali when discussing the new airport over the weekend: the sooner the new airport comes on line the better. When several flights come and go at once, Kanombe is too small and the experience of our visitors starts with the first impression when they arrive and ends with the last impression when they leave. If both are not good, anything in between is likely also suffering from it. We must do better in this arena and more so as Nairobi is upgrading JKIA and Entebbe also is implementing their long term masterplan with major improvements.
Watch this space for regular aviation news from Eastern Africa and the Indian Ocean islands.
NATIONAL TREE PLANTING CAMPAIGN STARTS
Last weekend saw the start of the national tree planting campaign as this year targets in particular parts of the country with less trees than is average in the country. Rwanda presently has 22 percent of its territory under forest cover, a figure due to increase to 30 percent by the year 2020, and annual but also special campaigns are aimed to keep the population sensitized about the need in their own area to grew new trees and to accept that forests are a hugely important resource as water towers and for tourism purposes.
This correspondent, presently in Rwanda to get acquainted with the new Congo / Nile Trail which is due to be launched on Friday this week, was also able to see during his drive to Lake Kivus lakeside municipality of Kibuye, and along the entire trail in fact, that tree planting was evident in several areas along the route.
Rwanda intends to link the forest of Gishwati with other patches of forest towards Nyungwe National Park, to close gaps which developed in the past due to encroachment and deforestation, a trend now successfully countered. Of the countrys present three national parks two are forests, namely Nyungwe Forest National Park and the Parc de Volcanoes where the prized mountain gorillas live in the border triangle with Uganda and Congo. Both of these parks are hugely important for Rwandas tourism industry which in recent years has been growing well above global and regional average. Gishwati, presently a protected national forest reserve, is considered to be the next national park in the making, adding attractions and offering tourists yet more options where to go and what to do while in Rwanda. This is particularly significant as the new Congo Nile Trail is being launched, as the very first loop outside Gisenyi is in fact taking hikers and cyclists to Gishwati forest through the Pfunda Sub Trail.
For more information on Rwandas forests read Rwanda turns forests into tourism assets, Rwanda shines in conservation where her EAC partners falter and A visit to the enchanted Nyungwe Forest National Park via these links: http://www.theeye.co.rw/forest_tourism.php,
www.wolfganghthome.wordpress.com/2011/07/26/rwanda-conservation-news-a-visit-to-the-enchanted-nyungwe-forest-national-park/ and http://www.theeye.co.rw/conservation.php
RWANDAS NEW CONGO NILE TRAIL HIKING THROUGH RURAL AFRICA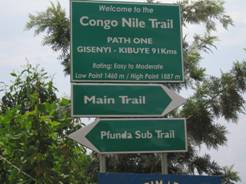 (The starting point of the Congo Nile Trail just outside Bralirwa Bay / Gisenyi)
Before I set out to conquer the new Congo Nile Trail, at least in part from Kibuye to Gisenyi, during a trial trip with a group of other media representatives, questions were asked of my sanity, how anyone could walk across rural Africa, considering the presence of wild animals, opportunistic bandits and reckless drivers ready to catapult one into the nearest ditch. Of course, I have dealt with questions of this nature for long, including how I could in the first place have chosen to live in Africa, but alas, those ignorantia never seem to stop bringing that up. They also never deter me to do something new, something others have not done yet but something I always feel others should do too, to widen their horizon and to broaden their knowledge about the destination and in the process gain the experience lifes memories are made of.
Commonly tourist visitors are driven across our lands by saloon cars, converted mini busses or dedicated 4×4 safari vehicles, and they see the landscapes, villages and people race by them, one seemingly looking like the other, so why stop. But there is a growing number of tourists, who come to East Africa, and in particular to Rwanda, for the opportunity to walk and hike, more here than in any of the other East African Community countries.
The famous Parc de Volcanoes is made for walking, as it is the only way to find the rare mountain gorillas, often hidden deep in the forest. Nyungwe National Park too is a hikers paradise, as is Gishwati Forest where a major trail network awaits intrepid explorers ready to do a days work with their feet while their eyes and ears can feast on the magnificent sights and sounds of unspoiled nature.
The Rwanda Development Boards Tourism and Conservation division, has over the past years been active to develop new products for visitors, to show them that the country has a lot more to offer than just the prized gorillas, and it has worked. A motor launch was brought to Lake Kivu to allow for a new experience of seeing the often spectacular hilly scenery from off shore, or watch birds while meandering along the shoreline at low speed. Birding trails were opened up outside the protected areas, involving communities through guiding and accommodation services and giving tourists from abroad a unique bird watching experience while being able to interact with the locals.
But the latest addition to the range of Rwandas attractions, the Congo Nile Trail, is something quite different and quite special, as it stretches from Gisenyi to Cyangugu / Kamembe, 227 kilometres long and alternating between the hills high above and the Lake Kivus shores. Along the new Congo Nile Trail there are no wild animals laying in wait to pounce on unsuspecting walkers, although the occasional dog gave chase only to turn away when sharply spoken to, and there are no bandits in Rwanda, a country where security is now second to none on the African continent. As to drivers, this often being a rough road and for some sections truly very rough, speeds by the few cars passing were slow enough and nothing to worry about.
My trip started in Kigali, where those planning to hike the trail have plenty of hotels and guest houses to choose from, but yours truly opted to begin the trip in style at the Kigali Serena Hotel. And it is this part which puts another myth to rest, that such hikes are for back packers or low budget tourists only. Of course it can be, as the trail does not discriminate against the hikers over the content of their wallet or the colour of their credit cards but it is often the wealthier individuals who seek this type of adventure, aimed to exercise their bodies while on vacation and then return home, fit to stand another year of office stress.
The trail, which has 8 base camps spread along the entire length at convenient intervals more are being planned already and some of them in stunning locations can be done with a tight budget but can also be conquered by those able to afford 3, 4 or 5 star accommodation along the way, which is available in or near all major townships between starting and ending points of the trail. Here it is simply a question of what one can spend on the available options of a 10 day hike, a 6 day bike and / or a 3 day 4×4 trip. Add to that the opportunity to do sections on the lake in the motor launch, plus the various loops or sub-trails which offer even longer options and greater choices by navigating away from the main trail, like into the fabled Nyungwe or Gishwati forests, and suddenly the trail really comes together as a major vacation experience.
I left Kigali in the morning and the drive took me to Gitarama where the road then branched off towards Kibuye on Lake Kivu. I gave up counting the hills, but am now absolutely certain that the Land of a Thousand Hills must surely have a few thousand more than that. The first major landmarks were passing the edges of the Mukura Forest Reserve before reaching the Ndaba waterfall.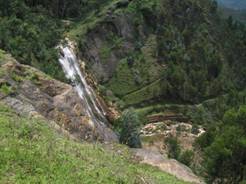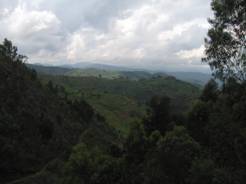 (The Ndaba waterfall and surrounding forests and farmlands)
After a brief stop for the obligatory pictures the journey continued, now mostly downhill towards Lake Kivu, but when reaching the turn off to Kibuye my guide Karim Gisagara (Karim is on Facebook via https://www.facebook.com/GKK01), one of the fathers of the trail idea and a driving force behind the effort to turn this into reality, told me work comes first turning to the Gisovu sub-trail in order to show me the tea route to the Gisovu tea factory. Passing through the extensive factory estates was evidence enough how important an export commodity tea is for the Rwandan economy and Gisovu in particular, as all the production from there, arguably the very finest tea produced in East Africa, is exported to the UK. In fact, almost the entire buffer zone around Nyungwe Forest National Park is extensively farmed with one tea plantation after the next, and the Nyungwe Forest Lodge one very luxurious place hikers can opt for when on the Cyangugu / Kamembe side of the trail is embedded into a tea estate.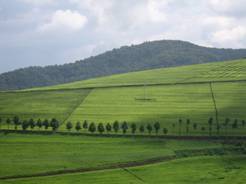 (The Gisovu tea estates with Nyungwe Forest National Park clearly visible beyond the ridge)
Other highlights of the day were a visit to LEsperance Orphanage (www.lesperancerwanda.org / or www.victormonroytrust.com / www.icatis.org/birambye) which is unique in as far as it is self sufficient in all aspects of life, though the Rwanda government absorbs the school fees for the 128 children presently at home there.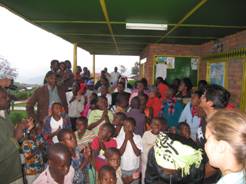 (The children at LEsperance Orphanage)
And wherever one goes in Rwanda, memories of 1994 are never far, as I paid my respect at the Hill of Resistance where those chased down by killer militias sought refuge and held out for weeks, only armed with sticks and stones, before regular troops then stormed the hill, killing all. These locations are part of the main trail, or the side loops and provide crucial insight for those hiking into the history of Rwanda, while witnessing the economic activities which dominate the wider area, tea plantations and subsistence farming.


(The Hill of Resistance Genocide Memorial, where all those passing pay their respects)
Enroute to our nightstop in Kibuye we also passed near the highest mountain in the area, Mt. Karongi, where a good view point allows one to see the town below and far across the lake to the mountains in Congo.
Notably, near our overnight stop, a guest house owned by the Diocese of Nyundo, is another genocide memorial, the very one which inspired the film 100 Days, where the church of St. Pierre was the gruesome scene of a massacre on 25.000 innocent women and children, arranged for and aided by Catholic priests who had switches sides and entered into the service of Satan.
Accommodation in the base camps like the Home St. Jean is clean and functional, sometimes rather utalitarian, and the home cooked meals provide the sustenance needed for another days hike but will not attract a gourmet rating of course. While some base camps are on the electricity grid, others use generators for a limited number of hours in the evening only, hence it is worth asking in advance when it comes to charging camera and phone batteries and keeping netbooks or tablets powered up. Most of the way the phone network coverage is average to good, though are there spots where the Congolese networks take over while the Rwandan networks fade away. This is particularly important for anyone wishing to tweet impressions and send instant pictures, which may not always be possible as experienced during my own hike along the trail. MTN Rwanda and TIGO both offer USB modems to stay connected via a netbook or lap top and when purchasing one of those in Kigali, take advantage of special first purchase offers which often include a months unlimited surfing the net. Such a modem also makes a nice gift to a guide at the end of the journey so that they can stay connected too with their clients the world over.
In the evenings, after supper has been taken, some of the camps, like shown here at Bumba base camp below the Congo Nile Crest view point, light a camp fire to allow stories to be told or a cold beer to be enjoyed, or a steaming hot cup of tea or coffee, considering the elevation and drop in temperature at night. The actual ridge, where the water divide between the Congo and the Nile basins is located, will be pointed out by the guides and those keen enough can hike up and stand on the physical divide itself, as in been there, done that and have the t-shirt to prove it.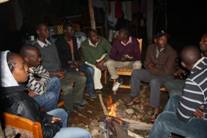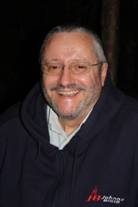 (Camp fire night at Bumba base camp, with all of us, especially the author, huddled around the fire and wrapped up warm)
Not far off the shores of Kibuye are a number of islands, most prominent the Napoleon Island, shaped like the emperors distinct hat, but we visited Amahoro Island, where another base camp is located which can be used on request and which, while basic, offers the option to actually sleep on one of the many islands which dot the shores between Gisenyi and Cyangugu. On the mainland though are some rather posh properties available, like the Cormoran Camp outside Kibuye, which, when it actually has space, sets one back by a couple of hundred dollars a night, full board and wireless internet included. It is spectacularly set into the side of a sloping hill with views across the water and the cottages are built on stilts, giving an unrestricted birds eye from high above the ground.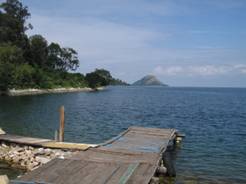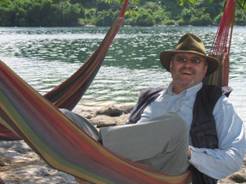 (Amahoro Islands landing and important for yours truly, HAMMOCKS right at the beach)
The trail, coming from the Southern sides tea end, then enters coffee territory, leaving the green valleys and hills and the three major tea factories behind. Over a dozen coffee washing stations are now dotted along the trail towards Gisenyi, with several of them also serving as base camps. These stations are operational twice a year when the harvests take place, and are for the rest of the year in a bit of a slumber, with visitors not getting in the way when exploring the facilities and being able to get first hand explanations. Former Senator Prof. Chrysologue Kubwimana, who took pride in taking me around his estate at Kinunu, was telling the story of how coffee grown on his estate begins its long journey to overseas consumers by dehulking and washing the beans, drying them and then packing the top quality stuff into 50 KG bags, ready for export and their long trip into the cups of coffee lovers in Europe and America.


(Seen here former Senator Prof. Kubwimana, our host for one night at his Kinunu base camp, while in the other picture are piles of hulks which are eventually used to fire the boilers or else are turned into natural fertilizer to enrich the soil under the coffee trees)
Both the tea and coffee routes are highly educative for visitors as they can learn about the source of their favourite drinks back home and see how the processes work, in the tea factories year round as production is ongoing and with coffee most intensely during the harvesting season.
But the trail, winding its way through village after village, through forests and shambas, i.e. little farms, gives also an insight into the way Rwandans live in the rural areas. Visitors will be intrigued to see that many of these villages have no access to electricity, but the people living there are busy talking on mobile phones, batteries charged up through solar power converters, often done at a cost by a young entrepreneur who saw an opportunity to provide such a service. As I walked, the occasional call muzungu rang out from the young kids, surprised to see a European visitor walking, as they do themselves, and not being chauffeured around in the back of a 4×4. Yet, some of the communities do have power, generated by a small hydroelectric station, tapping into the elevation difference which the water has to come down anyway. Nearly 20 MW are being produced like that and more such stations are being planned to allow for the roll out of rural electrification programmes, aimed to cut down on the use of firewood and charcoal which will help to meet Rwandas goals of re-forestation to a 30 percent forest coverage margin by 2020, compared with around 23 percent right now.
Our 91 kilometre trail experience, from Kibuye to Gisenyi, came to an end all too soon and three nights and four days on this route is quintessentially not enough for aficionados of hiking and biking across this scenic part of Rwanda. A full 10 days hike, or 6 days on a mountain bike, or any part thereof can be supplemented if not spiced up by added visits to Gishwati and Nyungwe, which is really a must see experience, making a visit to Rwanda rewarding in any sense. Flora and Fauna and often breathtaking scenery combine with meeting the friendly people living in rural areas, ever ready to impart with an enthusiastic Uraho the typical greeting in Kinyarwanda, to which one then responds with Rahonesa. Expect plenty of birdlife along the way and to make the most out of it, carry spare batteries for phones, iPads or other tablets and cameras, in case recharging at a particular stop is not possible. One awesome sight tends to chase the next, and each appears to be looking even better than the previous one, so additional camera flash disks also come in handy, to be sure not to miss that prized picture when the camera shuts down and announces capacity full.
We had our 4x4s in attendance at all times, being a media trip and trial run for the trail ahead of the official launch, but while on foot we could have crossed anywhere, some sections were a challenge for the cars. The route from Kinunu to Gisenyi, where the 72 wooden bridges and crossings are progressively being replaced with new concrete bridges, to the relief of the locals who no longer need to fear their bridge being swept away. In fact, many of them have been employed to actually work on the construction teams, generating some much needed income for the local communities while substantially improving their local infrastructure and making their roads truly all weather, all year round.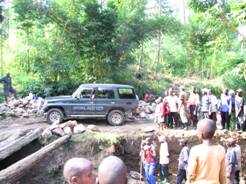 (Crossing a construction site for a new concrete bridge, slowly and very carefully)
Having the cars around also helps to assist more quickly in case of a sprained ankle, or when biking tend to the scratches and knocks sustained in a fall, and having a 4×4 escort which carries the luggage and periodically teams up with the hikers, can be arranged by the trail guides and trip organizers at a cost of course.
The Congo Nile Trail is breaking new territory, breaking new ground, and while climbs up Kilimanjaro and Mt. Kenya, treks into the Rwenzori Mountains or hikes up Mt. Elgon have long been available, hiking across rural Africa has not. It is the first such trail of its kind in Eastern Africa and runs along some of the most scenic parts of Rwanda, and the Congo DR is always within sight across the waters of Lake Kivu.
RDB in conjunction with local communities has created a sure winner and I for one wish to come back and hike the sections of the trail not covered by this special trip.
And in closing some practical hints: good hiking boots are essential, as are rainskins because during my hike it rained every day, at times very heavily indeed. Waterproof back packs are equally important, to avoid equipment or spare clothes getting wet. Umbrellas are not really suitable as hikers always need both hands free. Trips can be arranged through licensed tour operators or the Congo Nile Trail organization, which also attaches trained guides to the hikers. Information can be found via www.rwandatourism.com or via the RDB website www.rdb.rw. And printed material including an excellent map is available while a dedicated website for the trail is about to be launched, soon after the trail itself was being formally declared open.
Discover Rwandas hidden treasures via the Congo Nile Trail, the very latest tourism attraction to explore the country by hiking, biking, 4x4ing or boating.
Ethiopia News
ETHIOPIAN NOW ALSO FLIES THE LATEST BOEING SKY INTERIOR
Ethiopian Airlines earlier this week also took delivery of the first of 10 ordered B737-800 Sky Interior, of which RwandAir already fly two, having beaten the African aviation giant to the door to claim the honours of being the first African airline to do so.
However, Ethiopian will progressively received their full order delivered and passengers will enjoy being on board of the single aisle jet, yet having the impression of the cabin feeling of a wide body. Passengers to the two destinations Dar es Salaam and Riyadh will be the first to get a taste of the new bird, with more destinations to follow once additional deliveries come off the assembly line in Seattle.
Ethiopian is Boeings largest customer in Africa, flying presently an all Boeing fleet, although they have an order on their books for a number of Airbus A350 models as well.
Besides, Ethiopian is renowned for their maintenance work carried out at Addis Ababas Bole International Airport, with customers from near and far having their Boeing aircraft maintained by ET according to manufacturers requirements, recommendations and relevant ADs (airworthiness directives usually issued by the FAA and EASA). Watch this space for regular aviation updates from Eastern Africa.
South Sudan News
SOUTHERN STAR HALTS OPERATIONS
Only a few weeks ago was information confirmed that South Sudans first post independence airline, Southern Star, commenced flight operations, with big fanfare and big dreams. Following two months of erratic operations though, has Southern Star already halted operations and ALS, the company in Nairobi they had leased their single aircraft from, has taken the Bombardier Dash 8 back.
It was not possible to get a comment from either owners or management of Southern Star at this time, but parallels are already being drawn with the shortlived reign of Skyjet, which while registered in Uganda was owned by a South Sudanese business man operating in Juba.
The routes to and from Juba are presently dominated by Kenyan and Ugandan based airlines, with Kenya Airways flying twice a day and Jetlink equally flying twice a day from Nairobi while there are presently 8 flights a week on Air Uganda from Entebbe to Juba, due to progressively increase to double daily too by early 2012. This has left South Sudan, besides Feeder Airlines, with not much to match any of these airlines and it explains the South Sudans governments expressed intent to form a national airline sooner rather than later, as the private sector appears unable to make things happen on a reliable and long term basis.
Once that however takes place, the upcoming negotiations over bilateral air services agreements will certainly also reflect the concept of reciprocity, to protect a South Sudanese based and owned airline, even if the number of frequencies may than have to be shared or otherwise reduced to reflect the way rights of the new country. Watch this space.
Mauritius News
SIR SEEWOOSAGUR RAMGOOLAN INTERNATIONAL NAMED AS AFRICAS BEST
Mauritius had reason to celebrate a world number one position this week when it became known that the international airport survey carried out by the Airport Council International, ranked SSRI as Africas best, ahead of more likely rivals on the continent. Globally the airport is ranked as number 31, up nearly 50 positions from the last published survey, and a sign that ongoing renovations, modernization and upgrading plus expansion is paying off handsomely for this Indian Ocean island nation.
Passenger comments and feedback was taken into consideration for the survey results and it became known that nearly 90 percent of all travelers using the islands main international airport were very satisfied with duty free shopping, lounges and overall service levels.
Notably did Nairobis Jomo Kenyatta International Airport feature as amongst the worst in this years survey, a result endorsed by this correspondent who frequently suffers of the congested terminal when either flying to Nairobi or connecting via Nairobi.
The survey results will help Mauritius to even more successfully promote holidays to the island as the overall package, from arrival experience to departure experience, are now greatly enhanced by passenger satisfaction at the airport, not just through the resorts.
Watch this space for regular news updates from the Eastern African and Indian Ocean islands aviation scene.
Seychelles News
GULF AIRLINES READY TO SNAP UP AIR SEYCHELLES PROFESSIONALS
Information has been received from a usually well informed source in Victoria that the upcoming redundancies of Air Seychelles pilots, aircraft technicians and ground staff may well be cushioned by apparent recruitment efforts from Gulf based airlines flying to the archipelago. Emirates, Qatar Airways and now Etihad are all reportedly ready to snap up those highly rated professionals, including cabin crews with substantial working experience on the B767 wide body fleet of Air Seychelles.
Since the announcement of the downsizing of the airline, to reposition itself, in the face of overwhelming competition by the very same Gulf airlines by the way, doom and gloom had taken root amongst the staff of HM over their future career prospects, and few were interested to changing careers and moving to sectors other than aviation.
BLUE PANORAMA OF ITALY SEEKS TO STEP INTO VOID LEFT BY AIR SEYCHELLES
The Vice President Sales for Italys Blue Panorama airline was in Mahe at the end of last week to discuss the upcoming gap in seats and flights between Italys main cities of Rome and Milan to the Seychelles, following the announcement of Air Seychelles withdrawal from the route and handing their European gateways to code share partner Etihad, and probably other soon to be announced code share partners. Blue Panorama is a member of IATA and has IOSA certification, meeting key requirements to be granted traffic rights.
Blue Panorama, already active on the long haul market, is seeking to become Italys designated carrier to fly to the Seychelles and has made urgent representation to the Seychelles Civil Aviation Board and the Ministry of Transport, to pave the way for obtaining traffic rights just as soon as HM has operated the last flight in early 2012, to continue offering seats and keeping the destination connected.
Mr. De la Porta met with top officials while on a flying visit to Victoria, and discussed his plans with the Chairman of the Seychelles Tourism Board, who is also the Secretary of State in the Office of the President, Mr. Barry Faure, the CEO of STB Mr. Alain St. Ange and his Deputy CEO Elsia Grandcourt, the Chairman of the Seychelles Civil Aviation Authority Capt. David Savy and notably the CEO of Air Seychelles Bram Stellar, with whom undoubtedly special arrangements were discussed, hopefully leading to a code shared operation which can still carry HMs flight numbers.
Only last week was it reported here that Air Astral of La Reunion was considering routing their regular scheduled flights from France to La Reunion via the Seychelles under full 5th freedom traffic rights between the two vanilla islands, a positive development following the devastating news that Air Seychelles was to close down all their European stations and reduce itself, under a major restructuring package, into a pure regional airline. Watch this space for the most up to date news from the aviation scenes of Eastern Africa and from the Indian Ocean islands.
NEW ARRIVAL RECORD REACHED WITH NEARLY 6 WEEKS TO GO TILL YEAR END
174.530 and counting was the message from Mahe last week, when the archipelagos previous arrival record, established in 2010, was broken with weeks to go still until the end of the year. Notably did the record breaker arrive on the latest airline flying to the Seychelles, Etihad, which is now coming 4 times a week to Mahe. At hand to receive the winning couple Florence and Arnaud Gambert from France, was Seychelles Tourism Board Chairman Barry Faure, with STBs Chief Executive Alain St. Ange also on board of the same flight, after witnessing the opening of the Seychelles embassy in Abu Dhabi / UAE by President James Michel.
This is a major achievement by the Seychelles, which has been promoting itself as a destination of choice, a destination of THE choice, since the tourism board was privatised and more so since Alain St. Ange become Chief Executive Officer. What makes this early record even more remarkable is the current economic gloom and doom talk in the worlds key economies, showing that the diversification of target markets by the Seychelles, giving added focus to new and emerging markets, has paid off handsomely. The liberalization of air transport to the Seychelles, mainly taken advantage of by leading carriers from the Gulf region like Emirates, Qatar Airways and now Etihad, has also significantly raised the profile of the archipelago through joint promotions, with 25 weekly flights reaching Mahe by the end of 2011 from almost any point on the globe with one stop only and aided continuous growth of the tourism industry.
The Abu Dhabi embassy already has a tourism attaché posted to the mission, who will actively support STBs team responsible for the region with promotional efforts in this important market. Said Alain at the occasion: That we have broken last years impressive record shows that the tourism policy of the government is working before adding: Today is clear we are on the right path. It also shows clearly that the idea of positioning our offices in key market areas and putting our own people who are selling Seychelles from their hearts at these markets has also helped to promote our destination and ensure Seychelles remains at the forefront when the world economies are suffering and our main target markets are going through financial turmoil. Seychelles, truly Another World, which by the way is and remains Affordable Seychelles, where holiday makers on a tighter budget can enjoy the archipelagos unique Creole hospitality just as much as the worlds rich and famous.
AIR ASTRAL MAY STEP INTO AIR SEYCHELLES PARIS ROUTE
There is growing speculation that Air Astral, with a home base on the island of La Reunion, may in due course step into the vacant space left by the announcement of Air Seychelles, that they will progressively drop their European routes from early next year. Air Astral is now rumoured to plan the introduction of regular flights from France to La Reunion via the Seychelles international airport on Mahe, obtaining 5th freedom rights in the process which would allow them to uplift passengers between Mahe and La Reuion and vice versa.
The news comes as a relief to the archipelagos tourism industry which has watched the rapid dismantling of Air Seychelles with some incredulity and was left to wonder if other airlines would add extra capacities to their flights for instance via the Gulf hubs of Doha, Abu Dhabi and Dubai, so that the loss of seats caused by the withdrawal of Air Seychelles from intercontinental routes would not impact on the number of visitors to the islands.
In a related development has the move by Air Seychelles also revived speculation that a number of international airlines could re-apply for 5th freedom rights, using the Seychelles as an intermediate stop over point from where to pick up traffic to their final destinations on the African mainland. Usually well informed sources however were swift to discount this option, as in the words of one regular contributor: a restructured Air Seychelles, possibly flying regional services to the African mainland, would be the loser on such deals. Other airlines could just siphon away the traffic base of our own airline. It was the same on international routes. When more and more airlines got traffic rights to fly to Seychelles, it impacted a lot on our national airline. The rot started when they had to drop Frankfurt, because they could not compete with the fares Gulf airlines in particular offered via their home hubs to German holiday makers. True, we are now having record arrivals as a result of more airlines coming here, but in the process lost our own national airline. Air Seychelles was a national strategic asset and one should be under no illusion, if the going gets tough it is only ourselves we can one hundred percent rely on. So it is a big NO, other airlines must not get 5th freedom rights from Mahe to the African mainland or otherwise even the minimalized Air Seychelles cannot survive.
Watch this space for updates on Air Astral and any possible change in aviation policy, which could see airlines from other countries try and use the Seychelles as a stopover point en route to Africa with full traffic rights.
AIR SEYCHELLES RESTRUCTURING GATHERS PACE
A task force has been established at the head office of Air Seychelles in Mahe, having to deal with the downside of the current major restructuring, which will see the airline drop all intercontinental destinations and downsize itself to a regional airline, serving existing and very likely new destinations on the African continent. The newly appointed Director for Human Resources and Training, who already holds the portfolio of IT, Mr. Chang Lam, took over the combined departments earlier in the week when his predecessor retired from the airline, signaling that restructuring also happens at the top and not just down the line.
It was learned that departmental heads are already working on streamlining their staffing levels in areas under their supervision and that senior staff from the Ministry of Employment, the Department of Public Administration and notably also the National Human Resource Development Council are all working hand in hand with the airlines management to find new opportunities for those affected, not an easy task considering the skills levels those being made redundant now already possess in a highly specialized sector of the economy. It is expected that within weeks significant announcements will be made by Air Seychelles top echelon in regard of the extent of redundancies and the new lean look HM, including announcements on destinations and type of aircraft to be used to fly there. Flying the Creole Spirit will continue, in albeit a different format and aviation aficionados will mourn the day when Air Seychelles will finally end their flights to Paris, London, Milan and Rome, ending a long chapter of aviation history for the archipelago. Happy Landings until then, and beyond.
SEYCHELLES TOURISM ACADEMYS EFFORTS PAY OFF
The long standing partnership between the Seychelles Tourism Academy and the Shannon College of Hotel Management has now allowed a further 13 Seychellois graduates from the home made Advances Diploma in Hotel Management to move to Ireland to complete a Bachelor Degree programme and push their skills and capabilities to the next level. The chosen participants have already excelled in previous courses and were selected along those lines to become the first generation of general managers of resorts and hotels on the archipelago after completing their formal studies and gaining more experience on the job. It is understood from a source on the islands that all of the students already have workplaces secured when they return with their degree, a sign of the close cooperation between the Seychelles Tourism Academy and the private sector.
STA is in a period of transition as a multi million US Dollar development programme is seeking to catapult the archipelagos sole public tourism and hospitality training institution truly into the new century, with state of the art facilities, a revised curriculum and new courses all aimed to provide students with the best there is to start a career for life. New for STA will then also be a dual system of training where students are remaining in the workplace to earn a living and gain experience while at the same time studying for the theoretical knowledge. Well done and congratulations to the students, and through Principal Flavien Joubert to the entire academys staff, truly an occasion to be proud of!
SEYCHELLES AT NAIROBI GETAWAY FAIR
The Seychelles Tourism Boards appearance at the recently concluded Getaway Fair in Nairobi was once again termed an overwhelming success, as the archipelagos stand attracted the attention of both the tourism trade, seeking to forge ties with the islands to do business together, but also of course of individuals coming to the exhibition to find their next holiday destination.
Seychelles tourism ambassador to Kenya, Ms. Popsy DSouza-Getonga was partnered by Amia Jovanovic-Desir, who in her capacity as senior marketing executive responsible for the Eastern African market was busy to engage with in particular the travel trade to partner up under the Seychelles marketing programme from the big five to the best five the latter referring to the superb and globally top rated beaches across the many islands of the archipelago.
While in Nairobi the Seychelles team also had bilateral talks with the Kenya Tourism Boards Chief Executive Mureithi Ndegwa and also met with the recently installed new Chairman Kitili Mbithi.
Kenya Airways connects Nairobi to the Seychelles three times a week, using a B737-800 aircraft, but as demand growth the airline has already indicated that more flights would be added once loadfactors made it possible. Seychelles truly Another World.
And in closing today once again some material worth reading from The Livingstone Weekly, a double dose as I missed last weeks edition when I went on the Congo Nile Trail:

UNWTO 2013 ZAMBIA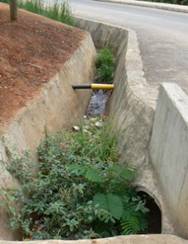 In 2013 Livingstone and Victoria Falls Town will co-host the UNWTO meeting. Zimbabwe has already started preparing there are comments in the newspapers almost every day about their plans. In Zambia I have only seen one comment from Zambia the Information PS was in Bulawayo at a meeting. He said that we had set aside US$1.2million for the preparations. If we are to be ready, we have to start now I really hope we are not going to do the usual Zambian way and have hundreds of meetings during the run-up and then start to prepare a week before the event.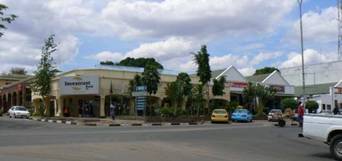 If Livingstone is to be ready we have to start cleaning up our town now. Here are a few photos with comments:
I have noticed workers cleaning up drains but there are still many to be done. This one at Zambia Youth Avenue has never seen a broom. It is full of plants and litter
Here is Investrust Bank and its surroundings. It always puts a smile on my face when I look at it so beautiful with its planting. But there are areas in town which are bare, unattractive and, often, covered in litter.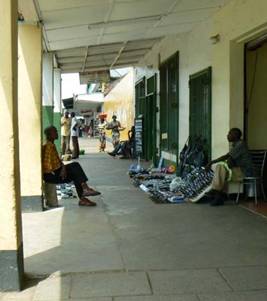 If we are to have beautiful gardens to show off in 2013, we should be planting them now this will give them 2 rainy seasons to get established. Were the Council to get in touch with local businesses and associations in the next few weeks it could all be done.
Litter: Where does it all come from? Well, 90% of it probably comes from street vendors. These guys are illegal it doesnt matter how much we want to feel sorry for them. The other day I went to the market and bought a new watch it cost me K30,000 (US$6). While passing a street vendor in the corridor and seeing a similar watch I asked him how much it was. K150,000 (US$30), he told me. Shock, horror. I dont feel in the least bit sorry for him anymore.
During the daytime the vendors are bad but at night the corridors are full of them. And they leave their mess behind for the cleaners from the Council to come and clean up in the morning. Surely the sensible thing would be to get rid of them once and for all and have clean, tidy corridors?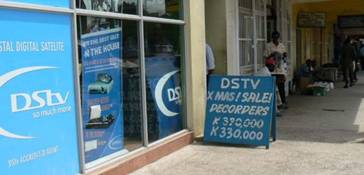 And, finally, if you want a decoder, this is the place to go

KLM to fly to Lusaka

In May 2012, KLM will start flying in to Lusaka. Flights will be three times a week to and from Schiphol Airport, Amsterdam. The plane used will be an Airbus A330-200, capable of carrying 243 passengers.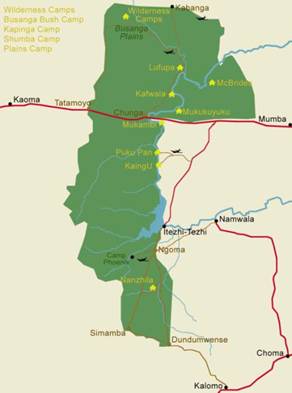 The Nature Conservancy
The Nature Conservancy is an American organisation which not only helps to protect American wildlife and wilderness areas but also helps other countries to care for their parks.
While I was visiting Kafue National Park in October there was a team of consultants researching fire how and where it starts, its effects and how it can be controlled for the benefit of the park. The team was out all day getting coordinates and looking at where the fires had occurred and comparing them with satellite images. It was all very interesting. Here is what Nature Conservancy says on their website about Kafue:

Often considered to be Africas best antelope reserve, Kafue National Park supports a wide variety of species including, roan and sable, reedbuck, defassa waterbuck, oribi, hartebeest and eland. The major carnivores include a particularly strong population of wild dog and cheetah. Also exemplary is the birdlife, sightings of the endemic Black-cheeked Lovebird, the Wattled Crane, ground hornbill and Saddle-billed Stork can almost be guaranteed. The park and surrounding game management stretch across over 16 million acres of central Zambia and make up the largest conservation area in the country. …
The Conservancy will focus initially around Kafue National Park, first aiming to strengthen management across the 600,000-acre Nanzhila Plains area in the south by:
Piloting models of successful community-led conservation models in a few communities and sharing lessons-learned from similar programs in Kenya, Namibia and Tanzania
Providing training in conservation planning and protected area management to our conservation partners and local people
Bolstering security against poaching
Implementing alternative fire management plans that mimic natural burn patterns
Reducing threats from new tourism and agricultural development
Working with partners to protect lands adjacent to the parks and maintain intact wildlife travel corridors
It is absolutely great that interest is being taken in the southern section of Kafue National Park as it has been neglected for far too long. And it is far too beautiful to destroy.
I must say, though, that I was rather cross as the researchers saw a honey badger one day while I was there and then I had a report from them after I had left and they had seen a pack of 17 wild dog … and later near Chungu they had seen cheetah. Very unfair …

Desperate Times in Hwange

Over the weeks the heat has been constant and the rains have not come. It is reported that over 100 elephants have died and many other animals too. The situation in Hwange has been compounded by bush fires and by lack of pumped water. In some instances the pumps have broken down in others there were no funds for diesel.
Helen Martin, a conservation researcher in the park: Elephants and other wild animals are competing for water at the few remaining water sources in the park. To worsen the situation, veld fires have destroyed grass and edible trees for elephants. Elephants are now travelling to neighbouring Botswana in search of food and water.
Most of the water holes in the park have dried up. I went around the water holes last week and saw decomposing carcases of elephants and buffaloes strewn all over the place. Disaster is looming if the rains do not fall within the next few days.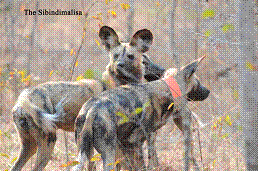 From the Painted Dog Foundation
After the loss of Bullseye, we were concerned about the future of the Kutanga females. In my last update I wrote about the search for Bullseye and finding him dead in a snare, plus the snare wound injury to Juliette, which required intervention and treatment. With Juliette now wearing a GPS collar, we at least felt confident that we could track the packs' movements, no matter how far they roamed in their search for new males.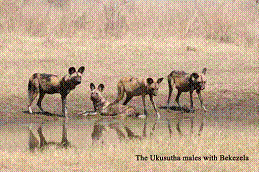 We were soon to learn how far this search had taken them when another pack, named the Sibindimalisa, turned up at our rehabilitation facility. The Sibindimalisa where originally identified by Greg early in the year and were previously found deep inside Hwange National Park. We were mystified by their appearing at the Rehab Center, but the download from Juliettes collar gave the possible answer. The Kutanga females had been all the way south into the Sibindimalisa territory and it seemed as though the Sibindimalisa chased or followed them out, all the way to our Rehab.
Ester responded as ever to my request for help and collared the alpha female and alpha male of the Sibindimalisa. This enables us to also monitor their movements. It was, and is, rewarding having more dogs around, and perhaps it indicates a change for the better for the local dog population. But we are not celebrating yet.
There is a local expression that translates roughly as Its the clouds that bring rain. Very appropriate, as the rainy season is now upon us. It brings to mind though, the trials and tribulations of the Ukusutha pack in Victoria Falls. We have been pinning our hopes on the three-year old male, Sithule, to lead the young pack through the difficult transition period to a full life back in the wild.
He indeed seemed to be up to this task and had been seen leading many hunts. But one day we were concerned to see him lying rather still, deathly still in fact. Greg approached and Sithule slowly got to his feet, but it was clear he was not well. Further examination through binoculars revealed a mark on his shoulder consistent with a kick.
This was soon confirmed by staff at the nearby Livingstone Hotel. They had seen the pack hunting a few days before and witnessed a zebra giving Sithule a severe kick. We suspected he had broken ribs and kept a closer-than-usual eye on him, ever anxious for his wellbeing. It soon became apparent that he was adding to our concerns by spending time with a lone female who was occupying the reserve as well, rather than devoting his attention to the Ukusutha females.
Named Bekezela, the lone female was in superb physical condition, although her presence created a certain amount of tension amongst the dogs. Sithule certainly liked the look of her but in his injured state he could not keep up with her. The Ukusutha males seemed confused at best by her, while the Ukusutha females did not appreciate her being around at all!
Sithule seemed to be recovering when Jealous and Edward found his carcass. Lions had killed him.
Perhaps he had been caught while venturing out on his own, moving between Bekezela and the Ukusutha, with his injury slowing him down.
It wasnt long before the Ukusutha males joined Bekezela. A positive move on the one hand, yet it left the Ukusutha females to fend for themselves. Their situation took another turn when they left the relative safety of the Vic Falls Private Game Reserve through an open gate.
With Ester again responding, we had three vehicles on the ground and a helicopter in the air, all to no avail, and as I write they are still missing.

MOZAMBIQUE
The new port on the coast of Mozambique continues to cause alarm to conservationists. It would appear that while the Mozambique government was negotiating for the Futi Corridor to allow elephants to move from South African Tembe Park to the Reserva de Maputo, it was also planning a new port which it must have realised was incompatible with the recommendations of the Transfrontier Park.

Conservationists fear that the recently announced oil-and-coal port development in Mozambique will devastate a large tract of the east coast environment, possibly impacting all the way down to Zululand.

Construction is set to begin next year on the 1 100km rail network, the Ponta Techobanine Inter-Regional Heavy Haul Railway Project that will connect Zimbabwe and Botswana to a deep-sea port at Ponta Techobanine. The Mozambican government has already gazetted the boundaries of a
30 000ha harbour and industrial zone from which rail and pipelines will ferry coal, crude oil, liquid fuels and other goods. Above a Gill-map of the area and below a picture of Richards Bay what we can expect at the new port …

The area is well known to Tim Condon, founder co-ordinator of the Zululand Wildlife Forum, who explored the coast for many years. He led the first divers to the coral reefs at nearby Dobela between 1955 and 1962. The almost sudden revelation that this massive project was so far advanced came as a major shock to all conservationists and the fledgling Ponta do Ouro marine tourist industry. This has galvanised a lot of urgent reaction, but opposition efforts are seriously hampered by the difficult political situation in Mozambique, he said.
Conservationists say the proposed development will affect, among others:


The Maputo Elephant Game Reserve;
The recently-proclaimed Futi corridor for elephant migration;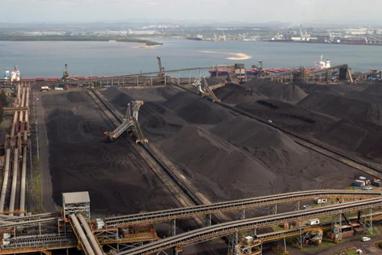 The Ponta do Ouro marine reserve;
A unique shallow coral reef;
Over 10 threatened species, including loggerhead and leatherback turtles;
All marine life, including whale sharks, dolphin and whales;
The Lubombo transfrontier conservation project that South Africa co-created 10 years ago.
Ponta Techobanine is only 20km away from Ponta do Oura which is virtually on the KZN border.
Mixed messages
Environmentalists cannot understand the mixed messages coming from the Mozambique government, who seems to have pushed both an eco-tourism and a massive harbour development at the same time. But some attributed this to two different government departments vying with each other. It seems the tourism department has lost the battle.
In July 2009, Mozambique declared 86km of its shoreline a Marine Protected Area. The Ponta do Ouro Partial Marine Reserve stretches to the SA border, creating Africas first transfrontier park and also the largest. It protects about 300km of coastline from Maputo Bay to the St Lucia wetlands (iSimangaliso). As this is now an integrated ecosystem, a disruption of one link will break the whole chain. The coral reef will be blasted out to create a deep-water port.
The railway line will run through the centre of the Futi corridor to South Africa.
Unique reefs
Clare Keating of 3Fathoms, a group of scientists who do research work in the area, said, The reefs found within the core area of the (protected reserve) are unique because they are some of the highest latitude reefs in the world. The reefs with the most coral cover and best quality are found on an 18km stretch of marginal reefs between Techobanine and Dobela, directly where the port construction is proposed. Risks of damage to the area surrounding any port include chemical pollution, light pollution, oil spills and shipping traffic, any of which can equal complete deterioration of the pristine habitats.
Several conservationists highlighted the secrecy and stealth with which the project was devised, and some questioned whether an environmental impact study had even been completed. There were plans in the late 1990s to build the port at Dobela (the next point up from Ponta Techobanine), but that plan was scrapped over environmental concerns.
The magnitude of what is a massive project of great significance to the bankrupt Mozambican economy will be supported by the leading western governments and the UN, said Condon. Indeed, it has been reported that the World Bank is one of the financiers.
Gill Comment: The port is expected to take all the coal from the new mines in Botswana. It is an alternative route from the one to Richards Bay in South Africa which is clogged. Although tourism is only making a slow comeback in Mozambique the new Lubombo Transfrontier Park will not only save the environment it will also create many jobs. The Botswana government earns a lot of its money from tourism; many jobs have been created there too. Would Botswana destroy the Okavango Delta for industrial needs? It nearly did once when it was suggested that water be taken from the Delta for the diamond mines. Does Botswana need to be advised of its environmental conscience???