AVIATION, TOURISM AND CONSERVATION NEWS from Eastern Africa and the Indian Ocean islands.
A weekly roundup of breaking news, reports, travel stories and opinions by Prof. Dr. Wolfgang H. Thome
You can get your daily breaking news updates instantly via Twitter by following @whthome, join me on www.facebook.com/WolfgangHThome where the articles also 'cross load' or read the daily postings on my blog via www.wolfganghthome.wordpress.com which you can also 'follow' to get immediate notification when a new article is posted.
First edition February 2013
East Africa News
SINGAPORE CUSTOMS OFFICIALS SEIZE 1.8 TONS OF BLOOD IVORY

Blood ivory worth over 2.5 million US Dollars was confiscated yesterday in Singapore, when a container load from a yet to be named African country, supposedly comprising waste paper, was found to be actually elephant tusks and ivory pieces. Nearly 1.100 cut pieces of tusks were reportedly seized which had been concealed in the container, wrapped into sacks and hidden under other cargo. Officials according to one source were getting suspicious when the weights did not add up and then decided to open the container, making the find and effecting legal seizure while other information talks of a tip off leading to the discovery.
Information at hand also speaks of local authorities pursing officials of the shipping and forwarding company as well as being in touch with authorities in the country of origin to arrest, if possible, the owners of the blood cargo.
The report also omitted naming the final destination of the contraband shipment, but is suspected to be the mainland of China, which has become globally notorious for not doing anywhere near enough to curb illegal imports and crack down on carving shops where the blood ivory is turned into intricate figures and art pieces.
The CITES conference in a few weeks in Bangkok is expected to be one of the most hotly debated meetings over the massive scale of poaching in Africa, of elephant and rhinos, to feed the greed among the nouvelle riche in China to possess carved ivory, or in the case of rhino horns afford the outrageous prized for pulverized horn, which medicinal value is actual nil. It is generally expected that demands will be voiced to withdraw China's ivory trading status as one measure to reduce all shipments of ivory. That however is well understood will not curb smuggling, as was the case just now. Inadequate wildlife laws in Africa too are often named as a contributory factor, as fines are generally ridiculously low and prison terms often measured in weeks and best months. Watch this space for upcoming reports from the CITES conference and what transpires to crack down on poaching and the illicit trade of ivory and rhino horn.
BRUSSELS AIRLINES ANNOUNCES FLIGHTS TO WASHINGTON AS SECOND US DESTINATION

A regular source from Brussels Airlines has today confirmed what the grapevine has been talking about for a while, that after the launch of daily flights to New York in June last year, Washington DC will be the airline's second destination in the United States.
The success of the flights to the Big Apple had for some time given rise to hope for a second key destination, and SN will commence these flights on the 18th June, then operating initially 5 flights a week.
The nonstop service will connect the US capital with the European capital city of Brussels, a key route for not just government officials and military personnel attached to the NATO Headquarter in Brussels, but increasingly also tourists and business visitors.
Brussels Airlines will for this route use a new Airbus, due for delivery in time for the launch, in their state of the art configuration of 30 seats in Business Class and either 238 (A330-200) or 254 (A330-300) seats in Economy Class, where an 83 cm legroom makes it one of the most comfortable on any airline, besides the latest technology ergonomic seats with individual 22.6 cm touchscreen and that important USB port to power personal devices.
Having just been able to sample the new seat product a few days ago on a flight between Kigali and Nairobi, it is clear that the 30 million Euro retrofitting was absolutely worth the money. The 2 metre long flatbed seats / beds are certainly top of the range and the enhanced catering in both classes brought back the Savoir Vivre in the air and earned Brussels Airlines already, within months, a second place globally in 'Best Airline Cuisine' by Global Traveller (www.globaltravelerusa.com) while the same survey put SN on top of the global rankings for 'Wines on Wings – Best International Business Class'.
Travelers from the four East African destinations Entebbe, Kigali, Bujumbura and Nairobi will from June onwards be able to fly with one stop, via the time saving Brussels hub, to the American capital and of course to New York too, making SN undoubtedly an airline of choice for those heading to the US.
Watch this space for breaking and regular aviation news from Eastern Africa and the Indian Ocean islands.
SN PARTNERS WITH RWANDAIR, SERENA AND THOUSAND HILLS TO SHOWCASE NEW CABIN
Last weekend saw Brussels Airlines, and code share partners RwandAir, team up with Serena Hotels and Thousand Hills Expeditions to host a team of journalists from Kenya's leading TV stations and print media to showcase the new cabin layout and let them sample the on board hospitality on a flight from Kigali to Nairobi.
Their day started at the Nairobi Serena Hotel where the group met before flying on RwandAir to Kigali for a media briefing by RwandAir's CEO John Mirenge. This made a great start to the day, as referred to in a previous article here and was followed by a brief tour of the city of Kigali which gave the group an insight into the much talked about traffic discipline for which Rwanda is known, as well as showcased a city at its Sunday best on a Friday, clean and sparkling new. The experience, underscored by the absence of potholes, told the story better than any words could have, considering the traffic messes we are faced with day in and day out in Nairobi and Kampala.
The Kigali Serena Hotel then hosted the group for lunch, followed by a red carpet tour conducted by General Manager Charles Muia and his team members Evelyn and Denise. Then came a detailed briefing on the tourism attractions of the country by Thousand Hills Expeditions where CEO Manzi Kayihura, who is also the Vice Chairman of the East Africa Tourism Platform, was a keen ambassador for the Land of a Thousand Hills as Rwanda is fondly known among friends.
Brussels Airlines' Suzette Paes from the Nairobi office of the airline then used the opportunity to explain what the group was to expect in terms of service and cabin layout on the aircraft during the evening flight to Nairobi, for which the Civil Aviation Authorities of Rwanda and Kenya had given special permission as otherwise SN does not have traffic rights between Kigali and Nairobi.
A more somber mood engulfed the media team then when they reached the Kigali Memorial Centre, a national memorial site for the 1994 genocide, which for every visitor to Rwanda should be a must to see and pay the respects to over 250.000 innocents who found their final resting place here, a stark reminder of the country's troubled past and a reminder too that the New Rwanda, like Israel after the holocaust, has justifiably taken a 'Never Again' stand, ready to defend the new found freedoms and liberties at all times and at all cost.
And then it was a quick trip to the Kanombe International Airport, presently undergoing a 15 million US Dollar expansion programme to bridge the time before a completely new airport is being built in Bugesera, adding much needed check in spaces, lounges, gates, offices and aircraft parking. A red carpet check in awaited, the Pearl Lounge was once again at the centre of things while waiting for the boarding announcement – the flight was right on time – and then it was a fond Kwaheri Ya Kuonana to Kigali and Rwanda, which impressed all day long.
When stepping on board we were greeted cheerfully by the crew, who had already brought the aircraft from Brussels and would alight with us in Nairobi, and the welcome was enhanced by champagne, crisp same day newspapers and smiles aplenty of course.
The business class cabin now offers a new 2 – 1 – 2 configuration, alternating with 1 – 2 – 1 rows while the economy class also features a brand new ergonomic seat incorporating a new entertainment system for passengers. The new business class seat product immediately convinced with added comfort, more space and most important, a full 2 metre flat bed, which the seat turns into at the push of a button. Pneumatic adjustments, again at the push of a button, offer individual preference of how hard or soft the seat turned mattress should be for the greatest sleep comfort and a massage function is an added bonus. A super sized touch screen, based on the functionality of tablets or iPads offers up to 100 hours of the latest films and TV series and caters for all tastes in music.
But it was the crew and the catering, even if only for the short 1 hour sector to Nairobi, which convinced the most. Professional, friendly, anticipating the need for a refill of the champagne flute and willing to answer all questions from the media team about flying today and before. It truly did the airline no justice to just fly an hour with them and only one or two long haul flights will really reveal all the innovations brought on board with the new seat products. It is no surprise that the wine selection has already won awards in the short time since it was introduced with the inaugural flight of SN to New York in June last year and perhaps one day a media team will be able to fly to the Big Apple with Brussels Airlines to have a fuller experience.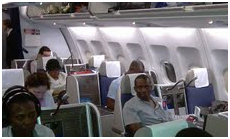 If there was one issue which I noted, though apparently no one else, it was the map of the Sudan on the touch screen's flight routing and data display. The new South Sudan is not yet shown and this omission should be corrected unless Southern Sudanese travelers keep being reminded of their erstwhile enslavement by the despots from Khartoum.
Overall a full day's work of the kind most enjoyed, when flying and travelling is involved, especially with partners committed to the type of quality I personally endorse and subscribe to. Thanks to Brussels Airlines, RwandAir, Serena – where I spent a night at the Nairobi Serena Hotel before returning the next day to Kigali – and Thousand Hills Expeditions and Chantal, who drove us across Kigali – equal opportunities clearly for the ladies in the New Rwanda – who all made this a very memorable experience. Asante Sana or as we say here in Uganda, Webare Nyo and until we meet again.
Uganda News
UGANDA GOVERNMENT CONSIDERING STAKE IN AIR UGANDA

When some time ago a few individuals tried to make hay with their chatter to once again start up a national airline in Uganda – Uganda Airlines was liquidated in 2001 after several failed attempts to privatise the carrier as a result of strong arm tactics and political interference at the time – more informed aviation observers immediately rubbished the suggestions as financially beyond the country's means and a blatant attempt to open another 'eating shop' which could swiftly become just one more hotbed of corruption and misuse of state funds. This correspondent at the time argued that it would make more sense to consider the standing offer to invest in quasi national airline Air Uganda, which was made to the Uganda government when the airline was launched 5 years ago.
There appears to be some movement now within government circles to finally consider this option seriously as reports are emerging in Kampala that the Minister for Trade and Industry Mrs. Amelia Kyambadde – who is also the immediate former Principal Private Secretary to President Museveni – has for the first time floated the idea in public when talking about the need to create aviation capacity to aid exports of Uganda's produce.
Fully owned by the Aga Khan Fund for Economic Development, aka AKFED which is part of the Aga Khan Development Network, Meridiana Africa Airlines (Uganda) Limited, trading as Air Uganda, is presently flying from Entebbe to Nairobi, Mombasa, Dar es Salaam, Kigali, Bujumbura and Juba but is said to be keen to expand their destination network and add additional aircraft, which a partnership with government may make considerably easier to accomplish.
The airline is also expected to shortly announce the appointment of a new Chief Executive Officer, after former CEO Kayle Haywood jumped ship prematurely when he served sudden notice and walked out of his contract to join upstart FastJet in October last year. Expect to read about the new man at the helm in due course, when the news can be broken without causing a few blushes here and there. Watch this space for breaking and regular aviation news from Eastern Africa.
HTTI STAFF GO ON STRIKE

Reports are coming in from Jinja that staff at Uganda's national Hotel and Tourism Training Institute, located at the Crested Crane Hotel, have down their tools demanding payment of salary arrears and other dues, which according to one source have been outstanding in some cases for several months.
Insiders were swift to blame the government for the mess the institute is in and one communicated to this correspondent: 'Since this school was moved from the Ministry of Education things were never the same again. At least you fought tooth and nail for our dues and benefits when you were chairman of the Institute. But as usual government could not listen to the right people and had to take the school back to tourism. Now there is no enabling law because the HTTI Statute was rescinded when the Universities and Other Tertiary Institutions Act came into effect. But government failed to re-enact that original law. They also failed to implement the tourism levy which was meant to help finance training institutions like HTTI. Students have complained about the legality of conferring diplomas and certificates to them. They ask under what law is that happening when there is no law. Tourism and hospitality training is at risk completely in Uganda.
You and your board at the time were so close to get us land to build a new school and get HTTI into the new university as a constituent college. Nothing has ever happened since you left. All we hear is promises and empty talk. I remember we complained when the principal back then spent so much time in Kampala but now it is clear that was the only way to get money from Education at the time and keep us afloat. But now there is no longer that unselfish sense of duty to better the institution. We need our money, there is rent to pay, there are fees to be paid for our kids going to school, there is food needed at home. How to do that when we are owed such a lot of salaries'.
In the past it was often the students threatening strikes over a range of issues so this is a novel situation that the staff, including lecturers employed directly by HTTI and not on the government public service payroll, are resorting to strike action as a last resort, having reportedly failed to get a sympathetic hearing from their home ministry or have promises made fulfilled. Quo Vadis Uganda – time to get serious about ALL aspects of tourism in this country, especially tourism and hospitality training to fully benefit from the country's enormous potential to become East Africa's leading tourism destination, especially in a year when National Geographic has put The Pearl of Africa on top of countries to be visited in 2013.
INSPECTOR GENERAL OF POLICE PASSES OUT 184 TOURISM POLICE OFFICERS

Uganda's Inspector General of Police, Lt. General Kale Kayihura, last Friday passed out 184 specially trained police officers as staff of Uganda's Tourism Police. Drawn from across the ranks of the Uganda Police Force, the officers had both applied and were selected for their skills and experience on the force and underwent an intensive 1 month course at the national police school in Kabalye / Masindi. Course content included tourism laws, regulations and policy, customer care and guest relations, understanding hospitality but also specially targeted techniques like security procedures and concepts, hostage rescue procedures, operational planning and weapons training. Staff from the Uganda Tourist Board and the Uganda Wildlife Authority were among those who delivered lectures and interacted with the officers during their month long training to instill a greater understanding to them how the sector works and interacts with the country's economy and society at large.
Lt. General Kayihura on the occasion of graduating the course participants said: 'It is important to develop [a] Tourism Police to counter the threat of terrorists who might target them (tourists) when they are here'.
The Uganda Government had created the tourism police concept three years ago but to the disappointment of the tourism industry and key stakeholders it took still until now before tangible results could be seen.
The officers will be deployed immediately to key tourism attractions, places of interest regularly visited by tourists but also to key hotels in the city of Kampala in order to boost existing surveillance and monitoring capacity.
The national police chief also announced on the occasion that a new dedicated anti terrorism training school will be set up in the district of Kanungu, which borders the key Bwindi Gorilla National Park and extends to the border with the Congo DR, where land has been secured for that purpose.
Tourism stakeholders were swift to extend praise to the government for providing specialist training for these 184 police officers while expressing hope that more such courses would now be conducted in order to boost numbers and allow deployment across the entire country to all areas and sites of importance to the tourism industry.
Kenya News
JAKE GRIEVES COOK RECOGNIZED AS AFRICA'S TOP TOURISM PERSONALITY
The Good Safari Guide's Safari Awards 2013, aka The Safari Oscars,announced at a ceremony in London last week the winners from among 90 finalists in 18 categories of awards, selected by a panel of 18 eminent judges who know the continent's tourism businesses like the back of their hands.
This year saw one of East Africa's finest confirmed to be The Finest when Jake Grieves Cook was awarded for the 'Best Personal Contribution to Safari Tourism in Africa'. Jake's company in Kenya, Gamewatcher Safaris and Porini Safari Camps, have time and again found favour with judges and scooped award after award, when Kenya and the world recognized the highest standards of operations, or like a few weeks ago, the Eco Tourism Society of Kenya awarded 2 coveted Gold Rankings and 1 Silver Ranking for among the four Porini Camps.
Jake, an icon in Kenya's tourism circles, if not across Eastern Africa, looks back at a long history from the 70's until now, and has distinguished himself in each and every position he ever held.
He founded the Eco Tourism Society of Kenya, rose to become the first Chairman of the Kenya Tourism Federation – Kenya's Tourism Apex Body – and then served two successful terms as Chairman of the Kenya Tourism Board, before once again concentrating full time on Gamewatchers and Porini after serving the nation in various capacities.
He is a pioneer in forging partnerships with the Masai communities when he was among the very first to establish privately managed conservancies, converting overgrazed pastures into wildlife sanctuaries adjoining the Amboseli National Park and the Masai Mara Game Reserve.
The recognition by the respected The Good Safari Guide therefore comes as no real surprise for insiders, as it was truly only a matter of time before being publicly applauded and awarded for his lifetime achievements and accomplishments for and in the tourism sector.
His honours come alongside the Kenya Tourism Board, which was again named Africa's Number One ahead of Malawi and South Africa, but other Kenya properties too came out tops, such as The Karen Blixen Camp, which was named as Best Ecological Property in Africa. Daphne Sheldrick, another Kenyan renowned for her work with elephants, was at the same ceremony named as having made the Best Personal Contribution to Wildlife Conservation.
The 2013 Safari Awards were not only about honouring the most expensive lodges, or most luxurious Spa, the categories range from 'Best Ecological Lodge/Camp' to 'Best Personal Contribution to Wildlife Conservation'. For example this year the Awards recognize Iain Douglas-Hamilton and Daphne Sheldrick for their conservation work in Africa alongside new safari camps/lodges Singita Explore, Naibosho, Lamai Serengeti, Elephant Camp and Azura @ Qualilea. Last year's Best Safari Camp in Africa, Chiawa, is joined by Jack's Camp, Old Mondoro, Tafika, Zarafa, Singita Faru Faru, Sayari, Rekero, Greystoke Mahale and former winner Beho Beho for the highest accolade. Recognizing the contribution wildlife conservation charities make to preserve the wildlife in Africa the 'Best Wildlife Charity/Organisation Operating in Africa Award' features finalists Children in the Wilderness, Tusk Trust, Uthando, Wilderness Wildlife Trust and previous award winner Africat Foundation from Namibia.
The Awards are sponsored by The Good Safari Guide: independent media for the Safari Industry. The Good Safari Guide publishes an annual printed directory of the finalist and award-winning lodges, camps and mobile operators and the dynamic website (www.goodsafariguide.com) showcases finalists from the previous four Safari Awards events, as well as keeping visitors up to date with all the camp updates, special offers and other news from the safari world.
Henry Hallward, Director of The Safari Awards, commented in a communication to this correspondent: 'In this our fifth year, having moved The Safari Awards to London, the event is now the established platform for recognizing excellence in the safari world, not only for the safari camps, lodges and operators but for those organizations that, through their conservation efforts, help maintain a strong wildlife population and education platform to provide future generations of Africans with a secure livelihood'.
Rosanne Cobb, Editor of The Good Safari Guide, sponsors of The 2013 Safari Awards added in the same breath: 'The Awards have become increasingly popular and important as a genuine system of distinction and recognition. From 300 voting tour operators in 2008 to over 1,800 for the 2013 event, the views of the safari specialists have defined the creme de la creme of 'Safari Africa'. There are thousands of mediocre lodges and camps out there with fabulous websites or clever marketing/pr representatives, and without the Safari Awards the consumer has no reliable way of weighing up one against another. The Safari Awards cut through all the fluff and reveal the views of the trade- those who really know'.
Congratulations to all the winners in the 18 categories where prizes were up for grabs but a very special pat on the back to my long time friend Jake, who at last receives the recognition he so richly deserves for a life dedicated to safari tourism in Kenya and the East African region and for promoting the highest standards of sustainability and ecofriendliness. Well done indeed.
KENYA GOVERNMENT COMMENTS ON POACHING BUT FALLS SHORT OF EXPECTATIONS
The Kenyan government has at last taken some action vis a vis the poaching crisis which is gripping the country and which has seen elephant and rhinos poached now almost at will. A meeting yesterday between senior government officials and leading members of the conservation fraternity, has acknowledged that immediate action is needed and the following statement was sent in by a regular source from Nairobi followed by a series of comments made:
'Our wildlife, which is one of our most important sources of income as a nation, and almost the sole source of our earnings from Tourism, has come under serious assault from poachers in recent days.
We lost at least 360 elephants last year, one of the highest recorded in recent years. This was an increase from at least 289 elephants killed in 2011. The danger seems to be worsening with every passing day.
While the events in Kenya are clearly part of the growing global surge in poaching fuled by high demand for ivory in Asian countries, we have a duty to secure our precious wildlife for posterity and continued economic well-being of our nation.
We must respond to this growing threat in a big way and we must respond fast.
Security agencies must treat the emerging poaching threat as part of the insecurity griping the country and not a wildlife issue to be addressed solely by the Kenya Wildlife Service.
TheInternal Security Ministry, together withTreasuryneed to address the equipment, personnel and logistical needs of the Kenya Wildlife Service to enable us secure our parks and protect our wildlife. The KWS has forwarded its needs to the relevant ministries. Let this not be caught in more bureaucracy and procrastination while our heritage withers.
We need a well coordinated, well-financed and properly designed crackdown on poachers. This must involve the police, theMinistry of Tourism,InterpoIand the various ministries whose functions directly relate to the protection of wildlife and all our precious natural resources currently under threat.
I also appeal to the international community to help strengthen the national and international policing to deal with wildlife trafficking as a serious threat to conservation, rule of law, governance and economic development'.
While there was some satisfaction among the conservation community, several sources in Nairobi however immediately responded to the statement by claiming it was too little too late and a regular contributor used the opportunity of a phone call to say this: 'What we had expected was that His Excellency President Kibaki would get involved. What we expected and still hope for is a Presidential Directive. What we have, and true it is better than nothing, is a declaration of intent by an outgoing Prime Minister who lacks the power which a Presidential Directive could invoke. Even with elections just over a month away now, a Presidential Directive would immediately avail resources. The statement as you read only speaks of WE MUST RESPOND – that we have been saying to them for months and WE NEED TO ADDRESS – again something we have been saying for months if not longer. We, my colleagues and I, welcome this step but that is what it is. A mere step in the right direction. Knowing the process involved in shifting funds towards KWS is a bureaucratic quagmire. A Presidential Directive would cut right through the red tape and sort this immediately. No arguing over who, where, how, when and why. KWS could have a billion shillings literally overnight. They could buy 15 drones and set up a national surveillance centre like Ol Pejeta is now doing. KDF personnel could be shifted to KWS and deployed within days. Vehicles and aircraft could be moved to the disposal of KWS and more important, fuel would be readily available if the President says DO THIS.
So we hope he still steps in and steps up because this declaration of intent is not enough'.
Another regular commenter added: 'CITES starts next month. Can Kenya's position please be strengthened? Can we please demand that China's ivory trading status be revoked by CITES? And that of other countries always in the bad news like Vietnam too? CITES can back up our national response by outright banning all trade in rhino ivory and China can be put in the dock no matter what they try to stay out of it. Their government is conspiring through silence and looking away what is happening under their noses. In that over regulated society NOTHING happens and the government does not know. They KNOW. They must act and close the carving shops and all. This is what must come on the agenda at CITES plus global conservation groups should step up pressure via social media. I am happy some little progress was made yesterday but there is a lot more to be done. Our parliament betrayed us by trying to enrich themselves instead of passing a new wildlife bill amendment. So this relatively weak statement yesterday is a belated attempt to make up for those omissions, but it is far too little.
I agree with other colleagues, the President must step up now and declare this situation a national emergency. Otherwise, as elections come nearer, this will all be forgotten'.
There was however broad consensus that time was running out as the focus on the upcoming elections could divert the attention of law enforcement over those critical days, leaving a vacuum in other areas like anti poaching, which could be exploited by the highly organized poaching gangs and could see an immediate upswing in poaching in the final run up to election day and the immediate time afterwards when counting is ongoing and results are awaited.
Added yet another regular contributor from Mombasa: 'Please, they have to get real. They will need every member of GSU and police to be deployed to prevent election violence. You honestly think, or can anyone honestly think, that they will be bothered about poaching when so much is at stake for humans during those critical days? KWS will be left alone and there is not a chance in hell that they get extra personnel and resources when the country is at the brink. As you say, unless the President issues a directive, it will remain all words and take until a new government is in place to bring back to the agenda. Make that clear when you write'.
Time to carefully monitor and see what yesterday's meeting will accomplish in real terms, not just expressions of intent and good words, and the conservation fraternity will undoubtedly watch with hawk eyes if they have been merely duped into silence or if some true action springs from the positions taken yesterday. Watch this space.
BLANKETS AND WINE MOVES TO CARNIVORE GROUNDS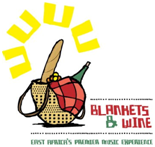 Kenya's premier monthly music and social event, Blankets and Wine, will with the February 03rd edition for the first time move to the popular Carnivore grounds in Nairobi, having burst at the seams at the previous location as a result of its growing popularity.
Blankets and Wine is every month showcasing new and upcoming young musicians but also crowd pulling stars from Kenya's vibrant music scene, entertaining visitors with nontop performances. Normally held every first Saturday of the month, the event is open from 1 p.m. to 7 p.m. and many families have made B&W a family outing, bringing the kids along for a picnic out or enjoying the food available from professional caterers.
This weekend will see the 41st edition of the event in Kenya, which has since also spread to Kampala / Uganda where it is still in its nascent stages though also enjoying growing popularity already.
For anyone this weekend in Nairobi, all roads will lead to the Carnivore grounds for a fun and music filled afternoon. Hotel concierges will be happy to make arrangements for visitors from abroad and the cost of admission is Kenya Shillings 2.000 per person – children enter at a rate of 500 KShs – or about US Dollars 25 in hard currency equivalent.
For updates on Kenya's events scene and sports, social, art, music and other performing arts happenings, subscribe to www.kenyabuzz.com for a free weekly mailing containing literally all there is to know for visitors to the country.
4 RHINOS FALL TO POACHERS IN NAKURU NATIONAL PARK

News are emerging from conservation sources in Nairobi that as many as four rhinos were found dead in Lake Nakuru National Park, their prized horns hacked off, as the pestilence of poaching has now swept from South Africa to East Africa. Nakuru is one of the national rhino reserves where both the Southern White and Eastern Black are concentrated for breeding and close up protection, or so it was thought.
These sad news come hot on the heels of a number of conflicting stories from Kenya, where on one hand successes against poachers highlight the new KWS CEO's resolve to take the fight to these criminals but where at the same time reports about more poached elephant come in too week after week.
William Kiprono, appointed last year on the fast track by President Kibaki only days after former office holder Dr. Julius Kipng'etich's resignation had been accepted, faced immediate challenges to his reign at the helm when the killing of an entire elephant family, young non tuskers included, was reported from Tsavo, in at least some quarters seen as the poachers testing his resolve and determination to step up the anti-poaching war.
Rhinos were targeted also on privately owned conservancies like Lewa Downs, Ol Pejeta and the Solio Reserve, leading to the establishment of a rapid deployment force by helicopter while, as reported here a few days ago, the first UAV, aka drone has been purchased and awaits deployment over the sprawling 90.000+ acres Ol Pejeta Conservancy in due course.
Welcome news over the weekend were the decision by the Kenyan government to add a further 200 million Kenya Shillings to the anti poaching efforts, giving KWS greater resources to stem and then turn the tide, but insider information has it that successes and setbacks will cancel each other out for some more time to come, until hundreds of more rangers have been trained and deployed. It is also understood that KWS at present still requires more funding to purchase and set up an operations centre for unmanned aerial vehicles, to gather intelligence on game and poacher's movements and then deploy by air and ground to intercept the gangs before they can do any real damage.
Last year over 650 rhinos were poached in South Africa and as finally that government starts to understand the devastating impact on the country's reputation abroad as well and the massive loss in terms of wildlife resources inside parks and reserves and acted more decisively, it seems that the international wildlife terrorists have now shifted their attention to East Africa, where, while protection could be considered adequate and strong under normal circumstances, they appear ill equipped to deal with such a commercial onslaught. Combined with almost useless laws – only last week did four Chinese found smuggling blood ivory get a fine of about 340 US Dollars and were let go – the fight against poaching will now require a major effort, including a Presidential Directive to use lethal means to and other available security resources available to the state, to begin defending Kenya's prized wildlife more effectively.
More details are being sought at this time on the circumstances, the location of the poaching incident in Nakuru and if the killed animals were either of the Southern White or the even more endangered Eastern Black species, so watch this space for future updates.
THE FASTJET VERSUS FLY 540 SAGA – WHAT OTHERS SAY

Warned severally over their choice of partner in East Africa for their attempt to form a Pan African LCC network, FastJet is now paying the price for dismissing out of hand information availed to them at the time, while initially jumping enthusiastically to the defense of their 'partners' only to wake up to the reality others saw and knew for a very long time of course. Those executives responsible for these developments will now surely have a case to answer themselves over their naïve if not careless approach, some would perhaps call it even grossly negligent, putting the money of their principals at risk.
Time will tell how that might pan out but here is what others, including the respected Sunday Times have to say about the deal gone sour and the marriage heading to the divorce courts before being fully consummated.
FastJet hit by legal battle over millions
African no frills airline FastJet is embroiled in a legal dispute with an airline firm who claims it owes millions of dollars.
Five Forty Aviation has instructed lawyers to recover $6.8 million for financial support given to Lonrho Aviation, now FastJet.
It says the debt relates primarily to the financial support given to Fly540 Tanzania (the trading name of Five Forty Aviation) as well as branches in Angola, Ghana and elsewhere operated by Lonrho Aviation.
The company claims FastJet agreed to clear debts as part of the sale reports the Sunday Times.
A statement said: "Five Forty Aviation Ltd ("the Company") confirms that it has instructed its lawyers to recover an acknowledged debt of $6.8m from Lonrho Aviation (B.V.I) Ltd, (now operating as FastJet)."
A deal was set up in June 2012 for FastJet to use Lonrho Aviation's routes and networks, see previous story.
But FastJet say the deal has been fully consummated and nothing is owed.
It said: "Don Smith and his partners have been paid all amounts due to them, a total sum of US$6.75m.
"Mr Smith certified in a document signed by him on 24 July 2012 that, other than specified liabilities as set out in the document, there is no other liability or indebtedness due to him or any entity controlled by him.
"There has never been any agreement that Lonrho Aviation would pay Mr Smith a further sum of US$7m."
The airline said it was planning to launch its first international routes shortly.
Monday, January 28, 2013
As reported on Monday here, FastJet now appears to have signed a Memorandum of Unterstanding with Fly540's Kenyan rival airline Jetlink, set to form a joint venture and finally enter the lucrative Kenyan domestic and regional market, something which was the initial priority before being derailed by the described problems and compelling FastJet to start up in Tanzania instead, where the aircraft fleet is until now only able to fly between Dar es Salaam, Kilimanjaro and Mwanza, reportedly causing them unbudgeted financial losses as a result.
Watch this space for breaking and regular aviation news from the vibrant, and seemingly adventurous East African aviation market.
KENYA FINES IVORY SMUGGLERS 340 DOLLARS AS UGANDA PROPOSES 10 YEAR JAIL TERM
Conservationists were up in arms when a court in Nairobi yesterday handed fines worth 340 US Dollars to four Chinese citizens caught smuggling blood ivory through Nairobi's Jomo Kenyatta International Airport, enroute from Lubumbashi in the Congo DR. The magistrate, when handing the sentence, regretted that his hands were tied as the offense in his words was still considered a petty crime, while Africa's herds of elephant are being decimated by demand for blood ivory in particular from China.
Emotions are getting higher against China in Africa for the role their citizens play in poaching, besides the relentless 'sucking resources from our lands' as an activist from Nairobi put it in a conversation last week.
'It is sad that our MPigs [a
commonly employed term how Kenyans saw and judged their last parliamentarians] failed to change the Wildlife Act. They found time to award themselves record salaries, make them tax exempt and engaged in silly stuff like wanting to ban drinking over the election period. Imagine, for such rubbish they found time but not to come to the rescue of our wildlife which is our national heritage. Tourism will falter if the poaching wipes out our elephant. Anyway, most lost their jobs already when not getting nominations from their parties for the next elections and those who somehow made it will be voted out en masse I am sure. They are the greatest failures politics in Kenya ever produced' ranted the regular source in anger when calling in to pass the information about the sentence.
In contrast has Uganda's conservation fraternity reason to smile as proposals of stiff financial fines and long term prison sentences were incorporated in the amendment to the Wildlife Act during recent consultations between government, parliamentarians and stakeholders. A minimum fine of 200 million Uganda Shillings plus a prison term of 10 years will be mandatory for magistrates and judges for poaching and smuggling of blood ivory, should the draft amendments be passed into law as is expected. Additionally will vehicles used have to be forfeit to the state as well as any other items found on the poachers and smugglers used by them when committing the crime.
Lax laws were blamed when last week fines of only 200.000 Uganda Shillings were handed down to some individuals dealing in illegally obtained Pangolin scales, and to make it worse, the confiscated scales where then found to have disappeared from the court strongroom. This prompted a sharply worded letter from the Executive Director of the Uganda Wildlife Authority to the judiciary and resulted in an ongoing police investigation into the circumstances how the exhibits were stolen.
Across East Africa the respective Wildlife laws are currently subject to review but nowhere was the opportunity lost in such a ridiculous manner as was the case in Kenya where as a result of the upcoming elections it might take as long as another year to have the new parliament come up with an amendment – time lost to protect the priceless wildlife heritage which supports the country's safari tourism industry. Watch this space.
JETLINK SUBJECT TO SPECULATIONS OVER FASTJET LINK
Reports are emerging from Nairobi that Jetlink, a privately owned airline based in Nairobi and grounded some months ago over South Sudan's failure to permit repatriation of funds kept in Juba's banks from ticket sales worth over 2 million US Dollars, may be in talks with FastJet for a joint venture.
There has been ongoing speculation over FastJet's association with Fly540 over a deal which has dragged on for months without tangible results, forcing FastJet to commence operations in Tanzania instead of the far more lucrative Kenyan market. Rumours have swept the industry for weeks now with allegations flying from the FastJet camp over unfulfilled commitments and attempts to hold them literally at ransom, leaving them frustrated and stuck in the starting blocks.
Should indeed Jetlink now become FastJet's Kenyan partner, it could open the way to commence operations within days after substantive agreements have been signed between the two parties. Jetlink owners Capt. Elly Aluvale and Capt. Kiran Patel both enjoy a far superior reputation as serious aviators and should they opt for the FastJet joint venture it would very likely be of a sounder nature and could be relied on by FastJet, compared to their present circumstances, not that they were not warned in good time over the choices they had made. It is not clear right now if Jetlink itself would resume operations or if a new platform would be created where the two airlines could hold a still to be determined shareholding.
What would also remain to be seen is if any money which may have been paid vis a vis a Fly 540 deal for Kenya could be fully recovered, or is in fact recoverable without resorting to court action should the deal go sour, not a new prospect for Fly 540 which has been engulfed in legal cases over unpaid fuel bills and other issues in the past with some alarming regularity, including a winding up petition by creditors at one time.
Whatever the case, it might open up an interesting perspective in Kenya's jet aviation, potentially pitting a new FastJet/Jetlink alliance against the initially chosen partner Fly 540 with cut throat competitions breaking out between the 'friends turned foes', which would very likely leave Kenya Airways, the dominant airline in Kenya and the region as the laughing third party, seeing bloodletting among key competitors. This, in the end, might leave one of the 'combatants' financially crippled – and not likely to be FastJet with their apparently endlessly deep pockets as they attempt to set up a continental network of LCC's.
Interesting times in Kenya's aviation industry, and in fact in the region, where this new constellation could revive the immediate prospect of the new partnership flying the regional routes much faster and in a much bigger way than initially anticipated, when FastJet failed to take off in Kenya and was confined to flying domestic in Tanzania only. Watch this space for breaking and regular aviation news from the Eastern African region.
KENYA AIRWAYS RELEASES 3RD QUARTER RESULTS

Kenya Airways just published the following statement about their operating performance in the third quarter of the financial year 2012/13.
The company put into the market capacity totalling 3,613m seat kilometres which was 1.1% above prior year's level. The growth during the period was as a result of introducing flights to Eldoret, Kilimanjaro and New Delhi.
The capacity into Middle East and Far East regions grew by 19.4%. This was driven by New Delhi, a new entrant into the region. Capacity offered into Europe shrunk by 26.6% compared to the same quarter of prior year due to capacity rationalization occasioned by the Euro zone crisis and the suspension of the Rome flights.
The Northern Africa region grew by 2.8% in capacity owing to increased frequencies to Djibouti via Addis Ababa and use of the larger Embraer 190 fleet as opposed to Embraer 170 used in the same quarter of prior year. Capacity availed into the East African region grew by 22.7% compared to same period last year. This was mostly due to increased deployment of larger equipment.
Capacity in the Southern Africa region grew by 6.8% mainly from increase in frequency to Nampula and Harare via Gaborone. West African region grew by 5.6% mainly in the Cotonou and Dakar routes. The Boeing 777-200 was deployed on the Kinshasa route as a result of increased demand of cargo and excess baggage. This led the Central Africa region to grow by 28.6% in capacity.
On the Domestic front, capacity shrunk by 1.4% compared to similar period prior year despite entry of Eldoret route. This was as a result of rationalization of Mombasa operations from the larger B737 aircraft to the smaller Embraer 190. Capacity availed to Kisumu grew by 15.4% due to use of the larger Embraer 190 fleet as opposed to Embraer 170 to capture increased traffic during the quarter.
Traffic measured in revenue passenger kilometres at 2,519m was 1.7% below similar period last year. Europe recorded the highest reduction due to the economic challenges facing the Euro-Zone economies that necessitated cutbacks in capacity offered.
The total passenger tally, which closed at 991,149, indicates a growth of 3.6% compared to similar period last year. The resultant cabin factor at 69.7% was lower than prior year's 71.7%.
Passenger uplift to Europe at 95,036 was a reduction from last year's level of 117,527 following the capacity reduction already alluded to. This resulted to 81.7% seat occupancy an improvement of 8.3% over last year.
In the Middle East, Far East and India regions, uplifted passenger traffic at 151,100 showed an improvement of 15.2% compared to same period prior year. However, the realised cabin factor of 69.3% was below prior year's level of 75.4%.
Within Africa but excluding Kenya, passengers uplifted totalled 516,894 indicating a growth of 2.9% on the back of 10.1% capacity growth. The resultant passenger cabin factor of 63.6% was 4.5 percentage points lower than similar period last year.
Passengers uplifted within Kenya at 228,119 increased by 10.9%. The resulting cabin factor of 81.5% was above 74.6% achieved last year.
Cargo capacity dropped 10.7% with a proportionate decline in tonnage during the period. The pricing environment remained positive across the network.
Tanzania News
PRECISION AIR ANNOUNCES DAILY FLIGHTS TO MBEYA

When on the 16th of January Precision Air, Tanzania's premier airline, launched their flights to Mbeya's revamped Songwe Airport, they cautiously announced that the new destination would be served four times a week, linking the commercial capital Dar es Salaam with this western Tanzanian municipality.
The airline's strategy to connect the country by air, like it was never done before, however paid off beyond their wildest expectations and Linda Chiza, Precision Air's Head of Marketing and Branding, yesterday announced to this correspondent that effective 12th of February the Mbeya route will be served daily with ATR turboprop aircraft.
At the same time she also confirmed that Mtwara, the oil and gas 'capital' of Tanzania, will see additional frequencies added as on that route too the demand was simply outstripping the available number of seats. As the airline operates both the ATR 42 and the ATR 72, there is added flexibility to move from the smaller 48 seat turboprop to the larger 70 seat version.
An aviation source in Dar es Salaam, contacted for a comment, had this to say: 'Precision has a vision for the country. They have the right type of aircraft to fly to all those other towns where the big jets cannot land. They have more ATR's on order and when they have them delivered they will fly more often to more places than any other airline in Tanzania's history has ever done. Now that is what I call a service to the nation. Others come with big noise and then only fly between Dar and Kili or Mwanza. With Precision you fly to almost every corner of our country. And you get a full service on the plane and have no hidden cost when you buy your ticket at the advertised fare. Others make wild claims on fares and when you book you find a lot of extra charges or be told THAT FARE YOU NEED TO PREBOOK MANY WEEKS IN ADVANCE and then at the airport you pay extra still for other services like you baggage'.
Clearly Precision are doing something right somewhere as the airline continues to grow and the partnership with the region's largest airline Kenya Airways has helped in many ways to become Tanzania's own 'Pride in the Sky', pun fully intended of course. Watch this space for breaking and regular aviation news from the Eastern African region.
PRECISION AIR RESUMES KIGOMA FLIGHTS

Precision Air has confirmed that the airline has on Wednesday this week resumed operations to Kigoma, a town located on the shores of Lake Tanganyika. The airline is using an ATR 42 for the service, which now operates 5 times a week, originating in Dar es Salaam and routing via Mwanza every Monday, Wednesday, Friday, Saturday and Sunday.
Flying time from Mwanza, a city located on the shores of Lake Victoria to Kigoma, the main municipality on Lake Tanganyika, is approximately 1 hour and 10 minutes.
The new scheduled service is considered to be of crucial importance to the business community in Kigoma but also expected to help in opening up Lake Tanganyika for tourists in a part of Western Tanzania which sees only a fraction of the overall tourists visiting the country's traditional heavy weight national parks and attractions.
Precision Air is Tanzania's premier airline, offering the widest domestic network and a growing number of destinations in the region and beyond on the African continent. The airline presently has 14 aircraft on their fleet and an additional order of ATR42 -600 and ATR72-600 state of the art turboprop aircraft pending with the French aircraft manufacturer. Besides the ATR fleet Precision Air operates 3 B737-300 jets for flights to Nairobi, Lubumbashi, Lusaka, Johannesburg and the key domestic route between Dar es Salaam, Kilimanjaro and Mwanza.
Watch this space for breaking and regular aviation news from the Eastern African region.
FOUR SEASONS AIMS AT ZANZIBAR

With only six properties at present in Africa, including a 77 room and suite safari lodge in the central part of the renown Serengeti, it comes as little surprise that Four Seasons seems keen to expand their presence on the continent.
The group presently operates properties in Africa in Marrakech / Morocco, Alexandria and Cairo / Egypt and on the Seychelles' main island of Mahe.
News were broken on Monday that the global luxury hotel and resort group intends to build a 50 million US Dollar resort complex on the island of Zanzibar (Unguja), which would add another resort location to the growing portfolio of Four Seasons.
East Africa has of late become a focal point for global hotel giants, many of which attended the African Hotel Investment Forum last year at the InterContinental Hotel in Nairobi and found new confidence to invest following significant discoveries of oil, gas and other minerals in the wider region.
Marriot will be opening a hotel in Kigali, Hyatt now manages a hotel in Dar es Salaam, Best Western only recently opened their first property in Kenya where Kempinski is also due to open its doors in Nairobi in May. Others like Radisson too have new hotels in the pipeline and the already on site giants like InterContinental and Hilton are expanding across Africa too.
Welcome news for sure for East Africa's tourism industry which can count on the added property related marketing of our destination while the business community will have wider choices and arguably better services still as a result of relentless competitive pressures. Welcome to Four Seasons – East Africa needs your presence.
ANTIPOACHING OPERATION IN SERENGETI SEES 4 POACHERS KILLED IN FIRE FIGHT

News were confirmed over the weekend that 4 poachers, caught red handed trying to hack the tusks out of a recently killed elephant, met their fate when they foolishly decided to engage in a fire fight with anti poaching patrols and rangers in the Serengeti National Park.
While every loss of human life is regrettable, the news were nevertheless greeted with enthusiasm among the country's conservation fraternity, seeing that SENAPA staff were making good of government promises to combat poaching, a menace which is threatening the country's big tourism business. Said a regular source from Arusha yesterday when calling in the news: 'Our poaching situation is dire. The entire Serengeti only has about 200 rangers and yet it is almost 15.000 square kilometers large. We need to invest more in anti poaching and maybe, like you wrote last week, also use those drones which they have started to bring to Kenya. That could provide the surveillance and then the rangers can be airlifted to any suspicious movements seen. Commercial poaching is the greatest threat to our tourism industry now. The news of elephant killings are putting potential clients off. We need to work hand in hand with our partners from abroad to help finance anti poaching. But other issues like the Lake Natron project are not helping us here. We need to go back to the single commitment our founding father made to the nation and the world, to promote conservation at all cost. Now those poachers were firing first on the approaching rangers and paid with their life for it. Let it be a lesson to others, their days are numbered'.
The anti poaching unit recovered a machine gun and hundreds of rounds of ammunition, traditional weapons like spears and bows / arrows as well as slings and traps from the camp of the poachers. No identification has been possible until now and security organs are said to be searching villages neighbouring the park for anyone reported missing over the past few days, also with the aim to find any potential accomplices still at large. Watch this space.
TANZANIA'S NDC REFUSES TO REVEAL NAMES OF LAKE NATRON BIDDERS

The refusal by the National Development Corporation last week to declare the names of as many as 6 bidders for one of the country's most controversial projects, a soda ash extraction plant at Lake Natron, has brought immediate strong condemnation by local, regional and international conservation groups for failing transparency standards and continuing a policy of concealment, covert operations and outright deception.
India's TATA Corporation had withdrawn from the project when it became apparent that they would be turned into a global punching bag by conservation NGO's, high profile individuals and the world's green lobby, had they persisted with the project, which at the time was in any case shut down by the environmental watch dogs in Tanzania. It appears though that the Tanzanian government is seeking a new environmental impact assessment and there is the strongest suspicion that the selection of the consulting company will be loaded with clear marching orders what the outcome is supposed to be. This would not be the first time the 'inconvenient' consultants input would be evaded, audited from final reports or simply ignored, as was the case for the case study and EIA's for the planned new port in the middle of the Coelacanth marine national park near Tanga. Here, as there, will matters no doubt come to a head soon and local activists have already made preparations for a campaign of political discreditation by government bodies and their mouthpieces, intimidation and worse as has become almost a norm in the Tanzania of today when opposing even the most hair brained projects.
'We are ready for their countermeasures when we put this in the global domain. They cannot stop the internet from spreading our news and when they arrest us and charge us with trumped up charges that too will be written by our supporters abroad and explained. This government has learned absolutely nothing. Two months ago they had to withdraw their ill considered application to CITES to sell ivory in the face of the worst poaching crisis we ever had. Openly they say they could not meet license conditions for now but behind closed doors they are mad about being shut down by a growing coalition of opponents inside and outside Tanzania. The world has been made aware about fork tongue announcements by our government. The case about the Serengeti Highway is now starting in Arusha at the East African Court of Justice. We are ready, and so are our partners, to take more complaints to the EACJ. Lake Natron is a transboundary eco system, so EAC rules permit to take a case to the court in Arusha. And when we find the names of those 6 bidders we will immediately expose them in the public arena so that their shareholders can be told what their company management plans to do. Ecozide, plain and simple, crimes against birdlife, against nature, against our natural heritage' said a regular source from conservation circles in Tanzania, expressing fears for personal persecution as well as hope for concerted action.
Lake Natron is the single breeding ground for the millions of the lesser Flamingos which adorn at non breeding times the shores of East Africa's soda lakes, providing a breathtaking spectacle for tourists who come from across the world to admire these often million strong congregations.
In an article two years ago were the dots linked and a Corridor of Destruction began to take shape, reaching from the Coelacanth marine park at Tanga over the Eastern Arc Mountains to Lake Natron and across the Serengeti to Lake Victoria. Added issues for Tanzania arose over plans to mine highly toxic Uranium in an area of the Selous Game Reserve, plans to irrevocably alter the fabric of the Selous' tourism core area with a hydro electric plant at Stiegler's Gorge, which would flood a large part of the plains behind the dam and make wildlife based tourism all but impossible in this part of the world's largest game reserve and plans for the Stone Town of Zanzibar to put up high rise buildings. What most of these areas have in common is UN World Heritage Site status or in the case of the Eastern Arc Mountains the last minute withdrawal of an application in order to 'tap into the rich resources without needing permission from anyone' as a senior government official was overheard saying at the time the withdrawal became public knowledge.
Gideon Nassari, the Director of the National Development Corporation has been singled out as being one of the hardliners of such unsustainable 'progress' and being a willing tool in the hands of his political masters who have already resorted as branding opponents as 'anti patriotic' which normally opens the doors for swift and comprehensive retribution by government bodies and the security apparatus, not shy of using ultimate means as the deaths of a journalist, singled out earlier that day by a senior police officer for covering an opposition rally last year goes to demonstrate.
International organizations have since learned to see through the PR schmooze the government is trying to use to make itself appear nature friendly, and have left no doubt that even decampaigning the country as a tourism destination is an option, should reasoning not help.
'Kikwete still wants the Serengeti highway and has ignored offers to finance studies for a Southern route around the park. It is clear to us that he may have made promises to mining companies before the last elections and now is under pressure to deliver. That road would open up Lake Natron and the mining concessions between the park and Lake Victoria. There has also never been an absolute NO to the planned railway from Tanga to Musoma not running across the Serengeti too. That line would link the planned soda ash plant which can only export with a railway line running to the coast for loading and shipping. There is too much circumstantial evidence piling up to ignore that there is some evil genius mind behind all these destructive projects which will benefit few and leave the rest of Tanzania to deal with holes in the ground and poisoned earth in a few decades' said another source this morning when discussing the matter.
Watch this space as yet another monumental battle for the environment appears to unfold in front of our eyes.
Rwanda News
RWANDAIR RESUMES MOMBASA STOP FOR DUBAI FLIGHTS

Effective tomorrow will RwandAir re-launch their Mombasa stop for three of their 7 weekly flights between Kigali and Dubai. The airline is using their B737-800NG for this service, which gives travelers from Mombasa once more a nonstop access to Dubai, without having to travel through Nairobi or other waypoints.
In addition will the flights once more open up the Kenya coast for leisure travelers from not just Rwanda but from across the growing RwandAir network, giving coast tourism a much needed boost while at the same time allowing importers and exporters from the central part of Eastern Africa access to the port in Mombasa with a nonstop flight from Kigali, into which connecting flights from the other destinations like Bujumbura or the gateways from Eastern Congo to the RwandAir network from Gisenyi and Cyangugu feed.
RwandAir expects to capture a significant traffic share for the route to Dubai from Mombasa and other coastal towns and their sales team from Nairobi, assisted by the station staff in Mombasa, has been out on a marketing blitz in recent weeks to prepare for the re-launch of this successful waystop to Dubai.
RwandAir has full traffic rights on all sectors of this routing, being able to uplift passengers and loose cargo between Mombasa and Dubai and vice versa. The airline flies also to Kenya's capital city of Nairobi three times a day from Kigali, bringing the number of flights between the two countries to 24 per week now. RwandAir presently operates a fleet of 7 owned and leased aircraft including two B737-800NG, two CRJ900NG, two B737-500 and one Bombardier Dash 8-100 but is expected to replace the B737 -500's with two B737-700NG aircraft by middle of this year. Visit www.rwandair.com for more information about RwandAir's network, special promotions, fares, bookings and how to join their frequent flyer programme 'Dream Miles'.
COUNTING DOWN TOWARD THE PAN AFRICAN DANCE FESTIVAL IN KIGALI

FESPAD, the Pan African Dance Festival, is coming to Kigali and will launch with a big ceremony on the 23rd of February before reaching its climax in March 02nd.
Hosted by the Ministry of Sports and Culture in conjunction with the Rwanda Development Board's Tourism Department the festival will bring over 40 African countries to Rwanda where dance groups will showcase both classic African tribal dances as well as contemporary dances for the audiences coming to see the event.
The event is seen as a litmus test for Rwanda hosting more continental and global events of this kind, now that additional meeting and hospitality capacity has been created and more is on the way yet with the opening later this year of the new Marriott Hotel in Kigali.
Ms. Rica Rwigamba, Head of Department at the RDB and in charge of Tourism and Conservation, in a meeting with this correspondent last Friday in Kigali confirmed the event developments and mentioned that the festival will create a platform to position Kigali as international events destination while promoting the great aspect of Africa unity through dance.
She then added that the festival is expected to promote tourism as well as investment, and promote the good image of the country in general as part of the country's strategy of development. RDB will provide more information to the general public in coming days about the performances of traditional dances and especially the planned dance workshops that will include Salsa, Hip hop and Kinyarwanda dances as it was the case of the 7th edition of the festival which was held in 2010.
She also explained that the 8th Edition of FESPAD was shifted to a February date instead of the common July dates, because the organizers felt the traditional low season experienced in Rwanda could be utilized by artists to showcase their talents and not clash with other high profile festivals.
Rwanda will also host an East African Community (EAC) festival dubbed 'Jam Fest' which will take place between February 11th to 16th, starting in two weeks time already. Both events have been marked as major events in Rwanda and in fact Eastern Africa to promote and create awareness on the many opportunities in Rwanda today, for tourism and other sectors of the economy, in the Land of a Thousand Hills.
Seychelles News
SEYCHELLES PROMOTE UNESCO WHS BID FOR MISSION LODGE IN MADRID MEETING

Seychelles' Minister for Tourism and Culture met at the sidelines of Spain's premier tourism exhibition FITUR with the UNWTO Secretary General Taleb Rifai, to discuss, among other issues of mutual interest, the country's bid to be elected to the prestigious Executive Council later this year, but also to seek support for efforts to have UNESCO accept the Mission Lodge as a third national UNCESCO World Heritage Site.
Taleb Rifai, who was present at last year's Carnival International de Victoria in the Seychelles knows the country well and had toured various sites, and therefore understands the archipelago's commitment to conservation and heritage well. The meeting in Madrid took place alongside Seychelles promoting holidays to the islands in Spain, using the one stop airline connections available via Emirates, Qatar Airways and Etihad, which fly to all the key airports in Spain and connect those seeking that holiday of a lifetime through their hubs in the Gulf.
Minister St. Ange was quoted to have said: 'Mission Lodge was formerly known as Venn's Town in the 1870s. It was set up by the Church Missionary Society, a philanthropic group in 1876 to 1889 to accommodate children of liberated slaves. The site is situated on top of a mountain at 450 meters in a national park, far from the main town area, a place unique in biodiversity and history and commanding one of the best panoramic views of the islands. The last batch of liberated slaves landed in Seychelles in 1875, but Venn's Town still accepted children born of African parents working as labourers and on plantations. The site symbolizes the beginning of formal education and Christianity for the liberated slave children of Seychelles. The site was an important stop along the slave route in the 18th and 19th century in the Indian Ocean and Eastern Africa, and was also an important element in the makeup of the African Diaspora. Venn's Town of Mission Lodge is a site that demonstrates something in human life that is regrettable, but that took place. It represents an event in the whole world in terms of slavery. These are the symbols of freedom. Venn's town is the only site in the world that served freed slave children. It is today inhabited and begging to be recognized by the world as a unique historical Site for the World'.
After the meeting Minister St. Ange also told the media that the UNWTO Secretary General was supportive of the call by Seychelles to seek the support of the world body, UNESCO, to work with Seychelles to protect the Slave Ruins of Mission Lodge for posterity. 'We are after protecting this site for all to see. A cultural site with a million dollar view, but for us in Seychelles, a site with a unique cultural dimension out of the commercialization world. We need it to become a site for the world, which is why we are after seeking UNESCO to declare it a World Heritage Site'.
When returning to the archipelago next week to report about the 3rd edition of the already globally renowned Carnival International de Victoria this correspondent will once again visit the Mission Lodge site to see what progress has been made since the last site inspection, so expect 'live reporting' from Seychelles, truly Another World in just a couple of days.
MISSION LODGE REDEVELOPMENT GATHERS MOMENTUM AS UNESCO BID GOES UNDERWAY
The Seychelles Ministry of Culture and Tourism is now working with the Seychelles Heritage Foundation to bring the Mission Lodge back to life with new displays tracing the freed young slaves as they made this place their home.
Representatives from the Seychelles Destination Management Companies joined Alain St. Ange, the Seychelles Minister responsible for Tourism and Culture a few days ago as he toured the Mission Lodge Slave Ruins accompanied by Patrick Nanty, the CEO of the Heritage Foundation, Benjamine Rose, the Principal Secretary for Culture, Elsia Grandcourt, the CEO of the Tourism Board and Sherin Renaud, the Principal Secretary for Tourism and other members of the Tourism and Culture Departments.
Senior staff of 7 Degrees South, Creole Travel Services, Mason's Travel Pty Ltd, Select Seychelles and Seychelles Connect Booking Service were given an insight of the planned enhancement projects to rehabilitate the Slave Ruins of Mission Lodge to make it an important historical excursion for Destination Management Companies (DMC).
The company representatives were briefed on the proposed building of a "pavilion design" reception and information centre in an hitherto open area near the side of the current car park which will subsequently be resurfaced and used as a drop off area only.
In addition, there are plans to put proper signage on both heritage and historical value of the site, enhancement of visitor's directional signs and existing viewpoints as well as part restoration of the ruins. Proposed parking on a plot of land opposite the main entrance will help to reduce congestion on the existing parking area.
Following a short presentation of the proposed projects, the Destination Management Companies concluded that Mission Lodge is a place of historical value with potential for future development. They went on to comment that 'Mission Lodge should bring a new experience and with what is being planned Seychelles will have a more meaningful product for visitors paying an entrance fee to visit this unique historical site'.
Maxwell Julie, the Project Manager of National Heritage Foundation, pointed out that Creole Travel Services and Mason's Travel Pty Ltd are looking at assisting with the building of the reception / information area and that Creole Travel Services is also looking at assisting with works to grade the land for the proposed parking area for Mission Lodge. Minister Alain St. Ange explained that it was time for Mission Lodge to be given its rightful place as a Seychelles historical site and he announced that the Ministry of Tourism and Culture was looking at seeking support to make these Slave Ruins a UNESCO World Heritage Site as it was unique in its own right.
'The historical aspect of Mission Lodge is being forgotten and overshadowed by its breathtaking panoramic view. An important chapter in Seychelles history is engraved in Mission Lodge, and this aspect should constitute the central attraction of the site' Minister St. Ange was quoted to have said. He then went on to say: 'From today we need to see all we discussed translated into concrete actions'.
Mission Lodge, formerly known as 'Venn Town' was set up in the 19th Century by a missionary society to educate the children of the first black slaves to be freed in Seychelles. Today these ruins, sitting on what is considered the most exclusive viewing spot from high up on the island of Mahe, hold the walls of the school, dormitories and village occupied by young slaves as they were freed and landed in Seychelles. The small cemetery where some are buried was cleared along with the grave of the son of the initial missionary who managed this project. In 2010, Seychelles started the nomination procedure for the Slave Ruins of Mission Lodge to get recognition as the country's third UNESCO World Heritage status. The National Heritage Foundation and the Research Section of the Culture Department of the Ministry at La Bastille are working together with the Centre for Heritage Development in Africa to make the case for UNESCO's recognition of the Slave Ruins at Mission Lodge.
Minister Alain St. Ange said that when the Slave Ruins at Mission Lodge earns the UNESCO World Heritage Status it will not only be listed as the third UNESCO site in Seychelles, but it will be the first purely cultural site recognised on the archipelago after the Vallee` de Mai and the Aldabra Atoll.
As Seychelles is putting the final touches for the submission to UNESCO of Mission Lodge's nomination procedure in October 2013, the Seychelles Minister for Tourism and Culture, Mr Alain St. Ange said that he will seek the support of the UNWTO to assist Seychelles earn international recognition for a site that needs protection as it is unique. 'I will use the opportunity on my participation at the end of January UNWTO meeting in Spain to get the name of our Mission Lodge Slave Ruins known and to gain the UNWTO's support for the Seychelles bid to gain UNESCO World Heritage Status for these Slave Ruins at Mission Lodge. We must preserve what is left of this era and these ruins are unique as they are protecting the young generation who fell victim to a practice of gone bye days' the Minister Alain St.Ange was quoted in a press release. One more thing to look forward to see by visitors to the Seychelles, which remains truly Another World.
AIR SEYCHELLES GETS SECOND AIRBUS A330

Air Seychelles, Etihad's Indian Ocean islands partner airline, has seen a second Airbus A330-200, emerge from the Etihad maintenance facility's paintshop this week. The new aircraft will soon fly to Mahe before formally being put into service with the inaugural flight to Hong Kong in early March as well as scheduled flights to Mauritius and Johannesburg.
Named after the Seychelles most visited attraction, the Vallee` de Mai' on the island of Praslin, the new bird will also shine with a new livery including the airline name painted on the underbelly so that on landing, those on the ground, can see where this flight came from or is going to.
The aircraft, when it 'officially' joins the Air Seychelles fleet, will also see the completion of the initial fleet renewal programme which was agreed between Etihad and majority partner Government of Seychelles at the start of the partnership. Already underway when Etihad bought a 40 percent share of the airline from the Seychelles government, it saw all B767-300 aircraft being progressively returned to the lessors to make way for the introduction of the A330's, an aircraft of course also flown by Etihad, allowing for the pooling of maintenance, training and other cost saving measures.
Happy Landings to the new 'bird', the crews and all the passengers enroute to and from the Creole Island Paradise of Seychelles.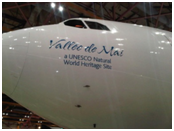 (Picture courtesy of Robeel Haq Esq)
SEYCHELLES TOURISM ACADEMY SIGNS MOU WITH SHANGHAI COUNTERPARTS
The Seychelles Tourism Academy and China's Shanghai Institute of Tourism have signed a Memorandum of Understanding, paving the way for lecturers and students to follow internship programs within both institutions.
The MOU was officially signed by Mr. Flavien Joubert, the Principal of Seychelles Tourism Academy and Weiwu Yang, the President of Shanghai Institute of Tourism in the presence of Minister Alain St. Ange, the Seychelles Minister for Tourism and Culture and Mrs. Elsia Grandcourt, the Chief Executive Officer of Seychelles Tourism Board. Mr. Joubert, the Principal of the Seychelles Tourism Academy said that the signing of the Educational Cooperation agreement 'is a great achievement as both the Tourism Academy and the Shanghai Institute of Tourism stands to benefit from the exchanges'.
The President of Shanghai Institute of Tourism, Weiwi Yang hailed the signing of the first ever Memorandum of Understanding with the Seychelles Tourism Academy saying that it 'represents a stamp of approval between both institutions to promote cooperation between Seychelles and Shanghai'.
The Memorandum of Understanding between Seychelles Tourism Academy and Shanghai Institute of Tourism provides for a three year educational exchange programme between both institutions. Students and lecturers of the two tourism and hospitality training institutions stand to benefit in exchanges of academic publications materials or other information, collaborative research and possible exchanges on academic papers, exchange of students and academic staff, mutual assistance in preparation of seminars, conferences and workshops as well as cooperation in training projects for specific areas of development.
Minister St.Ange, the Seychelles Minister for Tourism and Culture outlined the strength of Shanghai in the field of Tourism. He was quoted saying: 'I am confident that the signing of the Memorandum of Understanding is a win-win situation for Seychelles Tourism Academy and for Shanghai. The Memorandum of Understanding gives Seychelles a new avenue to find new opening for its students. The agreement with Shanghai Institute of Tourism comes at an opportune time for students of Seychelles Tourism Academy. We must look at all avenues of cooperation between both institutions and leave no stone unturned'.
The MoU signing comes shortly after STA also signed a similar agreement with the Government of Oman to establish cooperation between the Gulf state and the Seychelles.
SEYCHELLES PRIVATE SECTOR MEETS TO DISCUSS INDUSTRY AFFAIRS
Members of the SHTA, the Seychelles Hospitality & Tourism Association from Praslin and La Digue Islands met at a General Meeting at La Reserve Hotel on Praslin last Saturday.
The Praslin and La Digue tourism professionals meeting was organised by their SHTA to be better updated on pertinent challenges their island members were being faced with. The Seychelles Minister responsible for Tourism and Culture, Mr. Alain St. Ange, accompanied by Mrs. Elsia Grandcourt, the CEO of STB, the Board's Director for Administration and HR, Ms. Jenifer Sinon and Mrs. Sabrina Agathine, the Head of Marketing from Air Seychelles had joined the Executive Board Members of the SHTA for the Praslin meeting.
Mr Louis D'Offay, the Chairman of the Association said as he welcomed all the Praslin and La Digue members of the Seychelles Hospitality and Tourism Association that SHTA appreciates the importance of the islands of Praslin and La Digue. The association needs to better inform itself on the problems of the islands and above all to listen to them. Mr Louis D'Offay gave an overview of the situation of the Seychelles tourism industry and the new challenges members felt they were today facing.
The floor was then open and the Praslin and La Digue hoteliers and Mr. William Rose, the Director of the Cat Roses Inter Island Ferry brought up points they feel were having a negative impact of their businesses. From inter island air access, the state of Curieuse Island facilities, illegal boat operators, cost for participating at Tourism Trade Fairs, the over development of Praslin and La Digue, direct air access to Europe, new regulations for recruitment of foreign labour following the Mahe meeting with the PS from the Ministry of Employment, tourism budget and the new Tourism Marketing Fund and Social Responsibility taxes were tabled and discussed.
Mrs. Sabrina Agathine, the Air Seychelles Marketing Manager gave explanations on points raised and assured the stakeholders present that she would update the airline's CEO on points seen as concerns by the tourism sector and Minister Alain St. Ange took time to react to the points raised during the discussions. Minister St. Ange said that he was on Praslin for the Praslin and La Digue meeting because the Government believes in the tourism potential of the two islands and that the Government appreciated the effort made by these island hoteliers and tourism entrepreneurs. Minister St. Ange assured that all their points raised had been noted and would be discussed further by his ministry.
The Minister for Tourism also congratulated the SHTA for organizing the Praslin meeting for hoteliers and tourism entrepreneurs from Praslin and La Digue. He said that it remained important for the industry and for the Government to remain connected with everyone sitting in the front line of the industry. The Minister thanked the stekeholders for their openness and for being frank in addressing their concerns and challenges.
After lengthy discussions a resolution was adopted for SHTA, the Tourism Board and the Ministry of Tourism to meet with Air Seychelles CEO to discuss the way forward and to better understand each other's position. The association also resolved to writing to the Government to seek representation on the Planning Authority as they all agreed at the meeting that Praslin and La Digue were losing their appeal because of new constructions approved by the Planning Authority where no consideration of the islands character as well as the negative impact on the environment was taken into account. A marketing meeting of the association and the Tourism Board is also to be called in the coming week to review the 2013 plan of action and the allocated budget. The stakeholders from Praslin and La Digue also requested that a letter be sent to the Minister of Finance and to the Minister responsible for employment to take up the lack of staff difficulties. They addressed the appeal by the country to support the new flight by Air Seychelles to Hong Kong but said that as they wanted to move to be ready with specialized catering needed for that new market new formalities to recruit foreign cooks made it too complicated because they today needed to convince the Ministry that this employee was suitable when it remains clear to them that they would not be spending the money to employ a foreign staff member if they were not an asset. They made it plain that they want to manage their establishment themselves and not be dictated by an officer in a Ministry trying to manage it for them.
The Executive Board of the Association also held it meeting on Praslin which was followed by a cocktail at the la Reserve Hotel at Anse Petite Cour.
AND in closing once more some worthwhile reading material from The Livingstone Weekly by Gill Staden:
Water Levels in the Zambezi
From Zambezi River Authorities
NANA'S FARM
This station is located about 33km upstream of Victoria Falls. Since there is no major tributary between the site and the falls, flows measured at this station can be considered as flows passing over the falls.
Flows on the Zambezi River at Nana's Farm have continued to rise steadily. The end of week flow on 20th January 2013 was 931m3/s which is about 17% higher than the flow recorded last year on the same date.
VICTORIA FALLS
Flows at Victoria Falls have continued to rise. The flow at the end of the week on 13th January 2013 was 855m3/s, which is about 24% higher than the flow recorded last year on the same date.
Kabimba (not) appointed to ZAWA board
From the Zambia Weekly
Minister of Tourism and Arts Sylvia Masebo has appointed a new nine member board of the Zambia Wildlife Authority (ZAWA) – and was immediately criticised for including PF Secretary General and Justice
Minister Wynter Kabimba.
When revealing the new board, Masebo explained that Kabimba had been appointed in two capacities, as "a renowned lawyer in wildlife policy and law", and as the ruling party's custodian of the PF's vision to include traditional leaders in wildlife management. Critics were not amused. They alleged that this was the first time ever that a cabinet minister had been appointed to serve on a parastatal board, and the Young African Leaders Initiative wondered whether "there is a serious shortage of competent human resource in the ruling PF", pointing out that Kabimba is also serving on the boards of Zamtel and the Energy Regulation Board.
Kabimba explained that his presence was valuable: "I sit on the Zamtel board and when it comes to explaining the party manifesto and policy, these people have always found my contributions to be helpful and not intimidating," he told the Post.
Later in the week, however, the PF clarified that Kabimba had not been appointed to the board in his personal capacity, but as a representative for the Ministry of Justice. As such his seat could be occupied by any person from the ministry, depending on the issues under deliberation.
The new board comprises chair Guy Robinson (chairman, Food Reserve Agency and farmer/hunter), Timothy Mushibwe (accountant, former ZAWA director and former chairman Zambia Tourism Board), Yonous Mitta (Lusaka businessman, owns fishing camp), Senior Chief Inyambo Yeta (Lozi people of Sesheke), Chieftainess Mwape (Nsenga people of Petauke, with interests in Nyamvu Game Ranch), Anita Balletto (Operations Director, Sanctuary Retreats), Charity Mwansa (Permanent Secretary, Ministry of Tourism and Arts), Chasiya Kazembe (Economist, Ministry of Finance) – and a representative from the Justice Ministry.
Speaking during the board's installation, its new chairman said it would look into the allegations of corruption and mismanagement at ZAWA immediately.
"You have constituted a board of high integrity and balanced knowledge, and you can rest assured that we will do our utmost (…) to steer the way forward in the wildlife sector," Robinson said.
He did however call for "full backing for our officers, who face poachers head on in the field, [are] shot at frequently, and are unable to return fire for fear of prosecution by the law and [being] imprisoned for murder. When poachers are apprehended, courts are extremely lenient and sentences are absolutely non-deterrent" – awakening memories of President Sata's pardoning of 76 poachers right after assuming office in 2011. Back then, Sata dissolved the ZAWA board, apparently for having more respect for animals than humans. He had looked at the inmates in Zambia's crowded prisons – and reached the conclusion that too many of them were jailed for poaching.
… one of the new board's first assignments will be to advertise for a director general. The institution has been run by a temporary management team led by Xenophon Vlahakis, former permanent secretary and
current tourism consultant, since Masebo fired the earlier management on corruption allegations.
Masebo also set up five committees, including finance (chaired by Mushibwe), audit (chaired by Mitta), policy, legal and administration (Kabimba – or his representative), technical and operations (Senior Chief
Inyambo Yeta) and community and wildlife resources (second lady Charlotte Scott – who is one of six co-opted board members).
Hunting ban clarified
From the Zambia Weekly
Minister of Tourism and Arts Sylvia Masebo has clarified that the suspension of hunting only applies to the 19 hunting concessions up for tender towards the end of 2012. "There are concession licences that didn't expire and are still running and they will continue hunting," she explained according to the Post. "But [the ban on] hunting of big cats will apply to everyone, including those with active licences and private game parks, since we don't have actual numbers of these species", she added.
In short, hunting has been suspended in 19 concessions – so far for the 2012 season only – while big cat hunting has been banned completely.
Hunters support ban
From the Zambia Weekly
The Professional Hunters Association of Zambia (PHAZ) supported the suspension of hunting. "We will bear with you in this trying moment to allow for a cleanup and sorting out of this sector so that we can start afresh with sustainable use of our resources," PHAZ chairman Gavin Robinson told Masebo, according to the Daily Mail
Hunting Banned in Zambia during 2013
During a stakeholders meeting held on 10 January at Radisson Blu Hotel, Lusaka, it was decided to ban hunting during this coming year. There will be a permanent ban on the hunting of leopard and lion. Government has decided that it needs to take stock of its wildlife areas by proper counts of species before it can issue licences for hunting. Hunting on private wildlife farms can continue under certain conditions.
During the year a study of animal numbers will be conducted. Also a proper framework for the administration of hunting areas will be formalised. Once the wildlife numbers have been established, it is hoped that depleted areas will be restocked.
Government realises that this ban will mean a loss of income to the Community Resource Boards (CRBs) which rely on the income from hunting in their areas so has decided to ensure that payments are made to CRBs.
From the Statement after the meeting:
A baseline study and census shall be conducted on entire game area estate to establish current stock levels of the wildlife state by the Government;
To review policies and institutional framework of the structures responsible for wildlife management with a view to engendering transparency and accountability in the overall management and direction of this tourism subsector.
Zambia has 36 Game Management Areas (GMAs) of which 19 are still used for hunting (the others have been hunted to such an extent that there is little left). Some have suffered from encroachment and poaching. There are some, of course, with ethical hunters who have ensured the proper management of the wildlife and helped neighbouring communities, but this, it would seem, is the exception rather than the norm. The hope is that, drawing from best practice, all GMAs can become properly managed, of benefit to the communities, be accountable and be economically viable for government.
Earlier in the year the hunting licences were issued by the Zambia Wildlife Authority (ZAWA) but were met with a swift response from Sylvia Masebo, the Minister of Tourism, who cancelled them and fired various members of ZAWA. There was a backlash in some of the press which stated that she had banned the hunting because her favoured hunters had not been handed licences. Now it would seem that the Minister's intention was not to gain the licences for her friends but to get normality back into the sector.
The decision by Government has been met by people in the tourism industry with huge relief as it has been known for years that there was too large an off-take of wildlife in some of the GMAs and that of accountability there was little.
Tree Planting
A National Tree Planting Programme was launched by the President, Michael Sata, some weeks ago. The President also stated that the programme will create over 200,000 jobs. The statement in the press did not make it clear if these jobs would be paid for out of the public purse or if NGOs and the like were expected to come in and foot the bill.
Government will provide K12million (rebased) and will raise 25 million tree seedlings countrywide during the coming two years. Sadly, it would seem that the trees will be exotic.
Shoebills in Bangweulu
From the Beeb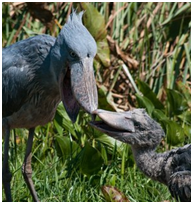 Aggressive bullying between bizarre-looking shoebill chicks has been filmed for the first time. The encounter was captured at Bangweulu wetlands near Kasanka, in northern Zambia, Africa.
Wildlife filmmakers were surprised to witness an older chick attacking its younger sibling while their mother was foraging away from the nest. The birds are rare subjects for study because their swamp breeding grounds are very difficult to access. The BBC/Discovery team's aim was to shed light on the species by documenting intimate behaviour of shoebill parents and young at the nest. Siblicide, the phenomenon of offspring killing their siblings, is common among many larger birds. …
The documentary is on the BBC but I expect it will take a million years for it to reach us on DSTV.
ZIMBABWE
New Park Fees announced
From Wild Zambezi
CONSERVATION FEES 2013
VIC FALLS/ KARIBA/ZAMBEZI VALLEY
These cover entry into a Park.
Fees in US$ at 3 levels as follows: International; Regional (SADC); Local Residents.
Children 6-12 years (under 6 FREE)
Vic Falls Rainforest: (NB per day)
Adult-US$30; US$20; US$7
Child-US$10; US$8; US$4
Vic Falls Zambezi:
Adult-US$15; US$12; US$5
Child-US$8; US$6; US$3
Chizarira:
Adult-US$10; US$8; US$5
Child-US$5; US$4; US$3
Matusadona:
Adult-US$15; US$12; US$5
Child-US$8; US$6; US$3
VEHICLE ENTRY FEES
Cars/Pick-ups/4x4s: Foreign registered: US$15; Local registered: US$5
Trailers: Non-Resident US$10; Resident US$5
PARKS ACCOMMODATION FEES
Fees (per night) in US$ at 2 levels as follows: Non-Resident; Local
Vic Falls Zambezi:
Lodge 2 bedrooms 4 beds: US$120; US$80
Bushcamps per person: US$15; US$10
Mana Pools:
Special Lodge 2 bedrooms 8 beds: US$160; US$120
Standard Lodge 2 bedrooms 4 beds: US$100; US$75
Standard Campsite/site (Nyamepi): US$100; US$75
Exclusive Campsites/site: US$150; US$115 (6 pp max – extras US$30 pp)
New Ndungu campsites per person: US$30; US$15
Chitake Exclusive Camps/site: US$200; US$150 (6 pp max – extras US$30 pp)
Nyamepi Nos: 1,2,4,7,8,10,12,13 &14 per person: US$20; US$10
Other Nyamepi sites as per Standard Campsite per site above: US$100; US$75
Matusadona:
Exclusive Lodge 9 beds: US$120; US$75
Exclusive Campsites/person: US$25; US$15
Standard Campsite/person: US$15; US$10
Chizarira:
Bush Camp/person: US$25; US$10
Platform /person: US$20; US$10
From more details, go to: http://www.zimparks.org/images/tariffs.pdf
My website is now live. Please have a look on www.beyondthevictoriafalls.com
It has been a mission to do because although I started off with a bit of help I had to do most of it alone. I am not a computer geek and found it hard on my tired brain. However, it is just about done now but needs some tweaking.
The idea behind the website is as an add-on to my book, Beyond the Victoria Falls. The website will give updates as and when they happen. The information on the website is fairly basic as I would like people to buy the book! (The book is now available on Amazon and can be downloaded as an eBook. I also have more copies if anyone needs one locally.)
The website links to my three blogs –
The Livingstone Weekly, which you all know – www.thelivingstoneweekly.wordpress.com
The Contact Directory which lists contact details for most of the tourism companies in our region – www.contactbeyondthevictoriafalls.wordpress.com If you know of companies which are not listed, please give me a shout and I can add them in.
Stories and Updates which is a place for my travel stories and any updates which have occurred and continue to occur in the region – www.storiesbeyondthevictoriafalls.wordpress.com
I would appreciate comments and criticisms. The aim of the website is to give visitors to our region a holistic view of the region around the Victoria Falls, whether in Zambia, Zimbabwe, Botswana or Namibia. As a region we have so much to offer and, if we work together, we can bring many more people to our countries.