AVIATION, TOURISM AND CONSERVATION NEWS from Eastern Africa and the Indian Ocean islands.
A weekly roundup of breaking news, reports, travel stories and opinions by Prof. Dr. Wolfgang H. Thome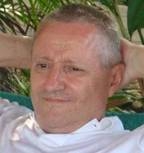 You can get your daily breaking news updates instantly via Twitter by following @whthome, join me on www.facebook.com/WolfgangHThome where the articles also cross load or read the daily postings on my blog via www.wolfganghthome.wordpress.com which you can also follow to get immediate notification when a new article is posted.
First edition September 2012
East Africa News
EMIRATES BLITZES EAST AFRICAN MARKET WITH YET MORE SPECIAL DEALS


While it seemed hard to top the already great offers Emirates has of late put into the market place, like free Visa for East Africans wishing to visit Dubai and special fares to selected destinations, the airline has now published special hotel deals combined with continued low fares to North America, the Middle East and India.
17 destinations in total are of offer, with Washington DC being the US destination selected for the promotion at a cost of 1.170 US Dollars return, taxes inclusive but terms and conditions apply. Flight to Washington will be launched on 12th of September and the promotion lasts until 15th of October.
Dubai under the deal is going for just USD 495 and her in particular a good number of hotels have joined hands with Emirates to make the trip affordable for visitors from Eastern Africa, where Emirates flies double daily to Nairobi and daily to Dar es Salaam and Entebbe. The same fare applies for travelers to Muscat, Doha, Kuwait and Bahrain.
Hotels in Dubai include such fancied names as the Atlantis at the Palm, Jumeirah but also the four The Address properties across the city, The Address Downtown, The Address Dubai Mall, The Address Dubai Marina and The Address Montgomery Dubai. In fact it was learned that those opting to stay at any of The Address properties will in addition to attractive rates get complimentary entrance passes to the Dubai Aquarium and the Dubai Underwater Zoo. Destinations to India, Pakistan and Sri Lanka under the promotion are the cities of New Delhi, Chenai, Kochi, Thiruvananthapuram, Peshawar, Islamabad, Lahore, Dhaka and Colombo where fares, for instance to New Dehli start at 940 USD, Chenai from 930 and Kochi and Thiruvananthapuram from USD685.
Value for money, sure it is. Go Fly.
Uganda News
KAMUNTU SHIFTED TO WATER WHILE MUTAGAMBE TAKES TOURISM



(Report filed from the Constance Ephelia Resort, Port Launay, Mahe)
In what has been described as a game of musical chair shuffling has Prof. Ephraim Kamuntu, since the formation of the government after the general elections in March last year Minister for Tourism, been moved to the Ministry of Water and Environment, while in a reverse move Maria Mutagamba took on the tourism portfolio.
While some regular observers were said to be baffled by this move, claiming tourism ought to have a longer serving minister in charge who can get acquainted and make an impact, others blame the quiet style of the Professor and his tendency to ponder decisions for over long on the move, saying they need a more active individual.
Neither portfolio, though important for the respective sectors, enjoys top recognition within the more established ministries and in cabinet, where education, health, transport, defense and agriculture are the key beneficiaries of the annual budget in terms of percentage allocation of resources.
Ministers are appointed by the President, who takes regional considerations as well as political allegiance and loyalty into account when making his choices but the fact that a so called Presidential Initiative on Tourism is located under State House and has not been shifted to either the tourist board or the ministry itself has had tongues wagging about funding as well as true intent and purpose, with no clear answers available from any reliable source, all tongue tied apparently over upsetting the equilibrium or the boss or both.
In the past have such initiatives been advanced and operated under the office of the Vice President, but then no clear outcomes were defined nor an action plan established along which to implement a range of proposed measures to make the tourism sector more attractive to investments and more important, how to enable the Uganda Tourist Board to market the country, impossible right now with the resource allocation they have been getting.
Figures presented by the outgoing Minister Prof. Ephraim Kamuntu on the occasion of handing over his office earlier today to Maria Mutagamba, where therefore taken with a grain of doubt, as there is also a glaring lack of data from the official government statistics offices, correlated with arrivals at land borders and airports and recorded park entrances of foreign nonresident visitors, all factors to be taken into account when speaking of tourists rather than cross border travelers who come for a bit of trade. Here opinions about real tourists and their spending therefore vary greatly amongst the who is who in the tourism industry in Uganda and it can only be hoped that better data collection, processing and interpretation, hand in hand with the Bank of Ugandas statistics on the flow of funds from direct exchanges at forex bureaus to transfers of funds to the local tourism industry, will one day provide the correct details. Tourism Satellite Accounting as per UNWTO recommendations comes to mind, something long suggested, urgently asked but never seriously implemented. Watch this space and best wishes of course go to Maria Mutagamba, Ugandas new Minister of Tourism and a fond farewell to Prof. Ephraim and best of luck in his new portfolio at Water and Environment.

RWENZORI VISITOR CENTRE OPENS ITS DOORS
The USAID funded STAR programme, short for Sustainable Tourism in the Albertine Rift has now handed over their arguably last project component to the Uganda Wildlife Authority, when the new Rwenzori Mountains National Park visitor centre was formally launched earlier today.
Built adjoining to the latest lodge addition to the Ugandan safari circuit, Equator Snows by GeoLodges Africa which also owns and operates the Nile Safari Lodge, the Jacana Safari Lodge and the award winning RainForest Lodge in Mabira Forest the new visitor centre will offer comprehensive information to visitors to the park as well as facilities like a small restaurant, briefing rooms where the guides can meet hikers and pass on important information and a small shop offering local crafts in support of nearby communities.
The Mountains of the Moon, as the range along the common border between Uganda and the Congo DR is known, have for long attracted the attention of the global mountaineering community, and a new trail network baptized as the Mahoma Trail, also prepared by the USAID STAR project in conjunction with the US Forest Service, will go a long way to opening up the park to hikers, not just climbers, in an effort to increase overall visitor numbers.
The new 28 kilometre long trail offer hikes between 1 and 3 days and has opened new territory for visitors on the lower slopes of the mountain range, hitherto not accessible but for the most hardened hikers. The new loop reaches Lake Mahoma where it joins the existing Central Circuit from where hikers can return to the visitor centre.
Established in 1991 as a protected area, the Rwenzori Mountain National Park was recognized by UNESCO in 1994 as a World Heritage Site and in 2008 given Ramsar site status, affording it additional resources and attention.


Kenya News
KENYA AIRWAYS HALF YEAR RESULTS UP AS NEW E190 ARRIVES IN NAIROBI



As the Pride of Africa took delivery of their latest Embraer E190 jet yesterday in Nairobi, information has been released that the half year results of the airline, compared to 2011, showed significant growth by about 20.6 percent, driven by increased demand for airtravel, cargo and mail shipments.
Run away cost however continue to pose a serious threat to the profitability of the airline which is currently engaged in a cost cutting programme through selected outsourcing of staff and other rationalization measures. Approved by the board of directors of the airline, it sets the carrier on collision course with the countrys Prime Minister, who, true to his socialist background, came out on the side of the Transport and Allied Workers Union attempting to direct the flag carrier to stop their efforts, only cleared yesterday by the Industrial Court. Where does that man take his authority from by giving a directive to a company quoted on the stock exchanges of Nairobi, Dar and Kampala? Siding with the union makes a mockery out of due process. And is government not represented on the board of the airline which approved their cost cutting measures? Or is this simply vote fishing ahead of the elections to make himself champion of workers rights? If so, let the economy beware commented a regular aviation source on this piece of breaking news as consternation spread how a senior government official could so blatantly use his office to ostensibly promote his campaign by laying into a publicly quoted company.
It is also understood from another source close to the airline that discussions are in fact ongoing between the airline and union representatives, while from other sources it was learned that a number of staff are ready to sign on to the voluntary early retirement scheme offered to them.
The airline also took the opportunity when receiving their latest bird to affirm plans that by the end of 2013 they intend to fly to all African political and commercial capitals, offering the continent connections through Nairobi to the rest of the world and in particular into the expanding network of destinations in the Gulf, the Indian subcontinent and beyond into the Far East and China. Watch this space.

KENYA AIRWAYS GETS COURT CLEARANCE TO ADVANCE STAFF RESTRUCTURING



Reports about Kenya Airways sacking staff are outrageous and a product of fiction by sections of the media, aimed to cause industrial unrest. None of this is true. What is true is that the airline intends to outsource certain aspects of the operation, and that means a transfer of staff to partners, besides which voluntary early retirement packages are on offer. Some aspects of the operation may find a shift in staff, a shift in emphasis and some streamlining where overlapping functions can be rationalized but there is no truth in the airline planning widespread redundancies at a time when they get more aircraft delivered and are expanding their network said a regular source with close links to KQ.
Kenya Airways is this weekend expecting another Embraer 190 to join their fleet in Nairobi and has been recruiting expatriate cockpit crews in order to have enough experienced pilots to fly new aircraft, while at the same time also accelerating pilot training programmes both at the Pride Centre, in South Africa and further abroad.
The airline has since last year been hit by a sharp rise in fuel cost on a year by year basis, causing a significant downturn in pre tax profits, but also had to sustain a sharp rise in the cost of labour following illegal strike action the union had disregarded a court order at the time which caused a new contract offer to be agreed to well nearly under duress, and way beyond forecast percentages.
The Transport and Allied Workers Union, predictably, rushed to court to prevent Kenya Airways to go ahead with their programme of adjustments but an initial order to halt all action by Kenya Airways was now lifted by the Industrial Court, with caution attached that no victimization of the any staff having been part of incitement and other negative activities, should be penalized. Be that as it may, word from Jomo Kenyatta International Airport is that union hardliners and radicals are scheming up a possible wildcat strike action as they have done before, and it is hoped that there will be no disruption of services as a result of the Union once more resorting to a policy of Njet.
Watch this space as another hearing before the Industrial Court is due on September 10th.
NOW AIR BERLIN CANCELS SUMMER SERIES TO MOMBASA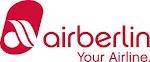 The bad news about coast tourism seem to chase each other as the latest blow was just delivered when Air Berlin announced their plans to shelve Mombasa from their summer 2013 programme.
Sources close to the heart of the Kenyan tourism industry now blame their minister and the government at large for failing to listen to them and fund tourism marketing to tap into alternate markets while at the same time running good will missions to the existing markets in Europe where reassurance would be on top of the agenda, something not possible now due to lack of funds for KTB.
Our government is preoccupied with elections, electioneering and other issues and tourism is being hammered from so many sides now. Cost increases, plans for VAT which our minister failed to stop and then the issue with Qatar Airways. They wanted to come to Mombasa on a daily basis, supporting tourism and trade, and because someone in government failed to get what they were looking for, like in a golden handshake, they pulled the plug last moment on traffic rights between Nairobi and Kilimanjaro and between Dar es Salaam and Mombasa.
You think that airline NEEDS to fly to Mombasa? They want to but it has to be financially viable and sector traffic rights will help, like you have it between Entebbe and Kigali. First you broke the news on 1Time pulling out and that was confirmed and now Air Berlin too? At a time when we need more airlines, more seats we now get less. It is a big blow and my colleagues are wondering which one will pull next. This is nearing the 2008 proportions at the coast and if the ministry says Mombasa is doing so well, they are plainly not telling the truth.
Occupancies are down, revenues are down, discretionary spending is down. Thank you for your positive comments about visiting Mombasa on Facebook, it was seen and appreciated very much that someone like you stands by us more than our own government. Please tell the world Mombasas resorts are safe and sound and ready to receive visitors said a regular source in a mail just received when asking for a comment on this piece of breaking news. Other sources appeared shocked into silence though as no added feedback from regular contributors could be obtained, probably still trying to work out if indeed the news are correct, which assuredly and sadly it is, or else first taking a deep breath before hitting the panic buttons.
By the end of June Mombasa had a year on year downturn of over 20 percent and from all indications this trend appears to hold steady, as the country moves towards the March 2013 elections. That is another issue for us, because those elections are ahead of Easter which is normally quite full and for next year we are making provisions to start the low season before Easter around election time and put special offers on the market for residents and East Africans, because no one knows what is going to happen if there is no clear winner in the first round did the source then add on the follow up, before saying that he and his colleagues would meet soon to strategize and give government an action list of key demands to be met, to help boost occupancies and promote the Kenya coast across the world. Watch this space.

KAA SAGA LET COMMON SENSE PREVAIL AT LAST


Report filed from the Constance Ephelia Resort, Port Launay, Mahe
Events in recent days overtook each other and developments came in thick and fast about the saga of the Greenfield Project, which is set to make or break the future of Kenyas aviation sector and will have huge consequences for national airline Kenya Airways.
The building of a second runway at Jomo Kenyatta International Airport, by common consensus long overdue, and the construction of another dedicated new terminal facility, which according to projections will be overwhelmingly used by Kenya Airways and the airlines international Sky Team partners and airlines they will code share with on certain route. The 55 billion Kenya Shilling project had run into stormy waters, when Transport Minister Amos Kimunya in January demanded the tender award of 16th December 2011 to be cancelled, inspite of the Attorney Generals legal opinion that such a move could cost Kenya huge in compensation as there was no legal basis for the move other than the ministers personal opinion. The tender award, scrutinized by the countrys procurement oversight watchdog agency, was cleared and had been duly sanctioned on several levels but information now coming to light speaks of a million dollar bribe to intervene on behalf of a failed bidder, which by the looks of it missed the deadline of document submission by a crucial half hour, perhaps fallen victim to Nairobis notorious traffic jams or else having their watches wrongly set.
In a tit for tat wrangle did the board of KAA then attempt do the ministers dirty work, who had failed to bully Gichuku out of office, and attempted to suspend the KAA CEO Stephen Gichuki. He however was no walkover and not only challenged this blatant attempt to remove him from office on procedural grounds but in addition obtained a court order to resume his duties, only to find his offices padlocked upon his return.
It is now an open secret in the political corridors of Nairobi, that the controversial minister, at the centre of yet another major dispute, will very likely not survive in office as parliament is reportedly preparing to censor him and have him once again kicked out of the cabinet. Should that happen his stooges on the board of the KAA, who locked horns with the CEO on their masters behalf, will also stare at an uncertain future, as they will either have to eat humble pie galore or else succumb to pressure and quit if not be fired for the role they were playing in this murky saga.
The case of the KAA management was in fact further strengthened when the procurement appeals board earlier this week once again cleared the contracts entered into between the KAA and the main contractors from China, in fact ordering KAA to proceed without further delay, but one thing seems certain in this longstanding saga, that there will be another twist in the tail and another fork in the road ahead. Watch this space.

DRIVE BY ASSASSINATION ROCKS MOMBASA
The assassination of what is largely considered a radical Islamic preacher with suspected links to Al Shabab and other terrorist groups, has left Mombasa reeling from an immediate outbreak of violence, which left one more person dead in its wake as marauding youths stoned an innocent bystander to death. The shooting happened yesterday along the main road leading into the city of Mombasa at Bamburi and almost if choreographed youths formed mobs attacking cars and notably churches, turning their anger against another religion similar to the riots which swept Zanzibar a few months ago. There, as was the case in Mombasa where religious tolerance was long a hallmark, it appears that radical elements within the Muslim community were prepped and let loose as on command, since the church storming appeared to be well coordinated.
The targeted shooting of Sheikh Aboud Rogo was immediately condemned by community leaders in Mombasa from all walks of life, and in particular the fact that Rogo was enroute to hospital where he was taking his wife, who sustained gunshot wounds herself. The father of Mrs. Rogo and her young daughter thankfully escaped without injuries, a miracle considering that their car was sprayed with bullets from an automatic weapon.
Rogo was facing a court case on terrorism charges but was out on bail. No stranger to such allegations, he was also charged in connection with the bombing of a beach resort in Kikambala and attempted shooting down of an Israeli jetliner flying out of Mombasa but was eventually acquitted for lack of evidence.
The coast tourism fraternity, as well as top government officials including President Kibaki, appealed for calm and the massive deployment of security personnel following the revenge attacks appears to have served the purpose as Mombasa and its environs was reported to be calm, though few people were out and traffic was notably almost nil.
Tourism arrivals at the coast, compared to a year ago, are down by about 20 percent and this incident will do little to restore market confidence overseas, where the sudden alarmist withdrawal of US personnel from the coast a few weeks ago already rocked the tourism trade, before the order was reversed a week later.
Said a regular source from Mombasa: This incident was uncalled for. The man was facing charges in court and in a civilized society there should be no place for such extra judicial killings. The same applies for the mobs which then formed to attack churches and burn cars. If they want to destroy the livelihood of coast people, all of whom depend on tourism, that is the way to go. This will make bad headlines and though calm was restored very quickly, unlike in Zanzibar where it took days to sort out the violence, the damage was done. Mombasa was NOT on fire as international media have claimed. There was a geographically limited situation, and while that was bad and regrettable, it was swiftly contained when security moved in. So please let everyone know that Mombasa is calm as I write this mail to you, and that no tourists were anywhere near the mobs.
Other sources too confirmed that while most people stayed indoors, no rowdy scenes were seen late in the day yesterday in Mombasa itself and traffic was low but normal. Watch this space.

KENYA AIRWAYS LATEST E190 TAKES TO THE SKIES IN BRAZIL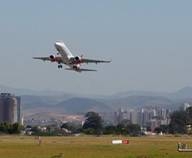 The delivery of Kenya Airways 36th bird is now imminent as the aircraft was over the past two days put through a vigorous inflight testing regime, ahead of the formal handover later this week at the Embraer assembly plant in San Jose Dos Campos.
The aircraft, once it joins the fleet at Jomo Kenyatta International Airport, will be deployed on regional and medium distance routes across the African continent and is, as all other Kenya Airways aircraft, configured in a Premium and Economy class section, offering 12 business class seats in a 2 x 1 layout and 84 economy class seats in a 2 x 2 layout. The Embraers are playing a crucial role towards achieving Kenya Airways target of connecting every political and commercial capital on the continent with Nairobi by the end of 2013, using this type of medium distance jet alongside the proven B737NGs and, in particular on select Southern and Western African routes, the B767 and B777. It was confirmed from a regular source at Kenya Airways that the airline will take delivery of at least one such aircraft every month until April next year, when according to Plan Mawingo deliveries of additional B737NGs will commence. The attached slide from one of the airlines public presentations on their fleet development shows the progressive build up from 40 aircraft by the end of 2012 to 50 aircraft the following year and 60 the year after.
Watch this space and more important, watch The Pride of Africa where things are underway to turn Kenya Airways into the continents preferred carrier.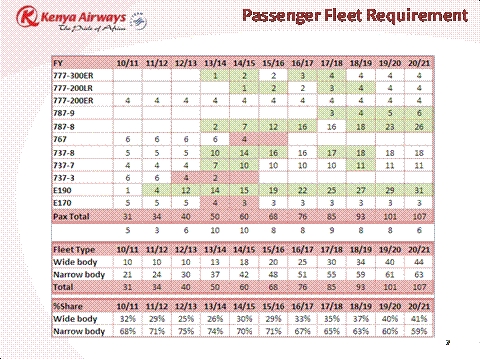 KILIFI MUSIC AND ARTS FESTIVAL ALL SET FOR NEXT WEEKEND



The Kilifi Plantation Airstrip is the venue for next weekends music and arts festival, which will be running alongside the Kilifi Gold Triathlon, one of the original events, many of which are now springing up all over Kenyas hotspots. The Kilifi Triathlon is already celebrating its 10th anniversary and towards that end the sporting extravaganza was spread across the entire weekend by the organizers, to provide a befitting surround programme catering for spectators and family of athletes alike.



Proceed of fundraising activities will go to the Friends of Kilifi District Hospital this year to equip a newly constructed maternity ward, built with financial assistance of last years event, while in previous years other charities like the Mnarani Orphan Feeding Programme, The Kesho Organization and Moving the Goalposts received financial support as a result of the generosity of participants and sponsors.
The annual Kilifi Sprint Triathlon consists of a 750 metre swim, followed by a 20km bike ride, and concludes with a 5km run. The swim will be along the bank of the creek and then back again and will be overseen by a safety boat. For those of you not totally comfortable with swimming in open water it is possible to swim in chest deep water for much of the course. The 20km bike ride will be around the plantation on dirt tracks, so mountain bikes and Black Mambas are recommended! Finally the run will be a 5km loop, again within the confines of the plantation, and marshals directing competitors along the proper course. The race will be marshalled all the way with plenty of water on hand to keep participants hydrated.
Nairobi based Bizzare Bazaars or in short BizBaz, has been selected to run the event and their selection of bands and DJs promises to keep the crowd on their feet for a weekend of family fun full of good music and with food and drinks provided by selected partners, though the traditional selfcatering is ever welcome of course. A crafts bazaar has been organized too for this 10th anniversary edition of the Kilifi Triathlon, making it an all round enticing proposition for coastal residents or those coming in from upcountry, to be there and enjoy. Camping facilities are available as are a number of rooms in and near Kilifi remaining, which however are expected to sell out fast.
A weekend pass will cost a mere 1.500 Kenya Shillings for adults, 800 Kenya Shillings for the under 18s and for kids up to 5 years the entrance is free altogether. As they say in Kenya, come one come all.

Tanzania News
VODACOM GETS PRESIDENTIAL PRAISE FOR WILDLIFE CONSERVATION EFFORTS
Even for a large corporation like Vodacom in Tanzania, is 450.000 US Dollars considered serious money and no wonder none other than President Jakaya Kikwete has offered his personal praise and appreciation to the companys CEO Rene Meza at State House Dar es Salaam last weekend.
I would like to express my appreciation to Vodacom for the support and relentless effort in this cause after learning that the funds have been given for a three year wild dogs, aka painted dogs or hunting dogs project.
Partners with Vodacom were TANAPA, NCCA, the Frankfurt Zoological Society, the Grumeti Fund and the Ngorongoro District Council who are all working hand in hand to boost numbers to ensure the survival of this ever rarer species. 11 groups are under the project being monitored, three within the Ngorongoro Conservation Area and a further 8 in Loliondo, totaling to about 200 animals.
Decades ago the painted dogs, aka hunting dogs, numbered thousands in the wider Serengeti / Ngorongoro area, freely roaming with little chance to come across humans or their livestock, but they have been decimated in the past by poisoning as well as rabies, for which veterinarians of TANAPA are now providing treatment and inoculations. 11 wild dogs were released from protective custody recently, all wearing radio collars to ascertain their location and range.
The late Hugo von Lawick dedicated a photographic book on the species and regularly drove from his camp at Lake Ngutu into the Serengeti plains, seeking to follow the fast moving packs, but just as Hugo passed on years ago, so did many of the wild dog packs vanish from the plains.
Vodacoms CEO on the occasion was quoted to have assured President Kikwete of continued support towards the project beyond the current phase, to ensure the long term monitoring and conservation efforts by TANAPA. Well done indeed, good news to report.

PRECISION AIR JOINS HANDS WITH VODACOM FOR ADDED PAYMENT OPTION



(Filed from the Constance Ephelia Resort, Port Launay, Mahe)
Paying by phone and getting a 20 percent rebate on top of it will make travel with Precision Air a financial windfall, when using ones Vodacom connection in Tanzania to make electronic payment with for a ticket.
Partner airline Kenya Airways had broken regional ground when they introduced payment via M-Pesa by mobile phone a while ago and the success of this feature, which spares clients the time consuming trip to the airline office to pay, after booking on the net, has encouraged Precision Air to try the same in Tanzania.
Well on the way to carry one million passengers this year for the first time ever, an industry source close to Precision Air said: The airline is doing a lot these days to capture the domestic market after Air Tanzania failed the nation once again. They are shifting capacity into domestic flights with an added B737 and now they are making sales and payments easier. Book online and pay by phone is a good combination which is cost effective for both the airline and the passengers and the 20 percent rebate reflects this. For me I just wonder why our own government does not recognize the contributions Precision makes to our economy and make them a national airline, they would do us proud and promote us as a tourism and business destination even better.
Precision Air is Tanzanias premier airline, quoted on the Dar es Salaam stock exchange and has several additional ATR 72-600 aircraft on order, to join the fleet from next year onwards, allowing the carrier to widen their domestic network and flying to key secondary and tertiary airfields in the sprawling East African country.
The planned arrival of more jets of B737-300 make will further enhance the airlines ability to fly on longer routes across the African continent as well as beyond, giving Tanzanians wider choices to travel with a flag carrier than ever before. Watch this space.
ARUSHA STEPS UP AS PAN AFRICAN ORNITHOLOGICAL MEETING SHIFTED FROM NIGERIA
Organisers of the 13th Pan African Ornithological Congress have reportedly decided to shift the October event from its previous location in Nigeria to Arusha, where cost and other considerations appear to have been met by the host city, stepping up with an attractive events package to make the last minute move possible.
The meeting, last held in South Africa in 2008, will discuss continental issues on bird conservation and in particular the question of more and more birds entering the red zone of being endangered.
Local environmentalists and conservationists have already vowed to use the meeting to draw public attention to the ongoing plans by the Tanzanian government to build a soda ash plant, and related infrastructure like road and rail access, right in the most critical breeding zones of the large numbers of flamingos, which only breed in the mud flats of Lake Natron. Said one regular contributor on condition of anonymity: The decline of some vulture species is already on the agenda and it is important that this man made problem is discussed and ways and means found to restore vulture populations where they have almost disappeared. But with the flamingo issue on Lake Natron we have a chance not to make such mistakes and threaten the birds with extinction but avoid it. If we raise the issue and all experts will tell our government that this will be an irreversible mistake, maybe they can see their errors and desist from building such a plant. Now that this meeting has come to Arusha by almost default, we need to use the presence of African ornithologists and experts to make the most of it.
The information received over the weekend does not give exact dates when the meeting will take place but once available this will be published here, although the venue was confirmed to be the Corridor Springs Hotel in Arusha. Delegates will find special offers for pre- and post conference tours to the Northern circuit national parks of Tarangire, Manyara, Ngorongoro and Serengeti, where they can witness the rich variety of birds found inside and outside the countrys protected areas.

Seychelles News
ZIP LINING BY SMAC ADVENTURES ANOTHER FIRST FOR THE SEYCHELLES





The Constance Ephelia Resort has now started to formally promote one of their new, and very unique, adventure activities, operated within the resort by South African adventure specialist Johan Cronjes SMAC, short for Specialized Multi Adventure Company, which in their own words is Where Paradise and Adventure Meet.
This is another first for the Seychelles, seeking to establish the destination as one of all seasons, for all tastes and budgets and now for adrenalin addicts too. Abseiling from some of the steep rock faces dominating the centre of the resorts 120+ hectares of land, rock climbing for kids, beginners and experts and now a system of 8 zip lines, starting from near the Ephelias Presidential Villa and ending near the companys office at the bottom of the mountain are offering a range of active outdoor adventures, which can be done with the family but also of course alone.
A thorough briefing ahead of any of the activities will give participants the dos and donts and for zip lining, once the harnesses have been strapped on tight, a short trial run will give novices the assurance that the adventure they are about to embark on is not just safe, but gives the guides also the certainty that their charges have understood what to do before heading for the real thing.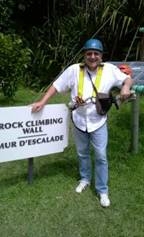 And that real thing then gets the adrenaline flowing, when the moment comes to zap across the deep ravines and through the foliage of tropical trees or racing across the tree canopy, close enough to almost touch, almost being the key word as the steel cables are strung up to allow for a clear ride. The family members I was with shrieked with joy when zapping from the starting point to the other end of each of the 8 lines, where cameras ready and videos running every incoming was greeted by those who had arrived before them.
Andrew Molyneaux is the companys responsible health and safety manager and he went to great length to explain their installations to this correspondent, and the process of the initial inspection and certification of the zip lines set up, by local authorities assisted with technical experts from abroad. Safety comes first and there cannot be a compromise he said, and a closer look at the installation gave ample reassurance of regular inspections and maintenance, the same incidentally with the harnesses and equipment like helmets and gloves.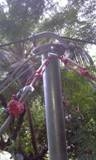 Johan Cronje, aka Crunchie Cronje, went along as he does most of the times, assisted by local guide Pascal, who joined SMAC when it started operations at the resort in April 2011. Back then the rock climbing walls were officially launched, reported here at the time as breaking news of course but since then expanded to include a kids wall and an abseiling station, which as witnessed was in regular demand by guests from within the resort but also from outside. And that was actually not surprising as the word by mouth campaign, without a full marketing offensive, seems to have worked and the main DMCs were all reported to adding the activity in their destination material of things to do and places to go, when on the islands. According to information received, the SMAC experience already ranks as the 10th most popular day trip and activity and both Johan and Andrew were certain to make it into the top five very soon, aiming to capture top spot eventually.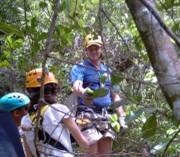 With their keen eye for locations and knowledge of other adventure activities, it seems only a matter of time before they will embark on setting up a bungee jump operation or a paragliding base from one of the tall rocks overlooking Mahes magical beaches, when similar to what I have witnessed in Rio, daring tourists are strapped on to an experienced parachutist before jumping off from a platform, and then, after a smooth ride through the skies, setting down on a beach in precision landings.
The skies over the Seychelles seem the limit for those two and their enthusiasm about everything and anything pumping adrenalin will undoubtedly propel their numbers and popularity upwards and make their dream come true, to make the Seychelles as much a centre for adventure activities as it is until now for being a magical island paradise surrounded by crystal clear waters. Such added attractions will portray the islands in a new and even more exciting light to the world, beyond all the superlatives already attached to their marketing juggernaut. Time now for some more zip zapping across and through the Constance Ephelias tropical forest. And oh yes, SMAC does provide a 3+ minute video clip for participants on request and are planning to install video/web cams on strategic points at the end and starting points of each line, and perhaps even in between, to capture the daring rides for posterity. Here is my clip, uploaded on You Tube for all to watch.

CONSTANCE EPHELIA RESORT SET TO HOST SEYCHELLES TOURISM BALL ON SEPTEMBER 28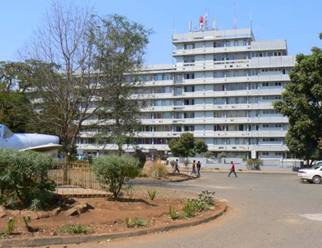 While staying at the 5star rated Constance Ephelia Resort it was confirmed that this years Seychelles Tourism Ball will be hosted by the resort, welcoming the entire Seychellois tourism fraternity for the now annual event.
Cosponsored by Laurent Perrier Champagne, which this year looks back at 200 years of making top rated wines and champagnes, the event will also commemorate the UNWTO World Tourism Day, which will fall into the same week as when the ball is held to celebrate the industrys achievements.
Now part of the annual calendar of events, which spread across all 12 months of the year, the ball will this year welcome guests with what has been described as a Hollywood Style red carpet at the entrance and guests will be able to enjoy a bottle of Laurent Perrier on their table, besides sponsored wine, water and of course a superb buffet dinner, for which the resort has established a distinct reputation confirmed by this correspondent who cannot speak highly enough of the food creations produced day in day out by the team of talented, and award winning chefs the resort employs.
At a cost of 1.200 Seychelles Rupees, about the equivalent of 100 US Dollars per person, the evening is expected to be a sellout again and final discussions between the resort management and STBs CEO Elsia Grandcourt were concluded today, leaving STBs Events Department now dealing with the finer details to be taken care of over the next four weeks, hand in hand with the resorts F&B department. Tourism Minister Alain St. Ange, just returned from a successful trip to promote the country in Brazil, said: We are committed to not only defend the industry that remains the pillar of our economy, but we also continue to work tirelessly to consolidate it. Everyone involved directly or indirectly in the industry need to show public support for tourism on World Tourism Day.
Tourism is more than just hotels and restaurants. It encompasses everything that makes our economy, and on the night of the 2012 Seychelles Ball all those who believe in our countrys tourism industry will be present.
Dont we all wish to be there and join that evening of fun and celebrations? Only in the Seychelles, truly Another World.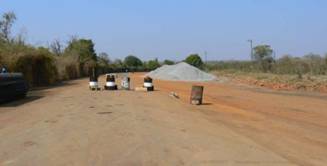 CAF MEETING KICKS OFF AT THE CONSTANCE EPHELIA RESORT ON MAHE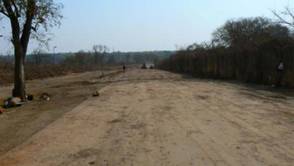 (Filed from the Constance Ephelia Resort, Port Launay, Mahe)
The Creole island paradise of the Seychelles is providing a befitting background for delegates from 54 African nations, who have come to Mahe to hold their annual meetings of Standing Committees, the Executive Committee and the Extraordinary General Assembly of the Confederation Africaine de Football or in short CAF during the period August 30th to September 04th.
The standing committees will deal with issues of Sports Medicine, discuss Womens Football on the African continent, hold a dedicated session dealing with Referees much needed in the opinion of this correspondent to deal with some of the grotesque rulings made by refs during the last African Cup of Nations attend to issues on the agenda of the Technical and Development Committees and discuss audit and finance issues. Most of the committee meetings are taking place at the La Meridien Barbarons Resort, while the main Executive Committee meetings, held over two sessions and the Extraordinary General Assembly will be held at the Constance Ephelia Resort, where also the CAF Secretariat staff have made camp for the duration.
The Seychelles are hosting this continental meeting for the first time ever, a sign of the growing popularity of the country amongst fellow African nations, where the holistic efforts of the Seychelles Tourist Board to promote Brand Seychelles have not gone unnoticed, and aided by the No Visa policy, which comes as a great relief to delegates able to travel without bureaucratic hurdles.
The Seychelles efforts to speak up on critical issues on behalf of the continent in matters of climate change, protection of biodiversity but also the countys willingness to repeatedly host talks on the future of Madagascar and most notably to combat piracy in the Indian Ocean have catapulted the archipelago into the heart of African affairs, winning it many friends on the African mainland.
FIFA President Sepp Blatter will be attending the Extraordinary General Assembly, showing solidarity to the African continent in line with his past efforts to put African football on the map and increase the FIFA World Cup slots for African teams.
While the delegates will all enjoy a Sunday morning outing into the marine national park, which expands from the Ephelia shores, some have in fact arrived early while others will depart well after the event has ended to enjoy the magic of the islands to the fullest.
Seychelles, truly Another World.

AIR SEYCHELLES SET TO GO TO HONG KONG RATHER THAN BEIJING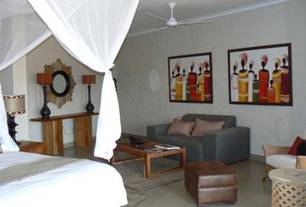 While in the Seychelles it was learned, that national carrier Air Seychelles, now flying in partnership with Etihad, the national airline of Abu Dhabi, will very likely fly to Hong Kong come February 2013, when the delivery of the airlines second Airbus A330 has been completed. Initially thought to be destination Beijing, Chinas capital city, the planned three flights per week will according to a regular aviation source in Victoria be shifted to Hong Kong where a greater tourism potential exists with a huge catchment area on the mainland and easy connections then via HKG. This change is also supported by the Seychelles Tourist Board, which has been working the Hong Kong market relentlessly as part of developing the Chinese market, which has in recent years doubled literally on a year by year basis as a result of showcasing the archipelago.
The same source also intimated that the flights might route via Abu Dhabi, which at least for the period of the route development towards anticipated loadfactors would add a level of added viability to the new service, financially hugely important of course for the airline, which seems set to meet budgetary targets following a sharpish restructuring over the past year before Etihad came on board as a 40 percent shareholder. Flying the Creole Spirit into the wide world to bring the world to the Seychelles.
While in Victoria it could also be established that the wetleased Etihad A320 will for the time being continue to serve the route to Mauritius, although considerations are clearly underway to seek out additional African mainland and even Indian Ocean island destinations to connect the Seychelles yet better to her neighbours. Watch this space.
SEYCHELLES TOURISM ACADEMY SENDS 14 STUDENTS TO SHANNON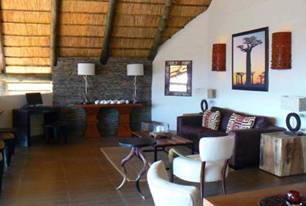 (Mrs. Margaret Pillay, CEO of the Seychelles National Human Resource Development Council hands over an airticket to Dublin to one of the 14 students selected to study for a hospitality graduate degree)
The Seychelles Tourism Academy, in conjunction with NHRDC, has yesterday held a ceremony in Victoria, to hand over 14 Air Seychelles / Etihad airtickets from Mahe via Abu Dhabi to Dublin, where the selected students, all of whom went through a vigorous selection process, will proceed in a few days to begin a 10 months intensive course towards attaining a Bachelor Degree in hospitality management. This will be followed by an 18 months long industrial attachment, either at home in the Seychelles, or else in Ireland, the UK, mainland Europe or in Dubai, where participating private sector partners have already offered such opportunities.
Costly by any standards, the initiative is a result of the Seychelles government drive to develop indigenous human resource capacity and create an upcoming pool of well trained young individuals out to make a career in the hospitality industry, entering at managerial level.
STA has in recent years, as regularly reported here, stepped up their cooperation with Shannon University through lecturer exchange programmes, training of trainers and in particular the opportunity for students to complete their degree programme in Ireland.
STA was represented at the function by Mr. Moncherry, who had prior to the event conducted a guided tour for this correspondent to show the progress made on site at La Misere, where several building have gone up since the last site visit in March. Completion of phase one of the modernization of STA is due to be completed by March next year, at which stage phase two will commence, before by 2014/15 the entire remodeling of STA will have been completed.
The students during the 2 hour function were given extensive briefings, including by a former student, before signing the respective Bonding Agreements in the presence of their guarantors, who equally committed themselves to the Seychelles government towards the cost of nearly 380.000 Seychelles Rupees.
Tourism is one of the Seychelles key economic pillars and in recent years the government of President Michel has embarked on a deliberate cause of action to bring more Seychellois into the game with a range of incentives to start businesses but also with offers of training, at STA and abroad, for those with the brightest prospects, a move fully supported by the countrys hospitality private sector which is represented at the board level of STA but also greatly involved in providing placements for practicals and industrial attachment.
In a related development it was also learned that the recently reported effort by the University of Seychelles, to enter into a well near competitive offering of hospitality courses, has hit a dead end when the University of Shannon reportedly declined to join hands, preferring to stick to proven partner STA, in which by opinion of a half dozen experts consulted yesterday the hospitality and tourism training should remain vested in, as they are the only tertiary institution in the Seychelles with the facilities for demonstration kitchen, an application hotel and those key links to the private sector. Watch this space as STA emerges in coming months as the leading institution of hospitality training in the Indian Ocean island region.

AND in closing today once again some interesting reads from further down south, taken from Gill Stadens The Livingstone Weekly as always greatly appreciated.
UNWTO Preparations and Celebrations

Victoria Falls Town and Livingstone have been alive with celebrations this week because it is countdown of one year before the UNWTO. I suppose it was a bit like a photo opportunity for officials. However, let us have a look at what is being done.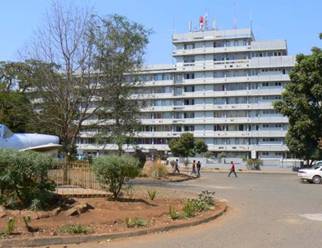 In Livingstone the Musi-O-Tunya Building is having a facelift. It has been painted grey and looks even more like a prison block than it did before. Sorry, my opinion According to a report, the Pensions Authority which owns the building is planning to spend K3.5billion (US$700,000) on renovations which will include repairing the toilets excellent
The other initiative is being taken by our private radio stations of which we have four. Kingsley Lilamono, Chairman of the Livingstone Tourism Association, is using the radio to sensitise listeners on the need to change our attitudes in the run up to the UNWTO so that we are a welcoming community which lives in clean, ordered surroundings. He is doing a sterling job as most Livingstonians listen to the radio during working hours in their offices or other places of work. Well done, Kingsley. You need a medal.
We know that The Falls Resort is having a huge makeover at The Royal Livingstone. The renovations are ongoing with the rooms being done block-by-block. The new deck is almost ready and I need to test a sundowner on there soon. The new boardroom and internet facility should be done soon, if it is not done already I saw it last week.
Over the border in Zimbabwe things are starting to happen. I went over the border for an evening to visit some friends and it took me about an hour to cross. There was an overland truck and a bus at the Zimbabwe border and many of the travellers needed visas. The queues were long but the Immigration Officers were ploughing through all the passports when two of them decided to go for a tea break and we were all left stranded while the queue lengthened. Finally though all of us got our pieces of paper and rubber stamps and we were allowed to proceed. All these tourists, of course, are leaving Zambia which is horribly quiet for this time of year to go to Victoria Falls Town which is pumping.

On the way over I noticed that the Zimbabwe border is having a facelift. The roads are being redone.
I then went to Victoria Falls Safari Lodge which has just had an extension added. Known as the Victoria Falls Safari Club, the interiors have now been completed and all is ready to go.
On the Victoria Falls airport renovations, I have noticed some big blue pipes on the side of the road which I can only assume is for a water connection to the airport.
A report in the news also states that Victoria Falls Hotel is to have a major renovation starting in November this year.
Unfortunately there is trouble afoot for Victoria Falls Town. The first news item was the possibility of members of the EU withdrawing its participation from the meeting in 2012 because of dealings with their nationals in the Save Valley Conservancy. The second is the problem with the ZANU PF Youth who want their share of tourism in Victoria Falls Town.
But, apart from all this things seems to be going swimmingly.

Save Valley Conservancy

We have watched over the months as the Save Valley Conservancy has undergone invasions and land takeovers. The latest scheme is that black Zimbabweans are being given hunting licences in the Conservancy. The 25 licences have been granted to top ZANU PF officials. Parts of the Save Valley Conservancy are owned by German and French nationals and they are extremely angry with this latest development. An agreement between Zimbabwe and the European Union states that investments by European Union members should be protected.
The report states that discussions will be held between members of the Save Conservancy and government, but if they fail to come to a reasonable settlement it is possible that some EU members will boycott the UNWTO.

ZANU PF Youths target Victoria Falls

In another report, a faction of ZANU PF Youths has ordered tour operators in Victoria Falls to disclose the community share of their companies. The Youth Empowerment Group is known as Upfumi Kuvadiki. It seems to be in a bit of disarray at present with two factions claiming legitimacy. One group led by Alson Darikayi was responsible for the circular telling tour operators to declare their share ownership schemes, but another group led by Tatenda Maroodza told tour operators to ignore the circular. However, Tatenda Maroodza: As for the requirement for these tour operators to produce community share ownership schemes or even worker equity schemes, we make no apologies for that. Most of these firms are white-owned and havent indigenised.

Zimbabwe wants to sell ivory

Zimbabwe has 50 tonnes of ivory and it wants to sell it to fund conservation. In October CITES will meet and it is expected that Zimbabwe will request to sell these stocks. In 2010 Zambia and Tanzania applied to sell their ivory stocks; a proposal which was met by a resounding no from CITES.

Mana Pools Game Count
28th September 1st October 2012

The count is divided into static and walking divisions. The static counts are situated around a water hole where all game is recorded over a 24 hour period. The walks take part over two days and involve walking on a compass bearing from South to North through the Mana Pools National Park flood pain counting animals and large species en route. Each day consists of 2 walks, early morning and late afternoon. All mammals seen are recorded. Information required includes time of sighting, direction of movement, gender and location on the GPS map provided by the organisers. Accommodation is camping at National Park Main Camp.