AVIATION, TOURISM AND CONSERVATION NEWS from Eastern Africa and the Indian Ocean islands.
A weekly roundup of breaking news, reports, travel stories and opinions by Prof. Dr. Wolfgang H. Thome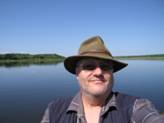 Get daily breaking news updates instantly via Twitter by following @whthome, join me on Facebook where the articles also cross load or read the daily postings on my blog via: www.wolfganghthome.wordpress.com which you can also follow to get immediate notification when a new article is posted.
Fourth edition January 2012

THREE MONTHS AND COUNTING TO THE FORMULA 1 RACE IN BAHRAIN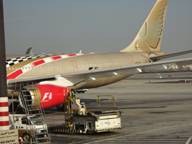 A recent trip to the Kingdom of Bahrain for their bi-annual international air show had me pass by the F1 circuit every time I was going to or coming from the show ground at the Sakhir Air Base, and memories came back how the long awaited season opener last year had to be postponed, and was in the end cancelled to the lasting regret of the global racing fans who, in the short time Bahrain was a race venue, had come to love the circuit, the people and the country.
Gulf Air, official carrier of the Bahrain International Air Show, is of course also the official carrier of the Bahrain F1 Grand Prix and main corporate sponsor as the 4th race of the 2012 season is named The Gulf Air Bahrain Grand Prix, taking place between 20th and 22nd April this year.
The airline, as witnessed, has a number of their aircraft advertising the event and in fact one Airbus A 330 is painted in special F1 livery, flying the message across their network.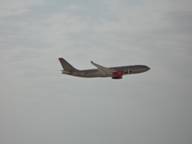 F1 has become a global brand, a profitable business and attracts not just hundreds of millions of spectators every season through their broadcasts on leading TV stations, but also has many faithful following the trail of the teams, some for one, others for two and a few who can afford it for quite a few more races around the globe.
20 races are on the calendar in 2012 until the new champion will be crowned at the end of the Brazilian Grand Prix in Sao Paulo on the 25th of November, although in the past the title was often long gone as the last few races went underway. Travelling to the season opener in Melbourne / Australia will be a relief for those who thrive on the fumes of F1 fuel or for whom the sound of the car engines is music in their ears, and a week later it is already time again to fight for pole position when the Kuala Lumpur Petronas Grand Prix goes underway. Over China and Europe the season moves to Canada, then back to Europe before going East again to Singapore and Japan, Korea and India, and then criss crossing the globe one last time this season, via Abu Dhabi to Austin / Texas before heading to the final race of the season in Sao Paulo / Brazil.
Bahrain built their F1 course in 2004, a source of national pride back then, and was awarded the coveted FIA Centre of Excellence Award in 2007, recognizing the immense contribution the circuit and all the staff had made to F1 motorsport. Sadly, a year ago, the season opener, a special honour for any circuit of course, had to be first postponed and then eventually cancelled altogether, when what appears to have been externally sponsored political unrest swept the country. When asked, Bahrainis from all walks of life assured me during my recent visit that the entire country was looking ahead for this years race and that there would be no repeat of last years scenes in the streets, which the government eventually got under control with the assistance and support from Saudi Arabia. During the BIAS 2012 Air Show, attempts were made to demonstrate and foreign inciters were blamed by official sources this correspondent spoke to, and in the end nothing came of it, the international media present concentrating on the air show and not the attempted side show political firebrands had in mind. My prediction is that the Bahrain Gulf Air Grand Prix will go ahead in April and I will, as always, watch the race from the comfort of my arm chair, qualifying sessions and all, with special fondness and pleasant memories from my recent visit to the Kingdom of Bahrain.
Visit the F1 website for all the race details and available official package tours to all the venues via www.formula1.com/…travel/tickets_and_travel _landing.html or else chose any other specialized travel agency or tour operator easily found on the web.

BIAS 2012 ENDS, ORGANIZERS ALREADY TALK OF BIAS 2014 TO BE BIGGER, BETTER



As the second edition of the Bahrain International Air Show closed its doors, or rather the skies over the Sakhir Air Base, the organizers Bahrains Civil Aviation Affairs and main sponsors Gulf Air and BATELCO in conjunction with Farnborough International, are already talking of the next event in 2014. It will be bigger and better without losing our strength here in Bahrain said one of the key staff, before continuing which is being compact and very userfriendly and a show of short access to all points. Transactions made at the Bahrain Air Show 2012, while no final figures were available at the time of going to press, were expected to match if not slightly exceed those of the first show two years ago, an encouraging sign considering the wobbles the global economy is undergoing at present.
The sentiments expressed were also echoed by a wide cross section of professional show attendees, heard in the shuttle busses and at the watering holes time and again, It was also the impression of this correspondent who enjoyed being able to walk from the press centre at the entrance to one end of the displayed aircraft and then to the other within half an hour, at brisk pace admittedly, while being able to access literally each and every aircraft on show, except for the A380 of Emirates, which had been made off limits for security reasons, having had Sheikh Mohammad Bin Rashid Al Maktoum and his delegation on board for both the inbound and outbound flight, therefore prompting his security detail to immediately putting a wide cordon around the plane after they had disembarked.
Apart from that single setback though were other planes, dedicated corporate jets, cargo aircraft, Gulf Airs new A 320 or Qatar Airways dual class B777 open for business, as were all the helicopters, the smaller twin jets, turboprops, conventional piston engined planes and of course a range of military aircraft both fixed wing and rotary.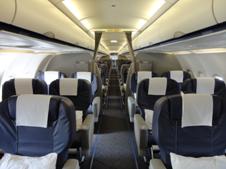 (The interior of a Gulf Air A320 with the new seat product)
(Qatar Airways 2x2x2 flat bed business class seat in the B777, catering set up for those keen to try it out and then in comparison the 3x3x3 economy class seats, one seat less per row in each cabin compared to other airlines.)
(The interior of a private corporate jet on the platform of an A320, sitting room, bedroom convertible to a private office, an elaborate bathroom with shower-cabin and the First Class section behind which is an economy class section for such staff not having the ranking yet to sit up front.)
(A Sukhoi SSJ 100 Superjet parked next to a Bahrain Air A 320)
Meanwhile were talks confirmed by Sukhoi with Bahrain Air, to sell anywhere between 3 to 5 of their SSJ 100, aka Superjet for its apparently astonishing flight economics which could give the Russian manufacturer a crucial foot in the door in the Gulfs booming aviation market. That sale, if pen it put on paper, would add to the sale of 5 of Bombardiers new CSeries, plus 5 more options, to Switzerlands PrivateAir and would lift the transaction value of BIAS2012 substantially.
Great for the tens of thousands of ordinary spectators though was the array of military aircraft and the opportunity to sit in a Black Hawk or walk into a C17, take a combat flying lesson in the simulator of an F18 Super Hornet or look down the gunsights of a Cobra helicopter gunship, and then seeing the fighters and interceptors perform stunning acrobatics overhead. Many also took advantage of a vertical wind tunnel set up where free fall parachuting could be experienced, wind in face and all, but of course properly suited up, and queues during the peak hours were evidence enough of how popular this show item had become.
(Sukhoi S27 Interceptors, flown by the Russian Knights, on the ground and in the air)
(And engines, big and smaller starting from an A320, seen from both from back and front, over the C17 and then finally of an A380, the largest commercial passenger aircraft engine on the market)
But there were fun aircraft too, like these twin seater GyroCopter shown below, which attracted lots of visitors and whenever possible did kids get seated in it, as did their dads too, bringing out their own child in them again. Perhaps this is todays answer to the growing traffic jams, although the absence of a cabin does make it quite windy and when it rains also quite wet of course.
With BIAS 2012 concluded Bahrain is setting the sights on BIAS 2014, which is according to the show organizers expected to grow, bringing in more aircraft and more exhibitors, extending the VIP Suites or as here called chalets by a few, as this year had sold out early leaving pending demand unsatisfied for late comers, and crucially for show visitors offering even more special attractions for them to enjoy the thrills.
And in closing, a special thank you to Gulf Air and Chief Services Officer Marcus Bernhardt and his team in corporate communications, who made this flying visit to the Kingdom of Bahrain possible. Visit the shows official website www.bahraininternationalairshow.com for more information and www.gulfair.com the airline with the largest network in the Middle East.

BOMBARDIER SELLS 5 CSERIES AND 5 OPTIONS



Canadian aircraft manufacturer Bombardier announced on day two of the Bahrain Air Show 2012 that they sold 5 CSeries aircraft to Swiss company PrivatAir which also took a further 5 options on the state of the art jet.
With a development time frame of 5 years Bombardier avoided the shortfalls, if not pitfalls of Airbus with the A 380 and of Boeing with the B787, and the combination of both composite materials and conventional construction methods, plus the continuance of supply chains established when building their other models, has helped to make the CSeries become reality this year as the first aircraft is now being built for testing on the ground.

(Seen here: CSeries cabin mock-up and the hybrid cockpit, incorporating the best of the other two philosophies)
The deal in Bahrain was pegged at some US Dollars 309 million but could rise to twice that if the 5 options, as expected, will be exercised. Bombardier has now sold the new CSeries to 11 customers and has a total of 138 orders and a further 124 options on the book with first deliveries expected by 2013. With continuously high aviation fuel prices will the 20 percent reduction in fuel burn be a mighty incentive to opt for this groundbreaking new jet in the 100 150 seat market. Watch this space.

AIRBUS DELIVERS 5.000TH A 320 AIRCRAFT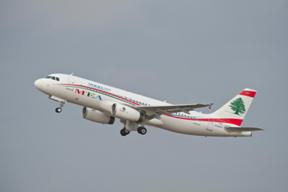 (Picture courtesy of Airbus)
Airbus Industries has announced at the Bahrain Air Show just now that they have delivered the 5.000th aircraft of the hugely successful A 320 family today to Middle East Airlines, with the aircraft now enroute to Beirut for the official handover ceremony to the buyer. The Airbus with serial number MSN5000 completes the delivery of a total order of 7 such aircraft by MEA, aimed to renew their fleet with state of the art aircraft.
MEA operates another 6 A 319 and four A 330-300 aircraft.
Airbus celebrates the 25th anniversary of the first roll out of an A 320 family member aircraft when the first flight took place in 1977 and has now reached over 8.300 orders overall, today flying with over 350 airlines and owners worldwide.
Successor model, the A 320 NEO, has also been an instant hit with airlines with orders piling in thick and fast as airlines are preparing to introduce the next generation aircraft offering substantial savings in operating cost and improved reliability while either offering an added range of 500 nautical miles or a further 2 tons payload.

BIAS 2012 DAY ONE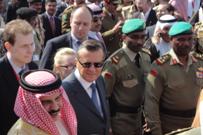 (King Hamad seen leaving the Gulf Air pavilion following the official opening of the Bahrain Air Show 2012)
Following the official opening of the Bahrain Air Show 2012 by His Majesty King Hamad, and his official visit to each and every exhibitors chalet, did the show go on the road or rather into the skies, with a variety of aerial displays by single or multiple military aircraft, one of the days highlights being the fly past of a Gulf Air A330 painted in the livery of Formula 1, accompanied by 8 Bahraini fighter aircraft.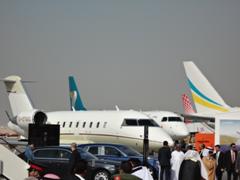 (Birds galore at BIAS 2012)
Gulf Airs Chief Executive Samer Majali and his team of top executives, from Commercial to Operations, were all at hand to interact with invited guests and the media and had plenty to tell about their vision for Gulf Air, to grow and to become a source of national pride for the Kingdom of Bahrain. More on that story in coming weeks.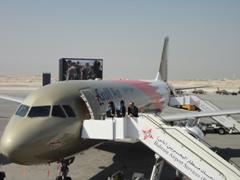 (A Gulf Air A320, in new livery and with a new interior, showcasing the airlines new vision for comfort in the sky)
The leading manufacturers had lined up their latest models and only Boeing missed the opportunity to showcase the B787 here, instead apparently opting to fly her to Singapore in mid February for their air show, a fact loudly bemoaned and lamented by many of the visitors who had hoped the see the Dreamliner in Bahrain especially considering that Gulf Air has over 20 of those birds on order to both grow the fleet and replace older and less fuel efficient aircraft. On show though were the 737NGs, the B767 and notably a B777 with a new cabin layout brought over by Qatar Airways from neighbouring Doha.
Airbus tried to showcase the A380, but as the Ruler of Dubai Sheikh Mohammed Bin Rashid Al Maktoum did arrive on it from Dubai, and was leaving with it a few hours later again, entrance to the plane was prohibited and the guests could only see the outside of it, and from a secure distance, to the lasting disappointment of many who had hoped to at least walk through this giant of the skies. Accessible though were A320 series aircraft as well as A330 aircraft.
Bombardiers pavilion was overrun, literally, by everybody wanting to see their mock up of the CSeries plane, cockpit and cabin, besides their real aircraft on display like the Global Challenger while Sukhoi had brought in their brand new SuperJet SSJ100 the company hopes to sell to customers in the region, and Bahrain Air has reportedly, or so the word was out yesterday afternoon, been getting ready to sign up for between 3 to 5 of these aircraft types. In the helicopter category Sikorsky showed off their S76C while competitor Bell showed off their AH1 Cobra, with both the Bahrain and US forces also displaying active helis of various other makes, including the famous Blackhawk.
Notably though did the Gulf Aviation Academy showcase their latest simulators for the Embraers 170 and 190, besides which they also operate one for the A320, a second one has according to their staff been ordered, and a combined A330/340 simulator, which when a new version for the A330 arrives will be dedicated to the A340 only.
GAAs CEO Tim Shattock was at hand to explain that in particular the Embraer simulators could also be used for the training of pilots from East African airlines now flying Embraer jets. This was evidence that it was not only aircraft manufacturers exhibiting but also related services like aviation training, logistics and system providers and a wide range of other closely interlinked suppliers.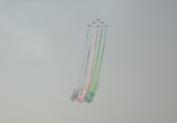 (Painting the skies over the Sakhir Air Base)
Highlights of the day however, for the invited guests and VIPs but also for tens of thousands of Bahrainis who had come to see the show, from the main area but also from the hills behind the Sakhir Air Base, were the aerial displays and acrobatic flights performed by the masters of the skies, and some of the flying pushed the edge of what the aircrafts were capable of and what the pilots could endure in terms of G-forces during some of the most daring turns and acrobatics seen. It was in fact the Russian Knights, who rang the bell in the afternoon as the last and most stunning performance, including head on flights with the opposing aircraft, seemingly at the last moment, doing a perfectly executed roll while passing each other, getting out of danger.
The second day of the airshow, unfolding today, 20th of January, will allow more time for one on one interaction, press conferences and visits to other airlines and manufacturers, but leaving my two minders of Gulf Air behind, will not be easy, first as they dont like to lose sight of me, and to be honest, myself not wanting to lose sight of them either, not for too long anyway.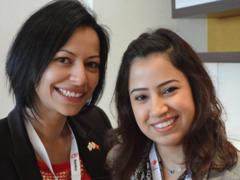 On this lighter note, more news at the end of day 2. Watch this space.

BIAS 2012 DAY ONE IS DAWNING



The Bahrain International Airshows second edition goes underway today and has according to local media reports been sold out for the 50.000+ spectator capacity set aside every day.
Running over three days the worlds leading aircraft manufacturers and suppliers or aviation equipment are showcasing their latest and newest, with amongst others Airbus showing off the A380 and Bombardier having put together a display of their new C-series.
All 40 corporate chalets were sold out months ago it was learned giving rise to expectations that the third edition of this annual calendar opening air show will be yet larger come 2014.
Information provided by the media centre to registered journalists, over 300 from around the world are in Bahrain for the event, also confirms that 69 aircraft will be on display in the trade only area while the public will have access to still 15 more of them, close up and personal.
The show has gained added significance this year, considering the tension Iran has been fueling in recent weeks and months, in as far as the static and aerial displays of military aircraft and related hardware is concerned, with trade missions expected from several countries in the region and beyond. 18 countries are confirmed to participate in the event, again a significantly larger number than in 2010. This is also belying detractors who had predicted a flop for BIAS 2012 in view of the political events of last year and attempts by what appears to be a small minority of foreign sponsored trouble makers with last ditch but feeble efforts to protest as the global media focus on the Kingdom ahead of and during BIAS 2012.
Air acrobatics, THE thrill for the crowds on the ground, will be performed by the Royal Jordanian Air Force, the French Air Force, the Russian Air Force and the UKs Red Devils, while those with more hands on experience in aviation will have the opportunity to get into a flight simulator, including one put up for the Hornet F18.
Over the next two days stand by for a full update every evening, pictures and sound bites and all. And this may also be the right moment to thank Gulf Air for their kind invitation to cover the event and learn more about the vision of GFs new Chief Executive Officer, whom I will meet later today for a chat. As the saying goes, watch this space!

HEADING FOR BIAS 2012 WHERE SMALL IS BEAUTIFUL GAINED A NEW DIMENSION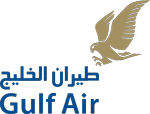 The often said words, Small is Beautiful gained a new meaning for me as I headed to Bahrain on Gulf Air, ahead of the Bahrain International Air Show 2012 I was going to attend. Cruising at 39.000 feet above sea level on board a Gulf Air A319, I found myself alone in the business class cabin and the centre of attention of the crew. On boarding, escorted from the lounge in Entebbe to the open door of the aircraft by one of Gulf Airs ground handling staff, I was greeted by name by the airlines station manager and the cabin services manager, which left a cryptic smile on my face, considering the words charm offensive I had used in several articles written after the inaugural flight. If this was part of it, for sure it worked and put me in the mood for the 4.45 hrs flight from Entebbe to Bahrain. I had last travelled on Gulf Air just before they left the Entebbe route, and when they were code sharing with Uganda Airlines, itself already in winding up mode. That flight was packed, my ID ticket ended me with a downgrade to economy class as the front cabin was full and I was in the end happy to be home again in Uganda, not looking back.
What a difference this flight was, and not because I had the front cabin to myself I sneaked back to economy to see the service there and must say that inspite of the ghastly hour, the flight left Entebbe at 03.20 hrs local time, the crew was cheerful, attentive and the passengers seemed happy, most of them having an empty seat besides them as the load was only in the 60 percent region.
I asked one Musoke, other names withheld on his request when he figured that I was going to use his name, why he had opted to travel with Gulf Air, and he did say that he got a good deal for his trip, better than on Emirates, leave alone British Airways or some of the other carriers and wanted to try some other airline to compare service and punctuality. Well, later on, as we walked off the aircraft in the morning after landing in Bahrain, he was convinced he had made the right choice, having had a row of 3 seats for himself for the night flight and gotten a hot breakfast once cruising altitude had been reached, with TWO choices of the main dish he did not fail to point out, having apparently settled for the foul medames, an Arabic cooked morning dish. I in fact had settled for the same dish when having my breakfast before landing, well presented and tasty indeed, with the traditional flat bread, preceded by some warm croissants into which the butter just melted ever so nicely.
Meanwhile though did the words of Gulf Airs Chief Services Officer Marcus Bernhardt at the airlines launch on the 05th December last year at the Kampala Serena Conference Centre came back to me, when he mentioned the Small is Beautiful as almost a corporate philosophy, making it quite clear to the audience that it was not the size of the airline which mattered but what service and product the airline actually offered, and consistently offered for that matter.
Gulf Air, today, is clearly one of the smaller airlines with a home base in the Gulf, but nevertheless covers the entire region like no other, a testament to the legacy of the early years when the airline was owned by several countries and was THE pan Gulf carrier. Others countries own development strategies, varying visions and perhaps even national pride, especially after Emirates was launched and turned into a success story, led to gradually one shareholding nation after the other to go their own way, reducing Gulf Air to become the sole national airline of the Kingdom of Bahrain. Smaller, but equally determined to grow and spread their wings, with a new CEO and a new vision of how to achieve that, GF has served notice of intent to their rivals, that the airline is here to stay and then some more. The introduction of a Sous Chef on board, not just on long haul flights but as seen now on the medium distance flight from Entebbe to Bahrain too, is one such service element bound to attract added traffic, and I for one liked having the opportunity to discuss menus and ingredients of Arabic cuisine with my chef on board.
Media trips of course almost always contain an element of show boating and red carpet treatment, but on the flight I had the distinct feeling, besides the initial greeting initiated surely by the station manager, that the crew was giving their best as a matter of cause, with the added advantage of being alone, a shame really considering the comfort of the extra wide seats and the deals apparently available for Ugandans wanting to try out flying upfront without spending their entire shopping budget before even reaching their destination, be it across the Gulf region or beyond to Europe or Asia, with emphasis on the Indian subcontinent.
My journey ended in Bahrain to cover the first major air show of 2012, the Bahrain International Air Show, where Gulf Air also serves as Official Carrier and major corporate sponsor of the event. And of course, Gulf Air is also the official carrier for the Bahrain F1 race, and it was a most pleasant surprise to see this bird on arrival, an A330 painted in the F1 colours flying the message across the Gulf Air network that in 2012 it is back to business as usual.
(A Gulf Air Airbus A330 painted in the colours of F1, docked at the terminal of Bahrains international airport and then seen again over the Sakhir Air Base during the Bahrain International Air Show)
In coming days my reporting from Bahrain will mainly focus on the events at the Bahrain International Air Show 2012 but I intend to do some sightseeing too and incorporate such elements too. To start with, while I do see similarities with say Dubai, Abu Dhabi and Sharjah, Bahrain on first impression appears more intimate, more personal, a work still in the making and traffic for one is easy flowing, compared with rush hour Dubai in downtown areas or across the bridges or along the highway to Sharjah.
Parallels I can see, but also uniquely different features, more of the old and ancient, more of the history which made the Gulf and made Bahrain. Watch this space!
East Africa News
KENYA AT CROSS ROADS
The ruling by the International Criminal Court yesterday, to confirm charges brought by the Chief Prosecutors office against four of the initially six Kenyans, has rocked the establishment in Kenya, as word emerged that the four will not go down without a fight in court and take their principals with them if necessary.
The ICC, is what has widely been seen as a selective process, had opted to only lay charges against six, with only four of them having to stand trial now, altering the political landscapes in Nairobi. Uhuru Kenyatta and William Ruto, both declared aspirants for the Presidency of Kenya in the forthcoming elections, the Head of Civil Service in Kenya Francis Muthaura and a radio presenter Joshua Sang learned yesterday at 13.30 hrs local time that the ICC had confirmed charges against them with a majority verdict of 2 : 1 while setting free the then head of police Gen. Mohamed Ali and Henry Kosgei, saying there was insufficient evidence to link those two to any crimes.
Ruto and Kenyatta have already said they would appeal the decision, undoubtedly emboldened by the dissenting opinion of one of the judges, and have also indicated that they would continue their campaign to become a candidate for the Presidency. Their political opponents have already however started stirring the mud, egging their supporters on to demand they should stand down while their cases are ongoing, while the supporters of both equally vocally claim the principle of innocent until proven guilty in court, besides throwing mud back by claiming the main opponent in the forthcoming presidential elections, Prime Minister Raila Odinga, escaped charges by the skin of his teeth, courtesy of an alleged deal with the ICC Chief Prosecutor who allegedly let both main protagonists of the 2007 elections off the hook while only dealing with the underlings.
Once the gravity of the decision has sunk in across the political spectrum in Kenya, it will be seen if Kenyatta, Ruto and Muthaura will be suspended from office, pending trial, or remain in their respective positions and how their campaign to become the flagbearer in the next elections will be influenced. Kenyatta had made up substantial ground in opinion polls against Odinga in recent weeks and sparks will be flying with allegations and counter allegations over the true masterminds of the post elections violence in 2008, indicating the potential for a dirty run up to having candidates selected and the subsequent election campaign.
Sources from within the tourism industry were unwilling to comment, saying they needed time to assess the implications of the verdict and the likely impact on Kenyan politics but reiterated earlier comments over their general concern of fixing a date for the presidential and general elections later this year. More reasons to watch this space and see how this potential game changer in Kenyan politics will play out in coming months.

ICC RULING HAS REGION AT EDGE
At 13.30 hrs local East African time today will all who matter in this region be tuning into the news broadcasts, as the ruling by the International Criminal Court is expected today, if charges against 6 suspects of being involved in the Kenya post election violence of 2008 are to stand or to be dismissed. With several prosecution witnesses having dropped out already, no longer willing to testify, while others have found themselves buried in controversy of changed stories, there is no telling how the pre-trail chamber judges will rule.
Security across Kenya has been stepped up and the outcome, either way, is expected to bring the supporters of the main politicians in the case out onto the streets, in demonstrations of either joy or else in anger.
Kenya is facing however more difficulties this year, and key tourism stakeholders notably shtumm on the ICC case for that matter have quietly expressed their concern over the long overdue decision on an election date. A regular source, albeit somewhat reluctantly, had this to say: The ICC decision is a big one. It influences the election campaign because if indicted, some may find it difficult to run for President with that cloud having over them. Kenyans are also no fools and know that the two main protagonists have not been charged, which many see as biased and even an attempt to avoid renewed fighting between the main political groups, if their leaders had joined those six in The Hague. But our main problem is the election date. Kenya always had elections between Christmas and New Year, the busiest time for tourism. With the disaster last time, when violence broke out over the results, tourists are likely to stay away this time from our country to avoid being caught up again and the media will of course warm up those stories. Let me again say, that not one tourist came to harm during those clashes, not one, but still we suffered great setbacks in arrivals that year. We need to know NOW when elections will be held to prepare, to have overseas tour operators plan ahead. Personally I dont think we will have a repeat of the violence last time but if the result is tight, who knows. So overseas tour operators will be very careful. Our constitution actually said elections must be held in August this year but that was challenged in court and it seems the ruling left the setting of the date to government. August is also a high season month which coincides with the European main school holidays and of course the migration of the big herds into the Masai Mara. Either way, whichever date, it is not going to be conducive for our sector. Already the Somali crisis of last year saw the arrival curves losing momentum and add to that the economic issues in Europe and around the world with maybe another big global recession looming? 2012 is going to be a very tough year for us all and we can only hope that our internal politics and the elections and the ICC announcement today do not make it ever worse.
Notably have these concerns also spread into the wider region, where the dominance of Kenyas economy is seen as both positive in terms of opportunities but also as a millstone around the other necks, when things go sour in Kenya and transit of exports, imports and the hub function of Jomo Kenyatta International Airport for much of the regions air traffic are disrupted. Uganda is in its 50th anniversary year of Independence from Britain, and while no major campaign has yet unfolded, inspite of the country also having been named the Lonely Planets top destination for 2012 ( Lonely Planet's Top Country to Visit) there is apprehension here too that events in Kenya could spoil the party for Uganda as well as other regional countries depending on tourism receipts.
Watch this space for updates when the ICC verdict has been announced later today and the likely implication this will have for Kenya and the wider region.

Uganda News
QATAR AIRWAYS ANNOUNCES RETURN TO TRIPOLI



Uganda had close ties with Gadaffi Libya in the past and scores of Ugandan students were studying in Libyan universities while there was a constant flow of business travelers to Libya, seeking to export produce to the North African desert country while in turn looking for investments back home in Uganda.
The conflict brought air links to a halt while the military campaign to oust Gadaffi was underway, so news by Qatar Airways Kampala office that scheduled flights would be resumed as of next week were welcomed by regular Libya visitors. It is in particular the daily flight connections out of Entebbe, via Doha, which makes Qatar Airways an appealing proposition to fly to Tripoli, as ties have once again resumed after the Ugandan government has unfrozen the assets held by Libya in Uganda.
Qatar Airways is the latest in a string of airlines to resume full operations to Tripoli now that peace has returned to that country and the safety and security of flight operations has been fully restored.

DALLAS AND SEATTLE NEXT FOR EMIRATES UGANDAN TRAVELERS



A regular source had during my absence left a text message on my phones, none of which were inexplicably roaming in Bahrain inspite of my home operators assurances to the contrary, that Emirates was increasing their destinations in North America by two in February and March respectively.
Dallas / Fort Worth will see a daily B777 nonstop service from Dubai, conveniently connecting travelers from Uganda, and the other East African EK destinations to a second Texas destination after Houston. The inaugural flight will take place on February 02nd as EK 221 while the return flight will be EK 222.
Next then will be Seattle, home of Boeing and the United States leading Northern West Coast city, just across from the border with Canadas Vancouver. Boeing is of course a leading supplier of aircraft to Emirates, which is operating the largest B777 fleet already and has at the November 2011 Dubai Air Show placed the largest ever order for yet more B777. The inaugural flight to Seattle will leave Dubai on March 01st, offering visitors for holidays and on trade and business missions convenient connections to the United States, while US travelers from both Dallas and Seattle can then reach a range of additional destinations in the Emirates network with one stop enroute. Watch this space for regular updates on aviation news concerning Eastern Africa and the Indian Ocean islands.

EMIRATES REACTS TO ADDED COMPETION, DROPS ADDIS STOP ON ENTEBBE ROUTE
Starting from the 25th of March 2012 will Emirates drop their stop enroute to and from Entebbe in Addis Ababa, giving Ugandans the long awaited nonstop connection. Passengers to and from Uganda had often complained that the stop was wasting their time but it is only now, that Qatar Airways and Gulf Air have brought a new wave of competition into the Ugandan market, that the airline is seemingly responding to these observations and demands.
While Qatar Airways is now flying daily between Doha and Entebbe, this flight will in fact in the last week of March be extended to Kigali, after all traffic rights have been secured, while Gulf Air, which commenced flights between Bahrain and Entebbe, currently flies 4 times a week using an A 319 on the route.
The added competition has eaten into the flight occupancies and even to some extent the cargo loads of the airlines which have in the past been flying to Uganda and as a result did some serious strategizing set in to find ways and means to keep market share by creating competitive advantages, not just over the fares but also with a compatible product, i.e. nonstop flights.
There is now speculation that Emirates may move from the often used B777 to the smaller A340 to cater for the Entebbe only loads and it is equally not known at this moment in time if Emirates will from the 25th of March combine Addis with another destination or else equally begin nonstop flights between Dubai and Ethiopia.
Watch this space.

ESCAPE FROM THE LORDS OF DARKNESS APPARENTLY NOT IN THIS LIFETIME
East Africas power companies and distributors, now widely termed the Dark Lords for their inability to keep the countries supplied with sufficient electricity, have gone both defensive and offensive at the same time in recent weeks. While denying the obvious, which is an abysmal failure in advance planning and creating the capacities required to meet the expanding energy needs as were projected 10 and more years ago they also down-talk system losses and often rotten infrastructure which needs urgent replacement. On the offensive side they are now trying to use media consultants and charm to sweet talk the public in to accepting continued misery, which in particular in the cities and towns across the region is marked by power outages every other night, as here in Uganda.
Small businesses are driven out of existence due to lack of power every other day, and those which survived somehow are now faced with tariff increases of 40 and more percent, which in the estimate of informed analysts and observers will lead to a wide spread increase in power theft as bills become unaffordable.
In Uganda, the much hailed Bujagali 250 MW hydro electric power plant is still not producing, after the repeatedly delayed final commissioning date of late November or early December was missed again, and by some considerable timeframe it seems as even the latest possible start up of February this year is now under doubt, made worse by the company simply not owning up and offering the public a detailed explanation and revised commissioning schedule. And to compound matters further, some expert opinions have now began filtering into the public domain that the planned Karuma Falls hydro electric station may take as much as 10 years to complete, which would plunge the country back into power rationing and darkness once the 250 MW from Bujagali have been soaked up by growing demand, more consumers being connected to the grids and the absence of fresh supplies from other new power stations. Admittedly, a few stand alone grid plants are being introduced or have been commissioned last year, and Kinyara Sugar apparently also plans to put up a power plant to become self sufficient and sell surplus to the national grid operators, as Kakira Sugar is successfully doing already, but those are now seen as drops on a hot stone. Heavy fuel oil plants, planned to go on line this year, had crude oil production taken off as enthusiastically projected by government bodies, were supposed to ensure sufficient capacity but with the ongoing disputes over oil contracts parliament maintains a stand that Tullow Oil has no valid license and contract at present as well as tax, policy and regulation issues unresolved, that may take yet a few years longer too before the implementation phase takes off.
Until then, the outlook is dark, pun fully intended, uncertain at best as to how East Africa is going to still the growing hunger for electricity, which is a key ingredient for further economic growth and to keep people sitting at home watching football matches rather than taking to the streets protesting. Anyone listening out there? Well they better are unless they are ready to face the music, in darkness most likely

Kenya News
KENYA AIRPORT AUTHORITY UNDER RENEWED FIRE
Pun was intended, according to a regular aviation source from Kenya, when he reported that the VIP Lounge at the Moi International Airport in Mombasa had burned to ashes yesterday morning.
Only recently extensively refurbished the lounge was accessible to government officials and other VIP travelers. Said the source: This is just another nail in KAAs competence. In Nairobi last year they had repairs ongoing in Terminal 3 and a hot water boiler exploded. Here they have repairs just finished and now say that an airconditioner caught fire. What contractors are they employing that such disasters keep happening. What procurement are they doing, Jua Kali or what? Remember the power outages at JKIA last year, the year before here in Mombasa which halted all flights after dark for several days? We in the aviation industry are just so fed up with organizations where appointments are made on political grounds instead of competence. Aviation demands top competence and here is another example how they let us down. Thankfully no one was injured and the fire brigade from the airport managed to extinguish the fire before it could spread to other parts of the airport terminal building or affect flight operations.
KAA in the meantime also face questions on the progress of the extension of Nairobis Jomo Kenyatta International Airport, where apron spaces, aircraft parking spaces and a new terminal are being constructed, with members of the aviation fraternity asking for the pace of work to be stepped up further to ensure timely completion of the project. No answers were forthcoming either from KAA over the start of constructing a second runway at JKIA, which is long overdue and seen as a critical constraint for further traffic growth at East Africas biggest airport. Watch this space on regular aviation updates from across the East African region.
BRAND KENYA TARGETS LONDON OLYMPICS
Kenya is seeking substantial publicity and exposure during the upcoming London Olympics, banking on the performance of their medium and long distance runners, as Brand Kenya is aiming to raise over 5 million US Dollars for a campaign co-sponsored by the Kenya Tourist Board, the Kenya Investment Authority, the Kenya Export Promotion Council and other national bodies with links to foreign trade.
Kenya has close trade links with the UK and is one of the Britains main foreign investment destinations in Africa and tourists from the UK to Kenya are amongst the leading nations in terms of arrival numbers.
Corporate sponsors are now being approached with the concept of a Kenya House during the July / August main Olympic Games and shortly afterwards the Paralympics which will extend the spotlight on the planned events into September. At the Kenya House will a series of events be showcasing Kenyan produce and products such as tea, coffee, flowers but also other exports like fruits and vegetables while highlighting investment opportunities in the energy sector, manufacturing, agro processing and of course the tourism industry.
The Kenya Tourist Board is expected to launch new promotional material, showing off not only the countrys best known attractions but also the newly opened tourists circuits in Western Kenya, while music, song, dance and poetry too will provide entertainment, highlighting the rich cultural variety of the country.
Kenyas National Olympic Committee has also thrown their weight behind the initiative, aimed to show Kenya from its sunniest side and capitalize on the world coming together in London this summer.
Watch this space for future updates.

KOREAN FLIES IN 120 TOURISTS
In another first has Jomo Kenyatta International Airport on Sunday received a plane load of Korean tourists, flown into the country by Korean Airlines.
Korea, as are other Far and South Asian countries, have been identified by the Kenya Tourist Board as a potentially rich emerging market but has been lacking nonstop flights to make visits to Kenya, and East Africa for that matter, more attractive.
It is understood that talks on bilateral air services agreements are ongoing, between Kenya and countries in the East, to encourage the setting up of direct airlinks. The series of charters now underway will undoubtedly raise Kenyas profile in Korea and it is understood that Korean media will also cover the destination, which alongside hopefully rave reviews by travelers, when they get back home, will encourage more to book a vacation to Magical Kenya.
The KTB Chief Executive Muriithi Ndegwa was at hand with other officials to welcome the charter flight at JKIA where he also used the opportunity to brief the media on the tourist boards efforts to increase visitor numbers from new and emerging markets, and what measures KTB had taken in past months to make this event happen.
Presently visitors have to use Gulf based airlines to connect via their hubs to Nairobi or else link up with Kenya Airways nonstop flights from Hong Kong or Bangkok, which however drives the cost of the air fares up and limits a greater market penetration due to the relatively higher cost.
Watch this space as 2012 gathers momentum and important tourism news can be reported right here.

Tanzania News
FERRY DISASTER CULPRITS CHARGED IN COURT
11 people, including the captain, some of his crew and staff in charge of load controlling and operations of the ill fated ferry MV Spice Islander which sank off Zanzibar en route to Pemba were charged with murder and over 200 counts of negligence leading to death on Friday last week. Alongside then stood MP Jaku Ayub with them, also charged with the same counts.
Mention of the case has been set for 02nd February at which stage the accused are due to take a formal plea before the High Court, not possible under the legal system in a lower court where the charges were filed and read out to them.
Independent reports peg the number of missing to over 1.000 additional passengers, with over 200 bodies recovered at the time of the accident, and while divers were unable to reach the deep waters where the ferry now rests to give any confirmation, it is generally suspected that most of those were trapped below deck and went down with the ship into their wet grave.
Only last Thursday was the final report of the commission of enquiry published and presented by Zanzibars Chief Secretary, which makes a damning piece of literature on the companys failures, omissions and deliberate oversights of safety regulations, loading procedures and keeping of passenger manifests. Corruption was also cited as one of the underlying factors of the disaster besides the dangerous mechanical condition of the ship and the total disregard to regulation under which to operate. Justice at last coming the way of the survivors and the families of those who lost their loved ones. Watch this space.

SAUTI ZA BUSARA 2 WEEKS AND COUNTING
It is little over two weeks now that East Africas best known and globally acclaimed music and performing arts festival Sauti Za Busara goes underway, from 09th until 12th of February. The festival programme has been finalized weeks ago and was distributed here but this reminder is for all those who are still pondering if to go or not to go, as available seats on flights to Zanzibar, or to Dar es Salaam from where regular ferry services can take travelers across the open waters between the island and the mainland, are selling out fast, as is space in hotels and resorts. Information received therefore from the organizers reads as follows: All is set for the 9th edition of Sauti za Busara music festival celebrating African music 9th 12th February at Zanzibars Old Fort. More than 300 artists (31 groups) will perform on the festival main stage. Check out the festival timetable or download a Festival Programme (pdf 20MB) here!
Tickets are selling fast! The Old Fort has a limited capacity. For peace of mind and to guarantee access to all events we recommend booking your All Festival Pass online (available only until 31st January). With each All Festival Pass or VIP Pass you will receive a complimentary souvenir programme.
The weather forecast for Zanzibar from 8 12 February is hot, hot, hot. Its time to get ready for your trip. See our Visitor Info page for information to make your planning easier, find tips for local accommodation bookings, tours and discounts.
Songlines Festival Tours (Europe) or Zanzibar Festival Tours (North America) can also assist with international travel to the festival. Zanzibars biggest ever CARNIVAL STREET PARADE kicks off 4pm Thurs Feb 9 at Kisonge, near Michenzani Roundabout. All roads lead to Ngome Kongwe, The Old Fort in Stone Town! Dress crazy, wear a mask, a wig, face paints, stilts or feathers. Or join the reki guys with spears and cover yourself head to toe in black engine oil! Whatever you do, dont miss the CARNIVAL STREET
Every afternoon of the festival, we host the Movers & Shakers Networking Forum: a warm semi-informal networking space for industry professionals to discuss, exchange and share ideas on the creative industries in East Africa and beyond. Sessions are free and open to invited local and visiting musicians, managers, venues, promoters, festival organisers, journalists and related professionals. This year we focus on success stories in building sustainability for the arts and new initiatives.
If you are a professional and wish to participate, contact busara
For more info see Movers & Shakers
Time to make those travel plans and come to Zanzibar and what promises once again to be an exciting week of music, dance and films.
TANGA MUSOMA RAILWAY SEEKS INVESTORS
The new railway line between Tanga, one of the lesser Indian Ocean ports of Tanzania, and Musoma on Lake Victoria, where a new port is due to be build at a cost of approximately 80 million US Dollars at current prices, will have a branch line to Lake Natron to collect soda ash did the Tanzanian Deputy Minister for Transport Mr. Athuman Mfutakamba announce on Sunday, when holding an impromptu press conference in Moshi.
At the same time he invited international investors to come forward and help finance the lunatic express as Tanzanian conservationists have already dubbed the planned railway the Uganda Railway, started in 1899 from Mombasa to connect the coast to the Ugandan Protectorate at the time was equally called the lunatic express but for the challenges in terrain as well as for the constant lion attacks while traversing what is today the Tsavo National Park. In what was possible a slip of his tongue, letting on more than he wanted to say or should have said, the minister with his remark of a branch line to Lake Natron raised immediate suspicion that the Tanzanian government was playing fiddlesticks with conservation and was fully intent to create a soda ash factory at the very site the entire East African population of the lesser flamingo come to breed once a year. The same sources are now equally doubting any commitment the Tanzanian government made last week, to route the railway around the Serengeti, where it would run parallel to a planned highway across the migration routes of the great herds.
Our government speaks with forked tongues to us, on one side trying to fob us off with good words and promises they clearly have no intention of keeping, while on the other side constantly, at times more by accident, letting it slip what they really have in mind and store for us.
This development is in line with earlier predictions made here, under the headline The Corridor of Destruction where for the first time the connection was shown of a series of environmental assaults from the Serengeti over Lake Natron to the coastline of Tanzania.
The Deputy Minister was quoted to have pegged a price tag of over 3 trillion Tanzania Shillings on the project, for which a Chinese funded feasibility study is now underway and conservation sources have already raised the alarm over the apparent lack of consultations over the route, to avoid the protected areas even if the cost for giving the Serengeti a wide berth would significantly increase the cost of the project. At the same time did the Deputy Minister also concede that existing railway lines required rehabilitation and conversion to the internationally used standard gauge size to allow for greater speeds at which cargos and passengers could travel from the Indian Ocean ports to the hinterland.
Meanwhile it was also confirmed through insider sources that the government of Tanzania had clandestinely advanced route and general technical planning for the railway, the port at the Tanga Marine National Park, the Lake Natron soda ash project and the highway across the Serengeti to a level where public consultations should have long taken place and for which Environmental and Social Impact Assessment Studies should have been compiled and publicly discussed to form part of an informed decision either for or against the project. However, the same sources also speak of the contempt top levels of the Tanzanian government apparently have for anybody labeled a conservationist or environmentalist and that the powers that be have apparently vowed to push their development plans through by hook or crook and irrespective of any local, regional or international outcry over the potentially huge damage to the Serengeti and the Lake Natron environment, leave alone the Coelacanth habitat at Mwambani.
The soda ash project has been delayed inspite of Kikwete giving a clear directive. He now thinks it was the environmentalists, and the foreign green lobby who are responsible to drive TATA away from investing in Tanzania, after all the demands for mitigative measures become known. Lake Natron is the only breeding ground in East Africa for the lesser flamingos and it should that soda ash factory and pipelines and constant movement roll out, the flamingos will not be able to breed in peace and the species within years become near extinct said a regular source from Arusha when also commenting on questions asked by this correspondent over the multiple plans to run roads and rails across crucially important protected areas.
The conservation community is now banking on the legal case which has been brought by environmental groups before the East African Court of Justice, due to be heard next week, after the Tanzanian governments attempts to halt the case over questions of jurisdiction had been thrown out by the judges. Doubts remain here too however if the Tanzanian government would respect a court ruling against them and not go ahead anyway, or what would happen if the government position to build a highway across the Serengeti, and now quite possibly a railway, could be reversed and other options in regard of a new alternative route be incorporated in the plans.
Watch this space as this saga continues to unfold and indeed The Corridor of Destruction begins to be put into reality.
5 BILLION PLAN FOR TOURISM DEVELOPMENT LAUNCHED IN DAR
The government in Dar es Salaam has yesterday launched an ambitious 5 year tourism development plan, thought to cost them a cool 5 billion Shillings over the time span. The new outlook aims at developing beach tourism, in comparison to Kenya largely underdeveloped as yet inspite of having over 1.400 kilometres of shoreline between the border to Kenya and the border to Mozambique but in general make greater use of resources and assets like national monuments, besides national parks and game reserves.
Tourism and Natural Resources minister Ezekiel Maige made the announcement in Dar es Salaam, making it clear that Tanzania is intent to add greater resort capacity along the beaches, on the islands off shore and in safari parks, to attract more tourist visitors in coming years. The minister also spoke of plans to create regional tourist boards or offices, affiliated to and to support the work done by TTB, specifically promoting tourism attractions within their own region and locations. The minister in particular also pointed to the underexploited national monuments and museums where the history of Tanzania is captured, along the coast but also inland which should be included in the tourist itineraries, telling in particular the stories of the slave trade which was prevalent along the coast and on Zanzibar with at times remarkable well preserved sites. Good news for once and glad to report it.
Ethiopia News
ETHIOPIAN AIRLINES MAKES MAIDEN APPEARANCE IN SEYCHELLES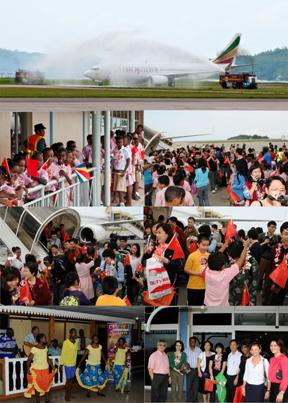 (Pictures courtesy of Seychelles Tourism Board)
While still several weeks away from commencing scheduled operations between Addis Ababa and Mahe, has the Ethiopian national airline nevertheless made the maiden flight yesterday, 22nd January with a full plane load of Chinese travelers who had booked a holiday of a life time on the archipelago and came from China on one of ETs scheduled flights to Addis.
The group will be picked up again on the 29th January after spending a week on the islands, using the new Kempinski Seychelles Resort, the Le Meridien Fishermens Cove and the Berjaya Beau Vallon Bay Resort.
The maiden flight was greeted by the traditional aviation welcome, an arc of water from two fire engines sprayed over the taxiing plane, and after coming to a stop 100 Seychellois children, waving the Chinese and Seychellois flags, greeted the visitors with songs and cheers.
The trip was organized by China Travel Services, whose management was on board of the flight too and 7 Degrees South, one of Mahes leading DMCs was handling the transfers and tour arrangements on the island.
A large government and diplomatic delegations was at hand at the airport to greet the first ever charter of Chinese travelers, with the Chinese Ambassador being flanked by Mr. Barry Faure, Chairman of the Seychelles Tourism Board and Secretary of State in the Presidents Office, while Deputy CEO Elsia Grandcourt represented STB, explaining that China was in 2011 the best performing market with a 97 percent growth rate and heading for yet further growth in 2012.
Seychelles, truly Another World.

ETHIOPIAN AIRLINES DENOUNCE LEBANESE CRASH REPORT
Following the fatal crash of an Ethiopian Airlines B737-800 shortly after taking off from Beirut on 25th January 2010 was the accident investigation report finally published, but not without further controversy, which has apparently marked the entire period of the enquiry. Ethiopian sources from Addis Ababa had, on repeated questions as to the time elapsed since the crash and the silence of the Lebanese authorities hinted, that not all was well and that the trend of the investigation by the Lebanese was not corresponding with the Ethiopians own interpretation of available facts and eye witness statements available.
With the report now formally out, the Lebanese Civil Aviation has seemingly put the blame squarely on the pilots of the stricken flight, something the Ethiopian Civil Aviation body has rejected and attached their own dissenting statement to the final report, as is their right to do.
It is understood that further investigations outside the formal enquiry which is now concluded, are continuing to establish the true cause of the crash, focusing on eye witness reports of the plane being engulfed in a ball of fire while still in the skies, before crashing.
Speculation is therefore only freshly fueled now by the formal report, and the dissenting insert being published and it is hoped that at one time in the future the truth will finally come out.
Ethiopian Airlines safety record has otherwise been rated as very good and their own MRO in Addis Ababa is considered one of the leading repair and maintenance facilities in Africa as well as globally, while their training standards meet all the requirements of global aviation bodies. Watch this space.

Rwanda News
RWANDAIR GETS NEW BOARD CHAIRMAN



The Rwandan national airline, aspiring to fly high in the region and on the continent, has just seen a new board of directors appointed, which brings some added expertise to the carriers top decision making organ.
Mr. Girma Wake, formerly serving 37 years with Ethiopian Airlines and 15 of those years as Chief Executive Officer, has been appointed Chairman of the Board of RwandAir with immediate effect. He is joined by Ms. Rica Rwigamba as a new board member, who is in charge of the Tourism and Conservation Department at the Rwanda Development Board, incorporating the countrys crucially important tourism industry at the top level of the national airline. Others now serving on the board are Ms. Isabelle Kalihangabo, Ms. Laurence Mukarugwiza, Mr. Caleb Rwamugaza, Mr. Sudadi Kaitana and Mr. Theo Uwayu.
Only recently did the airline announce plans to purchase two new regional jets in the 90 110 seat category as part of the ongoing fleet renewal and expansion and the arrival of Girma Wake will undoubtedly strengthen the decision making processes which will lay the foundation for growth and prosperity in coming years.
It was also confirmed from a source close to the airline that plans to privatise the carrier are ongoing and once the conditions are right an announcement will be made by government to resume the search for a strategic partner and investor to ensure the long term future for RwandAir.
Welcome to all the new faces on the board and congratulations upon your appointment.

Mauritius News
EMIRATES SIGNS DEAL WITH MAURITIUS
Mauritius Tourism Promotion Authority has signed an extensive deal with Emirates, the national airline of Dubai, to globally promote Mauritius holidays and bring passengers to the island on one of the presently 11 flights the airline operates from Dubai. The two partners will engage in a range of marketing and promotional activities aimed to stimulate demand and increase the visibility of Mauritius across the global network the airline has built in recent years.
Present at the signing of the Memorandum of Understanding at the airlines head office in Dubai were the Mauritius Tourism Minister Mr. Sik Yuen, his Permanent Secretary Premila Roy, the Chairman of MTPA Robert Desvaux and the CEO of MTPA Karl Mootoosamy while Emirates was represented by Majid Mualla, Emiratess Senior Vice President Commercial Operations West Asia and Indian Ocean and Omar Ramtoola, General Manager Emirates for the Indian Ocean Islands.
It is understood from usually well informed sources that Emirates is seeking more flights and possibly even 5th freedom rights, counting on the support of hotel and resort operators in Mauritius who have for long asked their own government to grant greater access to foreign airlines to bring more tourists to the country. These developments are however similar to what the airline is also trying to get approved in neighbouring Seychelles, where the opening of the skies has led to Air Seychelles axing all their European and Asian destinations as a result of not being able compete with the Gulf based giants on fares and frequencies. Watch this space.

MTPA TO ATTEND SATTE IN NEW DEHLI
The Mauritius Tourism Promotion Authority has announced that they will participate in the forthcoming SATTE, Indias biggest tourism trade fair for professionals meeting professionals. International participation is significant in the event and with the close trade ties Mauritius has with India, MTPA found it paramount to be present and to promote holidays to the island. The trade show will be held between February 10 12 in New Dehlis Pragati Maidan.
After SATTE will MTPA also participate in a weeklong Mauritius Week, which will be launched in Mumbai and where a special workshop for the travel trade will be held at the Taj Mahal Hotel on February 13.
The 15 member strong team from Mauritius is particularly keen to interact with the expected over 500 Indian travel agents and tour operators as well as having the opportunity to seek out opportunities with the over 200 foreign exhibitors and buyers already registered for the event.

Seychelles News
SEYCHELLES STEPS UP PROMOTION OF AFFORDABLE SEYCHELLES WITH NEW SLOGAN
The Seychelles Tourism Board used its presence at FITUR in Madrid to drum out the added message to key markets in Europe that Seychelles is now accessible as never before, aimed to build on the extra frequencies since last year of airlines coming to the Seychelles and the new flights planned from Paris, Milan and Rome.
In 2009 the Seychelles developed the Affordable Seychelles concept, telling the world that one does not have to be super rich to come to the archipelago for a holiday of a life time, with plenty of guest houses, chalets, holiday homes and Bed & Breakfast establishments, registered with the Tourism Board, able to offer a stay at a fraction of the cost what a fancies 5 star resort would cost.
The new slogan accessible as never before follows in the footsteps of that campaign, again aimed to attract travelers on a budget besides the very upmarket marketing which is equally and vigorously pursued too.
Said Alain St. Ange in Madrid to media representatives: We must not forget that tourism is an industry where perceptions play a strong role in moulding consumer opinion and Seychelles still suffers from the perception of being an expensive destination and this, at such a time, is not to our advantage. We must continue to do all our in our power to build and maintain an image of Seychelles that reflects the wide choice of accommodation options now on offer and also the fact that Seychelles remains accessible to travellers despite the cessation of some of Air Seychelles services. The new tourism campaign plays to Seychelles strengths of having a varied basket of accommodation choices for todays visitor, ranging from the pampering comforts of 5-star resorts and the exclusivity of island resorts to the homely charms of small hotels, Creole guesthouses and self catering establishments. Todays accommodation options reflect not only the growing diversity of our product, but also how Seychelles has something to offer for every budget.
It is also understood that Ethiopian Airlines has now confirmed that their planned but delayed flights between Addis Ababa and Mahe will now finally commence on April 01st although final confirmation of both the date and the number of flights is still awaited. This will open up the entire network of Ethiopian Airlines across Africa, Asia, the Middle East, Europe and America for travelers to the Seychelles which in the mind of this correspondent simply is Another World. Watch this space.

VALENTINES GIFT FOR ITALIAN SEYCHELLES FANS
Italians will be able to take their Valentine to the Seychelles on a new nonstop service when it was confirmed overnight that Italys Blue Panorama Airline will commence operations from Milan via Rome to Mahe on the 14th of February this year, following an agreement between the two countries over traffic rights. The initial single weekly frequency will be doubled to two flights a week from July onwards.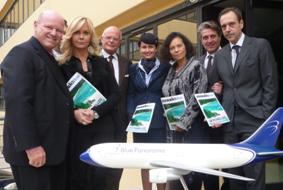 (STBs Alain St. Ange seen here with the Blue Panorama top management breaking the news)
The announcement comes hot on the heels of the Seychelles hospitality and tourism sector voicing their concerns over the impact of the sudden withdrawal of Air Seychelles flights from Milan and Rome, which left the important Italian market suddenly struggling for seats and with no more nonstop flights. Air Seychelles itself is in the final stage of concluding an extensive codesharing arrangement with Abu Dhabis Etihad, which will see the former destinations of London, Paris, Milan and Rome in particular seeing an HM flight number return, while more destinations across Etihads European network are also thought to be included in the deal to more extensively market the Seychelles. Seychelles Tourism Boards CEO Alain St. Ange was quoted to have said: The Hotels and Resorts in Seychelles are today offering rates that reflect an across the board range making Seychelles more accessible than ever before. The addition by the Blue Panorama Airline, an Italian Company on the Seychelles run, brings a new dimension of accessibility as they will provide new flight options from Italy to the mid ocean tropical islands over and above the twelve weekly flights by Emirates, seven by Qatar and four by Etihad.
NEW SUMMER TIMETABLE FOR AIR SEYCHELLES NOW AVAILABLE



Air Seychelles has published their latest time table for international services, available via their website on www.airseychelles.com/media/products/downloads/81/Regional%20summer%20timetable%202012.pdf
Following the withdrawal of all European and Asian services at the end of 2011 and in early 2012, the remaining destinations for Air Seychelles now are Mauritius and Johannesburg, where during the validity of the summer schedule two flights each are planned. Mauritius will be served on Tuesday and Saturday each week, using one of the remaining B767-300 aircraft while Johannesburg flights will be operated each Friday and Sunday.
The schedule will come into effect by March and run through October, but it is expected that sometime around August a new B737-800 will join the Air Seychelles fleet and then be used for these flights, and probably the planned new destinations on the African continent.
Air Seychelles domestic services from Mahe International Airport to the island of Praslin continue uninterrupted as do on demand charters to other outlying islands with airfields, where the airlines 3 Twin Otter and 1 Short 360 can safely land. Watch this space for upcoming news, when HM makes the formal announcement on their purchase of their new plane/s and choice destinations, following the conclusion of the ongoing restructuring.

SEYCHELLES PRIVATE SECTOR UNITES TO FACE CHALLENGES OF 2012
Stakeholders in the Seychelles tourism industry held an extraordinary meeting of the Seychelles Hospitality and Tourism Association last weekend, aimed to discuss the industrys challenges for the new year.
A range of issues were according to information received from Victoria, the Seychelles capital city, discussed amongst members, notably matters of security, safety issues in regard of beach control and speed limits for boats, besides aspects of marketing the country in 2012 and beyond.
Said a regular source from Mahe: These meetings are very important. STB and government need to get first hand information from us stakeholders at frequent intervals to be aware of shortcomings, problem areas like have been mentioned on Friday. The presence in such meetings of government officials like Mr. Faure (Chairman of the Seychelles Tourism Board and Secretary of State in the Presidents Office) is crucial to convey messages to our government. They need to know and now they do know. Funding for STB is an issue, escalating cost of doing business is an issue, jet ski operations close to beaches is an issue, keeping anti shark nets up and intact is an issue, public security for visitors is an issue, rogue operators trying to overcharge tourists is an issue, Air Seychelles future is an issue. SHTA is open for all stakeholders and everyone should take the opportunity to come for meeting and tell their own issues. We must also meet stakeholders on Praslin and La Digue, where they just had a 24 hour power outage. Such problems need discussing on site with SHTA members, they have to see that the association works for them nonstop, not by confrontation but by partnering with government and STB.
Then asked if there were any major disagreements on strategy or individual leadership at both public or private sector the source added: We agree on strategy to market Seychelles because we developed it together, we review it together. There are no disagreements at all because everyones input is heard and made use of. About personality issues? SHTA has regular elections, that is not an issue at all, tourism is under the countrys President as his own portfolio and STB is a partnership where the private sector has a big say. We are happy with the way our country is showing itself abroad and record numbers of visitors are proof we are doing the right thing. 2012 is maybe a difficult year but we have learned from 2008 how things can be turned around, how we can react to challenges.
Well said this correspondent thought, wondering if diplomacy is part of the Seychelles tourism curriculum taught at the tourism academy of if the source quoted was looking ahead to future rounds of leadership elections?
Seychelles truly Another World.

And in closing today some more material from The Livingstone Weekly courtesy of Gill Staden.

ZAMBIA
International Tourism Fair, Madrid and UNWTO

According to reports the Zambia stand at the Tourism Fair in Madrid has been very busy. I feel sure that most of the visitors were drawn to the stand because of our commitment to host the 2013 UNWTO.
Minister of Foreign Affairs, Given Lubinda, attended the show. At the show he was quoted as saying that Zambia and Zimbabwe should not duplicate efforts as they prepare to co-host the UNWTO; that they should work together.
In the meantime, an article in another newspaper states that National Heritage Conservation Commission (NHCC) plans to construct a Conference Centre at the Victoria Falls in preparation for the UNWTO. The plan, according to the article, is to move the curio traders out of the area and use this space for the conference facility.
When Given Lubinda was Minister of Tourism (a couple of weeks ago) he said at a meeting at the Zambezi Sun that Chief Mukuni had offered land on which to build a conference centre.
We know how much we all love meetings, it would seem appropriate at this time to have a meeting between government officials and hotel/lodge operators in Livingstone and Victoria Falls Town in order to find out what facilities are available on both sides of the river.
In 1991 the Commonwealth Conference was held in Victoria Falls Town so they know what is needed.
As far as I am aware, Elephant Hills in Victoria Falls Town can provide the necessary conference facilities. According to their website they can accommodate 500 delegates in one room at a conference but I am sure they can increase that number they have enormous rooms there. They can also provide the office facilities which will also be needed during that time.
Sun International has conference facilities for 450 in one room. But Sun International was never built as a major conference centre it does not make economic sense in Livingstone.
It would seem that Zambia is already feeling that it needs to compete with Zimbabwe by proposing two conference facilities one at the Falls and one in Chief Mukunis area. Firstly, a conference facility at the Falls should not be allowed under the rules for UNESCO World Heritage and secondly the removal of the curio traders would be a terrible injustice.
Finally, though, I really do not think that we have time to build a facility of this kind in the time allowed. And, if we do manage, what will we use if for afterwards?
This UNWTO meeting should be seen as an opportunity to market both the Zambian and Zimbabwe sides of the Victoria Falls; for us to show off our assets. Let the government spend money on improving what we have, not in competing with Zimbabwe. Victoria Falls Town, historically, was the tourism centre of our region; the town has nothing else but tourism no industry, no farming.
Livingstone should not see itself as the poor sister; it has so much culture, has stunning lodges, new airport facilities and roads, and, as Given Lubinda says, can complement Victoria Falls Town. In my opinion, Livingstone should provide the Street Theatre. We have culture by the bucket-load which is lying dormant in the hearts of the people. Let the money be spent on the people to rekindle their cultural dances and songs and hone them to perfection between now and the UNWTO. Let them get stunning new outfits and give our cultural heritage the facelift it needs not a new conference centre which will become a white elephant afterwards.
I think my last comment has to be on the date. No-one has yet given us a date for the meeting. Hotels and lodges are being booked already for 2013 so if the governments dont get a date soon they may find that much of the accommodation is already in use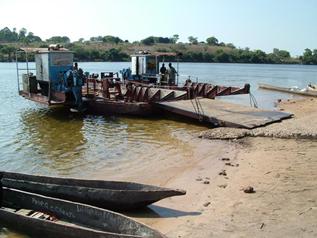 Flooding in North-Western Province

While Livingstone is suffering from low rainfall, other areas of Zambia are having heavy rains. In North-Western Province the Zambezi River is flooding and threatening to cut off some areas of Zambia. The District Commissioner, Lawrence Kayumba has been trying to get relief maize to the villages on the west of the Zambezi. According to a report the ferry was washed downstream for 45 km. The pontoon was carrying relief maize.
The villagers were organised and managed to haul the ferry back to its station where it was tied to a
tree. Meanwhile the villagers are wading in the river to go to collect the maize from the ferry.
Mr Kayumba is also organising ox-carts to deliver the maize as vehicles cannot get through.
This area is rarely visited by tourists but on Google Earth I found some photographs by: huperverlag.de. I am sure he wont mind that I copy them.
I am sure, too, that most of you wont know where this area is. I am assuming that the ferry is at Zambezi a town on the Zambezi River. It is, as a rough guess, about 1,000 km from Lusaka.
It has to be one of those places which are on my list of places to visit

ZIMBABWE
Hwange National Park
John Brebner, African Waterfowl Count

We have just been up to the Park to participate in part of the African Waterfowl Count which is conducted Africa-wide during January and again in July.
The park, for the most part, was looking at its most glorious best so lush and green although it is evident that the rain has been very patchy and there was certainly not nearly as much water lying around as we had hoped. Some of the more reliable pans are desperately short on water and we can only hope that there will be some more general rain soon.
Our first night was spent at Main Camp and we managed to get down as far as Ngweshla, to be greeted by a stunning pastoral scene of several waterbuck, zebra, impala and warthog grazing contentedly by the main pan, quite unconcerned by our presence. On our way back past Kennedy Two (which, incidentally, was holding more water than we had expected), we came across a herd of at least 200 buffalo. Lion could be heard vocalizing most of the night quite close to Main Camp.
We then went up to Masuma where we were camping for four nights to do the waterfowl count in the Sinamatella and Robins area. On the way up, we stopped in at most of the pans along the main route. We were pleased to find that the Guvalala Platform ablutions were in working order and reasonably clean, with a reasonable amount of water in the pan. Whitehills was not holding much water and Danga was almost dry which was extremely worrying. However, Shapis trough was full and overflowing into the pan and the pan was looking great. Having had reports of Common Myna birds being seen there, we, too, picked up one bird flitting around near the windmill.
While at Masuma we noticed that the resident hippos were continually flicking their tails and it became fairly evident that they were being harassed by flies and were splashing water up onto their backs to chase off the hordes. During our first evening at Masuma, two herds of elephant arrived to drink hurriedly at the pan while a small herd of zebra and seventeen male impala kept each other company. Lion could be heard fairly close by several times during the night along with the whoops of spotted hyena and the odd piercing yodel from black backed jackal. During our four night stay, the thunderheads built up to enormous and beautiful proportions and we were quite certain we were going to be in the midst of a storm on several occasions. We remained dry! We had one clear night of stunning star gazing just truly magnificent.
The birding was fantastic and we managed to pick up 184 species during our time in the park. We had an extremely hot and busy time counting at Salt Pan in the Robins area but came away well satisfied with the results. We were distressed to see how little water remained in the Deteema Dam with only two small muddy puddles. However, we were very pleased to find water available for the ablutions at the Mike Edwards hide and even more pleased to see that the old picnic site huts had been rethatched and a good clean up has been done there. Unfortunately, we found three carcasses of elephant in the ravine below the old picnic site so not very pleasant when the wind blew the wrong way! Mandavu was almost a whole days excursion and great to see the dam so full.
All in all, a very enjoyable time was had by us all.


ONGOING DESTRUCTION IN CHIREDZI RIVER CONSERVANCY

Further to our September 2011 report, the destruction being caused in Chiredzi River Conservancy by land invaders continues unabated. They are cutting down huge riverine hardwood trees at the junction of the Chitora and Mungwezi Rivers. They are cutting everything right down to the river bed and the damage they are causing is permanent. Piles of wood for sale can be seen along the tar road.
Poaching is on the increase in all areas remaining with wildlife and the wild elephants are still being threatened. Livestock and people are putting pressure on the remaining wildlife areas. Game fencing is being stolen to make wire snares and as fast as the fences are replaced, they are stolen again.
Game guards and workers employed to try and control the situation are being threatened with violence if the poachers' dogs get shot while they are hunting.


BOTSWANA

The Wild Bird Trust aims to keep birds safe in the wild with a combination of research and action. They are based in Cape Town. Most of their information is on Facebook (with lots of photographs): www.facebook.com/wildbirdtrust. During the week they chose some of their best bird photos which had been submitted during the year. This one is from Chobe:

Coal Mining Near Kasane

Sunbird Energy of Australia intends to mine for coal, south of Kasane. According to their statement:
The Kasane Project is located in northern Botswana, south of the town of Kasane in the Kalahari Karoo Basin and includes eight permits covering 4,162km2.
It would be interesting to know exactly where this is. Anyone have an idea?

NAMIBIA
Carmine Bee-eaters

Carmine bee-eaters migrate to this region of Africa to breed at this time of year. They nest in banks of the rivers in huge numbers. I reported last year that, because of their beautiful red plumage, they had become the target of dealers who were killing them to sell the feathers. The rumours are that they are Zambian traders and that their customers are Chinese.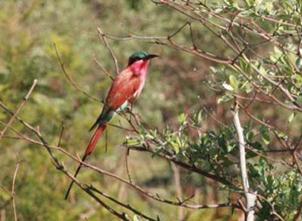 At night the thieves boat along the river. They find banks where the carmines are sleeping in their holes. They cover the nesting holes with a net and then disturb the birds which fly into the net. They are then killed.
Kalizo Lodge near Katima Mulilo has a colony of bee-eaters near their premises which they protect jealously. It was this company that brought the trade to our attention last year. Again they are reminding everyone to be on the look-out for these unscrupulous people.

And a word on behalf of Gill and where you can read her stuff on the web
You can read previous Livingstone Weeklies on Gills blog:
www.thelivingstoneweekly.wordpress.com
She has also put all her travel stories on a blog. If you want to look at them:
www.storiesbeyondthevictoriafalls.wordpress.com
And finally she is also building up a Contact Directory for companies in the tourism industry around the Victoria Falls which is very useful information for anyone having dealing with further down South.
www.contactbeyondthevictoriafalls.wordpress.com