AVIATION, TOURISM AND CONSERVATION NEWS from Eastern Africa and the Indian Ocean islands.
A weekly roundup of breaking news, reports, travel stories and opinions by Prof. Dr. Wolfgang H. Thome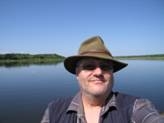 Get daily breaking news updates instantly via Twitter by following @whthome, join me on Facebook where the articles also cross load or read the daily postings on my blog via: www.wolfganghthome.wordpress.com which you can also follow to get immediate notification when a new article is posted.
Fourth edition March 2012
East Africa News
BRITISH AIRWAYS FINALLY FIGHTS BACK



From the Worlds Favourite Airline it has been a long way to being just another airline coming to East Africa and the strikes and subsequent negative reports last year did little to swing public opinion back to BA, translating into yielding traffic share to other airlines coming to East Africa, notably the giant Gulf carriers but also to Kenya Airways and Virgin on the route to Nairobi.
But the powers that be apparently decreed that enough is enough and decided to not just show flag but significantly increase capacity of flights to Nairobi, Entebbe and Dar es Salaam, Kigali and Bujumbura not yet appearing on the BA horizon it seems.
Information received from BAs East Africa manager George Mawadri, incidentally the first ever East African to be promoted to this position, indicates that across 2012 there will be a marked increase in both frequencies as well as capacity. The B777 presently used on the route to Nairobi will be substituted against a B747-400, a significant rise in per flight capacity, while the presently 7 flights per week are due to rise to 10 a week from a date still to be announced.
Dar es Salaam, presently served only three times a week, strange considering the long standing and close ties between Tanzania and former colonial power Britain, will see as many as 5 flights operated come late 2012 and Entebbe will finally get a fifth flight, about time industry observers are saying considering that KLM, a relative latecomer to Uganda, will be going to 6 flights a week later in 2012, though combined with Kigali / Rwanda.
How this will translate into recapturing market share however for passengers and cargo will remain to be seen, as Kenya Airways too seems set to react to the news by adding more flight of their own, while the arrival of Etihad in Nairobi will add yet another one of the Gulf giants to the competitive fray, with Emirates and Qatar Airways already ahead of the pack, in terms of fares, connectivity and service levels. In particular Qatar Airways seems set to connect the entire East Africa by the end of the year, having just added Kigali to their network as 17th destination, and Kilimanjaro, Mombasa and Zanzibar are due to follow over the next few months, combined with an increase to three flights PER DAY to Dar es Salaam, where BA presently only flies 3 times PER WEEK.
Some observers have questioned though the difference in equipment used, with BA operating a wide body while Qatar for instance uses an A320 single aisle aircraft, but as witnessed just a few days ago, those planes are state of the art, equipped with wireless connectivity FOR FREE while in flight and have a seat comfort for the 5 or 6 hours of flight of superior quality in economy, though no flat beds (yet) in business class.
Those considerations however feature only on the periphery for British Airways, which is set to push ahead with their capacity increases as tourism and business visitors keep streaming into East Africa in unprecedented numbers.
Watch this space for an upcoming interview with George Mawadri due for publication in April.

VALUED GUESTS AND PASSENGERS IN THE AIR, SUSPECTS ON THE GROUND
When joining the inaugural flight of Qatar Airways to Kigali earlier in the week in Entebbe, and when returning from Kigali back to Uganda, the excesses and follies of the so called security once again stared me in the face.
Here in Uganda, the purported security cordon purported because there is nothing real about it from where I stand has for the past years imposed intolerable conditions on travelers, with airlines, passengers and even, on condition of anonymity, CAA personnel complaining nonstop about the anti service attitude and archaic if not dictatorial mindsets of security operatives, failing to understand that in this business aviation security must work with, not against the other stakeholders.
In Entebbe the excesses manifest themselves in a prohibition order for cars to drop passengers off at the terminal, something incidentally not seen in all the other key airports in the region, compelling travelers to be dropped at a parking area distant from the terminal entrance where they are exposed to the elements of weather. As if the heat of the day or the often bucketing rain is not enough, travelers are then subjected to lugging their bags over a long distance, in particular when the trolleys during peak hours are in short supply and when the porters, as seen this time again was it a coincidence that it was lunch time have gone AWOL, leaving it to the travelers to carry bags upstairs to the departure level, an inconsiderate if not cruel way to bid farewell to in particular elderly passengers many of whom I have witnessed to reach the terminal just a heartbeat away from suffering a collapse.
Apart from that however, on departure I could witness that a new batch of aviation security personnel was shown the ropes through a guided tour, after going through their induction training which for sure included customer care course content, as the words please and thank you during my own processing were much in evidence.
Yet what a contrast to departing from Kigali again, yes, again, as this is not the first time I experienced security personnel not fit to be deployed at an international airport, a view by the way shared by several airline personnel I spoke to on the ground and other travelers alike who equally felt that the security staff were not up to expected performance levels. Aviation is all about service and security too must come to terms that their essential work meets service standards, with all the pleases and thank yous said with smiles. In my case, an overzealous chap, his pips suggesting he held the rank of second lieutenant, postured as guardian of the Brussels Airlines branded trays, literally ripping the two from my hands as I had dared to take them from the stack to empty my pockets into them, and then reluctantly, as if having to part with his personal toys, handing back one and only on repeated insistence a second into which I placed my netbook still inside its travel pocket. That apparently was no good either as he gestured to take the pocket off, which I did, placed it first in the tray and then the netbook on top, prompting him to remove the pocket, not gently for that matter, and THREW it into the opening of the X-Ray machine. Such wanna be goons need to either be mentally retooled and retrained, or if unable to absorb the most elementary lessons of customer care be shifted to patrol duties, best in pouring rain at night far away from places where civility is required.
Perhaps he did not notice me seeing how he pointed at me as I went through the body scan vengeful on top of being couth and unfit to serve at such exposed positions to his lady colleague behind the barrier who then had a go at my travel bag, questioning why I had 5 phones, two cameras, carried multiple spare batteries and chargers in the various pockets, as she caused havoc with my well ordered possessions like a child digging the toy box for something new. To crown her (in)competence she demanded I left the opened bottle of water with her, being prohibited to take it to the check in with me, and then left me with the bottle still closed to move on.
After check in and immigration, within a hundred paces from the first check, a second one is then inflicted on travelers again, once more taking off belts, shoes and repeating the same rituals. Perhaps they should be sent to the Gulf Air First and Business Class check in lounge in Bahrain, where ONE check point deals with it all, friendly in nature but no less thorough, and once that ONE checkpoint is passed, hey presto one goes airside and not more of the same repetitive rubbish seen elsewhere, like the 7 checks I went through in December in Abuja. Alternatively they could check out how things are done in Dubai, where every connecting passenger off an aircraft has to go through an entry point security check, done with professionalism AND civility, thank you please and all.
I am not saying that security is not a necessary part of air travel these days, even needed at malls, public places and even theatres and restaurants, but what I am saying is the airport authorities and in particular top security managers MUST develop sensitivity to their staff performing in a professional manner, are well trained and accustomed to the use of please and thank you, wearing a smile and not a face as if every single traveler is a suspect to be proven guilty in the court of their small minds. Consistency is needed here and that can only be achieved through training and examinations, eliminating those who when let loose think their shining new uniforms have elevated them into little gods and dont anyone dare question them, because ME I KNOW.
Harsh you might think but I slept over it and felt as strongly about it in the morning as in the evening when I got back to the lake shores. It is time excesses and incompetence are being highlighted and changes demanded, not about the need for security but over the manner it is often executed and how a few mini goons spread their own little bit of terror, while they are allowed to get away with it. I shall return to Rwanda, a country I love and have many many good stories to tell about, and will see if anything has changed, like on a related issue that two scanners are used when the number of passengers swells and not all compelled into a long line at times reaching down to the parking.
Time to move on and talk about the joys of travel again in forthcoming articles about trips and not letting it be spoilt by the regular trials and tribulation a frequent flyer encounters along the way.

THE EAST AFRICAN COURT OF JUSTICE AWAITS YOUR CASES, CONSERVATIONISTS TOLD
East Africas conservation and environmental groups found reasons to smile broadly earlier in the week when it became public knowledge that the Registrar of the East African Court of Justice in Arusha had not minced words when encouraging NGOs and individuals who have issues with the way their national governments treat the environment and disrespect their own legislations and environmental regulations to come to Arusha and file legal cases there. This follows an appellate division decision that the court had every right to take on such cases, following complaints by the Tanzanian government seeking to question the jurisdiction of the EACJ.
The situation arose when national courts proved woefully inadequate, if not outright unwilling to take on a controversial case from environmentalists over plans to build a highway across the Serengeti, prompting a case to be filed in Arusha at the East African Court of Justice, which is now going to have a full hearing on the merit of the suit. It is expected that other groups will now seek justice for their causes too, as for instance the residents of an area earmarked for a port expansion near Tanga, at the very location of the Coelacanth habitat a marine national park in fact are being reportedly bulldozed aside with the national courts again at least giving the appearance of being an appendix of the powers that be, while law firms too were reported, on national level, to have refused to take on the victims cases. It also gives hope to groups from across East Africa, to challenge their own governments over such issues as the Mabira Forest give away, the lack of progress in restoring the Mau Forest in Kenya or plans for Uranium mining in the Selous, the construction of a soda ash factory in the sole breeding ground of the flamingos at Lake Natron or the proposed damming of Stieglers Gorge, also in the Selous.
With the exception of the Rwandan government, which appears true to their commitment towards environmental protection and conservation, all other member states within the EAC have a chequered track record on environmental performance and the respective national watchdogs often lack teeth to enforce national laws, something which is now open to judicial reviews when cases are brought in Arusha.
There has been a flurry of activities in recent days as a result of the open invitation to come to the EACJ, with pressure groups, environmental NGOs and the conservation fraternity at large weighing their options to get justice for nature in Arusha, which back home under their national judiciaries would very likely not be forthcoming. For the time being, all eyes will be focused on the upcoming case of ANAW, a Kenyan based group, against the Tanzanian government to permanently stop them from interfering with the Serengetis integrity and put an end to any and all plans to build a highway across the migration routes, which could within a few years decimate the spectacular numbers of wildebeest to a mere fraction of their present size. Once that case goes underway, be sure to read about the respective arguments made before court and read all about the verdict when it is handed down. Watch this space.

QATAR AIRWAYS EAST AFRICA UPDATES



As the inaugural flight from Doha to Kigali, via Entebbe, is preparing for departure from the award winning airlines home base, their PR team already on site in Rwanda has released more information about their future route planning for the Eastern African region.
It was previously mentioned here that one of the double daily frequencies to Nairobi will be extended from 25th July onwards to Kilimanjaro International Airport, before returning via the same waypoints back to Doha later in the day. That flight will open up the Northern safari circuit of Tanzania, bringing the Serengeti, Ngorongoro, Manyara, Tarangire as well as the Arusha National Park and the Kilimanjaro National Park within two stops from anywhere the fast expanding global network of Qatar Airways reaches on the globe.
A similar scenario is according to information given this morning by the QR PR team evolving for Mombasa, which from mid August will be served via Dar es Salaam, opening Kenyas finest beaches and resorts to travelers from not only the Gulf destinations Qatar serves but again from the entire network. It is a major boost for Mombasa as presently only Kenya Airways, Ethiopian Airlines and 1Time are flying scheduled services to Kenyas second city, and having a major international airline add the coastal resort city to its schedule will add options for travelers and help promote the sundrenched beaches and resorts catering for the most discerning traveler but also for those on a tight budget.
What is still awaited are details when the flights to Zanzibar will commence, probably also being served via Dar es Salaam when the announcement is being made, expected later today when Qatar Airways Chief Executive Officer Al Baker will address the media, and guests, at the Pearl Lounge of Kigalis Kanombe International Airport. Watch this space.
INTERPOL JOINS LOCAL LAW ENFORCEMENT IN BIGGEST RAIDS EVER
Now that the raids have taken place it is time to reveal how Interpol worked hand in hand with more than a dozen African countries and their wildlife management and law enforcement agencies to carry out a series of raids, including across Eastern Africa, to arrest suspected dealers in blood ivory and confiscate their contraband hoards.
Exploding demand for ivory amongst the nouvelle riche in China in particular has fuelled the most gruel onslaught on the African elephant ever seen, with the worst single example two weeks ago in Cameroon, where within the space of days more than 500 elephant were mowed down with automatic assault weapons, the carcasses stripped of the tusks and then left to rot. This single most horrific attack on the remaining herds of elephant in Cameroon, and the continent at large, however also triggered a global response by law enforcement, prompting the fast tracking of a coordinated series of raids on known or suspected ivory traders, while the global conservation fraternity is preparing to take on the Chinese government over their apparent tolerance of the hunger and greed for ivory products amongst Chinese citizens. It is now simply a matter of sheer survival for the African elephant and rhinos. If the Chinese government is not stepping in and stepping up their domestic laws, prohibiting even the mere possession of ivory unless of certified old stock prior to a certain date, and dish out as harsh sentences as they do to their regime critics, this will not stop. China must take responsibility for what her citizens do, at home and abroad, and if they do nothing they are accomplices in sabotaging and destroying Africas heritage and threatening our tourism industrys core attractions, our wildlife. 2011 was the worst year ever for seizures and confiscation of blood ivory and in South Africa alone nearly 450 rhinos were slaughtered for their horns. Those who seek powdered rhino horn for supposed cures of ailments can just as well bite their finger nails because it is the same substance as rhino horn is made of. Chinas leadership has a choice to make, to either stand up and be counted and help us fight this crime against wildlife or otherwise we will globally denounce and brand China as aiders and abettors of wildlife genocide and start a campaign to keep China out of Africa until they do what is right, what is expected of them. There is already an undercurrent now that they are out to rape and loot Africas resources and we shall fuel these sentiments more and add destroying our tourism industrys foundation to the list of already endless crimes said a regular conservation source from Nairobi, who was incensed by the latest figures emerging of how poaching of elephant and rhinos was alarmingly on the increase in Kenya. The same source also confirmed that raids were coordinated on a larger scale across Eastern, Southern and Central Africa, involving regular police, customs, special security operatives and wildlife management personnel leading to seizures of blood ivory and arrests.
But there are also major disagreements amongst African countries over the issue of ivory trade. Driven by an alleged surplus of elephant in Southern Africa, in past years exemptions were approved by CITES to permit selected applicants to sell their legal stocks, with Tanzania last year trying to jump on that bandwagon only to be thwarted by a coalition of anti trading nations, while in Kenya for instance several tons of ivory were burnt by President Kibaki. Here more clashes of different schools of thought are expected in 2012 though all statistics available now suggest that there is a direct link between having legalized limited trade and the subsequent jump in poaching across Africa.
Meanwhile did it also become public knowledge that most arrests carried out in Africa for attempts to smuggle ivory out of or through Kenya, Tanzania or South Africa for that matter, involve Chinese citizens returning home from business trips or on expatriate leave, raising the question what has gone wrong in such a highly regulated and controlled society as the Chinese that such a massive failure of enforcement has spread into Chinese society like a cancer.
Kenya in particular has excelled in increased monitoring and surveillance, using teams of sniffer dogs at the main transit airports and the port of Mombasa, where tons of contraband ivory has last year been confiscated, while further abroad authorities in Singapore, Malaysia and Thailand have also made record seizures of smuggled ivory.
Bans and enforcement however are only one side of the coin as unless the demand side is being criminalized and severely punished, with crippling fines and long custodial sentences imposed around the world on the mere possession of unlicensed ivory, the slaughter will undoubtedly continue. Barbs galore to the Chinese government for their continued silence on this issue and bouquets to Interpol and local African law enforcement for their most recent initiative to come down hard on the traders and smugglers. Watch this space.

Uganda News
ICAOS REGIONAL AIR SAFETY CONFERENCE OPENS IN KAMPALA



ICAOs 1st ever Regional Aviation Safety Group Meeting for Africa and the Indian Ocean islands commenced this morning in Kampala, to be followed in two days by the 18th AFI Planning and Implementation Regional Group Meeting at the same venue, the Imperial Royale Hotel in the Nakasero area of Kampala. Over 250 delegates are assembled from ICAOs Africa and Indian Ocean region, discussing ways and means to improve aviation safety which has been significantly lagging behind global average accident statistics.
While leading airlines in Africa, like Kenya Airways, Ethiopian Airlines, South African Airways, Egypt Air, Air Mauritius and a few others have been receiving IATAs IOSA certification at an early stage, and been re-certified repeatedly since, other ICAO member countries are faced with bans by the EU for their airlines as a result of doubts on the way oversight is practiced but also their safety standards rooted in questionable maintenance and training practices unacceptable to serious safety oversight bodies which are accountable to their citizens.
The meeting in Kampala, on the first two days dedicated to Regional Aviation Safety, has 5 key areas on the meeting agenda, namely to define terms of reference and decide on the organizational structure of the RASG, incorporate the guidelines of ICAOs Global Aviation Safety Plan, in short GASP, establish mechanisms to measure the implementation of existing recommendations and identify and formulate regional significant safety concerns. Other areas are the establishment of the regional aviation safety team and collaborate with other safety initiatives and regional organizations in the AFI region.
This is ICAOs second major meeting in Uganda, following the 2009 meeting at the same venue and delegates spoken to have overwhelmingly attributed their return to the Pearl of Africa as a result of the great organization by the Uganda CAA organizing team and the general hospitality accorded to them three years ago. At the time the theme was the Economics of Airports and Air Navigation with special focus on Africa of course mapping out ways and means to make air transport more affordable and more attractive by upgrading and modernizing aviation facilities for passengers. Major national programmes have since gone underway with major overhauls at Tanzanias Julius Nyerere International Airport, upcoming at the Kilimanjaro International Airport, witnessed in Nairobi where Jomo Kenyatta International Airport is seeing a massive increase in new facilities while Rwanda is this year embarking on the construction of an entirely new international airport at Bugesera. In addition has in particular Tanzania rolled out a programme of rehabilitation and modernization of secondary airports and tertiary aerodromes, helping to promote air transport where safe and fast road and rail is often absent.
A the conference is now entering the technical stages, watch this space for updates on key resolutions and decisions taken in coming days.

NILE SAFARI LODGE MAKES IT INTO THE 1.000 PLACES TO SEE BEFORE YOU DIE



If it had to be any closer to the River Nile, it would have to be in it I wrote many years ago following a visit to the then Nile Safari Camp, now the Nile Safari Lodge, the first to be established by what has become GeoLodges Uganda, a privately owned safari and lodge company associated with the Alam Group of Companies.
Located just outside the boundaries of the Murchisons Falls National Park, the lodge has a faithful following of many local visitors from Kampala and the wider East African region but is also booked by safari companies for tourists, whose excited shouts of awesome and wow look at that view are a hallmark feature.
With only 10 cottages and tents the lodge is small enough to provide their unique individual service and care and yet big enough to cater for smaller groups of likeminded people, wanting to get away from the bigger crowds at the larger lodges inside the park.
The second edition of 1.000 places to see before you die, a New York Times listed bestselling book, has now included the Nile Safari Lodge and had this to say about it: At the ten-room Nile Safari Lodge, riverside chalets and tents incorporate natural, local materials and blend seamlessly with the surrounding papyrus forest. Keep an eye out for the distinctive looking shoebill, a very rare cousin of storks and pelicans, with its almost cartoonishly large beak ­ Uganda is one of the few places where they can be spotted [from the Nile Safari
Lodge deck!]
Honour and recognition where it is due, and here clearly it is, especially considering that this is the #VisitUganda2012 Year according to another leading travel publication, the Lonely Planted Guide.
Well done to Zahid Alam, Emily Wissanji and their dedicated team on the ground. For more information, also about the RainForestLodge, the Jacana Safari Lodge and the upcoming Equator Snow Mountain Lodge, visit their website via www.geolodgesafrica.com

UGANDA STAND COMES THIRD AT ITB
Winners this year for best African stand was to the surprise of many Morocco, which seemingly met the expectations of the judges when the votes were cast and counted, followed as runner up by last years surprise winner Burundi, which in 2011 dethroned Rwanda after a reign of 4 years, then coming out on top.
Third however this year was Uganda, undoubtedly also benefitting from the Lonely Planet nomination as Best Destination 2012, followed by the more fancied Rwanda in fourth and Kenya who took fifth place.
Uganda was represented by a delegation led by Prof. Ephraim Kamuntu, Minister of Tourism and accompanied by the Uganda Tourist Board General Manager Cuthbert Baguma, besides a number of private sector stakeholders who had travelled to Berlin to promote their safari and lodge business back home in The Pearl of Africa.
On 09th October this year Uganda will also celebrate the 50th anniversary of Independence from former colonial masters Britain and a major PR effort is gearing up towards that event, which will be used to make the #VisitUganda2012 Year hopefully the best ever, inspite of the continued lack of sufficient resources for both the tourist board and the ministry itself within the government budgetary framework. Well done to the Ugandan team for doing the country proud.

Kenya News
KENYAS TOURISM MINISTER NAJIB BALALA SACKED
A cabinet reshuffle announced this afternoon in Nairobi revealed that Kenyas successful and widely respected Minister of Tourism, presently also the Chairman of the UNWTO Executive Committee, was unceremoniously dumped from his ministerial post after reportedly locking horns with his ODM party chairman and presidential aspirant Prime Minister Odinga, whom he had accused of undemocratic if not dictatorial practices in the run up to ODMs nomination of a presidential candidate.
Balala is expected to now turn his back on the party and eventually seek a new political home but at the very least is thought to now vote alongside President Kibakis parliamentary support group.
Balalas close up and hands on style of managing sector affairs is largely credited with the revival and record results for Kenyas tourism industry over the past three years, after a significant downturn in 2008 following widespread election violence. While many in the sector, according to a number of messages already received, will be unhappy with this turn of events, Balalas little known successor, the member of parliament for the Voi constituency Danson Mwazo, makes his first ever appearance on the front bench. He will first have to establish a rapport with the tourism private sector, of which sections already feel that a change of guard in this difficult year, when Kenya is in the run up to another election and facing the downturn of the world economy would need continuity and not upheavals, possible giving the new minister a hard time for the slightest faux pas or misstep in speeches.
Balala last year was elected as Chairman of the hugely influential UNWTO Executive Committee from which he is also now expected to retire at the next possible time, no longer serving in a ministerial capacity, also robbing that body of his experience and counsel. A former mayor of Mombasa, Balala like few others before understood the needs and requirements of the sector and has been an energetic lobbyist year after year to allocate greater funding to the Kenya Tourist Board for marketing the country abroad.
For now, although he will undoubtedly make a comeback sooner or later, it is a fond farewell to Najib and welcome to the hot seat to Danson Mwazo.

TAMARIND VILLAGE OWNERS VOW TO RESIST ROADS AUTHORITY
When news emerged earlier in the week that the Kenya Road Authority has floated plans to build another bridge from the island of Mombasa to the northern mainland, and along the route of the old pontoon bridge which at the time allowed only one way traffic until the new Nyali bridge was built at the time by the Japanese government as part of their infrastructural development aid, owners of buildings since put up along the formally decommissioned road reserves and wayrights by government were shocked to learn they are being targeted for destruction. Kenyas recent history with demolitions is reading like a demons sermon, with in particular the court prohibited but nevertheless carried out massive destruction of residential homes near the international airport in Nairobi raising the heat and passions, ending the Kenya Airports Authority CEO in court with contempt charges and the likelyhood, if losing the case, of KAA having to cough up multibillion settlements to those whose livelihood they wantonly destroyed under the cover of armed security.
In Mombasa, the old bridge was owned by Nyali Limited and when it was decommissioned back then they company sold the landing sites and adjoining parcels of land.
The famous Tamarind Restaurant, a culinary and architectural landmark set above Tudor Creek, then purchased some of the land to eventually develop condominiums under the name Tamarind Village which took the market by storm and resulted in big names purchasing the condos as an investment or to spend time in gated and well managed luxury on vacation or for long weekends.
The owners were hence swift in turning the tables on the Kenya Road Authority and accused them of deliberate mischief, while presenting title deeds and transaction notes from 1986, when their land purchase was completed and registered. A spokesperson for Tamarind Village Ltd. also revealed that the company had 58 shareholders and was registered as a public limited liability company with all relevant authorities and had been granted all prerequisite licenses and permits to first build and then operate the posh creek side apartment complex.
Said a periodic source with ownership in the complex: This is a new Kenya under a new constitution. When I see the accusations made of having fraudulently acquired the land, these chaps should be sued for slander immediately. But then, as you wrote yesterday about an arrest inspired by the KWS CEO of a critic of his statistics, they might throw that law at us too for undermining the authority of a public officer, even if he speaks utter nonsense. I understand the lawyers are already involved in the case and may well pre-empt action by getting a permanent restraining order against the road authority to interfere with our property, but again, that is no guarantee that officials will not go berserk and in a cloak and dagger action under cocked guns by the police could not come and start knocking things down. But I am sure you will follow that story as it goes on.
Roads minister Franklin Bett, in a display of almost institutional arrogance, claimed in an earlier statement that he had demanded the land titles be cancelled although unwittingly he conceded in his hastily organized press conference that deeds had been issued and relevant planning and building permits issued by government. Figure that out watch this space.

GULF AIR GOES DAILY TO NAIROBI EFFECTIVE 01ST JUNE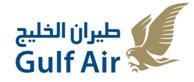 Information was confirmed from Nairobi and Bahrain that Gulf Air will move from presently 5 flights a week to daily departures between the Kingdom of Bahrain and Kenyas capital city of Nairobi. The increase in frequencies appears prompted by sharply grown demand for seats, mainly connecting via Bahrain to such destinations as London but also into the most extensive Gulf region network any airline has to offer. The airlines Chief Executive Samer Majali was quoted as having said: The Nairobi service, which we launched only in July last year, is one of our successful routes in recent times. We have seen tremendous response from our customers from Kenya heading largely to London, Saudi Arabia, Doha, UAE, Mumbai, Karachi and Bangkok. We have also been enjoying a very good support from customers in Bahrain, GCC, Indian Subcontinent and Far East, who find our flights more convenient to reach Kenya all of which has encouraged us to increase our frequency to daily service. With [daily] flights between Bahrain and Nairobi, travellers across the Gulf Air network can take advantage of our fast and easy connections via Bahrain on our ME, ISC and Europe network in less than 3 hours. We expect to see continuing strong demand on our Nairobi route and will continue to cater to our customer base there.
Gulf is using an A320 on the route, offering 16 seats in business class, where regularly an inflight chef features to prepare and present meals to passengers travelling in the Falcon Gold Class, with a further 120 seats in economy class and an uplift of up to 4 tons of cargo per flight. For more information visit www.gulfair.com on schedules and fares available.

AMISOM FORCES PRESSURE PROMPTS RELEASE OF UK HOSTAGE IN SOMALIA
Judith Tebbit, abducted by Somali terrorists of the Al Shabab movement in September last year from a beach camp in Kenya, when her husband was in fact shot dead during the night time raid, has been freed and flown to Nairobi yesterday according to sources in Kenya. Relentless military pressure by Kenyan armed forces, the AMISOM mission comprising Ugandan, Burundian and Djibouti troops and the recent cross border forward defense by Ethiopia has seemingly put the hostage takers under increased stress, compelling them to move repeatedly. Mrs. Tebbit was freed deep inland, apparently only 30 kilometres from the Ethiopian border and was flown to Nairobi for medical attention and debriefing before returning home to the UK and her family and friends later this week.
While it was not clear if any ransom money has been paid only recently were intermediates arrested again by Somali authorities with millions of US Dollars in their possession ostensibly meant to have some ships and crews freed at least the tormented woman was freed in the end.
Not long after the incident in Kiwayu was a French woman taken hostage too by the same group from her residence in Lamu but died soon afterwards as she needed permanent care which the abductors were unable to provide. The two incidents eventually pushed Kenya into a full scale invasion of Somalia by land, sea and air to push back militants from the border areas and bring peace and stability back to a country which has been in turmoil since the early 1990s when Siad Barres dictatorship was overthrown. Kenyas troops are now part of AMISOM, the UN and African Union peace keeping force in Somalia. Welcome back to freedom and liberty Judith.

ARREST TURNS MEDIA AND CONSERVATION GROUPS AGAINST KWS CEO
News from Nairobi were received with some incredulity when it became known that the General Manager of Eco-Tourism Kenya, a well respected conservation and best practice organization long established in Kenya, was arrested. This apparently followed a complaint by the KWS Executive Director Dr. Julius Kipngetich to the police over an article which seemingly annoyed him or else brushed against his ego the wrong way. It is not known if the two had earlier disagreements or a fallout, professionally or on a personal level, leaving this possible explanation wide open to speculation.
Conservation circles are in fact baffled over this remarkable faux pas by the KWS CEO, apparently letting emotion get the better of him and drag the good name of KWS into the bad books of public opinion.
Mr. Kahindi Lekailhaile had apparently written about his doubts on officially admitted figures of poaching of elephant in Kenya, openly questioning the official figure given by Kipngetich as 275 in earlier media releases, and in the process suggesting that the true extent could be ten times worse than officially admitted in order to conceal the true extent to which massive gang style poaching has now taken root in the country.
Kipngetich accused Kahinda to undermining the authority of a public officer, under section 132 of the penal code leading to Kahindas initial questioning, then detention with pending charges to answer for in court and his eventual release on a police bond worth 50.000 Kenya Shillings.
Eco-Tourism responded to the sad news with a statement saying : Ecotourism Kenya supports Kahindi in his noble efforts to safeguarding the integrity of Kenyas conservation success and promote responsible tourism in Kenya. Elephants remain a flagship for Kenyas conservation success and a bedrock for tourism.
The mood has clearly turned foul against Dr. Julius as social media networks are buzzing with accusation of blatant misuse of office, decrying the arrogance of a civil servant using an obscure legal provision to rid himself of a critic instead of answering to the allegations made, while also blaming the Kenya police of being a willing tool in muzzling dissent and oppressing the freedom to free speech.
Whichever this saga goes, a good starting point would be for Dr. Julius to withdraw his complaint to the police to have Kahinda set free and then engage with Eco-Tourism and Kahinda in order to not just present facts but also permit public scrutiny of the figures KWS has owned up to vis a vis the claims made by Kahinda incidentally quietly echoed across a wide section of the conservation fraternity, none of whom was however willing to go on record citing the likelihood of also falling victim to the police should more complaints be filed.
Until that is done however, there is a stain on Kenyas credibility under the new constitution of freedom of expression and increased worries that simply by stating ones dissenting opinion in public forum one becomes the target of a vicious or vengeful public official who seeks the restoration of his bruised ego by attempting to send the critics to jail.
Meanwhile though, on a positive note, have news also been confirmed that KWS was collaring a number of elephant in the wider Tsavo area, to establish their pattern of movement and obtain vital information from the data about the increasing human wildlife conflict in the area, caused by elephant leaving the parks in search of pasture and water and raiding crops along their way. An added purpose, it is understood, is also to be able to monitor the movement of herds as a measure of providing anti poaching cover for the animals with precise locations now always known through the constant flow of data via satellite. Watch this space.

Tanzania News
KILIMANJARO AIRPORT DEVELOPMENT COMPANY GETS NEW BOARD



As preparations continue to expand and modernize JRO and bring the 1970s style airport into the 21st century at last Kilimanjaro International is the main aviation gateway to the famous northern circuit national parks of Arusha, Tarangire, Manyara, Ngorongoro and Serengeti government has appointed a new board of directors last week.
As is customary in Tanzania President Kikwete announced the appointment of his choice of chairman, Ambassador Hassan Kibelloh, while the Minister for Transport Omar Nundu then made public the names of Mssrs. Seleman Seleman, Andrew Nyumayo, Miss M. Mwanilwa and the companys CEO Mark van de Kreeke.
The company had last year secured a loan of 30 million Euros to embark on the work of resurfacing the taxiway and parking spaces, expand the runway and carry out long overdue reconstruction and modernization of the passenger terminal, partly in form of grant and partly as a soft loan with a long term maturity.
Kilimanjaro International, located some 50 kilometres outside Arusha, is destination for amongst other airlines Kenya Airways, Precision Air, RwandAir, Ethiopian Airlines but also overseas operators like KLM. Qatar Airways will be the first of the Middle East giants to link JRO to their global destination network in a few weeks when flights will commence via Nairobi. Watch this space.

TANZANIA TOURIST BOARD GETS NEW CHAIRMAN AND DIRECTORS
It was confirmed over the weekend that President Kikwete last week appointed Ambassador Charles A. Sanga as the new Chairman of the Tanzania Tourist Board. The Minister of Tourism Ezekiel Maige subsequently appointed new members of the Board of Directors to serve alongside the new chairman, namely Prof. Isya Jairo from the Institute of Finance Management, renowned economist Teddy Mapunda, Abdulkarim Shah, member of parliament for Mafia Island one of the countrys tourism attractions Kaika Telele, member of parliament for the Ngorongoro constituency as well as a private sector stakeholder by the name of Samuel Diah. It could not be ascertained due to the short time available if key tourism private sector organs like TCT, TATO or HAT had any input or were able to propose additional members for consideration, as is the case in neighbouring countries where in particular the Kenya Tourist Board is now filled with top level stakeholder presence like the CEOs of Serena Hotels, Mombasa Air Safaris and Pollmans Tours.
Congratulations on the new appointment and all the best in shaping Tanzanias tourism promotion and marketing in coming years. Watch this space.

UNWTOS FIRST PAN AFRICAN CONFERENCE ON SUSTAINABLE TOURISM SET FOR ARUSHA
The recently concluded ITB in Berlin / Germany brought good news for Tanzania as pen was put to paper between the United Nations World Tourism Organization and the Government of Tanzania to hold the first ever UNWTO Pan African Conference on Sustainable Tourism Management in National Parks and Protected Areas to the East African Safari Capital of Arusha.
The composition of the preparatory team was announced over the weekend in Dar es Salaam by the Minister for Tourism Ezekiel Maige, naming amongst others the TTB, TANAPA, the Zanzibar Commission for Tourism and even the Forestry Department, besides drawing in leading stakeholders for the event planning.
The conference is due to open on October 15th with a convocation before then running until October 19th inclusive. Stakeholders in Arusha expressed excitement about the news, anticipating a series of pre and post conference tours for delegates to be taken up to see the spectacular sights of the baobab forests in Tarangire, the tree climbing lions of Manyara, the worlds largest caldera at Ngorongoro and the migration of the wildebeest and zebras in the Serengeti.
The high profile event is expected to bring together at last delegates from 50 countries and a large gathering of tourism stakeholders from the wider region, giving Tanzania to showcase not just her own attractions but also represent a united East Africa as one region with many attractions. Watch this space as more news and details become available nearer to the time but make sure you book a date with Arusha in October and perhaps stay in one of this correspondents favourite places, The Arusha Hotel or at Rivertrees at Usa River, and last but not least the fabulous Serena Mountain Village.

MORE RADAR STATIONS FOR TANZANIA TO IMPROVE MONITORING
It was learned that the presently single radar station in the country in Dar es Salaam will soon be supplemented with new radar equipment to be installed in Mwanza, the countrys lakeside municipality on Lake Victoria, where construction is at an advanced stage according to information received from Dar.
The Minister for Transport Omar Nundu has also announced earlier in the week that a total of 6 more such stations would be constructed across the country to improve air traffic monitoring but also permit for the gathering of weather data which can be used to provide airlines with up to date information while also making the results available to other sectors of the economy.
Tanzania has in recent years embarked on a major programme to refurbish and upgrade aerodromes, secondary airports and the two international airports with the aim of providing better infrastructure for airlines flying to the often remote locations which can otherwise not be reached with ease from Dar es Salaam.
It is part of the East African Communitys commitment to have crucial transport infrastructure, like rail, roads and also air transport ground facilities pushed to the top of the agenda in recognition that excellent infrastructure goes hand in hand with economic development.
In a related development has the aviation conference also ended yesterday in Dar es Salaam with government participants rooting for a strong national airline to support development goals, a demand met with skepticism by private sector participants though who felt that the market should be the deciding factor with open competition deciding the fate of airlines and that constant bailouts by government tilted the playing field in favour of the often weaker party versus a commercially run stronger entity. Repeated a regular source from Dar his earlier sentiments when saying: Instead of pouring money into ATCL, let government buy shares in Precision Air and make it into a strong, viable and well supported quasi national airline. That should be the way forward, not constantly flogging a dead horse which is now covered with flies harsh but true words. Watch this space.

NATIONAL AIR TRANSPORT FORUM SET FOR DAR ES SALAAM MEETING
Tanzanias aviation sector is set to convene in Dar es Salaam on Wednesday and Thursday this week to discuss opportunities and constraints for the airline industry, bringing an estimated 200 experts from Tanzania and the wider region together. Also expected are representatives from ICAO, IATA and other global aviation bodies. On the agenda is the drafting of a new aviation policy, long overdue and urgently needed to spell out, amongst other issues, the contentious relationship between government and the aviation private sector, considering the never ending saga of public resources and taxpayers money being pumped into moribund erstwhile national airline Air Tanzania.
It is also expected that a government commissioned study into the aviation industry will be presented to stakeholders at the meeting. A regular aviation source from Dar es Salaam had this to say overnight: It is high time we, the stakeholders running the industry, have a chance to be heard. This is an opportunity to also find out why our government is wasting tax payer money for Air Tanzania, when we have a functioning aviation company which has stepped up when ATCL almost folded and let us down. Precision now flies to more places and more often than ATCL ever did. Why disturb them with such interventions. Let the market take care of it. Let our government give total support to Precision for new routes. Let them invest in Precision where our tax money at least can earn dividends while at ATCL is a bottomless pit, a snake pit also to be sure with all the union troubles and political fiefdoms and protectionism they created. I also say we need to openly discuss the issue of EAC airlines coming into Tanzania. We have to reciprocate how easy it is for us to fly into Uganda or Kenya and we cannot continue to always be seen as an obstacle to integration. We have to take the bull by the horns, compromise and in the process get new opportunities. Aviation is an expensive business to run and just by isolating ourselves we cannot meet future challenges.
On the upside it must be mentioned that Tanzania, in line with resolutions taken on EAC level, has started to invest in upgrading the countrys main international gateways in Dar es Salaam, Arusha / Moshi (JRO) and Zanzibar while equally upgrading the lower levels of secondary airports and aerodromes across the sprawling country, where air transport often is the only reliable way to travel to and from. Should the outcomes of the Dar es Salaam conference on aviation be published, be sure to read it here, so watch this space.

Rwanda News
RWANDA EMBARKS ON GOOGLE MAPPING OF TOURISM ATTRACTIONS, ANOTHER FIRST
Today is a significant day in Rwanda as work will go underway for another First, where Rwanda takes the lead in the region and on the continent, with teams going out into the field, especially the Western part of the country with the national parks of Volcanoes and Nyungwe but also the increasingly popular Lake Kivu shores, along which the Congo Nile Trail runs between Cyangugu and Gisenyi.
Key locations and attractions, islands and trails, villages and towns will be cartographed allowing visitors to Rwanda to get a Google Map location on resorts, safari lodges, restaurants, guest houses and hotels, not just in the city of Kigali where in fact every street name will be captured but also in the country side, which in conjunction with a GPS function on a smart phone can pinpoint ones precise situation, as navigational aid or for sheer documentary purposes when tweeting from a trip or sending pictures for Facebook uploads.
The Rwanda Development Board, which has taken a leading role in the exercise, has expressed their excitement over the work which is now unfolding, as it will put the country again in the spotlight, this time seen through the eye in the sky, as satellite images become available of such properties like the Lake Kivu Serena, the Nyungwe Forest Lodge or even smaller individually owned lake side resorts like the Paradis Malahide Resort and its little offshore island in Gisenyi.
Running searches on any location in Rwanda will upon completion of the project be just a few clicks away, or entering a particular spot of interest on an I-Pad, a tablet or on a smart phone, catapulting Rwanda fully into the 21st century of available information on the spot and on demand. Well done Rwanda, another first, AGAIN.

KIGALI SERENA AND RWANDAIR HOST CORPORATE CLIENTS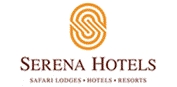 The Kigali Serena Hotel and RwandAir last evening hosted a wide range of corporate clients, including leading bankers, to present their respective loyalty schemes Dream Miles and Prestige Club. The two schemes, offering a variety of benefits to members, will undoubtedly be more closely aligned in coming weeks, so that miles can be earned and burnt when using respective services.
The two companies were represented by RwandAirs Deputy CEO Jean Paul Nyirubutama and Serenas Rwanda Country Manager, who is also the General Manager of the Kigali Serena Hotel Charles Muia.
RwandAir took the opportunity to talk about their future expansion plans, boosted by the announcement a few days ago of a purchase deal with Bombardier for two CRJ 900 NextGen plus two more options. By 2017 the national airline of Rwanda intends to be flying to a number of additional destinations in the wider Eastern and Southern African region and will have gained intercontinental capabilities with the expected arrival of at least two B787 Dreamliners, while Serena, already East Africas premier hotel, resort and safari lodge group, continues to look at an expansion across the region including here in Rwanda.
The banks in particular were of interest amongst the participants to the hosts, as both of them now have state of the art, secure transaction platforms on their websites, through which credit card payments can be made for tickets and accommodation, a trend encouraged by both teams as e-Commerce continues to penetrate deeper and deeper into the African business landscapes.
The function also allowed for an evening of intense networking amongst business leaders from Rwanda who had nearly two hours during the cocktail party ahead of the dinner to interact and strike alliances aimed at building the new Rwanda. Door prizes on offer for raffle showed that both hosts spared no expense as a total of 4 return business class tickets eventually found new owners as did stays, including meals, at the Kampala Serena Hotel and the Mombasa Serena Resort and Spa. Said Michael Otieno, Corporate Communications Manager of RwandAir who also emm-ceed the evenings proceedings: RwandAir values the partnership with Serena. Both companies are leaders in their field and complement each other. Working hand in hand makes sense and creates greater impact while bringing added value for our clientele. Not everyone flying with us stays with Serena and not everyone staying with Serena flies with us. These are opportunities to create more business for each other which help us to grow. Added Charles Muia: We had independently launched our corporate loyalty schemes, almost at the same time. We now see that if we seek common ground and do a few alignments here and there, our Prestige Club can enhance the value of RwandAirs Dream Miles and vice versa. We are now exploring how guests staying at Serena can earn miles with RwandAir and in turn how such miles can be utilized for rewards given by Serena and RwandAir like upgrades to business class, free late checkouts, room upgrades etc. We at Serena like to work with the national airline where one exists and working with RwandAir is a winning combination. They are young and ambitious and we at Serena want to expand in Rwanda, so we need the airlines to provide the seats to bring in extra guests.
The evening also brought two hectic days in Rwandas capital for this correspondent to a fruitful conclusion in search of new story lines and latest news from The Land of a Thousand Hills which will in coming days appear her. Watch this space.
QATAR COMES TO KIGALI, AT LAST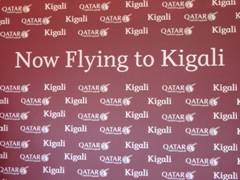 When I checked in for the inaugural flight to Kigali in Entebbe at noon yesterday, it was clear from the first moment that this was going to be different. At the document pre-checking point a TRULY friendly smile, a professional look at my passports relevant pages and not aimlessly leafing through it as often seen elsewhere, my e-ticket checked, booking status ascertained and promptly escorted to the Qatar Airways branded red carpet, well in their corporate colours anyway which are not exactly red of course, where a QR staff member sees to it that the check in by the handling agents is performed to their prescribed standards.
I found my boarding pass ready, my lounge invitation ready and when my baggage was labeled VIP I knew this was going to be an experience worth having, and worth writing about.
The flight between Entebbe and Kigali, just over half an hour, was absolutely too short to do proper justice to their award winning inflight service, but enough to give a glimpse into what it must be like on long haul flights.
For a moment, although the interior of the brand new A320 was of course state of the art 2012, I felt transported back to the glorious days of the Concorde, where from the lounge in Heathrow, which was a class apart from the best even back then one would be escorted to the aircraft and where from being greeted by name on entry to the superior attention by the cabin crew to the minutest details or most exhausting requests from guests on board, note guests, not passengers, the service made all the difference and created a brotherhood and sisterhood of frequent fliers for whom simply nothing else would do.
The handful of other guests in the front cabin, including Qatar Airways CEO Al Baker and the airlines Senior Vice President Marketing and Corporate Communications, perhaps did bring the best out of the crew but it felt real, not staged, not a one off performance, though I like more opportunities to ascertain that particular aspect when travelling incognito instead of wearing the invisible badge of an invited guest.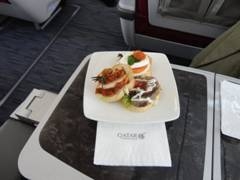 Inspite of the short flying time, snacks were served as was the full range of drinks offered, vintage champagne inclusive, but with work awaiting at the other end it was water for me, something I intend to remedy on the way back to Entebbe in a few days of course. The catering, needless to say, had come all the way from Doha, if for nothing else but to assure the quality and presentation which earned Qatar Airways the coveted 5 star label for fine dining in the sky and the Skytrax Airline of the Year Award 2011. I had the feeling that the crew knew exactly what needed doing just at the right moment and while never hovering they were only an eye contact away, a little wink and they would be at ones seat asking how to be of service.
Many might think the 5 star stuff is simply a marketing ploy, a gimmick but when experiencing it directly and close up it is for real and makes other airlines, even the better ones I regularly fly on, look almost a class apart.
For inaugural flights of course everyone is at their Sunday best and it was no different at Kigalis Kanombe International Airport, where first the fire engines extended the traditional greetingsin form of a water curtain the aircraft drove through, when exiting the runway and turning towards the apron area. And no sooner had the engines been cut did the sound of drumbeats from Rwandas best drummers echo across the parking area, resonating off the terminal building, as first the Qatar Airways management team left the plane to a red carpet welcome by government, civil aviation and airport officials besides a large number of invited guests from a cross section of industry, travel and tourism. Dancers, performing Rwandas captivating dance creations, added to the colour and visual impressions before everyone was whisked away to the party area, where the inevitable official speeches and presentations took place.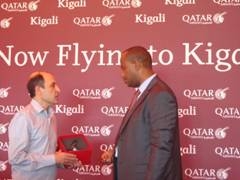 (Seen here are Qatar Airways CEO Al Baker with the Rwandan Minister for Infrastructure the Hon. Albert Nsengiyumva, presenting him with an Oryx statue)
Al Baker made it clear why Kigali / Rwanda had become the 17th African destination, describing the parallels between Qatar and Rwanda and responding to the need for more connections to the wide world, which travelers from the land of a thousand hills can now enjoy and through which the world can now come to Rwanda. Comparing Qatar Airways and the rest to being in a chauffeur driven limousine with an ordinary taxi ride was of course as much tongue in cheek as it was probably also true, not that the competition would be overly enthusiastic to be told point blank how the 5 star airline thinks of itself.
When speaking on the airlines plans for the wider region, answering a question from this correspondent, Al Baker then revealed that Qatar Airways was going to increase the frequencies from Doha to Dar es Salaam from the present two to three a day from a yet to be named date later this year. One of the flights, as mentioned elsewhere already will go on to Mombasa / Kenya from 15th August while Zanzibar will follow probably a month or two later as an extension of the second QR flight to Dar, the new third service then terminating and doing an immediate turnaround. Other QR staff present at the function later elaborated on this comment and attributed the announcement to the steady growth in demand for seats on their present two flights a day. When rather than if a third flight to Nairobi would be announced was met with smiles instead of answers and dates, leaving it open to speculation just when that would happen for Kenya, though an educated guess would be sooner rather than later, just as new aircraft become available, now delivered to the airline at the fast pace of 2 a month.
Rwandas tourism industry was swift to hail the arrival of Qatar Airways with daily flights with key individuals like RDBs Rica Rwigamba calling it exciting news while Manzi Kayihura, at one time CEO of RwandAir and now a key player in the countrys safari sector, talked about the new opportunities to have the world come to Rwanda on a quality airline with daily connections, opening up in particular Rwandas new and emerging markets in the East.
In subsequent discussions and meetings with QR staff present in Kigali it could also be established that the airline is now seeking to establish ties with Rwandas tourism fraternity and business community, to participate in high profile local events like the annual gorilla naming festival Kwita Izina, this year due in the week leading up to the 16th of June. Already advertising in local dailies but also key locally produced magazines like The ServiceMag (www.theservicemag.com) or The Eye the insiders guide to Rwanda and Burundi (www.theeye.co.rw) the local staff of QR in Kigali confirmed a keen interest in outbound flights and encouraging forward bookings, confirming that the new route was indeed chosen with load factors in mind and not just to get ahead of other competition, from within the Gulf area but also from European carriers.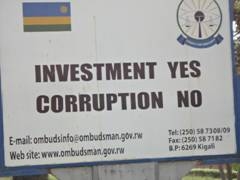 And when leaving the airport for the city of Kigali, this sign awaits visitors with a clear message that they are entering a corruption free zone, a place where doing business has to be done by the book and not by contents of the wallet, one reason why Rwanda has become the darling of the West and a much sought after partner from countries around the world. The arrival of Qatar Airways will undoubtedly enhance Rwandas future growth prospects, not surprising by the way now that the Rwanda Development Board can guarantee that starting up a business in the country can be accomplished within 6 hours, something even few of the developed countries can claim to have achieved and certainly no other country on the continent of Africa.
Qatar Airways got a very warm welcome indeed, and not just in terms of the weather as the blazing sun over Kigali shone on the plane on the tarmac and the visitors at the party tent. When the next destinations across the EAC have come on line, Kilimanjaro, Mombasa and Zanzibar, QR will have established itself as the only one foreign airline connecting literally every corner of East Africa with the rest of the world, a novel achievement and something they, as well as us here in this part of the world, can truly be proud of. Watch this space.
Seychelles News
ROUTES AFRICA DEAL SIGNED AND SEALED, ANOTHER FIRST FOR SEYCHELLES


The seventh Routes Africa Conference was signed and sealed last week when the organizers and the government of Seychelles put pen to paper to formalize the announcement made a few weeks ago, when in fact the global media were present in Victoria to report about the Carnival International de Victoria at the time the news were broken.
The choice by the organizers was widely hailed as bringing the Routes Africa concept to this part of Africa for the first time, also underscoring the growing importance of the African Indian Ocean islands as a major part of aviation developments on the continent.
Previous meetings took place in Casablanca, Cairo, Dakar, Marrakech, Swaziland and Bamako, but never on any of the Indian Ocean islands, and the Seychelles is set to celebrate this conference as it also coincides with the 40th year of jet aviation for the archipelago.
Airlines from Africa and those flying into Africa like the mega carriers of the Gulf Ethihad, Qatar Airways and Emirates too are expected to have their route development experts on site and with between 150 and 200 delegates thought to come to the Seychelles the Routes Africa conference is surely going to be a success.
Notably this event comes at a time in Seychelles aviation history when more airlines than ever before are flying more often than ever before to Mahe, the latest entrant being Ethiopian Airlines which is set to commence 4 weekly flights from Addis Ababa to Mahe in a weeks time. The momentous changes at Air Seychelles too have been a talking point for African aviation experts, with Etihad acquiring a 40 percent stake a few months ago, catapulting the Seychellois national airline into a sudden position of prominence, having been found worthy to be Etihads latest investment target, while other ailing Indian Ocean island carriers still wait and hope for a saviour to come forward and throw them a similar lifeline too.
The choice for the Seychelles was largely a result of the now Minister of Tourism and Culture, Alain St. Ange, last year speaking at the international routes conference and both networking on behalf of the Seychelles but also making waves with his speech, and the Seychelles Tourist Boards new Chief Executive Elsia Grandcourt then preparing the successful bid and seeing it come to fruition. Time for aviators to make a date with the Seychelles to be there between the 08th and 10th of July this year. Watch this space for updates.
AND today again some worthwhile material taken from Gill Stadens The Livingstone Weekly enjoy:
ZAMBIA
It was Monday and we were on our way to Meno A Kwena, Teeth of the Crocodile, a lodge on the edge of Makgadikgadi-Nxai Pan National Park. Heading back towards Nata we reached Motopi and took a turning south onto the Rakops road. Following the instructions we arrived at Meno A Kwena on the Boteti River. The Boteti had filled too in 2008 after being dry for many years. The wildlife and cattle had been competing for the little water which was available and this had caused friction between the farmers and the conservationists. Now, though, the river was full and there was plenty for all.
Meno A Kwena is on a high bank overlooking the river which forms the border between the farmland the Makgadikgadi National Park. It is a tented camp with lots of character; photos and memorabilia covering the walls. There is no electricity at Meno A Kwena; lights being solar or paraffin; cooking done largely on the open fire.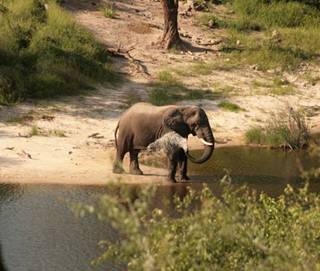 Also staying at the lodge was a group of researchers from UK. They were specialists in bats Bats without Borders. They were having a break from their research in Namibia where they monitored bat movements, mostly cave dwellers as opposed to the tree-hanging variety.
The bush opposite the lodge was thick and green. The animals had no need to come down to the river to drink as there must have been plenty of pools of water within the park. One elephant came down for a splash and a few kudu emerged from the trees to drink for a short while.
That evening we all sat around the table enjoying a potjie (stew) cooked on the open fire. The conversation revolved around bats
Towards the end of the meal the staff came in singing and dancing. They entertained us with several songs with some of the bat people joining in the dancing.
The following morning after breakfast we headed off for the park. I had wanted to stay another night but knew that our drive to Hwange National Park was a long one and we should get some miles under the wheels of the car that day. We went south to Khumaga Gate to drive a short section though the park, just for fun.
Arriving at Khumaga I was a bit surprised to see the small pontoon over the river the ramp was rather steep. I could imagine myself either slopping off the edge or going straight over the platform and ending up in the river.
I cant go up that!
Of course you can. Put the car in 4-wheel drive, low range, and take it easy, said the pontoon operator.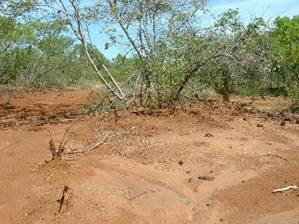 I did as I was told and safely negotiated my way onto the ferry, enjoyed the short ride across the river and then drove off the other side.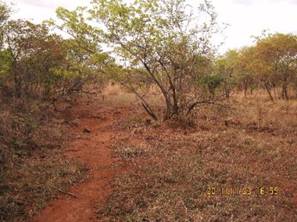 We drove up the bank and came to the Parks Office. The Parks Ranger was not able to take money; all the top staff had gone to Maun for a workshop so I was told to go and pay at Nxai Office when I was passing. I asked for a map, but there was none to be had. So we took off into the park.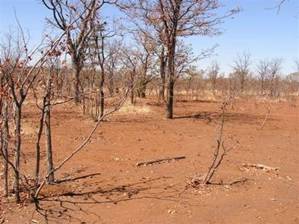 The road ran along the Boteti River for a while. We saw some elephant down by the river and later some kudu. Apart from that there was not much to see except for the little things like butterflies and dung beetles. Finally we came out at Phuduhudu Gate on the main Maun-Nata Road.
After paying our fees at the Nxai Pan entrance we continued on to Gweta, then Nata and took the turning north to Elephant Sands.
Whenever I think of Botswana, I think of donkeys. And we saw lots on our way.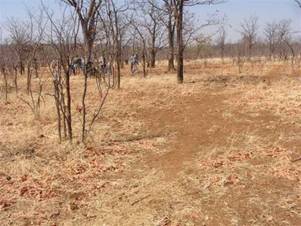 At about beer oclock we arrived at Elephant Sands.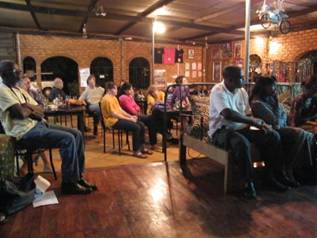 Wildlife Society Talk on Holistic Management
By Clare Mateke
The Wildlife and Environmental Conservation Society of Zambia held a very successful event on Tuesday, 13th March 2012. Local farmer, Ruth Henson, of Martindale Farm, gave a talk on Holistic Management at Zigzag Coffee House. The talk was attended by over 27 people, including a number of farmers and teachers. Of these, a number were Society members, more joined up during the evening, and others were non-members who just came to enjoy and learn from the talk.
In her talk Ruth talked about some of the worlds problem and about how Holistic Management is helping to deal with some of these problems and producing impressive results in many parts of the world. She said that Holistic Management was reversing biodiversity loss, reducing desertification and helping to reduce global warming by increasing the amount of carbon stored in soil and biomass.
She listed the ten principles for effective resource management as follows:
Nature Functions in Wholes
Understand The Environment You Manage
Livestock Can Improve Land Health
Time Is More Important Than Numbers
Define What You Are Managing
State What You Want
Healthy Soil is Critical
Play With a Full Deck
Test Your Decisions
Monitor For Results
She then went on to explain each of these in detail.
Ruth said that after learning about Holistic Management she now has a better understanding of the environment, a better understanding of the causes of environmental problems, a wider understanding of possibilities and a huge change in thinking and attitude.
Some of the changes she has seen on Martindale Farm as a result of learning Holistic Management include:
A LOT more grass
More livestock
Less soil erosion
More ground water
More wildlife and birds
Big reduction in fires
Economic survival.
Good employee relations.
The pictures below give an example of one change she has seen on Martindale Farm more grass, less soil erosion, more young plants and generally more ground cover.

2003 Same place in 2011 (same time of year)
These pictures show a similar, though more dramatic result at Dibangombe Ranch in Victoria Falls, Zimbabwe. The picture on the left below, taken in September 2004 is of is a site that had been bare for over thirty years. It had been terribly overgrazed, but even 8 years after stopping overgrazing, the soil remained bare, regardless of how good the rains were. The problem was overcome by setting up the cattle and goat kraal on this spot for one week. They did this to demonstrate that poor management causes droughts rather than droughts causing land degradation, as people believe.
The next rainy season was the worst in 30 years, but for the first time in years grass grew on this site (see second photo). No further treatment was given apart from planned grazing by a concentrated herd over the next season.
The last photo shows the exact same spot a few years later. The change was so great that it was difficult to find the same site.

September 2004 September 2005
This is all just as a result of a different kind of management on the farm.