AVIATION, TOURISM AND CONSERVATION NEWS from Eastern Africa and the Indian Ocean islands.
A weekly roundup of breaking news, reports, travel stories and opinions by Prof. Dr. Wolfgang H. Thome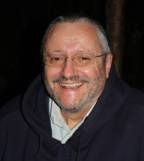 You can get your daily breaking news updates instantly via Twitter by following @whthome, join me on www.facebook.com/WolfgangHThome where the articles also cross load or read the daily postings on my blog via www.wolfganghthome.wordpress.com which you can also follow to get immediate notification when a new article is posted.
Fourth edition May 2012
Uganda News
KAMPALA SERENA SET FOR ITALIAN WEEK



The Explorer Restaurant at the Kampala Serena will be the venue for a week of Italian cuisine, wine tasting and even cookery classes with Chef Fabrizio Mercuri, who is visiting the Kampala Serena to promote his way of presenting Italian dishes. His menu creations during the week of 04th 10th June will migrate across Italy from one end of the boot to the other, highlighting the many variations of Italian cuisine, which contrary to some peoples beliefs is not just centered on pizza and pasta but involves a great variety of other dishes and ingredients.
Titled Il Giro d Italia 6 Giorni or in English a tour of Italy in six days, the Italian festival is one of a regular series of visits of guest chefs who come to thrill the Kampala Serenas clienteles palate but also at the same time show the Serena resident chefs, already on top of their profession, another trick or two from their own formbook in how to make authentic dishes with locally available ingredients, of course always using only the best extra virgin olive oil.
A fashion show evening will also be part of the weeks programme, which is available through the Kampala Serena Hotels front desk or via their website www.serenahotels.com/serenakampala/default-en.html

GEO LODGES JACANA SAFARI LODGE BAGS TRIPADVISOR RECOGNITION


Geo Lodges Emily Wissanji wasted no time yesterday to spread the good news, that TripAdvisor had awarded their Jacana Safari Lodge, embedded in the rainforest surrounding Lake Nyamusingire in Queen Elizabeth National Park, with a Certificate of Excellence.
Jacana, an intimate small and very personalized lodge at the edge of Ugandas largest crater lake, has persistently scored a 4.5 point average out of a possible 5, making it possible for the worlds leading hospitality review site to recognize Geo Lodges for their outstanding work.
The founder of what was initially known as Inns of Uganda, Zahid Alam, now a Director of Geo Lodges, had this to say when being told of the accomplishment: We are pleased to receive a TripAdvisor Certificate of Excellence. We strive to offer our customers a memorable experience and this accolade is evidence that our hard work is translating into positive travelers reviews on TripAdvisor.


(Pictures all courtesy of Geo Lodges Uganda)
Christine Petersen, TripAdvisors President for Business, added when announcing the recognition of Jacana Safari Lodge: TripAdvisor is pleased to honor exceptional businesses for consistent excellence, as reviewed by travellers on the site. The Certificate of Excellence award gives highly rated establishments around the world the recognition they deserve. From exceptional accommodations in Beijing to remarkable restaurants in Boston, we want to applaud these businesses for offering TripAdvisor travellers a great customer experience.
Geo Lodges also operate the award winning RainForest Lodge in Mabira Forest, located between Jinja and Ugandas capital Kampala, the Nile Safari Lodge about which this correspondent once wrote: if it had to be located any nearer the Nile it would have to be in it and soon to open a new mountain lodge experience when a new property will open at the Rwenzori Mountains National Park, bringing the Mountains of the Moon closer to the adventure travelers of this world in search of some place special.
Congratulations to Zahid, Emily and the entire team at Geo Lodges and the Jacana Safari Lodge.

PROTEA SET TO OPEN NEW HOTEL IN MBALE / EASTERN UGANDA
Information was received that Protea Hotels will after Kampala and the recent addition of the Entebbe Airport Protea Hotel open their third property in Uganda at the eastern Ugandan town of Mbale.
Located on the foot of Mt. Elgon, a volcanic mountain of just under 4.500 metres high and shared with Kenya, the new Protea will open its doors on July 01st to the public. The 75 room and suite hotel will immediately be the best hotel in the East of the country and the branded name of Africas largest hotel group will undoubtedly lure more visitors to the scenic East of the country, which has not, until now, lived up to its tourism potential due to the lack of classy and well managed facilities. Stuart Cook, Managing Director of Protea Hotels East Africa, was reported to have said: Mbale is in a beautiful location close to the Kenyan border and its a superb base for seeing some of the most spectacular mountainous scenery that Africa has to offer. It is located at Mount Elgon which rises to just short of 4 500 metres. The impressive Sipi Falls are on the northern side of the mountain, and there are rock paintings in nearby Kakoro and Kumi. Mbale is also the centre of Ugandan coffee cultivation, so its an important regional business hub and Protea Hotels East Africa is looking forward to gaining a foothold in the area.
Protea, according to information available, is also expanding their portfolio in Zambia and West Africa and is after Starwoods Sheraton and Serena only the third branded hotel group with a pedigree worth mentioning which has come to Uganda. The upcoming InterContinental Hotel in Kampala at the former Kingdom Hotels site in Shimoni will, when complete, bring the fourth recognized hospitality brand to the Pearl of Africa, a much needed injection of professional expertise in the largely locally dominated business hotel sector in Kampala, Entebbe and other key towns across the country, and subsequently often lacking the strategy and vision to aim at constant service levels an international clientele comes to expect. Watch this space.

Kenya News
35 AND COUNTING AS KENYA AIRWAYS ADDS A LEASED B767 TO THE FLEET



It was learned overnight that Kenya Airways, the Pride of Africa, has added a sixth B767-300 aircraft to their fleet, arranged through a lease contract with ILFC. The airline has been struggling to keep up the pace of expansion it set itself in the face of simply not getting newly ordered aircraft on line fast enough and the lease arrangement will now permit KQ to fly new routes like to India without overstretching their already highly utilized fleet.
The aircraft can be operated by existing crews without any type conversion but will require additional personnel to effectively exploit its availability. Configured with 24 full flat bed seats in business class the aircraft also offers 211 economy class seats, making it 235 seats overall besides the added cargo capacity which will support KQs growth in that particular sector which has been nothing short of spectacular since the arrival of a dedicated B747-400 freighter a few months ago.
There is now speculation in aviation circles that Kenya Airways may in fact lease more aircraft to roll out their new destinations planned for 2012 and 2013 on time, raising fears amongst local airlines of a yet again intensified recruitment of pilots, cabin crew and technicians as East Africas predominant airline offers attractive working conditions and the chance to eventually fly wide bodied aircraft such as the B787 Dreamliner, when it is finally being delivered in 2014.
Watch this space for the latest news from the aviation industry in Kenya, Eastern Africa and from the Indian Ocean islands.

DEATH IN CUSTODY SET TO ROCK KENYA / UK RELATIONS
Another suspicious death in police custody, and of no less than the heir of a British aristocrat, is bound to cast fresh shadows over Kenya / UK relations. Pathologists, according to reports emerging yesterday at the south coast of Mombasa in Diani, where this correspondent is coincidentally staying at present, speak of blunt force trauma to the head, causing a severe haematoma of the brain. While it appears the police officers at Diani police station rushed the 28 year old victim to hospital, when they realized how serious his condition had become, allegations are now flying wildly about regular police brutality, mostly inflicted on Kenyans themselves, though in this case a tourist visitor they had arrested over alleged use of smoking bhang akamarijuana. A family spokesperson was quoted overnight in the local media as categorically rejecting the hastily manufactured explanation by a police spokesman, that the late Alexander Monson died of heartfailure, other than induced by a brutal beating to the head, as the reported post mortem seems to have established.
The case is also bound to renew interest in the decades long unsolved murder of young Julie Ward, whose father has fought a never ending battle to see suspects brought to trial, bound to make its way back into the UK media which will have a field day with the latest case already, all but claiming that Alexander fell victim to regular police brutality as seen every day across Kenyas police stations. It will also not be good news for Kenyas tourism sector, presently experiencing the fallout of a low season with reduced visitor numbers, putting a strain on the coast resorts some of which have in fact closed for renovations though in clear text mostly for lack of business. Said a regular source from the coast on condition of strict anonymity, not wishing to be quoted for fear of police reprisals: Suggestions the young man died of a drug overdose as the police spokesman insinuated are pure speculation if not a smoke screen they are now throwing up to cover their tracks. When they talk of someone helping with their investigations, we all know that it is under the brutal onslaught of flying fists and kicks that they try to extract confessions. The Kenya Police should make way to have this independently investigated like in the UK, when in such cases the Independent Police Complaints Commission steps in. They have done tourism no favour at this crucial time. Mind you, I am not saying that violations of the law should not be followed just because it was a foreign tourist who might be involved, but what I am saying that suspects are just that, suspects, until proven guilty by a court and the police here has no business to behave like it was the dark ages. The UK mainstream market has softened and such negative publicity is only bound to make the work of our marketers even more difficult.
The British High Commission and consular staff based in Mombasa are reportedly following the case closely now that the proverbial has hit the fan as the mainstream media got hold of the story, after being tipped by relatives and friends of the victims who are now assembling at Diani, as the police tried to keep the case under wraps. Unsuccessfully as it turns out, as the truth is bound to emerge. Question is, as and when the police has no other choice but to arrest the officers involved in this tragic death of a suspect in custody, will they treat their colleagues the same way? Watch this space.

KENYA SECURES 29 BILLION LOAN FOR CONSTRUCTION OF SOUTH COAST BYPASS HIGHWAY
Coincidentally did the news of the financing of the long overdue South Coast bypass highway break as this correspondent was a the coast, putting smiles on the faces of key stakeholders. Mombasa and Coast Tourist Association Chairman Mohammed Hersi in a long discussion on many issues concerning the tourism industry at the coast said that the new bypass, finally offering a straight road alternative to the often unreliable Likoni ferries, is in his opinion crucial to future tourism developments at the Kenya coast, as it will open up vast stretches of the coast line south of Mombasa island, which traders and tourists alike can then visit, on business and on leisure with much greater ease compared to the present torment they experience when crossing the ferry.
Veteran hotelier Chris Modigell, while generally enthusiastic over the medium term impact the road would have on tourism developments on this part of the coast, was more reserved as to financing and construction start, leave alone construction end, which were different things altogether, while also pointing out that unfettered access could see the downsides of development and progress take over.
The driver who brought me to Diani however was elated, saying that tourists could be transferred directly to Ukunda and Diani when the new road was ready, taking a lot of congestion out of Mombasa itself and leaving the ferry to commuters. The Dongo Kundu bypass as it is locally known, will be co-financed with a long term soft loan from Japan worth 29 billion Kenya Shillings, will be some 26 kilometres long and link the Nairobi Mombasa highway as well as the international airport with the hitherto poorly linked and less developed stretch of coast between Mombasa and the border with Tanzania. Starting point will be Miritini, where the new highway will branch off the main route coming from Nairobi to the coast, and then pass Mwache, Dongo Kundu after which it is being named and Kibundani, before joining the present main road which runs from Likoni to Ukunda and via Msambweni to the Lunga Lunga border post with neighbouring Tanzania.
Construction start could happen as early as December this year, subject to preparing for, inviting and evaluating tenders and construction period, due to having cross swamps and wetlands, may take up to 2018, in other words nearly 6 years.
That said however, after waiting for this to happen for the past decades, there is general relief that the project financing with the assistance of Japan has now taken a giant leap forward and that there is a distant light at the end of what used to be a very dark tunnel. Watch this space.

SAROVA WHITESANDS UNDERGOS 20+ MILLION US DOLLAR UPGRADE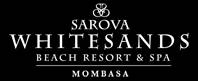 During a meeting with Sarovas Regional General Manager Mohammed Hersi information was confirmed today that the hotel, resort and safari lodge group will be spending in excess of 20 million US Dollars to upgrade their nearly 350 rooms and suites at the Sarova Whitesands Resort and Spa to a true 5 star standard over the course of 2012 and 2013.
The beach frontage rooms will be the first to be completed, likely by November this year, when approximately 170 rooms will have been converted into a state of the art 5 star room environment. Presently some 80 rooms have been taken out of commission and are being stripped down to the walls, with everything being removed before a new room layout will be inserted as the ready to see sample room already demonstrates.
Interactive flat screen TV sets will offer the option to not just watch DStv, the African continents premier satellite pay TV system, but can also connect ones own laptop, get all the resort activities on the screen, check bills and even verify the status of arriving and departing flights, which will make it a feature novel to the Kenyan beach resorts while already common at leading Nairobi city hotels.
The Whitesands Beach Resort and Spa ended 2011 with an 85 percent average occupancy, no mean achievement for Kenyas largest beach resort, and is currently on a YTD basis looking at around 80 percent. That, Mohammed attributed to a number of factors including a vastly improved F&B delivery, now ably steered along by chef Gurpreet Singh Mehta, who in a separate meeting explained that their new menu plan only saw itself roll over and repeat itself after 14 days, offering guests a different choice of selections over an entire 2 week period. The other factor mentioned was the 23 member strong animation and entertainment team, led by Nick Ladu, which as witnessed kept guests engaged and involved in a range of activities, for children at their Ozone Club and for adults starting with workouts in the morning till the cabaret or Salsa dancing performances something guests can learn during their stay for free at night.
Guests often leaving for early flight departures or off on a safari before first light are served breakfast at the coasts only 24 / 7 restaurant in any of the beach resorts, the Minazi, which serves snacks but also a full selection of main courses and most important that early breakfast without which no day should start, especially a very early day.
The Sarova Whitesands works hand in hand with a number of regional airlines to promote holiday packages from within but also beyond the East African Community to what has clearly become one of Kenyas most in demand coastal holiday resorts. Watch this space for an upcoming feature article about the Kenya coast, the were to go and where to eat out, the tourist attractions like the Haller Park and of course also telling a story or two about the nearby safari national parks which can be reached within a few hours drive from the beaches. Visit www.sarovahotels.com for more detailed information on their Kenyan city, resort and safari properties.

KENYA AIRWAYS SHARES JUMP BY 10 PERCENT ON VIRGIN EXIT NEWS



There was combined excitement in the Kenyan share market yesterday as on opening of the Nairobi Stock Exchange on Monday morning the weekend news of Virgin exiting the market later in the year gave investors the confidence to drive the airlines share price up by over 10 percent to a new long time high of 16.35 Kenya Shillings a share, compared to 14.70 KShs per share last Thursday.
The market is also building up anticipation of the May 30th announcement how the share rights issue has panned out when the companys financial advisory team alongside the airlines top management will reveal how intensely the issue was subscribed to. Kenya Airways was due to raise about 20.8 billion Kenya Shillings in the exercise aimed to leverage the financing of an unprecedented number of new orders for Boeing aircraft, which will drive the fleet size from the present 34 to 119 in 10 years time, including however a number of dedicated cargo planes.
The share rights issue was priced at 14 KShs per share, giving those who trusted the airline and invested an already significant appreciation of their investment.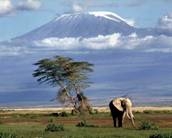 (Picture courtesy of Lesley Simpson Communications on behalf of Kenya Airways)
The airlines standing was also boosted by the announcement over the weekend that, as mentioned here previously, the airline would join partner Precision Air on the route to Kilimanjaro with daily codeshared flights effective 02nd July, adding more capacity on to the starting point of safaris to the northern circuit of Tarangire, Manyara, Ngorongoro and Serengeti, or for those wishing to climb Mt. Kilimanjaro.
Watch this space for regular and breaking aviation news from Kenya and the Eastern African region.

KENYA AIRWAYS EYES NEW ROUTES



Subject to timely delivery of new aircraft, one new Embraer 190 was received in May already and from July onwards a further 9 such birds on order are due to be delivered in monthly intervals, the Pride of Africa is set to open up several more routes this financial year, it was learned over the weekend while in Kenya.
While as usual tightlipped over their plans, so to avoid tipping the competition off too early and allow them to react, it is on the drawing board through information availed to this correspondent during the press conference in March announcing the share rights issue and the subsequent launch of it, that the airline intends to increase regional frequencies and add code shared flights to Kilimanjaro where presently only partner Precision Air is flying under the KQ / PW banner. There is also talk of an early return to Cape Town where flights were halted when the global economic crisis struck in 2008, a sign of sustained growth of inter Africa traffic between the leading economy in the East African Community and the leading economy in SADC.
After the launch of Delhi last week the airline is also keen to expand their international network, which however will be a challenge, considering it requires additional wide bodied aircraft, which will only start coming on line from 2014 onwards, unless the carrier would opt for shorter term leased aircraft to fill the gap and expand more rapidly into the Indian and Chinese market where solid growth rates are being achieved.
Said a regular Nairobi based aviation source in a phone conversation yesterday: The race for markets is on now and KQ depends like few others on getting more aircraft on line to meet demand for more flights in the region and in Africa. That is where they make a lot of revenues and if they cannot meet rising demand they might lose out to other competitors. The deliveries of the Embraer 190 jets is important because that aircraft can fly medium distances even in Africa to destinations where a larger B737 for instance may be too big and still it is offering business and economy class and is very comfortable.
Watch this space for regular updates on Kenyas aviation sector and from the wider Eastern African region.

Tanzania News
TANZANIA OPPOSES EAST AFRICAN LAW ON TRANSBOUNDARY ECO SYSTEMS
Another showdown with fellow EAC countries appears to be on the horizon, as it became known over the weekend that Tanzania intends to block the EALA passed law on transboundary eco systems, fearing that it would lead to being compelled to drop some of the most controversial projects ever designed under which a massive assault on bio diversity hotspots is foreseen. Passed in January this year by a large majority vote at the East African Legislative Assembly the bill now needs to be sanctioned by the next Head of State Summit to become law, but usually well informed sources from Dar es Salaam and Arusha have clearly indicated that Tanzania will object to it, claiming it touches on issues of land and which is not provided for under the EAC treaty. This bill does not directly impact on land issues but indirectly would compel Tanzania to have controversial projects like the Serengeti highway or the Lake Natron soda ash plant, or mining and logging in forest systems along borders with EAC member subject to a peer review about sustainability, and they do not like that one bit. They already blame Kenyans for the woes over the highway which is now in the East African court after ANEW, a Nairobi based NGO Africa Network for Endangered Wildlife has sued them. And our minister for EAC has all but conceded that it is the regional environmental controls and possible enforcement which scares them, saying it could impact on the way Tanzania intends to use their land. But that is the issue here, environmental issues affect many more portfolios and the claiming an impact on their right to land usage is really a weak attempt to escape reviews and promote best practice and sustainability. Here in Tanzania this has been brushed aside by this government in favour of what they call progress and development said an Arusha based regular contributor to this correspondents articles. Conservation sources are now reportedly using their lobbying mechanism to prevail upon the other EAC partners, in particular Rwanda which has an outstanding record on environmental protection, to lean on President Kikwete to drop the objections and agree to the bill becoming law, though knowing Tanzanias past stubborn refusal to remove non tariff barriers like inequitable treatment of airlines registered in the region or the imposition a few months ago of an unsanctioned fee on Kenyan vehicles entering Tanzania on business, would suggest that this will be just one more contentious issue, raising the overall questions few dare to ask in public just how deep Tanzania is truly part of the East African Community or if their archaic issues with neighbour Kenya will continue to dominate their agenda. Watch this space to learn what decisions the next Head of State Summit will take on this position, or if the decision as usual would be deferred to allow for continued consultations.

TANZANIA TOURISM INDUSTRY SHOCKED BY UPSURGE OF VIOLENCE AGAINST VISITORS
Information has come to light from the commercial capital Dar es Salaam, that of late a wave of attacks was carried out on foreign visitors staying in some of the poshest hotels in the city, when walking in the evening what were previously thought to be safe roads and environments.
A regular source from Dar es Salaam has expressed concern to this correspondent over this sudden upsurge in what used to be very few and isolated incidents, suddenly escalating to a level which could suggest a gang like and well organized activity. The following detailed comments were copied in a mail yesterday and make stark reading: Since a couple of weeks, the crime is intensifying in Dar es Salaam, culminating in physical attacks on hotel guests every night of this week in different locations of the city centre and Masaki. For your reference: last night in front of the Serena a guest got attacked, the night before in front of the Southern Sun, the night before that in front of the Spur's next to the Sea Cliff and 2 guests walking back from the Epi d'or to the Sea Cliff Hotel…. the list goes on and on. Both Knight Support and the American Embassy are giving out alerts since last week.
It was also learned that the hotel association of Tanzania was the first to officially write to the governments permanent secretary in the ministry of natural resources and tourism, drawing his attention to the growing problem, which in part reads: On behalf of our members in Dar es Salaam, we wish to bring to your attention a rise in numbers as well as severity in physical assaults on tourists and the general public around hotels and restaurants in the City Centre as well as in Masaki. There were incidents taking place each night of this week, culminating in an incident last night in front of the Serena Dar es Salaam Hotel.
As the attacks on tourists will bring a bad image to the country as a whole and the Tourism Sector in specific, we turn to your office to help us address the issue urgently and ensure effective and prompt follow up by the respective authorities.
Police reports have been filed, but we are seeking your assistance to intervene at your level at the same time to prevent further damage to Tanzania's reputation and individuals being hurt.
Other stakeholder groups, such as the Tanzania Association of Tour Operators and the Tourism Confederation of Tanzania have not officially gone on record as yet but members of TATA in Dar es Salaam have equally expressed their concern if not outrage to this correspondent when making enquiries.
At least one Embassy source from Dar es Salaam has given, on condition of strictest anonymity, the information that this wave of attacks is taken seriously amongst embassy personnel and that internal use or word of mouth information is circulating amongst diplomatic staff to be extra vigilant. Added travel advisories too are being considered to make visitors from various countries fully aware of the risk now in place of walking between venues, which will undoubtedly contain recommendations to use cabs when visiting restaurants, even within short walking distance from ones hotel instead of being exposed to violent attacks and possible worse while on foot.
At least one more source has indicated that the police in Dar es Salaam has belatedly also sent out more patrols into the neighbourhood of the citys leading hotels but only time will tell how effective that will be. Watch this space.
REPORTS ON MV VICTORIA UNSETTLE LAKE TRAVELLERS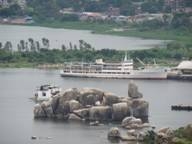 (MV Victoria at Mwanza port)
Fear and worries have gripped regular lake travelers who were out of the blue confronted with, what has been called irresponsible statements by poorly informed individuals, who set the media on the shipping companys trail.
A company spokesperson immediately denied any wrongdoing or as has been suggested non compliance with maritime regulations, saying the required sea worthiness certificate was up to date and valid until next year, when the vessel will undergo safety inspections for a renewal. Other sources from the lake side city of Mwanza also suspected that competitors on the route between Mwanza and Bukoba on the Western side of Lake Victoria could be behind the smear efforts, trying to revive memories of the MV Bukoba disaster some 16 years ago, using the May 21st anniversary of the tragic accident to gain attention.
Maritime inspections were considerably stepped up since the ferry accident off Zanzibar last year, when hundreds drowned and more were unaccounted for, similar to the MV Bukoba accident in which as many as 1.000 passengers could have drowned, a figure difficult to ascertain as no manifest gave records of those on board similar to the Zanzibar sinking.
The MV Victoria, pictured above courtesy of Mr. Asif Jawad of LakeZoneDesire, was built 52 years ago and is licensed, according to information at hand, to carry up to 1.200 passengers and crew and 200 metric tons of cargo. It is the only major ship regularly sailing between the two ports, with alternative transport available by air and through a lengthy road trip. Records availed show that MV Victoria last had a major overhaul 20 years ago but had regular repair work carried out as well a preventive maintenance. Said a periodic source from Arusha, when contacted to comment: It is a bit irresponsible to make such allegations in public that a ship is not safe. The Zanzibar accident has brought many changes how existing regulations are now enforced. The local media should also not jump on every carrot which is dangled before them without making sure of all facts and established if they are not being used by competitors for their own end. But for sure training in emergency response for land based rescue teams, available rescue assets and better communications is something Lake Victoria should have to promote better use as a tourism resource. There is a lot of potential for lake tourism and it has not been used at all so far. Watch this space.

KAGESHEKI READY TO CRACK THE WHIP AND BOOT THE DEAD WOOD OUT
The recently appointed Minister for Natural Resources and Tourism Amb. Khamis Kagesheki, when inaugurating the new Board for the Tanzania Forest Service which falls under his ministry, left no doubt where the axe will be falling soon, the wildlife division in his ministry, before seeking out new dead wood for chopping. In his speech he accused many of the staff of that division that they lacked interest in their work and were both unwilling and unfit to serve the nation. He also accused them that money meant for public coffers ended in individual pockets, as his fight against corruption, incompetence and outright fraud gathers momentum.
When inaugurated a few weeks ago, sections of the tourism industry breathed a combined breath of relief to see finally the back of disgraced former minister Maige, who had become a liability in his very own right over the controversy he generated literally every time he spoke in public, or worse was overheard and grassed up.
He particularly targeted Maiges buddy buddy allocations of hunting blocks which the new minister said got the government mere peanuts. The wildlife division had last year and before for that matter been hit by a series of allegations, connected to illegal wildlife exports and other related scandals, and there is now general consensus amongst the tourism fraternity, that TANAPAs top echelon too is in the cross hairs over their arrogant handling of the dispute with concessionaires last year, when they detained tourists, guides, drives and vehicles at park gates attempting to extort cash from them towards the concession fees owed as it was put at the time. That matter has been taken to court by hotel owners, concessionaires and HAT, the hotel association of Tanzania and from well informed sources it was learned that the new minister has already been given dossiers and information which can lead to the action many hope for, the removal of those responsible in TANAPA for such gross violations of rights.
One thing is sure though, it seems President Kikwete had indeed a lucky hand when selecting Amb. Khamis Kagesheki to the portfolio of tourism as his no nonsense approach is already showing results just a few weeks into him swearing in and assuming office. Well done Mweshimiwa, keep it up.

Rwanda News
KWITA IZINA SET FOR SATURDAY 16TH JUNE
The clock is now ticking down relentlessly towards the 08th edition of Kwita Izina, the Rwandan festival of the naming the young born mountain gorillas, which is taking place in less than three weeks time.
Conservation friends from across Eastern Africa and in fact the entire world are coming together outside Musanze / Ruhengeri on Saturday 16th of June to celebrate Rwandas extraordinary conservation efforts, when each and every gorilla baby born during the last 12 months is formally named.
The annual festival is also an opportunity to formally commission the many projects financed with the 5 percent share to the communities neighbouring the Parc de Volcanoes from the tracking permits, which have been selling at a rate of 500 US Dollars per person per trip into the mountainous forests on the slopes of the 5 volcanoes dominating the Virunga mountain range.
A colourful ceremony on the day will be kicked off by a community gathering the night before, when the days formal opening by RDB and local administration staff of water projects, additional class rooms and other material benefits for the villagers will have put the efforts of RDB Tourism and Conservation into the spotlight, showing that participatory conservation and protection of the gorillas actually pays off for everyone living in the area.
The arrival since the 2011 festival of three more airlines in Rwanda, namely Qatar Airways, South African Airways and Turkish Airlines has added much needed seats into the country, further supported by the expansion drive of RwandAir, making it easy to fly to the Land of a Thousand Hills, take a drive from the airport of just over 3 hours to the west of the country and then enjoy the spectacular experience of spending an hour with these gentle giants of the volcanic mountains after tracking them down in their natural habitat.
Expect live updates from Rwanda as the clock is ticking down towards Kwita Izina 2012.

Congo DR News
CONGO CAA GROWS TEETH, GROUND 29 PLANES
A Goma based aviation source in periodic contact with this correspondent has told the story of Congos Civil Aviation Authority, in a flurry of apparently renewed activity, grounding some 29 planes of airlines registered in Kinshasa. The aircraft belong according to the same source to about 20 airlines and their Certificates of Airworthiness were all withdrawn over a range of documentary discrepancies and disputes between the CAA and the respective operators.
Said the source in an email only just accessed after being off air for nearly 30 hours due to WiFi failure on location at Mombasas south coast: They licensed a new airline the other day and now they are grounding four of their planes. I dont know what happened but should this not have been raised during the licensing process or before they get an ASL or AOC? That is a bit strange but for other airlines, if documents these days are not certified and show the complete history of the aircraft then there is a problem. ICAO must have told them at the Kampala aviation safety week conference where we met and on other occasions that they need to enforce ICAO rules and regulations or risk being downgraded or even blacklisted as a country. The safety record of Congo so bad, it is the only way to move the industry to safer operations. But those airlines affected will now have to either comply or otherwise their planes might never fly again.
AAC in Kinshasa subsequently issued a statement advising the operators and the public that reforms are taking place in Congo DRs aviation sector to improve safety for passengers, with the ultimate aim to have the countrys airlines wishing to fly to Europe come off the notorious EU black list for airlines, in the case of Congo DR literally all of them with the notable exception of Korongo Airlines, based in Lubumbashi, which is majority owned, managed and maintained by Brussels Airlines and presently flies to Kinshasa and Johannesburg.
Watch this space.

Mauritius News
STEALING SEYCHELLES CARNIVAL CONCEPT THE BEGINNING OF THE END OF KARL?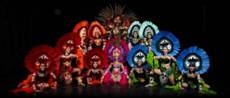 Mauritius Tourism is bracing for stormy times following the formal announcement by MTPAs desperate man Karl Mootoosamy, that he will copy the Seychelles carnival concept as a last ditch effort to show some action, already termed sneaky by sections of the ever more critical private sector on the island which is getting increasingly frustrated with their own official tourism marketing office. The copy cat event is due to feature between June 29th and July 01st,, totally out of tune with the global carnival calendar, and information comes from both Seychelles and La Reunion, which both successfully staged the Carnival International de Victoria in March, that they have to this moment not received an invitation, which if true would reflect fully on the mindset and lager mentality at MTPA at this moment in time, exposing what Mr. Mootoosamys organization truly thinks of fellow Vanilla Island members.
As reported a few days ago here, a tip off from a regular and usually well informed source from Port Louis had predicted this would happen as MTPA had run out of vision and ideas of how to cope with the Seychelles and La Reunion marketing and PR juggernaut which left Mauritius trailing in their wake and has senior staff at MTPA reportedly worried for their jobs. The media in Mauritius who in large numbers accepted the invite to Victoria smelled a rat already when in early March MTPA turned a cold shoulder to an invitation by Seychelles Tourism to attend the 2nd Carnival International de Victoria, but the intended snub turned counterproductive as La Reunion as co-host and Seychelles stole the show in all subsequent tourism events and in an ongoing media blitz. Copycatting such a concept after the way Karl and his merry men behaved when they were AWOL from the Seychelles in March will give Mauritius media coverage but of the worst sort the source added when communicating the decision to this correspondent. Others raised the issue of cost comparison pointing at the two Creole Festivals in Seychelles and Mauritius, where the latter is reportedly using large amounts of tax payer money to equally try rival Seychelles, where this festival has been hosted for nearly a quarter of a century already, with growing global acceptance and as a result of the unique partnerships STB forged with little expense to the tax payers.
Others are equally pointing at the ethnic separations on Mauritius, an issue which time and again appears to be coming up in mails and messages from the island, which have been suggested to be at the roots of socio economic divides on the island unlike the rainbow islands of Seychelles and La Reunion. Another source swiftly pointed to other issues like the Mauritius governments stubborn insistence to reform and reorganize Air Mauritius, which too has been burdening the tax payers with bearing the significant losses the airline has piled up in the recent past. There are many tourism stakeholders who feel that the time if up for Karl and there has to be major reform at MTPA if tourism growth is to return. Mauritius has a big potential for tourism but it takes a vision and equitable participation of all groups on the island to achieve that. And we need genuine partnership with our neighbours in the Indian Ocean and not giving the impression that we cannot be trusted and are back stabbers
The question is now being asked across the Vanilla Island cooperation how to respond to this unilateral departure from a jointly mapped out path and way forward from which all island could have benefitted. To await changes in the tourism marketing direction of Mauritius first before re-engaging with them, attempt the impossible and talk to what appears to be a hostile MTPA administration or accept their self declared departure from commonly agreed positions and move ahead without Mauritius. Fodder for thought and without a shred of a doubt good for La Reunion and the Seychelles which are treading the moral high ground while Mr. Karl has moved his organizations path into the domain of copy / paste jobs, elsewhere known as plagiarism. Watch this space.

SEYCHELLES UNITY APPROACH SNUBBED BY COPY CATTING MTPA ?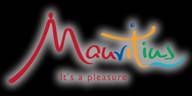 A usually well informed source from Mauritius has leaked a bombshell decision apparently taken by the Mauritius Tourism Promotion Authority to copy cat the Seychelles success with the Carnival International de Victoria and try do their own rather than joining hands, as has been repeatedly offered to them, with Seychelles, La Reunion and other Indian Ocean islands as partners for the next festival in 2013.
Said a source from Port Louis, who admittedly is an ardent critic of never answers a mail, ever Mr. Karl Mootoosamy, when he questioned this apparent new twist in relations and said in an overnight mail commenting on the news, which he said he himself had not yet heard: MTPA has been reeling from the success of Seychelles in the international arena. That is very evident because Seychelles brought the media on their side and I think there is a lot of bruised ego in our man here who finds it hard to see others succeed where he failed. The Seychelles success story is the story of a new partnership approach started when Mr. Alain came into the frame a few years ago. He pushed for cooperation as Vanilla Islands, he brought a new spot light on Seychelles but also all the other Indian Ocean islands, and his team partnered very successfully with the media, the international airlines. When our private sector and press delegation went to Victoria in March, MTPA never sent an official delegation, and we saw the enthusiasm the media team from Port Louis came back with all the stories and no one at the time. No one understood why Mauritius was not responding to the invitation to join hands with La Reunion and I hear even Sri Lanka may come on board for next year. An own carnival may succeed or may not but it will be known as the copy cat event. Of course, good ideas should be absorbed, lessons from others must be learned, but that also applies to for instance airline issues where again Seychelles found a partner with Etihad and here those responsible in government still try to do their own thing. Air Mauritius keeps losing money and still keeps competition out of the Mauritius when we should grab any chance for more seats to our island. The Seychelles have opened up and now have as many as four flights a day between the Gulf and Mahe on different airlines. And Air Seychelles is reviving with a new concept. I feel this development once again highlights that there is a need to fundamentally change the way we do business in aviation and in promoting our country. The private sector has to become more involved, bureaucrats must make way for marketers and we should seek to partner with our neighbours and not cause affronts. If your source is right, La Reunion and Seychelles will get the message loud and clear that Mauritius tourism is not interested in good neighbourly relations and it may in fact impact on the entire Vanilla Island concept. And to be honest, if this is really happening it will just build on creating more divisions within Mauritius itself where unlike in Seychelles the ethnic lines are too visible and have in the past been divisive instead of uniting us through variety.
In view of the short time between receiving the information last night it was not possible to receive any official or inofficial comments from the Seychelles or from La Reunion what their reaction would be, should Mauritius set up a rival festival and to what degree it would affect the hitherto friendly though competitive cooperation between the islands. It was already some weeks ago pointed out by another source from Mauritius, a senior media correspondent met earlier in the year in Victoria, that following a hugely successful media blitz by the new Seychelles Minister for Tourism and Culture Alain St. Ange, when on his recent visit to Mauritius he held a press conference and offered open media interaction a record number from the media turned up to cover the event, some officials at MTPA took offense that a Seychellois should steal their limelight. He said on condition of anonymity probably to protect his own upcoming story line as and when: Personally I think it is a bad joke if true. I will in the morning try to find out about it. St. Ange charmed us all when he was here but he also got the facts speaking for himself. Charm and smiles in his case is backed up by years of uninterrupted success since he joined STB. MTPA is hugely controversial here. And La Reunion and Seychelles are already aligned now. What will the other Vanilla Islands make of it if MTPA would really do such a thing. Would they side with those who offer partnership or those who are jealous of every single bit of success of the others and act of envy and might try to steal from them too given a chance.
Mauritius had in the past reportedly tried their hand on a Creole Festival, as is successfully being staged at United Seychelles every year but never did manage to make it the high profile affair it should and could be and various sources, when questioning that in the past suggested that perhaps ethnic rivalries were to blame for that, admitting that a united Mauritius would arguably do better than the present visible differences.
This correspondent had in the past had issues with MTPA not responding to mails addressed to Mr. Karl, MTPAs CEO but continued to give Mauritius exposure with sources from the private sector making their success stories known instead of MTPA trumpeting stories from the roof tops as STB does from Bel Ombre on Mahe. And as this for sure is not the last we have heard of this breaking news story, stay tuned and as the saying goes here, Watch This Space.

Seychelles News
FIBRE OPTIC LINK TO THE WORLD SET TO LAND ON SUNDAY
The Seychelles will be a step closer to joining the global super information highway at the speed of light, when on Sunday the fibre optic cable presently being laid between the coast of Tanzania and the archipelago is expected to make landfall. Presently connected only via satellite links, the government of Seychelles partnered with Cable and Wireless and Airtel to shoulder the investment cost and bring the country into the 21st century of telecommunications. Tariffs for calls and internet usage are expected to drop as faster speeds and multiplied capacity will need to be exploited by the telecom and ISP companies. The cable will land at Beau Vallon Bay where it will be connected to a switch station before reaching via underground cable ducts the telecoms companies, which will then distribute the signals via wireless high speed broadband or else to offices and residences via cable.
The satellite connections will be kept operational as back up, should the fibre optic cable on the seafloor be damaged, as has happened a few times in recent months off the East African coast, leading to serious service disruptions for Kenya, Uganda and Rwanda.
Full connectivity is expected to commence with the benefit of higher speeds and greater capacity when the connections and infrastructure on land are complete and the test phase, expected to take up to 2 months, has been successfully wrapped up.
With the cable landing on a Sunday, substantial crowds are expected at the Beau Vallon Bay beaches of curious onlookers, wanting to see the world come to the Seychelles. The new connection is thought to create an immediate impact of about the user spread and penetration of the internet across the islands at affordable rates, aiding research and studies as well as making e-commerce a greater reality for all sectors of the economy, but especially tourism where visitors often ask first for internet connectivity before even checking where their room is when they arrive at a resort.

NEW SEYCHELLES / ABU DHABI BILATERAL AIRSERVICE AGREEMENT SETS PACE FOR FUTURE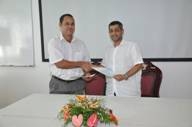 (Mr. Terence Mondon, Principal Secretary Ministry of Home Affairs and Transport and H.E. Mohammed Hareb Al Yousef from Abu Dhabi Department of Transport exchange documents after signing the new deal)
Informationhas just been received that the Seychelles Minister responsible for transport, Joel Morgan, has presided over the signing of an added extra-bilateral agreement between the Seychelles and Abu Dhabi. It amends the 1992 agreement in force until now and permits both Etihad, Air Seychelles partner airline and the Seychelles national carrier up to 14 frequencies per week plus 7 added cargo flights on any type of equipment without restrictions.
Notably was onward traffic, the famous fifth freedom agreements many carriers are seeking, included in the newly signed document, permitting both Etihad and Air Seychelles to fly to such African mainland destinations like Dar Es Salaam, Kilimanjaro the latter undoubtedly interesting for joint safari and beach packages, but also to the Comoros, Madagascar, Nairobi or as far as Australia. Minister Joel Morgan was quoted to have said upon putting pen to paper: We are happy that the agreement was completed successfully, as it is part and parcel of our continuous efforts to encourage air services development in Seychelles. This move also shows our support to the development of strong air link between Seychelles and Abu Dhabi.
Much of the Seychelles success to bringing ever larger numbers of tourists to the archipelago is by broad agreement within the tourism private sector attributed to the opening up of the countrys air space, which while propelling Air Seychelles into a major restructuring has resulted since the change in policy a few years ago in as many as 28 weekly flights between the Gulf and Mahe. Everyone was very concerned when Air Seychelles management at the time announced they were pulling out of Europe. At least now we have resumed code shared flights with Etihad and can even serve more destinations than before, when we had 6 flights to Paris but not beyond in France for instance. I think this new agreement will help to expand code shared flights and put the HM flight number on joint services and it will benefit us with more visitors. By end April we had a very encouraging upwards trend and we are reasonably confident that Seychelles this year will get over 200.000 visitors, the first time ever a regular source from Mahe contributed when discussing the developments a few minutes ago.
Watch this space for breaking news like these from the Indian Ocean islands and the Eastern African mainland.
AND in closing today once more some worthwhile reads from further down south, courtesy of Gill Stadens The Livingstone Weekly:
Suni is improving daily
From Sun International
Were thrilled to report that Suni, the orphaned and injured baby elephant rescued at the resort, continues to improve daily.
As youll see from the photographs, she is firm friends with Zambezi, another orphaned elephant of similar age, and adores Kelvin Chanda, Head Elephant Keeper at the Elephant Nursery where she is recuperating. Like all little princesses, when faced with a choice of pony blankets to warm up at night, she rejected a green one and chose a pink one instead absolutely priceless!
Were in awe of the fantastic work done by Rachael Murton, Project Manager, and her team at the Elephant Orphanage Project.
Livingstone Museum celebrates International Museum Day – highlighting Waste Management
By Clare Mateke

Over the past week the Livingstone Museum held a number of activities for International Museum Day which occurred on 18th May. The theme for this year was Museums in a Changing World: New Challenges, New Inspirations. Under this theme the Museum chose to highlight the issue of waste management in Livingstone.
On the evening of Tuesday, 15th May a public discussion on Waste Management was held, with brief presentations by representatives from the following:
Livingstone City Council
Southern Water and Sewerage Company
Sun International
Zambia Environmental Management Agency
Zambezi Nkuku
Livingstone General Hospital
Livingstone Waste Management Association.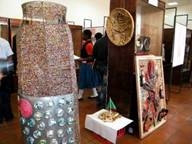 The presentations were interesting and informative. They were followed by questions and comments from the public, who numbered about 45. The publics main complaint was that, since there were so many speakers, there was not enough time left for questions, as they still had a lot more issues to raise.
This was followed by an exhibition at the Livingstone Museum entitled, Waste Management in Livingstone what are we doing about it?, which was opened on Friday 18th May by the District Commissioner, Paul Sensele, on behalf of the Minister of Southern Province.
Invited guests at International Museum Day Function and Essay Competition prize winners

The DC also handed over prizes to the winners of the school essay competition on the same subject. Thirty-six pupils from 12 schools in Livingstone had participated. Prize winners came from St Marys Secondary, St Raphaels Secondary, Hillcrest Technical High School, Christ the King Basic School and Linda West Basic School. The best ten essays are on display in the exhibition hall.
The exhibition was done in collaboration with 11 organisations, companies and government bodies that are involved in waste management in Livingstone. These included:
Livingstone City Council
Zambia Environmental Management Agency
Zambezi Nkuku
Livingstone General Hospital
Visual Arts Council
Cowboy Solar Cooker Venture
ABC Coffins
Livingstone Waste Management Association
Wayi Wayi Art Studio
Wildlife and Environmental Conservation Society of Zambia
Sun International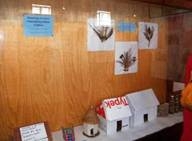 Brief explanations, photos and exhibits show what each of these groups is doing to help deal with the problem of waste.
Also exhibited are items made out of waste material by children from Palm Grove Basic School, St Raphaels Secondary School and Libuyu Basic School.
One of the main aims of the exhibition was to bring together the different groups that are working in waste management in Livingstone and the public, to enable better co-operation and understanding of the problem of waste. It is hoped that this has been achieved through this collaborative exhibition.
The exhibition also highlights some views of the residents of Livingstone on the issue of waste management. These were obtained through questionnaires that were circulated in various parts of the city.
The Museum would like to thank all these partners, as well as all the schools that participated in the essay competition. It would also like to thank the following for providing support in different ways towards this programme:
Jolly Boys Backpackers, Zambian Touring Company, Bushtracks Africa, Livingstone City Council
Zambezi fm Radio, Zambia National Information Services, Zambezi Nkuku, Likute Guest House, ZESCO
The exhibition will remain open until 31st July 2012, so find time to pass through and let the Museum know what you think.


New Flights for Lusaka

KLM has reintroduced direct flights to and from Lusaka and Amsterdam. There will be three flights per week.