TOURISM, AVIATION AND CONSERVATION NEWS from Eastern Africa and the Indian Ocean islands
A weekly roundup of reports, travel stories and opinions by Prof. Dr. Wolfgang H. Thome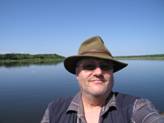 Get daily breaking news updates instantly via Twitter by following @whthome or read the daily postings on my blog via: www.wolfganghthome.wordpress.com Many of these articles then also appear on the Africa Travel Association web magazine and of course via the global industry leaders for travel, tourism, aviation and hospitality news, eTurboNews, on www.eturbonews.com or www.eturbonews.com/africa
Subscription to their daily mailings are FREE of charge and come highly recommended.
Second edition December 2011
East Africa News
SPECULATION GROWING OVER EASYJETS STELIOS INVOLVEMENT ON AFRICAN LCC
Over the past weeks was speculation growing in Eastern Africa about a potential involvement by former EasyJets top executive Stelios Iannou, said to consider joining hands with Lonrho to develop and implement a viable low cost carrier model for Africa, using jet aircraft to connect major cities on the continent.
While some efforts have been made in recent years to establish local LCCs, this concept has not taken root as was expected and the financial strength of such Pan African airlines like Ethiopian or Kenya Airways have successfully held against such competition by setting fare levels on key routes to not just match their competitors but actually offer lower fares, while at the same time using their frequent flyer programmes to ensure brand loyalty through reward schemes the LCCs do either not have or do not as effectively use.
Information obtained points to a possible signing of a deal next week, which could be held either in the UK or a select location in Africa, possibly Nairobi, as the East African aviation market could be the first to be targeted by a new airline set up.
Regional aviation stakeholders expressed surprise when contacted over this potential development and were swift to point to the cut throat operating environment which exists in the East African skies claiming almost in unison this is not Europe, any newcomer will find the going here very tough, very competitive and very challenging. Adds this correspondent in closing that this will indeed be the case, as past failures amply demonstrate, though Stelios and Lonrho combined will undoubtedly try to re-write aviation history and duplicate European successes in Africa, supported by deep pockets and a vision backed up by long experience. Watch this space.
RELENTLESS PRESSURE PAYS OFF AS CHINA CUSTOMS CONSIDERS USE OF SNIFFER DOGS
The stinging global criticism against Chinas apparent hesitation to join Africa in protecting its wildlife heritage, which has grown louder and more intense month after month, is apparently showing some reaction now in the Peoples Republic. Intercepted shipments of blood ivory and rhino horn have regularly shown China as a final destination and a few seizures inside China too showed just how the demand by the nouvelle riche has driven the commercial scale poaching in Africa, decimating rhinos in particular in Southern Africa and slaughtering elephant on an unprecedented scale for their tusks.
News have now emerged that Chinese customs organization GACC has finally engaged in talks with TRAFFIC and other international experts on the use of sniffer dogs, specialized in detecting concealed ivory, rhino horn and other wildlife products, something successfully introduced by the Kenya Wildlife Service at the airport in Nairobi and the port of Mombasa, where shipments in transit hidden in the baggage of passengers but more importantly major quantities concealed in containers and declared as other cargo have been nabbed.
China has been harshly and rightly critizised for not doing enough in enforcing existing laws and regulations and been urged to make legislative changes and introduce more serious punishment for importers of blood ivory and related wildlife products, for the processing and for the possession of ivory carvings. Intricate carvings are seen as status symbol while healers peddle the value of ground rhino horn for a number of ailments, which in truth however have no greater value than chewing ones own fingernails, made of the very same natural substance.
CITES has supported the Chinese willingness to move with the times and customs agencies already using such specialized sniffer dogs have also signaled willingness to share expertise and assist the Chinese customs department with training.
Global wildlife organizations and NGOs have cautiously welcomed this apparent change in policy by China but have immediately pointed out that this can only be the first of many steps the country has to take to comply fully with global conventions and that more significant legal and regulatory changes must follow before Chinas suspected tacit and covert tolerance over the smuggling of blood ivory, rhino horn, tiger bones and other much in demand wildlife products can be revised in the court of global public opinion. Watch this space.
Uganda News
ANOTHER MILITARY PLANE CRASH PROMPTS CALLS FOR MAJOR SAFETY OVERHAUL
News broke late yesterday of yet another crash of an aircraft associated with the Ugandan military, when it became known that a plane taking off from Arua, reportedly under charter to the military or related outfits, crashed shortly after takeoff, thankfully without loss of life.
The aircraft burned to ashes, as did property on the ground where the illfated plane hit.
Only weeks ago did a military jet belly land at Entebbe International Airport, causing several flights to be diverted to Nairobi, to allow for the debris on the runway to be cleared, but with major accidents of aircraft associated with or chartered by the military, questions are now being raised by the aviation fraternity over the regulatory oversight of safety on such flight operations.
This latest crash, according to emerging media reports in Kampala, was enroute to re-supply troops based in the Congo DR where they are hunting for the remnants of the LRA and in particular their leader Joseph Kony, but from eye witness reports the aircraft failed to gain altitude, either through a technical fault or overloading, as was immediately suspected. The aged Antonov aircraft is part of a group of Soviet era planes which have a terrible safety record, due to lack of proper maintenance and often lack of crew training, and are now banned from flying in most countries commercially, but apparently not in Uganda when operating for the military. Time to finally ban these birds from all skies and condemn them to the scrap heap of aviation history lest they turn into more flying coffins as they have often been termed.
SELFHANDLING FOR AIR UGANDA
Beginning from January 2012 will Ugandas quasi national airline Air Uganda, otherwise known as U7, begin to handle their own flights, after a long battle with the Ugandan Civil Aviation Authority, leaving near monopolist ENHAS short of what is thought to be revenues of just under a million US Dollars.
Air Uganda had for quite some time, under immediate past CEO Hugh Fraser, presented the CAA with data from in particular Nairobi, an airport the UCAA is intent to copy in terms of traffic, showing considerably lower handling tariffs, at times costing only half of what the airline was being charged for a similar set of services in Entebbe.
The savings will help U7 to progressively offset the initial losses incurred at start up four years ago, while at the same time offering additional employment opportunities to Ugandans who are now being trained to provide ground handling services and meet the expected standards.
Air Uganda presently operates a fleet of two leased CRJ 200 jets and of an additional MD 87, and had a few weeks ago announced an expansion in services to Bujumbura, daily flights to Dar es Salaam and the start of moving towards double daily services between Entebbe and Juba / South Sudan. Their present third daily mid day flight to Nairobi, currently only operating on a few days, is also due to be progressively increased until the airline flies 21 times a week between Uganda and Kenya. Happy Landings and Happy Handlings.
UMEME STRIKES BACK WITH A #TEAPARTYUG
Embattled Ugandan electricity distributor UMEME, under harsh criticism in recent weeks for the massive powercuts across the country, often lasting 24 hours at a go and more, has changed tack and in a new strategy is now attempting to engage with Kampalas leading social media gurus and opinion leaders, by organizing a Twitter TweetMeet, hashtagged as #TeaPartyUG.
Held at the Sheraton Kampalas Lion Centre the media blitz was clearly masterminded by PR movers and shakers Simon Kaheru and the recently returned Henry Rugamba, whose past experience as Corporate Communications Director at British American Tobacco (Uganda) came in handy, when dealing with a hostile environment.
Major breakdowns, in some quarters interpreted as sabotaged equipment, also led to lengthy repairs and outages in parts of the city, with the mood decisively turning against UMEME, though it is of course clear that they can only distribute what they get from the power producers. Technical problems on the network apart, the top executives and senior staff present at the #TeaPartyUG were well prepared and could answer most questions to the satisfaction of the tweeps and media representatives present, making it abundantly clear that electricity production was reduced for reasons well beyond their own control, as well as the control of the independent power producers, over the lack of timely and contractually agreed payments by government, to keep operations going. Wide screens showed ongoing Twitter feeds which alternated with statistics on power production, distribution, peak and off peak demands, billings and collections while the Q&A session soon moved on to individual problems encountered and narrated by those present.
Overall this first was clearly a successful media and charm offensive, including both the conventional media houses and also the increasingly ever more powerful and certainly often noisy social media where opinion leaders had in past weeks created their own hash tag campaigns, copied then across the region as in Kenya and Tanzania similar problems exist and persist.
Umeme is now also visible on Twitter, Facebook and even Google+, where they are incidentally following this correspondent on all three, monitoring my every move and output I said to their staff tongue in cheek, to be able to counteract and respond, all taken though in good humour. These responses and exchanges take place presently during office hours only but is soon to expand for on a full 24 / 7 basis, which is the ONLY way to successfully engage through the new social media outlets.
Happy Holiday Season then with less power outages? Time will tell and you can read it all through my Twitter feed via @whthome or my crossloaded feed to Facebook, on LinkedIn and even to my Blog.
UWAS FROZEN PROCESSES LEAVES RHINO FUND / ZIWA RHINO SANCTUARY IN LURCH
An unsavoury scenario is unfolding at the Ziwa Rhino Sanctuary, now that the three adult bulls have been joined by three adolescent males, driven away by their mothers in a short and unceremonial process, as one of the three adult females has already given birth to a new rhino girl while the two others are also in the advanced stages of the family way again.
This has prompted already fights between the dominant bull and his two main adult rivals and the arrival of the three adolescents, chased away from the previous safe environment with their mothers, has added to the fight and conflict potential.
The Rhino Fund has already some months ago requested, fully aware of the potential for injuries but also mindful of other factors, to remove the horns from the males, but at least from the dominant bull, but UWA in a display of ignorance on rhino facts declined to sanction the intervention.
Repeated submissions have not helped to change their mind and insiders are now speculating what motive the Acting Executive Director Dr. Andrew Seguya might really have, declining this request time and again.
During his time at UWEC he steadfastly refused to exchange the female kept in Entebbe, where she has been unable to successfully mate, to come to Ziwa until she had gotten pregnant, an inexplicable move considering that even the two rhinos at Entebbe, named Sherino and Kabira, were procured by the Rhino Fund Uganda and given to UWEC at the time as the sanctuary at Ziwa was still being planned. This move, according to rhino friends in Uganda, will rob Uganda of more offspring by this prized female, which will as far as reproduction is concerned might go to waste, leading to deep suspicions of a turf war being inflicted on the Ziwa Rhino Sanctuary / Rhino Fund Uganda at the expense of making the most out of breeding programme for which the Southern White Rhinos were brought to Uganda by the Rhino Fund and their supporters.
It was learned that such flimsy reasons as visitors want to see rhinos with horns and we dont want to keep the horns in our strong rooms were advanced, exposing the folly to the fullest.
Rhino experts in other countries, consulted on the issue, concurred with the assessment by the team at Ziwa, that dehorning at least the dominant bull, but best all of the adult bulls, will defuse the injury potential for those crucial years, before the females might go back into heat again, and experts from Rhino International consulted by this correspondent also agreed with this being the best move.
Here again comes the issue of having neither a board in place nor having an actual substantive Executive Director in place, and as the acting ED has been cited unfavourably by the Kanyeihamba Commission of Enquiry report, circumstantial evidence just keeps piling up of UWA not functioning as it should and as it did before the former minister of tourism took his actions which literally dismembered Ugandas wildlife management body in the ensuing political maelstrom.
Meanwhile have the rangers at Ziwa a challenging time to keep the adult bulls apart, using their time and resources in a direction considered unnecessary to say the least. Watch this space.
AIR UGANDA NOW TOPS PREVIOUS TOP OFFER OF 2011 WITH ZANZIBAR PACKAGE

No sooner had Air Uganda launched their incredible package for 3 nights at the Leopard Beach Resort, Diani Beach, Mombasa, inclusive of all taxes and destination transfers, causing a mini run on the airline offices as the offer was only available till the 18th of December, did they do one better, causing even this correspondent to call the airline to ascertain the facts.
5 nights at the fancied Sandies Neptune Pwani Beach Resort in Zanzibar, inclusive a return ticket on Air Uganda from Entebbe to Zanzibar, taxes included, destination transfers, breakfast and dinner and all drinks with meals, and the only requirement is to travel in a pair, as the rate on offer, 238 US Dollars per person, covers a half twin. This package, even more incredible, is available until the 27th December, running right across the Christmas holidays, and is a sure sell out again, as the phones at Air Uganda are now ringing off the hook. Santa sure comes early this year in Kampala for those with the desire to get away for the Christmas holiday and who else to deliver Santas bag of goodies but Air Uganda. Go Travel, it is never ever going to be more affordable than this. For more information on the resort, visit http://neptunepwani.sandies-resorts.com/eng/ to fully appreciate the quality of accommodation this offer entails.
APPOINT NEW BOARDS, MINISTRY TOLD
Pressure is growing on the Ministry of Tourism to appoint boards for various institutions under the auspices of the ministry, in particular for the Uganda Wildlife Authority, now that the albeit hugely controversial probe report by a special commission of enquiry has been presented to the Minister. While in this case it remains uncertain, what if any steps are being taken over the few credible scraps of facts within the report, as after all the current minister too came unexpectedly and undeservedly into the cross hairs of commission chairman Kanyeihamba, the overdue appointment of a new board is now a matter of urgency and growing national concern, seeing how the once mighty UWA has been dismembered and uprooted.
No comments were preferred by regular sources within the ministry, or those close to the ministry, as they themselves appear baffled over the extraordinary period of time it seems to take to make relevant appointments. The last chairman, a personal friend of the former tourism minister, was subsequently sacked by a court order for being patently unqualified to hold the position as he failed to meet the criteria for appointment, inspite of being a medical doctor, as were several of the board appointments made by the same minister, leaving a glaring gap on supervisory level of the Uganda Wildlife Authority.
That said, it is understood that the terms of office of the boards of the Uganda Wildlife Education Centre in Entebbe and of the Uganda Tourism Board too have expired for a while now, raising yet more questions of just what it will take to fill these statutory appointments and make the respective organizations fully operational on all levels.
In a related development it was also established that the Hotel and Tourism Training Institute in Jinja still lacks an enabling law since the rushed transfer of the institute some years ago from the Ministry of Education and Sports to the Ministry of Tourism, leaving that institution also without a board. Questions galore and yet few answers so far, so watch this space for upcoming developments and subsequent reports.
THE EARLY BIRD CATCHES THE BIGGER SEATS ON BRITISH AIRWAYS
For three days, and three days only, between the 07th and 09th of December, will British Airways in Uganda sell business class fares to the UK and Europe 1 for a mere US Dollars 256 return, PLUS taxes. Outbound travel must take place, from Uganda to the chosen point in Europe, between the 21st and 31st of December, both dates inclusive while the return journeys to Uganda must be completed between 29th December and 08th January 2012 latest. As there are only limited seats available, the race will be on as of opening time tomorrow to get one of those prized seats in the front cabin of British Airways for a throw away price, or as the marketing executives put it, an early Christmas bonus for our faithful travelers.
Other airlines flying directly from Europe are said to ponder similar measures to stimulate travel over the holiday season out of Entebbe, but then so are the Gulf based airlines like Emirates, Qatar Airways and now Gulf Air, which only commenced their scheduled flights yesterday. Launch fares from the latest entrants and special market fares by the more established airlines will all but spur a tough battle for customers, who are known to wait and bide their time to snatch up the best offer available, just leaving enough time to get their Visa applications processed, in case of Ugandans, or else to spring a surprise on families by turning up under the Christmas trees in Europe quite unexpectedly. Time to pack, time to fly places.
AIR UGANDA HITS MARKET WITH SUPER PACKAGE TO MOMBASA
Mombasa here we come has to be the motto for those able to pack and go at an instants notice, after Air Uganda has launched their incredible offer of US Dollars 237, per person sharing, all taxes included, to fly nonstop from Entebbe to Mombasa, get airport transfers both ways and stay at the fancied Leopard Beach resort, located at the primest beach of Diani, on half board for 3 nights.
These offers do not come any better in this day and age and demand has shot through the roof it was learned from a regular source at the airline. Valid until the 18th of December, it is Christmas come early and today being Santas day in the old country, the gift has arrived in time to make a loved one happy.
Extra nights sell at US Dollars 70 per person, showing just how incredibly priced this offer by Air Uganda really is, considering there is a ticket to be included AND the various regulatory charges. For more information visit info and book, book and book THE present for the entire family ahead of the Christmas season, and then home in time to celebrate under ones own tree after soaking up some sun and fun at Kenyas coast.
Kenya News
KENYA AIRWAYS ANNOUNCES NEW HIRING SCHEME AS B787 AWAITED IN NAIROBI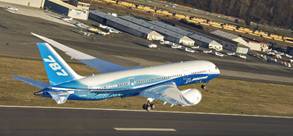 (Picture courtesy of Boeing Commercial Airplanes)
Boeing Commercial Airplanes in conjunction with Kenya Airways will later this week bring the B787 Dreamliner to Nairobi for the first time, showing off to the Kenyan public, and the media, what type of aircraft the airline has on order 9 to be precise with an additional 4 options and will begin to fly across the African skies and beyond in a few years.
Kenya Airways ambitious expansion plans, to cover each and every African political and commercial capital by the end of 2013, however also goes along with challenges the company has to meet, not the least to find, train up and the deploy dozens of new pilots, capable of flying the new birds safely.
Other airlines in Kenya and the wider region have in the past already indicated that they feel the heat of KQs aggressive recruitment drives, and that the offer of better packages and the opportunity to fly larger planes to far away destinations holds sway over the decision by individual pilots to leave their workplaces and join Kenya Airways. The recent announcement of downsizing Air Seychelles, where cockpit crews for 5 B767 aircraft are now seeking a new home, has also opened some options for The Pride of Africa but here does the East African Communitys largest airline find itself in a head to head contest with the Gulfs aviation giants like Emirates, Qatar Airways and Etihad, all of which have already made overtures to the Seychellois crews at a job fair in Mahe.
The aviation industry has for some time now recognized that expansion is critically aided or hindered by key factors, infrastructure on the ground something where Nairobis Jomo Kenyatta International Airport is playing catch up a friendly regulatory regime in terms of having or not having operating restrictions as often seen at key European and American airports, and the ability to expand a competent workforce to keep all the newly ordered birds in the air. Training commercial pilots for jet aircraft operations is thought to take up to at least 5 years of intense training, and while Kenya Airways has dozens of pilot trainees undergoing sponsored training in South Africa, and at the Pride Centre in Nairobi, these efforts need strengthening if the airline is to meet its ambitious targets in coming years.
With reportedly 377 pilots on the Kenya Airways payroll right now, this number has to go up considerably, as does by the way have the number of cabin crew, to have sufficient crews available for every new aircraft which is coming to join the fleet, and now seen as the most important factor to maintain KQs drive to become the continents number 1 airline in terms of passengers carried, aircraft flown and destinations served.
While on Wednesday this week joy and jubilation will mark the inaugural arrival of the B787 Dreamliner in Nairobi, when management and staff, invited VIPs, business partners and the media will have the opportunity to see the worlds latest addition to the skies and even become part of a demonstration flight, it will also be a timely reminder for the airlines top executives of the challenges ahead. Those are not just have been able to order the new aircraft and finance them but to actually get them flying, staffed primarily with Kenyan or East African crews, but ultimately, with any cockpit crews available at the time when the birds come home to Embakasi in Kenya Airways livery.
That however will also come at an added cost to the airline, first for training and then in increased payrolls, a challenge each and every airline not just in East Africa is now faced with as global competition for cockpit crews intensifies with the Gulf being the biggest job market magnet of them all.
Watch this space for up to date news from East Africas aviation industry.
KENYA SETS EXAMPLE FOR AFRICA WITH RENEWABLE ENERGY SOURCES
The setting up of what will be Africas largest windpower farm in the Turkana area of the country, has been cited as a prime example of how the continent, hungry for electricity, can tap into renewable sources of energy like geothermal, solar and as shown here windpower, to produce electricity, reduce shortfall and help to advance rural electrification, a key element in fighting deforestation for woodfuels.
The new facility, one of two already licensed, known as Lake Turkana Wind Power Limited, is due to go online in the third quarter of 2012 and when all 353 turbines are installed in 2013 will produce an estimated 300 MW of electricity at unit costs much lower than presently seen through thermal generation with diesel and heavy fuel oil plants.
Kenyas plans to go renewable and sustainable have been hailed as a step in the right direction and other African countries have been urged by global energy experts to copy the model, research for available geothermal sources and create a map of suitable and available areas where solar and windpower installations can be placed, to attract investors in the sector.
An improved, and much lower carbon emission footprint, which goes along with the installation of renewable energy production sites, is also important for the marketing of the country as a green destination, a key decision factor for more and more travelers when deciding where they will spend their annual vacations.
Well done Kenya and timely indeed as the nation celebrates the 48th Independence Day on 12th December.
KCAA UPGRADES NAVIGATION AND COMMUNICATIONS EQUIPMENT
Following a 3.5 billion investment by the Kenya Civil Aviation Authority was state of the art equipment commissioned at the countrys main airport, Jomo Kenyatta International Nairobi and Moi International Mombasa, giving the aviation fraternity the latest technology in airspace monitoring and communications with air traffic controllers.
Initially started in 2008 the upgrades and modernization is in line with ICAO recommendations, giving aircraft landing in or departing from key airports crucial information and greater clarity in VHF communications between the crews and the controllers.
Kenya is East Africas aviation powerhouse, with the most aircraft registered of any of the East African Community member states, reportedly over 1.050 as this report is filed, but also handling the largest volumes in passengers and aircargo, more than the rest of the region combined. The completion of the project was hailed by regular sources within the aviation fraternity.
In the meantime it was learned that Rwanda too has during the week commissioned a new air traffic control centre at Kanombe International Airport in Kigali, now being able to effectively monitor inbound and outbound traffic in compliance with international air transport safety standards. East Africa, a region clearly on the move, by air.
GOOD NEWS FOR KENYA TOURISM AS UHURU DAY COMES CALLING
Ahead of the long weekend, on Monday 12th December Kenya will celebrate Uhuru Day, aka Independence Day, were figures released of the performance of the tourism sector for the months between January and October 2011, which showed a sharp increase in arrivals and an even greater increase in revenues expressed in Kenya Shillings. While the latter is aided by the weak performance of the Shilling, arrivals have in fact risen by over 16 percent for the first 10 months of the year, confirming the trend seen earlier in the year when comparing half year results.
2011 is set to replace all records achieved in 2010, hitherto the best year ever for Kenya tourism, in terms of arrivals and revenues generated, and this performance will bolden demands by the sector to allocate it more money for tourism marketing and promotional campaigns abroad, in particular in emerging and new markets, to reap even better in coming years. While nearly half of all visitors to Kenya came from Europe, other markets have become ever more important for Kenya, as more airlines keep flying to Nairobi to add an endless stream of new visitors day in and day out. Leading producer for Kenya remains Britain with a 15.8 percent market share, followed by the United States with 9.6 percent inspite of the often prohibitive wording of their State Departments anti travel advisories and Italy and Germany are third and fourth respectively with 7.5 and 5.5 percent market share respectively. Interesting enough though has India made its way into the top 5 producers, now commanding a 4.7 percent share of the arrivals to Kenya.
As Kenya goes into celebration mode this weekend, beach resorts and safari lodges reportedly fully booked by expatriates and Kenyans taking a break over the long weekend, these news will be warmly welcomed by the countrys tourism sector, which has put on a sterling performance and where all campaigns, including the #TembeaKenya promotion for increased domestic travel by Magical Kenya are showing excellent results.
To my Kenyan friends, congratulations on this achievement and of course, Happy Uhuru Day to all across the lake and across the borders.
AVIATION STAKEHOLDERS WARY OF INTENDED CHANGE OF LAWS
The aviation fraternity is bracing for another fight with government, when it became known that there are plans afoot to change the laws governing the sector, including legislation governing the Kenya Civil Aviation Authority. Transport minister Amos Kimunya made the announcement yesterday when addressing a workshop on aviation law, but cleverly left out any specifics in regard of changes planned to the current legislation, which incidentally was only introduced in 2002, not even 10 years ago.
Aviators are swift to point to the current set of Air Service Regulations, imposed on the industry against agreements and assurances given by the KCAA to the industry that they would not be gazette before an exhaustive process of consultations over contentious clauses has been concluded but then nevertheless went ahead anyway in a cloak and dagger ambush, which took the aviation fraternity in shock and effectively destroyed any trust the industry had at the time in the CEO of KCAA.
We continue to fight on many areas over the applicability of certain aspects in the regulations, in particular when general aviation and leisure flying are treated like major commercial airlines. This is not right and there are many issues on requirements which if technically not available like communications from upcountry airstrips, can end a pilot in violation of regulations. We also have issues with the fees being raised dramatically, so of course, any changes to the laws governing aviation, regulating the KCAA, are of big concern to us. Our government does not understand aviation, and few of the regulatory staff are actually having experience from the private sector to fully comprehend what they are doing, how it affects safari airlines in particular. Promises of consultations are empty if our points of view go in one ear and out of the other. That process must be honest, and in the past, when we sat down and spent hundreds of hours to present our case by case issues with the regulations, it was actually dishonest, not meant to include our view point but to tick off a box the paymasters of those processes required. We have already alerted our legal brains to this development and await to get feedback from them on a range of concerns said a regular aviation source this morning, having been unable to respond overnight to emailed questions.
The air transport sector in Kenya has in recent years grown in leaps and bounds, with now over 7 million passengers and over 300.000 tons of air cargo being transacted across Kenyas airports but has suffered capacity constraints by belated efforts to expand and modernize facilities in particular at the regions primary hub, Jomo Kenyatta International Airport. While Malindi and Kisumu have seen upgrades, although the runway extension in Malindi is still pending the one in Kisumu was finally concluded, Nairobi urgently requires a second runway, taxiway and aircraft parking areas, aka apron, while a new passenger terminal too is overdue. The present main terminal is during rush hour hopelessly overcrowded and handling equipment is jostling for space when attending to incoming aircraft. In fact, Kenya Airways expansion plans hinge critically on these facilities coming into place on the fast track, as The Pride of Africa seeks to expand its fleet, frequencies and destinations, across Africa and beyond, putting the Kenya Airport Authority, and the contractors, under pressure to work around the clock in three shifts to complete the new terminal and apron spaces in good time.
Watch this space for the most up to date aviation news from Eastern Africa and the Indian Ocean islands.
NAIROBI AVIATION COLLEGE STUDENTS LEFT IN LURCH
The Nairobi Aviation College, one of the privately owned institutions teaching programmes relevant to starting a career in aviation or a travel agency, found itself locked out of their premises yesterday over a long standing default with rent payments to the landlord ICDC. The school was reportedly on these premises for the past decade and industry observers consulted overnight were surprised, considering the income and cash flow for the Nairobi Aviation College with classes and courses sold out and at a pricey fee.
Hundreds of students, all reportedly paid up with school fees, were on arrival at the Uchumi House in the centre of Nairobi shocked to find office and class room equipment being moved out by auctioneers. It was impossible to establish when regular classes would resume, very likely, if at all, only next year as the equipment the institute was using is now under lock and key.
Students sitting exams too were left in panic, but it was learned that the owners of the school later on managed to get the exam venues shifted to other places, of course then being taken by very unsettled students who had prepared to sit in their own school, only to discover the eviction in process and then having to be moved. Exams under emotional stress and duress? Watch this space.
KENYA WILDLIFE SERVICE STARTS 6 MONTH PILOT PROGRAMME FOR MARINE PARKS
Beach management are the two key words it appears, after reading through details received over the weekend about a planned pilot programme, which has come about as a result of intense consultations between affected stakeholders, i.e. hotels, KWS and tourism operators.
One of the key demands by hotels, echoing many complaints by tourists, is to clear the beaches of beach boys who often are behaving like the proverbial pests, making foreign visitors regret even having stepped off the resort gardens to the beaches where they are then constantly harassed by vendors of curios, mementos and much more often shady if not outright illegal transactions.
More important for sources close to KWS though are conservation measures to protect the fragile marine environment, prevent the endless collection of shells and coral by tourists which has in sections of the park led to degradation and to promote best practices amongst visitors and their guides who are taking them on tours to the reef at low tide. Alongside such conservation measures the focus is also on regular beach clean ups, improved beach security through uniformed and plain clothes police, provision of sites for beach vendors to set up stalls and hold regular stakeholder reviews and consultations to ensure the long term success of making Mombasas beaches shine again. Well done, and AT LAST.
KAYAKING THROUGH MANGROVE FORESTS, THE LATEST ACTIVITY AT KENYAS COAST
Information has reached that the extensive mangrove forests, still in existence along sections of the Kenyan coast, are now being opened up for tourists by with a kayak safari, allowing those brave enough to silently glide across the water, watch birds and fish and other ocean dwellers.
For guests staying at any of the South Coast hotels, along Diani, Ukunda and beyond, it is a relatively short access to Avicennia Island on Funzi Bay. Departure is early in the morning, but on arrival at the jump off point a Swahili breakfast is being served to steady butterfly stomachs and allow for time to get a briefing on the dos and donts as well as details on the location and what one can expect to explore.
The two seater kayaks are steered by a well versed guide and a larger boat is ever within sight to be available should one or the other wish to take a more conventional trip into the mangrove forest.
At low tide a major sand bar emerges from the ocean and guests can experience the solitude of Robinson as a simple shade is being put up to allow for some shade in the often glistening sun, reflected by the whitest of sands which glimmers spectacularly bright in the sunlight of the high noon. Here cooled coconut milk and other tasty concoctions are being served and those lucky enough to be alone can wander to the edges of the sandbank and do some skinnydipping in the ocean, away from prying eyes.
The normal days excursion ends with a visit to a fishing village at the river mouth, but special longer trips for birdwatchers can be arranged, as can be fishing trips, trying to emulate the local fishermen and bringing home a catch for the chef at the hotel to cook to order at supper time or else be eaten fresh when reaching the base camp where the staff are happy to grill it over an open fire.
A superb and innovative experience, which any resorts hospitality desk or concierge, or local tour operator will be happy to arrange for you. Magical Kenya, what else?
Tanzania News
TCAA ENDS SWISSPORT MONOPOLY
After years of arguments and heated exchanges between airlines and the Tanzania Civil Aviation Authority has a decision finally come down to end the unsustainable monopoly at the countrys key airport Dar es Salaam, to license another handling company.
Swissport already had lost Tanzanias largest airline company, Precision Air, which after a prolonged struggle was during a previous licensing hearing granted self handling status, after repeatedly accusing Swissport of being overpriced in comparison with regional handling standards in particular in Nairobi, where about a dozen handling agencies offer a wide range of pricing and service options.
New kid on the block, Aviation Handling Services, is now embarking on a major sales drive to persuade airlines switch their business to them, offering lower tariffs and arguably better services, with Swissport bracing themselves for considerably lower revenues in 2012, now that competition has finally dawned on them. Well done for a change to the TCAA licensing committee, which at the same time also approved other handling agencies for airports like Zanzibar, Mbeya and Mtwara, amongst others. Watch this space for the most current news from the aviation scenes across East Africa and to the Indian Ocean islands.
MINISTER DENIES KILIMANJARO ICE CAP DISAPPEARANCE
Environmental experts and climate change researchers acquainted with the impact of the phenomenon have for some time now predicted, that the ice caps of East Africas mountains, on the Rwenzoris, Mt. Kenya and Mt. Kilimanjaro, would by 2025 have largely disappeared, then only collecting fresh snowfall insufficient to reverse the visible trends.
Over the last century the world famous ice cap on Mt. Kilimanjaro, immortalized by Hemingways novel The Snows of Kilimanjaro, have shrunk from over 12 square kilometres, reaching way down from the summit, to now just over 2 square kilometres, with the highest shrinkage observed over the past 3 decades, when the disappearance has become visible for all to see.
Alarms raised were for long ignored but when the icefields on Mt. Kenya equally shrunk to a small fraction of their former self, and the glaciers on the peaks of the Rwenzori Mountains too receded dramatically, notice was finally taken. The impact of less ice translates in less water emerging from the mountain and with the surrounding ecosystems, along the Albertine Graben in Uganda, the central highlands in Kenya and the area around Kilimanjaro all depending on sufficient water for irrigation of farms, domestic and industrial use, the outlook is critically uncertain now exactly how massive the impact of the shrunken ice caps will eventually be. In Kenya the situation in fact is even more critical, as much of the coasts water supply originates from the Mzima Springs in Tsavo West, from where a pipeline brings fresh water to the coast, a lifeline in the truest sense there.
Eyebrows were therefore raised last week when controversial tourism minister Ezekiel Maige once again put his foot into it when proclaiming in Arusha that the ice caps on Kilimanjaro would be there for much beyond the projected time frame, clearly thinking that his political utterances would stem and supersede natural developments. Said a regular source, well read and respected in the discussions on climate change in the wider East African region: Right now, the mountain often appears bare of snow the way we were used to seeing it. Then, after some days in the clouds and rain, snow is visible again, but no longer to the level it used to come down the slopes say 20 years ago. And the snow then melts more quickly, leading to the type of bare mountain sides now shown on recent pictures and films taken with the rocks all there is. It is the same situation on Mt. Kenya, where of the big glaciers there is now just a very small part left and it is just as bad on the Rwenzori peaks. So it is laughable when a minister tries to halt the trend by decree, it cannot be wished away any longer and it is best to prepare now for the consequences of this inevitable change than misleading the people and leaving them to face the fallout of climate change suddenly and without adequate preparation. But that is what the current breed of politicians does best, belittle the inevitable and tell people to hope beyond hope. In fact many of their development projects they are peddling as progress is going to make things worse with environmental degradation, and the logging projects they have for the Eastern Arc Mountains, where they withdrew the UNESCO application for recognition as a World Heritage Site speaks volumes of what is coming our way if they have their way. Climate change is now a reality and the failure of the talks in Durban is telling the world to be ready for the worst now.
As always, watch this space to get regular information on the wider East African region, its tourism and wildlife conservation issues and the most significant gaffes of politicians when speaking out on such issues.
KIKWETE COMMISSIONS NEW NATIONAL TOURISM COLLEGE
The tape was finally cut at the new National College for Tourism yesterday by none other than Tanzanias President Jakaya Kikwete, who officially declared the new facility open a day after celebrating Tanganyikas 50th anniversary and Golden Jubilee of Independence from Britain.
The college, built with substantial assistance by the French Government, cost in the end nearly 8 million Euros, with the Tanzanian government meeting part of the expense through material and other contributions worth nearly 2 million Euros.
The college, dedicated for tourism and hospitality education on certificate, diploma and degree level, complements the long existing Mweka Wildlife College outside Moshi, finally offering comprehensive tertiary and vocational education opportunities for all those wishing to make a career in the tourism and wildlife sectors, which are hugely important to the Tanzanian economy.
Over 300 students are already enrolled in the new college but over 1.000 more are expected to be on campus soon when the next and following academic years start and intake levels have reached the projected capacity.
The new college is after the Kenya Utalii College the second major public tourism training facility in East Africa, now leaving Uganda trail in their wake and probably regretting, why the erstwhile offer of support for the Jinja based Hotel and Tourism Training Institute was not taken up in 2003/4, when France initially offered to build the new college in Uganda, but then walked away for an apparent lack of interest and the existing institute not being given the required land by government, leaving HTTIs management and board hugely disappointed. Here, ones folly ended up to be anothers success and the opening of the new National College of Tourism in Dar es Salaam is reason to celebrate there with best wishes from this correspondent, in both his writing as well as in his past academic capacity as former chairman of HTTI in Jinja.
50 YEARS FOR TANGANYIKA, NOT YET FOR THE UNITED REPUBLIC OF TANZANIA
Today, Friday the 09th December, is a big day in what is today the United Republic of Tanzania, as the country marks 50 years of Independence from colonial masters Britain for what was then to become Tanganyika. Pomp and glamour will mark the important day as the nation celebrates and looks back at 5 decades of ruling its own affairs.
Tourism operators are cashing in on the celebrations and today a few will be lucky to celebrate the day break on top of Africas highest mountain, Mt. Kilimanjaro, raising the flag as a symbol of Uhuru as was done 50 years ago at the same spot.
And there will be another 50th anniversary in the making not too long in the future, when the merging of Tanganyika, today called the mainland and of Zanzibar will be marked on the 26th of April in 2014, after the two independent countries joined hands under the leadership of founding father Mwalimu Julius Nyerere.
But for today, it is heartfelt congratulations to the people of Tanzania, who will hopefully enjoy a weekend of peaceful celebrations.
TANZANIA LICENSES FIRST EVER WINDPOWER PROJECT PROPOSAL
News have come in overnight from Dar es Salaam that the first major renewable energy project, a proposal to construct a 100 MW windpower farm in the Singida region of Tanzania, has been licensed to go ahead. Wind East Africa Ltd. is now in a position to secure funding for their project and go through the various final stages of regulatory approvals and environmental and social impact assessments and reports much of which has already been prepared in order to get licensed. With that document now at hand, this is considered to be just part of the due process, before construction can begin and power can flow into the national grid by around 2014, after securing project finance from development partners like the World Bank and other global financial institutions.
Only recently did a related article here refer to the glaring absence of renewable energy sources in the countrys current power generation set up, something repeatedly pointed out by global and regional energy experts, many of whom are considering Tanzania as a country with a significant renewable energy potential sourcing solar power and wind power.
Across the border in Kenya, one such windpower farm is already operating in the Ngong Hills outside Nairobi, and being expanded as it is while two new plants of 300 and 350 MW respectively have been sanctioned in Northern Kenya, one of which is now already in the procurement and pre-construction phase.
Kenya also serves as an example for the use of geothermal energy, which is equally being dramatically expanded beyond the present station near Mt. Longonot to the Menengai Crater area outside Nakuru, which has prompted Uganda too to more seriously search for suitable locations, and Tanzania is also known to have significant geothermal potential, yet like solar and windpower not exploited at this stage at all.
Green power for a green future, that is the way to go and maybe can spare the Stieglers Gorge in the Selous Game Reserve after all, when it becomes clear what true potential renewable energy sources hold for the country in the future.
PRECISION AIR GOES BACK TO DRAWING BOARD
The poor take up of the airlines IPO in November, which raised only just over 7 million US Dollars instead of the anticipated nearly 18 million US Dollars they expected in their coffers at the end of the first ever share offering by a privately owned Tanzanian airline, has compelled Precision Air to go back to the drawing board in search of alternative funding options.
The airline has expressed their desire to add aircraft to the fleet, expand their list of destinations and number of frequencies on routes already being operated, but these plans are now under a cloud as the funds are simply not available at present to push the entire programme through.
Speculation is now circulating that the airline really has only two options, either to scale back, for the time being at least, their ambitious plans or else seek alternative avenues of funding. The first option, in view of the uncertain economic outlook at present, is a viable alternative, using the economic crisis in the Eurozone and emerging recession signs in other major economies to redraw their roadmap. Yet, regular sources close to the airline insist that this is not on the cards and that the inevitable Plan B is far off from coming out of the drawers, leaving the airline with the second option to seek funds elsewhere.
Banks however are presently looking at prospects, financial performance and current exposure in terms of long term debts, incurred over a major purchase deal of a number of brand new ATR aircraft.
Leasing, instead of buying, is another option but then again, lessors are likely to take their time to arrive at a full assessment of the airlines cash flow, which would determine their ability to meet lease payments as and when due, besides servicing existing loans for aircraft bought over the past two years. Even though the acquisition of additional turboprop aircraft from ATR, the backbone of Precisions fleet and crucial to maintain market domination on domestic routes where Air Tanzania is if government wishes could only be commands fulfilled due to offer renewed competition, is more economical, it is the plans for more jets which could be the most affected by the failure of the IPO to reach its targets.
That in fact seems to have had an affect too on partner Kenya Airways, itself preparing for a major new share issue, where the value of their shares traded on the Nairobi Stock Exchange has fallen by about 50 percent during the past year, attributed in part to the need to discount the value for the new share offering but also influenced by the events at Precision, which leaves KQ with a larger share package than was initially anticipated. Be that as it may, these developments, in a significant part, reflect the worries the aviation industry presently has in East Africa over the economic outlook in the near future, risen interest rates on the domestic financial markets and high inflation, which traditionally unsettled domestic spending and influences decisions to travel, equally affecting the other airlines in Kenya operating on the national network between Nairobi, Malindi, Mombasa, Eldoret and Kisumu. It is in fact those who need monitoring most closely as the tight margins on domestic routes are cause for added concern and the slightest changes will go right through to the bottom line. Watch this space.
Burundi News
AIR BURUNDI ORDERS CHINESE BUILT MA60 TURBOPROPS
According to a source in Bujumbura has national airline Air Burundi now ordered two Chinese built turboprop aircraft of MA60 types, in an apparent effort to boost capacity and allow the flag carrier to fly to key neighbouring countries, like Rwanda, Uganda, Kenya, Tanzania and even Congo under their own schedules, rather than, as is presently the case, depend almost entirely on airlines from those countries to fly into Bujumbura. While it could not be confirmed outright it is thought that China has made favourable credit terms available to Air Burundi, with the government in Bujumbura reportedly ready to guarantee any loans, in an effort to bring Chinese built aircraft into the Great Lakes region where hitherto the turboprop market is dominated by ATR, Bombardier and for the smaller types Czech built LETs and the traditional Cessna and the Beechcraft 1900.
The purchase will be a boost not only to the airlines operational capabilities but could also be a precursor to at least in part privatise the airline when the financial performance makes it possible. Watch this space.
South Sudan News
UNCERTAIN FUTURE PREVENTS INVESTMENTS, SLOWS TOURISM DEVELOPMENTS
War talk between the newly independent South Sudan and the former slave masters in Khartoum is leaving its marks on expected investments and in particular tourism developments, as uncertainty now overshadows the future of Africas latest independent nation.
Ethnic cleansing in the disputed regions of Abyei, Blue Nile and South Kordofan by the regime in Khartoum as well as aerial bombardments by the Sudanese air force on Southern territory have raised the stakes, and the economic blockades, including threats to block the vitally important oil exports, for which the South continues to rely on the pipeline to Port Sudan, have added to the tensions which have been building up over months now. Khartoum sponsored militia attacks, fighting deniable proxy action for their masters in the North, have also created added flash points inside South Sudan, and inspite of referring the North to the UN Security Council this has not yet yielded any results. The entry of ground forces from the North though has propelled the simmering disagreements and conflict to a new level and calls by the government in Juba have been emerging for international assistance, as the South is desperately trying to avoid being sucked into a new war with Khartoum, instigated by an increasingly desperate Bashir who is faced with internal revolts and opposition from within his own ranks and file, over having let go of the South in the first place. Seeking external adventures in the face of internal domestic difficulties is an age old recipe to divert attention and stay in power, though no one knows for how long he can play this game, should indeed a coalition be formed to assist the South defend their territory from aggression.
Hopes were high before independence that tourism could develop faster and create investments and jobs but the constant talk of renewed conflict has kept major East African players out of the equation so far, shy over the situation with the North but equally reluctant to commit funds into an environment which is neither regulated nor legally sound at this stage.
While a tourism policy document had been developed some years ago, this has not been submitted to the Southern parliament as yet and no time frame has been given, nor have the long promised tourism regulations and legislation been developed, leaving the sector in legal limbo.
While a constant stream of business visitors is coming to Juba through the scheduled flights from Nairobi and Entebbe, proper tourists are still notably absent and tour operators from Kenya and Uganda in particular continue to be cautious over sending visitors to the parks in South Sudan in the absence of camps and lodges where they can be accommodated. Potential galore and yet, as often witnessed, little being made out of it by the look of things. Watch this space.
Mauritius News
EMIRATES ADDS FLIGHTS, SUPPORTS TOURISM AUTHORITY IN MARKETING DRIVE
Tourism stakeholders clearly got their way, after demanding for long that the aviation regulators grant more flights to foreign airlines, when it was confirmed that Emirates, Dubais national airline, will add an 11th weekly flight between the UAE and Mauritius.
The added frequency, ahead of the upcoming high season over Christmas and New Year, will be celebrated by bringing in a group of travel agents and tour operators from as far as Russia, but also from several Gulf countries, to promote travel to Mauritius, which is part of the Indian Ocean cooperation under the tag line vanilla islands.
The Mauritius Tourism Promotion Authority, though looking overall at greater visitors numbers in comparison to neighbouring Seychelles, has nevertheless paled in comparison in regard of global visibility and media impact and has been trying hard to get back into the limelight themselves, seeking help from airlines and stakeholders to achieve this goal. Leading resorts on Mauritius are participating in the visit, as are destination management companies, to show Mauritius and its tourism attractions from their sunniest side, while tapping into Emirates global network to attract visitors from new and emerging markets. Watch this space for regular news updates from the Indian Ocean islands.
Seychelles New
CREOLE TRAVEL SERVICE TEAMS UP WITH TOP PARTNERS TO HOST BELGIAN AGENTS
43 travel agents from the Kingdom of Belgium were last week in the Seychelles on invitation from Creole Travel Services and a range of top class hotels, rolling out the red carpet for them to experience the destination from its Sunday best.
Besides touring the island the agents had a workday with a workshop lined up for them too, in which besides CTS the Seychelles Tourism Board participated alongside such luxury resorts as the MAIA, Cerf Island Resort, Denis Private Island, Constance Lemuria Resort, Banyan Tree, Raffles and the Indian Ocean Lodge.
The archipelago has already established a new arrival record with a few weeks still to spare in 2011 and yet remains committed to continue promoting the Seychelles as a tropical Creole island paradise without let up, so as to fill the beds of new resorts which have sprung up, as well as the additional rooms opened this year like recently on Cerf Island.
In the seminar the travel agents learned about the variety of resorts on offer, not just in the luxury bracket where budgets do not really matter, but also under the tagline Affordable Seychelles, which offers accommodation for travelers on a budget also wishing to spend a holiday of a lifetime on the archipelago. For more information on the destination, the activities on offer and the wide range of resorts, private villas, condominium accommodation, guest houses and B&Bs visit www.seychelles.travel which is updated on a regular basis by the Seychelles Tourism Board to give the latest information available.
ARE COOPERATION OR MERGERS THE WAY FORWARD FOR INDIAN OCEAN AIRLINES?
The social media and blog sites are running hot with input of friends, staff and aficionados of Air Seychelles, who cannot bear the thought that The Creole Spirit is to be reduced to a small regional carrier, which besides operating domestic routes between the various islands will in the end be left with probably not more than a single narrow body aircraft serving some routes to the African mainland and best to some of the neighbouring vanilla islands.
But reality is unfolding, Singapore has already been eliminated from the network and very soon will London, Milan and Rome follow before by end March the door will close on Paris too, leaving HM as a shadow of its former self. Economic realities apart, some of which are blamed on the relentless opening of the Seychelles skies to aviation heavyweights which however has resulted in record arrival figures for the archipelagos tourism industry while others blame differences in the vision and strategy of the airlines former management, board and owners of how best to ensure the long term survival of the countrys aviation pride and joy.
Similar fears are now also emerging in Mauritius, where the tourism industry has strongly lobbied for the opening of the skies over that island too, with Emirates now already at 11 weekly frequencies but reportedly, like in the Seychelles, eyeing double daily flights, and other Gulf Airlines are also strongly pushing for an entry ticket to Mauritius. Talk has been dominating the corridors of the internet, the aviation discussion groups and blogs, that some of the airlines who are now dominating the traffic to the Seychelles, have already made fresh representations to the government in Victoria to get 5th freedom rights. This would mean to combine their flights to the archipelago with onward destinations, either other Indian Ocean islands or selected routes to the African mainland. This has in the past been rejected by the countrys Civil Aviation Authority and transport ministry, and in fact been discussed in an interview earlier in the year with the Seychelles Minister for Transport, the Hon. Joel Morgan, but while back then still fended off it now appears a foregone conclusion and emerging reality.
An airline source in Mauritius openly expressed his fears that, considering Air Mauritius too is in a precarious financial position with losses incurred, they could also face a similar pruning, which would only leave Air Austral of Reunion as the one remaining major airline of the African Indian Ocean Islands, for the time being at least.
We had warned of this scenario and cautioned our owners of the consequences of opening the Seychelles skies to that effect, so fast and so far reaching. We got more visitors, that is true, but our national aviation sovereignty we have given up. Air Seychelles was a national strategic asset, the ONLY guarantee of connecting our islands by air in hard times. We have seen foreign airlines pull out, citing losses, lower revenues, not enough passengers before, and back then only Air Seychelles kept us connected to the world. Now, with this process cutting all intercontinental routes, this will be almost impossible to achieve should the same situation happen again. We are in contact with our colleagues in Mauritius too and they now have the same fears, that powerful political and economic interests will lead to the dismembering of that airline also. Could our governments not have explored closer cooperation, even considering a merger? We are working in many areas closely with Mauritius and this would just have been another sector in which we could have pooled out resources. Tourism marketing already combines as vanilla islands and aviation cooperation would have been a logical extension. In this climate of economic problems around the world no one can be sure of any outcome, but to be honest, we should have at least given it a try to combine our routes, networks, stations overseas, marketing and aircraft utilization and not rushed into just giving it all away. We could have brought Air Austral into the discussions, combining the aviation expertise of three, La Reunion joining hands with Air Seychelles and Air Mauritius perhaps to give such an airline cooperation greater strength, greater reach and better negotiating power, combined routes via neighbouring islands coming from Europe or going to intercontinental destinations. Personally I feel that not all avenues to rescue Air Seychelles have been looked at or considered and that the cutting was hasty and we Seychellois have to pay the price long term. At least our staff, many of them, can find new jobs as expatriates abroad, but they really wanted to stay home, serve their national airline with pride and not see the roof come down on them said a regular source from the Seychelles when discussing this issue, and the question is now standing tall, where to will Air Mauritius go, will they face a similar fate, standing alone or could such have been avoided for Air Seychelles through a partnership, cooperation and even merger with other partners in the Indian Ocean island region of Africa. Fodder for thought, and there is still some time left to get such talks underway, before more hammers fall on the unprepared. Watch this space.
GULF AIRLINES TO SNAP UP AIR SEYCHELLES CREWS AND STAFF, REDUCING JOB FEARS
Etihad and Emirates are both confirmed to be holding a job fair at the Air Seychelles headquarters at Mahe International Airport, aimed to absorb qualified cockpit and cabin crew, but also aircraft technicians, ground personnel and key office staff, following the confirmed downsizing and restructuring of the archipelagos national airline. Qatar Airways too is said to be on board for the event, which will very likely see all available crews be offered new opportunities in the Gulf, as all three carriers are flying scheduled services between their hubs in Doha, Abu Dhabi and Dubai to the Seychelles.
Said a source close to the airline: The relationship between the UAE and Seychelles is a big factor in setting up the job fair and interviews, but these airlines will also be lucky to get so many trained pilots, cabin crew and engineers in one go, with extensive job experience and plenty of flying hours. These three airlines are all expanding and all it takes for them is to give our experienced crews and technicians some conversion courses to check out on the type of aircraft they will be deployed on. None of them flies the B767 series but then the B777, or the A340 or A330 types are not too hard to learn when you already are a senior captain or senior first officer, and for the cabin crews it is really to adapt to their new aircraft type for emergency procedures and in flight service.
For us here in Seychelles it will be a sad day when our routes from Europe finally close down next year and no matter what the new Air Seychelles will look like, and we very much want to hear from management and board what direction that will be taking, at least there are job prospects now as expatriates abroad. Some in fact may keep flying back and forth to the Seychelles, especially cabin crews and coming home will never be far for the others because there are many flights now between the Gulf and here. Some of our cockpit crew may even stay and convert to the new aircraft the company will bring in, though for them it would be a step back because one not easily goes from a wide body back to a single aisle narrow body aircraft, so that might be a challenge for the management to overcome and convince some to stay.
Aviation observers are keenly speculating already what regional routes Air Seychelles intends to operate, besides the already existing route to Johannesburg, and what aircraft will be selected for this type of operation, very likely one of the B737NG series. As always, watch this space for emerging news from East Africas and the Indian Ocean Islands aviation scene.
CERF ISLAND RESORT COMMISSIONS 12 NEW LUXURY VILLAS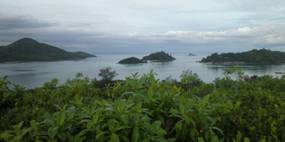 Located inside the Sainte Anne Marine National Park, Cerf Island is home to the Cerf Island Resort, a luxurious hideaway of the kind which keeps away prying eyes and offers the level of privacy combined with comfort and service levels for which the Seychelles have become well known.
Cerf Island Resort, where sweeping vistas of some of the other inner islands are dominating the horizon, now has a total of 24 private villas, generously placed far apart from each other to ensure the Do Not Disturb sign is truly respected. The investment, notably by Seychellois owners, does according to information passed on by the Seychelles Tourism Boards CEO Alain St. Ange show the confidence the tourism industry has in the future of the archipelago and the policies now in place to promote the country abroad and that Brand Seychelles has made a real impact on the global scene.
The island now also has expanded Spa and other recreational facilities, now offers guests two restaurants and has the all important helipad, where visitors can arrive directly from the international airport, giving them a grand view from above of their resort island.
Also present at the opening ceremony were the Minister for Investments, Natural Resources and Industry, the Hon. Peter Sinon and Minister designate Vincent Meriton, underscoring the importance the Seychelles government attaches to the tourism industry, in particular when driven by their own nationals.
Visit www.cerf-resort.com for more information on this very special resort on its own island.
And in closing today, more from Gill Stadens The Livingstone Weekly and so many stories sound just like if they were written right here in East Africa instead of further down south in Zambia and beyond:

Zambia Tourism Board to market Domestic Tourism
Given Lubinda, Minister of Information and Broadcasting was attending a roadshow in Kitwe when he said that the Zambia Tourism Board should aggressively market domestic tourism.
Given Lubinda: As most of you may be aware, the tourism industry is susceptible to various turbulences from time to time such as the global economic crunch experienced in 2008 and part of 2009 among many others. During such adversities, international travel tends to slow down and most countries such as Zambia usually experience a slump in tourist arrivals.
As we market this vital industry, let us apply our minds to creative and innovative, ways to get Zambians to travel, expose them to our tourism attractions, and build a generation of tourists that will carry us into the next decade.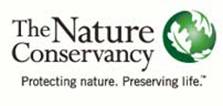 Kafue National Park
In September 2011, Zambia Program Manager Jeremy Pope led a team of fire ecologists into Kafue National Park to map vegetation and impacts from burning. Their goal was to collect baseline information that will help the team develop a remote-sensed fire-monitoring program.
The team is comprised of three fire ecologists and mapping specialists from the U.S. Forest Service and a Conservancy fire ecologist from Arkansas.
Western Zambias 5.5-million-acre Kafue National Park is a fire-dependent ecosystem with extensive dry woodlands and open grasslands. Kafues fire regime has been significantly altered over time.
The Zambia Wildlife Authority (ZAWA) estimates that, historically, approximately 30 percent of the park burned every year. ZAWAs current estimates reveal that approximately 80 to 90 percent of the park now burns annually. Ignition points occur within and outside of park boundaries and most result from human actions.
Some fire is good ­ in fact, needed ­ for select grasses and trees to generate. The problem is that too much fire changes how grasslands and forests function and affects the quality of those habitats. Excessive annual burning leads to a homogenous habitat with less capacity to support wildlife. The frequency and severity of the fires also are threatening the parks stands of sensitive teak trees, creating major concerns related to park protection and management.
Ultimately, the project objective is to develop a monitoring program supported by satellite-based fire mapping that will provide essential information to fire and resource managers in Kafue National Park.
ZAWA staff will use this information to develop an effective fire-management plan, address specific ecological issues resulting from human-caused fires, and support sustainable landscape management for the park and surrounding community areas.
The integrated nature of this ZAWA-Forest Service-TNC team reflects the value we place in partnership. It also demonstrates how expertise can be effectively exported from the U.S. to help conserve priority places in Africa.

From Birdlife Zambia
Bird Ringing Course in Livingstone 2012

Brett Saunders of Bovu Lodge, in Livingstone, has arranged a bird ringing course in the last week in March next year. The course will be run by Dieter Oschadleus form the Avian Demography Unit of the University of Cape Town. Brett has made a block booking for the island to do the ringing course from the 24th March through to the 30th March.
This is a wonderful opportunity for anyone who is interested in bird ringing. Please contact Guida Bell-Cross
zos.chair@gmail.com for further details.

Launch of 2010 Status and Trends Report
The Status and Trends Report for the year 2010 was successfully launched at Yatsa Café on Thursday 20th October 2011. Gracing the occasion was the Senior Ecologist at Zambia Wildlife Authority (ZAWA),
Mr. Chuma Simukonda who stood in proxy for the Director General at ZAWA.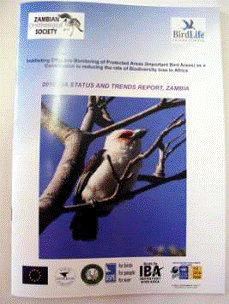 In attendance at this launch were individuals and representatives of various stakeholder groups. Notable at the launch were; the first secretary (environment) at the Norwegian embassy , Dr Richard Beilfuss the CEO of International Crane Foundation, fund manager at the Civil Society Fund, the academia , the print media and representatives FROM Civil Society and environmental organizations such as World Wide Fund for Nature (WWF), Community Based Natural Resources Management Forum (CBNRMF) and Zambia Climate Change Network (ZCCN). Present also were representative from a few consultancy firms involved in Environmental Impact Statements.
With the inclusion of ZOS staff and members of ZOS committee a gathering of 35 people witnessed the launch. The launch was generally a success. The question and answer session coupled with comments from guest was particularly interesting and up lifting.
Despite being invited, conspicuously absent at the launch were official from the Forestry Department (FD) and the Department of Environment.
Launch of this report marked the end of the EC funded project Instituting Effective Monitoring of protected Areas (Important Bird Areas) as a contribution to reducing the rate of Biodiversity loss in Africa a project also referred to as the Africa IBA Monitoring Project (AFMO).
Despite closure of this project, it is hoped that monitoring of biodiversity would continue though other funding windows and strategic partnerships.

ZIMBABWE
From the Painted Dog Foundation
Safe and Sound

Aurora and Gaia, the two females that were missing, have been found and they are safe and sound. We obviously could not rest, not knowing where they were, so managed to arrange for our friend and pilot Martin Henriksen to undertake an aerial search. As Martin left Harare on Friday morning, for the four-hour flight to Victoria Falls, we still had no idea where Aurora and Gaia were and presumed that a Victoria Falls to Hwange National Park search would be needed. Which is a vast area. It made sense to start in Victoria Falls though and we set up for several days of searching, with Ester again taking up the lead role on the ground in Victoria Falls, with her husband Hans. Jealous had the Hwange side covered.
The first search flight began on Saturday morning after a few technical delays. Ester was in the plane with Martin and was amazed to get a signal from Auroras collar very quickly. They closed in on the signal and after only a hour they had the position of the dogs pinpointed. By Saturday afternoon they were on the ground, 60km from Victoria Falls, observing the two dogs. It was as simple as that.
We still dont know how all of the ground searches and previous aerial search with the helicopter had failed to locate them but that didnt matter. They were fit and well. Unfortunately in a fairly hostile anti dog area so Ester made the tough call to recapture them and on Sunday morning they were locked up again in their holding boma on the Victoria Falls Private Game Reserve.
We are currently in discussion with Zimbabwe Parks and Wildlife Management Authority about the possible relocation options, taking into account what will be best for the Aurora and Gaia as well as their species as a whole. Without going into too much science, these are Hwange dogs and Hwange has one of the highest genetic diversity of dogs on the continent. The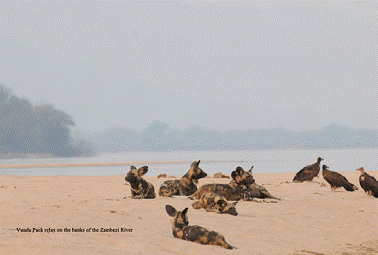 Lowveld of Zimbabwe has one of the lowest genetic diversities of painted dogs on the continent, so it is our hope that we will be moving Aurora and Gaia to the Lowveld, where they will find dispersing males and contribute significantly to their species survival.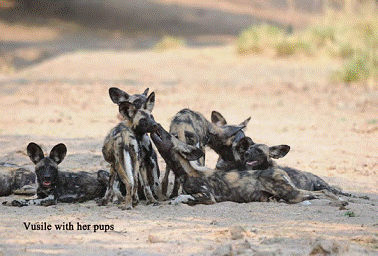 I managed to make another long trip up to Mana Pools to check in on Tait and her Vundu pack. Despite the obvious lion pressure they are doing really well and the pack numbers 28 at the last count. Its hard to count 28 dogs. But it is such a wonderful sight to see them. The information on the ground from Nick Murray, owner of Vundu Camp and his staff, plus information gathered myself from some of the other camps indicates that there are certainly five, possibly six packs, utilizing Mana Pools, which amounts to roughly 100 dogs. Really fantastic and of course we hope to unravel the secrets of why they seem to do so well in Mana relative to other populations in the months ahead.
Back in Hwange we have been keeping a close eye on the Sibinidimalisa and the Kutanga females, which to be honest is not difficult as they appear at or near our Rehabilitation Facility every week. The Sibindimalisa males spend time with the Kutanga females but they are still too young to be of real interest to Ester the Kutanga alpha female. The best news however was the confirmed sightings of Vusile. She and her mate have managed to beat the odds and raise five pups from last year and currently have three pups from this year. Statistically this is astonishing. Everything we know from Gregs research tells us that two adults can raise one pup at best. Unless they are exceptional adults, and we have always known that to be the case with Vusile.
Bright lights. Glimmers of hope that we cling to.

Sacred Tree knocked down in Harare

A tree at the intersection of Sam Nujoma Street and Josiah Tongagara Avenue was knocked down during the week by a truck. The tree has a story.
In the old Shona tradition spirits of their ancestors protected the present generation. The spirits were called mhondoro (lions) and would reside in the bodies of living people; the spirits inhabiting the bodies of women, often called Mbuya Nehanda.
When the white pioneers arrived in the land at the end of the 1800s, there was tension between them and the Shona people. It was Mbuya Nehanda together with another spirit medium, Kaguvi , who incited the first Chimurenga (struggle) in 1896 against the white people. Eventually Mbuya and Kaguvi were captured, tried and sentenced to death by hanging. The tree which was knocked down is thought to be this tree.
Many people still believe in their old traditions and believe that this is an omen for the future of Zimbabwe.