AVIATION, TOURISM AND CONSERVATION NEWS from Eastern Africa and the Indian Ocean islands.
A weekly roundup of breaking news, reports, travel stories and opinions by Prof. Dr. Wolfgang H. Thome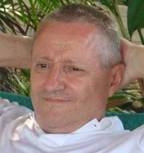 You can get your daily breaking news updates instantly via Twitter by following @whthome, join me on www.facebook.com/WolfgangHThome where the articles also cross load or read the daily postings on my blog via www.wolfganghthome.wordpress.com which you can also follow to get immediate notification when a new article is posted.
Third edition September 2012

Uganda News
KAMPALA HILTON MORE EMPTY PROMISES OR FOR REAL THIS TIME
Officials of the AYA Group have yesterday announced that the hotel, due for completion by October 2007 when the Commonwealth Summit was held in Kampala, would now finally open its doors in March 2013.
Full mouthed statements, often bordering the grotesque if not outright incompetent, had at the time of breaking ground, and over the years, purported to finish a floor a week, before it became obvious for Kampalas hospitality industry observers that the developers lacked the capacity to do anything of the sort. Subsequent opening announcements needless to say also came and went, made worse when wrangles with lawyers and issues with other AYA Group companies appeared in the local media.
At one stage the hotel was reportedly put up for sale, at which stage according to some sources government let it be known that this was NOT to happen, as the land was given to the Hamid brothers for literally free, which would have earned them a hefty windfall but left government once again trailing in the wake of hot air.
Subsequently the interested parties pulled away from the deal leaving work at the hotel to meander along at snails pace.
Although a delegation from Hilton was reportedly in Uganda a few months ago, staying at Kampalas best, the Kampala Serena Hotel and getting a taste of what superior hospitality quality can be like in Uganda, no confirmation could be received from Hilton if indeed they are still interested to manage the property or if perhaps another global hotel group may enter the market, which since the discovery of oil in the Albertine Graben has suddenly regained sharp momentum.
New entries in the wider region were Hyatt, taking over the management of a top hotel from Kempinksi, which is now set to open a property in Nairobi, Marriott, due to open a brand new hotel and conference centre in the heart of Kigali while other global groups have reportedly been sniffing around in Nairobi and other regional capitals with the aim to assess market potential.
Hilton is represented in the region in Nairobi and Addis Ababa, but has sold their Taita Hills and Salt Lick Lodges some time ago to Pollmans Tours of Kenya these two lodges are now managed by Sarova Hotels and may therefore indeed wish to get a wider footprint with a presence in Kampala. There, the building of the proposed InterContinental Hotel at the site of what was supposed to become hotel under the Gulf based Kingdom Hotels, is progressing well though no official opening date has yet been set, wisely one should say considering the minefield of public spats and arguments the Aya Group went through when their repeatedly given new dates were all missed by extremely wide margins. Time will therefore be the only one to tell if the latest date of March 2013 will indeed hold water and the hotel finally be completed, or if another twist in the tail of this long standing comedy is yet in store for us all.
Watch this space for regular updates from East Africas hospitality sector.
COMESA ANNOUNCES DATES OF BUSINESS FORUM FOR KAMPALA SUMMIT


Following the hugely successful COMESA Tourism Forum, recently held in Nairobi with participants from the 19 member states, the COMESA Secretariat has just notified the participants of another opportunity to meet alongside the COMESA Summit 2012, due to be held at the Commonwealth Resort in Munyonyo, Kampala, Uganda.
Between November 11 17 will a business exhibition take place while the COMESA Business Forum will take place November 13 and 14.
The 8th COMESA Business Forum is an annual private / public dialogue and a dedicated Business Partnerships Forum that brings together many of Africas top business leaders, international businesses and regional policy makers on one platform to engage on common agendas that support business interests in the COMESA region. The Forum is held alongside the 16th COMESA Summit and provides a key opportunity for the private sector to meet and interact with key policy makers from COMESA countries, during the Forum and Summit.
This year, the regional forum in Kampala is co-hosted between the Private Sector Foundation of Uganda and the COMESA Business Council.
It is understood that following the success of COMESAs first ever Tourism Forum in Nairobi in August this economic sector will be on the agenda for the Kampala meeting and both the secretariat in Lusaka as well as the lead consultant are working flat out to provide a range of findings and recommendations generated by the Nairobi meeting for tourism sector participants coming to Kampala.
In the COMESA region, SMEs dominate the business world cutting across all priority sectors in Agriculture, ICT, Transport, Energy and Tourism among others.
Amongst the upcoming agenda points will be two of importance to the tourism industry across Africas largest trade block and it is expected that many attendees of the Nairobi Tourism Forum will also attend the meeting but in particular these two sessions:
GOING GREEN- A NEW WAY TO DO BUSINESS IN AFRICA
· Todays necessity for sustainable businesses. What are the various approaches to renewable energy that support the SME sector?
· A green business has become less of a luxury and more of an obligatory effort for a companys sustainability. The Forum will address the various opportunities of going green and the alternatives available to your businesses.
TOURISM AND BUSINESS
· E- tourism; Tourism Online- bridging gaps across the region;
· The World Tourism Organization (WTO) General Assembly in Africa- what is on the agenda?
Expect live reports from the COMESA Summit and the Business Forum and watch this space to get all the relevant news updates in November.
Kenya News
KENYA AIRWAYS COMPLETES STAFF RATIONILIZATION PROGRAMME



Though waves went high when Kenya Airways announced their plans a few weeks ago to offer early retirement while embarking in the outsourcing of staff duties predictably did the radical Transport and Allied Workers Union rush to court, besides threatening strike action again, and got the countrys Prime Minister enlisted to attempt firing off a government directive without legal foundation the airline announced today that they completed the exercise on time. According to information just received have over 20 percent of those affected signed up for the voluntary retirement package, which will see the staff concerned walk away with in average 2 million Kenya Shillings. In addition is a special training programme available to them to learn entrepreneurial and business skills, again at the cost of the company, to prepare them for a post aviation career in a chosen field.
The airline, hard hit by last years extortionate union dictates, to which it only succumbed to prevent more damage to the airlines reputation and financial viability, is facing huge staff cost bills as a result and combined with continuously high fuel prices for Jet A1 had to seek cost cutting measures, inspite of having otherwise strong positive indicators in both the short and medium term. The airline as a result also dropped flights to Rome and Muscat to reallocate capacity to better performing markets, cutting marginal or loss making routes in favour of other, higher yield and higher demand destinations. Faced on domestic routes with strong competition on selected routes like to Kisumu, Eldoret, Malindi and Mombasa, the airline is on continental level competing with the likes of Ethiopian and South African, both Star Alliance partners, while on their most profitable routes, from across Africa via Nairobi to the Middle and Far East the likes of Emirates, Qatar Airways, Turkish and of late even Etihad are eating into the airlines market shares.
Said a regular aviation source on hearing the breaking news: It is a tough business environment for airlines and specially for KQ. We all suffer congestion at JKIA but for KQ with their expansion plans it is even worse. Be sure to understand that they are in a big fight with Ethiopian for instance which has a very similar business model like KQ but some route advantages and also beat us in Kenya to get the B787 first. KQ has understood that they have to fly to the entire continent, every country, to capture the premium and higher yield traffic and not let it to the Gulf airlines alone. Those expansions cost money for more aircraft and all but the unions as usual have no clue about how fragile the aviation business is again this year and probably for the next two years, so good for KQ to have completed this project.
Dr. Titus Naikuni, CEO and Group Managing Director of Kenya Airways, was quoted in the media release sent to this correspondent as having said: The Company recognizes the need to rationalize the current business in order to create a platform for the planned growth of network and fleet. Over the last few months the company has revisited cost structures, reviewed processes, increasing efficiencies in order to mitigate decline in profitability, whilst maintaining and growing customer satisfaction. It is in this context that Kenya Airways cost base has grown disproportionately to our revenue generation. Our employee cost/person has doubled in five years due to salary increases linked to union awards and job evaluation. The company wishes to assure the travelling public that all these changes are aimed at improving the customer experience and consistency of customer promise, and ultimate growth of our national carrier.
Dr. Naikuni added that by considering the current business environment, the Board of Directors formally approved a Voluntary Early Retirement Programme, and a staff rationalization exercise to address internal inefficiencies, and reduce the employee cost base of Sh13.4 billion by 10-15 per cent.Though the airline industry enjoyed a better than expected performance in the immediate aftermath of the Global Financial Crisis in 2008 and 2009, the last two years were particularly tough as the effects of the Eurozone debt crisis and recession reduced travel demand globally. The high level of political risk in the Middle East last year pushed fuel costs to unsustainable levels. Local interest rates have also risen dramatically during this period adding to a near lethal mixture of rising labour, energy and finance costs which has reduced the earnings outlook for the global airline industry. Employment costs, according to information provided by the airline on this and previous occasions, has doubled over the last 5 years, rising from $71.5 million in the year 2007 to $160 million in 2012. Watch this space for breaking news from East Africas aviation sector.
KENYA HITS BACK AT ANTI TRAVEL ADVISORIES


On arrival from the Seychelles in Nairobi a storm of outrage by the countrys tourism industry awaited this correspondent, as the usual suspects of Britain, Australia and France had slapped fresh anti travel advisories on Kenya, unsettling yet further an already brittle situation and the bag of mixed fortunes, as the Kenyan tourism industry presents this year. Sections of the local media too came under fire for sensationalizing the advisories and making the country look worse than stated in the FCO statement, causing more furore amongst stakeholders, many of whom bluntly called the media in question useless to the point of sabotage, just to sell a few more of their gutter publications as heard yesterday when speaking to Kenyas who is who at the monthly luncheon of the Skal Club of Nairobi. There pointed comments were made too about a recent statement by the Minister over growth of the industry, largely greeted by comments such as on what planet does HE live. It seems the ministerial statement contrasted substantially with figures available within the industry via the Kenya Association of Hotelkeepers and Caterers, where in particular occupancy figures at the coast have raised added concerns, accusing the minister to confuse tourists with overall arrivals, many of which take place at land borders.
Several events in past weeks have had impacts on the projected annual performance of the tourism industry, which in 2011 had reached an all time arrival and revenue record of just under 98 billion Kenya Shillings.
The announced withdrawal of flights by 1Time from South Africa, of Air Berlin and the postponement of scheduled flights by Qatar Airways to Mombasa, initially due for August 15th, which now appears to be reaching the indefinitely delayed stage, has rattled Mombasa stakeholders.
Yet far from letting doom and gloom take over, the industry is ready to fight back and has according to a regular and senior source within the stakeholder establishments demanded audience with government, while also lobbying parliament, to increase funding for tourism marketing. If we can increase our efforts in emerging markets like the Far East and China, even India, the potential for growth from there would cushion us from the soft market conditions in our core markets of Europe. But that costs money and KTBs ability is limited to react on the fast track and put missions together. The closer we also get to the elections in March next year, the more we need to be in the market place to quell negative publicity and the fears of the market what might happen. The private sector alone cannot do that so we need KTB to be funded accordingly to drive such activities, act as catalyst and create momentum. Not all is lost and we have gone through hard times before, but it seems our government officials are having short memories. In times of a crisis we must go out and tell the world the facts about Kenya. Like I told you before, the loss of our previous tourism minister now proves to be a major fifth column blow to our sector and we know whom and what to blame for that of course ranted a regular source during a face to face encounter in Nairobi yesterday when asked to comment, as usual requesting anonymity for the justified fear of repercussions.
Meanwhile has Mrs. Agatha Juma, CEO of the Kenya Tourism Federation and as such the official spokesperson of the Kenyan private sector in tourism, gone on record when putting her sentiments in an email to this correspondent yesterday afternoon:
Please find my reaction to the story titled Australia, Britain and France issue travel advisories due to Kenyan riots below:
1. The article was published on 04th September (yesterday) and reads in part Three days of continuous fighting and bloody street battles between the police and Muslim youths protesting the cold-blooded killing of Muslim cleric Aboud Rogo have seen a number of tourism source markets offer travel advisories to their nationals. Among the embassies that have warned their nationals against travelling to the Coast are Australia, Britain and France. It is expected that more embassies will follow if the situation goes unabated.
There is no indication of when these three days were or the fact that it was exactly one week before the article was published when the riots happened and have since stopped and calm was restored in the area by Wednesday last week.
What we find published on the FCO website is Riots and grenade attacks in Mombasa this week have resulted in the deaths of two police officers and several injuries. At present, Mombasa remains calm and police have been deployed to the area. However, there is the potential for further disturbances following prayers this weekend (31 August 2 September). British nationals have not been targeted but you are urged to exercise extra caution and to remain vigilant in Mombasa at all times. You should avoid all protests.I do not think this equates to warning their citizens against travelling to the coast as indicated in the post.
On the Australian Smart Traveller Website:-
· We strongly advise you to exercise a high degree of caution overall in Kenya at this time due to the high risk of terrorist attack, civil unrest and high crime levels in the country.
· Pay close attention to your personal security at all times and monitor the media for information about possible new safety or security risks.
· On 27 August 2012, a prominent Islamic cleric was killed by an unknown gunman in Mombasa. Ensuing riots resulted in burning of vehicles, looting and attacks on churches in Mombasa. Further civil unrest is likely and Australians in the area should avoid all public gatherings and monitor local media for updates on the security situation. The killing occurred in the vicinity of the main highway entering Mombasa from the north. Australians travelling in or out of Mombasa should avoid this route as further violence may occur.
2. Police are carrying out investigations on the killing of Sheikh Aboud Rogo.
3. Safety and security of citizens and visitors has become a priority for most countries around the world especially due to the challenges that terrorism brings to a lot of countries Kenya included. It is not a problem unique to Kenya and it not a problem that is going away globally in the short term. Our government is doing its bit to try and eliminate the threat posed to its Citizens by Al Qaida linked Al Shabaab terror group. This is especially because the attacks that have happened in downtown Nairobi, parts of North Eastern Kenya and downtown Mombasa have been targeted at local residents.
4. Kenyas tourism is one of the countrys largest sources of employment for our citizens both directly and indirectly and when a tourist comes to enjoy the sights and sounds of magical Kenya, they are putting food on the tables of a lot of Kenyan families and travel advisories have the reverse effect.
5. Most tourism establishments have increased security in and around their establishments to ensure that tourists are able to enjoy their stay in our country and have peace of mind while doing so. Intending visitors are reminded to book their tours and safaris with reputable and licensed operators.
6. The KTF Safety and Communication Centre remains open 24hrs daily and gives information and responds to concerns on tourist safety and security. Email address operations
I have attached a statement issued yesterday by the KTB Chairman for your information.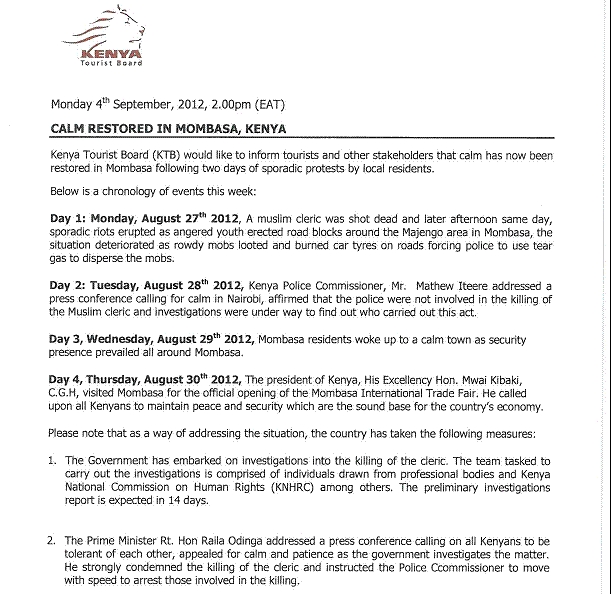 This correspondent, as a friend of Kenya and with many personal links to leading stakeholders of the countrys tourism industry, in the meantime has extended a series of invitations to them to provide facts and opinions to be reflected here, respecting the wishes of anonymity when so requested or having someone go on record as did the CEO of KTF and the Chairman of the Kenya Tourist Board, to allow readers from around the world to form their own opinions based on the availability of more if not ALL facts and not just based on one sided and often ill considered or poorly presented reports from elsewhere. Watch this space.

Tanzania News
A YEAR ON FEAR AND APPREHENSION PREVAIL
It is exactly a year today that the MV Spice Islander I sank between the Zanzibari islands of Unguja and Pemba, taking, according to a report by the commission of enquiry, at least 1.529 people with it to a wet grave. At the time, many promises were made, arrests were made, prosecutions were started and the maritime authorities told to shape up or face the wrath of the powers that be. Yet, on 19th July this year, a previously grounded vessel, subsequently released back into service under unclear circumstances, the MV Skagit, went under with the loss of at least another 136 lives. Smaller vessels too have since then sunk, taking more lives in the process as the island, and the union government in Dar es Salaam struggle to not only strengthen supervisory capacity and a full, incorruptible application of the existing regulations but also re-write those regulations to bring them into the 21st century.
Combined with the Lake Victoria disaster of 21st May 1996, when the MV Bukoba sank within sight of Mwanza port, claiming over 1.000 lives, the true number may never be known as the overloaded vessel had no manifest for the under deck 3rd class passengers, it makes maritime journeys in Tanzania as hazardous as it comes.
Travel between the mainland of Tanzania to Zanzibar and other islands, and of course between the islands themselves has grown in leaps and bounds, spurred by growing populations and many budget and adventure travelers are known to opt for this form of cheaper transport to explore the islands and go places. Tourism reportedly accounts for around a third of Zanzibars economic activity and contributes to more than two thirds in terms of foreign exchange earnings, the balance coming largely from spice exports. The other islands too enjoy growing demand but both cost of transport as well as its safety are often reasons potential travelers stay away. But it is not just tourism which is potentially affected and at stake. The life of ordinary people on the islands depends on food and other provisions being shipped there on a daily basis and a lack of safe shipping capacity has already driven prices up, combined with the regular inflation a double whammy many find hard to cope with.
In a country like Tanzania, which has several bigger islands like Unguja, Pemba, Mafia and so forth, ocean transport, safe ocean transport is very important. It is a function of government to provide transport links the people can afford. Most cannot afford to fly, so they depend on ferries and ships to cross from one island to the other or to the mainland. Government should maybe invite tenders to provide this public service provided by private sector and subsidize operations for wananchi to afford the tickets and for goods to be sent there at lower cost. There are many ways that can be done. And in addition government can offer concessions for transport, but what is important is that we get good new ferries and ships and that the crews are well trained. I think this is the biggest challenge besides having the maritime authorities from the mainland and Zanzibar undergo a shakeup and undergo reforms. Right now we have a poor reputation about travelling by ship to and between the islands and that must change. We have wasted a year and they are still discussing better regulations, stronger implementation and also fines and condemning old ships which no longer are seaworthy. The public has to know that there are enough life rafts and life vests on board in case something happens and that they crew knows how to react in case of an emergency said a regular source from Dar es Salaam, when invited to comment on the anniversary of the MV Spice Islands I going down.
A year on since the disaster, reported here within hours of it happening, it is still wait and see and hope, as the families and friends of those lost at sea on that fateful evening, will gather to remember, gather to pray and probably gather to once again voice their demands that things ought to change, fast and comprehensively. Watch this space.
PRECISION AIR NOW EYES HARARE AND BLANTRYE



A regular aviation source from Dar es Salaam has over the weekend confirmed that Precision Air, Tanzanias dominant airline, appears set to fly from late this year to Harare via Blantyre, adding two more regional routes to their growing network. Similar to the flights recently launched to Lusaka, via Lubumbashi, the Harare connection will apparently also be operated three times a week, using a B737-300.
The airline is on course to uplift a million passengers per annum for the first time in their history and has additional brand new ATR 72-600 aircraft on order to expand both domestic as well as near regional destinations.
The same source however also spoke of the airlines hope that ongoing work and construction at key aerodromes would be completed at a faster rate to open up more parts of the sprawling country, where air transport is often the only reliable means of getting to and from.
Precision has also increased frequencies between Dar es Salaam, Arusha and Mwanza following the yet again withdrawal of Air Tanzania from the route a few weeks ago, surely hoping that should another return of the financially stricken ATCL take place in the future, passengers will stay with Precision and not believe yet more fairy tales told about reliability and this time we shall stay heard that once too often. Watch this space for regular aviation updates from the Eastern African region.

Mauritius News
HOTEL INDUSTRY IN DEEP FINANCIAL TROUBLE AS MARKETING FAILS TOURISM


Beachcomber Mauritius has over the weekend released details on their losses suffered for the first half of 2012, said to be in the range of over 170 million Rupees, while the companys main rivals in the Mauritius hospitality market, Sun Resorts, is said to have lost over 145 million Rupees during the same period of time.
When publishing figures some weeks ago, of occupancies being as low as between 30 and 40 percent, industry average, for this year in Mauritius, some official sources from the islands tourism marketing establishment tried to discredit the data, which however were confirmed as true by the islands hotel association. This is painting a stark picture for the rest of the year, when the drop in business is expected to become even more pronounced.
It is understood from regular sources that Beachcombers Chief Executive himself went on record over the dismal trend, citing a number of issues the private sector has with the business environment.
Mauritius this year risks being overtaken by the Maldives in terms of arrivals, inspite of that island nation suffering a series of negative publicity issues earlier in the year, when Spas were banned and in the face of massive protests from resort operators allowed to operate again, when airport charges were increased leading to the threat by Qatar Airways at the time of withdrawing their flights if not adjusted and the political upheavals which saw the president ousted. Still have the Maldives maintained their international appeal to tourists and recorded a strong growth in arrivals while in Mauritius the growth factor has shrunk to the very low single digit margins now, and feared to enter negative territory if no decisive action is taken to reverse the trend.
Air access is a crucial issue for us. When Air Mauritius started to cut cost and shelve routes, it had an immediate impact. As an island country we need nonstop flights as a preferred means of coming here. If tourists have to fly through waypoints, like the Gulf for instance, that is making selling Mauritius a little harder for us especially in our core markets in Europe. And then there is the issue of airfares which remain too high as a result of Air Mauritius getting protection, which is good for them but not good for tourism. It is time we face the facts that we need a new strategy for Mauritius, a new aviation strategy, a new marketing strategy. That however is not possible under the present set up and the pathetic flops of first trying to steal the Seychelles carnival, then turn it with a red face into a shopping bonanza and then see it fail is only putting more nails in the MTPA coffin. That is a problem for the private sector, and aviation needs a new approach from government too. MTPA is at a stalemate now and Chairman and CEO no longer sing from the same hymn sheet. There will be political fallout when the axe comes down but it is better to prune the tree and let it regrow than let the entire tree rot and fall. Protecting a small group of individuals for political expediency or serving an entire industry, that is the decision we are now waiting for said a regular source from Port Louis in an overnight mail exchange, when discussing the financial impact of tourisms downturn on Mauritius. The recent Routes Africa conference in Seychelles has at least got our airlines talking again and if Air Mauritius, Air Austral and Air Madagascar can find a formula to cooperate on a route network complementing each other instead of competing cut throat, that also can have some benefits for travelers from Australia and China. But this is still early stages. I agree with you that such cooperation and talks should have started years ago and not wait until our main airlines bleed money and fold he then added, obviously referring to a recent meeting in La Reunion where president Didier Robert answered the media together with the Mauritius tourism minister Michael Sik Yuen and Madagascar Tourisms Ms. Vola Raveloson in which he announced airline talks taking place already.
There is now growing speculation about how much longer Beachcomber can sustain such losses before having to start selling the family silver and while on the Seychelles for a week on a fact finding mission and assignments, there were murmurs detected that the company could be compelled to sell some of their properties, and if not those on Mauritius perhaps some elsewhere across the Indian Ocean, to raise much needed cash. That, if found true, would then only compound the pressure on the Mauritius government to finally swing into action, and embark on a progressive restructuring of the Mauritius Tourism Promotion Authority, starting at the top, where a notable lack of vision and strategy has seen MTPA go literally shtumm in comparison for instance with the ongoing marketing juggernaut by Seychelles, which has become visible way beyond their own size by courting trade partners, airlines and in particular courting the global media, which have turned into friends and allies.
Ethiopia News
SECOND AFRICAN FIRST FOR ETHIOPIAN IN A MONTH


After taking delivery of Africa first B787 Dreamliner in late August, and then showcasing the aircraft across Eastern Africa to reclaim the spotlight, often dimmed by less than best and possible PR and Corporate Communications, the airline is now aiming at another African first when a new B777F is joining their fleet.
The B787 was on show in Tanzania, Kenya, Uganda and other African destinations, to show the travel trade, frequent travelers and the media what long haul flights with Ethiopian will soon look like, as more of the Dreamliners are joining Africas largest fleet.
The addition of the B777F in turn will signal a further commitment to stay on top of Africas cargo aviation, allowing ET to fly greater tonnages to further away destinations, when the new bird has arrived on or about the 20th of this month at Bole International Airport in Addis Ababa.
Already does Ethiopian operate a fleet of 6 cargo aircraft and the delivery of the first of 6 ordered B777F will be followed by a second such aircraft in October this year, with the remaining four due for progressive delivery by 2014.
While other African aviation giants like Kenya Airways have only more recently started to play catch up with dedicated cargo aircraft, Ethiopian has actively developed the concept of cargo aviation over many years and is as a result one of Africas foremost cargo carriers, including the cargo uplift underfloor in wide body passenger aircraft.
Well done to Ethiopian once again for bringing another First to the African continent and happy landings to the bird and its crews for years to come.
And as always, watch this space for breaking and regular news from the vibrant aviation industry in Eastern Africa and the Indian Ocean islands.
Seychelles News
SEYCHELLES TOURISM ACADEMY LAUNCHES ON LINE TOURISM COURSE
In what surely is another First in the Indian Ocean has the Seychelles Tourism Academy launched their first online tourism course, now available through www.seychellestourismacademy.edu.sc and partnered by the Virtual University for Small States of the Commonwealth. The launch of the eLearning Sustainable Tourism Course at the Seychelles Tourism Academy by the Seychelles Minister for Tourism and Culture Alain St.Ange and John Lesperance, an education specialist from the Virtual University for Small States of the Commonwealth has been described by the Principal Flavien Joubert of the Seychelles Tourism Academy as a milestone for the Academy which to join the online Virtual University for Small State of the Commonwealth'.
The Seychelles Minister of Tourism and Culture, Alain St. Ange, in the presence of the CEO of the Seychelles Tourism Board, Elsia Grandcourt and the CEO of NHRDC Mrs Margaret Pillay, said: The launching of the e- Learning Sustainable Tourism Course is a step forward for the Seychelles Tourism Academy. The e-Learning course set into motion will attain the objective of a better trained workforce from the Seychelles Tourism Academy. The country needs a work force from the tourism industry which is better trained, and we are committed in ensuring that our Tourism Academy becomes and remains the professional support for the pillar of our economy. The partnership developed between the Seychelles Tourism Academy and the Commonwealth for Learning is to be commended and I personally appreciate the effort of the Seychelles Tourism Academy to embark on these online courses with the Virtual University for Small States of the Commonwealth, which I believe will guide the Academy into the right direction in delivering the e-Learning Sustainable Tourism Course.
The Sustainable Tourism Course is part of the existing course of the Seychelles Tourism Academy students in Tour Guiding and Management. Following its online launching on the Virtual University for Small States of the Commonwealth it will in the near future become a mandatory course for all students.
In his insight on the Virtual University for Small States of the Commonwealth, John Lesperance explained that the network initiated by and built on the support of Ministers of Educations of developing small States of the Commonwealth will provide support to the Seychelles Tourism Academy on how to deliver courses and build capacity. The Virtual University for Small States of the Commonwealth will also provide training to the Seychelles Tourism Academy on the use of learning management systems as well as help host the Academys MOODLE server.
Industry sources immediately welcomed the news of the new course element, saying that the use of the latest technologies can only benefit students and as e-learning spreads, classes could even be taken by those already or still in the work place to in the future competently engage in e-Commerce.
Combined with the ongoing transformation of the Seychelles Tourism Academy, which is presently implementing a three phase project constructing new class rooms, a restaurant and conference facility, a dedicated block for hospitality management students, a training Spa and branded villas to acquaint students with the concept of 4 and 5 star service delivery and a 30 room application hotel, this latest innovation is bound to catapult STA to the very top of the African hospitality institutions united under the Association of Hotel Schools in Sub Saharan Africa. Watch this space for regular updates from the Indian Ocean islands tourism sectors.
WHATS GOOD FOR ETIHAD MAY NOT BE GOOD FOR SEYCHELLES TOURISM


A series of meetings between the tourism private and public sector, taking place over coming days on Mahe, Praslin and La Digue islands, is expected to raise a number of issues, where according to information received while on the archipelago have concern levels have climbed into the red zone.
One of the key issues, air access, was highlighted to this correspondent when interacting with private sector stakeholders by phone and in person, and strong sentiments were expressed by leading individuals over a range of issues concerning their national airline Air Seychelles.
Let me be candid with you Wolfgang, cutting the nonstop flights of Air Seychelles from Paris and substituting them with Etihad flights via Abu Dhabi has caused us a lot of problems in France. France is a very very important market for us and we are struggling to explain to our tour operators and travel agents, why flights which operated on very high occupancies, which were code shared with Air France, have been dropped. Tourists prefer nonstop, direct flights to those requiring a change of planes and a stopover at another airport. We believe we lost market share in France because we now force potential visitors to fly via Abu Dhabi. That is a pressing issue and it should be seen in the context of our national interest, our national agenda and not giving the partner in Air Seychelles preference over our own vital interests. We appreciate that Etihad has joined hands with Air Seychelles, but we are Seychellois and must see the interest of our own people, of our own country first. The second issue has come from another of your recent articles. We were expecting to have a nonstop flight from China to Mahe. The aircraft Air Seychelles uses can do that. It does not really matter if it is Beijing or Hong Kong, both would be a great opening for us to sell Seychelles holidays. The Chinese market as you rightly said many times, has grown in leaps and bounds over the past years. Our campaign by the STB obviously works to open up that market. But we need a nonstop flight, not again flying via Abu Dhabi. I think this requires a strategic rethinking at the top level of Air Seychelles because they need to learn to think Seychelles, not Etihad. Etihad does not fly to Hong Kong but would code share with Air Seychelles on that route, but what we need is a direct flight to Mahe, not the long detour via the Gulf which benefits the partner more than us.
These sentiments were echoed in discussions with several senior industry captains, and though the Chairman of SHTA, Louis DOffay was unavailable for a meeting due to other commitments on the available days, others were swift to step up and comment, on condition of anonymity that is. And in the process another rising controversy appears to shape up, when news gradually filtered into the private sector that the overseas offices of the Seychelles Tourist Board were to be shifted to the respective Etihad offices. On the face of it done for cost saving measures there seems to be an altogether more selfish interest emerging, namely that Etihad would like to get a full handle on the promotion of the Seychelles in their European and other market places on an exclusive basis. Said one source to these plans: If that is true it is not right. STB needs to be an independent body and operate independently. If Etihad would take over that function, what about our other partners we are working with. How would for instance Condor react in Germany, which is in direct competition with Air Berlin in which Etihad took a major stake. Would they even touch anything coming from a competitor, do any joint efforts which might mean giving hard facts of plans, capacity, fares and tariffs maybe and their main competitor would know it all? I see a big problem there in terms of split loyalties and conflict of interest. And in other markets, would Emirates which is a strong partner of Seychelles tourism, accept having to deal in special deal coordination, special promotion coordination with an Etihad office. Or Qatar Airways, do you think that is possible, do you think that is wise really?
Another source added to it when saying that already the inflight announcement given, as reportedly experienced on a flight to Mahe very recently, was all about Etihad, including their frequent flyer programme, and little if anything came across the announcements about Air Seychelles. I think that battle lines are now being drawn. Etihad has their own agenda and it is not all good news for Seychelles. They were happy to hear that Blue Panorama was pulling out of Seychelles because they now try to capture that traffic via Abu Dhabi. And here is some disturbing aspect of it. Blue Panorama representatives have complained about the cost of handling at Mahe. They say it is several times the price of such services in other of their long haul airports. The interesting thing is that it is Air Seychelles doing the handling. It is a monopoly and Etihad has found a cash cow. Other airlines have raised the issue too. So was Blue Panorama pushed to the limit to then absorb their Italian market for the Seychelles? They invested quite a bit but it seems some elements in the equation were not really as supportive as should be. Perhaps it is time to think of lifting the monopoly and let an international airport handling company come in to lower the cost of flying to the Seychelles? And then there is the open question on Air Austral. They had put ticket prices on the market for their launch of Paris to Mahe to La Reunion flights. It was never fully explained why they pulled out of that, was it objections about flying from Paris to Mahe by someone? Someone we both may suspect behind it to protect their own market? If so, is this in the interest of the Seychelles or of just one party? I think that in the past years Seychelles has created a big brand recognition in the world. The media have helped a lot to achieve that but let us not forget, the work done by our tourist board offices overseas has been just very good too. Why now change a winning formula. What interests are coming into play here? And are the boards of Air Seychelles and of STB really putting us first, Seychelles first, or is there pressure from the partner airline, pressure from somewhere above? It is something which has to come out in the open and you are a friend to us in many ways, so maybe you look into those aspects I have mentioned.
Tourist Board sources were tightlipped over the issue, but as so often, NOT saying something is already part of the answer, and it is expected that the meetings of the public and private sector stakeholders will openly address such concerns and ask, as I did, if some of the proposals are not like shooting oneself in the foot?
Efforts to discuss some of these issues in an open interview with Air Seychelles CEO Cramer Bell were not possible due to his travelling schedule, and as he is the only one who can go on record with the media for the airline, it was impossible to get an authoritative quote on the record. A chat with the airlines General Manager Commercial, Mr. Robin Middleton, while open and friendly, could therefore not cover such crucial elements, but was appreciated nevertheless to provide background on domestic operations as well as covering some gaps on the airlines recent developments and future plans.
Considering the flagging fortunes of Indian Ocean neighbour and Vanilla Islands partner Mauritius, some sections of the private sector are already anxious to maintain the winning formula Seychelles tourism has introduced in recent years and not let any selfish interests spoil it for the many in favour of just one and sink back into oblivion as one regular contributor put it, tongue in cheek of course as the Seychelles remains on course to reach 200.000 visitors this year for the first time ever. True, we are on target right now, but we must strive to do better, use all our available tools to promote Seychelles and not let selfish interests derail us said yet another source while also echoing the opinions expressed by others before.
Hard questions need to be asked it seems and putting the facts on the table during stakeholder meetings will be hugely important to maintain the level of trusted cooperation between STB, the ministry and the private sector, and issues concerning transport, crucially important for an island nation, must not be spared. Seychelles, truly Another World? Lets keep it that way by having common sense prevail. Watch this space as sparks will surely fly.
LA DIGUE GETS MORE FIRE FIGHTING EQUIPMENT


The tourism sector on Seychelles and in particular on the island of La Digue has warmly welcomed the news that a dedicated fire brigade station is to be constructed. On the day of leaving the archipelago following a week long fact finding mission it was confirmed that the Seychelles Fire and Rescue Services has signed a contract to build the islands first ever fire station at La Passe. The government of Seychelles has set aside over 4.6 million SRs and work is due to start in early October, when the chosen contractor has mobilized resources.
The contract was signed in the presence of he Hon. Joel Morgan, Minister responsible for Home Affairs and notably also Mr. Barry Faure, who is the Chairman of the Seychelles Tourist Board.
With a population of now 2.500 inhabitants La Digue is a popular island for day visitors coming from Mahe, via Praslin, to enjoy the relaxed and laid back life for a few hours, though tourist resorts, guest houses, holiday apartments and self catering chalets are available for guests wishing to stay longer and take a step or two back in time. The island, though a few motor vehicles are now found, due to be replaced by generous incentives from the Seychelles government by electric vehicles, many visitors still opt for the traditional ox wagon tour of the island or use a bicycle to explore the beaches and interior of La Digue, where the highest point stands at 333 metres above sea level.
The new station will provide accommodation for up to seven fire fighters and offers all required services to attend to a blaze with minimum delay, something a regular tourism source from the archipelago commented about: When we talk tourism development, this is part of it too. Tourism is not just our pristine beaches and crystal clear waters. It is not just our top class resorts or Seychellois owned little hotels and guest houses. It is not just our marine or terrestrial national parks. It is also infrastructure, like the ferries connecting Mahe with Praslin and La Digue. It is roads and reliable water and electricity supplies and it is also the availability of emergency services, like hospitals, health centres and of course the fire brigade. Now that we will soon have a station in La Digue, brings benefits to our own people and makes holidays on La Digue safer and I commend our government for investing in such crucial developments.
And there is no hiding the fact, that La Digue remains this correspondents favourite island, remote enough and yet connected by ferry to Praslin and Mahe on a daily basis, far enough away from the hustle and bustle of the busier islands and yet within reach when needed. But then who needs hustle and bustle, even of the generally laid back Seychellois style when peace and quiet, tranquility and serenity provide that quintessential island get away for those under constant stress? If Only comes to mind as Seychelles truly is Another World.
AND in closing the weekly dose of news from further down south, courtesy of Gill Stadens The Livingstone Weekly
UNWTO / VICTORIA FALLS

A great deal has been going on in Livingstone and Victoria Falls Town for the UNWTO. Inspections by a UNWTO team have been ongoing with lots and lots of meetings. Following the celebrations for the one year to go date of August 24th a countdown has been started. Every day on Zambezi FM Radio there are programmes with interviews of people involved in the run up to the event.
However, it would seem that not everyone is in favour. In fact I have read comments on several websites saying that the hosting of the event is a bad idea for both Zambia and Zimbabwe. Most interestingly a petition has been started to call a halt to the whole event:
http://www.change.org/petitions/stop-united-nations-world-tourism-organisation-from-honouring-president-mugabe
Petitions such as these have a huge impact.
Save Conservancy
Discussions have hotted up about the issuance of Hunting Licences to top ZANU-PF officials. The Ministers of Tourism and of the Environment and the Prime Minister are trying to douse the flames of a fire which was started by the granting of these licences. It is becoming clear that it is likely to spill over into the whole of the tourism industry and the run up to the UNWTO. The EU is also saying that economic sanctions which were lifted in July may be reintroduced if the matter is not resolved.
Professional Conference Organiser

UNWTO has ordered the governments to appoint a professional conference organiser so that everything is organised properly. Both countries are trying to organise the meeting on a shoestring and UNWTO officials feel that the only way for it to succeed is that local organisers are themselves organised.
One problem has arisen that UNWTO insists that hotel rooms are sold at no more than US$200. This, of course, is rather dire for most hoteliers in the region as August is the height of our tourist season and rooms without the UNWTO are normally full and selling at US$500 or more for the best ones.
Development Sites

Sylvia Masebo, Minister of Tourism, addressed stakeholders at a meeting in Livingstone during the week. At the meeting various development sites were mentioned:
Zambia Air Force Chalets, Hubert Young, part of Dambwa Forest, and others were identified as being offered on 30 year leases.
ZAWA offered Songwe for a 100-bed hotel and the old ZAWA Camp for a 24-bed lodge. The Livingstone City Council offered land next to the Civic Centre for a hotel.
Of course, we have been here before
The government expects private investors to jump at the chance to take up these investment opportunities. We shall see. Any development in Livingstone will not be just for the UNWTO; it has to have a long life. With the world still in recession and holidays in Africa among the most expensive, with Zambia being the highest in the region, I just hope the would-be investors do some proper research.
Other developments mentioned for Livingstone were new toilets, markets, bus terminus, street lights, shopping mall and convention centre.

LIVINGSTONE
Sports Facilities

News in Livingstone is all about the UNWTO. Government officials come and go and most were in town for one of those meetings and all state that they are preparing Livingstone for the UNWTO. The Minister of Sports, Chishimba Kambwili has announced the construction of a modern stadium in Livingstone. We are told that this will start in January 2013 and will have a seating capacity of 30,000! We are not told where the new stadium will be sited. It will, though, be modeled on the Levy Mwanawasa Stadium in Lusaka.
Chishimba Kambwili visited Maramba Stadium and was shocked at the state of it and said that money would be found to rehabilitate parts of it.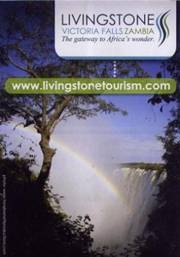 Time Keeping

The Deputy Minister of Home Affairs, Nickdon Chilanga, took a tour of some government facilities at opening time. Opening time for the Victoria Falls border is, as we all know 6am, but few travellers arrive there then because they know that probably no officials will be there, let alone ready to work. But the Minister arrived at the border at 5.55am and waited for the Customs and Immigration officials to get to their spots he was not amused as they wandered in one by one mostly late.
The minister also visited the Passport Office with the same scenario. The Road Safety Agency suffered the same fate. Nickson Chilangwas comments: We need to have a change of mindset among border staff especially as Livingstone will be co-hosting the UNWTO general assembly.

Security

There were no comments in the press about security. In Livingstone we dont tend to have serious crime but when I popped into town just now I was told two stories of men entering properties with a gun and a panga, beating up the occupants and generally being nasty pieces of work. During the week I had an email telling me of tourists being attacked when visiting the park along the gorges.
Some months ago there was a serious incident where one person was shot and killed. The government quickly came on the scene and ordered changes. I was told that the police had been given new vehicles to patrol the streets and to react to incidents quickly. Personally I have never seen these vehicles in action.
Security has to take priority in Livingstone as a tourist town. I know that the Livingstone Tourism Association has been talking with the police about setting up a special Tourism Police Unit. We have had one of these before and it didnt work because it was not funded properly.
In the meantime I have noticed the gradual increase in road blocks. It was such a breath of fresh air when the government came in and said that the constant use of roadblocks should be reduced. I keep my driving licence on the seat in my car so that I can hand it to young policemen to prove that I am legal to drive

A New Hotel?

Radisson Hotels are considering constructing a new hotel in Livingstone. According to a report the hotel group says that it can be constructed before the UNWTO but, as yet, they have not found land on which to build.
Map from Livingstone Tourism Association

Livingstone Tourism Association has printed a very handy map for visitors to Livingstone.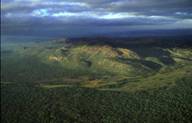 Kasanka National Park

Kasanka is Zambias bat park. In November around 8-10 million straw-coloured fruit bats migrate to the park filling the skies with their black silhouettes as they emerge from their roosts in the evenings.
Kasanka Trust has recently been given US$800,000 by the World Bank for the protection and development of Kasanka and Lavushi Manda National Parks. The grant comes under the Global Environmental Fund.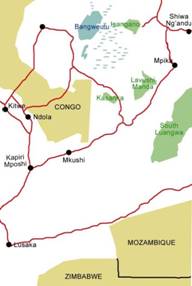 Kasanka and Lavushi Manda are both IBAs Important Bird Areas – and are safe places for migrating birds to stop or pause en route. Nearby, Bangweulu Swamps is a Ramsar Site and another IBA. Kasanka has a recorded 460 bird species.
In 1986 the Kasanka Trust took over the management of Kasanka with the help of Zambia Wildlife Authority. It was largely depleted of wildlife but, since then, with protection, the wildlife includes lion, hyena, caracal, aardvark, elephant, hyrax, zebra, bushpig, warthog, buffalo, sitatunga, bushbuck duiker, reedbuck waterbuck, puku, lechwe, roan, sable, hartebeest and grysbok and lots of the little things
Lavushi Manda is an important wildlife area but is in probably much the same condition as Kasanka was in 1986. With this grant from the World Bank, with hard work and determination, Lavushi Manda will become another major attraction in Zambia.
Kasanka Trust is also applying to the Zambian government to apply for World Heritage status in order to protect the wildlife especially the bats. As one of the largest known bat migrations in the world, it seems important to recognise this worldwide and to have the area protected for generations to come.