AVIATION, TOURISM AND CONSERVATION NEWS from Eastern Africa and the Indian Ocean islands.
A weekly roundup of breaking news, reports, travel stories and opinions by Prof. Dr. Wolfgang H. Thome
You can get your daily breaking news updates instantly via Twitter by following @whthome, join me on www.facebook.com/WolfgangHThome where the articles also 'cross load' or read the daily postings on my blog via www.wolfganghthome.wordpress.com which you can also 'follow' to get immediate notification when a new article is posted.
First edition November 2012
East Africa News
EAST AFRICA COUNTS LOSSES CAUSED BY SANDY
The fallout of monster storm Sandy, which has hit the Eastern seaboard of the United States two days ago and left a wide path of destruction behind as it moved in-land, has also had repercussions here in East Africa, as tourists booked to arrive over the past days, and for the next week at least, have been stranded back in the States and parts of Canada for lack of flights. Gulf airlines connecting tourists from Washington and New York, cancelled their flights alongside the European airlines like KLM and British Airways, Swiss and Brussels Airlines, with the result of scores of non arrivals in Nairobi, Entebbe, Kigali, Kilimanjaro and Dar es Salaam. Safari operators are now counting their losses and while in many cases prepaid, allowing for cancellation or no show fees to be settled, might feel the pressure from larger clients to waive fees or try to rebook the safaris at their own cost.
In fact, those who intended to come for gorilla tracking in Rwanda and Uganda, due to the scarcity of permits, may have to wait for months or another year before they can match their own vacation dates with available permit slots for tracking. While the flight bans are expected to be lifted, there will be a backlog of flights for those stranded in the Eastern US as well as for those booked to fly home from East Africa, where they too were unable to commence their journeys, giving them an unexpected extra few days to explore attractions near their airport of departure while awaiting a call of when they will be able to travel.
Reminiscent of the great Atlantic ash cloud, which also interrupted international air transport, the fallout from events far away has reached our own shores and a senior Ugandan stakeholder had this to say overnight: 'Yes, we are missing some clients ourselves who were supposed to arrive from the US with BA and SN. I know of others who waited in vain for their clients to come on Emirates and Qatar or KLM and are now trying to figure out when or if those tourists are still coming. They may only have a week or 10 days of vacation time for their safari and with no instant seats available could be forced to cancel. We will try to help rebook but in some cases like prepaid gorilla permits or deposits paid for accommodation in the lodges, there is very little we can do. UWA got our money for those, the lodges got our money and could end up asking for full payment if clients did not show. We immediately told everyone that this group or those individuals did not make it on their flights from the US but it is beyond us to argue such a case. I am not even sure all my contacts from the US will be reaching WTM in time next week, they might be busy rebuilding their offices which might have been flooded or destroyed. We will hope and see'.
Importers of spare parts and other top urgent air cargo and exporters of produce, which leaves East Africa by air and is destined for the US, are also counting their losses as urgent air cargo has been stuck at airports in the US, with DHL and other courier companies unable to fly shipments out of the States, nor to the States. Perishable goods in particular, kept in cold storage in Nairobi or Entebbe, will have done exactly that, perished, while waiting for airlines to resume flights unless they shipments could have been resold at short notice to other markets in the Middle East or Europe, to where flights were continuing without interruption of course.
East Africans stuck in the Eastern United States too are said to be struggling to return as soon as possible as they are faced with the added expenses for hotels and upkeep not budgeted for and at least in one case a known traveler has told this correspondent that she would only be able to get a seat via London to Nairobi on 06th November, and while on standby for all flights in between would probably not reach home before then. An airline executive from Nairobi, regularly in touch with insights and contributions added: 'When traffic resumes out of New York and Washington and all, the people booked on those flights with confirmed tickets are the ones with the immediate right to travel. Those who missed their flights as a result of the storm and the suspension of air traffic, will be in a queue to be allocated available seats on flights to Europe or the Gulf. Air traffic has not yet resumed as we speak and may take another day or two. That is a recipe for much anger and frustration, for travelers mainly but also for airline staff who take a lot of abuse in such cases. Airlines try to work out some really important cases for travel like funerals or weddings or diplomatic missions and so forth but really, in most cases they try to find an empty seat on their flights or any other flight to put passengers on for connections. Remember we discussed this when the Icelandic ash cloud disrupted transatlantic flights. It is the same and it can be up to two weeks before all is back to fully normal. And it is a two way street, Kenyans are stranded here on business trips to the US or for visits and I guess many will just cancel because the event will be over, or the business opportunity has been lost. The only good thing is that it is not high season now across the Atlantic so the backlog can clear a little faster compared to the peak season situation when the ash cloud halted flights. I can only ask for travelers to be patient. We here want to send them off as soon as there is a seat and we book them even on other airlines to fly to Europe and then to our hub for the rest of their journey to America'.
That devastating storm with the benign name of Sandy, which left millions out of power and caused numerous deaths besides the record destruction of infrastructure, businesses and personal property, shows how the ripples of it run across the globe in today/s interlinked economies and how the impact of there is now also felt here. Watch this space.
NEW ISTANBUL AIRPORT TO CEMENT TURKISH AIRLINE'S HUB POSITION

When news broke that Turkish Airlines was set to connect some 30 African destinations by the end of this year, moving to 40 by the end of 2013, many had to check back to be certain of the accuracy of the statement at the time, but the ongoing rollout into Africa has made this a reality, no longer just a plan. Turkish now connects Entebbe, Kigali, Nairobi and Dar es Salaam and has announced a new triangular flight from Istanbul to Kilimanjaro and Mombasa from mid December onwards, making it top dog of foreign airlines offering connections to literally all East African destinations of substance, other than Bujumbura for which, according to a regular source, plans exist but no time frame has been announced yet.
Connecting in Istanbul to over 200 destinations, including an extensive domestic network of course, and operating a fleet of nearly 200 state of the art aircraft, Turkish has almost by stealth established itself as a truly global airline and is set to grow further yet. Only recently did THY's CEO Dr. Kotil project the number of aircraft to grow to eventually some 400, not something however one would like to see operating via the airline's current hub Istanbul Ataturk, aka IST, which is getting increasingly congested. This limitation has been affecting the quality of ground handling and the comfort of transit passengers connecting there into the growing network of Turkish and would have a serious impact on passengers decisions when deciding if to fly with any of the Gulf carriers, operating in and out of spanking new hub airports, or building them, or use THY via Istanbul as an alternative.
News were therefore welcome when it was confirmed that a new state of the art airport with an eventual capacity of 150 million passengers will be built outside of Istanbul, sporting up to 5 runways and being rolled out in two if not three phases. Phase one should be ready by 2016 already, catering for Turkish's rapid expansion and being able to handle the growing volume on transit passengers, crucial to THY's ambitious growth plans for passenger numbers, besides of course providing a state of the art cargo processing centre too.
To be built in a public private partnership no final costs are available but could reach 10 billion US Dollars by 2023, when phase two of the new airport is projected to be ready. Istanbul's present airports Ataturk and Sabiha Goekcen will also continue to operate but see long haul traffic very likely to shift to the new facility when opening in four years time. Watch this space.
Uganda News
RAFTING FOR RHINOS ON NOVEMBER 10TH

Next Saturday will see the 'Rafting for Rhinos' race take place on the upper Nile, where corporate and individual teams will compete against each others for the honours of raising the most money for the Rhino Fund Uganda, which operates the Ziwa Rhino Sanctuary half way between Kampala and Murchisons Falls National Park. '
In recent years more than 10.000 US Dollars were raised for the breeding of rhinos and the conservation of the species and this year too is a major cash boost expected for RFU, helping to keep the operation afloat following a hard year of inflationary pressures and increased bills all round.
Check with angie how to participate and how to support RFU and the Ziwa Rhino Sanctuary or visit www.rhinofund.org for regular updates on the work done so far and the challenges ahead.
The Rhino Fund Uganda brought 8 adult rhinos to Uganda, two of which are sadly kept in an un-reproductive state at UWEC in Entebbe, where the female has turned into an exhibit instead of becoming a mother while the 6 rhinos at Ziwa, 3 males and 3 females, have now produced 6 offspring and according to the latest information received from Angie, more are 'in the making' already. Well done to the team of the RFU and best of success for the race and the fund raising.
Kenya News
KENYA'S TANA RIVER DELTA BECOMES THE WORLD'S LATEST RAMSAR SITE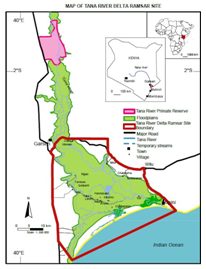 (Map courtesy of www.ramsar.org)
Those with greedy eyes on this prized area, wanting to turn it into agricultural wastelands through unsustainable farming methods, will have to think twice now that the Tana River Delta has been officially recognized as the world's latest RAMSAR site, giving added protection and recognition to this fragile biodiversity hotspot.
The area, recently the scene of interethnic violence fuelled by politicians full of tribal hatred for others with the same birthright, has since independence nearly 49 years ago seen no significant infrastructure development vis a vis hospitals, roads, education facilities and other social services and is often portrayed as the 'poor house of Kenya' where only subsistence farming and fishing can provide for the daily needs of the local populations, and not when the frequent droughts strike.
Few tourism businesses have established themselves in the Tana Delta, but tourists who opted to go there came back with experiences second to none, in terms of bird and game watching, after enjoying the luxury of solitude and being miles upon miles away from 'civilization'.
The announcement that the area was now a Ramsar Site drew immediate applause from the conservation fraternity in Kenya, expressing delight that the RAMSAR Secretariat had recognized the unique beauty and global value towards protecting migratory species of birds as well as an extensive local bird population of this expanded wetland ecosystem, where the Tana River empties into the Indian Ocean. The designated area is over 400.000 acres large and after the Rufiji Delta thought to be East Africa's second most important such river mouth wetland.
Conservation NGO Nature Kenya has been instrumental in achieving this global recognition and is reportedly working with the Kenyan government to develop a medium and long term management plan of how best to protect the delta and yet sustainably use it for tourism purposes, with the least impact on the area compared to other forms of exploitation such as fish, crab or prawn farming or exploitative commercial agriculture.
Kenya already has 5 designated RAMSAR Sites in the Great African Rift Valley, namely lakes Naivasha, Elementaita, Nakuru, Bogoria and Baringo, all of which form the foundation of a thriving tourism industry providing employment for locals, some of which have become Kenya's foremost bird guides.
Watch this space as I extend congratulations to the staff of Nature Kenya and their supporters who worked tirelessly for year to gain this recognition and protection for the Tana Delta. Well done indeed.
FERRY WORKERS RESUME DUTY

It has been confirmed from a regular source in Mombasa that the workers of the Kenya Ferry Service have resumed duty and ferry services are underway, clearing the backlog of traffic as this information us uploaded.
Confirmation is still outstanding though that ALL issues between the union and management have been resolved, which if not the case could result in further outages. Watch this space.
SERENA BAGS MORE CONDE NAST HONOURS

Serena's Kirawira Camp in the Grumeti Sector of the Serengeti has made it into Conde Nast's Platinum Circle into which only properties with the highest marks are added. The Platinum Circle by Conde Nast was launched to celebrate 25 years of Conde Nast Traveler and only properties have been included which made it to the acclaimed Gold List for at least 5 years running.
Kirawira met those conditions, no wonder as it sports tented suites, butler service and a range of facilities which since opening has made the Kirawira Serena Camp a trendsetter and pioneer, now often copied by never quite reached by others.
As expected did other Serena properties also make it into the Gold List or Africa's Top 25, which chooses the best safari camps, lodges and resorts among the leading African tourist destinations. Here Kirawira was joined by Amboseli, Serengeti, Mara and Ngorongoro Serena, a resounding endorsement of Serena's locations and service delivery across the entire group.
The Zanzibar Serena Inn and the Serena Mountain Village at Usa River outside Arusha made it into the Top 15 even with the latter for the first time making the coveted Gold List.
Congratulations to an outstanding team of individuals who accomplished such honours and to a company which is beyond doubt one of Africa' finest.
WORKERS DOWN TOOLS TO CRIPPLE FERRY OPERATIONS

In breaking news it was learned yesterday morning that the ferries at the Likoni Channel, linking the island of Mombasa with the South Coast, had been grounded by striking workers, as the union and management had apparently failed to reach an agreement over wage increases and other benefits following a slow go some weeks ago.
At that time had government officials directed the company's management, seen by a number of observers contacted since as the main problem in the ongoing labour dispute, to once again engage in talks.
The failure of negotiations led to the sudden turn to the worse yesterday, leaving tens of thousands of people stranded on both sides of the channel and forcing tour operators to make detours over at times very poorly maintainted roads of as much as 80 kilometres, to reach the airport for flight departures or, for those tourists arriving, their resorts at the famous Diani beaches.
Both the Mombasa and Coast Tourist Association and the Kenya Association of Hotel Keepers and Caterers, Coast Branch, were closely involved with their colleagues from the Kenya Association of Tour Operators to monitor the situation and guide their members of how to cope with the difficult circumstances. Police was drafted in to secure the alternative route to avoid thugs from exploiting the slow speeds over the rough patches of roads, riddled with potholes. Industry leaders have also once again demanded that the new bypass highway, due to be constructed to connect the Nairobi – Mombasa road and the international airport to the South Coast, be given absolute priority now to create a short and secure transit link.
Estimates provided to this correspondent by a number of sources from Mombasa speak of millions of shillings lost in having to use the long detour, besides the inevitable dents into the reputation of the Kenya coast as a desirable tourist destination, where businesses are already struggling with lower than anticipated occupancies as a result of often outrageously false media reports on the security situation.
Watch this space for updates later in the day, as services are hoped to resume and the backlog of is being cleared.
KENYA AIRWAYS RELEASES SECOND QUARTER RESULTS

The Pride of Africa has yesterday released the operating results for their second quarter, which ended on 30th September, showing a mixed bag of results but also underscoring the urgency of cost saving measures introduced in recent weeks by management.
Capacity to the airline's markets in Europe shrank by 13.8 percent, largely as a result of Rome being suspended as a result of weak demand but also due to reduction in frequencies to other market places, reflecting the woes of the Euro Zone economies. A boost however is expected for the coming quarters in terms of passenger and cargo uplift to London since the withdrawal of Virgin from Kenya towards the end of September will undoubtedly impact positively on the performance of flights to the UK.
In contrast did capacity rise to the Middle and Far East by a whopping 34.5 percent, showing a new orientation of major traffic flows for Kenya Airways and the immediate reaction to changed market conditions.
In percentage terms was growth also seen in Eastern Africa, the airline's home market, with an 11.4 percent rise, 9.1 percent to West Africa, 4.2 percent to Northern Africa – Juba is still being considered part of that market region for the time being – and 3 percent to Southern Africa.
For domestic flights has the change of the workhorse aircraft from the B737 to the E190 resulted in a capacity reduction of 9.6 percent compared to a year ago.
Total passenger uplift stayed literally the same with 1.004.425 passengers in Q2 this year.
All eyes are now on the results the current Q3 will produce, due to be announced by end January 2013, when it is hoped that the financial performance sees encouraging signs from the savings generated by work force rationalization and related measures such as increased outsourcing. Concern was however expressed by aviation observers that the closer Kenya gets to the next General Election in early March 2013, the more this might impact on the airline's performance, as on the entire aviation industry, should even the slightest sense of trouble begin to emerge, reminiscent of the post election violence in early 2008 which swept the country. Watch this space.
KIPRONO STARTS HIS KWS SERVICE WITH A BANG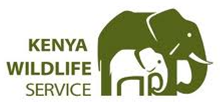 William Kiprono, only in office for a short while as CEO of Kenya Wildlife Service, has certainly started his reign at the helm with a bank, pun intended, when his troops on the ground engaged with poachers in a series of incidents, the latest of which cost four of the criminals their lives as they foolishly engaged in a shootout with rangers.
Two were killed at the privately owned Solio Game Reserve, one of Kenya's foremost rhino sanctuaries, while another two were shot dead in Meru National Park, leading to the recovery of arms, poachers tools, ammunition and elephant tusks. In related developments did other security organs, working hand in hand with KWS, confiscate blood ivory on several locations across Kenya, also signaling increased determination to not only fight poachers in the field but also to disrupt and take down their distribution and financing channels.
It is understood that Kiprono has already signaled that the wildlife act needs urgent amending vis a vis fines and penalties such as long custodial sentences to provide additional deterrent against poaching, but while this matter is still buried in parliament, he has clearly given orders to deal with poachers as they deal with wildlife.
'There is no shoot to kill order out there but when our rangers confront poachers and are shot at they respond with equal force. Our staff is now trained a lot better and our intelligence gathering is improved. Local communities have realized that protecting wildlife in parks is important for job security and benefits from tourism. They cooperate more, the provide leads. And there is no laxity among field staff. They get tipped off, they go and check. We work hand in hand with private sector like Ol Pejeta or Solio or Lewa and we share information. A new boss brings new ideas and new perspective with him and that is good, we like it' said a regular source close to KWS on condition of anonymity for not being authorized to make official statements.
Conservation sources in regular contact with this correspondent, while still cautious in their assessment of William Kiprono, welcomed the news of the latest successes by KWS rangers and law enforcement, while one, again on condition of anonymity said: 'We still have to get to know Kiprono. That will take a while to interact on specific issues like when another case like the cheetah cubs would arise, or should more lions be killed by mobs. The first successes are there and in the news now about anti poaching being stepped up. Good news. But even Julius [Dr. Julius Kipng'etich, immediate former CEO of KWS] had good sides and downsides, good days and bad days, so let's give Kiprono a chance here and see how he settles in'.
Indeed, that is the right thing to do, allowing the new Executive Director of KWS to map out his own way forward, in conjunction with his board of trustees and his senior staff, and then judge by results and not by prejudice. Watch this space.
POWER COMPANY SET TO INVEST IN TOURISM VENTURE AT HELLS GATE NATIONAL PARK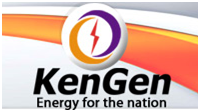 The Kenya Electricity Generating Company, in short known as KenGen, is in the process of diversifying its portfolio with the entry into the tourism industry. Located near Hells Gate National Park, a Kenya Wildlife Service managed adventure park at the bottom of the Great African Rift Valley just an hour's drive from the capital Nairobi, the new Spa will offer a novel experience to locals and tourists alike, hitherto not found in Kenya or anywhere else in Eastern Africa until now. The Hells Gate National Park's main feature is Mt. Longonot, an extinct volcano, which offers opportunities to hike and cycle besides the more traditional bird and wildlife experience and at present more popular with the locals than international visitors, something the new venture is likely to change.
KenGen will according to information received from Nairobi open a fully fledged Spa on their property adjoining the national park, known as Olkaria, where the company is converting geothermal heat into 'green' electricity.
The new facility is due to open its doors before Easter next year and guests can expect to find several open air 'lagoons' with water temperatures of up to 40 degrees, using brine water with unique healing and medicinal properties. The new health centre will also offer steam and sauna rooms for added relaxation and of course a restaurant where meals and snacks can be taken.
Adjoining the Spa itself will be a visitor centre and museum, highlighting Kenya's involvement in tapping into geothermal energy sources but no accommodation will be offered in phase one of the project.
There is speculation though in hospitality circles that this novel concept could indeed be a winner, for the location near an adventure national park known for hiking and for the novelty of a 'Safari Spa', and it is expected that KenGen might well already be holding exploratory talks on management and marketing of the new venture with suitable partners, willing to come on board with additional investments and hospitality expertise in running Spas and resorts.
The Great African Rift Valley is, besides its agricultural value for Kenya as a bread basket for grains, a major tourism resource with a string of fresh water and alkaline lakes now all protected as UNESCO World Heritage Sites, and most of them offering anything from boutique to luxurious, from very posh to simple and affordable lodgings along the shores of those lakes.
Key players in the Kenyan hospitality industry, like Serena, Sarova, Sun Africa Hotels and others have at least one, in some cases two properties located in this part of the country, offering access to Lake Nakuru and Bogoria national parks as well as to such other lakes like Baringo, Naivasha and Elementaita. Watch this space for regular updates and the latest news from East Africa's hospitality and tourism industry.
17 SUBMIT BIDS FOR RAIL LINK BETWEEN JKIA AND CITY
Kenya Railways has confirmed the receipt of 17 bids for prequalification for the planned commuter railway link between the city and Jomo Kenyatta International Airport. The project, aimed to bring relief to airline passengers as well as commuters into and out of the city, will include additional stations though trains to and from the airport are expected to operate nonstop while other commuter trains will pick up passengers in as many as 8 stations along the route. Extending from Ruiru over Dagoretti to Embakasi Village, with a branch off to the airport, creating the first axis of a planned commuter network eventually aimed to connect other parts of the greater Nairobi metropolitan area with the city centre and sub hubs created in recent years.
Kenya Railways is now in the process to determine which of the 17 companies will be qualified for final bids but considering the heavy weights from China, Korea's Samsung, Hyundai and POSCO corporations as well as European rail specialists are in the running, there will be tough choices to be made before a contractor is finally announced sometime next year.
Meanwhile is the highway network planned to pass around Nairobi or above Nairobi gaining shape as more and more details emerge about the intended 'double decker' crossing over the eternally congested city, though the fate of the 'Southern Bypass' hangs in the balance as an incursion into the national park was not sanctioned and the project subsequently has been halted for that section following a court case being brought.
Other cities in the region, such as Kampala and Dar es Salaam, are reportedly eyeing the developments in Nairobi with keen interest as they too are suffering from near terminal traffic arterial clogging in and out of their respective CBD's, costing the respective economies fortunes and exposing the failures of city planners to have catered for both road and public mass transport in time. Watch this space for updates when the bidding process in Nairobi is advancing and more progress can be reported.
OPPOSITION GROWS AGAINST FLY 540 KENYA MANAGERS

The unceremonious sacking of a number of staff by Fly 540 management once again highlighted the woes that company has, facing law suits by creditors, by former staff and increasingly by the media on the prowl to expose the dark secrets which have until now been kept under wraps, well almost anyway as sources within the airline continue to spill the beans.
While little can be published right now, due to the need to protect those sources as well as in some cases the lack of a second independent confirmation, it is clear that the losses the airline made are far from to be blamed on start up cost for sister operations in West Africa but simply as a result of an atrociously poor performance in the East African market and horrendous decisions taken by the management of the airline. Frequent aircraft changes on the route for instance to Entebbe in the past and often time long delays have put potential clients off the airline, after many of the faithful deserted already in the aftermath of the vengeful sacking of former country manageress Jackie Arkle. Jackie now holds a senior position at RwandAir, a glowing endorsement for her abilities and a damning interdiction for the 'sackers' hence exposed for their true motives.
The staff now dismissed are reportedly in contact with lawyers already representing others with plans to sue the airline, and its top management, and one source has indicated that they might also enjoin into the winding up case against 540, presently pending before court as the airline failed to pay its obligations following a judgement against them earlier in the year by Justice Havelock.
'This just keeps piling up and the more it gets spread in the media and potential travellers read about it, the more uncertainty there is in the market. It can seriously affect passengers' decisions which airline to use and even if they decide not to go to KQ there is Jetlink on almost many of the same routes. If I were in the shoes of the new FastJet guys, I know what has to be done to restore market confidence, sack the 540 managers' said a regular commentator from Nairobi's aviation scene. And indeed, there appears to be intense head scratching and brainstorming among the new FastJet top brass of how to resolve this problem, for as long as this is a festering sore their own future reputation simply cannot begin to shape up as something fundamentally different from the predecessors.
Watch this space as this saga is certain to have a few more twists in the tail.
STAY AWAY FROM WTM STAKEHOLDERS DEMAND OF MWAZO
Kenya's hapless tourism minister Danson Mwazo will be facing thinly concealed hostility from his own tourism private sector, should he opt to travel to London for the forthcoming World Travel Market, besides the ITB in Berlin the most important tourism trade show in the world.
His most recent 'in your face' action included the attempted sacking of KTB's CEO Muriithi Ndegwa, when he decided to slap down the board's recommendation to renew Ndegwa's contract for a further three years, reportedly out of a bruised ego, that KTB should have dared to 'oppose him' when publishing arrival statistics belying the false confidence the minister was trying to peddle.
'True, if he decides to come we can do nothing but he is not welcome there. We may put up smiles but they are fake when it comes to him. He is an enemy of our industry, not our lead figure. Few have done as much damage as he has. His ego bruises as easily as the one of his party leader Odinga who sacked the most successful tourism minister Kenya ever had, Najib Balala. Personally, it shows they both are not fit to lead. But back to Mwazo, he should stay away from us for a while to cool off emotions because his presence in London will disturb more than accomplish anything. Someone has to say it and I know you will publish it' said a regular source from Nairobi when asked how the launch of the Lamu Cultural Festival activities yesterday and the InterContinental Hotel in Nairobi went. 'Mbithi was there [Chairman of the
KTB Board of Director, Kitili Mbithi] and brought Muriithi back with him. The applause was overwhelming and it was a vote of confidence in KTB and a vote of no confidence in the minister at the same time. There are critics of KTB but we all know that giving them less money this year is the worst way to fight our way back into the main markets in Europe. Now we must spend double really and not less, we need money to open India, Russia and China some more but with the funding we have received for marketing, this is an illusion. At least the team of KTB remained intact now at the top. Muriithi has the respect of the directors and of the sector. Let him continue to work in peace for the common good. A year ago Lamu was dead because of Al Shabab, today it is returning to be in the good news again. We must promote good, not stamp on it like our minister seems to think. You in the media should ask him what he is up to and what he stands for and why he does not pack and go' did the same source then rant on, justifiably so of course considering the lack of speaking up at crucial issues for the sector.
Watch this space as this saga is sure to have some more fallout in coming weeks.
MURIITHI NDEGWA MAKES COME BACK

News just broke that the Head of Civil Service in Kenya Francis Kimemia has re-appointed Mr. Muriithi Ndegwa as CEO of the Kenya Tourist Board with immediate effect, reversing the sacking order by increasingly under pressure Danson Mwazo, who in his capacity as Minister for Tourism openly defied the Board of Directors of KTB when they recommended Ndegwa's contract to be renewed for a further 3 years. Knowing the working order and hierarchy in the Kenyan government, the Head of Civil Service would not likely take a step like this without at least having the nod from his immediate boss, President Kibaki, which will leave Mwazo with few choices when he gets back to Kenya in a few days.
Mwazo, presently touristing around the world in Mexico, will return to a selfignited storm of public opinion by the private sector in tourism, where the sentiment is now rife he should be sacked unless he voluntarily resigns.
Mwazo has turned into a minister blundering his way along as he goes, and pales into insignificance compared to his highly respected predecessor Najib Balala, who continues to enjoy the affection of the industry for at last being a minister fully conversant with the tourism sector's needs and composition.
Ndegwa, inspite of a few critics with their own agenda, has earned the respect of the sector by building on the successes of KTB's past while nurturing coalitions with the industry and key stakeholders and is now expected to lead Kenya's delegation to the World Travel Market in London, averting a confidence crisis under already trying circumstances, after his minister failed to make any impact in cabinet to get more funding for promoting and marketing the country.
The Chairman of the Kenya Tourist Board, Stanbic CEO Kitili Mbithi, has reportedly also confirmed the re-appointment and a statement from KTB is expected soon, and will be published just as soon as available.
'Now this is good news my friend, but I have not yet heard, let me confirm. But if true, and your stories always seem true, that is excellent. Our minister needs reminding who boss is in this country and he is not, he is a servant and a bad one for that matter. Let Muriithi get his troops motivated and lead us to WTM 2012 to promote our country. Thank you for always being so uptodate and telling the story ahead of most others' said a regular source from Nairobi earlier this morning when asked to comment.
Watch this space for breaking and regular news updates from Eastern Africa's tourism, conservation and aviation sectors.
5Y-KQC TO LEAVE SERVICE TO BECOME KENYA AIRWAYS' FIRST B737 FREIGHTER

Kenya Airways has confirmed that the airline will convert their older B737-300 models presently in passenger service into freighter aircraft, starting with 5Y-KQC being withdrawn within the next few days and then flown to China, where the conversion into a cargo plane, side door and all, will be carried out at Boeing Shanghai Aircraft Services.
The conversion is expected to be completed by February 2013, at which stage the second B737-300 will be leaving passenger service flights. According to information just received from KQ, up to four B737-300's will be converted, ending the search for purchasing such aircraft, which has in past months not yielded the anticipated results and is arguably being considerably cheaper than adding extra B737-300's to the fleet, which were anyway due for replacement with the more modern B737-800 NG's starting from next year.
Kenya Airways, according to information available, currently operates 6 B737-300 but has been boosting their 38 aircraft fleet with additional deliveries of Embraer E190, which are increasingly becoming the regional workhorse aircraft serving Entebbe and other EAC destinations like Bujumbura and Kigali. Deliveries of new E 190's are due to continue under a present purchase order until about April next year before it is anticipated that a new batch of B737NG's will be added to the fleet.
Kenya Airways Cargo has been operating a wet leased B747-400 for flights from Nairobi to Amsterdam to Guangzhou and back to Nairobi but requires smaller aircraft capable of carrying palletized cargo to feed and de-feed from these flights to destinations where the airline's wide body aircraft are not flying to. Destinations for the new cargo flights will be all regional destinations as well as West African destinations NOT served by B767 or B777 wide bodied aircraft.
Watch this space for breaking and regular news from East Africa's vibrant aviation scene.
KENYA AIRWAYS ADDS JOHANNESBURG FLIGHTS WHILE LOSING LLW – LUS RIGHTS

The Pride of Africa is set to significantly increase flights between Kenya and South Africa from December onwards, when one of the airline's recently acquired Embraer E190 jets will be used on the route to add four more flights, increasing capacity from presently 21 to 25 flights a week with 384 seats added on one of Kenya Airways' busiest destinations on the African continent.
The Embraer will offer both business class – in a 2×1 layout with 12 seats – and economy class in a 2×2 layout with 84 seats – and will operate a mid day departure at 12.10 p.m. before returning to Nairobi at 21.15 hrs at night for convenient connections to the late evening regional and intercontinental departures. It could not be immediately ascertained if this will be an addition for the high season only or will eventually be increased further to mover to four daily flights per day, permitted under the bilateral air services agreement between Kenya and South Africa.
Meanwhile though it was also learned that Kenya Airways had their route rights cancelled between Lilongwe / Malawi and Lusaka / Zambia, where the daily service allowed them the uplift of passengers and cargo on the route under 5th freedom rights. It is understood that this comes as a result of Air Malawi trying to force a KQ into some sort of royalty payments or a fully fledged commercial agreement, using the Malawi civil aviation authorities to do the dirty work for them. Both destinations will continue traffic however, except for the sector LLW – LUS where for the time being the KQ aficionados will have to us other means to travel between the two destinations as Air Malawi according to information at hand only operates three times a week between the two destinations. Watch this space for regular and breaking news from East Africa's vibrant aviation scene.
Tanzania News
ZANZIBAR CRACKDOWN CONTINUES TO NET MORE EXTREMISTS
Information from a regular tourism source on the Spice Island of Zanzibar indicates that security forces, since the last outbreak of extremist militant violence which also spread to Dar es Salaam a few weeks ago, continue to hunt for known participants and sympathizers of the banned Uamsho group, which has been promoting sectarian violence against other religions while attempting to break up the union between the mainland and Zanzibar at any cost and at any price, bringing the word 'Zanzibari Taliban' to mind.
Tourism sources in Dar es Salaam and from Zanzibar were in full agreement that any form of violence could impact severely on the country's sectoral performance and with targeted violence against tourists and business visitors in Dar es Salaam, as reported here repeatedly in the past, talks with government are ongoing to provide added patrols, introduce CCTV monitoring and crack down on criminal and militant gangs.
'We need CCTV on Zanzibar too, there are known hotspots which require constant monitoring which will assist security forces and police to react immediately when trouble starts. They can also use the images to identify ring leaders and those who join in this senseless cycle of violence. And in Dar es Salaam more patrol near the main hotels and major roads will act as a deterrent hopefully. If really Virgin is coming to Dar es Salaam as you wrote yesterday, and here still no one seems to know about that, we could have a great chance to boost tourism and our visibility overseas but let it not be spoiled by radicals and criminals' said a regular source from Dar es Salaam overnight in a mail exchange.
Over 100 people have been arrested so far in Zanzibar in the aftermath of riots and church burnings and more than 60 have been charged in the law courts already, as investigations continue alongside political talks.
Watch this space to stay informed on any changes in the situation on Zanzibar and in Dar es Salaam.
VIRGIN HEADING TO DAR ES SALAAM

Breaking News
6 weeks after leaving Nairobi, for a number of reasons given in public none of which at the time made much sense, are news just breaking that Virgin will be flying to Dar es Salaam from early 2013, very likely in combination with a stop at Kilimanjaro. It is also understood that this time the airline got the right slots, making for perfect connections from and to the United States via London Heathrow, something which was a major problem for the flights to Nairobi which did not connect easily into the Virgin US network.
A source contacted in the UK feigned surprise at the question, eventually conceding that 'there might be plans' before insisting on absolutely protecting the identity, as obviously this early breaking news story will be giving the game away for competitors also flying to Tanzania.
A source at Swissport in Dar es Salaam, likely to be chosen as Virgin's handling agent, also showed surprise about the news already getting out and would not comment, this again telling more than enough and being sufficient to publish the breaking news.
Virgin is an arch rival of British Airways, which is also flying to Dar es Salaam, and will very likely offer fares below the level of BA, triggering a bonzana for tourists from the US but also starting a head on collision with British Airways which will undoubtedly have to respond in kind.
The new route will be a major coup for Tanzania's tourism industry, with all the associated promotional activities, as it is recalled with what creative marketing Virgin started its flights to Nairobi a few years ago, and will benefit the safari sector as well as some of the very exclusive beach resorts on Zanzibar and other islands. At the same time it will be depressing news for the Kenyan tourism industry, where stakeholders will be scratching their heads trying to figure out what went wrong for Virgin in Nairobi and what the true reasons for pulling out from Kenya were, only to find out within weeks that Virgin will be flying to neighbouring Tanzania from early 2013.
Watch this space for more information on this exciting development and for breaking aviation news from the Eastern African region, told first time and again.
MORE BLOOD IVORY IMPOUNDED IN TANZANIA
The seizure yesterday of 214 tusks and the arrest of initially three suspects rocked Tanzania's conservation fraternity, only days after a shipment, allegedly coming from the port of Dar es Salaam, was impounded by Hong Kong customs officers in a record haul.
Poaching, according to a recent parliamentary report, stands at nearly 30 elephant a day or about 10.000 of these animals per year, with authorities doing far too little to stem the tide and halt the commercial scale slaughter of elephant. Driven by exploding demand from mainly China, poaching for ivory and rhino horn poses the greatest threat to Africa's wildlife heritage ever seen and with nearly 500 rhino poached in South Africa alone and an estimated 15.000+ elephant slaughtered this year across Africa, the booming safari tourism industry is facing the prospect of losing its key assets, roaming rhinos and large herds of elephant.
The seizure of over 450 kg's of ivory in a place near the Kinondoni municipality by vigilant security personnel prevented the loot to be smuggled across the border into neighbouring Kenya.
This latest development will further dent Tanzania's bid to be permitted a one off ivory sale of 100 tons of 'legal' ivory for which it has applied to CITES, as the same attempt to obtain permission in 2010 failed when the CITES inspectorate issued a damning report on the laxity of enforcing anti poaching measures in Tanzania and the relative ease with which the country can be used for trafficking.
No nonsense Minister for Natural Resources and Tourism, Amb. Kagesheki, is expected to come down hard on wildlife officials once again, after only weeks ago sacking a number of them and demoting others, for their failures to establish sufficient patrols and putting measures into place to protect the country's dwindling elephant populations. 'This seizure was a chance event, not a result of following leads. Who knows how many such illicit cargos go out of Tanzania. The president last year offered the help of the army. Was that ever taken up? It is time to use all resources we have in our country to combat poaching. If people would steal our mineral resources or fish in our territorial waters all hell would break lose but when they destroy our greatest heritage, our wildlife, no one seems too bothered. This has to change, no elephant, no tourism, it is as simple as that' said a regular source from Arusha in a conversation overnight, when discussing this latest discovery of blood ivory in Tanzania.
Watch this space as certainly more such bad news will emerge in coming weeks and months.
SELOUS SPARED FOR NOW AS MNYERA FALLS TARGETTED FIRST FOR HYDRO POWER
A usually impeccable source has confirmed that the Tanzanian government has signed a loan and finance deal with Brazil, aimed to construct a 700 MW facility near Mnyera Falls.
The cost of an estimated 1 billion US Dollars will be fully advance financed by Brazil and it is expected that Brazilian companies will provide all consulting and construction services for the project as well as post construction advisory services and maintenance support.
The choice of location will provide at least some relief for the Stiegler's Gorge, where inspite of initial denials, when the news were broken here of decades old plans being dusted and revived, a hydro power plant might be put up, after Brazilian consulting company Odebrecht conducted site visits to assess the scope of the project there and the potential electricity output. The greater Rufiji basin, according to studies conducted long ago, could provide up to 4.000 MW of electricity from 8 sites, but Stiegler's Gorge with a potential output of 2.100 MW could generate half of that potential from just one location.
Environmentalists and tourism stakeholders have protested the location however and threatened to decampaign both Tanzania and Brazil, claiming enough alternate sites are available for exploitation, allowing the Selous to be left alone. Stiegler's Gorge is at the heart of the core tourism area and the resulting flooding behind the high dam could result in massive displacement of game and radically alter the entire ecosystem and micro climate of the reserve.
Tanzania's dilapidated electricity grid and power plants are notorious to conk out at the most inopportune moment, largely attributed to an almost complete lack of preventive maintenance and investments in a more modern grid and overland transmission lines, leaving industries and businesses often forced to use expensive generators to keep the doors open but at a huge added cost to the Tanzanian consumers.
Watch this space as this story is unfolding.
Ethiopia News
ETHIOPIAN ADDS THREE MORE B787 VIA ILFC LEASE

A regular source close to Ethiopian Airlines in Addis Ababa has just confirmed that the airline has yesterday signed a deal with ILFC for the lease of three B787 Dreamliner aircraft, over and above the already 10 on firm order with Boeing directly.
All three aircraft are due to be delivered in 2015 and though no duration for the lease has been made public as yet there is speculation that it could be stretching up to 12 years.
Ethiopian is the first airline in Africa to receive the famous aircraft, famous for well over 3 years delay in first delivery but equally famous for being the most advanced aircraft in the skies right now with phenomenal fuel savings compared to the ageing B767 for instance.
Inspite of an unscheduled engine change a few weeks ago, which disrupted the flight schedule for the new bird, these issues seem to have been overcome by ET's technical team at the Bole International Airport in Addis Ababa where the airline has one of the most advances maintenance centres' on the African continent and the three aircraft will also be equipped with GEnx-1B70 engines.
The move is thought to put pressure on other African airlines vying for the top spot in continental aviation, such as Kenya Airways, the closest rival of ET, to also increase their orders and bring, if at all possible, deliveries forward to take full advantage of fuel and other cost savings the new aircraft can provide. KQ's first B787 is scheduled for delivery in Q1 of 2014, a long way off considering that Ethiopian already has two of the new birds in the air and more arrival now at regular intervals, as Boeing is also increasing production since a second assembly plant has been opened a few months ago.
Watch this space for breaking news from East Africa's vibrant aviation industry.
ANGER IN ABU DHABI OVER ETHIOPIAN REFUSAL TO LET ETHIHAD COMMENCE FLIGHTS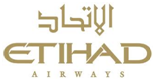 A regular Gulf aviation source has let it drop that anger is boiling over in the UAE capital of Abu Dhabi,
after it was learned that the Ethiopian authorities have withheld approvals for Etihad to commence
flights, due to start on November 02nd.
'The bilateral air service agreements are clear, Etihad has the right to fly to Addis Ababa. They
have spent a lot of money to prepare for the launch, marketing and all, staff employment in
Ethiopia, rent, investments in all sorts of things, lined up media and agents fam trips and all
is now in jeopardy. I would not be surprised if on landing in the UAE Ethiopian may not be subjected to
a series of ramp checks at Dubai International, to drive home the point that you do not mess
around like that. It might also have a fall out on political relations between the UAE and Ethiopia
as such blatant breaches of protocol, especially in the Arab world, means loss of face and THAT
will have a reaction somewhere' wrote the source in a mail just received, as the Gulf is an hour
ahead of East Africa.
Presently it is Ethiopian and Emirates flying between Dubai and Addis, and FlyDubai from Sharjah
to Addis while Etihad wanted to launch later this week flights between Abu Dhabi and Addis.
Notably did Ethiopian Airlines try their luck with flights to Abu Dhabi a few years ago but failed to
attract enough traffic, subsequently scrapping the route within months and now thought to have peddled
influence with the authorities to keep what has been described by a source in Addis as 'unwelcome
competition from another Gulf giant' out of their back yard. Could this be true? In aviation, and
considering the recent politicization of the airline in a radical departure from the past strict division of
airline and ruling party, nothing would surprise me. Watch this space for breaking and regular news
from Eastern Africa's aviation scene.
Rwanda News
RDB LAUNCHES SECOND PHASE OF GRADING AND CLASSIFICATION OF HOTELS
Information was received from Kigali overnight that the Rwanda Development Board's Tourism and Conservation Department is now embarking on phase two of the ongoing grading and classification of hotels, lodges, resorts and restaurants. Over 60 hotel managers and owners were last week gathering in Kigali, after their establishments had been identified to be part of phase two of the exercise, which is unfolding across the entire East African Community to improve standards and quality of services, to be briefed on the requirements and give them details of how to prepare their businesses for the visit of inspectors.
Rwanda was amongst the first East African Community member states to embrace the newly developed guidelines for grading and classification and a year ago revealed their first ratings in a highly publicized event, during which the Kigali Serena Hotel received the only 5 star rating for Kigali so far while the Nyungwe Forest Lodge, owned by Dubai World, was the only one scooping 5 star recognition from amongst the lodges at the time.
Tourism is Rwanda's key economic backbone with earnings of over 250 million US Dollars in 2011 and ahead by a double digit margin for 2012, a year during which many other destinations are struggling to maintain the level of arrivals from previous years. It is also thought that the aggressive rollout of RwandAir as the country's national airline, is to a good part responsible for the successes the country enjoys vis a vis becoming a globally renowned adventure destination, coupling nature, wildlife and culture as a unique package and attracting more and more visitors to the Land of a Thousand Hills.
The ongoing grading of hotels is going hand in hand with intensified human resource development and skills transfer to personnel working in the hospitality sector and as a result global hotel giants like Marriott will be opening hotels in Rwanda next year. Watch this space for regular news updates from Rwanda about all things conservation, tourism and aviation.
Mauritius News
PRIMATE SHIPMENTS TO OVERSEAS LABORATORIES SHOCK CONSERVATIONISTS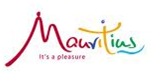 Recent reports from Mauritius were far from being a pleasure, pun fully intended, when the stark news became known that the island exports about 10.000 primates a year to laboratories in the UK, the US and other parts of Europe, perhaps even beyond, where the animals are subjected to a range of tests often leading to a painful death.
Animal testing, a touchy subject at best and hugely controversial at worst, has come into the cross hairs of global conservationists trying to prevent primates, mankind's closest relative in nature, to be captured and shipped and increasingly militant lobby groups are known to have raided labs and holding facilities for such animals to free them from the torture they otherwise undergo.
For Mauritius it is a touchy subject too though, as on one side the island tries to promote itself as a desirable Indian Ocean island destination, with intact beaches and clean ocean waters, so it is understandable that the subject is being hushed up if not buried outright. The local media are keeping off the subject it seems to prevent damage to the already under strain tourism industry and avoid open conflict with the politically influential and powerful owners of the breeding farms.
BUAV (www.buav.org/) has now taken up the cause and put up a campaign to end the shipments, the second largest in the world by the way, bringing the spotlight to Mauritius' government sanction of the deplorable practice purely for monetary reasons. Tourism sources have shown a mixed reaction, aware of the appalling situation but also afraid that tourism might take a further hit, should the country be exposed for being a willing provider of farmed primates for testing. One source more closely affiliated to 'official Mauritius', while expressing knowledge of the situation, tried to have the story squashed while one regular source from within the tourism industry agreed that the exports were a disgrace for the island and a stain on its green credentials while at the same time worried over the impact of the story just a few days ahead of the start of WTM 2012 in London.

Tourism stakeholders are said to be working on proposals to create an alternative revenue stream by looking at raised airport taxes to make up for the loss of business, which while making individual holidays for visitors more expensive, could in turn promote 'abstention' by breeding farm owners and their backers in government. That said, trappers of primates in East Africa, who did thriving business in the trade decades ago, also had to let go of this sordid business when governments, under pressure from the international community, the global media and green pressure groups were compelled to rethink and retool at the time.
Time to show flag and act on principle rather than looking at the financial side only and suppress and hide what clearly in today's world is no longer acceptable.
Thanks to VisitMauritius.com.au for the additional information provided, understandably with a heavy heart as it might after all impact on their own business – so kudos galore for standing up and be counted.
AND in closing some material from further down south taken from Gill Staden's The Livingstone Weekly:
Has Zambia become too expensive?
Tourism in Zambia is too expensive and the country is running the risk of losing out on tourist arrivals, according to European Union delegate to Zambia, Hervio Gilles. During a local radio interview, Gilles said Zambia would have to reduce the cost of tourism in order to maximise benefits in the sector and boost arrivals
We had thought that the new government would see the tourism industry as an economic sector that should be encouraged because of its ability to earn foreign exchange and to provide employment. Unfortunately this does not seem to be the case. The first thing government did was to stop use of foreign currency, except in limited cases. This hit tourism in Livingstone badly. As Livingstone's economy revolves around tourism we need to be able to deal quickly and efficiently with foreign exchange.
Hard on the heels of the currency restriction, came the increase in the minimum wage. We have had other added costs for the traveller like taxes at the airport. And we still await the Tourism Levy ..
All these added extras have forced up costs and Livingstone is pricing itself outside the market. The world is still in recession; there are fewer tourists to be had and those who are still travelling are 'watching their pennies' … We have to remember that, yes, we do have the Victoria Falls but Namibia has a wonderful coastline, deserts and Etosha National Park; Botswana has the famous Moremi and Chobe National Parks; Zimbabwe has the Victoria Falls too and Mana Pools National Park. All that travellers want is to get off the beaten track away from their homes for relaxation … Zambia can provide that but not at a price people are willing to pay …
It is fairly clear that the tourism sector in Zambia will continue to be a milch cow until the cow finally dies. One can only wonder why this should be the case when it has such a potential as an economic performer for the country.
We can see that the Minister of Tourism, Sylvia Masebo, is trying to promote tourism in the Copperbelt. Personally I cannot see the attraction of an open-pit mine, but maybe they do have something … The Bottom Line, though, is that if tourism cannot work in Livingstone, it cannot work elsewhere in the country.
Elephant Orphanage Officially Opened
The elephant orphanage at Lilayi, near Lusaka was officially opened by David Shepherd and the Vice President, Guy Scott, this week.
Camp Phoenix, the elephant orphanage in Kafue National Park takes the older orphans but it was found that the younger ones which required more attention would be better off in Lusaka. Here a vet can be called quickly if there is a need. When they are older they can be transferred to Kafue where they learn more about being wild elephants. Lilayi is home to five orphans at the moment but has enough room for eleven if the need arises.
David Shepherd: It was a hugely memorable visit. Seeing the Nursery become a reality is so wonderful. We certainly couldn't have done it without all our fabulous DSWF supporters.
Air Zimbabwe
Air Zimbabwe has acquired two Airbus planes which will take on the flights to and from Johannesburg and Victoria Falls. Air Zimbabwe is still in arrears with its payments for ground handling in Johannesburg, and that still remains and issue, but the CEO, Innocent Mavhunga said that overseas flights would resume soon. Air Zimbabwe is US$100million in debt.
The Harare-Vic Falls flights will start on Sunday, 4 November. They will fly on Sunday, Monday, Wednesday and Friday. The flight will call at Bulawayo en route and will take 2 hours.