AVIATION, TOURISM AND CONSERVATION NEWS from Eastern Africa and the Indian Ocean islands.
A weekly roundup of breaking news, reports, travel stories and opinions by Prof. Dr. Wolfgang H. Thome
You can get your daily breaking news updates instantly via Twitter by following @whthome, join me on www.facebook.com/WolfgangHThome where the articles also 'cross load' or read the daily postings on my blog via www.wolfganghthome.wordpress.com which you can also 'follow' to get immediate notification when a new article is posted. Also find many of my articles published via www.eturbonews.com/africa with added news from the African continent and the world of tourism, aviation and travel at large.
Fourth edition February 2013
Uganda News
UWA MOURNS THE KILLING OF ONE OF THEIR STAFF BY CONGOLESE INTRUDERS

The Uganda Wildlife Authority, and the country's conservation and tourism fraternity, mourn the loss of one Angel Kobusheshe in the Ishasha or Southern Sector of the Queen Elizabeth National Park, which borders to the Congo DR were sporadic fighting is still going on between opposing militias. Angel was shot dead on Tuesday by what are likely to be intruders from across the border in Congo, where law and order are literally gone AWOL and where some resemblance of discipline only prevails in parts controlled by the M27 movement.
The night prior to the incident on Tuesday morning was a Uganda People's Defence Forces soldier shot, allegedly by the same goons which came across the open border under the cover of darkness to loot, steal and rob before running back to their safe havens inside Congo. The lady soldier is said to be recovering in a hospital in Kampala.
While it is difficult to establish motives beyond the usual robbing and looting element, there is however suspicion among those close to the powers that be in Uganda, that this case bears similarities to an incident a few weeks ago in Rwanda, where a Rwandese ranger was killed before his camp was looted by intruders from the Congo DR along the Volcanoes National Park in Rwanda, an act clearly aimed at disrupting gorilla research and threatening a thriving tourism industry.
'This could be a similar scenario that besides trying to steal things from Uganda while their own supplies have run low, they could also try to destabilize our tourism industry. Ishasha has two tourist camps which is why UPDF is deployed there and it is near Bwindi where the bulk of our tourists go to see gorillas. The matter is being investigated but one cannot rule out a bigger picture that either militias hostile to Uganda or rogue elements in the Congo army could have done that. If they had orders from above, that is the million dollar question like it was in Rwanda a few weeks ago. What is clear is that there are hostile elements to us across the border and we must remain vigilant at all times to protect our territory and our people from such acts of aggression. Personally I do not believe this was a simple act of robbery or stealing but that is my own humble opinion' said a source with some insight into the situation at the border area between Kihihi and Ishasha on condition of strict anonymity. Condolences are expressed to the family, friends and colleagues at UWA of the late Angel Kobusheshe.
STOCKING UP FUEL AND COMMODITIES AHEAD OF KENYA ELECTIONS CAUSES SHORTAGES

As the elections in Kenya are drawing nearer are Ugandans, but also the people of other hinterland countries like in South Sudan, Eastern Congo, Rwanda and Burundi stocking up on essential commodities, including fuel, driving prices for petrol and diesel further up and threatening an artificial shortage through panic buying.
Many in Uganda remember the dark days after the 2007 election in Kenya when in early 2008 the supply lines from Mombasa were effectively cut, with Uganda bound trucks often looted and burned by angry mobs in Western Kenya which were incited by their political masters there over the swift recognition of President Kibaki's re-election by the Ugandan government at the time. In addition were the railway lines uprooted by supporters of the losing candidate at the time, leading to 'better preparedness this time' as a regular tourism source in Kampala put it to this correspondent yesterday. 'It is just 12 days to go now and we have stocked up on fuel and other items we need to do our camping safaris. I have also stocked up at home because last time, already the day after New Year, fuel in Kampala was in short supply and eventually ran out in many stations. Even food stuffs from Kenya, in fact all our imported items from Mombasa, failed to arrive and it caused a lot of hardship for us as a company but also for the country. We cannot be sure what happens this time so we are better prepared now' – a sentiment echoed from sources in Rwanda as well as in Juba / South Sudan.
The Kenya government has in the meantime mobilized scores of retired police and army personnel to supplement the regular police, GSU and army units now going on to high alert status ahead of the elections with deployments already rolling out into known hotspots like Kisumu, where even the nomination process a few weeks ago resulted in riots, a pointer that this hotbed of Kenyan politics is still a powder keg.
'Our government is prepared this time. In fact, our security organs are facing two major challenges. One is the threat by Al Shabab remnants to disrupt our election process. That threat has been there for a while and been quite contained apart from a few isolated incidents. The other issue are elections hotspots. We expect that security personnel will be out in force, very visible, and stay in place until election results are announced and winners in all the elections announced. From what I gather there are enough stand by troops still kept in reserve to deploy should trouble start somewhere and local forces require more manpower. Unlike last elections, this time the government is taking no chances so we are cautiously optimistic that there will be no repeat from 5 years ago.
About your question on tourism arrivals I have to agree that numbers are reducing right now but I should stress that even 5 years ago not one tourist came to harm. Resorts were safe, hotels were safe, safari lodges were safe and our safari vehicles were never stopped or looted or attacked by mobs. The associations are working closely with the authorities and KTF will again be a key platform to inform members. So let us for once be a bit optimistic and if the media play their role with good and accurate reporting we shall be fine' wrote and said a regular senior tourism stakeholder overnight, understandably on condition of anonymity for no longer being a serving official in the Kenyan private sector setup.
Ugandan sources also dismissed as 'badly misspoken' comments attributed to an individual at the Uganda Tourism Board over benefitting from the election fever in Kenya by attracting more tourists to Uganda, saying they wished their Kenyan brothers and sisters the very best in the days ahead and that none preferred to benefit from the potential misfortunes of others in the region. 'I was not there when those comments were made but what came through in the media sounded like a very bad faux pas. We know if Kenya has a cold we get pneumonia here in Uganda and those comments if correct where very out of touch with reality and really not reflecting general opinion' quipped a regular contributor from Kampala when asked to comment, off the record no wonder.
Local hotels in Kampala and across the country are reporting a number of extra bookings from Kenyan sources for accommodation ahead of and over the election period as in particular members of the Asian community are preparing to take a 'holiday' across the border, a trend which reflects what has happened ahead of past elections, not just that in 2007, when entire families came across the land borders in Busia and Malaba to ' visit' Uganda for a few days before eventually returning to their Kenyan homes.
Watch this space as the final countdown is now ongoing towards the March 04th elections in Kenya.
KLM ANNOUNCES DAILY FLIGHTS BETWEEN ENTEBBE AND AMSTERDAM

In breaking news has KLM in Kampala just announced that they will move to daily flights on the Entebbe – Amsterdam route, effective 05th of April this year.
The news come not long after British Airways announced the withdrawal of their flights to Dar es Salaam, a destination where KLM is also flying to daily via Kilimanjaro, while the Dutch national airlines is flying double daily, in conjunction with Kenya Airways under a partnership codeshare arrangement, to Kenya's capital city of Nairobi.
KLM will be the first European airline to thus fly daily to Entebbe, via Kigali, serving both the Ugandan and Rwandan capital city from Amsterdam, where their global network and the flights of in particular SkyTeam partner airlines connect now to East Africa like no other.
The announcement serves notice of intent to not just the Gulf giants Emirates – also flying daily to Entebbe – as does Qatar Airways but seems to be mainly aimed at the competitors of SkyTeam like OneWorld, represented by British Airways, and Star Alliance, represented by Brussels Airlines which from the summer schedule onwards will fly four times a week between Brussels and Entebbe, also via Kigali. Those two airlines will now be under intense pressure to raise their own bar and add flights or else risk to be left behind as more and more travelers prefer to travel with airlines offering daily flights and not restricting them to but a few a week.
Travel agents were largely taken by surprise when contacted as few were aware of the announcement but it is expected that the KLM sales team will hit the travel shops and corporate client offices in force in coming days to make the most hay out of being the first and only European carrier to come daily to Uganda.
Watch this space for breaking and regular aviation news from East Africa's vibrant airline sector.
CHOBE AREA OF MURCHISONS FALLS NATIONAL PARK GETS EXPANDED TRACK NETWORK

Uganda Wildlife Authority have completed the construction of more tracks in the Chobe area of the park above the falls, giving added opportunities to see game and explore the forests nearer to the Chobe Safari Lodge.
One of the two sections is approximately 10 km's of length and runs along the River Nile to the River Ayago on the route between Chobe and Paraa, while the second section of 6 km's offers access to natural salt licks and forest glades, where the spotting of game is now much easier. Two added foot paths from designated car parking areas to the River Nile have also been opened to allow visitors to approach the river banks at spots on foot.
The lower part of the park has 10 days ago suffered some severe fire damage, thought to have been caused by lightning strikes igniting dry grass and undergrowth, not as a result of arson or other accidental fires but the next rainy season is likely to regenerate green growth fast.
Meanwhile was it also learned that UWA in conjunction with the Uganda Tourist Board, aka Tourism Uganda, are planning to commemorate the 50th anniversary of having Kidepo Valley National Park first declared a park soon after independence. Often described in the past by this correspondent as a 'prime piece of African wilderness real estate' CNN has more recently also included Kidepo in their own top three national parks in Africa as a result of the bio diversity and extraordinary scenery visitors experience when coming all the way into the North Eastern corner of Uganda where the borders meet those of neighbours Kenya and South Sudan.
Tree climbing lions share their territory with cheetahs, the only place in Uganda where those rare predators are found today, and large herds of buffalo and elephant are regularly observed alongside a growing population of the Rothschild giraffes, the breeding stock of which was late in the last century brought in from Kenya under a bilateral wildlife conservation project when numbers in Kidepo had dwindled to critical levels.
Watch this space to stay informed of the latest developments in Uganda's national parks, game reserves, sanctuaries and conservancies.
Kenya News
KENYA AIRWAYS SET TO UP CAPACITY TO DEHLI AGAIN FROM JUNE

Not long after reducing capacity on the Nairobi to Dehli route by the introduction of a B737-700 aircraft instead of the initially operated B767-300 aircraft, has Kenya Airways now indicated that from the 11th June onwards they will revert to the B767-300 operation, at least until the 01st of September, if not beyond.
KQ presently flies three times a week nonstop between Nairobi and Delhi, India's capital city, on Tuesdays, Thursdays and Saturdays, returning to Kenya the following day.
There is also speculation about the current flights between Nairobi and the Seychelles, where the airline presently operates the B737-700, which has a seat capacity of 116 seats in a dual class configuration but is now periodically also deploying the Embraer E190, which in a dual class configuration offers a total of 96 seats.
A regular deployment of the E190 to Mahe could allow the airline to move from the present 3 to 4 flights a week without raising capacity too much, especially now that Kenya Airways has signed a major partnership deal with Etihad Airways, which in turn controls 40 percent of Air Seychelles. Possibilities and new options galore, so watch this space for regular and breaking news from Eastern Africa's aviation sector.
KENYA AIRWAYS ANNOUNCES CODESHARE DEAL WITH ETIHAD


Following the progressive partnership between Abu Dhabi's national airline Etihad and European mega carrier KLM / Air France does it come as no particular surprise, other than the timing, that Etihad has now signed an extensive codeshare deal with Kenya Airways, a SkyTeam partner in which KLM holds a major stake since 1996 when KQ was privatized.
Etihad Airways and Kenya Airways announced this afternoon in Abu Dhabi that KQ will commence flights to Abu Dhabi starting in June this year, initially three per week while with immediate effect codesharing on the daily Etihad service between Abu Dhabi and Nairobi. What is surprising though is the extent of the deal now inked as the codeshared flights will not just cover the sectors between Nairobi and Abu Dhabi but go way beyond, both ways, with Etihad gaining access to KQ's Africa network while Kenya Airways in turn gains access to 32 destinations in the EY network to India, South and North Asia and Australia, giving their passengers yet greater value for their loyalty with more destinations, more flights and more opportunities to earn frequent flyer miles where both airlines are already working to align and integrate their respective FFP's.
It could not be immediately confirmed though, but it is very much anticipated, that this deal now signed may also be a precursor for a closer cooperation between Air Seychelles – in which Etihad holds a 40 percent share and provides the management – and Kenya Airways to progressively add more flights between Nairobi and Mahe. Presently three flights a week are operated by Kenya Airways but a codeshare with HM is now within reach to give the Seychelles national airline greater access to the African continent, where KQ can provide seamless connections to most capitals in Africa, and by the end of next year in fact all commercial and political capitals as more aircraft come on line.
This is yet another coup of sorts for The Pride of Africa after signing in recent weeks and months similar deals with Vietnam Airlines and China Eastern following codeshared operations with Korean Air. KQ now has 18 codeshare partners from around the world while it was learned that Etihad now cooperates with 42 airlines spanning the entire globe. Said Dr. Titus Naikuni, Group Managing Director and CEO of Kenya Airways on the occasion: 'This new codeshare agreement is a significant development for Kenya Airways that enables us to provide our passengers with convenient access to the capital of the UAE and onwards on the extensive Etihad Airways network'.
James Hogan, President of Etihad Airways, responded by saying: 'The partnership agreement with Kenya Airways is in line with our strategy of forming alliances with airlines around the world to enhance our network and marketing reach. Last year we launched new services to Tripoli, Nairobi and Lagos, and over the last five years we have more than doubled our services to Africa, reflecting the increasing importance of thecontinent. During the same period we have flown nearly three million passengers between Africa and the UAE, and key destinations across our network'.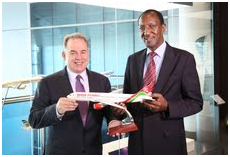 (James Hogan seen here with Dr. Naikuni – Picture courtesy of Kenya Airways)
Watch this space for regular and breaking news, often told first right here.
AFRICA HOTEL INVESTMENT FORUM RETURNS TO THE NAIROBI INTERCONTINENTAL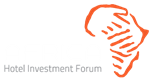 September 25 and 26 were given to this correspondent from a hospitality source at the InterContinental Hotel in Nairobi, when the hugely successful Africa Hotel Investment Forum will return for the second year running to Kenya's capital Nairobi, bringing the global hospitality giants together with smaller international, regional and local hotel groups and investors.
Last year's event, held for the first time in Kenya, turned out to be successful beyond expectations with larger than expected participation and full support from the regional hotel industry and investors, who benefitted from contacts and referrals made during the meeting, resulting in at least one known major management contract to be signed for an upcoming hotel in Nairobi.
East Africa in particular, since the discovery of major oil and gas deposits in Tanzania, Kenya and Uganda, are currently en vogue destinations for hotel groups not yet represented in the region, or having perhaps only one property and wishing to expand further, to compete with the 'regulars' like InterContinental and Hilton, already on site in Nairobi since the 1970's or the Sheraton, present in Kampala since the late 1980's. New to the region are Hyatt with one hotel in Dar es Salaam, the Marriott – due to open later this year in Kigali but others have since either invested or bought like Kingdom Hotels' Fairmont brand. Next to open a major 5 star luxury hotel will be Kempinski, where the new Kempinski Villa Rosa along Waiyaki Way is due to open in May this year.
Dusit is according to information also arriving soon in Nairobi through a management contract and Radisson Blue too is expected to join the throng while Best Western opened a property just two months ago.
Kenya's and in fact East Africa's tourism fortunes are expected to get a boost from the new hotels, all of which will be selling and marketing their new hotels to the fullest extent, aiding the efforts of the respective tourist boards and private sectors. Watch this space and expect reports from the conference as and when it takes place in September.
KENYA'S SALE OF THREE HOTEL INTERESTS TO BE CONCLUDED BY JUNE

A regular source close to the Kenya Tourism Development Corporation in Nairobi has confirmed that the sale of the government's shares in the Hotel InterContinental Nairobi, the Hilton Nairobi and the Mountain Lodge will be concluded by June this year. The co-shareholders in all three properties have already indicated that they will exercise their 'First Right of Refusal', among then Serena Hotels, which manages the Mountain Lodge on Mt. Kenya. All other properties still owned and managed by KTDC, which are due for disposal, will probably be put on the market only after a new government has taken a fresh look as the mix of locations and valuations will make it difficult if not impossible to find a single buyer with local business consortia more likely to take up the offers for the 'lesser properties' in upcountry locations while the Kenya Safari Lodges Ltd, comprising of Voi and Ngulia Safari Lodges and the Mombasa Beach Hotel may attract an international bidder with the cash to modernize the three prime properties. Watch this space for upcoming announcements and information when the process of advertising for expression of interest is going underway.
SECOND ARMED ATTACK ON ITALIAN TOURISTS RAISE ALARM LEVELS IN MALINDI

Two armed attacks, using guns and machetes, on the Italian holiday community in Malindi, have raised the alarm of targeted violence against this Indian Ocean municipality's most numerous visitors.
The Italian Foreign Ministry issued a statement expressing their concern over the safety of their nationals in Kenya today following the admission of an Italian man to hospital with a gunshot wound, which however was described by a source in Mombasa as 'not critical'. A gang comprising at least 6 hooded gangsters attacked several Italian owned villas in Malindi and injured several of the tourists before making off with valuables, money, cameras, computers and jewelry.
Two weeks ago an Italian woman was shot in the throat by the violence prone attackers, thought to be the same gang, reportedly without giving any cause for the action, while again others too were reportedly injured.
The Italian community has demanded increased police patrols and stricter measures by the local police to bring the culprits to book. Said one source on condition of anonymity: 'They think we are all rich like Berlusconi or Briatore. Many of us Italians enjoy the climate and otherwise friendly people in Malindi. We invested our life savings to build ourselves homes here and now we had two of ours shot in the space of two weeks and others injured. Maybe the police are more interested in other issues but security is a key for tourism. If such attacks continue, Kenya will get a very bad reputation in Italy and already numbers are down. We are getting too many calls from back in Italy to ask if it is safe to come to Kenya and the elections next month will make it more difficult for many to travel here. Targeting us foreigners, if specifically Italians or just by coincidence, is a very bad thing and Kenya government should not let it happen. Two weeks ago police promised better security and not much has happened, so more attacks took place and another Italian was shot. The press reports in Italy will be very negative now for sure' said an Italian source based in Mombasa but in contact with the compatriots in Malindi.
No official statement was available from government sources by the time of filing this article, but as and when available will be added to provide extra insight in to the incidents.
KENYA AIRWAYS APPLIES FOR EXTENDED IMMUNITY OVER KLM / AIR FRANCE DEAL


Information was received from Nairobi that Kenya Airways has applied to the country's competition authority for extended exemption of their partnership deals with KLM / Air France, to prevent competitors from filing complaints about elements of their joint venture agreements.
The two airlines are flying in code shared operations to Amsterdam and beyond and the exemption, if granted as expected, will cover mutually agreed ticket prices as well as capacity alignment depending on demand.
The first of these agreements goes back to the days when KLM came on board as a major shareholder following the privatization of the airline back in 1996 and has since been regularly renewed, providing substantial benefits to travelers as well as to the two airlines, which are now even partnering in their frequent flyer programme 'Flying Blue'. Kenya Airways is also the only African member of the KLM / Air France inspired Sky Team global aviation alliance, which is considered the number two behind Star Alliance but ahead of OneWorld and of key importance for channeling alliance traffic via Nairobi into Africa. The membership in Sky Team is in fact considered a key factor for KQ's success in rolling out across the continent after serving notice to fly to every commercial and political capital in Africa by the end of next year, serving as sole hub so far for all other Sky Team member airlines flying either into Nairobi directly or else feeding traffic into KQ's and KLM's flights from Europe and Asia.
Such exemptions, while already criticized in Nairobi by competitors, are however not new and are certainly also in place for partnerships in Europe and North America, where for instance the BA / AA cooperation is exempted from certain aspects of anti monopoly regulations and laws as are similar deals between LH / UA covering flights across the North Atlantic. Watch this space for regular and breaking aviation news from East Africa's vibrant airline sector.
ANOTHER CHINESE BLOOD IVORY SMUGGLER NABBED AT JKIA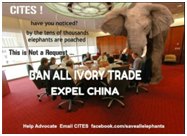 The Jomo Kenyatta International Airport dog squad, as well as the vigilance of security personnel, are credited with the arrest of yet another Chinese citizen, who was found in Nairobi with 58 kilogrammes of blood ivory stuffed in his baggage, as he tried to check in for Guangzhou on Sunday night.
According to initial findings by the police the suspect, who lived in Kenya, bought the blood ivory from dealers at a popular tourist market in Nairobi, and investigations have extended to shops and traders there too, with additional arrests likely to take place in coming days.
Chinese citizens, across the elephant range states of Africa, constitute the majority of arrests, an indication that their culture and behaviour is pure contempt for the ideals of conservation and the protection of the vital resource from which the continent's safari tourism industry makes a living. Notably it was learned that poaching of Pandas, the national wildlife symbol in China, is punishable by death sentence and calls have increased in recent weeks to dish out similar sentences in Africa to preserve what is left of the continent's last big herds of elephant and protect the dwindling numbers of rhinos.
The same source also confirmed the arrest yesterday of two Tanzanian citizens on the outskirts of Nairobi while in possession of 141 kilogrammes of blood ivory, supposedly smuggled in from Tanzania in a specially constructed hidden compartment under the back seats of a tourist vehicle. Both suspects are due in court on Tuesday morning but in view of the lax laws currently in place are expected to get off lightly in comparison with the seriousness of their crime, as will very likely the Chinese national, where in similar cases in the past fines of a few hundred dollars were enough to be let off the hook before then being deported as persona non grata.
Meanwhile did KWS security personnel shoot dead a suspected rhino poacher at Lake Nakuru National Park while his accomplice managed to escape, only two weeks after several rhinos were found dead in this park as the wave of rhino poaching has clearly reached East Africa after being totally out of control in Southern Africa already for the past several years. An M16 assault rifle and ammunition were recovered from the dead suspect. Watch this space for more updates as and when available.
JETLINK SET TO DISCUSS FUTURE COOPERATION WITH FASTJET'S UK EXECUTIVES


It was learned yesterday through a regular aviation source in Nairobi, that Jetlink's principal owners Captains Elly Aluvale and Kiran Patel will be meeting executives from Fastjet's UK offices next week, to discuss the recently signed Mou and the way forward, which would allow FastJet – against all odds considering their present predicament and embroilment in a flood of legal issues with erstwhile 'friends and partners' Fly540 – to start operations in Kenya.
Only yesterday did news become available of FastJet in the UK raising a further 4 million UK Pounds from shareholders and through other financial arrangements, though it was unclear if that money was to provide for the potential liability of claims by Fly540 amounting to nearly 8 million US Dollars, or may be used to inject further operating capital into FastJet in Tanzania, which according to other reports filed here and elsewhere is under severe pressure by TCAA to pay both current and legacy debts.
The talks in Nairobi however could also mean that the extra funding raised may perhaps be used to start in earnest in Kenya at last, where Jetlink had to halt operations a few months ago over funds kept hostage by the South Sudan government which prevented the transfer of ticket sales worth over 2 million US Dollars to Jetlink's Nairobi banks.
FastJet's circumstances – some say caused by lax if not lazy executives failing to carry out due diligence when entering into the initial talks with Fly540 and then in reflecting their then dominant financial power in the respective subsequent agreements with Fly540 – have in recent weeks changed to the worse, at least in the court of public opinion and the court of aviation observers, and will leave them at best on level terms with the Jetlink team, which under the circumstances can now expect a much more equitable outcome of talks, should the two go ahead and operationalize the MoU signed a few weeks ago. It is not clear who of the East African FastJet senior staff will be part of the negotiations, considering the mess they presided over in recent weeks, when their dominos fell one by one. It is not out of question therefore that the key players will be the UK based executives led by Ed Winter, whose own confidence in his East African team's abilities may well be shaken considerably.
In Ugandan aviation circles there is thinly concealed glee over these developments as Kayle Haywood, described by one of his former staff as an 'aviation mercenary of epic proportions' may now wish to have honoured his contract with Air Uganda after all, from which he walked out after not even a full year on the job. 'His secretive behaviour in the last weeks on his job at Air Uganda is now all but explained in full' added the source before continuing 'we will never know what went on in his head but for sure, he knew all of Air Uganda's top secret issues for future development and one can speculate how that knowledge is being used now. We all think his actions were despicable and a slap in the face of the people who trusted him and worked with him, they were all betrayed by someone with very questionable ethics for his profession'.
Another source then commented with information that Jetlink for some time held traffic rights between Nairobi and Entebbe but never actually did launch flights and being a weekend it could not be ascertained if these rights were still current or had lapsed. Jetlink however does hold traffic rights on Kenya's domestic routes between Nairobi and Mombasa, Eldoret and Kisumu as well as rights to Hargeisa, Mwanza and Juba, among other destinations.
'Patel and Aluvale are tough negotiators and they will not be giving Jetlink away for free. They have options both in Kenya and with other partnerships on the horizon so they will not be handing their life's work to FastJet on a golden platter for sure, not the way those guys have suffered damage to their reputation over the past weeks' added another Nairobi based regular commenter based at JKIA. Watch this space to find out emerging news next week when the talks are going underway and the eventual outcome, either resulting in Jetlink / FastJet going active or else both pursuing other options, should no agreement be reached.
Tanzania News
AIR TANZANIA RISKS TO LOSE HEAD OFFICE OVER DEBT CLAIMS

Information has come to light that the head office building of Air Tanzania is currently being assessed as to its value following an order by the Tanzania High Court over an outstanding debt of over 1 billion Tanzania Shillings, which the airline has failed to pay over a car hire deal which saw Tourism Services, Leisure Tours and Holidays Ltd. supply vehicles to the company.
The company won their principal case already in 2009 but ATCL had failed to pay the debt which has since accrued compound interest.
Upon application by the creditors they now expect the airline's head office be auctioned off to repay them, even though one official close to the airline said in a mail to this correspondent: 'The debt is there but the cash flow of the airline over the past years was not good. First they were grounded over documentation issues from TCAA, and then they lost the B737 in Mwanza and the Q300 was also badly damaged in Kigoma. They hope that government can step in and inject capital to prevent the office block from auctioning. That would be a big setback and detrimental to the airline. They may not be able to pay the rent even considering their limited income'.
The deadline for the submission of the value is this week, so watch this space on the upcoming decision the High Court will take vis a vis a possible auction.
TANZANIA GOVERNMENT OFFICIALS PANIC OVER URANIUM MINING FEARS AND RUMOURS

Fear appears to be spreading through the establishment in Dar es Salaam over the level of opposition to Uranium mining and its potentially toxic and perhaps even fatal side effects, prompting a mini offensive through a workshop last week for media representatives, meant to 'clear the air and make facts available to the media and the wananchi' according to a media source who attended the seminar.
Opposition has been widespread since the moment it became known that the government was planning to degazette a 200 square kilometer area at the periphery of the Selous Game Reserve, to keep the mining area outside of regular protected areas governance, for which in fact approval had to be sought from UNESCO as the reserve is a global world heritage site and as such subject to much more stringent processes.
Once the approval was, from sources in Paris it was learned reluctantly, given the Tanzanian government moved ahead with the licensing process, but fears and worries spread through communities after details became known how such mining areas in other parts of the world ended up as toxic sites.
Environmentalists and conservationists are standing together in watching the activities of the mining company by taking water and soil samples to establish base values and then, over time, compare any contamination of streams and rivers running through the Selous but also the wells from which neighbouring communities draw water from underground sources. Soil samples too should in the future measure any toxic spread through dust blown from above ground sites where the mining aggregate will be deposited, to have independent data at hand when government publishes figures which may be doctored to fit the policies of their masters.
It was also noted with concern that no Environmental and Social Impact Study has yet been concluded and put into the public domain for perusal and debate, which lent further cause to speculations that this crucial element ahead of proper mining may be dispensed with or otherwise bypassed to facilitate fast tracking the extraction of Uranium from the mine. While according to government officials no license has yet been issued, it is all but clear that this is thought to be a mere formality, giving an insight into the thinking lines of officials. One participant also confirmed that government officials used the workshop to insist that participants toe the official line on 'there are no known dangers' and not give communities information which may stir up sentiments and potential unrest. An official with the Tanzanian Atomic Energy Commission in fact was quoted to have told workshop participants about some of the information circulating among communities: '[Some of] These claims are based on wrong perceptions' having the media participants with their own sources of information about the dangers of Uranium mining shake their heads over the see through attempts to reshape the debate in the country in the image of government. Watch this space.
FASTJET NOW TARGET OF TANZANIA'S TAXMAN TOO

The bad news for FastJet just don't seem to end as information has emerged from Dar es Salaam, that the Tanzania Revenue Authority, aka The Taxman, is now chasing down the upstart over payment of both current as well as apparent legacy debts from past operations by Fly540 Tanzania.
While those old outstandings also shed light on the business practices of Fly540 Tanzania, prior to selling the company to FastJet, it is now clear that the separation of old debts has apparently failed to take hold or be recognized by Tanzanian authorities, as TRA now follows hot on the heels of another large claim for current and past debts from the Tanzania Civil Aviation Authority.
Information passed from a regular aviation source in Dar es Salaam speak of a back log of payments for several years, covering PAYE and other taxes due, amounting to nearly 3 billion Tanzania Shillings and covering periods between 2009 and 2011, clearly incurred under the management of the initial Fly540 Tanzania owners who may have used the hasty sale of the airline's Tanzanian operation to rid themselves of these long overdue obligations.
The demand note, served on FastJet a week ago, gave them a few days to pay up or else, as was the case with the TCAA demands, and these ongoing public negative headlines are thought to impact on the public standing of FastJet in Tanzania, which may yet cost them dearly in terms of passenger loads, as Air Tanzania and Precision Air have all but matched their regular fares while offering wider choices of departures between Dar, Kilimanjaro and Mwanza, at least as far as Precision Air is concerned.
'If FastJet cannot get out of the headlines with such very negative stories of money owed to the Tanzanian government and hence to the people of Tanzania, I wonder how long it will take for passengers to vote with their feet? It must be a nightmare for their PR people because one thing chases the next. And not only in Tanzania, but also in Kenya where reports talk of other court cases with the Fly540 people before they even started flying. It is almost a worst case scenario that you are judged in the court of public opinion before a single plane has flown. How anyone can repair that damage I wonder really. I think they simply failed to understand the market here and failed to understand the nature of their chosen partners. I think that is the biggest failure really on the part of those who made that decision and the results are very negative for them now' wrote another regular source from Dar es Salaam when asked to comment, as usual, for fear of repercussions, on condition of strict anonymity as 'otherwise they will revenge us when they can'.
FastJet was days ago reported to have raised further capital worth some 4 million UK Pounds amid questions if such added funding was to be used to start operations in new markets like South Africa, or else bring their plans to commence flights in Kenya under a new partnership deal with Jetlink to fruition or otherwise make financial provisions to pay such debts which the airline has until now denied owing altogether, pointing the 'debtcollectors' to their former partners at Fly540 in both Tanzania and Kenya.
Watch this space for more emerging news as this tragicomedy called FastJet continues to amaze East Africa's avation fraternity.
SAUTI ZA BUSARA ENDS ON HIGH NOTE

East Africa's – if not the continent's – biggest and most respected music and performing arts festival Sauti Za Busara ended this evening in Zanzibar on a high note after reaching new visitor records across the 4 days the 10th anniversary edition of the festival.
'This was the best I have seen yet and I was here several times so far. The organizers promised a lot and delivered even more. Great bands, great performers and an atmosphere like no other festival in East Africa. No problems with security but of course flights were full, ferries from Dar es Salaam were full and the small hotels and lodgings in and near the Stone Town were all full too. I met many friends from previous festivals and many asked in fact if you were by any chance in Zanzibar. They were checking your blog posts for live updates or checked your Twitter TL for updates and were disappointed to see you were somewhere else. After all this was the 10th edition of the festival and you have always pushed it in your articles as the real thing in East Africa' wrote a periodic source from Zanzibar by email, after clearly enjoying the performances and shows and the hospitality once again of the Zanzibari people.
It was also learned that Sauti Za Busara's organizers have launched a picture competition where those who were there can submit their best shots to busarapress or else to busara by 20th of February, i.e. latest on Tuesday this week, to be considered for honours and prizes.
Watch this space for upcoming news about Sauti Za Busara 2014, the dates and the deadlines to apply for participation as a performer, band or solo artist and when to submit films for consideration.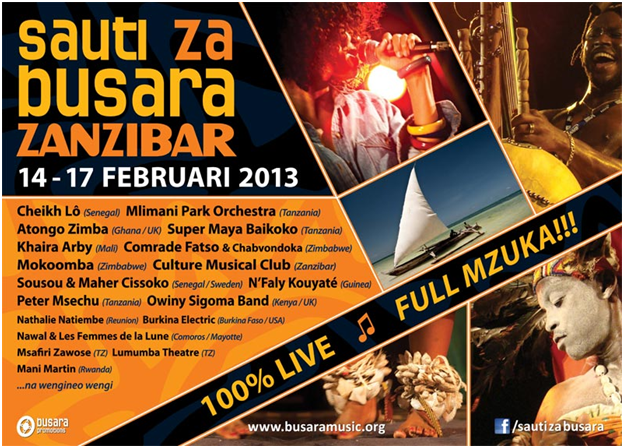 Visit www.busaramusic.org for more information or check out the pictorial on the festival's Facebook pages via https://www.facebook.com/sautizabusara
Ethiopia News
ETHIOPIAN PLANS FOR MORE FAR EAST CONNECTIONS

A source in Addis Ababa confirmed reports seen earlier on that Ethiopian, one of the leading contenders for leadership in the African skies, will be adding three more Far East destinations with the upcoming summer flight schedule.
Ho Chi Minh City, Seoul and Manila can now be booked through the airline's reservation system as seen via www.oagaviation.com. It is not clear at the moment though how the present grounding of Ethiopian's entire B787 fleet will impact on the planned summer programme, considering the comparable load and range limitations of the ageing B767 fleet the airline still operates and which had to step in and step up to permit the ambitious present schedule to operate, leave alone the expanded summer schedule.
Long haul flights presently have to stop over as only the B787 for instance would be able to reach Ethiopian's North American destinations nonstop and while according to the source demand is sustained, passenger feedback is not entirely positive vis a vis the stop overs or the comparably out of fashion cabins, compared to what the new B787 now offers in inflight comfort.
The new destinations will all come on line effective 18th June 2013 and are then expected to operate year round.
Watch this space for regular and breaking aviation news from the vibrant Eastern African airline industry.
South Sudan News
FLY DUBAI SET FOR APRIL INAUGURAL TO JUBA

Confirmation was received yesterday afternoon from a regular aviation source in Juba / South Sudan, that Fly Dubai, the leading LCC of the United Arab Emirates, will commence flights from 21st April this year.
Initially the airline, using an exclusive fleet of B737-800 NG aircraft, will fly four times a week between Dubai and Juba on Monday, Tuesday, Friday and Saturday.
The announcement comes as a surprise to aviation observers as destinations like Nairobi, Entebbe or Dar es Salaam were expected to be the next target of Fly Dubai, which is on a slow but steady expansion drive into Africa. Flying already into Addis Ababa, the airline is facing LCC competition into Africa from Sharjah based Air Arabia, which is flying daily into Nairobi, but there is clearly growing demand for LCC fares as more and more expatriates from Eastern Africa are now working in the UAE and opting for cheap fares on flights with no frills instead of using the regular but more pricey services by Kenya Airways, Emirates or Etihad, the latter two also based in the UAE.
Return fares have been given by the source as starting at US Dollars 650 return, including a 20 KG / one piece of checked baggage and a size and weight limited cabin baggage. Arrival in Juba is scheduled at 14.00 hrs in the afternoon after leaving Dubai at 10.10 local time and the return flight is due to leave Juba at 15.00 hrs arriving at Dubai at 21.15 hrs local time.
Juba, besides regular double daily flights from Air Uganda ex Entebbe and Kenya Airways ex Nairobi is connected to the outside world daily via Ethiopian Airlines ex Addis Ababa and a few other carriers, but being restricted to daylight operations has been sidelined so far by major European or Gulf carriers, some of which have also cited the congested airport facilities and lack of modern handling equipment for their absence from Juba.
Watch this space for regular and breaking news from East Africa's aviation scene.
Rwanda News
RWANDA INVESTS IN FUTURE INSPITE OF DONOR STAMPEDE

Former British Prime Minister Tony Blair was outspoken as usual when he harshly criticized the current wave of opportunistic financial sanctions as withdrawal of committed and confirmed aid packages to Rwanda for education, health and social services hit the country's budgeting and is currently causing some serious belt tightening.
Based on the fiction like report of some – now largely discredited – UN staffers did several development partners rush into cutting aid and suspending cooperation, and while some of those hasty actions are presently being reviewed and reversed much of the damage remains done.
Blair wrote in an opinion piece now widely available on the web that he: 'believe[s] this is the wrong approach. Slashing international support to Rwanda ignores the complexity of the problem within DRC's own borders and the history and circumstances that have led to current regional dynamics. Cutting aid does nothing to address the underlying issues driving conflict in the region, it only ensures that the Rwandan people will suffer–and risks further destabilising an already troubled region. It (Rwanda) has safe streets, functioning Internet and communications, and is building roads and schools at an astonishing rate — all without the benefit of natural resource wealth or access to the sea. Much of this has been accomplished with the help of Western aid'.
Notably has Britain ranked Rwanda in a class of its own in terms of use of donor funds when in a review of bilateral projects the government concluded that: Rwanda offers the best value for taxpayers' money in the world'. Blair and his co-author Howard Buffet went on to say that cutting aid to Rwanda also risks undoing one of Africa's great success stories. In the last five years, Rwanda has lifted one million people out of poverty, created one million new jobs, and is poised to meet most of the U.N. Millennium Development Goals and has achieved that by using tourism as a major vehicle to create new jobs, increase foreign exchange earnings and stimulate foreign direct but also local investments.
And it is here that the current wave of austerity measures has notably excluded two key projects, if RwandAir can even be called a project at this stage when it has established itself as a major aviation player in the wider Eastern African region. Finance Minister Rwangombwa last week told parliament in Kigali, when he had to present a revised budget as a result of the trend, that the borrowings in form of a Sovereign Fund, worth 227 billion Rwanda Francs, will to a substantial part be dedicated to boost RwandAir's fortunes as the airline is pondering when to turn two options for additional CRJ900NextGen into firm orders.
Over the past two years has RwandAir, against the general trend in East African aviation, bought four brand new aircraft, something in recent history only done by Kenya Airways and Precision Air, while all others opted for a number of reason for pre-owned and often aged birds.
RwandAir's fleet now stands at two very recent B737-800NG's, two 4 months old CRJ900NextGen, two leased B737-500 which by midyear will be substituted against two B737-700NG and one Bombardier Dash 8-100 used for domestic and near regional routes. With passenger numbers up by some 50 percent on a year by year comparison, the airline is turning out to be exactly the strategic asset it was created to be, aimed to connect the landlocked Rwanda with the region and across the continent to South and West Africa. The success in business terms, generated by the airline's management and board, is now being repaid by government by re-affirming that the required capital will be available for further expansion while belt tightening is ongoing in other sectors.
The second major tourism project is the new Kigali International Hotel and Conference Centre, presently at advanced stages of construction, and thought to be at the heart of a renewed strategy to bring additional MICE business to Rwanda, a segment of the tourism industry which is known to spend considerably more than 'normal' tourists do. The hotel attached to the conference centre is planned for 292 keys, i.e. suites and luxury rooms, while the conference facility is dimensioned to hold up to 2.600 persons seated, additional break out rooms and of course some 24.000 square metres of office and shopping spaces. Here, as with RwandAir, the powers that be, after due consultation with the private and public sectors, agreed what needs to be done and are facilitating the getting it done.
Rwanda, as a result, is going places inspite of the temporary financial hardship and remains committed to invest in the country' future by investing massively in a new airport, roads, bridges, new power plants and as mentioned, the national airline and the national convention centre.
Fodder for thought for others in the region who often look at Rwanda in awe, still struggling to come to terms with how fast and how high the proverbial Phoenix rose from the ashes after the devastating 1994 genocide which left the country in ruins. 'Discipline, it all comes down to discipline' said a regular source from the country's tourism sector when asked for the main reason for the transformation of the country in such a short space of time. 'We tackle corruption, we use funds given for the purpose they are given and account for every cent. There is no tolerance for free loaders, no tolerance for people not carrying their weight, no tolerance for people not standing together to build the new Rwanda. We like all others have flaws but we work hard to make sure that those are not leading to negative results but that the option for change is built into every review of what is going on, what the status of our projects are, what the status of our economy is. When people used to say PROUDLY SOUTH AFRICAN, we now can truly say PROUDLY RWANDAN'.
The coming 10 days in Rwanda will give plenty of opportunity to delve deeper and ask questions of individuals and business leaders, so expect a series of shorter or longer pieces alongside the reports on FESPAD, the Pan African Dance Festival with the theme 'Take A Break – Dance. Be sure you do …
FESPAD – THE PAN AFRICAN DANCE FESTIVAL – OPENS IN KIGALI
Another week long spectacle of dance and art, performed by participants from over 40 African countries, is going underway today when President Paul Kagame opens FESPAD, the Pan African dance, song and heritage event at the Amahoro National Stadium in Kigali before an expected crowd of at least 20.000 spectators.

Organized by the Rwanda Development Board's Tourism and Conservation Department, in conjunction with other national culture and art organizations and supported by the national airline RwandAir, the biannual event has raised substantial interest in not just Rwanda but across Eastern Africa, where only last week the 10thSauti Za Busara Festival in Zanzibar took place while here in Rwanda the first ever East African 'Jama Fest' took the local art and culture scene by storm, almost like a curtain raiser for the continental event which is now unfolding.
Top rated performers were in Kigali for the Jama Fest and an even better lineup is expected from Eastern Africa, with the crème de la crème of African music and dance undoubtedly setting the stadium alight.
Notably will the festival not just remain in the capital city of Kigali but spread across much of the country, offering special showings and performances in the key towns of Rwanda from Rwamagana over Huye and Karongi to Muzanze and Rubavu before ending in a grand send off ceremony again at the Petit Stade Amahoro in Kigali.
Rica Rwigamba, Head of Tourism and Conservation at the Rwanda Development Board, who was tasked to play a major role in coordinating the event, had this to say ahead of the opening day: 'FESPAD is consistent with the strategy of Rwanda to show the world its unique cultural heritage through dance but also to make a platform destination in Kigali international events while promoting African Unity through dance'.
FESPAD was created in 1998 by the former Organization of African Unity, now known as the African Union and has since been taking place in a number of countries across Africa.
Rica Rwigamba last week announced that the 8th Edition of the Pan-African Festival of Dance (FESPAD) will be held under the theme 'Spirit of Expression'.
A total of 40 countries were invited to take part in this festival with a delegation of at least10 participants and most have on the eve of the opening confirmed their participation and arrived in Kigali.
The specialty of the 8th edition of FESPAD is that it has scheduled a competition to determine the Champion of African Dance when through their respective traditional music and dances, participating countries will be able to showcase, to the continent and the world at large, their cultural talents.
Expect live updates from across Rwanda over the next week with pictures and short video clips documenting both performers as well as spectators, with added impressions from key tourism sites and attractions along the way, like the Nyungwe Forest National Park, aka the Enchanted Forest, the Akagera National Park, the shores of Lake Kivu along which the Congo – Nile Trail runs over 224 kilometres between Gisenyi and Cyangugu and of course Ruhengeri with the back drop of the volcanic mountains, home to the rare mountain gorillas. Watch this space.
RWANDA TOURISM RAKES IN 281 MILLION US DOLLARS IN 2012

Figures just released by the Rwanda Development Board for the year 2012 show a sustained growth of tourism arrivals and revenues, when it was announced by the agency that their own projected revenues were exceeded considerably with a final bottom line of over 281 million US Dollars. RDB also announced their target for the current year as 317 million US Dollars, which according to early indications is an achievable figure.
Rwanda, aka The Land of a Thousand Hills has in recent years put in strong performances in the tourism sector, and saw arrivals and receipts grow in leaps and bounds, outperforming – in percentage terms – the other East African Community neighbours as a result of a sustained campaign to promote tourism with the full backing of government. An equally ambitious national airline growth strategy has largely contributed to bring in more passengers from Africa but better connectivity through the arrival last year of new carriers like Qatar Airways, Turkish Airlines and South African Airways too has supported tourism and trade growth while others like Brussels Airlines – codesharing their four flights a week with RwandAir – and KLM have all added more flights too.
Product diversification was named as the key to this success by regular sources from Kigali, where in past years the launch of trails for birding and hiking outside the protected areas, like the Congo – Nile Trail, have widened the scope for Rwanda's tourism industry. With the added cultural tourism element now being highlighted too, Rwanda will this coming weekend launch the Pan African Dance Festival 2013 after just hosting a regional art show, the country's tourism industry is expected to continue being the backbone of Rwanda's economic performance, besides agriculture, here specifically tea and coffee exports and mining. Mrs. Rica Rwigamba, head of tourism and conservation at the Rwanda Development Board, was quoted in a media release availed to this correspondent overnight as having said: 'We are working hand-in-hand with the tourism chamber to improve customer service and to solve the skills gap that seems to be a hindrance to better service delivery', partly in reference to ongoing efforts to improve the skills factor and rate and grade tourism businesses for better client experiences. The top five overseas visitor source countries are the United States, followed by India, the United Kingdom, Belgium and Germany. Watch this space for regular news updates from The Land of a Thousand Hills.
Mauritius News
DESVAUX SACKING MAY PROMPT POLITICAL FALLOUT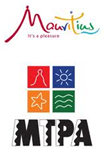 The sacking of MTPA Chairman Robert Desvaux, instead of the more widely expected cleaning house starting with the CEO Karl Mootoosamy, appears to now make ripples across the PMSD party of Deputy Prime Minister Duval, since Desvaux is by many thought to be literally the right hand man of Duval and yet, Tourism Minister Sik Yuen appears to have sacked him without giving the thumbs up or even getting clearance for his action from his party leader. There is speculation among informed Mauritians that should this blow up in the tourism minister's face he may even change parties, should he be taken to task and maybe even disciplined by the forthcoming meeting of the PMSD's executive on Wednesday.
A regular source from Port Louis hinted this development could be a major point of discussion in the party executive and provide yet more murky waters in which the political players in the island country habitually move. 'The question is on everyone's lips why it was Desvaux and not Mootoosamy who got sacked. It is obvious that this is a political football now and the repercussions may go far, should the Deputy Prime Minister chose to act against Yuen in any way. For certain Yuen has a lot of explaining to do. For the private sector, this is just another nail in the MTPA coffin the way that organization presents itself. It no longer has the confidence of the entire tourism sector and many are now almost openly demanding change, no matter on whose toes they step' said the same source who had sent the information on Monday in the first place.
What is clear though is that Mauritius' tourism industry needs a focused and visionary leadership to set the industry on a solid growth path again, nothing the present situation can by popular estimate provide. Watch this space as surely there are more twists in the tail coming up.
DESVAUX SACKED FROM MTPA CHAIR WHILE HAPLESS MOOTOSAAMY REMAINS, FOR NOW
Information was received yesterday that Robert Desvaux, hitherto Chairman of the Mauritius Tourism Promotion Authority, and reportedly a close friend of the country's Deputy Prime Minister who sponsored him to the position, has been relieved of his duties with immediate effect. It is not clear at this moment if a successor has already been appointed and if more members of the board of MTPA will also face the axe in what might turn out to be the start of a major reshuffle and possible re-organization of the tourism authority.
The reaction from Port Louis was mixed however, as most of those contacted insisted that it should have been Mr. Karl Mootoosamy and his bunch of merry men who needed sacking, as it was in the opinion of those sampled their lack of vision and imagination which led to the decline of the country's tourism industry.
Once the leading force in the Indian Ocean, Mauritius was overtaken last year in terms of arrival numbers by the Maldives, inspite of serious political trouble through much of the early parts of 2012 and Sri Lanka is now breathing down the neck of Mauritius in third position but catching up fast.
Mootoosamy is [dis]credited with at least two copy and paste attempts to have tried and grab the Seychelles 'intellectual property' over the past year, first with his blatant attempt to copy the idea of the carnival – later flipped over to a shopping festival which flopped badly and cost the Mauritius taxpayers an arm and a leg – and then by blatantly trying to steal the idea of SUBIOS, the Seychelles Festival of the Sea when attempting to coin a 'Carnival of the Sea', demonstrating both ethical as well as creative bankruptcy of how to drive Mauritius tourism forward.
Mauritius last week captured the runner up position as second best foreign float, after a very belated participation in the Seychelles Carnaval de Carnivals, after a few weeks earlier all but accusing the Seychelles of putting a 100.000 US Dollar price tag on the participation, an accusation swiftly put right at the time by the Minister for Tourism and Culture Alain St. Ange, who clarified immediately that only co-hosts for the Carnival International de Victoria were asked to make financial contributions, while participation with floats and performers were entirely free of cost.
'It should have been Karl to go first but we know of his threats to bring the roof down if he is sacked. Yet, in the national interest it is time for him and his sycophants to leave now. Perhaps this is the start of a major overhaul of MTPA to bring in new blood, inject new ideas and a new vision for Mauritius Tourism and give our industry new hope, a new beginning, free of all the divisions we see in our politics. I am not shy to point to Seychelles as an example. Under Ambassador Maurice at the time the STB had grown stale and was out of touch with reality, divorced from the private sector. When they brought in Alain St. Ange things changed. Today, everyone talks about Seychelles, and Mauritius is almost an afterthought. He created the Vanilla Island concept and for those active in it the rewards are clear. Those who co-host the carnival festival, the rewards are clear. St. Ange is Mootoosamy's nightmare and yet, the man has found the solutions for Seychelles we need to find ourselves for Mauritius too. MTPA needs change, urgent change, major fundamental change. Changing the chairman should have been the last step but as usual, politics prevailed at the expense of the tourism industry' communicated a regular source from Port Louis when discussing the breaking news, which reached during the course of Sunday.
All tourism industry eyes in Mauritius are now on MTPA where the appointment of a new chairman is expected in due course but more importantly, if further personnel changes are in the offing. Watch this space.
AND in closing once again some worthwhile reads taken from The Livingstone Weekly by Gill Staden:
Livingstone Airport
I had to go and visit the airport during the week and I took a pic of the building going on. It's getting there … I just hope it is finished in time for August. Work is also going on in the car park.
The car park is small and, to me, it wasn't well designed. If we do get busy, even with the present extension, the car park will not be big enough. There are however, huge problems in the shape of some wonderful Zambezi teak trees which cannot be removed (I hope). So, let's just see how we get on with the present extension.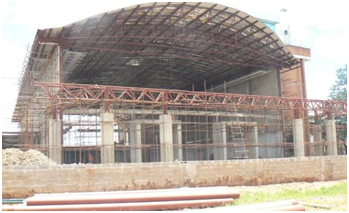 Whitewater rafting
The river is high, higher than usual for this time of year. Whitewater rafting from Rapid 1 will cease from today and will move further down the gorges.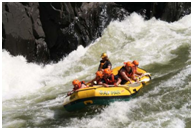 Road Traffic & Safety (RTSA)
RTSA has moved offices from the house by New Fairmount Hotel to Falls Park Shopping Centre. A great improvement.
Zambezi River Challenge
Following on the success of the Red Nose Comic Relief expedition down the Zambezi River last month, Charity Challenge is to replicate the experience in October, November and December this year for volunteers. Check out their website: www.charitychallenge.com
A PARADISE IN YOUR OWN BACKYARD
By Alina Mateke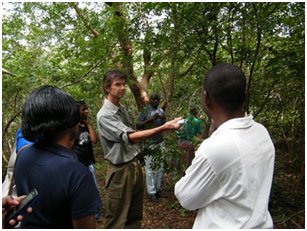 On Saturday, 16th February, 2013, members of the Wildlife and Environmental Conservation Society of Zambia paid a visit to Stuart and Meamui Norman's residence in Highlands, Livingstone, to see the forest they created in their own backyard.
The group of 16 comprised of nature lovers of all ages. Stuart Norman started off the event with a brief history of how the forest came to be. The Normans bought the plot in highlands with the aim of regenerating the natural forest, so they picked out certain indigenous trees and made sure they weren't ploughed to the ground when their house was being constructed so as to conserve them. The yard is mainly Kalahari woodland and when the Normans started building in 2004, most of the trees were barely knee-high. There has been no fire or burning of the area for about nine years, allowing the growth of a number of fire-sensitive trees.
The largest tree on the property is an Acacia polyacantha, which is a pioneer species and has only been around for seven years. It is larger even than the Mungongo (Schinziophyton rautanenii) trees that were there when they arrived and therefore, is a good example of rapid growth. The yard has over 45 species of trees on just 70 by 70 metres of land.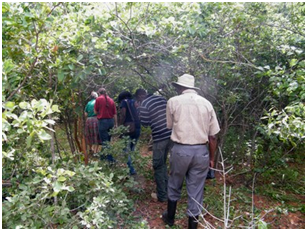 In the forest, the trees grow very close together and as a result grow thin and tall, which gives it a woodland feel. The trees also form a canopy above which provides a lot of shade and moisture within the forest and as a result, on the forest floor, are a large variety of mushrooms, moss and fungi, among which are chanterelles (Cantharellus cibarius), which are edible. Walking along the paths in the forest, one gets the feel of having fallen down a rabbit hole and entered wonderland. Its fresh, cool air, lush vegetation, numerous butterflies, and of course the lovely singing of the birds is enough to put even the crankiest of people in a good mood.
In terms of wildlife, there have been sightings of duiker, elephants, gerbils and slender mongooses in previous years but not recently. This may be as a result of more and more people building their houses in that area. Reptiles and amphibians love the forest as well and are quite happy to live there. About 10 species of snakes reside there, among which are boomslangs, puff adders and cobras such as the Mozambique spitting cobra. These reptiles can be very dangerous but Stuart and Meamui say that if you don't bother them, they won't bother you, and so far there have been no cases of snake bites. In fact, the snakes can be quite entertaining. Apparently they once witnessed the rare sight of a cobra swallowing an entire toad! The boomslangs have also been known to eat chameleons and other snakes eat striped skinks.
Due to the lush environment over 160 bird species have been sighted in their forest, which include robins, brown hooded kingfishers, paradise flycatchers, thrushes, tropical bulbuls and a guineafowl that has made their garden its home. A few of these birds even have nests in the trees, like the robins and paradise flycatcher which are nesting presently. They love to fly through the trees and drink and bathe in the bird baths, even though there is sometimes an argument over who gets to take the first bath! Not all the birds are pretty, innocent things; there are some predators that also reside there. African hawk eagles, snake eagles, kites and falcons sometimes decide to disturb the peace and give the little birds a run for their lives! All this activity can be viewed from the lovely outdoor seating area the couple have created.
Not only is the wildlife lovely but the actual trees are pretty amazing. Some have pretty flowers while others have a variety of fruit, both the edible kind and the non-edible. The combretum has small red four-winged fruits that bring a splash of colour to the mainly green forest. A lot of the trees are also quite useful. Mukwa, for example, is mainly used for timber. The Sand Camwood or Jasmine Pea Tree (Baphia massaiensis) is leguminous and helps fix nitrogen back into the soil, which is good for the other plants. The Wild Rubber Tree, (Diplorhynchus condylocarpon), locally called Mulya in Lozi, has been known to be used widely in the villages for hunting. The hunters collect the fruit and squeeze out the milk, which they put into sticks and use it to trap birds. The Munyelenyele or Peeling Plane Tree (Ochna pulchra) and Mungongo have fruits from which oil can be obtained for cooking. Some of the fruit trees there are Oranges, Mangoes, Muchingachinga and Granadilla or Passion fruit vines. Among the smaller plants are wild basil, which has a bittersweet smell that is quite pleasant when one takes a walk through the forest. (Bauhinia petersia) shrub can be quite problematic in that it grows too fast and tends to strangle the other plants so it has to be controlled by trimming.
If birds singing, beautiful smells, peaceful walks, edible fruits, pretty flowers and interesting wildlife aren't enough for you, you could have a treasure hunt for the little kids who would spend hours running through the trees and looking under shrubs and bushes for clues.
The trip was very enlightening and it just goes to show that if you care enough about the environment and put in a little effort, you too can have a piece of paradise in your own backyard.
Kariba Music Festival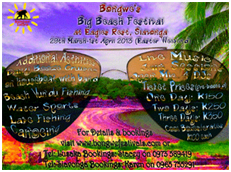 Over the Easter weekend – 29 March – 1 April, there will be a Music Festival in Kariba – Bongwe's Big Beach Festival. Check out the website: http://www.bongwefestivals.com/
Join INTERPOL and Partners at the Upcoming Side Event of the CITES 16th Meeting of the Conference of the Parties
Partnerships for Linking Countries and Regions to INTERPOL's Global Environmental Security Network
Thursday, 7 March 2013, between 12:30 and 14:00, CITES 16th Meeting of the Conference of the Parties, Side Event (Meeting Room No. 1), Bangkok, Thailand
Confirmed keynote speakers in alphabetical order:
• Mr. Azzedine Downes, International Fund for Animal Welfare (IFAW)
• Mr. Jeremy Eppel, UK Department for Environment, Food and Rural Affairs (UK DEFRA)
• Ms. Mary Melnyk, United States Agency for International Development (USAID)
• Mr. Keshav Varma, Global Tiger Initiative (GTI), The World Bank
INTERPOL will host a side event at the upcoming CITES 16th Meeting of the Conference of the Parties, where our Partners will be invited to share joint successes, experiences and recommendations for future collaborative initiatives.
During the event, INTERPOL representatives will showcase the Environmental Crime Programme's projects and activities that are bringing countries and regions together to fight the criminal threat to human security and the environment.
Initiatives such as Project WISDOM, for the conservation of elephants and rhinoceroses, and Project PREDATOR, for the protection of Asian big cats, are of particular interest to country delegations and specific regions, and thus provide an opportunity for their engagement.
Project LEAF, Law Enforcement Assistance for Forests, and Project SCALE, an initiative to combat fisheries crime, as well as other INTERPOL projects focused on maintaining environmental security at multiple levels, will also have a place on the agenda.
To find out more about the work of Interpol on Environmental Crime: