AVIATION, TOURISM AND CONSERVATION NEWS from Eastern Africa and the Indian Ocean islands.
A weekly roundup of breaking news, reports, travel stories and opinions by Prof. Dr. Wolfgang H. Thome
You can get your daily news updates instantly via Twitter by following @whthome or join me on www.facebook.com/WolfgangHThome where the articles also 'cross load'.
Read the daily postings on my blog via www.wolfganghthome.wordpress.com which you can also 'follow' to get immediate notification when a new article is posted. Many of my articles are also published via www.eturbonews.com/africa with added news from the African continent and the world of tourism, aviation and travel at large.
Second edition April 2013
East Africa News
RAINS HIT THE REGION WITH A VENGEANCE
Following the devastating rainstorms which lashed Mauritius last Friday are now also reports coming in from across East Africa of loss of property and lives caused by torrential rains.
Last week road links to and from Ngorongoro and the Serengeti were cut near Karatu when a river burst its banks and flooded the main road, leaving tourists and local travelers stranded, while a week earlier the central railway line got once again disrupted when sections of the track were under water, making rail traffic unsafe. The country's commercial capital Dar es Salaam too was pounded by rains which caused flooding and displaced people from their homes in low lying areas of the city.
It was learned overnight that in Kenya too has disaster now struck and lives were lost when raging floods swept vehicles off the roads, drowning occupants. Local media report at least 4 deaths though it is expected that more such tragedies will come to light after the long Easter weekend.
Safari operators voiced their concern about the state of the roads into parts of the Masai Mara, expressing fears that like in past years road traffic may be disrupted, compelling them to fly tourists in and out of the reserve to avoid disruptions to the safari itineraries. 'Climate change is real for us now. The icecaps of our mountains are melting away and the weather is becoming erratic by the day' wrote one regular source from Nairobi by email before continuing 'Rains hit us out of season and then we have droughts again. Flash floods make way to crop failures for lack of rain and this cycle is now upon us. There is a price to pay for cutting all the forests down and destroying water towers. We are a bit worried about getting tourists in and out of some parks where the roads are not the best but we will have to just hope for the best'.
Even parts of Uganda were hit by heavy rains over the Easter weekend, as Kisoro, a popular tourist centre with access to the two gorilla national parks of Mgahinga and Bwindi, located in the border triangle with Rwanda and Congo DR, reported hundreds of people fleeing from rising waters which submerged homesteads, schools and washed crops away. Safari lodges and camps as well as upcountry hotels in the main urban centres like Mbarara, Kabale, Fort Portal or Mbale reported brisk business as locals and expatriates alike descended on the national parks or used the 4 day Easter weekend to explore the country side.
Meanwhile have officials of the Kenya Association of Hotel Keepers and Caterers painted a dark picture when they claimed, as reported in local media, that some 6.000 casual staff will have to be laid off as a result of the low occupancies in particular at coastal resorts, which have taken a beating vis a vis occupancies, compared to last year and two years ago, as a result of uncertainties over the election process and hostile anti travel advisories just ahead of the Easter weekend by supposedly friendly nations, which prevented their citizens living in Kenya from undertaking trips to the parks or the beaches.
'Our Easter season was not good at all. First the issues about the elections, which as everyone now knows was just a big hype for nothing. Then the US mission's statement to their citizens not to travel because they feared riots or whatever they imagined, that also lost us a lot of business. True, some hotels will close for their annual major maintenance and reopen in time for the European summer season but others just do not have enough business to stay open. On top of it a place like Malindi had these issues with attacks against Italians and the casino last week which has had an impact on them. The cultural festival brought them business over Easter but that is gone and so are the visitors. I hope that the new government which comes into place on the 09th of April will introduce a strong personality for the tourism and wildlife ministry, because that will shape our future for the next years. For now we tell our clients in Europe that all went well with the elections and that Kenya is open for business 24 / 7 for all days of the year. Come one come all' added a Mombasa based source.
Mixed fortunes and a mixed bag of weather as the second quarter of 2013 starts. Watch this space.
Uganda News
UGANDA AIRLINES TO BE REVIVED WITH BILLION DOLLAR INVESTMENT

April 01st 2013
Information was passed to this correspondent overnight that the Ugandan government, reportedly unsettled over the success story made by airlines in neighbouring countries, has decided to revive Uganda Airlines with a big bang, setting aside over a billion US Dollars from anticipated future oil revenues to purchase and lease a series of state of the art aircraft, kickstarting aviation in the country once more.
From a usually well informed source it was learned that at least four B787 Dreamliners will be bought off other airlines which had grounded this aircraft type as a result of Ion Lithium battery problems, something Uganda intends to have fixed overnight by technicians drawn from the Katwe entrepreneurial park, who will use their innovative Jua Kali approach to put the birds into the air immediately by substituting them with lorry battery packs fallen off the back of those very lorries.
Several short and medium range B737NG's will also be delivered within days to start flying from Entebbe across the region and the continent, some of them featuring low stools and malwa pots to make travelers feel at home the moment they enter the cabin while others will feature open grills for fresh nyama choma.
A novel feature on the B787 Dreamliners will be special on board facilities to allow Ugandans to travel with their provisions, like a bunch of Matooke or two, while in the underfloor baggage area there will be special places to load goats or even cattle, allowing local travelers to have fresh milk, and perhaps even meat, at their destination, where they otherwise might lack such delicacies.
Crews were recruited from among those sitting regularly on Cloud Nine as they are clearly used to high elevations.
Watch this space for breaking April Fools Day news from The Pearl of Africa.
UGANDA HOTEL OWNERS ASSOCIATION GETS NEW EXECUTIVE DIRECTOR

Long serving Executive Director of the Uganda Hotel Owners Association, Mr. Ishmael Sekandi, has stepped down and was last Tuesday formally replaced by Mr. Sam Balagadde, introduced to invited guests by the chairman of UHOA, Mr. Ibrahim Muwanga Kibirige, owner of the Hotel Africana in Kampala.
Sekandi, long known to this correspondent, deserves the thanks of the hospitality sector in Uganda for his dedicated work over the past decade while the new man at the helm should be reminded that the hospitality sector is but one component of the country's tourism industry and needs to work hand in hand with all the other tourism trade organizations in the interest of advancing the Ugandan tourism industry as a whole.
Kenya News
TURKANA FESTIVAL 2013 ANTE PORTAS

One of Kenya's great cultural festivals, the Lake Turkana Festival, will this year take place in Loiyangalani between the 24th and 26th of May, showcasing the culture and art of 10 communities living near and around the 'Jade Lake' as Turkana is often referred to as a result of the water colour.
Members of the following communities will take part in the now annual event, which gives them the opportunity to show their fellow countrywo/men but also the rest of the world, what is going on in their part of the world and what challenges they face in their daily lives: El Molo, Rendille, Samburu, Turkana, Dassanach, Ghabra, Borana, Konso, Wata and Burji.
At the heart of the festival will be song and dance, the traditional foods, costumes, festive and regular wear but also an insight of how the tribespeople live with homesteads being constructed for others to see. At the same time will the environmental challenges of Lake Turkana be highlighted, the impact of climate change, the impact of the hugely controversial GIBE III dam project inside Ethiopia which has the potential to significantly reduce the inflow into Lake Turkana through river sources.
Economic opportunities too will feature this year, as the region will get at least two wind-power plants and now that oil has been discovered in the Turkana region in significant commercial quantities. Marginalized until now, the region did not make great inroads as a tourism destination nor for investments and the subsequent creation of infrastructure, something which in particular the oil discoveries may now rapidly change.
Like in previous festivals will the main sponsors of the event be the German Embassy in Nairobi, The National Museums of Kenya, the local communities of Loiyengalani and around the lake and Private Safaris. The latter has organized for special packages, though individual travel to the location is of course also possible, but from experience in past years it should be stressed that early bookings for accommodation – which is rather limited – and seats on flights should be done at the earliest possible opportunity to avoid missing out on this great festival of Kenyan culture and traditions.
Time to #TembeaKenya (the hashtag campaign of the Kenya Tourism Board and the Kenya Wildlife Service to encourage domestic tourism) and see the lesser known parts of the country, to explore, learn and appreciate the great variety Kenya has to offer. For more information visit www.laketurkanafestival.com .
KENYA TOURISM BOARD ASKS NEW GOVERNMENT FOR AN EXTRA 500 MILLION SHILLINGS

Sources in Nairobi have confirmed that KTB is seeking an additional 500 million Kenya Shillings to fund a series of 'recovery missions' aimed to restore market confidence, now that the elections are over and a new government will be coming into effect following the swearing in of President Elect Uhuru Kenyatta on the 09th of April.
'The President Elect was at one time Chairman of KTB' said the source in a mail communication overnight before adding 'He will remember our struggle after the last election to get Kenya tourism back on track. He will also know that in 2011 we set new revenue and arrival records. Had it not been for the issues with the Somali militants in 2012 we could have done better but for this year we had a very slow start. We missed out on the high season period until Easter and to make up we have to go out and promote Kenya. We can take a lot from the formula used in 2008/9. Our emerging and new markets are doing good so far but for some of those places we need more flights. What is important now is to also work the traditional markets in Europe and America. Those should come back to previous levels and our new markets can grow alongside. That is a recipe for a lot more visitors and a lot more revenue. But that is not all. The former tourism minister let a lot of things slide. We need boards for the tourism parastatals, we need money from treasury for KTDC to provide affordable loans for refurbishments and modernization of hotels and resorts. And we hope for a good tourism minister like we had with Hon. Balala'.
Thankfully KTB has the capacity to react swiftly once the funds have been approved and released to them and hit the markets with major campaigns, the private sector and notably Kenya Airways as national airline of course fully on board. Some coast hoteliers though have equally warned of complacency and asked their colleagues to ensure product innovations, upgrades and expansion should now be the strategy the coast region must go in order to get a larger share of the global beach holiday segment, which in past years has shown a mixed performance. Resorts like the Serena Mombasa, the Whitesands or the Leopard Beach, which invested in regular upgrades and innovations, led the pack while others suffered sharp drops in occupancies, often resulting in closure during the low season when their business dropped while the three named retained high occupancies as a result of their quality operations attracting significant business from within Kenya and the region alongside their international business. 'KTB's push to make new circuits in Western Kenya and into Northern Kenya more attractive will also bear results. The main parks like the Mara, Amboseli, Nakuru and Tsavo will continue to do good but if we are getting a lot more visitors then we must also create the capacity to host them. Nairobi is getting more hotel beds but on the safari circuit we have space to still grow, specially to those parks which are not so popular yet. Meru for instance could take more tourists, so can the Samburu area or Western Kenya. Sport tourism, conference tourism, those are growth areas we have to promote abroad and if KTB gets that money then they can be very effective' said another source based in Nairobi. For sure, the neighbours of Kenya in the East African Community will be warily watching on what their colleagues at KTB will be scheming up, but should remember that a thriving Kenya has always drawn in a lot more business for them too, making a compelling case to work hand in hand rather than standing by in envy. Watch this space.
KENYA AIRWAYS ADDS KISUMU FLIGHTS

Kenya Airways has confirmed that they will with immediate effect up their number of weekly flights between Nairobi's Jomo Kenyatta International Airport to Kisumu from presently 25 to 34. At the same time was seat capacity increased by operating the larger Embraer 190, from the E170 previously used, making Kisumu the second most important domestic destination after Mombasa.
Long the domain of lower cost operators like Jetlink, which halted operations last year due to a financial crisis brought about through South Sudan's refusal to let the airline repatriate funds generated from ticket sales, Kenya Airways returned to the route when the airport's runway was resurfaced and extended, allowing them safe operations into the airport of Kenya's lake side city. Last year was the long awaited new terminal building opened by President Mwai Kibaki, bringing the previously rather provincial airport with few state of the art facilities into the 21st century.
'Kenya Airways is a full service airline. You earn mileage on your frequent flyer account and they operate modern state of the art aircraft. That is the biggest advantage over the others on the route. After the added flights there is no more reason to claim lack of connections. You can expect more development and private sector investment in Kisumu and Western Kenya under the new government and Kenya Airways is signaling their commitment to connect Kenyans from coast to lake' said a JKIA based aviation source when discussing the added capacity on the route. Happy Landings.
HELL'S GATE NATIONAL PARK CLAIMS TWO MORE VICTIMS

Hell's Gate National Park, one of Kenya's most popular parks for adventure tourism and hiking, has once again lived up to its name as two more Kenyans on a weekend hike up Mt. Longonot lost their lives.
Last year it was a team of church youths on a team building exercise who got caught up in flash floods and this time a group of hikers was attacked by wild bees, sending two of the group tumbling down the crater walls.
Reports on Twitter by the Kenya Red Cross, which immediately got involved in the search and rescue mission, indicated that one of the two was found alive but succumbed to his injuries after being airlifted by a KWS helicopter to a hospital in Nairobi. The search for the second mission person was suspended at night fall but will resume in the morning, likely to be a recovery mission as hope to find that person alive has dimmed.
'From what I gather the group had experienced guides with them. It was unfortunate that they got attacked by a swarm of wild bees and that caused everyone to panic. Two as a result fell into the crater which triggered an immediate search and rescue mission from staff at the park offices and the Red Cross which was alerted also. Guide training has been increased since the accident last year and the park staff are alert to weather conditions. They would warn of rains to be careful about flash floods for instance. But a bee attack is something no one can predict really. The loss of lives is very much regretted and KWS will officially express their condolences to the families and friends of the deceased' said a source from the KWS headquarters in Nairobi on condition of anonymity as he was not the official spokesperson for the organization.
Hell's Gate National Park is just about 100 kilometres from Nairobi at the bottom of the Great African Rift Valley, with Mt. Longonot, an extinct volcano, the main feature of the park. Unlike many other parks hiking and biking are possible and draw regular visits by groups of Kenyans and foreign tourists to the location.
Condolences are expressed to the friends and family of the two deceased.
KENYA'S TOURISM GURUS RELIEVED OVER SUPREME COURT RULING

Kenya's tourism industry was swift to welcome the decision of the Supreme Court, which delivered the verdict of 'Validly elected' while turning down the applications of the petitioners to overturn the declaration of the Independent Electoral and Boundaries Commission, which had named Uhuru Kenyatta and William Ruto as President Elect and Deputy President Elect respectively.
The Chairman of the Mombasa and Coast Tourism Association Mohammed Hersi, also General Manager Coast for Sarova Hotels, wrapped the sentiments in one tweet when he said: '@UKenyatta & @WilliamsRuto Please now take time to unite Kenyans, reach out to @RailaOdinga . God Bless Kenya.'
The suspense over the March 04th election outcome, and overt and covert prediction by sections of the Western media that trouble would erupt in Kenya before, during and after the elections, had kept tourism arrivals depressed, made worse by the lamentable anti travel advisories handed down last week to US and UK residents in Kenya by their embassies, leaving Easter bed occupancies in some resorts and safari lodges less than half compared to last year. A regular source, preferring not to be named, sent this mail in from Nairobi a short while ago, saying: 'I voted for the losing side because that was my choice. I also felt that the petition was ill advised. It kept the country in political and economic suspense. Our occupancies are terrible right now, so I am happy that the whole thing is now over. Uhuru was in KTB as chairman before and will know what tourism means to Kenya. We need a good government in place because the last one disappointed in so many areas. Our country has a big, a very big potential. Besides tourism now we found oil. That should help finance roads, highways, bridges, bypasses and also education and health programmes. My priority is that KTB get enough money to be at every major tourism trade show and is able to work our emerging markets with road shows. I want to see our wildlife act amended immediately to hand poachers long sentences and high financial fines. For now I am just happy for my country how we handled our elections. Kenyans have matured. Tourism can now kickstart again. As a nation we can work together to solve the many problems we have' while another source from Mombasa added 'We need to get heads into beds now. This whole thing lasted too long and spoiled our Easter holiday business. But let me tell you, we have seen worse and we will make up for it. 2013 had 9 months left and at the end of the year I am confident we will show some good results for tourism'.
Comments from across the region also signaled relief and satisfaction that Kenya was spared a runoff election or a repeat election and that trade and travel could now resume fully as the focus was now turning back to business, leaving the politics behind for a while. In Uganda one could almost hear a collective sigh as the country as a whole exhaled after the Supreme Court of Kenya announced their decision, as 90 percent of the imports and exports are depending on functioning road and rail links between Kampala and the Kenyan port city of Mombasa. 'We felt that there were less tourists in Kenya this time of year because much fewer came for add on safaris to Uganda, compared to Easter last year and the previous month. It is good this is over now so that we can get back to business. As a region we have learned a lesson, that what happens in one country of the East African Community affects all the others equally. We hope that the new Kenya they are talking about will be a friend and good partner with us in Uganda and our other colleagues in the region' said a Kampala based senior tourism stakeholder when asked to comment.
Expectations no doubt are now high across Kenya, especially within the tourism industry, that the focus of the new government will be on business and how to nurture it, though the challenges are also written on the wall. The new devolved system of government which this election brought into being, will consume a staggering 80 percent of the revenues generated by government and it will take a skilled act on the financial high wire to finance the programmes announced by the Jubilee coalition which won them the elections.
Congratulations to both winners and loser of the elections in Kenya, with the hope that 'like fathers like sons' will this time see a different outcome, not like Kenyatta and Odinga seniors (RIP) being replayed but in the spirit of building a new Kenya, together, where One Kenya, One Tribe will be the motive and driver behind development, resource allocation and regional balance. And as the saying goes, watch this space.
Rwanda News
19 YEARS ON BUT THE GENOCIDE REMAINS ONE OF EAST AFRICA'S DARKEST PERIODS

Today, 19 years ago, then Rwanda's President Juvenal Habyarimana's plane was shot down as it came in to land from a crucial meeting in Arusha, where he had reportedly made major concessions in the talks with the RPF. Now known as a fact, no longer disputed but by the most deluded opponents of Rwanda's current government, the plane was hit by a missile fired by Habyarimana's internal opponents, hardliners spoiling to roll out a long planned genocide. With Habyarimana was Burundi's President Cyprien Ntaryamira, who attended the Arusha talks with him and was offered a 'lift' back home. His death too was a signal in Burundi, for members of the Tutsi tribe to be hunted down and killed, as propaganda was spread they were responsible for the President's death.
No sooner had the plane crashed near Kigali's Kanombe International Airport, did signals go out, were messages sent by hate radio stations and other means, that the time had come to deal with the 'cockroaches' as the Tutsi population was regularly referred to by the planners of one of the world's most gruesome genocides of recent history.
On April 06th in 1994 a mass slaughter of innocent babies, children, women, elderly and men commenced, lasting 100 days until the liberation forces led by now President Paul Kagame pushed the remnants of the killer militias and the former military out of the country and across into Eastern Congo.
In the hundred days, nearly a million were killed, starting with government officials in Kigali, including the then Prime Minister Agathe Uwilingiyimana who was mowed down by an army unit sent to carry out her 'sentence', alongside her family and her Belgian military escort operating under UN flag. Another Belgian military contingent too was wiped out, as were a number of Europeans married to Tutsis, while the UN and the world community stood by, frozen by inaction and squabbling in the UN Security Council' airconditioned chambers while the most brutal killing wave East Africa has ever seen unfolded across the thousand hills of Rwanda, under the scorching sun and the pale moonlight, relentlessly, day and night.
Deliberations in New York were agonizingly slow, if not deliberately slowed down by countries like France, and when news and evidence emerged from within Rwanda of the sheer scale of killings, and most urgent appeals by the UN Commander on the ground at the time, Canadian Lieutenant General Dallaire, were ignored to send in more troops and materials to stem the tide of the rising flood of blood, it was too late to change the course of the genocide. Eye witness reports soon made it clear that in the opening two weeks of the genocide several hundred thousand people had already been slaughtered, clubbed, stabbed and hacked to death. Women and even young girls were subjected to mass rape before the machetes finished the job. Priests used their trusted position in society to lure tens of thousands into churches, where the militias then made short work of those locked inside with grenades or simply by setting the churches on fire, leaving the Catholic Church's image tainted and sullied as many of their clergy played leading roles in the genocide. At that stage it did not take long before the notorious decision came down from the office of one Koffi Annan, to withdraw all UN troops and let the genocide take its course with again the French contingent of troops leaving their supplies, weapons and ammunitions behind to be picked by the killer militias as the French were airlifted away from the atrocities, which took place across the country.
I remember that morning of 06th of April, when the BBC shortwave service broke the news to us in East Africa. I sat up straight when hearing the broadcast, in utter disbelief and the radio, back then the only trusted and serious source of events in our region, stayed on for days at end to stay uptodate with breaking news. I had been in Rwanda in the 80's, tracking gorillas, and had come to love the country for the scenic sights and the warmth of the people I had encountered. Genocide in Rwanda, it sounded almost impossible to comprehend, were it not for the knowledge acquired since that first visit, of what politics the Habyarimana regime pursued, attempting to suppress by almost any means the Tutsi population. The Parmehutu party established soon after the country's independence from Belgium laid the ground work for tribal superiority by numbers and Habyarimana, in power since 1973 through a military coup, ruled with an iron fist, never once forgetting his political indoctrination inspite of pushing the Parmehutu party to the fringe.
In Uganda gruesome pictures found their way into the media, of thousands of bodies being washed down the Kagera River into Lake Victoria and ending up on Ugandan shores, bringing the reality home and leaving little to imagination when pictures from within Rwanda emerged of bodies piled up or littering the roadside.
Today, I complete this article as the clock moves beyond 6 a.m. and that was the time, 19 years ago, when I heard the news first. Since then, I have been back many times in Rwanda, first within weeks when going with a relief mission organized by Ugandan Rotarians and well wishers, sending equipment, food and other materials into the liberated areas of Rwanda at the time. Those memories are etched forever in my mind and still cause me sleepless nights. Since then, dozens of visits have kept me in touch, allowed me to see and experience the country and be a living witness that the policies of reconciliation and re-integration have worked. The perpetrators and inciters continue to be hunted down, many have been brought to justice, and those still on the run will no doubt be caught and be given a fair trial, more than their victims came to receive from them. The Gacaca court system, which ended last year, did bring justice to the foot soldiers and within the space of 10 years cleared a trial backlog which the conventional judiciary may have taken 200 years to resolve.
Today, 19 years later, Rwanda has risen like the Phoenix from the ashes and the country presents itself from a regular Sunday best. Economic progress, good governance, ground breaking environmental policies and unparalleled best use of donor funds for projects, not personal enrichment as seen so often in our region, have earned Rwanda high marks in all performance monitoring lists.
Still, the country remains under constant threat by dark forces from the past, hiding across the common border with the Congo DR, where like the proverbial orcs and goblins they linger in caves, ready to pounce at the equally proverbial Elf Kingdom, given even half a chance. Vigilance is high, and no matter what Rwanda's enemies abroad try to peddle in terms of allegation and lies – notably UN 'experts' again at the very heart of it – the truth is known and evident. Rwanda has the right, and their government the duty, taken very seriously by the way, to defend the people of Rwanda, all people of Rwanda, as in today's New Rwanda there are only Rwandans, no longer members of any a tribe.
Today, 19 years down the line, like every year before and every year afterwards, it is time to say 'Never Again', to stand with Rwanda on this day of remembrance and honour those who lost their lives and those who gave theirs to end the evil regime's hold on the country, in 1994 and ever since.
Today, I will remember this along the thousands of Rwandans I met through my travels, many of them fast friends, many of them in constant contact with me. And tomorrow, more than a million of them is expected to walk across the country in a 'Walk To Remember', now in its fifth year and under the motto of 'Remember, Honour and Rebuild'.
Today, I will not be shy to speak the truth, the way I saw the truth in 1994 and continue to see the truth. Today, I ask you my readers to join me in remembering and honouring and extend your good wishes and prayers for Rwanda, the Land of a Thousand Hills.
Mauritius News
TORRENTIAL RAINS CAUSE CHAOS ON MAURITIUS AND CLAIM AT LEAST 8 LIVES

Reports coming in from Port Louis, the capital city of Mauritius, speak of devastating rains sweeping across the island, causing deaths and widespread destruction, besides being the reason for multiple accidents, some causing serious injuries to drivers and passenger, one of them involving over a dozen vehicles. Media update by late evening of yesterday now talk of at least 8 killed, either in accidents of by drowning. The island's resorts are nearly fully booked for the Easter season with visitors from around the world having hoped for some sunshine or to escape the European or North American cold spells only to find themselves marooned in their hotel rooms as a result of devastating rains pounding the island.
Social media pages too were soon flooded, no pun intended considering the impact this weather has on Mauritius, with comments and being public a few of them are featured here:
Meera Lynn · Derby
I was wondering why Port Louis of all places is so affected especially with it being on the sea front you would think the water would just drain into the sea. Sandhya – you may be right about the lack of drainage. I mean MAU always has cyclones with huge amounts of rain yet we have never had anything on this scale.
Mahmad Fawzy Noordally
the beginning of the end….
Brendon Bates
This is an indictment of the Civil Engineering industry here in Mauritius, and a very sad day for all of us. Sandhya is right about the lack of drainage, and also the type of drainage – a drain that works for a long-duration, lower intensity rainfall event will not necessarily be suitable for a short-duration, high intensity event. Port Louis is an old city but please – the circle at Les Salines?
Vij Bul
sincere sympathy to families who have been affected by this flash flood and to those who have lost their loved ones.
Shamel Bholah ·
Unbelievable. Within two hours?!
Pictures of the incredible downpour and its consequences are also shown via www.islandcrisis.net/torrential-rain-mauritius-30th-march-2013/ where the full extent of this gruesome weather is becoming evident.
Condolences are expressed to the friends and families of those who lost their loved ones in one of the worst natural disasters Mauritius has experienced in living memory.
Seychelles News
AFTER HOTTEST MARCH IN HISTORY WHAT'S NEXT FOR SEYCHELLES AND NEIGHBOURS

The month of March was, according to one regular source on the main island of Mahe, the warmest in recorded history with two days, 29th and 30th recording the third highest temperature ever recorded by weather stations of the archipelago with 33.7 degrees C. The hottest day ever took temperatures to 34.4 degrees C in November 1974 while the second highest temperatures recorded was 33.8 degrees C in April 1998. The month of April, normally the warmest month in the Seychelles, may yet show even higher temperature readings, something visiting tourists will appreciate as they wish to escape the cold climes to soak up sun while enjoying the hospitality of one of the world's dream destinations.
The persistently high temperature readings come only two months after the Seychelles was hit by torrential rain as the tail end of tropical cyclone Felleng pounded fellow Vanilla Island Madagascar, leaving death and destruction in its wake and causing flooding and serious damage on Mahe and other of the Seychelles 115 islands.
Though outside the cyclone belt, this storm system proved to be larger than usual and hit the distant inner islands of the Seychelles too, a situation which according to some weather experts may become the rule rather than the exception in the future, if the world is not coming together to agree on radical anti climate change measures.
Over the Easter weekend was Mauritius hit by torrential rainstorms, also causing deaths, widespread flooding in particular in the capital Port Louis and the damages were pegged at tens of millions of US Dollars.
The Seychelles, keenly aware of the impact of climate change as an island nation exposed to the rising ocean levels, has played her own part in protecting their environment by dedicating over 50 percent of its territory to terrestrial and marine national parks but has also taken the global leadership to articulate the concerns of island nations vis a vis global warming and climate change.
In East Africa, the ice caps on Mt. Kilimanjaro, on Mt. Kenya and across the Rwenzori Mountain range have over the past decades shrunk to a mere fraction of their size even seen 20 years ago, a constant reminder that climate change has not just reached East Africa but is now impacting seriously on agriculture – key to feeding the fast growing populations in the region – where droughts and flash floods are now dominating the weather headlines and ruining crops of staple food.
Shrinking glaciers are also found in the Arctic and Antarctica, but most notably has the melting off of the ice cap in Greenland started to concern experts, as that could be the single most important factor to the potential increase in ocean levels beyond the currently projected rise of 20 or 30 centimetres to significantly higher levels.
And here comes the clear and present danger to the world's island nations, which as is the case for instance in the Maldives, are at best dozens of feet above sea level and as such extremely vulnerable to flood or even 'go under' if the family of nations cannot agree on drastic cuts to greenhouse gas emissions and dial back the pollution to levels last seen some 50 years ago.
Seychelles President James Alix Michel has used his good office to lobby, at the UN but also at global fora where the fallout of climate change is discussed by politicians and experts, seeking to find a way forward on which all can agree. With the Doha Climate Summit producing only very limited results to the disappointment of those likely to be most affected by the fallout of global warming, President Michel, at the Delhi Sustainable Development Summit in February this year said: 'Many nations, and many politicians, remain unconvinced that we are on the verge of a global meltdown. They continue to live in denial! In negotiations on climate change, we are fragmented into groups– into "clubs" of interests. But we should never forget that we need to face a threat that affects us all. As citizens of individual countries, we may delude ourselves into thinking what is beyond our borders doesn't affect us. But as citizens of the world we cannot continue to tolerate inaction'.
At the same forum two years earlier in 2011 he had already sounded the alarm bells, on behalf of his own country, the Seychelles, but also on behalf of fellow island countries in the Indian Ocean and the Pacific, when he stated loud and clear: 'Climate change is undoubtedly the toughest challenge, because it threatens all our efforts at sustainable development. Despite negotiations that have spanned three decades we are still not making the right commitments to address the impacts of climate change, which will have devastating prospects for small islands, and of course low-lying areas of this continent. We've seen the impacts of a warming ocean on our coral reefs and we have observed changes in our rainfall patterns to the extent that we have had serious water shortages in the past few months in Seychelles. The threat of climate change is real and the consequences dire. We continue to repeat this call, because amidst all the debates, amidst all the polemics, we can't change the facts. The facts tell us that climate change will delay our efforts at sustainable development. The facts indicate clearly climate change will affect our fisheries, our agriculture, our water resources, hence our ability to feed our people. And the facts tell us that climate change will inflict poverty and threaten our very existence as a nation'.
The Seychelles, globally known and recognized as one the world's most desirable tropical island destinations, alongside fellow Vanilla Island partners La Reunion, Mauritius, Madagascar, Mayotte and the Comoros, but also the more distant Maldives and Sri Lanka, are all faced with the prospect of a medium term rise in ocean water levels, eating up the beaches, flooding low lying areas and having vital installations like roads, ports and even airports facing the prospect of being submerged and rendered unserviceable. Trying to avoid that by bringing the global community on board, the Seychelles in 2009 launched their National Climate Change Strategy, which spells out comprehensive measures how best to combat the threat to the archipelago's long term survival, yet those elaborate plans and measures will be rendered nearly useless if the rest of the world is not doing the same. The question is, can the world afford to lose such gems as the Seychelles Islands, renown for their natural beauty, the crystal clear waters, the tropical vegetation and its often breathtaking vistas and scenery?
For many, the report by the Seychelles Meteorological Service for March will go entirely unnoticed of course, and those who read about it may even enjoy the idea of such temperatures considering the weather in Europe at the time. Yet, for those in the know it is also the ringing of an alarm bell, giving notice of things to come, things which in a generation or two or three will irreversibly alter the fabric of those islands, threaten the survival of the Aldabra Atoll and other of the outer coral islands and submerge the pearl white beaches on the main inner islands, should ocean waters continue to rise.
Rising temperatures will also have a serious impact on the marine life around the islands, the coral reefs, highlighted every year through the Festival of the Sea or SUBIOS, when photographers from around the world descend on the Seychelles to celebrate the biodiversity of the ocean around the islands. Maybe it is slowly dawning on those most stubbornly resisting the demands by global climate summits, that the destination many of their citizens fancy as a top tourist destination, way out in the Indian Ocean, needs to be protected through global measures, and not just leaving it to 'little Seychelles' to struggle on their own. China, Russia, India all have seen visitor numbers to the Seychelles soar, and for good reasons. So the key question really is, how about playing a meaningful part in keeping the destination as it is right now and not turn it, and other similar island countries, into the Atlantis of modern day age? Handing the Seychelles a life vest in the form of finally making real and measurable commitments to reduce the emission of greenhouse gases will do very nicely, thank you very much. Certainly, President Michel would have reason to smile when he attends the next Climate Change Forum and he could acknowledge that the community of nations has finally come together in doing the right thing and ensuring that the Seychelles, and the Maldives and others, will still be around in a few hundred years. Fodder for thought no doubt.
AND in closing again some worthwhile reads taken from Gill Staden's The Livingstone Weekly which gives some insight of what is happening further down south …
New Airline for Zambia
During the week I was accosted as I left the One Stop Shop to listen to the tail end of a presentation by a new company which is starting up an airline in Zambia. This is exciting news as, at the moment, we only have Proflight offering flights within Zambia and monopolies are never a good thing.
The new company is called Mukuba Airlines and is being set up by a group of Zambian expats and locals. The Zambian expats have been out of Zambia for a while and gained expertise in the airline business and want to come home to put their knowledge to good use to improve their home country.
The planning of the new business has been ongoing for the past two years and now is the time to publicise it. The plan is that the airline will be operational before the UNWTO in August. Two planes will be used initially – Turbo Prop ATR 42-500 and ATR 72-500, both French/Italian-made; they will be maintained by Air Botswana. The ATR 42 has a carrying capacity of 48; the ATR 72 of 78.
The Chairman of the company, Mwansa Chalwe, an accountant by profession, stated that the project has been meticulously planned. He hopes that the company will turn around the domestic flight market by making air travel affordable. He hopes too that the company will contribute to investment and tourism in Zambia.
Mwansa Chalwe said that the government had been very supportive and he hopes that once the airline is successful it will encourage other Zambian expats to return home to help develop their own country.
Meanwhile, on the news this week the government has continued to research the possibility of resurrecting a national carrier. But airlines in Zambia have had a chequered history. Zambia Airways started its life in 1964 and died in 1995. In 1998 Zambian Airways arrived and survived until 2009 amassing a debt of, it is said, of US$29million. In 2008 Zambezi Airlines started operations but, by 2009 had formed an alliance with Proflight and then it hiccupped between problems and stopped flying in October last year.
Kalambo Falls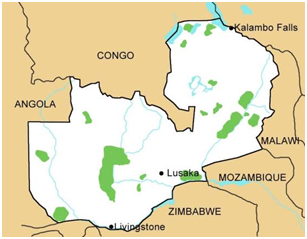 If you drive for around 1,500 km from Livingstone you could find yourself right in the north of Zambia on the Tanzania border. Part of the Zambia-Tanzania border is along the Kalambo River and on the Kalambo River, close to Lake Tanganyika, are the Kalambo Falls.
Kalambo Falls is shared between Zambia and Tanzania but is rarely visited as it is difficult to access.
Most of the accounts I have read of visits to see the falls have been via one of the lodges on Lake Tanganyika – Isango Bay Lodge and Mishembe Lodge – via a boat trip to the meeting of the Kalambo River and the lake. The walk from the lake to the falls takes about 3 hours and it is hot and tiring and definitely not for people like me who like a leisurely stroll.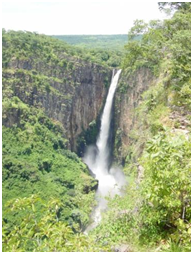 Photo from www.racafrica.co.uk
It is also possible to drive along some pretty bad roads to reach near the falls. I would think that the road is on the 'list of roads to do' for the Zambia government.
In a recent article in The Citizen, Tanzania, the Regional Commissioner for Rukwa, Ms Stella Manyana, has requested that Tanzania National Parks (Tanapa) takes on the area surrounding the falls and make it into a National Park. In response, Tanapa managing director, Mr Allan Kijazi, has said that there is a plan in the pipeline.
Kalambo Falls is not just beautiful; it is a site of history, ancient history. The area was used 1 million years ago by our ancestors. Desmond Clarke of Livingstone Museum fame, delved into the area in the 1950s; recently a team from UK spent time there too.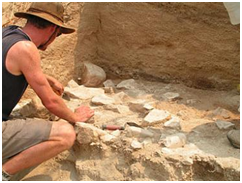 Photo from www.antiquity.ac.uk/projgall/barham322/
Kalambo Falls is also on the tentative list for UNESCO World Heritage Site status. It is protected by Zambia's National Heritage Conservation Commission. One wonders why they have not pushed for the UNESO status to help maintain and promote the site.
As Zambia wishes to promote tourism in the north of Zambia this seems and ideal time to work with the Tanzania government to develop and market the area together. Were Kalambo Falls to be made into one conservation area which could be accessed from both countries with no visa requirements or bureaucracy, I feel sure that the falls could attract many visitors with their tourism dollars for the benefit of the people on both sides of the border.
To compare Kalambo Falls with other falls in our region:
Kalambo Falls are 221 metres high with a width which varies from 3-20 metres.
Tugela Falls are in the Drakensberg, South Africa; 948 metres of 5 free-leaping falls.
Mutarazi Falls in Honde Valley, Zimbabwe, is a 762 m in 2 free-leaping falls
Ruacana Falls are on the Kunene River in the north of Namibia. They are 120 meters high and 700 metres wide in full flood.
Finally, of course, we have the Victoria Falls with a drop of 108 metres and a width of 1,700 metres.
Developing the tourism potential of Zambia
While researching about Kalambo Falls I found on the UNESCO website, other tentative World Heritage Sites for Zambia:
Mwela Rock Paintings, Kasama
Source of the Zambezi River, Mwinilunga
Chirundu Fossil Forest
Barotse Cultural Landscape
Dag Hammarskjoeld Memorial (Kitwe-Ndola Road)
I could not find any website for National Heritage Conservation Commission, so I am assuming that they do not have one. NHCC, are you working on one?
I also had a look at the Zambia Wildlife Authority website to read what they had to offer. It was one page with a spelling mistake.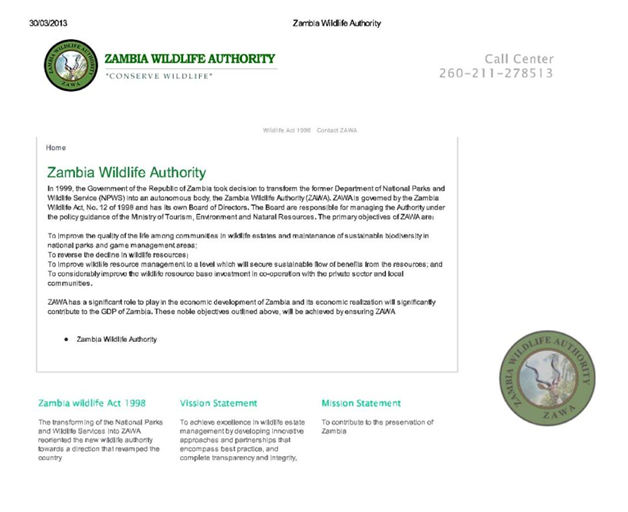 On the good side the Zambia Tourism Board has an excellent website which promotes tourism in Zambia. However, we do need our other partners in tourism – NHCC and ZAWA to come on board and help us to promote tourism in our country.
If you go to the government websites on tourism in other countries you will find extensive information on their tourism products – facilities available, attractions, fees, etc, with lots of photographs.